If you're looking to streamline your writing process, whether it's social media posts, blog content, or business emails, AI writing software will come in very handy.
I've already had my fair share of using AI writing software such as the likes of ArticleForge, I've compiled the best tools to help you check grammar, format, tone, and even write an entire article for you and your team.
Sending emails is part of my everyday life, and so are writing blogs and copies for businesses. Manually proofreading content makes me less productive and just relying on a single pair of eyes isn't enough to meticulously find and correct errors.
With that in mind, I'll share with you my absolute favorites when it comes to streamlining my writing process.
What Is The Best AI Writing Software?
If you're in a hurry, check out my top 3 picks at a glance: Jasper (Formerly Jarvis), Writesonic, and Grammarly.
| | | |
| --- | --- | --- |
| 4.8 | 4.5 | 4.2 |
| Best overall. General-use AI writing platform for any business needs. Starts at $29/month. | Best value for money. Effective copywriting software for businesses. Starts at $13.05/month. | Most features. Best for reviewing and correcting written works. Starts at $9.91/month. |
| Try Jasper | Try Writesonic | Try Grammarly |
If you want an in-depth insight into each AI writing software, scroll down below to find the information you need.
1. Jasper (Formerly Jarvis) – Top Pick
Best AI Writing Assistant For Direct Response Marketing Content [$29/month]
Jasper can generate original, creative, and plagiarism-free high-quality content. From blog posts to marketing copy, it is trained to create engaging and appealing content.
Jasper as an artificial intelligence algorithm has been trained by expert copy and content writers to develop its 50+ writing skills ranging from product descriptions to social posts to persuasive website copy.
It's even programmed to write using the AIDA and PAS framework.
Just tell Jasper about your product, brand, preferred keywords, and tone of voice and it does the rest of the grunt work for you.
It saves you from writer's block and hours of writing with its AI content generator. From paraphrasing, creating titled headings, sentence expanding, and even letting the AI write the intro to your article.
Jasper can even translate generated content to 26 different languages so no matter what language you use, you can still cater to clients in multiple countries better.
Best of all, it has created an AI writing feature they call Boss Mode to write long-form content fast.
Whether it's video scripts, blog posts, and even books, Jasper will cover writing long content for you by just providing it the context of your topic.
Aside from helping writers, Jasper is also one of the most next-level advanced AI that functions to help entrepreneurs that have trouble writing content and don't have the budget to hire content writers.
It is said to have read at least 10% of the internet so it knows a lot about the niche you're in, so crafting copy for any topic you need is easy.
Pros And Cons Of Jasper
| | |
| --- | --- |
| Pros | Cons |
| Has a long-form content assistant | Can struggle in niches where there are scarce content available |
| Comes with useful templates for any form of online content | Expensive for beginners |
| Has a Boss Mode that responds to voice command | |
| Has a grammar fixer | |
| Has a content simplifier | |
Jasper Pricing Plan
Jasper has 3 pricing plans, all with a 7-day money-back guarantee.
Starter ($29/mo): It includes 50+ short-form copywriting templates, unlimited users, 5 project folders, 25+ supported languages, chat support, and access to an AI writing community.
Pro ($109/mo): This plan has everything in the Starter plan plus a long-form content generator, workspace documents, and unlimited project folders.
Boss Mode ($119/mo): As for this one, it enables everything in the Pro plan plus a 3,00 character look back, unlimited runs, and Jasper commands.
If paid annually, all 3 pricing plans are a few dollars cheaper.
For instance, instead of paying $29/month for the Starter plan, you only have to pay $24/month. With it, you also get a free 2-month subscription.
If you're looking to use this AI writing software for the long term, it's best to pick the annual option.
Visit Jarvis's AI platform to get started.
2. Writesonic – Best Value For Money
Best AI Writing Tool For eCommerce Brands & Agencies [Free| $13.05/month]
Writesonic has 2 main features: a copywriting tool and an article writer.
For its copywriting tool, Writesonic specialized in the following:
Blog copy
Website copy
Digital ads copy
eCommerce copy
As an example, to generate a Facebook ad copy, it only asks you to provide the product name, description, occasion, and promotion and it organizes everything into a copy for you with deep learning technology.
You can use this on other platforms as well, such as Instagram, LinkedIn, and even Twitter.
Other than these 4 copy types, its copywriting AI tool can also create press releases, company bios, startup ideas, and the like.
Like Jasper, Writesonic also writes copy using either the AIDA or the PAS framework so you can ensure that the copy generated is persuasive enough to entice people to it.
In fact, many feel that it is a good rival for the pricier Jasper.
As for its article writer tool, Writesonic can create AI articles, blog posts, and even draft professional emails while utilizing its featured natural language processing capabilities that usually come alongside plenty of content creation platforms and in this case, Writesonic performs stellarly.
It also does editing work like summarizing articles, fixing grammatical errors, and rephrasing content.
Just describe what the topic is about and it will generate the content you need.
Pros And Cons Of Writesonic
| | |
| --- | --- |
| Pros | Cons |
| Cost-effective | No plagiarism checker |
| Has a quality bank of useful information incorporated in the content generated | Some English sentences still sound odd |
| Has an intuitive UI | |
| Creates impactful content | |
Writesonic Pricing Plan
Writesonic has 3 pricing plans. Currently, it's running 55% off forever for all their plans so now is a good time to subscribe to it.
Here are your pricing plan choices:
Starter ($13.05/mo): The Starter plan allows you to generate landing page copy, paid ads copy, product descriptions, article summaries, professional emails, short press releases, and more. You can generate any content or copy but are limited to 75 credits per month. Advanced features like blog articles are also limited to 75 credits per month.
Professional ($44.55/mo): You get everything in the Starter plan plus priority support. For the basic features, you get unlimited credits but for the advanced features, there's a 150 credit per month limit.
Business ($224.55/mo): You get everything in the Professional plan including unlimited basic features. Advanced features are limited to 1,200 credits per month.
Writesonic allows you to test out their AI writing software for free. Every new user is given 10 credits to generate landing page copy and product description among others.
Get started with Writesonic by visiting their site.
3. Grammarly – Best For Real-Time Editing
Excellent AI Writing Software For Real-Time Editing Needs [Free | $9.91/month]
Grammarly takes pride in getting your writing from good to great.
Unlike Jasper and Writesonic, this tool you're still responsible for generating a write-up.
As the name suggests, Grammarly comes in to check your grammar to help you communicate better by making your write-up clearer and more confident.
It helps you make your writing easy to read, enhances your vocabulary, and helps you strike the right tone.
It also assists you in avoiding plagiarism, so ranking your content will be easier.
Here are your best options when you track your website ranking.
Along with offering editing suggestions, Grammarly also helps you become a better writer needing fewer corrections moving forward by explaining why editing is needed for certain portions of your writeup.
The core feature of this AI writing software would be real-time feedback on what you're working on.
It has a plugin you can install on your browser or an app you can install on your desktop so whether you're writing online or offline, it helps you improve your style, tone, and clarity.
Pros And Cons Of Grammarly
| | |
| --- | --- |
| Pros | Cons |
| Real-time grammar correction | Has some irrelevant grammar-related suggestions |
| Has further explanations on the changes needed | Free version is too limited |
| Highly accurate | Hasty auto-correction |
| Excellent spell check tool | |
| Has a plagiarism checker | |
Grammarly Pricing Plan
The good thing about Grammarly is that you can use the free version for as long as you want. However, the help is limited and if you decide to get more out of it, here are your options:
Individual Plan ($29.95/mo): This plan gets you all the editing features in the free version plus genre-specific writing style, passive voice alerts, colloquial usage alerts, word order errors, parallelisms, advanced grammar, and punctuation checks.
Business (starts at $12.50): The starting plan is good for 3 members and gets you the editing features on the Individual plan. It also allows for style guides, admin controls, account roles and permission, and priority email support.
Enterprise (contact sales to get a quote): This plan enables an unlimited number of members, and the features will vary depending on what you prefer.
The individual plan is a good place to start with. When paying on a monthly basis, you'll be billed $29.95. If you pay quarterly you'll be billed 40% cheaper and 60% cheaper if paid annually.
Get started with Grammarly by visiting their site.
4. ProWritingAid – Best For Academic Content Writing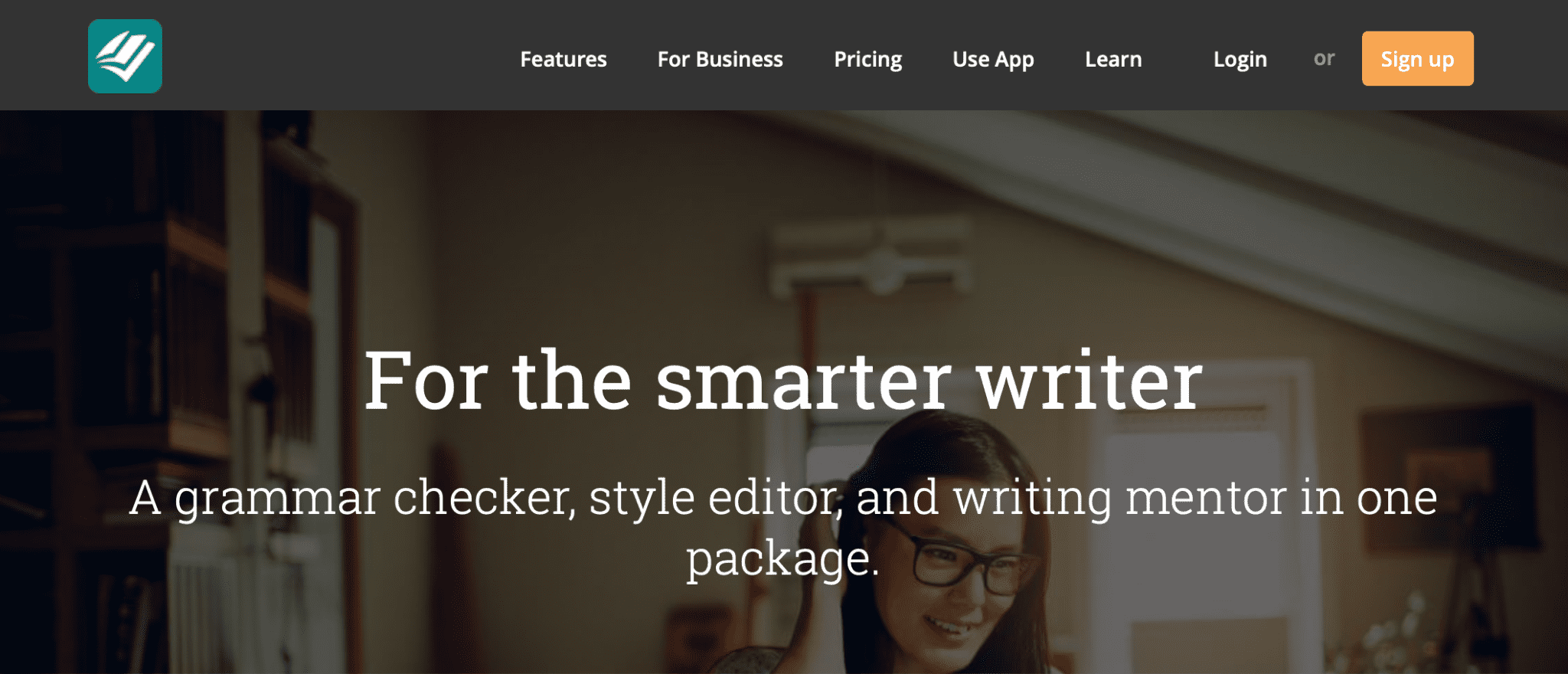 Best AI Writing Software For Professional Authors [Free | $20/month]
ProWritingAid offers world-class style and grammar checking backed up by 20 in-depth reports to help you create a polished and professional article.
It prides itself in having the most writing reports among all AI writing software.
ProWritingAid's editing tool highlights elements like:
Passive voice
Vague wording
Word repetitions
Adverb over-dependence
Over-complicated sentence structures
With it, you'll be able to improve readability and spelling in real-time.
ProWritingAid has a team of professional copy editors that hand-coded thousands of grammar and style rules to make your output better.
Like Grammarly, you can learn as you edit with this AI writing software, explanations, and in-app suggestions as you write.
Additionally, it also features a contextual thesaurus on their Word Explorer to help you find the perfect words for your sentences.
And lastly, it has integrations with:
Gmail
Edge
Safari
Firefox
Chrome
Open Office
Google Docs
MS Word/Outlook
Pros And Cons Of ProWritingAid
| | |
| --- | --- |
| Pros | Cons |
| Integrations with widely used platforms | Takes longer to edit 10,000-word articles |
| Easy to use | Can miss some mistakes |
| Backed-up by writing reports | Widget glitches for some text editors |
| Hand-coded grammar and style rules | |
| Real-time editing | |
ProWritingAid Pricing Plan
ProWritingAid features 3 pricing plans, all with the same inclusions. The difference is the price you pay as you subscribe longer.
Monthly Subscription ($20/mo)
Yearly Subscription ($6.58/mo): This subscription plan gets you 67% savings.
Lifetime Subscription ($399 one-time payment): The Lifetime subscription plan includes updates.
Take advantage of ProWriitngAid's free trial; if you're satisfied with its functions, the Lifetime subscription is a bang for your buck. Visit their site to get started.
5. Sapling – Best For Sales & Support Messages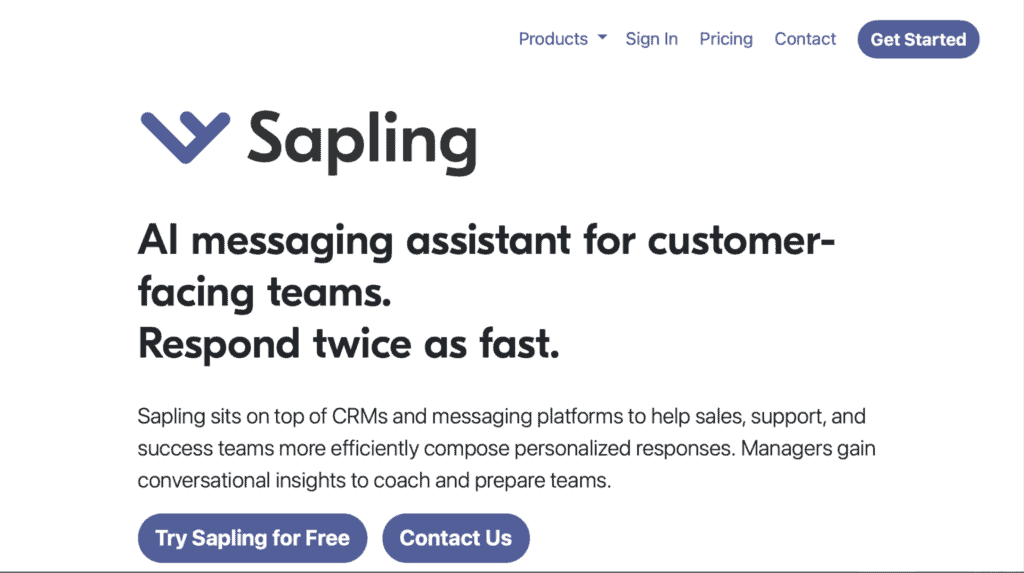 Best AI Writing Software For Customer-Facing Teams [Free | $25/month]
Sapling works best for sales and support teams.
Its core feature – Sapling Suggest retrieves relevant responses from previous interactions so the chat support team and help desk unit can respond quicker simply by clicking on the desired response.
It also has an Autocomplete Everywhere function and snippet macros that quickly insert common responses on messaging platforms.
Sapling also helps you communicate better with customers.
It catches 60% of language quality issues, including grammar and spelling errors, to ensure consistent and professional communication.
This feature also includes suggested edits, quality scoring, and error reports that will help managers identify coaching needs and define compliance standards.
Additionally, Sapling has a snippet library storing team knowledge you can use for onboarding, upselling, and compliance needs.
Pros And Cons Of Sapling
| | |
| --- | --- |
| Pros | Cons |
| Easily detects errors | Poor integration |
| Has a snippet library for centralized storage on team knowledge needs | Software link glitches |
| Has a Google Docs and Google Chrome add-on support | |
| Has a dictionary feature | |
| Provides autosuggestions | |
Sapling Pricing Plan
Sapling has a free plan that offers you basic editing suggestions. To get more features, you have 2 paid plans to choose from.
Pro ($25/mo): This plan is best for individuals. It offers access to basic suggestions, unlimited snippets, Autocomplete Everywhere, and email support.
Enterprise (contact sales to get a quote): The Enterprise plan gets you every function in the Pro plan plus conversational insights, team analytics, and other features that will be discussed by the sales representative.
Try out the free version first to gauge if it covers all the AI writing needs you have.
6. AI Writer – Best For Automatic Content Creation
Best AI Writing Software For SEO Friendly Content [Free | $19/month]
Whether you're a blogger or a freelance writer, AI Writer makes SEO-focused content generation easy for you.
Its AI text generator creates a solid full-length article in any niche for you. With it are citations you can verify so you can deliver not just quality content, but also an accurate and cost-efficient one.
You'll have an audible trail of sources so you build better relationships and encourage more referrals, creating a higher ROI potential for your work.
Its core feature is a "focus mode" where the keyboard grays out all other text except on the sentence that you're currently writing.
It also features text rewording accessed on a single tap. For any existing content you need to re-publish, AI Writer gets you a reworded article in just 2 minutes.
AI Writer ensures you'll get a fresh, relevant, unique, original, and authoritative copy.
Best of all, it ensures SEO-friendly content so ranking your content is made easier while also saving up as much as 50% of your time while writing it.
Pros And Cons Of AI Writer
| | |
| --- | --- |
| Pros | Cons |
| Creates plagiarism-free content in just 2 minutes | Needs modern and brighter colors to improve the interface |
| Ease of use | Quality of rewriting isn't good when you go over 70% |
| Has a focus mode | Only offers PDF and Docx file formats |
| Compatible with any operating system | Poor customer service |
| Integrates with Dropbox and iCloud | |
AI Writer Pricing Plan
AI Writer offers 3 pricing plans to choose from depending on how many articles you write on a monthly basis.
Basic Plan ($19/mo): This plan is best for solopreneurs and startups. It allows for 1 user to use the AI text generator, text rewording, has API access, and a 40 article limit per month.
Standard Plan ($49/mo): This plan includes all features in the Basic plan but the article limit is at 120 per month.
Custom Plan (contact sales to get a quote): For an enterprise or an agency requiring large-scale content generation, a custom plan can be made by getting in touch with the sales team.
AI Writer has a free trial so you can test out the features before committing a longer plan. If you do decide to pay for a subscription, this AI writing software will give you 2 months of use for free.
Start with AI Writer by getting visiting their site.
7. Articoolo – Best For Automatic WordPress Content
Best AI Writing Software For Bloggers & Students [Free | $30/month]
Articoolo is best for bloggers and students who want to generate articles at any length fast just by providing 2-5 words of context to the topic.
Its 2 main functions are creating an article from scratch and rewriting an existing one.
To create an article, Articoolo finds related content based on the context given. It reconstructs any existing article on the internet into a new coherent written content.
It uses an NLP engine for rewriting articles to take advantage of multi-level semantic identification that helps verify the readability of the article generated. Simply said, it has a technology that makes any new content not sound robotic.
Articoolo ensures to create unique textual content with no online duplicates and is completely plagiarism-free within minutes.
It promises coherent and articulate content that helps you boost search engine rankings and impresses professors if you're a student.
Pros And Cons Of Articoolo
| | |
| --- | --- |
| Pros | Cons |
| Finds related data on the topic fast | Can sometimes generate content having a lot of grammar mistakes |
| Generates full-length articles with just a 2-5 word context | Article creator and rewriting tool constantly need updates |
| Straightforward interface and features | |
| Reasonable pricing | |
Articoolo Pricing Plan
Articoolo keeps your needs in mind when crafting its pricing plans. You can opt for a monthly subscription if you have to write a consistent number of articles per month. But if the numbers vary greatly, you can go for a fixed article package.
Pay Per Use
$19: For this plan, it allows you to create or rewrite 10 articles with no time limit.
$75: This one lets you create or rewrite 50 articles with no time limit.
$99: This third plan allows you to create or rewrite 100 articles with no time limit.
Monthly Subscription
$29: This plan gets you to create or rewrite 30 articles per month.
$49: Ths pricing plan lets you create or rewrite 100 articles per month.
$99: This last one allows you to create or rewrite 250 articles per month.
All the pricing plans allow the use of all the features, it now boils down to how many you have to write.
If you can have a good gauge of how many you'll write monthly, the subscription pricing plans are cheaper per article cost. Want to get started with Articoolo? Visit their site.
8. Rytr – Best For Digital Writing Needs
Best AI Writing Software For Any Digital Writing Need [Free | $29/month]
Whether you need a landing page copy, email draft, ad copy, or blog content, Rytr will help you create compelling content effortlessly.
Powered by their version of a state-of-the-art AI and 30+ use cases and templates, including copywriting formulas AIDA and PAS plus extensive formatting options, it provides you with unique and original content in whatever form you need.
It has 20+ tones of voice to set the desired mood you want.
Its rich text editor can create a polished 1,000-piece in just 15 minutes. Even allowing you to reword and shorten to give your personal touch before submitting it to clients.
While it can generate a full article for you, Rytr also allows you to use your existing content and expand it or clean up its grammar.
Knowing you're doing it for business, Rytr also helps you create a seamless writing workflow by having collaboration, team billing, and project management functions.
It gives "all-in-one" a new meaning.
Having an SEO analyzer, mobile-friendly interface, plugins for Shopify and WordPress, and an API you won't have to juggle between too many apps.
Best of all, it has a browser extension to keep up to snuff with any writing needs you have whether it's in any writing platform, social platform, and email or messaging platform.
Pros And Cons Of Rytr
| | |
| --- | --- |
| Pros | Cons |
| Ease of use | Ideas generated still needs a bit of fact-checking before publishing |
| All in one tool for a seamless writing workflow | Disappointing character limit on the free plan |
| Generates plagiarism-free content | |
| Has a plugin for WordPress | |
Rytr Pricing Plan
Rytr gives you a straightforward pricing plan eliminating the need to choose because there's only one option available.
$29/mo: It has no character limit for articles generated, it gives you access to 30+ use cases, allows you to write in 30+ languages, 20+ tones, has email and chat support, and access to a writing community.
If you're not ready to commit to the paid plan, you can always test it out using the free version. As mentioned earlier though it'll limit you to 2-5 articles per month since the character limit is at 5,000.
Interested in Rytr? Get started now by visiting their site.
Conclusion
To cap everything off, the best AI writing software for me would be Jasper. It has the smartest AI technology there is, plus it offers a voice command function so you can create your articles without really typing anything.
Best of all, it covers all your direct response marketing needs so there's no need to subscribe to multiple apps.