Managing your business's day-to-day operations can be overwhelming, so in this Asana vs. Basecamp comparison, I'll be reviewing two of the best project management tools in the market.
Choosing between Asana and Basecamp can be quite a pinch. In this article, I will help you decide on the appropriate project management tool according to your needs.
I'll share the key tools and features, pros and cons, pricing, and more vital information essential in helping you make the best-informed decision.
Let's dive right in.
1. Asana vs. Basecamp At A Glance
Let's look at how Asana and Basecamp, two of the biggest household names in project management, fare against each other at a quick glance through their best features and most valuable pricing plan.
| | |
| --- | --- |
| 4.7 | 4.8 |
| Feature-rich. Powerful features and tools for businesses and teams of varying sizes and types. Starts at $10.99/month. | Best Overall. Easy-to-use and highly intuitive user interface for widespread team collaboration. Starts at $99/month. |
| Try Asana | Try Basecamp |
2. Who Is Asana Best For?
Asana will be perfect for people who want to have freedom in choosing their management style. Asana offers the option of kanban boards, Gantt charts, task lists, and workload management.
Whether you are an individual or small, medium, or large business or team, Asana will work for you. Asana comes with versatile features that help in keeping tasks and projects organized.
3. Who Is Basecamp Best For?
Basecamp is best for those looking mainly for a collaboration tool with a simple task management environment. Basecamp's user interface is intuitive and straightforward to navigate.
Individuals or smaller teams will also find that Basecamp suits them. Basecamp's clean and simple interface makes managing small tasks hassle-free.
4. A Close Look At The Features Of Asana and Basecamp
Assisting you with your day-to-day business operations is Asana and Basecamp's mission. Let's have a look at the tools and features that make this happen.
| | | |
| --- | --- | --- |
| Features | | |
| Shared Team Calendar | | |
| Task prioritization and scheduler | | |
| File Sharing | | |
| Reports | | |
| Gantt Timeline Charts | | |
| Third-party Integrations | | |
| Workload Management | | |
| Mobile App | | |
| Recurring tasks | | |
| Time Tracking | | |
| Get Started | Try Asana | Try Basecamp |
5. Key Features Of Asana
#1 Asana Project Management Solutions
Like Trello and Monday, Asana is a project management tool meant to help you track and manage your tasks and projects. With Asana, you can organize your work into shared projects as lists or Kanban boards for your meetings, programs, and more.
You can assign tasks to your team so you can distribute the work into manageable pieces. You can also break up the task into smaller parts, called subtasks, or show additional steps to complete the task.
Asana also lets you see the milestones in your project to measure and share the progress. Asana allows you to set task assignees so you, the team, know who's responsible for the specific tasks.
With Asana, you can group tasks into sections so you can match workflows and keep tasks organized. Asana gives you custom fields so you can create fields for any information essential to your workflow.
Adding start dates, due dates, and times on tasks is possible with Asana so you can manage and track the teams' progress.
Asana also provides you with a project overview to give you and your team clarity and context. You can also add a project brief to discuss the outline scope of work, backstory, and other essential details regarding the project. You can also sync tasks across projects to see progress in different contexts without the extra effort.
Here are some of the other project management features that Asana offers:
Attachments – Asana lets you add files from your computer, Box, Google Drive, or Dropbox to any task or conversation. You can also view the files on individual tasks or at the project level.
Forms – You can also set up easy-to-fill forms and establish a formal submission process for work requests
Rules – Asana lets you create custom rules to automate essential and common tasks to reduce errors and so your team doesn't miss steps.
Likes – You can say thanks, vote for a task, acknowledge, or give a thumbs up with a like.
Approvals – Asana removes bottlenecks by streamlining and clarifying your approval process, so the team knows what work needs approval, when, and how.
Dependencies – Task dependencies let you know which tasks are ready to start and which tasks are waiting on others.
Custom Templates – Asana offers 50+ project templates you can choose from or can create your project template.
Copy projects – Asana lets you save time by recreating your team's common workflows.
#2 Project Views and Reporting
Asana offers you different types of project views to choose from, so you can select the kind of view that suits your style. The various project views let you visualize your work the way you want.
Asana's List View lets you and your team immediately see what they need to do when work is due and which tasks to prioritize.
Asana's Board view allows you and your team to focus on tasks at hand efficiently. With the boards, you can organize your work like sticky notes or a kanban board and seamlessly track tasks in every stage by making work processes more transparent.
The Timeline view lets you see how the project maps out over time. In this view, you'll be able to see the relationship between tasks and manage dependent, overlapping, and unscheduled tasks, and keep work on track regardless of changes.
The Calendar view lets you see the list of tasks on a Calendar to have a clearer picture of when work is due and easily recognize holes and overlaps in your schedule and make necessary adjustments.
Asana's Workload Management is one of its most vital points. It promotes balance and helps you and your team avoid burnout.
With workload management, you have a real-time overview of the distribution of each member's work across projects and lets you rebalance and redistribute the tasks to alleviate members who are overwhelmed with work and keep projects on track.
Asana's Portfolio lets you monitor all of your projects in one place. It enables you to see who is responsible for each specific project and set priority levels for tasks and projects.
The portfolio gives you a high-level overview of your project's progress and helps keep your team updated. You can share your portfolios with the stakeholders so everyone involved knows your projects' progress and status.
The Dashboard gives you real-time project information and insights in one place. You can customize the charts you want to see to track the pace and progress of your projects.
Asana's Reporting feature lets you keep track of your team's progress and workload. You receive real-time charts and visual highlights to share the work status, recognize problems that may arise, and keep the work on track.
In the reporting feature, you can also write updates, customize the reports with charts to highlight key takeaways, prompt action, and make sure every team member is on the same page.
Here are more of Asana's other features:
My tasks – This is your personal space where you organize and prioritize your tasks and project works.
Goals – Asana lets you set company goals connected to your team's work and oversee the progress.
Inbox – Asana sends you automatic updates on your projects, conversations, and tasks relevant to you.
Files View – Quickly find the project files you need in Asana's gallery view that contains all of the project's attachments.
Project Export – You can export your projects to CSV and JSON to analyze your data.
#3 Asana Communication Features
Effective communication within the team is crucial to a project's success. Asana provides team communication tools so your team can communicate important information at the right time.
In Asana, you can leave a comment directly on a task to clarify task instructions and @-mention your teammates or other tasks and projects, so everything relevant is connected. You can also add teammates as followers so they can receive notifications with task updates and stay in the loop with the work progress.
Asana's status feature extracts data into charts and other highlights so you can visualize the work or task's progress easily.
Asana also lets you send private messages to people, projects, and teams. You can discuss a project's progress in project conversations with your team or make space for all team conversations and announcements.
#4 App Integrations
Asana lets you integrate with the tools you and your team are already using in your workflow and enables you to add new tools to help manage and track your work even easier. Asana gives you access to 100+ integrations to tools you can use to communicate, collaborate and coordinate with your team.
Asana has integrations with Google and Microsoft apps, the most common tool providers used by individuals, teams, and businesses. With Asana, you can connect your work across different G Suite and Microsoft apps and track it in Asana.
Asana also has integration with communication apps to help you turn conversations into actionable tasks in Asana. Some of the apps are Zoom, Hipchat, Microsoft Teams, MailChimp, and Slack.
Asana's file-sharing integrations let you attach files directly to tasks and conversations from Dropbox, Box, OneDrive, Google Drive, and more.
Asana also has development integrations and connects you with development tools like Github, Unito, Phabricator, Jira, and tray.io.
You can also integrate your reporting tools with Asana for time tracking, report generation, and more. Some of the reporting apps you can integrate with Asana are Tableau, Everhour, Hubstaff, Hourstack, and Databox.
Asana also allows you to build your custom integrations with their open API. Asana's robust REST API lets you automate and fully integrate your tools with Asana.
#5 Asana Mobile App
Asana ensures that you are up to date with your tasks and projects with their iOS and Android mobile apps. Asana's mobile app allows coordinating with your team and monitoring tasks more accessible.
When you use Asana's mobile app, you can view your tasks in a list or board layout. You can also add assignees, due dates, followers, files, and details and receive notifications on changes and progress on your projects and tasks, and conversations.
The app lets you organize tasks and projects, manage to-do lists, and receive updates from teammates. Asana also allows you to add tasks for to-dos, ideas, requests, and reminders.
6. Key Features Of Basecamp
#1 Basecamp Project Tracking and Management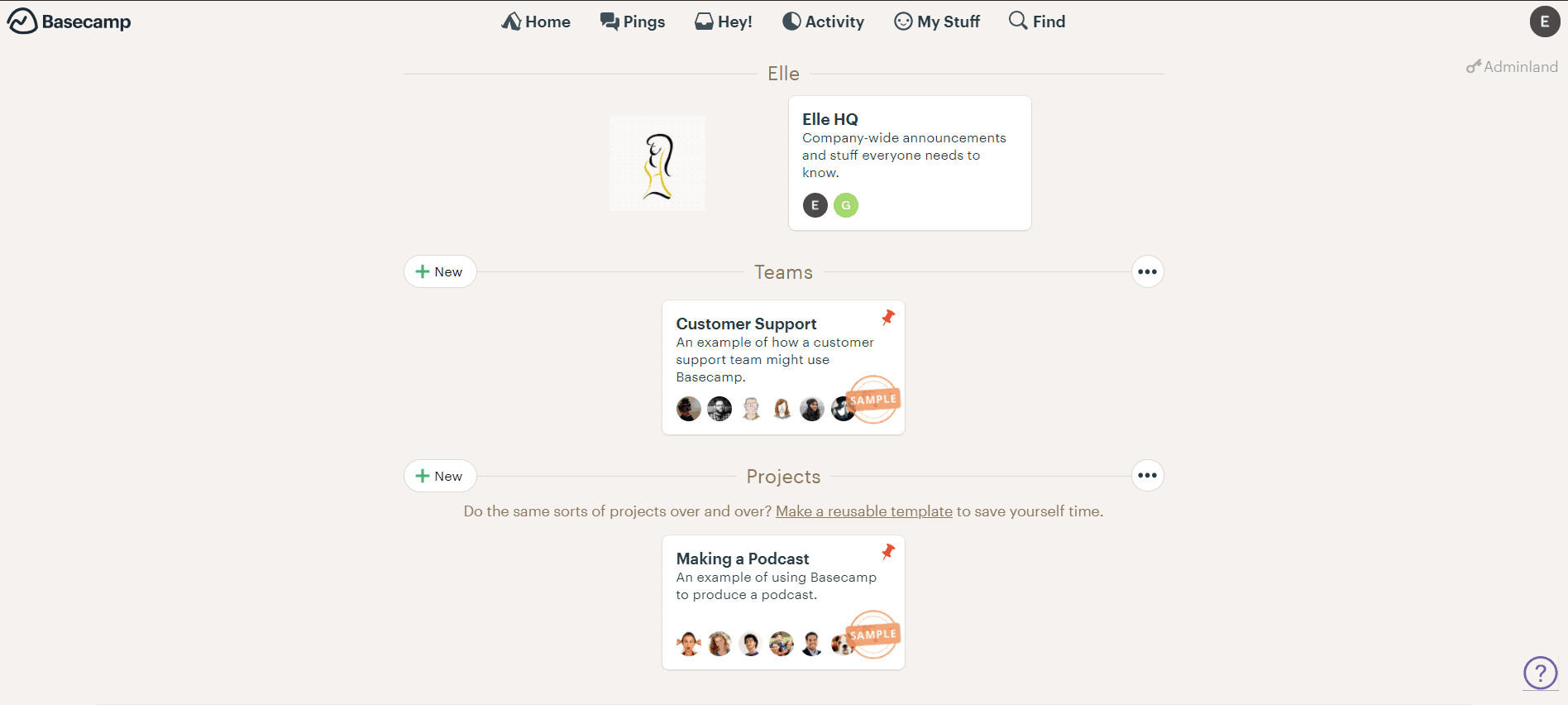 Like Monday and Asana, Basecamp is a project management tool but with a collaborative-based approach. Basecamp's user interface is straightforward, intuitive, and easy to use.
Basecamp's primary method of tracking your tasks is via a to-do list. You create to-do lists for the work you and your team need to do, assign tasks, and set due dates.
You can assign one or more people to to-dos, add notes and attach files, and leave comments on tasks and lists.
You can also view your to-dos in cards view that looks like Trello and Asana's boards.
Your projects in Basecamp come with a schedule that shows you dated to-dos and events for that project. All the people on the project can see it to stay up to date with the changes and progress.

With the schedule, you can add events with dates, times, and date ranges, subscribe with Google Calendar and other similar providers, discuss events and add people to receive notifications when there are changes.
Basecamp's Hill Charts lets you see the project's progress over time with history snapshots, and it eliminates the need for daily standups. You can annotate every update and reply to the updates with comments.
#2 Basecamp Communication Tools
Avoid task misunderstandings and boost camaraderie in the team by having a practical communication feature in your project management tool. Basecamp comes with many communication features to ensure that everyone can get their concerns and points across and share their ideas with the entire team.
Basecamp's Message Board keeps the conversations about a specific topic together on a single page. The message board reduces the time and effort spent when digging through emails or trying to piece together a story from a series of fragmented replies.
The message board lets you customize your post types and share the post with everyone or select individuals. You can embed images or files into your message and react to messages and comments you agree with.
Basecamp comes with a real-time group chat called Campfires that enables you to ask quick questions and get equally quick responses without switching to a separate app. All projects have their chat rooms.
In the group chats, you can @-mention people to get their attention, attach files, quotes, code samples, gifs, and more.
Basecamp's Check-in questions enable you to ask your team questions regularly, so you don't have to waste time on status meetings. All check-in answers are in one easy-to-digest thread.
You can set up questions daily, weekly, or monthly and pick the time of day when you want to ask. You can also ask the whole team or just specific people and comment on individual answers directly.
If you need to send a private message to a coworker, Basecamp made it possible with direct messages or Pings. With Pings, you can have a real-time chat with anyone on the same Basecamp account.
You can have a private 1-1 or small group conversation, send files, quotes, code samples, and gifs, and search your conversation history.
#3 Integrations with Basecamp
If you're looking to add more functionalities to your Basecamp, adding third-party integrations is the way to go. Basecamp has integrations to different tools to help you make your workflow easier and smoother.
Basecamp has integrations with some mobile and desktop apps like Unito.io, Zapier, Automate.io, Field Trip, and RSSBus.
If you need apps for time tracking, invoice, and accounting, Asana has integrations with Harvest, Timeneye, TaskBill.io, Calamari, Minter App, AssessTeam, and more.
For reporting, charts, and planning, you can integrate with DNS Check, Ganttify, Workstack, Meta Saas, Bridge24, and more.
Software development tools that Asana has integrations with are Saber Feedback, ScrumDo, Userback, Instabug, TestLodge, Honeybadger, and more.
Basecamp also has integrations for marketing, customer service and support, contracts and proposals, and developer-only tools, like Ziflow, Jitbit Helpdesk, Proposify, and OAuth.io.
#4 Documentation Features
With Basecamp, all of your projects have their own space where you can share documents, files, and images. All relevant people on the project can access the files and know where to find everything, avoiding confusion in locating essential files.
You can link Google Docs and talk about the document in Basecamp. You can do a simple drag-and-drop when uploading files, every file has a complete version history, and you can also reorder and color code files to keep things organized.
Basecamp has a robust search function that helps you find the result you're looking for without scrolling endlessly. You can search everywhere or one specific Basecamp, by keyword or person, search for files and images only or search your Ping history.
#5 Basecamp Reports and Notifications
Basecamp gives you reports to give you quick insight into the tasks and the project's current status. With the reports, you can see the latest activity, the upcoming deadlines, tasks assigned to someone, tasks completed today, and overdue tasks.
Basecamp's Hey! Menu shows you notifications for your conversations, tasks, comments, and more. You can opt to get notifications by email, disable notifications temporarily, set a specific time that you can receive notifications, and @-mention, anyone, to send them a notification.
7. Asana vs. Basecamp – Pros And Cons
Let's take a closer look at Asana's pros and cons to determine if it fits your needs.
Asana:
| | |
| --- | --- |
| Pros | Cons |
| Workload monitoring features | Absence of budgeting features |
| Great with individual and team task management | Absence of invoicing features |
| Excellent user interface | No offline capability |
| Syncs with Google Calendar | No desktop app |
Here are Basecamp's pros and cons to help you figure out if it's the right one for you.
Basecamp:
| | |
| --- | --- |
| Pros | Cons |
| Easy to set up | Lack of reporting tools |
| Simple, flat-rate pricing | No budgeting features |
| Intuitive user interface | No time-tracking tools |
| Convenient and comprehensive file upload system | No other form of task tracking except to-do lists |
| Great with visual assets | |
8. Where Do I Get The Most For My Money?
Between Asana and Basecamp, where will you get the most out of your money? Which one is the better investment?
Let's have a glance at the price breakdown of Asana and Basecamp.
Asana Pricing Plan
Asana currently has four pricing options.
Basic ($0/month) – Asana's free plan gives you unlimited tasks, projects, messages, activity log, and file storage (100MB per file), up to 15 users, list, board, and calendar view, assignee and due dates, project overview and brief, and 100+ free integrations.
Premium ($10.99/month per user if billed annually or $13.49/month if billed monthly) – This plan includes all basic plan features plus timeline, dashboards, advanced search and reporting forms, rules, custom fields, milestones, admin, console, unlimited free guests, and private teams and projects.
Business ($24.99/month per user if billed annually or $30.49/month if billed monthly) -The business plan includes all premium plan features with the addition of portfolios, goals, workload, lock custom fields, forms branching and customization, approvals, custom rules builder, proofing, and advanced integrations with Salesforce, Adobe Creative Cloud, and more.
Enterprise (quote-based pricing) – This plan includes everything in the business plan plus SAML, user provisioning and de-provisioning(SCIM), custom branding, block native integrations, attachment controls, data export, data deletion, and priority support. If you're interested in availing of the enterprise plan, you need to contact Asana's sales support for a quotation.
Basecamp Pricing Plan
Basecamp offers one free plan and one flat-rate paid plan.
Basecamp Personal (0$/month) – Basecamp's free plan is perfect for light use and individuals such as students and freelancers. You get the essential collaboration tools you need, but with limitations like you can only have three projects at a time, up to 20 users, and 1 GB storage space.
Basecamp Business ($99/month flat) – This is Basecamp's only paid option. The basecamp business plan is excellent for business use as it comes with all the features that Basecamp has to offer.

Basecamp Business comes with unlimited projects, unlimited users, 500GB storage, company HQ, team projects, unlimited clients, advanced client access, project templates, and priority support.
9. Conclusion – Which Is Better: Asana Or Basecamp?
As the article reaches its conclusion, it's time to make a decision. Which should you choose, Asana or Basecamp?

I'd recommend that you choose Asana if you want freedom and flexibility in your project management style since it offers more features and more integrations. Asana's versatile tools will be beneficial to your teams, and medium to large-sized teams will be able to utilize these features fully.
You can go for Basecamp if your day-to-day work processes are more collaborative and do not rely heavily on advanced features. Basecamp is perfect for those looking for a collaborative project management tool that is simple, intuitive, and easy to navigate.
10. Asana vs. Basecamp – FAQ
Here, I will answer the four most frequently asked questions (FAQs) regarding Asana and Basecamp.
Why is Basecamp popular?
Basecamp is popular because it's simple, easy to use and understand, reliable, and straightforward.
Is Basecamp any good?
Basecamp is an excellent, easy-to-use solution for basic project management since it has a very intuitive UI and powerful collaborative tools.
Is Asana a good tool?
Asana is a great project management tool that offers versatile and advanced features that give you freedom and flexibility in choosing your management style.
Is Asana easy to use?
Asana is simple and easy to use, but its more advanced features might require a bit of learning time to get used to.