Every artist, illustrator, and designer needs the right toolset.
But choosing the best drawing software out of the long list of tools can be difficult. This guide will help you in making the best decision today.
Remember to choose a drawing software that works well with a mouse and with a stylus or touchscreen. This will give you control over your pens and virtual brushes.
Also, it should be easy to learn and well supported with communities around them.
Drawing software isn't a new concept, it's come a long way from its humble beginnings. And the graphic design industry is growing so fast — about $15 billion in revenue was generated in 2019 by the US alone, according to IbisWorld.
There are different types of drawing software. Some are native applications that must be downloaded and installed on your PC or mobile device, while others are integrated into the cloud.
Whether you're a beginner who needs some basic drawing tools or an experienced artist who wants to leverage realistic simulation of pastels, charcoal, watercolors, and work in 3D dimensions, there's a drawing software fit for you.
What Is The Best Drawing Software?
It can be difficult to pick the ideal drawing application for your project. As an artist myself, I have firsthand experience with a ton of these tools.
So, here are my top picks for the best Drawing Software in 2022:
Photoshop
CorelDraw
Adobe Illustrator
#1 Photoshop
Adobe Photoshop is a popular graphic design software. 
It's my best drawing software because it has all the features and functionalities for improving photographs, SD artwork, and illustrations.
No matter what you plan to draw and/or design, Photoshop makes it easy to manipulate and tweak objectives, edit videos to stimulate real-life photos.
You can also design professional websites and mobile applications with Photoshop.
Photoshop has simplified the process of manipulating objects and photographs for millions of designers all over the world — helping them to transform impossible projects into realities.
If you're ready to manipulate a wide array of designs to form amazing icons, memorable logos, and websites, Photoshop will not let you down.
Photoshop is equipped with intuitive drawing and design tools that are pretty easy to use. Hence, beginners and advanced artists, illustrators, and designers love Photoshop.
Key Features
Frame tool: It provides essential functionalities for easy masking.
Color wheel: Choose any color you want for your artwork, blend or mix up colors
Video editing tools: Handy tools to bring your video clips to life. Easy to use.
Symmetrical pattern: Quickly manipulate images using a paintbrush, mixer brush, pencil, and eraser tools.
Pros and Cons
| | |
| --- | --- |
| Pros | Cons |
| Clean and intuitive interface | Limited options for working with vectors |
| Comes with 100GB cloud storage | It's subscription based ($29.99/Month) |
| Free 7-Day trial to test the Photoshop | You need a graphics card to rend some elements |
| It's easy to manipulate graphics. It has great support from YouTube videos and online communities. | It consumes a lot of resources on your computer |
Best suited for
Photoshop is arguably the most powerful photo editing and drawing software in the world. It's highly recommended for artists and designs who want absolute control. It's the ideal graphic software for beginners.
#2 CorelDRAW
CorelDRAW is my #2 favorite graphic design software with great drawing capabilities.
This powerful graphic design application is equipped with features and tools required for creating and manipulating vector illustration, page layout, typography, photo editing, 2D and 3D designs, and more.
CorelDRAW has evolved from a basic graphic design application to a robust software with upgraded platform-specific versions to meet your graphics needs.
Whether you're using CorelDRAW for creating vector illustrations from scratch or editing photos, the handy tools will make the job easy for you.
Take advantage of the rich customization options and capabilities provided for high-definition graphics.
It also works with layers, wireframes, and more. Interestingly, you can use CorelDRAW as an option to design product prototypes and engineering masterpieces.
How much does it cost? Well, there's a free trial to get started with. However, the complete CorelDRAW Graphics Suite 2019 costs $569.
Better yet, you can get it through a monthly subscription of $16.50 (billed annually at $198/year).
If you're using the older versions, you have the option of upgrading to a newer suite for $329.
Key Features
It has a set of powerful tools for vector manipulation.
Enhanced vector previews, handles, and nodes.
Corner Control in Dashed Lines and Outlines
This makes it easy to transform basic shapes into a wholesome artwork.
You're in control, as CorelDRAW supports Wheel devices such as MS Surface Dial and stylus pens
Enhanced Pixel Workflow
Ability to straighten photos interactively
A ton of time-saving tools such as automated symmetrical design, vector mosaic generator, shadow effects manipulator, etc.
You can expect color consistency across different media formats (e.g., jpg, eps, pdf, png). Hence, it's ideal for preparing documents for printing.
Pros and Cons
| | |
| --- | --- |
| Pros | Cons |
| It's quite light and loads fast (no lags) | Printing preview can be improved |
| Easy to use and intuitive interface | Integrating with third-party tools often breaks |
| Quickly customize the Suite as you want | Some of the features lack proper documentation |
| Drag and drop importing of PDF as vector objects is a huge time saver. | Bitmap editing is slow |
Best suited for
For the past 29 years since CorelDRAW was created, it's remained one of the preferred graphic design and drawing software. As such, it's best suited for designers who want to create beautiful vector graphics.
#3 Adobe Illustrator
Adobe Illustrator was created to help designers and illustrators to develop illustrations, icons, typography, and professional logos for video, mobile, print, and web.
Millions of designers currently use the software to draw and manipulate illustrations in real-time.
Adobe Illustrator is equipped with all the essential tools you'll ever need to create stunning graphics and irresistible icons.
You can also customize typography designs and communicate your deepest thoughts vividly.
The illustrations you create using Adobe Illustrator can be used anywhere — websites, presentations, social media, blogs, and mobile and web applications.
With Adobe Illustrator, you can focus on the design and enjoy the previews without messing around with the process. That's the power of Illustrator.
Key Features
Color Synchronization makes it easy to use any color you want or create one
Handlettering design tools enable you to customize highly-personalized text to drive your message home.
Built-in Design Templates and Presets
Free Transform option to manipulate illustrations
The Snap-to-Pixel capability enables you to effect detailed changes.
Access to the Adobe Stock library for vector images, illustrations, images, etc.
Pixel-Perfect designs.
Pros and Cons
| | |
| --- | --- |
| Pros | Cons |
| It's very fast | Artboard seems a bit confusing at first |
| You can recreate any imaginable design using Illustrator | It sure requires a steep learning curve. Not recommended for beginners. |
| You can integrate Illustrator with other Adobe design software seamlessly. | The drawing tool is not very intuitive |
| It has lots of options for points, pixels, and sizes | You may find bugs in new updates |
Best suited for
Adobe Illustrator isn't for everyone. It was tough for me when I first started using it.
So I think it's best suited for professional designers who have mastered Adobe Photoshop and want to have more control over vector illustrators.
#4 Vectr
Vectr is a simple but free professional vector graphics editor. 
It offers cross-platform capabilities which help software engineers, designers, bloggers, social media marketers, and project managers to generate vector graphics for use on the web or in print.
You can use the Vectr application either on desktop devices (for Linux, Mac, ChromeOS, and Windows) or deploy in one of the newer browsers.
Vectr is a carefully designed drawing software that anyone can learn quickly. It encourages collaboration and the sharing of vector graphics.
Vectr has all the basic features you'll need to bring your design into reality.
It may look basic, but spend some quality time with the tools and you'll be amazed by designs you can create with it.
Use Vectr to import and edit SVGs and bitmaps that can be used as a background. It has image customization options like fill type, shadow, color, opacity, and more.
Key Features
Pen tool: The most popular tool that Vectr offers, it's for writing and drawing.
Pathfinders: Track, cut out, straighten, and manipulate vector images.
Gradients: Use this feature to manipulate vectors with colors.
Align elements: Position your graphic exactly how you want it.
Fills and strokes: Achieve great designs with fills and strokes.
Shape tools: Whatever shape you want for your vector, it's possible.
Pros and Cons
| | |
| --- | --- |
| Pros | Cons |
| Easy to learn and fun to use. And all projects are saved online by default. | You need to sign up to save files. The sign-up process isn't friendly. |
| It has great features for turning a drawing into a vector | You can't import vector PDFs without losing their features. |
| Great tutorial videos on Youtube for beginners | It's for basic drawing projects |
| Decent drawing software for Ubuntu OS. | You may encounter issues when downloading the PC app version. |
Best suited for
Vectr is for designs, bloggers, social media marketers who want to quickly create basic vector images such as logos, shapes, icons, and the like for their websites, blogs, Facebook, and print.
It's cross-platform and free forever. Hence, Vectr is ideal for people who are on a tight budget.
#5 Krita
Krita is an open-source painting tool for artists who want a cheap but valuable tool to create illustrations, concept art, textures, comics, and more. 
It's an open-source software with a ton of features that users need to fuel their creative freedom, regardless of whether they're just getting started or have extensive experience in the field.
To start using Krita, you first need to download it (100% free), get all the different builds, and extensions. Since it's open-source, you also need to use the source code.
Key Features
Brush stabilizers to aid designers who have shaky hands.
Handy wrap-around mode feature makes it easy to create patterns and textures
It's easy to import texture and brush packs from the library or another artist's portfolio. You can even export and share yours with other artists.
It comes with a ton of drawing assistant features — making it easy to create the perfect shape.
Equipped with 9 different brush engines. You can customize each one of them to suit your style and needs.
Pros and Cons
| | |
| --- | --- |
| Pros | Cons |
| It's 100% free and open-source | Poor touch controls |
| Easily edit your project in a tiled view | No proper documentation |
| Customize the editing window can suit your style | New updates sometimes slow the tool down |
| Clean and easy to navigate user interface | Working with texts can be improved |
Best suited for
Krita is a painting program designed by artists for artists. If you're looking for affordable art tools that will help to create professional concept art, illustrations, and comics, you should try Krita.
#6 Procreate
Procreate is a drawing and sketching application that's exclusive to iPad. It's loaded with design-standard tools such as blend modes, layering features, color drop, and a lot more.
If you're looking to maximize your iPad's full potential and design power, Procreate may just be the right app for you.
Use it to create memorable paintings, stunning illustrations, and inspiring sketches on the go.
You can download the Procreate app for $9.99 from the App Store. You can also get richer drawing experiences when you take advantage of the in-app purchases. It's your call!
Key Features
It's compatible with the Apple Pencil device, which enhances your natural drawing prowess.
Tools to create professional typography and import fonts to deliver a captivating message.
A wide range of handcrafted brushes enables you to create sketches, make shades that look like actual pencils, mix and blend colors, and do a lot more.
An intuitive, fluid menu which you can configure to be able to access your favorite features.
Users have control over vibrant colors. With advanced tools like Eyedropper, Unlimited Palette Library, and P3 Wide Color integration, you can manipulate colors easily.
Pros and Cons
| | |
| --- | --- |
| Pros | Cons |
| It's affordable | Importing brushes takes time |
| The default brush sets look beautiful and easy to use. | Importing elements from 3rd party tools (e.g., Adobe Draw) often come with bugs. |
| You can choose up to 124 layers | It only works with iPad |
| Fun-to-use Export video function. | Arranging objects on layers can be daunting |
Best suited for
Procreate is a drawing and sketching app for the iPad. It's for people who are interested in learning the art of sketching. It's not for professional artists who make a living from their artworks.
#7 Adobe Spark
Adobe Spark is a professional web application for creating stunning graphics, promotional videos, single page websites, social media graphics, and other visual assets.
It's a 3-in-1 software, which includes:
Spark Post
Spark Video
Spark Pages
Adobe Spark is quite easy to use by non-designers who want to create professional graphics, beautiful single-page web "stories", and short promotional videos.
This tool is beginner-friendly for those getting started with visual designs.
If you need a multi-page website or add a custom domain to your single-page website, you should consider a different option.
You can use the free subscription but rest assured it comes with Adobe branding. The free trial doesn't require a credit card.
The Individual subscription plan costs $9.99/month or $99.99/year while the Teams subscription costs $19.99/license/month or $239.88/license/year.
According to Adobe, anyone can leverage the easy tools that Spark provides to create impactful content in just minutes.
Key Features
A library of pre-built professional themes
Professional typographic library to choose from
Iconic imagery to bring life to your designs
Adobe Spark is desktop and mobile responsive
It features 1-click update to keep you in the loop
Pros and Cons
| | |
| --- | --- |
| Pros | Cons |
| You can either use the desktop version and/or mobile apps for iOS and Android versions. | Video length is limited to 30 seconds |
| It's intuitive, there's almost zero learning curve | It lacks eCommerce options for web pages |
| You don't need a Creative Cloud membership to use Adobe Spark | The desktop version has limited design options |
| It's easy to resize graphics | You can't adjust the volume on imported audio |
Best suited for
Adobe Spark is pretty popular. The earlier versions were for non-designers who want to get a headstart with graphics and videos.
But the newer versions will benefit professionals who want versatility with images and video creation.
#8 Affinity Designer
Affinity Designer is a simple, but professional vector graphic design software best suited for professional artists and designers.
It's essential for creating illustrations, icons, illustrations, print projects, interface designs, mockups, web graphics, typography and pattern designs, as well as concept arts.
As a graphics and illustration software, Affinity Designer is built for accuracy and speed. With its sets of zooming capability, advanced grids, and flexible guides, you'll likely not see mistakes with your project.
It's ideal for improving users' workflow so that their creative minds. It eliminates technical issues associated with designs — give artists the freedom to experiment with new things.
This tool is designed to utilize the power of modern computing hardware — thus giving the user that responsive, fluid, and design experience they could only imagine.
Although Affinity Designer costs $49.99 — it's one-time. And you get some amazing features.
Key Features
Image Editor: This allows you to enhance the quality of your images.
Adaptable Workplace feature: Utilize power tools to make your design fun
Data Import/Export feature: It's great for incorporating design elements while saving yours
2D Drawing: Bring ideas to reality with 2D drawing capabilities.
Convenient Designer Persona Set: The tools you need for a perfect design.
Drag and Drop feature: It's intuitive and easy to use for beginners.
A Basic set of illustration tools: Take your illustrations to the next level with a set of handy tools.
Pros and Cons
| | |
| --- | --- |
| Pros | Cons |
| One-Time Payment | Lacks image trace feature |
| Great zoom | You can't animate illustrations |
| 2D drawing, drag and drop option | No free trial |
| User-friendly and lightweight | It's a bit expensive ($49.99/one-time fee) |
Best suited for
Affinity Designer is a creative professional software for professionals and advanced users. Although beginners can use it, there are more advanced tools — hence, it's best suited for experts.
#9 Rebelle
Rebelle is a professional media paint software for creating realistic media artworks like watercolor, acrylic, etc. It utilizes real-world color blending to give you the perfect output. 
The drying and wet diffusion features help you accomplish astonishing design goals with a wide variety of effects. You can try Rebelle for free or upgrade at a $90/one-time fee.
Rebelle is most ideal for CG artists and painters who want to take their artistic skills to another level — with advanced digital paint technology.
Key Features
Intuitive customizable interface
23 Photoshop blending modes
Drag and drop image from web or folder
Multitouch gestures, and extensive features tools for rendering wet media artworks. Ink Pen, Watercolors, and even Acrylics.
Supports English, Spanish, Finnish, French, Italian, Russian, Polish, Slovenian, and several other languages
Powerful Brush Creator
It has extensive support for retina touch displays.
It has dry tools as well, such as eraser, marker, pastel, and pencil.
publish your artwork and share it with others in a gallery.
Pros and Cons
| | |
| --- | --- |
| Pros | Cons |
| Easily create stimulated and beautiful painted works | It's expensive ($90 one-time fee) |
| Custom keyboard shortcuts | Not compatible with Linux OS |
| Easily tilt the canvas to achieve flow effects | No mobile version is available |
| Create any type of brush you want | There's a learning curve involved. |
Best suited for
Rebelle is carefully-designed for traditional painters and CG artists who are ready to broaden their artistic repertoire and explore new opportunities.
#10 Artweaver
Artweaver is a simple and easy-to-use Paint and Photo application. This free tool helps you to unleash your creativity like a pro.
You should download and use it as your rough sketch and concept art software. It's lightweight and works better than some of the big programs that have high price points.
Artweaver uses a powerful core that makes use of existing hardware to a maximum.
It seamlessly supports a lot of third-party tools with features that make painting and image editing rewarding. There's a free version of Artweaver, which has limited features. The Professional plan costs €29.
Key Features
Full-suite painting toolset
Easy to use image-editing tools such as crop, fill, gradient, and selection tools.
It's powerful makes painting and image editing seamless
With Artweaver, you can collaborate with other artists over LAN or the Internet to work on your project.
Pros and Cons
| | |
| --- | --- |
| Pros | Cons |
| An intuitive UI which can be configured | You may encounter crashes |
| Lots of realistic brushes | Some of the features aren't intuitive |
| Easily work with a team of artists | The free edition has limited tools |
| It's great for enhancing photo quality | It doesn't integrate well with other tools |
Best suited for
Artweaver can get you started on your painting project.
And there are tools to scale your painting projects also. So, it's for beginners and professionals who want an affordable digital painting tool.
#11 Corel Painter 2023
Corel Painter 2023 is the original, time-tested, digital painting tool for artists. It's built by artists who needed better painting software to meet the ever-increasing needs.
For over 28 years, this software is widely used by concept, illustrators, fine, photo, and manga artists.
If you want to become a passionate artist, it's time to use the power tools that Corel Painter 2023 offers.
You can choose which paintbrushes get the hardware boost — since the software utilizes the best resources from your hardware via the new Brush Accelerator tool.
According to Corel, you can "Paint up to 20 times faster" with the Brush Accelerator. I noticed a great improvement in the lag time when using traditional media brushes to paint.
Corel Painter 2023 isn't cheap. It costs £359.99 ($429 US Dollars) for artists who are brand new to Corel Painting software. Existing customers can upgrade by paying half of this price ($229). 
This software offers tremendous value, capabilities, and exceptional features to make any artist a passionate painter.
Key Features
Improved Brush Accelerator — up to 20X faster
Over 900 pre-loaded brushes to choose from
The Color Harmonies feature offers complementary colors based on what you've selected.
GPU enhanced brushing with documentation manipulation
Interface advancements to make your painting memorable
Pros and Cons
| | |
| --- | --- |
| Pros | Cons |
| Supports Windows and Mac platforms | Frequent performance issues on older computers |
| Minimizes lag with traditional media brushes | It's expensive |
| Useful new color tools | It's not beginner-friendly |
| Paints beautifully with ease | It's for experts |
Best suited for
Corel Painter 2023 is a painting tool that's designed for serious artists and established local artists who want to transition from tradition to digital painting. 
If you're just doing this by the side, there's no need to invest $400 to purchase the software. Use a free painting tool like Artweaver.
#12 Inkscape
Inkscape is a free, powerful, and full-featured software for artists and designers who want to create vector imagery. It's a great alternative to Adobe Illustrator. 
Given it's free for everyone to use, you might be thinking it has only basic features. But that's not true.
It has some powerful tools to help beginners pivot technical drawing.
The intuitive user interface and simple layout make it the go-to graphics software for most beginners and intermediates.
It comes with an open-source code that allows you to manually tweak the lines of code and enhance the program's functionality significantly.
The vector graphics editor is clean and easy to use — with a little learning curve.
The open source code that lets you manually change the lines of code and improve the program is another significant and positive side of this vector graphics editor.
Key Features
Node Alignment and Distribution, Boolean Operations
Flexible drawing and text tools
Bezier and spiro curves help you to achieve the exact shapes you want.
Path Simplification with Variable Threshold
Path Insetting and Outsetting and Bitmap Tracing
Broad file format compatibility
Drawing, Shape, Objection Creation, Calligraphy, Pencil and Pen Tools
Pros and Cons
| | |
| --- | --- |
| Pros | Cons |
| Clean and simple interface | Minor bugs on the Mac version |
| It's completely free to use | Compatibility with Illustrator causes some lags |
| It's an open-source vector imagery program | No advanced drawing tools |
| It's optimized to work on weak PCs | Text tools require upgrades and improvement |
Best suited for
Inkscape is best suited for beginners or hobbyists. Experienced artists and illustrators will find some of the basic tools limiting.
#13 GIMP
GIMP is a powerful image editing software. It's an open-source and cross-platform image optimization tool. It's a GNU image manipulation tool. It's also available in Windows, Linux, and several other OS.
It gives artists and designers the chance to quickly manipulate their source code and ensure that the changes are evenly distributed.
GIMP is completely free, but that doesn't mean it has subpar features. Not by one inch.
It comes with essential features that make it compete successfully with some of the popular commercial-grade drawing and graphics platforms such as Adobe Illustrator.
With GIMP, you get all the best tools for retouching photographs, creating design artworks, and conveniently produce illustrations.
Key Features
Customizable interface
High-quality photo manipulation features allow you to enhance photos, retouch digitally, and do much more.
Graphic design elements, Original artwork
Scribus, Inkscape, Swatchbooker
Pros and Cons
| | |
| --- | --- |
| Pros | Cons |
| Easily create original artwork | You can't export in CMYK format |
| Produce stunning icons and art | Some features are not intuitive |
| GIMP supports C, C++, and Perl | The floating panels is a distraction |
| Create reusable mockups | Limited options for creating 3D designs |
Best suited for
GIMP may be free to use but it's powerful for achieving any type of image manipulation. If you want to get better at transforming images and need an open-source image editor, you should try GIMP.
#14 MediBang Paint Pro
Medibang Paint is a versatile and complete drawing software. It's recommended for artists and users who want to do their thing anywhere. 
You can use the software on your desktop, tablet, or/and smartphone platforms. This app also runs on Mac, iOS, Android, and of course, Windows. It's 100% free to use.
There's a slight adjustment to the name on each platform:
iPad: MedibangPaint iPad
iPhone: Medibang Paint iPhone
Windows & Mac: Medibang Paint Pro
Android: MedibangPaint Android
Key Features
Easily save multiple pages in one file.
Access to Perspective grids for drawing clean backgrounds.
Easy panel making that lets you add the panel border, then slice off areas you want to break with a tool
Stabilizer/Correction to help those with shaky hands.
Stores your drawings and designs in the cloud.
Import files from sketching app or smartphone
Pros and Cons
| | |
| --- | --- |
| Pros | Cons |
| It has a variety of options for editing photos | There's a noticeable lag when using the fill bucket tool. |
| It's free and loads very fast. | Lacks CMYK color mode |
| Quick and easy-to-use Rulers | Drawing aids require a learning curve |
| Store and secure your artwork in the cloud | Single color palette (but it can be customized) |
Best suited for
MediBang Paint is most recommended for new and experienced artists. It has the right tools and features to help you draw and render professional objects.
#15 Autodesk Sketchbook
Autodesk Sketchbook is a popular drawing and painting software for artists, creative professionals, architects, designers, and concept artists. 
Use this software to plan and create stunning illustrations quickly.
It offers one of the best drawing experiences through its clean, professional, and intuitive interface.
Autodesk Sketchbook comes with professional drawing and painting tools.
Since it has a distraction-free interface, artists can maximize the drawing space and stay incognito until they're ready to share their drawings.
The Individual Subscription costs $29.99/year while the Enterprise Subscription costs $85/year. But you can get started with the free trial
Key Features
Supports JPG, PNG, BMP, and TIFF formats
Cross-platform compatibility
Camera scanning
190+ customizable brushes
PSD compatible on all devices
Predictive stroke technology
Pencils, Copic Color Library
100 mpx canvas
Free for students and education
Pros and Cons
| | |
| --- | --- |
| Pros | Cons |
| It has a user-friendly interface | The free trial has limited features |
| It's compatible with PSD on all devices | |
| The layered PSD files are preserved when you import/export | |
| The quick tour window is very helpful | |
Best suited for
Creative professionals can benefit a lot from Autodesk Sketchbook. Why? Due to the extensive toolset including 190+ customizable, cross-platform compatibility, Pencils, Ellipsis guides, Copic Color Library, and more, these features can fuel creativity.
#16 Sketchbook Pro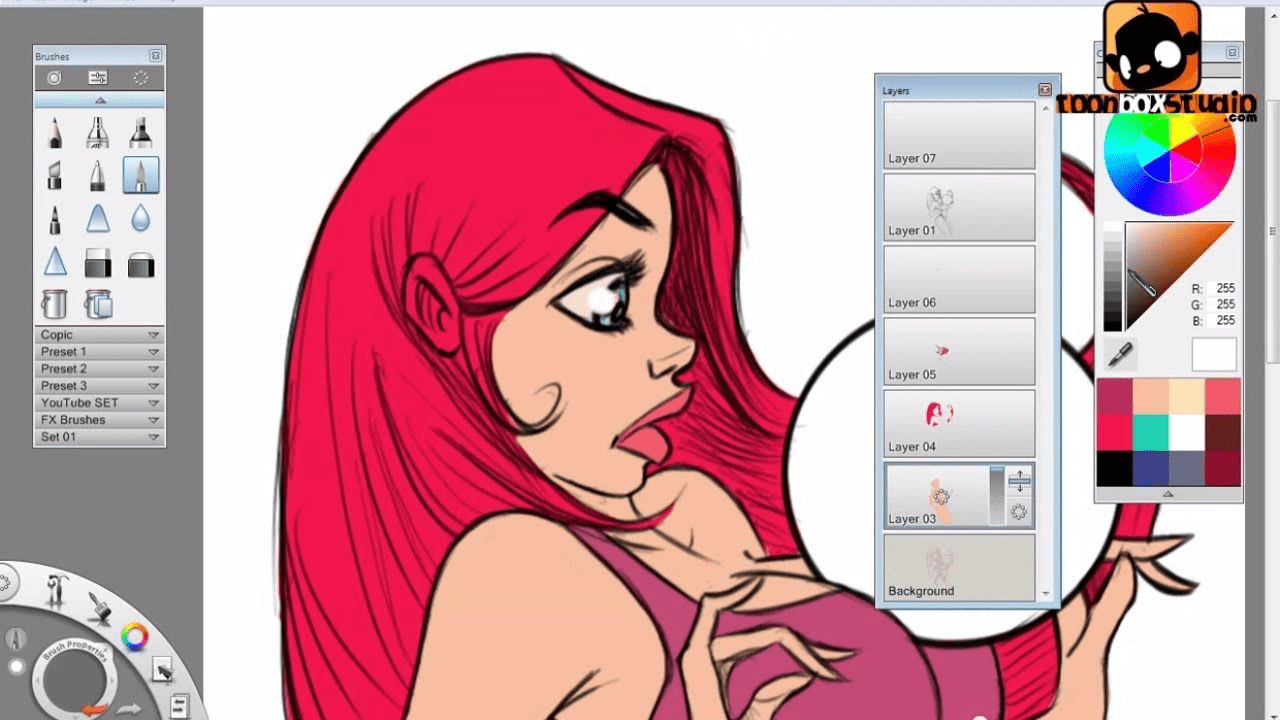 Sketchbook Pro is a powerful digital art tool that serves some advanced needs. This software application comes with tools you can use on your desktop and tablets.
If you're looking for a fully-featured app for creating digital art, you need to consider this tool.
It's great for kids who want to develop skills — they can select brushes and colors, easily move, rotate, arrange, and mirror images. It's also easy to work with layers.
Key Features
The Curved ruler makes it easy to draw sweeps and curves
Perspective guides on mobile to create vanishing points, etc.
Add unlimited layers with blending modes
140+ standard brushes to choose from.
Minimalistic interface to draw across Windows, Mac, iOS, and Android.
Four Symmetry dimensions to drive with X, Y, XY, plus 16-sector radial symmetry to achieve that perfect design.
Pros and Cons
| | |
| --- | --- |
| Pros | Cons |
| Fairly easy to use drawing software | The free Windows version offers more features than the Mac version |
| You can create new brushes | It doesn't integrate with other tools apart from Autodesk products |
| A huge digital Copic Color libraryto choose matching colors from | It has basic animation tools |
| Create animations with up to 4 layers | The Predictive stroke feature requires a learning process |
Best suited for
Sketchbook Pro is recommended for artists and creative professionals who want to achieve more accuracy with their drawings.
#17 Ibis Paint X
ibis Paint X is a professional art and drawing app with some amazing features. 
It has one of the most active communities where artists, illustrators, and designers share their works, get feedback to improve, and find opportunities to collaborate.
Although the user interface isn't as friendly as other similar tools, the tools you get are well worth the mess.
It's not as friendly on a phone as on a tablet. This software can be a testing ground for non-designers and people who just want to learn drawing.
The biggest issue I have is the developer's use of ads.
Key Features
Basic drawing and art tools
Enhanced drawing and art features
Coloring pages
Completely free to use
Pros and Cons
| | |
| --- | --- |
| Pros | Cons |
| A clean drawing interface | You can only use the tool if you have a Twitter or Facebook account. |
| It's free | The user interface looks old |
| An amazing community to engage with | It's not for established artists |
| Save your drawing and art in the cloud | Doesn't integrate well with third-party tools |
Best suited for
iBisPaint is certainly not recommended for everyone. But if you're new to drawing, sketching, and painting, you'll find it helpful. It gives you a headstart.
#18 PaintTool SAI
PaintTool SAI is a simple painting tool that's used for creating digital artworks such as animes, illustrations, and cartoons. 
This tool has a clean user interface and easy-to-use tools.
Some of the basic painting features you're used to in Adobe Photoshop are available in PaintTool SAI. It costs $50.81 for the Enterprise License.
Key Features
Anti-Aliased Drawings
Full Digitizer Support
Brush and AirBrush
Color Spectrum for a variety of Colors
Adjustable Color Saturation and Luminescence
Intel MMX Technology Support
Touch-Sensitive Pencil Tool
Preview Mini Versions of Drawings
Pros and Cons
| | |
| --- | --- |
| Pros | Cons |
| Preview your artwork through a movie | The user interface is cluttered |
| wide range of tools to create professional art | It's often slow |
| Easily duplicate, save to ibis gallery, and even export as .jpg to your own gallery | There's no free trial |
| Speedpaint feature helps achieve quick results | No pen pressure feature |
Best suited for
Paint Tool SAI has been one of the oldest painting tools. However, there are great features that creative artists and illustrators can use.
The Enterprise License has advanced painting features for more established illustrators and creative professionals.
#19 ArtRage
ArtRage is a cool drawing and painting software that both traditional painters and digital artists can find helpful.
It has a stylish, simple, and intuitive interface. This painting and digital art software that can be used by beginners, intermediates, and creative professionals.
ArtRage allows artists to create and polish traditional artworks, picture book illustrations, movie and video game concept arts, graphic designs, and scientific illustrations;
Other artworks you can create with this software include comics and caricatures, product designs, mockups, and special effects.
ArtRage offers four pricing models. ArtRage for Android ($4.99), ArtRage for iOS ($4.99), ArtRage Lite ($29.90), ArtRage 5 ($79)
Key Features
Realistic Painting and Drawing tools
Recreate Watercolor Techniques
Realistic Sketching, Coloring, and Fine Inking
Natural Media Pencils
Paint with Realistic Oils
Wax Pastels, Felt Pen, Customizable Digital Brushes
Editing Utilities, Graphic Design Tools, and Drawing Aids
Pros and Cons
| | |
| --- | --- |
| Pros | Cons |
| Powerful interface for drawing on Tablets | No options for pastel, Conte, or Charcoal brushes |
| A palette of brushes makes painting easy | No options for tilt, pressure on a tablet |
| Easily customizable graphite and beautiful color mixing options | It doesn't support too many third-party integrations |
| ArtRage 5 can be installed and used without a subscription or an internet connection. | No phone support. |
Best suited for
ArtRage has been adopted by savvy artists and illustrators. If you already have some experience with digital painting, then this software is right for you. Otherwise, you'll need to try a beginner-friendly drawing and painting tool.
#20 MyPaint
MyPaint is a powerful, distraction-free, fast, and easy painting tool for digital artists and creative professionals. 
MyPaint is also known as a professional digital paint editor.
It gives users the chance to create freehand drawings and paintings by taking advantage of graphics tablets and well-curated brushes.
MyPaint was primarily designed for personal use but has gained traction when other developers joined to develop it further. It's free and you can quickly download and use on graphic tablets (majorly) and desktop.
Key Features
A clutter-free and full-screen view allow you to concentrate on what you're working on.
A wide array of painting tools to create astonishing arts.
Hotkeys and customizable shortcuts to simplify and speed up your creative process.
Infinite canvas size.
A brush palette to choose from. Ink, Charcoal, Pencil, and Paintbrushes that can model traditional media.
Pros and Cons
| | |
| --- | --- |
| Pros | Cons |
| Easily create and customize paint brushes | Lacks offline help document |
| It uses Pressure Sensitive features to get you the perfect artwork | No stable version available for Windows and Mac users |
| Good support that answers your questions | The Color selector can be improved |
| A flexible interface that you can bring up when needed | Lacks third-party integrations |
Best suited for
MyPaint has evolved from a personal painting application to a robust platform. But is it worth it for you? Well, if you're an artist or digital illustrator looking for some creative ideas, MyPaint can give you tools to experiment with.
#21 Astropad Studio
Astropad Studio is an application that turns your iPad into a professional drawing tablet. There's more. 
With the Lunardisplay tool, you can easily turn any Mac or iPad into a wireless second display.
Astropad is designed to help artists, illustrators, and creative professors to draw and paint artworks.
The tool delivers a more natural, fun, and fluid painting experience compared to using a mouse or trackpad.
There used to be a lot of lag issues but the Astropad team has done a lot of amazing work to minimize them. When connected by a cable, you'll find this software exceptionally responsive.
Astropad can be adjusted to control the rectangular section of your screen.
Many users who have iPad mini 2 with a smaller screen size have reported having the best of experiences with this application.
How much does it cost? Astropad costs $11.99/Month or $49.99/first year. There's a 30-day free trial.
Key Features
Stroke Lab
Stroke Stabilization
Velocity Control
Pressure Smoothing
Pressure Curves
Preview line
Pros and Cons
| | |
| --- | --- |
| Pros | Cons |
| Modern user interface | Free trial requires a credit card |
| Seamless and lag-free | Most artists will find the subscription fee costly |
| Easily mirror your choice of displays | It consumes a lot of iPad battery |
| Reliable support that answers your questions. | It can slow down your device (although it depends on your connection) |
Best suited for
Astropad is best suited for iPad users who are interested in learning how to draw and paint or want to take their basic skills to another level.
Top 7 FREE Drawing Software
There are low cost and even free options you can pick from.
ArtWeaver Free
Inkscape
Expression Design
Autodesk Sketchbook
Microsoft FreshPaint
MyPaint
Vectr
What Should You Look For In Drawing Software?
The best drawing software can make your graphic design job pretty easy.
You can create amazing illustrations using vectors and/or rasters and render them in 2D or 3D dimensions.
That being said, let's briefly discuss the 5 most important things to bear in mind when choosing the right drawing software:
[1] Basic and Advanced Drawing Toolsets
This is probably the first thing you should look out for in drawing software.
The basic toolsets such as drawing area, markers, paintbrushes, ink tools, pencils, shapes (e.g., rectangle, circle, oval, star), erasers, and rubbers should be easily accessible.
Most upgraded drawing applications also come with a color palette, which you can quickly customize depending on what your design project is about.
When it comes to advanced features, you're looking at 3D effects, animations, clone tools, nodes adjustments, 3D brushes, and more.
[2] Integration
Depending on your specific needs, choose a drawing software that can integrate with other design tools you use regularly such as photo editing applications, MS PowerPoint, design tools, and even MS Word.
With some modern drawing platforms, you can also integrate external devices like electronic Sketchpads — this can easily help you to translate images onto the design screen to simplify your work.
Also, if your drawing tool can be accessed on all devices including laptops, smartphones, tablets, and desktop computers — that would be awesome.
It means you can do your drawing and design projects wherever you are.
[3] Export and Import Features
Look out for drawing tools that will allow you to save drawings in various formats, at the same time be able to load drawings in a variety of formats.
This is what the Export and Import features can help you accomplish.
[4] Built-in Effects
Most drawing tools are equipped with different types of effects to improve the quality and your drawings.
For example, you can choose to blur your drawings, add texture or gradient, add shadows to add that 'Perspective Effect', and do all sorts of enhancements to your drawings.
You can even change parameters (e.g., contrast, sharpness, brightness) to give your drawing that amazing look. So make sure your drawing software has built-in effects that are easy to use.
[5] Templates
Oftentimes, you may need to use one of the pre-built templates to speed up the project. If you're pressed for time, it's important to make sure of professionally-designed templates.
What happens if your drawing software has old-looking templates or none at all? You can only imagine!
The good news is that most of the commonly used drawing applications come with templates. But it wouldn't hurt to just confirm before using it.
Conclusion
I've reviewed the most popular digital drawing software programs based on their features, functionalities, and supportive communities that provide learning resources, custom brushes, and friendly advice while you master your new drawing tool.
As an artist myself, my favorite best drawing software is Adobe Photoshop because of its versatility, continuous updates, cloud storage, integration, and support.
I enjoy using Photoshop since I can create a project in one application and use it across multiple Adobe products.
This cross-platform compatibility is hard to find elsewhere, which makes Adobe graphics and drawing tools the best.