If you're looking for the best way to provide video content to your audiences, you've come to the right site. In this post, I'll discuss 7+ top video-on-demand platform providers in the market today.
First off, let me give you a quick fact on why this is very important for your company. According to 2021 statistics, videos generate a whopping 87% positive return on investment.
Although this number was heavily impacted by the global pandemic, I'm calculating that this will only grow over time.
So, as an online business owner myself, I want to introduce you to the tools, several of which I've tried myself, that'll let you start on this journey. I've compiled their strongest features, pricing structures, my opinion for each software, and many more.
What Is The Best Video-On-Demand Platform?
Are you in a hurry? You can just take a glimpse at my top 3 picks: Uscreen, Dacast, and Muvi.
| | | |
| --- | --- | --- |
| 4.7 | 4.6 | 4.2 |
| Best overall. VOD platform with video content management systems. Starts at $49/month. | Best value for money. Self-service live and VOD streaming platform. Starts at $39/month. | Most features. Highly-functional features and toolsets VOD platform. Starts at $399/month. |
| Try Uscreen | Try Dacast | Try Muvi |
Let's jump right into the detailed comparison to determine which VOD platforms can provide you a favorable outcome.
1. Uscreen – Top Pick
All-In-One Video-On-Demand Platform For Educational Content [$49 a month]
If you're looking for an excellent, all-in-one platform for your VOD business, Uscreen won't disappoint you.
Whether you're an entrepreneur or video creator, you can confidently upload and host professional-grade videos on all platforms and devices.
This is made hassle-free with their built-in video content management system.
With this feature, you can seamlessly upload videos individually or in bulk (not larger than 13 GB at a time).
Upon uploading, you can start organizing the video content by adding a category.
You can pick any category name you desire. However, I suggest getting a name that best describes your content or its genre for quick identification.
Another feature that I love about this platform is how minimal loading delays are. This is vital because frequent buffering can drive away your viewers.
Uscreen makes sure it will never happen to you because they use a blend of CDNs, like Akamai CDN.
Through this content delivery system, they can stream your live or on-demand videos with the highest quality anywhere in the world.
In terms of video monetization, you can distribute and sell your video content by offering any of the following:
Multi-tiered subscription
Pay-per-view
Free trial
Rentals
Bundles
Lifetime access
Safe and secure, all payments can be processed through Stripe, PayPal, Uscreen payment gateway, or Authorize.net.
They've launched branded mobile and TV apps for their customers. These do not require a single line of code or use of API.
It's amazing how their team covers all this process!
Pros And Cons Of Uscreen
| | |
| --- | --- |
| Pros | Cons |
| Continuous video playing without delays using HTML5 online video player | You can only remove 'Powered by uscreen' through the Enterprise plan |
| Video playback works well on all devices without integrating an app | Live streaming and auto-record function are not available at the basic plan. |
| Provide strong protection against theft (stream and downloads) | Free trial registration requires payment information |
| All content and intellectual property rights retain to you (owner) | |
Uscreen Pricing Plan
Suppose you're interested in using Uscreen, there are three pricing plans you can choose from. All come with complete payment, monetization, security, and analytics solutions on top of the marketing tools and video player.
Basic ($49/mo. + $0.50/subscriber/mo.): Get started by creating a video-on-demand, websites, and pages (author, sales page, etc.), drip and scheduled content, and sell all content the way you want it to. For added functions, you can easily integrate Mailchimp and Google Analytics.
Amplify ($399/mo. + $0.50/subscriber/mo.): If you aim to provide live streaming, this is the plan to get. Here, you can create 50 hours of live streaming every month with live chat, countdowns, and more.
Enterprise (Custom pricing + $0.50/subscriber/mo.): Run your VOD business without restrictions. This plan can give you full access to Uscreen white label features, API, end-user support, and more.
All prices included are under the annual billing cycle. If you prefer a short-term commitment, you can always pick the monthly billing option.
2. Dacast – Best Value For Money
Best Video-On-Demand Platform For Self-Service [$39 a month]
Dacast is one of the leading video platform software to offer hosting, management, and monetization solutions for live and on-demand content.
As a video-on-demand hosting platform, it's engineered with top-tier CDNs to ensure your videos are accessible to all viewers around the globe.
If you purchase its Scale plan, you can also deliver your content in China, buffer-free.
When it comes to security, ease your mind that video uploading and delivery are highly protected. You can apply any of the following protections:
Passwords
Domain and geographic (IP) restrictions
Referrer restrictions
SSL encryption (payments)
Copyright control
HTTPS delivery
All these security features are included in Dacast's full video API.
Dacast aims to provide your viewers with only the highest video quality. They keep that promise by giving a multi-bitrate encoder.
This feature can encode all video uploads into multiple quality levels.
All videos are automatically encoded using its default recipe, which includes quality levels ranging from ultra-low definition to magic.
In case you didn't know, magic is the option used to encode a video using the bitrate of the source file.
You can also create your very own encoding recipe, a maximum of 6. Set them up correctly, and Dacast will encode your video based on them.
VOD Transcoding is another encoding tool you can use.
This allows you to convert your video content from one format to another. This is an effective method to make your content viewable on different platforms and devices.
MP4 is the suggested video format, but this VOD platform can also run 14 different formats.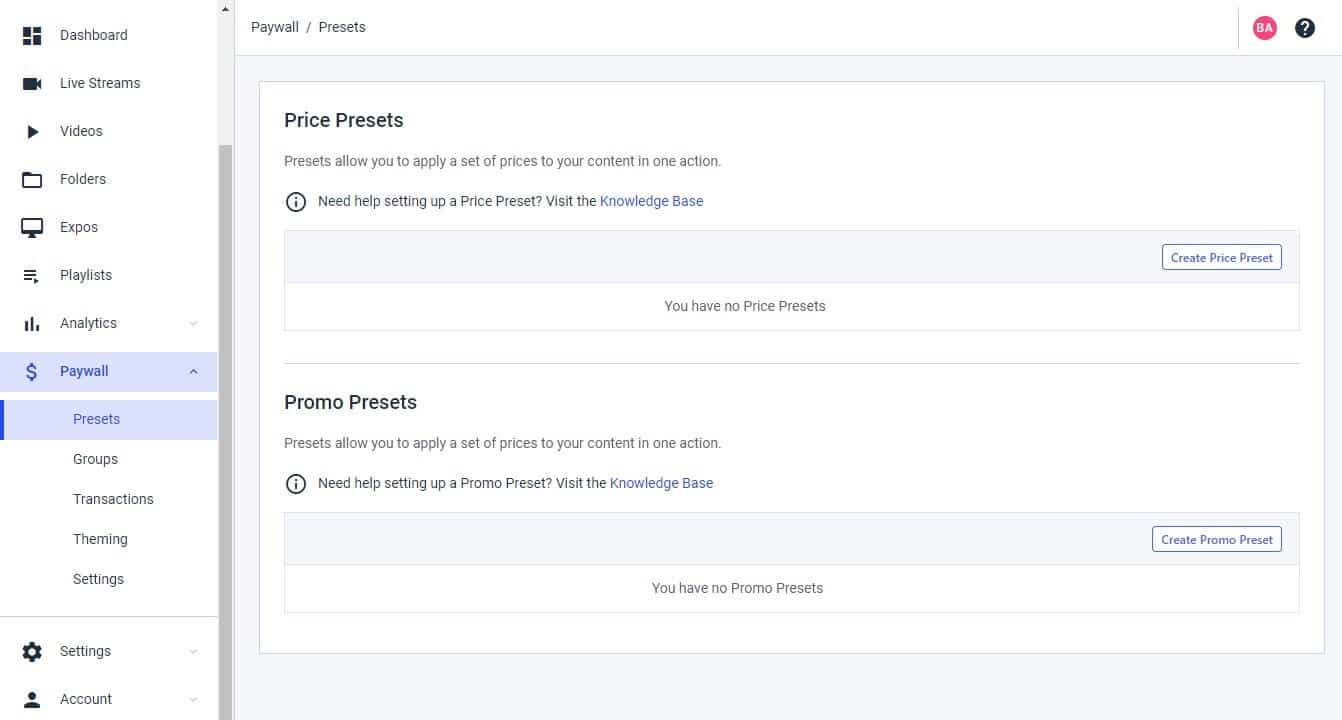 Maximize your revenue by running suitable monetization models. Dacast offer three models, namely:
Transactional Video-On-Demand (TVOD): Charge on a pay-per-view basis
Subscription Video-On-Demand (SVOD): Charge a daily, weekly, monthly, or annually recurring fee
Ad-Based Video-On-demand (AVOD): Let advertisers pay you whenever you place their ads in your video
Pros And Cons Of Dacast
| | |
| --- | --- |
| Pros | Cons |
| Works well in website, social media channels, and OBS | No available free plan |
| Provides complete control over your video content | Automatic monthly billing for every storage space exceeded ($0.15 a month per GB) |
| Straightforward design makes it easier to use with a minimal learning curve | Max of 5 seats is given for team member collaboration; additional seats cost $10 per user per month |
Dacast Pricing Plan
Dacast offer four subscription plans:
Starter ($39/mo.): This plan is ideal for new users who want to test its on-demand video features. You can access all features except China streaming and phone support.
Event ($63/mo.): This plan is created for video creators who offer one-time or occasional events. You'll get 6 TB up front and access to real-time analytics, live and VOD playlists, and roll advertising (pre, mid, & post).
Scale ($188/mo.): A popular plan for business and organization video content. You'll get access to unlimited channels, VOD chapter markers, advanced library management, China streaming, and collaboration with 3 members.
Custom (By Quote): This plan is created to get custom features to meet your high-volume needs. You can contact the sales team to get a personalized quote.
If you can't decide what subscription plan to get, you can always start with the 30-day free trial.
No payment information is required in signing up and you can easily start streaming with additional 20 GB of free bandwidth.
3. Muvi – Most Features
SaaS-Based OTT Platform with Launch-Your-Own Multi-Screen VOD Platform [$399 a month]
Muvi provides everything you need to launch a feature-rich video-on-demand platform.
They are the following:
Video CMS dashboard for efficient management of your video content, including your bandwidth and storage consumption, user analytics, and more.
HTML5-based online video player for seamless and buffer-free streaming. You can customize it to add your branding and more (dashboard).
Studio-approved DRM serves tons of purposes but primarily works to strengthen protection for anti-piracy, offline viewing, and digital content encryption.
Built-in transcoding and encoding options for quick and easy uploading of digital content. Accepts various video file formats (MP4, MOV, MKV, FLV, VOB, M4V, AVI, 3GP, and MPG) and auto bitrate conversion support up to 4K.
Reports and analytics tools included simplifying the tracking process of your videos, revenues, users, and platform's performances.
Running a full-scale video-on-demand platform also allows you to work with different content partners. Muvi makes it simpler for you to manage by giving you a content partner portal.
Inside the portal, you can manage each of your partner's massive libraries of content. It also gives you a detailed view of how their content performs on your platform.
In terms of monetization, it also offers three models – subscription, pay-per-view, and advertising.
Since Muvi is an OTT platform, ease your mind since you can play and stream your video content across all platforms and devices.
Pros And Cons Of Muvi
| | |
| --- | --- |
| Pros | Cons |
| Features a hybrid platform where you can play your on-demand videos and use them to sell goods (eCommerce) | No free migration offered |
| Supports multiple languages and currencies | Expensive subscription plans |
| Enables out-of-the-box payment gateway integrations | Limited content filtering options |
Muvi Pricing Plan
Muvi offers five subscription plans where you can get unlimited content, encoding, and users by default. You also have the option to pay every 6 months or annually.
Standard ($399/mo. + $299/mo per app + Infra fees): Provides shared hosting server, 1 TB/mo bandwidth and storage limit, 2 admin accounts, shared CDN, and more
Professional ($1,499/mo. + $499/mo per app + Infra fees): Gives 2 TB/mo bandwidth and storage limit, 5 admin accounts, own CDN, and more.
Enterprise ($3,900/mo. + $499/mo per app + Infra fees): Enables dedicated server with auto-scaling, 5 TB/mo bandwidth and storage limit, 10 admin accounts, staging environment, stress and security test, and more.
Ultimate ($8,900/mo. + $499/mo per app + Infra fees): Lets you have a 10 TB/mo bandwidth and storage limit, unlimited admin accounts, perform stress and security tests once a month, and more.
Black (Custom pricing): This plan is recommended if you want a VOD solution tailored to your business needs. Contact sales support to get a personalized price quote.
The infra fees represent the bandwidth and storage capacity.
Once you reach your plan's limits, you can purchase more: $0.09 per GB (bandwidth) and $0.07 per GB (storage).
Explore what Muvi can offer you by registering for their risk-free 14-day free trial.
4. Vimeo On-Demand – Features An Ad-Free HDR player
Affordable Video-On-Demand Platform For Creative Professionals, Teams, & SMEs [Free | $20 a month]
Vimeo is a renowned online video platform designed for creative professionals such as artists and filmmakers.
With just a click of the title, your viewers can read a video content's full description. They can also have the option to watch a trailer or purchase it.
Of course, the company didn't limit the platform for that purpose.
With the help of modern technology, they developed a solution to better market and monetize all types of videos. Today, this solution is known as Vimeo On-Demand.
This solution is tailored for professionals and entrepreneurs producing high-quality video content that educates, inspires, and entertains.
Under this solution, you can expect to get the following:
Create and host a live stream, standard, and 360 video contents
Do screen record
Make video from scratch or pre-designed templates
Choose to offer rent, buy, or subscription
Apply promo codes
Set the language options for titles, subtitles, and captions
HTML5 video player is one of its incredible features. It can help create your video content exactly the way you envision it.
Apart from its basic function, you can add or remove the video playbar and speed controls.
You can also enable its privacy settings to private or password protection.
Do you want to gather leads?
This video player can make it happen because it allows you to customize contact forms.
Wait, there's more…
Vimeo On-Demand provides multiple types of video players, and all of them are WCAG 2.0 AA standards. This ensures it can support various accessibility apps like screen readers, closed captioning, and more.
Pros And Cons Of Vimeo On-Demand
| | |
| --- | --- |
| Pros | Cons |
| Supports MP4, MOV, WMV, AVI, and FLV file formats | No phone support is available |
| No banner ads are included on all subscription plans | Added team members limited to 10 seats only |
| No automatic plan upgrade when you exceed your storage limit | |
Vimeo On-Demand Pricing Plan
Vimeo On-Demand is offered in three subscription plans that are payable in monthly and annual billing cycles.
Pro ($20/mo.): This plan gives you 20 GB of storage space every week, allows you to host professional video portfolio sites, and collaborate with 3 members. You can also get access to professional analytics, player customization, review tools, and more.
Business ($50/mo.): This plan allows you to have a total of 5 TB storage space (no weekly limit), collaborate with 10 members, and create videos with custom branding. You can also take advantage of its lead generation tools.
Premium ($75/mo.): This is the ideal plan for delivering live streaming. You can add Q&A, graphics, chat, and polls to make it more interactive and engaging.
Not sure what works for you?
You can try a paid subscription plan, except Premium, free for 30 days, or get its basic plan.
This plan allows you to create 1 channel/group and three showcases with 500 MB of upload space per week (5 GB total).
5. JW Player – Best For Digital Video Advertising
Best Video-On-Demand Platform For Publishers & Media Companies [$10 a month]
Over the years, JW Player proves its worth as the most flexible video-on-demand platform.
It's suitable for broadcasters, ad networks of all sizes, and video content publishers of all types.
The sudden shift due to the pandemic also makes it a trusted platform for eLearning providers.
You can expect to play and stream all online courses and get unique cross-device insights. You're provided with all the reporting tools so you can create custom reports to organize all gathered insights.
Like most VOD platforms, it features robust OTT apps to provide superb video experiences on every video screen.
JW Player is known for having the fastest HTML5 Player for a buffer-free streaming experience.
But if you wish to give your viewers a unique viewing experience, you can customize the video player on your dashboard. In this feature, you can set up the following:
Player size (fixed or responsive)
Playback setting
Media preloading quality (none, quick start, or high quality)
Default bandwidth estimate (LTE, SD broadband 2 MB/S, or HD broadband 5MB/S)
Enable casting to Chromecast and Airplay devices
You can also set up its advertising capabilities by creating an ad schedule or enabling the outstream player.
Another method for video monetization available is the player bidding powered by Prebid.js.
This is an open-source header bidding built into the video player. It works by connecting your video inventory into the advertising demand sources to help you maximize its performance and revenue.
Pros And Cons Of JW Player
| | |
| --- | --- |
| Pros | Cons |
| Supports two video files (MP4 & WebM) and 4K video in HTML5 mode | No live human support |
| Generous free trial package | Lack of email marketing integration |
| Comprehensive API & SDK access for adding custom functions | WebM video file formats are not supported on Internet Explorer 11+ and Safari (Mac & iOS) browsers |
| Go live or broadcast on-demand videos fast and simple | Advertising and advanced features are only available on the Enterprise plan |
JW Player Pricing Plan
JW Player designed three simple pricing tiers where one is dedicated to a free trial subscription.
30-Day Trial (Free): Get a taste of the VOD platform's exclusive features with 25 GB storage space for hosting and 75 GB for streaming. The only limitations you'll get are the access of the self-hosted player and can't do live event streaming.
Starter ($10/mo.): This plan provides all the standard features, including an HTML5 video player and video gallery. You'll also get 150 GB of storage space for hosting and 500 GB for streaming.
Enterprise (Custom Pricing): The ultimate plan to get if you have specific needs and requirements. Unlike with the Starter plan, you need to contact sales support to get a personalized quote.
Read more about all the scope of each pricing plan on its licensing terms of service.
6. DailyMotion – Top VOD Platform For Publishers
French Video-Sharing Site With Excellent VOD Streaming Platform [Free]
With 300 million active users and 2 billion monthly views, DailyMotion has become the strongest competitor of YouTube.
And, it continues to develop its platform to ensure it'll maintain a competitive edge.
One of their video management solutions is dedicated to publishers who produce high-quality video-on-demand and live stream content.
Once you register as a partner, you're provided with a simple dashboard where you can access the following:
Upload and manage all media content
A complete view of your video performance (analytics)
Basic and advanced settings of your DailyMotion channel
Customize your video player
Overview of your earnings
Set up your preferred payout method
When it comes to video monetization, DailyMotion gives you two options – video or website monetization.
Video monetization allows you to promote your uploaded video content through your DailyMotion channel.
You can start receiving earnings once you reach a minimum of 10,000 views.
On the other hand, website monetization requires you to embed DailyMotion videos on your websites.
Promote it and get 10,000 views as well to start earning revenue.
Pros And Cons Of DailyMotion
| | |
| --- | --- |
| Pros | Cons |
| Offers multiple upload methods | $100 or less is not eligible for cash out |
| Supports 4k, 60fps 360-degree video content | Limited monetization tools |
| Includes complete video workflow (from capture to distribution) | Only has basic analytics tools; require to install a third-party app to get advanced insights. |
DailyMotion Pricing Plan
Not all video-on-demand platforms create simple to complex pricing tiers. DailyMotion for publishers is one of the few that offer a completely free-to-use platform.
Getting started on this platform requires you to choose to register in their starter or advanced offer.
Starter Offer: You can access their free management and distribution solutions, content duration limit of 60 minutes per file, and an upload limit of 10 videos per day (total 2-hour duration).
Advanced Offer: Get help from the experts with unlimited content duration per file, and upload limit of 96 videos per day (unlimited duration). It also supports all types of video and audio content formats.
Start monetizing your video content now by registering an account.
7. Wistia – Best VOD For B2B Marketers
Complete Hosting Platform For Marketers [$99/mo]
Wistia is a popular video hosting platform, with notable clients such as Mailchimp, Zendesk, and Starbucks.
Not only does it allow you to share, manage, and create videos and podcasts, it also enables you to do the following:
Access real-time analytics
Have branding customizations on video player
Use the Soapbox Chrome extension for personalized sales videos
It's also very simple to navigate and if you run into any roadblock, there's a wealth of information and knowledge that you can obtain from articles, FAQs, and the online help center.
Pros And Cons Of Wistia
| | |
| --- | --- |
| Pros | Cons |
| Clean interface | Analytics unavailable for other plans |
| Responsive customer assistance | Doesn't have nonprofit pricing discount |
| Solid uptime | Can be pricey for beginners |
Wistia Pricing Plan
There are three types of plan that is available for Wistia. They are the following:
Free: For businesses that are only getting started, you can actually use all of their standard features for podcasts and videos for absolutely no cost. You can conduct A/B testing, have up to 250 channel subscribers, and many more.
Pro ($99/mo): If you want to access more advanced features, then the Pro plan is what you should get. This will enable you to include your own branding to your video player, add as many audio and video files as you want for only 25¢/mo, etc.
Advanced (Custom quote): This one has premium features such as priority support, integration with Marketo, Hubspot, or Pardot, 100 free podcasts and videos that you can embed anywhere, and so much more. You need to get in touch with their sales team to get your personalized quote.
Interested in Wistia? Get started by visiting their site to learn more.
8. VIDIZMO – Rich Video Streaming Experience
Best Video-On-Demand Platform For Enterprises & Agencies [Quotation-Based Fee]
As a bonus, I give you VIDIZMO – the video-on-demand platform to trust for established businesses, agencies, and organizations (private and public).
All its features offered are similar to the other VOD platforms.
But of course, they apply their own expertise and creativity to provide a more powerful impact and benefits.
Once you purchase a subscription plan, you can immediately start creating a brandable white-label VOD platform.
It's highly customizable, so you can easily incorporate your business' style and guidelines. You can even personalize your communication boards by setting multiple languages.
A smart way to promote better communication with all users.
Content access and sharing management are one of the strongest features found on your portal.
This is the feature where you can assign roles to every user of the application. I've included a screenshot here to give you a clear idea of what roles you can set and their functions.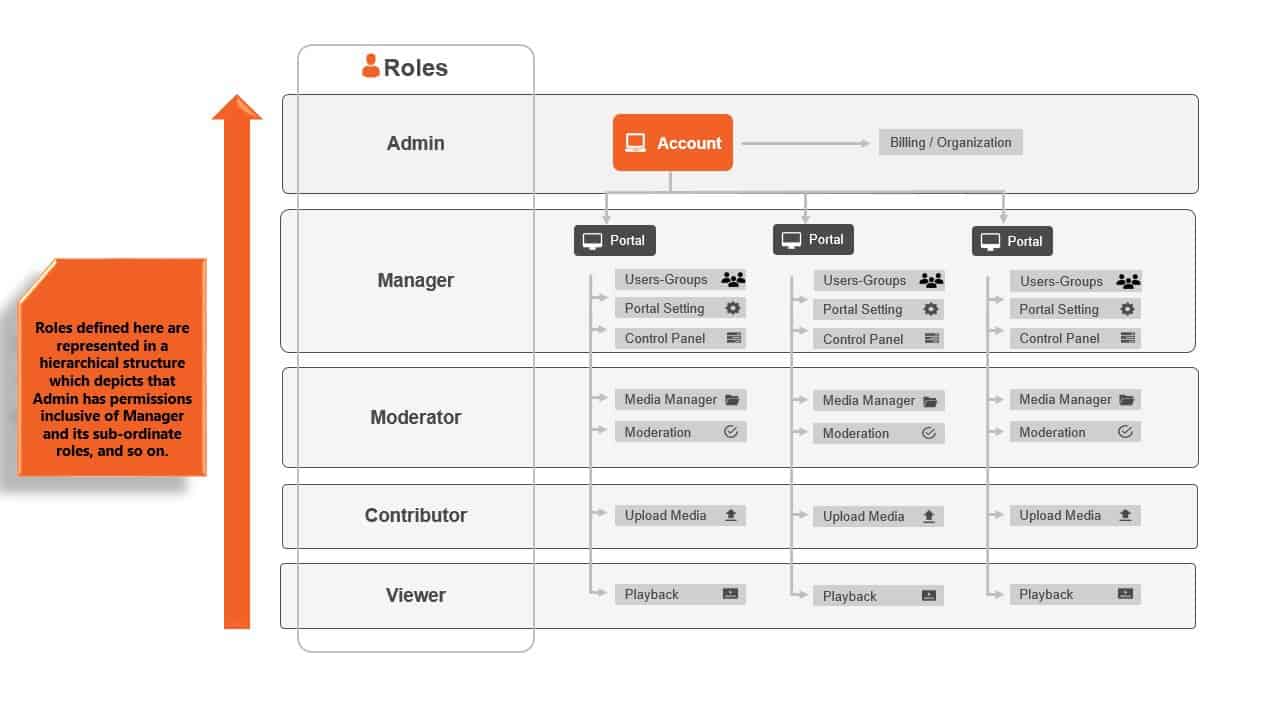 VIDIZMO also uses a rich HTML5 video player.
This provides a guarantee that your users will watch any video content with the highest quality.
For optimal convenience, this online video player is paired with an AI-powered function.
Now, all videos' closed captions and transcripts are instantly translated into over 80 languages (depending on what you set).
If you want to know how you can monetize your on-demand videos and other digital media, here's the answer.
VIDIZMO can help you sell all your video content to its customers (new and existing) and partners. Other smart monetization methods it offers are listed as follows:
Sell content licenses (individual or bulk)
Use your website or shopping cart platform
Implement paid registrations
Accept ads from other businesses and display them on your video player
Pros And Cons Of VIDIZMO
| | |
| --- | --- |
| Pros | Cons |
| Multiple deployment options available (on-premise, cloud, & hybrid) | No refund policy |
| No complicated setup and implementation required | |
| Supports 255+ video and media formats | |
VIDIZMO Pricing Plan
VIDIZMO offers a quotation-based subscription plan.
If interested, you can request a quote by submitting a request pricing form that indicates all your business needs.
They also offer a 15-day free trial for anyone who wants to explore the platform.
Conclusion
All the best video-on-demand platforms included on the list are proven and tested to provide superb quality in creating, hosting, and delivering various types of video content.
If you're new to video content publishing, I suggest starting with Vimeo On-Demand. At $20 a month, you can begin to upload and host your on-demand videos.
Reaching out to your target audience will never be a problem because Vimeo has millions of loyal viewers.
But for entrepreneurs and video content publishers (beginner and experienced), the ultimate VOD hosting platform that can maximize their revenue and performance is Uscreen.
It doesn't require a complicated setup, offers free migration, and provides a wide range of monetization methods. It's a plus that it also gives an instant payout for your earnings.
These are only a few of the hundreds of the best video-on-demand platforms available in the market today. If you have firsthand experiences or tips to share, please feel free to leave them in the comment section.