If you want to know the best website builder for small business sites, this guide can give you a clear answer.
A website serves different purposes for businesses. Some are created to strengthen one's online presence and brand, while others use for selling products.
No matter your intended purpose, there's the right website builder that can help you make it into reality.
Since site builders come in different structures and specializations, I've tested the top 9+ website builders to prevent confusion.
What Is The Best Website Builder For Small Businesses?
If you're in a hurry, you can take a quick look at my top 3 picks instead: Squarespace, HostGator, and Wix.



4.9



4.6



4.2
Best overall. All-around website builder with high customizability Starts at $12/month.
Best value for money. Intelligent web builder with over 100+ templates. Starts at $3.84/month.
Most features. Easiest to use with intuitive tools and dashboards.
Free version available
Try Squarespace
Try HostGator
Try Wix
Let's dive into each website builder's specifics and find out which website building platform is the most suitable for your business and needs.
1. Squarespace – Top Pick
All-Around Website Builder For Creative Entrepreneurs [Starts at $12 a month]
Modern and versatile are the reasons Squarespace's website builder has become a favorite of many.
Its all-around environment makes it ideal for creating stunning sites. It's made easy and fast, from a simple resume and portfolio site to a functional blog and launch pages.
It's also made simpler because it comes with customizable, niche-specific templates.
Most of them are free, so you can use them to your heart's content. You also can tweak its design to incorporate your branding or keep the original design intact.
Do you want to start from scratch?
It's possible by changing the template's design entirely and using the Site Styles and Design panels to add visual elements.
Though these features are impressive, Squarespace has become the best website builder for small businesses because of its sales tools. These user-friendly tools are proven effective in creating and supporting a small-scale eCommerce store.
You can add an unlimited number of products (physical and digital goods) and professional services.
You can also expand your website's functionalities by adding third-party extensions and plugins.
Shipping and fulfillment apps are ideal for the quick processing of orders. You can also add a marketing automation app to connect with your target audience and drive more engagement.
Let's clear one common misunderstanding, is Squarespace different from Square?
Yes, they are developed by different companies. Squarespace provides website building and hosting services, while Square (also known as Square Online) is an eCommerce website builder developed on top of Weebly.
If Squarespace doesn't meet your requirements, you can always get the best Squarespace alternatives. I've attached my review to help you make an informed decision.
Pros And Cons Of Squarespace
| | |
| --- | --- |
| Pros | Cons |
| Include a built-in RSS feed for podcast services publishing | Not suitable for complete beginners |
| Provide modern pre-built designer templates for bloggers, photographers, and any individuals who love creative designs | No back-order function |
| Shipping options included | Creating a multilingual website has a complex setup |
| The Commerce app is available for Android & iOS devices. | No offered subscription plans for multi-sites |
| Can tag products on Instagram | No phone support is available. |
Squarespace Pricing Plan
You can get full access to the Squarespace website builder by purchasing one of its subscription plans. All include fully-managed cloud hosting to keep it up and running at all times.
Personal ($12/mo.): This is the ideal plan to get if you intend to connect your new small business website with a free custom domain. You can also add two contributors to work on your website.
Business ($18/mo.): The plan provides you with tools to create a professional website with a fully integrated eCommerce platform. You can also access its advanced website analytics, get $100 Google ads credits (terms and conditions apply), and promotional pop-ups and banners.
Basic Commerce ($26/mo.): Enjoy a 0% transaction fee on this plan. You can also sell unlimited products in-person and online (website and Instagram).
Advanced Commerce ($40/mo.): Get this plan if you intend to sell subscriptions. You can also send automated email reminders when customers fail to complete the checkout process.
All Squarespace's pricing plans also provide unlimited storage and bandwidth. Try Squarespace website builder free of charge for 14 days by signing up on its trial version.
2. Gator Builder – Best Value For Money
Intelligent Website Builder For Beginners [Starts at $3.84 a month]
Gator builder by HostGator is one of the best website builders for small businesses that introduce innovative technology.
Its creators engineered an AI-powered option that helps you create professional websites just by answering a few questions. The key to getting the right design is to input the right category (business niche).
If the result doesn't satisfy you, you can create your own website by choosing one of its 100+ templates.
All templates are customizable and boast beautiful, industry-specific web designs. It's intended to ensure you'll get the website design best suited for your business or product.
Once you settle with a template, you'll be redirected to the main website builder.
You'll not feel lost inside the platform because it comes with a Getting Started Tour. So, ease your mind so that you can get the hang of it quickly.
The website builder has a point-and-click function for easy editing.
Don't have a logo yet? Don't worry, you can create one with its free logo maker.
Other excellent features you can expect to use are listed as follows:
eCommerce Management Tools: Manage all aspects of your online shop, such as shopping cart, inventory, payment gateway (credit cards, PayPal, etc.), and more.
Email Marketing: Simplify your workflow by sending automated emails, lead capture forms, and more.
Scheduling & Calendar Tool: Add an effective appointment booking system — the perfect tool to take advantage of for business owners selling professional services.
Image Library: Fully-integrated stock photo library by Unsplash.
Pros And Cons Of Gator Builder
| | |
| --- | --- |
| Pros | Cons |
| Simple onboarding process | No free plan included |
| Provide a 45-day money-back guarantee | Creating a content-heavy blog requires app integration |
| Use the Unsplash image library at no additional cost. | |
Gator Builder Pricing Plan
Here are the subscription plans HostGator offers:
Express Start ($3.84/mo.): This plan qualifies you for one free domain name registration (terms and conditions apply), 3 email campaigns/month, and add 3 products.
Express Site ($5.99/mo.): Get 5 email campaigns/month, 10 products to add to your online store, add an appointment booking system, and more. You'll also get priority support.
Express Store ($9.22/mo.): Here's the plan for anyone who wants to sell unlimited products without paying transaction fees. You can also take advantage of its advanced integrated shipping management features.
If you choose HostGator's Cloud Hosting plans, you will enjoy unlimited storage, email addresses, and bandwidth. Register for any subscription plan and start creating a website like a pro.
3. Wix – Most Features
Feature-Rich Website Builder For Non-Tech Entrepreneurs & Developers [Free]
Wix designed their web-building platform with ease of use in mind.
No matter what the user's technical knowledge or skill levels are, it doesn't matter. Everyone can create stunning websites quickly and efficiently.
It's one of the best website builders for small businesses because it provides two website creation methods.
And it started with the Wix Editor.
The Wix Editor is first launched in 2015. Today, it remains to be one of the easiest platforms to use.
If you don't want to create a website from scratch, you can browse its massive collection of templates.
It has a drag-and-drop function for the quick addition of visual elements. It's also built with an unstructured design.
This design means that you can move any content blocks and visual elements anywhere on the website.
If you want to know how to edit the content block, simply click it, and its settings box will appear. All the attributes you can modify are displayed there.
The last method offered is called Wix Editor X.
Compared to the first website builder, Editor X has a much more organized and simpler look.
It also includes tons of new advanced features such as:
Design & Layout: A few elements you can add are CSS grid, repeater, theme manager, units of measure, and more.
Interactions & Effects: Pin important details to the screen and add scroll effects, animations, and overflow control.
Designed Asset & Media: Add designer-made sections to highlight vector illustrations, add transparent videos, and more.
Powerful content management system: Organize and manage all your content of any kind in collections.
Wix Editor X only launched in 2021. Therefore, there are a variety of third-party apps and add-ons it doesn't support yet.
Both website builders offer a Dev Mode.
This is the section where developers of any level can build their very own web applications. Simply turn it on to add your custom code or connect it to various APIs.
If you want to take take a look at how Wix compares to one of its tight competitors in eCommerce, check out my review on Wix vs BigCommerce.
Pros And Cons Of Wix
| | |
| --- | --- |
| Pros | Cons |
| Callback service is available in 9 languages | Chat support is not available for everyone |
| Wix Editor comes with 800+ templates. | You're not allowed to switch templates. |
| Create and publish custom web applications through Velo Wix | Can't transfer site theme, design, layout, premium apps, & members to a new website |
| Hundreds of apps and services to expand your website | Tracking and analytics are available on paid plans. |
Wix Pricing Plan
Unlike the first two website builders, Wix Editor is 100% free to use.
You can start from scratch (provide tutorials) or choose from hundreds of designer-made templates. You will also get:
Built-in business solutions (client management, SEO, and more)
Pre-installed business tools powered by Ascend (automation, chat, email marketing, and more)
Host on its free domain (accountname.wixsite.com/siteaddress)
Carry Wix branding
Getting a subscription plan is recommended if you want to add Wix premium features and remove its branding.
Connect domain ($4.5/mo.): The ideal plan for business owners who want to connect their site to a custom domain. You'll also get 500 MB storage space, 1 GB bandwidth, and a personalized mailbox.
Combo ($8.50/mo.): If you don't have a custom domain yet, this plan can give you a 1-year free domain voucher (conditions apply). Your bandwidth (2 GB) and storage space (3 GB) are upgraded and add a 30-minute video (for sale/rent and streaming).
Unlimited ($12.50/mo.): The subscription plan is best suited for entrepreneurs and freelancers. You'll get full access to site booster and visitor analytics apps (free for one year).
VIP (24.50/mo.): This plan lets you complete your website and social media with a professional logo. You'll also get 35 GB of storage space, 5 hours of videos, and priority support.
The best thing about Wix is that it also provides complete eCommerce features. Visit their site and check out their unique inclusions (under Business & eCommerce plans).
4. Strikingly – Best For Simple Online Stores
Simple Website Builder For New Entrepreneurs [Free]
You can always count on Strikingly when looking for a simple and easy-to-use website builder.
It boasts a modern design where its editing tools and visual elements are neatly organized on the side. Click one element, and it will show all the attributes you can add or modify.
Additional customization options are included per content block to ensure you'll achieve the exact look you envision.
Not a fan of creating a website from scratch? Or, maybe you just don't have the time for it?
No matter your reasons, Strikingly can do all the heavy lifting for you.
They offer a wide range of beautiful and responsive templates where each is designed for specific purposes (faqs, events, etc.). All you have to do is choose the best template that matches your business style or needs.
Aside from choosing the right template, it would be best to make your site accessible to all types of visitors.
Strikingly made it simpler by adding the following attributes:
Alt-Text On Images: This helps assistive software read the description of your image and translate it to your visitors with visual impairment.
Clear Captions On Videos: Captions allow your visitors to stream your video content even in sound-sensitive environments. It can also serve as an auxiliary aid.
Legible Fonts: There are tons of font styles available. Make sure to choose clear and easy-to-read fonts like Arial or Verdana to ensure that they will remain readable in all screen sizes.
Strikingly's small business website builder first rises to fame for creating a stunning and responsive one-page website.
Many business owners take advantage of it by building coming soon and launching web pages. Freelancers and marketers also find this platform convenient in making their portfolio and product landing pages.
But now, you can also use it to create a simple online store where you can sell 1 to 500 products and membership subscriptions.
Pros And Cons Of Strikingly
| | |
| --- | --- |
| Pros | Cons |
| Helpful 24/7 customer support is available on the free plan (email, live chat, & forum) | Limited to one-page websites |
| Includes powerful conversion tools | Free plan only allows 1 product to sell (physical or digital product) |
| Run a simple store with full e-commerce functionality | No phone support is available |
| Best for service-based businesses | Not suitable for fast-growing businesses |
Strikingly Pricing Plan
Strikingly website builder is automatically included in its free plan.
However, you can always upgrade your account based on your business needs. It also offers subscription-based plans, all payable on flexible billing periods (monthly to 5 years).
Free: This plan is ideal for a simple store (1 product), 5 GB monthly bandwidth, and 500 MB storage capacity per site. Publish the site using the Strikingly.com domain and invite collaborators.
Limited ($8/mo.): Sell up to 5 products and get 1 GB storage per site, 50 GB bandwidth, and publish unlimited free sites (2 sites with limited features).
Pro ($16/mo.): On top of the limited plan, you can publish 3 sites with pro features and sell up to 300 products. You can also remove its branding, add site memberships, and sell paid subscriptions.
VIP ($49/mo.): Run 5 websites with VIP features and get 10 GB storage per site, 500 GB bandwidth, 2,000 active contacts, and sell up to 500 products. You can also enjoy a 0% transaction fee.
All subscription plans include a risk-free 14-day free trial.
5. GoDaddy – Easy & Quick Setup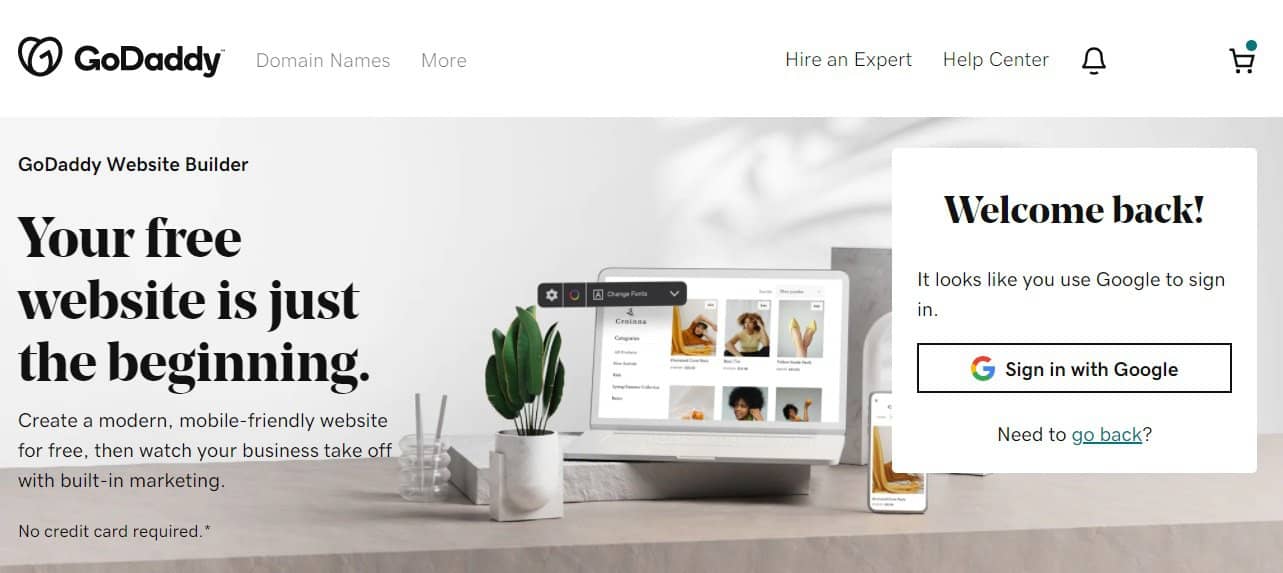 One-Stop Website Builder [Free]
GoDaddy has been around the business since 1997. It's renowned for its robust web host and domain registrar.
But of course, they didn't stop there.
They continue to develop its platform to help entrepreneurs of all types grow their online businesses. Its creators successfully do so by engineering a versatile website builder with a low learning curve.
Its interface design may not be as impressive as the others, but it's built for ease of use.
It has a point-and-click function to simplify the editing process. This is paired with an action plan feature that recommends the next best steps (based on your set goals).
Just like other popular website builders, it comes with a massive collection of pre-designed templates.
From a personal blog to an online store, name it, and GoDaddy offers a designed template. Therefore, no matter what on-trend business ideas you may have, you can transform them into reality.
Other amazing features you can get on this free website builder are listed as follows:
Built-in email and social media marketing tools
Appointment setup for 1-on-1 training, consultation, and alike
Offline payments
SSL certificates
Easy addition of Google Analytics
Variety of plugins for WordPress.com (free, open-source software)
Pros And Cons Of GoDaddy Website Builder
| | |
| --- | --- |
| Pros | Cons |
| Great discount for new users | Expensive renewal rates |
| Responsive 24/7 customer support via phone and chat | Provide the shortest period for refunds (48 hours for all monthly plans with less than a 1-year term) |
| Simple platform to get your site up and running | No option to downgrade paid plans to a free plan |
GoDaddy Pricing Plan
GoDaddy is known for providing the best free website builder for small businesses.
However, you still need to purchase a subscription plan to create a completely developed website or online store. GoDaddy created four website builder plans for you:
Basic ($6.99/mo.): Complete your website with a custom address, manage a business page in one social media channel, and complete access on GoDaddy Studio.
Standard ($10.49/mo.): Get exclusive access to its built-in website optimizer, manage business pages in 3 social media channels, and more.
Premium ($13.99/mo.): This plan is suitable for business owners who want to create unlimited social media posts and responses, compose 25,000 emails, and more. You can also set up a functional online appointment system.
eCommerce ($17.49/mo.): The only plan that allows you to accept online payment and fulfill orders (particularly great for startups).
Start creating a modern and responsive website for your business by signing up for its free plan.
6. Shopify – Best For Multi-Product eCommerce Store
Excellent Website Builder For Small & Growing Businesses [Starts at $29 a month]
When building an eCommerce store, Shopify is the best website builder for small business owners to use.
Upon starting your free trial, it will provide you with a dashboard to manage every aspect of your online store. Under the sales channel, you can view your options on how to create your website.
Customize their signature theme called Debut (default option)
Explore Shopify's free and paid themes
No matter what option you choose, you'll end up being redirected to its eCommerce website builder.
Shopify website builder's best part is that it instantly removes all the theme's default content (images and text). This saves you time and effort in removing unwanted content.
The main interface looks a bit confusing.
But I guarantee it's not. Simply click any element on the left-side navigation bar, and it will show you all the attributes you can change.
You can take advantage of its code editor if you're an expert developer.
You can access this by clicking the three-dotted icon (besides live) and selecting Edit code.
If you want to take a look at how Shopify goes toe-to-toe with its competitors, then you're in luck. Read my reviews on all of them through: Shopify vs Amazon and BigCommerce vs Shopify.
Pros And Cons Of Shopify
| | |
| --- | --- |
| Pros | Cons |
| Includes a mobile app (available in the Google play store and app store) | 0% transaction fee only applies to Shopify payments |
| Customer support is responsive (live chat, phone, Twitter, and email) | All subscription plans' stated prices don't include sales tax. |
| It runs on all the latest versions of web browsers (Google Chrome, Mozilla Firefox, Apple Safari, MS Edge, & Opera). | Require to contact support to remove or change the Shopify-managed domain (your-store.myshopify.com) |
| Can use international domains for every country or region you targeted | |
Shopify Pricing Plan
Shopify allows you to run an online store under its managed domain.
But if you want to set up an online store with a unique user experience and own domain, you need to purchase one of its three subscription plans:
Basic Shopify ($29/mo.): This plan provides a stunning eCommerce website and blog. You can sell unlimited products, add two staff accounts, and more.
Shopify ($79/mo.): Permits you to add five staff accounts and inventory locations. You can also sell in 133 currencies, five multiple languages, and add international domains.
Advanced Shopify ($299/mo.): Sell without restrictions with exclusive access to advanced reporting.
Get a firsthand experience of its premium features by starting your free trial.
7. Carrd – Best For One-Page Websites
Reliable Website Builder For Niche-Specific Sites [Free]
Carrd is another fantastic one-page website builder you can trust.
No learning curve is required because its builder interface boasts the most straightforward design. By default, it displays the canvas and menu.
However, the properties panel will show up the second you select any elements from the canvas.
The canvas contains the background, which you can set a solid color, gradient, image, or video. On top of it is where all the text and visual elements are positioned presentably.
If you don't like the current positioning of elements, you can freely rearrange them.
Carrd website builder features a drag-and-drop function. This allows you to change every aspect of the page with minimal effort and time spent.
On the other hand, the menu contains the following actions:
Add new elements
Undo the last action
Redo next action
Preview animations
Switch to mobile view
Publish this site
Displays additional action
Of course, the convenience that a drag-and-drop editor can provide wouldn't be completed without pre-designed templates.
Unlike other website builders, Carrd designed their templates based on their five categories:
Profile
Landing page
Form
Portfolio
Sectioned
The latter category is ideal to use if your website requires multiple pages. It works by using section breaks to simulate the different pages.
This is the reason they become suitable for all business niches.
The good news is that you can add as many sections and visual elements to your website.
But when it comes to adding your unique creative designs, Carrd website builder won't give you an option. You have to make the best out of the design they provide.
Pros And Cons Of Carrd
| | |
| --- | --- |
| Pros | Cons |
| Create fully responsive, one-page sites without carrying Carrd branding. | Limited trial version of Pro plans (7 days only) |
| Available templates are designed based on specific purposes (landing page, portfolio, etc.) | No blog and eCommerce options |
| Can support websites of all types with an unlimited number of elements | Limited to one page only |
Carrd Pricing Plan
Carrd offer three simple annual subscription plans:
Pro Lite ($9/year): The basic plan that provides you support in creating and publishing three websites, with premium URLs. You can add high-quality images, videos, and unlimited numbers of elements.
Pro Standard ($19/year): The recommended plan for creating and publishing ten websites with custom domain URLs. You can also add forms, widgets, embeds, and meta tags.
Pro Plus ($49/year): Perfect for business owners who want to transfer their current website to Carrd. It provides you with a redirect option to preserve your existing links and download unminified source codes and images from your site.
Explore your chosen Pro plan free of charge for 7 days.
8. Constant Contact – Most trusted For Local Businesses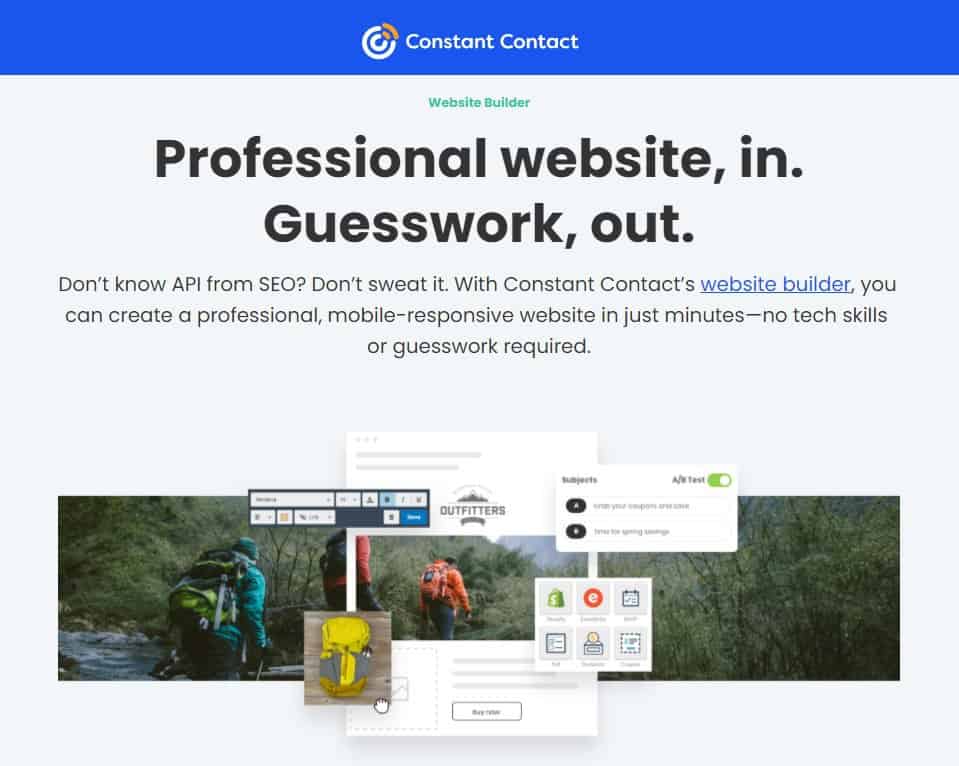 AI-Powered Website Builder With Impressive Visual Effects [Starts at $10 a month]
Constant Contact is email marketing software by inception. But I've still included it on my list because it provides a fantastic website builder.
At a glance, you may not find it appealing as it boasts simplicity in form and function.
It has a WYSIWYG functionality, making it ideal for beginners. It's also packed with professional themes that are designed per industry.
It may be simple but certainly not basic.
Its interface is built with A.I. technology to simplify the website creation process. Just answer a few questions, and it will provide a custom-designed website tailored for your business.
Ease your mind that the design options provided include the following:
Customizable layouts to easily apply your own website style
Built-in marketing and SEO tools to improve your ranking on search engines
Ready to add a blog (optional)
Access to their logo maker (if you don't have one yet)
One of the features best to highlight is it can add impressive visual effects. You can attract customers by adding video backgrounds or creating an optical illusion using parallax scrolling.
If your business intends to sell, you can get started by creating an online store.
The good news is that you can sell all types of products – physical or digital products or services.
Inside the platform, you can expect to get a product page and store management section. You can also set up your payment method to start accepting online payments.
Getting your business found on Google and the area your store is servicing is also made easy.
Constant Contact offers seamless integration to Google My Business. This saves you time from manual setup because you can manage everything on a single platform.
This is why it has become one of the best website builders for local businesses.
Pros And Cons Of Constant Contact
| | |
| --- | --- |
| Pros | Cons |
| Simple drag-and-drop editor | Can only add YouTube videos |
| Include an AI-powered logo maker tool and WordPress plugin (contact forms) | Host Podcasts through Audioboom only. |
| Offered the longest free trial period (60 days) | |
| Include a 30-day money-back guarantee | |
Constant Contact Pricing Plan
Constant Contact may not offer a free-forever plan for its website builder, but you can still get it at $10/month.
Get this plan, and you'll have complete access to its tools to build a website for your brand or online store. Since this is an online marketing platform, you can also get access to the following features and tools:
Contact management: Contacts database, contact list import, and list segmentation
Email marketing: Sign-up forms, apps and integrations, and shoppable landing pages
Marketing automation: List building tools and welcome email
Marketing channels and engagement: Social monitoring and inbox, landing pages, image library, and more.
Start your free trial today and get exclusive access to all Constant Contact website builder's products.
9. Webflow – Best Known For Customizability
Website Builder For Designing Sites From Scratch [Free]
Picking a designer-made template is the easiest way to create a website. However, if you want to make a site with a unique user experience, Webflow is your best option.
With its simple drag-and-drop editor, you can create a website from scratch without coding.
Let your creativity be in control because you can tweak its structure and style the way you want it. A few of the elements you can use inside the platform are listed as follows:
Elements Panel: Get full access to all the unstyled HTML and pre-built elements such as typography, forms, sliders, and more.
Symbols: Transform any elements into reusable components to make the editing process simpler. Two types of symbols you can use are identical content and unique content.
Navigator: Organize all elements inside your website for easy management and ensure web pages are accessible to all.
Classes: Help you create a CSS-based class system
Typography: Use any font you desire and adjust them to ensure they remain readable on all screen sizes.
You can also create animations to make it visually appealing and engaging. Webflow offers plenty of options to choose from, such as:
Reveal content on click
Triggered by scrolling
Micro-interactions around mouse movement
Entrance and emphasis effects
If you want more, you can integrate After Effects and Lottie animations.
Pros And Cons Of Webflow
| | |
| --- | --- |
| Pros | Cons |
| All subscription plans include backups & versioning. | All website plans are limited to 100 static pages. |
| REST-based APIs and performance optimization features are available | Customer support can take up to 2 business days to response |
| Built-in advanced SEO controls | No available option for switching templates once you start working on it |
| Offer a 30-day money-back guarantee. | No import option for existing or custom codes |
Webflow Pricing Plan
Webflow offers a free-forever plan for individuals working on up to two projects at the same time.
They also offer a free staging where you can get the following:
Accommodate 500 views
Store 50 CMS items
Create two static pages
Limited CMS management and form customization functionality
Once you're ready to publish, you can upgrade to Lite, Pro, or Team plan.
But if your business website requires more functions, it's recommended to get its site subscription plans:
Basic ($12/mo.): Ideal for a simple business or personal site with 100 static pages to create.
CMS ($16/mo.): The recommended plan for blogs and another content-driven website. You can also allow 2 Content Editors to create/edit/publish content.
Business ($36/mo.): Get this plan if you intend to create and manage a high-traffic marketing website or blog.
Enterprise (Custom pricing): For businesses that require custom features, this is the plan to get. Contact the sales team to get a personalized quote.
You can also check out its eCommerce plans if you want to sell 500 to 3,000 products ($29-$212/month).
10. SITE123 – Ideal for Single & Multipage Sites
Easy-to-Use Website Builder For Functional Websites [Free]
SITE123 promises to help you build your business website or online store in 3 simple steps. And they successfully deliver this by providing a web wizard.
Upon registering for its free plan, the web wizard will first ask you what type of website you want to create.
Compared to other website builders, their options are mixed. You can choose any of the following:
Function – Online store, blog, landing, and website (all types)
Industry – Transportation services, tourism, and more
Niche – Photography, music, and more
Once you select your preferred type, the web wizard will let you add your business name and the primary language to use.
Voila, you can now customize your website.
If you're not satisfied with the designs provided, you can always select any of their pre-built designs. All templates are customizable to achieve the look you want.
The best part of its website builder is that you can choose the website type you want to create.
You can create a single-page website. This is handy for sharing the right information with your audience and engaging them to act on it.
Or, you can create a multi-page website, an excellent option for eCommerce sites and blogs.
No matter what your idea is, SITE123 can help you make it.
Pros And Cons Of SITE123
| | |
| --- | --- |
| Pros | Cons |
| Responsive and friendly customer support via live chat (24/7) | No phone support is available |
| Create a cross-platform website with no coding required | Not allowed to switch templates once it goes live |
| Can register multiple websites in one account (available for free and paid plan) | Limited design flexibility |
| Include a web wizard for easy and quick managing and updating of your websites | |
SITE123 Pricing Plan
SITE123 website builder is 100% free of charge, forever. Enjoy creating and managing unlimited websites under your account.
For businesses with higher requirements, you can purchase its Premium plan at $5.80 per month.
Here are the perks you can get:
Use its 1-year free domain to connect your website to a unique domain name
10 GB worth of storage space
5 GB bandwidth capacity
Remove SITE123 floating tag
Complete access to its eCommerce features
SITE123 occasionally offers limited-time offers with higher capacity limits and adds multiple languages. In the meantime, you can start with a free plan.
Conclusion
Every company owner has unique requirements, business plans, budgets, and skill levels. So, when finding the best website builder, consider all of these factors.
All the platforms included in this list are considered the best website builder for small businesses.
But if I have to choose which one is the ultimate choice, I'll go with Wix.
Wix is one of the few providers that offer multi-cloud web hosting and website building platform. For the latter, you can use it without paying a single cent.
You also have plenty of options – web designs and website builders (classic website editor, their newest Editor X, or with the help of WIX ADI).
Tech savvies or not, you can use it with ease. It provides extensive online tutorials, which include a step-by-step website creation.
If you have an existing eCommerce store (BigCommerce, OpenCart, and 100+ more), you can easily link it using LitExtension Store Migration.
I hope I've given you helpful insights into what site builder to create small business sites. If you have additional tips or website builder reviews to share, please feel free to drop them in the comment section.