If you're searching for a comprehensive Buiderall vs ClickFunnels comparison, you're on the right blog. As a business owner, you need to ensure that you pick the right platform for your company in order for you to thrive.
That is why in this article, I will teach you all of the important information regarding these two so that after reading this, you will arrive at a fitting decision.
You'll learn everything from their features, pros and cons, pricing, type of company they're best suited for, and so much more.
So, let's go ahead and compare them.
1. Builderall vs.ClickFunnels At A Glance
Here is a quick look at the comparison of Builderall vs. ClickFunnels through their most important features and popular pricing plan.
| | |
| --- | --- |
| 4.8 | 4.5 |
| Best Overall. All-in-one intuitive platform for digital markets to cater to all marketing needs. Starts at $29.90/month. | Best for flexibility. Purpose-built to provide and focus on creating and improving conversion tunnels. Starts at $97/month. |
| Try Builderall | Try ClickFunnels |
2. Who Is Builderall Best For?
Builderall is a digital marketing system and online marketing platform that is best suited for new marketers, budding entrepreneurs, startups, small businesses, eCommerce websites, membership sites, etc.
3. Who Is ClickFunnels Best For?
ClickFunnels is an all-in-one marketing solution that is a great fit for the following: eCommerce retailers, coaches, webinar hosts, affiliate marketers, small and medium enterprises, marketing service providers, network marketers, and many more.
4. A Close Look At The Features Of Builderall And ClickFunnels
In this section, we will have a look at how the features of Builderall vs ClickFunnels stack up against each other.
5. Key Features Of Builderall
Builderall has many features that can boost your sales, establish an online presence, build credibility, etc.
#1 Buiderall's Cheetah Website Builder
The Cheetah Website Builder is a fresh addition to Builderall's list of features.
You'll be able to craft eye-catching website pages in a very short time.
You can create anything from funnels, pages, websites, etc. utilizing the drag-and-drop builder that is simple to navigate.
Their technology also allows them for device responsiveness, ensuring that your creations look the best on any gadget.
The performance of the sites is also amazing. Say, for example, it has a 92 Google Score on smartphones.
Note: Additionally, Buiderall websites have the following top-notch website features:
Powerful Page Accelerator: You can enjoy super-fast page speed and performance due to their powerful page accelerator.
Easy Popups: Timed or scrolling popups can be configured simply, as well as show exit intent.
Sites Sharing: With only one click, you'll be able to share your pages and websites with your friends, partners, customers, etc.
On-Page SEO Optimization: You will have the best results on Google SERPs because of Builderall's full on-page SEO optimization for Google bots.
Free SSL Certificate: You'll get a free SSL certificate for absolutely no charge.
High-Speed CDN Network: You can utilize ultra-fast CDN servers that will benefit your clients wherever they are around the globe.
Daily Site Backups: Your website content is secured with Builderall's automatic daily backups.
99.99% Protection Against DDOS Attacks: You'll have security on par with banks with their DDOS Attack Protection.
Website Bot: You can make rules and have control over a professional website bot, as well as automate support and sales utilizing this tool.
Easy WordPress Installation: With only three clicks, you'll be able to install WordPress on the server all by yourself.
Unlimited Membership: With Builderall, you can have unlimited Membership areas to help launch your eCommerce store and share what you know with your audience.
#2 Cheetah Funnel Builder
With the Cheetah Funnel Builder, there are so many possibilities for creating the most complete funnels available.
You get to manage and make all of your funnels in one place, which adds extra convenience to the creation process.
The Cheetah pages are unique and incredibly fast. They are also well-integrated with Builderall's CRM, TAG management, calculation simulations, A/B testing, etc.
There are also ultra-high delivery rates for their email sequences in MailingBoss.
From simple to complex, you can create any funnel that your imagination allows.
Here are some industries that use the Cheetah Funnel Builder, which is only available on Builderall: eBooks writers, pet shop owners, yoga instructors, academies, beauty salons and clinics, photographers, tutors, music teachers, forex course creators, slimming tea merchants, lawyers, dentists, real estate agents, martial arts school trainers, and many more.
There are over 20 funnel templates that you can edit and customize according to your business needs.
Squeeze Funnel
Reverse Squeeze Funnel
Lead Magnet Funnel
Bridge Funnel Ask
Funnel Application Funnel
Video Sales Letter Funnel
Sales Letter Funnel
Membership Funnel
Membership VIP Funnel
Daily Deal Funnel
Perpetual Funnel
Free Trial Funnel
Invisible Funnel
Tripwire Funnel
Product Launch Funnel
Webinar Funnel
Webinar for Membership
Funnel Auto Webinar Funnel
Split Test Funnel
Moreover, you no longer have to pay for a separate service in order to access autoresponder services.
While inside Builderall's funnel builder, you can make email lists, edit campaigns, as well as create follow-up sequences.
You'll be able to access your emails using its robust email marketing app which has more than 300 dedicated servers.
It is worth mentioning that Builderall's email editor is unlike anything else in the market. It's astonishing and compared to the ones that are on the market, it is extraordinary.
Note: Moreover, it also has the following email marketing features that can help you capture leads:
Drag-&-Drop Email Automation: With Builderall's drag-and-drop email workflow, you can make unlimited email marketing automation.
Email Timers: You'll also be able to send out time-sensitive offers to boost your sales using their email scarcity timers feature.
Device-Responsive Builder: Your emails will surely look great on any device, be it mobile phones, tablets, desktop computers, etc. since Builderall has a device-responsive email builder.
Simulation For Funnels: Create funnels and include data gathered previously before running your advertisements.
#3 Builderall Client Engagement Tools
Builderall has several tools that can help you with client management and automation services.
Builderall Calendar & Booking App
Using the calendar and booking app, you can set events and appointments with ease. It is a flexible tool that lets you manage your time well.
It enables you to select which you prefer between the event or consultation calendar types.
It is a great fit for coaches, local business owners, service providers, etc.
Using Builderall's calendar and booking app, you can also set up the following:
Summits
Live Events
Mentoring
Private classes
…and many more.
Video Hosting & Manager
With Builderall, you won't have to host your sales page video via YouTube ever. It has its own top-notch servers powered by its very own CDN network.
More importantly, this feature lets you manage your videos and view important statistics.
Overall Data Tracking
In fact, you can keep tabs on other conversion numbers using Builderall. You can view data regarding your profits, checkout system with commission control and sales, as well as every step of your funnel – which allows you to comprehend consumer acquisition price.
Builderall Webinar Tool
Take your business to another level by using Builderall's webinar tool, which is a vital factor in increasing sales.
You won't need third-party software because this is built-in.
This platform is superbly powerful and has many professional features. It allows you to create the following:
On-Demand Webinars
Live Webinars
Multiple Dates Automated Webinars
For your recorded webinars, you can utilize the messenger integrated chats, as well as live chat, to give real-time answers.
Builderall's webinar tools also include calls to action inside of the following:
Email Sequences
Ghost Audience
Waiting Room
…and so much more.
Note: There are also more webinar features that Builderall offers:
Webinar Builder: Builderall has an evergreen webinar builder that lets you sell your goods via webinar. You'll also have this on autopilot with multi-time options.
Facebook Live Stream: Using their live webinar feature, you can bring audiences from Facebook and share your screen.
YouTube Live Stream: Also through Builderall's webinar tool, you can take your guest from YouTube live.
#4 Builderall Additional Features
Mobile Optimization: Builderall not only produces ultra-speed sites but will also allow you to make them look good via mobile devices.
You'll be able to craft stunning yet fast mobile versions of your site.
And since the majority of traffic stems from smartphones (more than 90%), this gives you a strong advantage compared to your competitors.
Builderall eLearning Platform: You can create lessons with Builderall's amazing eLearning app. This process is also made easy through its drag-and-drop tool.
All of the courses are also mobile-friendly.
Builderall Blogging App: In addition to the eLearning application, Builderall also has a blogging app that you can utilize to create, grow, and monetize your blog.
SMS Text Messages: Builderall boasts a 100% open rate for their SMS text messaging so that you can reach your leads in a timely manner.
Keep in mind that local operator fees shall be implemented.
Builderall Messenger Chatbot: A professional messenger chatbot will also be available for your unlimited use. You can utilize it for your sales process, support, or conversation automation.
Expert opinion
6. Key Features Of ClickFunnels
#1 ClickFunnels Page Editor
The ClickFunnels Editor lets you customize pre-designed funnel templates so that you can modify them in order to fit your company's brand.
You'll be able to make astonishing pages that your site visitors will love, and in return, maximize your profits.
More importantly, you won't ever need the assistance of programmers or designers because the process is easy even for beginners.
Take a look at how simple it is to edit a funnel. Here are the following steps you need to take:
Select a template.
Point and click an element.
Drag and drop it anywhere you prefer.
There are also different types of funnels that you can create via ClickFunnels. Let us explore a couple of them.
Optin Pages: The main goal of this type of funnel is to build lists and then generate leads.
You no longer have to begin a funnel from scratch. All you have to do is select the optin page that you prefer.
All of the templates allow you to expand your list in a short period. This funnel was also pre-engineered specifically for lead generation.
Sales Pages: This kind of funnel's aim, as its name implies, is to sell your products and services.
There are a number of collections to pick from and they are all pre-designed for turning your website visitors into loyal consumers.
Order Form Pages: This one's goal is to collect payments from your customers. Utilize the order form page templates for you to make quick check-out for your buyers as well as to simplify the process.
All templates belonging to this category were created to lower cart abandonment and to increase ease of purchase.
After you input your pricing, merchant account, and description, your order form is good to go.
Upsell Pages: This type of funnel's focus is to craft high-conversion offer pages within a few clicks.
Once you change the page elements according to your company's branding, our cart value will skyrocket and you can instantly set off your 1-click upsells.
Webinar Event Pages: The webinar event pages allow you to host evergreen and/or live events.
It enables you to reach two things: increase the attendance of your webinar and boost its registrants.
All templates were proven and tested to convert website visitors to your site.
Membership Sites: Membership site funnels let your sell your content as well as store it.
Within a few clicks, you can make a member's area to host your content and training for your buyers.
Choose from a wide variety of templates in the ClickFunnels menu and then add in whatever you like.
Aside from the mentioned funnel types, there are still many that ClickFunnels has to offer.
It is also worth mentioning that there are other features that will allow you to gain control over your pages. Here are three of them:
Color Adjustment: This will let you alter the color of your backgrounds, fonts, texts, and many more.
Padding Adjustment: This setting allows you to modify the spacing surrounding an element so that your funnels look professionally made and visually appealing.
Custom CSS: This one enables you to take any element you like and come up with customized changes with the use of HTML coding.
It is not only the desktop experience that you get to edit with the ClickFunnels editor. You can also set up the mobile version of your pages.
Whatever device your customer is using, they can surely get in your funnel and enter your shop without suffering from the lack of device optimization.
You can even turn off or on the elements via mobile or desktop.
#2 Follow-Up Funnels
A follow-up funnel is also called a second funnel.
Most entrepreneurs only set up a front-end funnel and then stop there. However, most of the profit usually comes from setting up secondary funnels for your business.
The primary aims of the front-end funnel are to convert site visitors, generate leads, and make a profit. You also hope that you'll be able to break even on your spending on advertisements through this method.
Follow-up funnels, on the other hand, let you communicate to your consumers via multiple ways/accounts/persons.
Allow me to explain.
Although second funnels let you deliver, schedule, and send emails – pretty much like an email autoresponder, you can also diversify your messages according to who comes to your funnel.
What you can do is to market to them according to their geographical locations, preferences, actions taken on your site, and many more.
Most of the profit that you are going to make is going to come from the follow-up funnel because of its potential to build a relationship and talk specifically to a type of customer.
As I already mentioned in the previous item, ClickFunnels Editor, there are different types of funnels that you can use for list-building purposes.
To create a follow-up funnel, you need to pre-create a list, set up actions on your page, and then make Smart Lists.
After this, you can now make second funnels depending on the type of message you would like to send such as an email messenger or text notification.
You'll also be able to broadcast texts regularly to your customers.
You can also view data regarding your funnels and then adjust your strategy and content.
#3 ClickFunnels Backpack
ClickFunnels Backpack allows you to create an affiliate program to help scale your business, all without increasing your workload or advertisements.
With no extra effort, your affiliates spend their time, resources, and lists so that they can sell your goods and services.
What's more, is that you only need to pay once a purchase surely gets through.
This is why ClickFunnels Backpack has a powerful income-generating ability.
Moreover, you won't have to struggle with the technical aspect of this because everything is seamlessly set up for you.
Once a buyer makes a purchase under the ID link of your affiliate, he or she earns a commission as well as for other products.
The information and commission will stick to the same affiliate no matter if the special affiliate link wasn't used at all.
With the Backpack Affiliate Program, when a person buys, the email address they use is attached to that affiliate. It doesn't even matter what device they use for the purchase.
It is a double win for you and your affiliates.
#4 ClickFunnels Additional Features
With ClickFunnels, you can make an account and start with a trial for 14 days for absolutely no cost.
It also has the following features:
Free Updates: There are regular software updates, added templates, and features that you don't need to pay for. Since ClickFunnels is on the cloud, all of these recent changes will show up automatically.
Secure Funnels: Plugins won't be compromised with ClickFunnels. Your member's area, subscribers, and funnels are secure.
No Long-Term Contracts: There are also no long-term commitments for ClickFunnels, only monthly payments.
Easy Account Cancelling: After clicking on Cancel My Account, you don't need to contact anyone. You won't also lose your data, unlike other SaaS platforms. You can download CSV files and/or pause your account. Everything is stored and backed up until you return.
Autoresponder/Shopping Cart Integration: ClickFunnels has integrated with top service providers to ensure that the process of funnel creation is easier and more accessible.
No Installation Needed: You also won't have to install anything on your site or computer. Simply log in and create all of your funnels from the member's area of ClickFunnels.
Unlimited Scalability: It is hosted on a massive cloud cluster powered by Amazon and CloudFlare Security + CDN backs it up. No matter if you have 100 or 100,000 daily site visitors, your site won't get slowed down ever.
Data Ownership: You own all of the content/data/subscribers since ClickFunnels does not obtain the contacts of your users.
7. Builderall vs. ClickFunnels – Pros And Cons
No platform is perfect. In this part of the article, let us tackle some pros and cons of Builderall vs ClickFunnels.
Builderall:
Pros
Cons
Builderall is an all-in-one platform for marketing and website building.
There is also an abundance of tools, more than 30+ tools, and features, for you to choose from.
It can be difficult to select the fitting sales funnel because of the overwhelming options.


Its interface is easy to navigate especially for beginners and entry-level merchants who are on a budget.
It doesn't offer a free plan anymore.
There are new tools and features that are regularly added for you to utilize.
Also, updates on older features are routinely made.

Not all of the tools are high quality.

ClickFunnels:
| | |
| --- | --- |
| Pros | Cons |
| It has an all-in-one system that is very convenient for its users. | It has expensive pricing plans. |
| ClickFunnels includes an easy data tracking system that works wonders for its clients. | ClickFunnels is a closed-source system. What this does is limit your customization options, as well as the ownership, of your own website. |
| It is an easy-to-use and simple marketing and sales funnel tool. | Their customer support can be improved. |
8. Where Do I Get The Most For My Money?
In this section, we are going to explore the pricing options for Builderall vs ClickFunnels. Let's take a look at which of the two gives the most value for your money.
Builderall Pricing
Builderall has three types of pricing plans.
Builder: This plan costs $29.90/month. It has the following features: drag-and-drop email marketing automation, professional email marketing platform, page loading accelerator, responsive email builder, email scarcity timers, website daily backup, blogging apps, high-speed CDN servers, unlimited membership areas, eCommerce checkout, free product plus shipping checkout, full SEO on-page optimization, A/B split testing, mobile page loading accelerator, auction checkout, bump sales, upsells, down sales, and many other features.
Premium: The Premium plan costs $69.90 per month. It has all of the features in the Builder plan plus the following: Youtube and Facebook live streaming tools, webinar built-in call to action, professional website drag-and-drop chatBot, premium messenger drag-and-drop, SMS messaging, funnel simulator and data comparison, multiple digital marketing training, and knowledge base access, SSL certificate, smart popup, one individual live call with a Builderall specialist, passive income with Builderall Marketplace Commissions, 50% less processing fees on the affiliate payment, website transfer, list import (subject to approval), VA access, funnel transfer, CRM integrated tool, as well as a countdown, evergreen, fixed date timers, and many more.
Funnel Club: This plan is priced at $99.90/month. It has everything from the Premium plan and you also get the following: 30+ Messenger chatbot niche funnel, 50+ niche funnels to capture leads and sell digital marketing platform, 50+ niche funnels for agencies, 20+ niche funnels for list building (lead magnet included), 10+ Builderall premium funnels, 300+ Cheetah strategic funnels (quick editing), special Builderall Premium affiliate automatic approval, weekly new niche funnels added, and weekly new Cheetah strategic themes.
ClickFunnels Pricing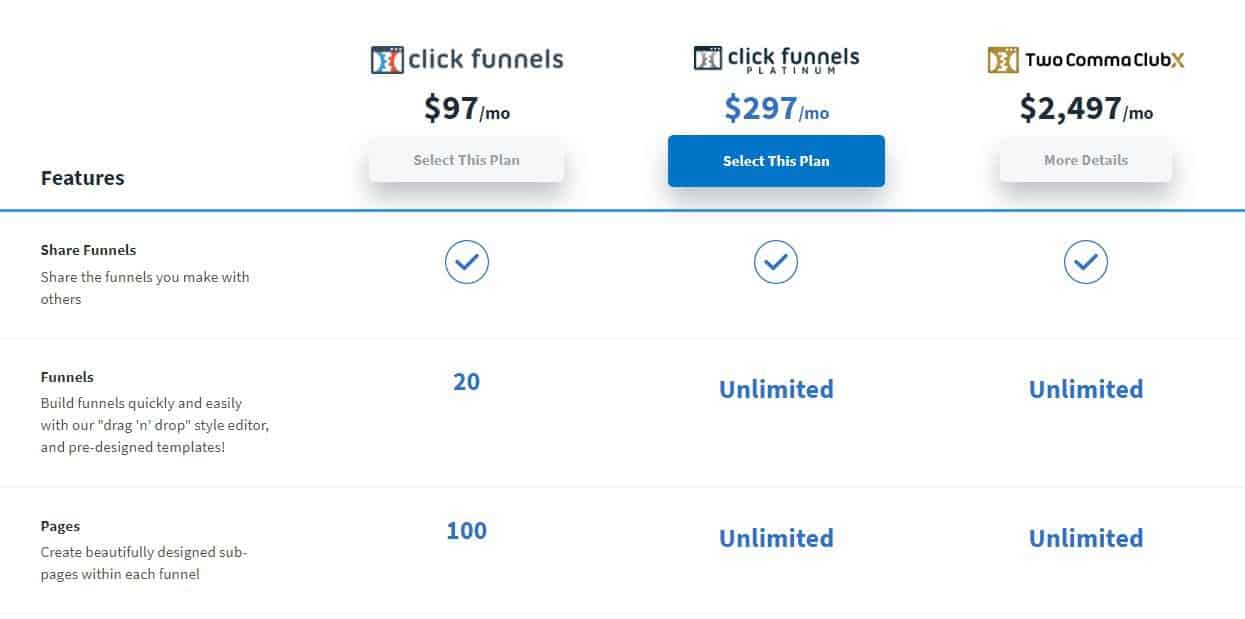 ClickFunnels has three types of pricing plans.
ClickFunnels: This standard plan costs $97 per month. It has the following features: sharing of funnels, over 20 funnel templates available, 100 subpages, one sub-user, three payment gateways, three domains, chat support, and FunnelFlix.
ClickFunnels Platinum: This plan costs $297 paid on a monthly basis. It also has the sharing funnel feature plus unlimited funnel templates, unlimited subpages, three sub-users, nine payment gateways, nine domains, unlimited follow-up funnel, priority chat support, weekly peer review, and additional FunnelFlix courses.
Two Comma Club: This plan is priced at $2,497/month. You can have unlimited features of the following: funnel templates, subpages, and follow-up funnels. You'll also have up to 10 sub-users, 27 payment gateways, 27 domains, priority chat support plus VIP phone support, and exclusive FunnelFlix courses.
9. Conclusion – Which Is Better: Builderall Or ClickFunnels?
In this Builderall vs ClickFunnels comparison article, I showed you how both platforms have wonderful features to help any company.
But as you already notice, they are somewhat different. And so, here is my suggestion for you.
If you're a beginner, you should definitely pick Builderall to jumpstart your business. It has all the features and tools you'll need. Plus, the pricing is inexpensive.
If you're already a well-established company, choosing ClickFunnels is the right move. You get to focus on increasing sales via funnels only and not on other aspects of running a business.
10. Builderall vs. ClickFunnels – FAQs
Here are some frequently asked questions regarding Builderall vs Clickfunnels:
What is Builderall used for?
It is used to generate websites and blogs, increase conversion, and automate email marketing campaigns.
Is Builderall any good?
Yes, it is. It has all the features and tools that you'll need to come up with a profitable business site. It is worth mentioning, however, that it may not be a good fit for casual bloggers and beginners.
What is a ClickFunnels?
ClickFunnels is an online platform that allows you to create sales funnels, generate leads, make websites and your brands, as well as build your email list.
Is ClickFunnels worth the money?
It is definitely worth the money because it lets you create attractive funnels easily and for a short period of time.