Assessing possible disruptions, risks, and incidence rates is an important part of maintaining a healthy and solid foundation for any growing enterprise. Ensuring that current organization and processes are free from any interruptions is key in maintaining steady growth. 
However, this task is easier said than done. Especially with the fact that depending on the size of a business, there could be hundreds of variables involved from finance, manufacturing, sales, marketing, and all the way back to human resources.
In my previous experiences with running a business, having ongoing operations with clients disrupted is a bad sign, not only for the company but for existing and potential customers as well.
So, in this article, we'll be going through the 7+ best business continuity software that can help you in assessing these potential risks. We'll examine their features, pricing, pros, and cons, and determine for which case they are best suited for. 
If you're in a hurry, take a glimpse of my top 3 picks: OneTrust, ZenGRC, and Oracle Risk Management Cloud.
What Is The Best Business Continuity Software?
If you're in a hurry, take a look at my top 3 picks for this lineup: OneTrust, ZenGRC, and Oracle Risk Management Cloud.
| | | |
| --- | --- | --- |
| 4.9 | 4.6 | 4.2 |
| Best overall. Excellent in the usefulness of features and is highly intuitive. Custom Pricing. | Best customer support. Easy to use and reliable service. Custom Pricing. | Most prominent Saas service. Feature-rich tool for specialized teams. Custom Pricing. |
| Try OneTrust | Try ZenGRC | Try Oracle |
1. OneTrust – Top Pick
All-Arounder Business Continuity Software For Businesses Of All Sizes [Custom Pricing]
When I say that it's an all-arounder software, believe that it is. OneTrust is a cloud-based platform that aids businesses of all sizes. It significantly helps users with data mapping, records management, reporting, scheduling, inventory control, and even geolocation tracking.
In all of the software I've used, OneTrust is one of the complete platforms out there. It houses various features that help in different elements that are very important to the business continuity process (BCP).
Some would even call it the Swiss knife of governance.
One thing that I love about OneTrust would be that it's highly customizable because most software in the market is very one-dimensional in a way that you have to work with the application when it should be the other way around.
Also, if you're looking for risk and performance insights from your vendors, OneTrust has a great feature for it.
It's understood that not all vendors are equal – not everyone's the same. Some carry a bit more risk than others.
Using OneTrust's Auto Inherent Risk Insights, allows you to see which vendor presents the most risk. This will greatly help in assessing critical vendors in a much easier and more organized way.
But OneTrust isn't the top pick only for those reasons. I have found that the software is designed to help users with:
Legals and ethics
Manage privacy
Monitor risks
Data governance and compliance
All of these things can be done on a single platform.
Pros And Cons Of OneTrust
| | |
| --- | --- |
| Pros | Cons |
| Intuitive user interface | Has flexibility issues with some features |
| Complete features under one platform | Integration difficulties |
| Ability to keep up with changing regulations | |
OneTrust Pricing Plan
OneTrust offers various module-based pricing plans. A 14-day free trial is given to users that want to check if the software is fit for their needs. They have small business pricing and enterprise pricing.
For small business pricing, the first month is free, you can save up to 20% if you buy three or more products, and have a flexible billing wherein you can start with either a monthly or annual billing. Learn more about their small business pricing here.
As for the enterprise pricing, there are many products that you can avail of. Assessment Automation, Privacy Rights (DSAR) and Data Mapping start at $500 per month. Data Discovery begins at $2,500. Read more of all available products and pricing here.
They do have a free trial which I highly recommend you try first to see if it's a great fit for your operations.
2. ZenGRC – Best In Compliance Needs
Best For Information Security And Compliance Teams [Custom Pricing]
ZenGRC software is one of the top-tier platforms I've tried that helps with business continuity planning. It aids in governance management, risk, and compliance. It is clearly designed with the user in mind. How can I tell? Because it's one of the most intuitive products I've encountered.
Its business impact analysis (BIA) helps businesses of all sizes to create a compliance program and look over-assessments from a single software – this will significantly help in business impact analysis.
Users here can do both audit and compliance management to lower compliance failure and brand risks. This software is so well-rounded that businesses stemming from different industries use it like the ones as finance, health care, technology, to consumer goods.
As for its main features, there are several that users can enjoy. Here are some of them:
Compliance Activities Documentation
System Monitoring Proof
Multiple Frameworks Support
Vendor Risk Assessments
Vendor Response Tracking
Control Mapping
Compliance Gaps Discovery
And many more
Auditing is an important feature of any business continuity software. The good thing with ZenGRC, its auditing capabilities are top-tier. The platform presents framework-based content that can be utilized as a checklist, making the audit process more efficient.
Another notable feature of ZenGRC would be its Benchmark Reports because it presents significant contextual information that can help you tell the story of your company's maturity over time.
Its Peer Group Comparisons allow you to choose companies and define your competitors based on firmographic data, frameworks, and software environments.
A notable feature of ZenGRC that I've encountered would be its dashboard. The dashboard provides better visibility into required information security program metrics and more in-depth insights and gap analysis.
As for integrations, it's compatible with the most used software in the space. Some of the great integrations here would be:
Jira Software
AWS
Splunk
Slack
Google Drive
OneDrive
Tableau
Microsoft
And others
Pros And Cons Of ZenGRC
| | |
| --- | --- |
| Pros | Cons |
| Streamline internal audits | Customer service can be improved |
| Ease of use | Integration could be quite difficult |
| Customization to fit business needs | |
ZenGRC Pricing Plan
There is no set pricing list for ZenGRC – they understand that every business is unique and has different sets of problems. If you want to get a demo, click here. You can also try it for free with no credit card required.
3. Oracle Risk Management Cloud – Best For Risk Management Solutions
Great Threat Detection Risk Management Software [Custom Pricing]
Oracle Risk Management Cloud or Oracle GRC Cloud comes with artificial intelligence techniques and strategies to make advanced analysis easier and more automated. 
The software is excellent in managing risks to meet compliance and privacy mandates such as SoD, GDPR, and SOX. I've noticed that it doesn't just help with automation of analysis but it is great in monitoring and controlling ERP security, configurations, and transactions
In terms of its core features, one of the best things my team and I loved about Oracle Risk Management Cloud would be its ability to present advanced transaction analysis.
The software supports businesses in continuously monitoring ERP transactions. Business process auditors can see high-risk scenarios like repeat invoices and ghost employees. 
As for its risk and compliance features, the software is excellent in maintaining a centralized repository of all corporate policies. It can create a workflow solution to make sure that all internal audits, financial reporting, and compliance are automated.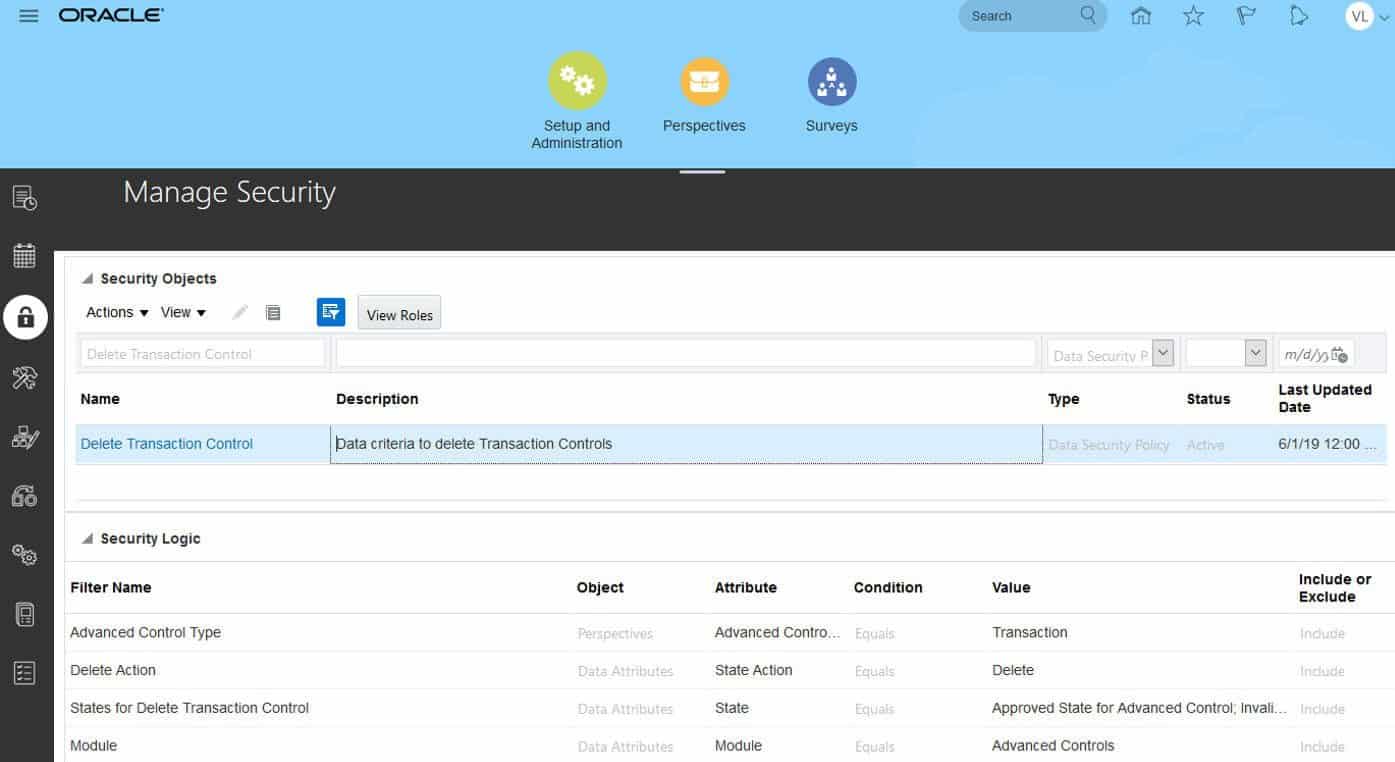 Its deep SOD analysis is of great help as well, given that SOD is a basic building block of sustainable risk management for a business. I understood that enforcing SOD compliance needs a detailed analysis of all various functions and data that are available for each user.
Good thing that the software provides a rich library of ready-to-use controls for high-risk business processes. Oracle Risk Management gives access to users to different features that can match their needs over time. Some of these features would be:
Secure Role Design – It makes users optimize role definitions, remediate conflicts, and evaluate remediation plans by simulating the impact of proposed changes.
Deep SOD Analysis –  Users can automate security analysis, analyze privileges through a complete scanning of all access paths, and identify the root cause of access violations.
Sensitive Access Certification – Generate access certifications by querying a repository of entitlements and assigning it to a certifier.
Advanced Configuration Controls – Users can monitor changes to sensitive ERP Configurations and Master Data. It also allows capture and audit trails of changes.
Risk And Compliance Workflows – Automation of risk analysis and evaluations, using best practices. Reduce compliance costs by eliminating labor-intensive tasks. And improve security and collaboration by replacing unsecured spreadsheets, emails, and documents.
As I've mentioned above, Oracle Risk Management Cloud has the most features on this list. Other excellent features include:
Control Efficiency Assessments
Control Management
Control Mapping
Assessment Capture
Remediation and Certification
Issue Detection
Automated Control Assessments
And many others.
Pros And Cons Of Oracle Risk Management Cloud
| | |
| --- | --- |
| Pros | Cons |
| Intuitive user interface | Steep learning curve |
| Simplified software architecture | Improvement on latency |
| Excellent customer service | |
| Can automate different business processes | |
Oracle Risk Management Cloud Pricing Plan
Oracle Risk Management Cloud has not set different pricing plans for its market. This is quite common for software sellers.
4. iGrafx – Best In Supporting Operational Excellence
Business Continuity Software With Easy Simulation Feature [Custom Pricing]
For over 30 years now, iGrafx has helped businesses across different industries with their problems relating to business continuity and resiliency. I have been a user of this excellent brand and I can testify that it's great in what it does.
iGrafx is known to have one of the most comprehensive business transformation solutions for workflow automation, customer experience, governance risk, compliance, and many more.
But I have found iGrafx to be excellent risk management and GRC. So how does iGrafx help with a business's GRC? It does so in various ways.
iGrafx helps you understand where risks can be seen in your business and in what processes. Compliance with requirements for documenting processes can be done through its visual process maps.
Other features for GRC include:
Reusable risk, control, and opportunity catalogs
Reporting on control effectiveness
Transparency of ownership
Model validation through customizable approval steps
And many others
iGrafx also has a risk mining solution which is called Risk & Opportunity thru Process Excellence (ROPE). This helps you integrate a company-wide risk management system that is work-flow based and suitable.
Having an automation approach means lesser errors and deviations. In return, it supports better information flow and increased transparency.
With iGrafx, users are able to comply with requirements for documenting processes through visual process maps. It also helps with the identification of operational risk to efficiently mitigate regulatory compliance audits and continuity.
If your business is having a hard time meeting the requirements for GDPR, Sarbanes-Oxley, HIPAA, PCI, ISO, and other regulations, iGrafx can help you with that which is a very big help for businesses who have a hard time with these things.
Using iGrafx, you can develop an integrated view of their business processes and information flows. This helps you with compliance and business continuity.
With its business transformation platform, it gives the necessary elements needed to identify opportunities and drive improvement through performance management. It also makes sure that the controls are in place for proper risk management and compliance.
Pros And Cons Of iGrafx
| | |
| --- | --- |
| Pros | Cons |
| Ease of use | Support team could be improved |
| Excellent graphics | Some functions are not intuitive |
| Great simulation | |
iGrafx Pricing Plan
iGrafx has not provided any pricing plans yet. However, you can avail of their free trial here. There are lots of things to do in the free trial, you'll be able to diagram your customer journey, business process, and more.
Customizing dashboards will be presented as well. The same goes for comparing evolving workflows to support change management and audit compliance.
5. Archer Business Resiliency – Best For Beginners
Flexible Continuity Software That Can Easily Be Learned [Custom Pricing]
Archer is one of that software that was built to help businesses in times of preparing for disruption, disaster, and other potential threats to a business.
With Archer, you can identify and catalog your business's critical processes and systems. It also supports you to create detailed business continuity and disaster recovery plans to immediately address the problems when a threat arises.
When you use Archer Business Resiliency, you would soon notice that it has an automated approach to business continuity and disaster recovery planning.
This helps in giving out a quick response to real-time crisis situations to protect your operations from threats and other negative scenarios.
They also have Archer Crisis Management which provides a consistent and automated approach to handling crisis events. This particular feature allows you to manage crisis teams, communications, and plans.
The different key benefits of Archer Crisis Management would be managing crisis events and sending emergency notifications to appropriate personnel. It would significantly help in reducing the impacts of the threat and preventing it from becoming a full-blown crisis.
When my team and I tried to implement this in our business processes, we immediately noticed how user-friendly the interface was. It was fairly easy to understand and configure fields for admin. Although there are some processes that are unnecessarily complex.
Customer support was excellent as well. Whenever I encountered problems with the software, the customer service team was quick to respond.
Pros And Cons Of Archer Business Resiliency
| | |
| --- | --- |
| Pros | Cons |
| Simple modification process | Software architecture could be improved |
| Great security | Some processes could be simpler |
Archer Business Resiliency Pricing Plan
Archer Business Resiliency has not posted any set pricing plan for its users. But you can contact them to speak with an expert to talk about how Archer can help your business in terms of risk and compliance.
6. Castellan Software Suite – Best Software For Business Continuity Improvement
Excellent Resilience Management Program [Custom Pricing]
Castellan is that famous Saas platform that will definitely help you with analyzing and prioritizing risk in business operations. Developing efficient strategies against crisis and having a recovery plan can also be done here.
To make communication even more efficient, Castellan allows users or employees to communicate through multiple channels. Plus, teams can go through multiple stress test plans to make sure that everything is covered when a crisis arises.
My time with Castellan was very pleasant. I liked its mobile functionality wherein users can operate crisis management from their mobile device.
Through its mobile feature, you can receive notifications, activate response plans, and view + update tasks. This also works on tablets too.
Other features of Castellan include:
Compliance Management
Disaster Recovery
Incident Management
Risk Assessment
Task Management
Policy Management
Pros And Cons Of Castellan Software Suite
| | |
| --- | --- |
| Pros | Cons |
| Excellent business management tool | Complex training videos |
| Customization of settings is easy | Software is slow sometimes |
| Excellent live demos | Lack of advanced compatibility |
Castellan Software Suite Pricing Plan
There's no set price plan for Castellan Software Suite but if you want to request a meeting, click here. Chatting with their team will help you with strategic guidance.
7. SAI360 – Best For Risk Management And Ethics Learning
Best Business Continuity Software For Healthcare Businesses [Custom Pricing]
SAI360 can help you focus on creating an efficient integrated risk management solution with a mixture of both software and learning content. It's a cloud-first software that also has both modern ethics and compliance content.
What's great about SAI360 would be that it is an integrated risk management platform that has the capability to help you with GRC, ethics, compliance, learning, and sustainability. Perfect for strengthening operational resilience.
If you're in the healthcare industry, SAI360's full suite of healthcare-focused GRC modules will greatly help you. Their new products will aid you in safely navigating the ever-changing healthcare regulatory landscape.
SAI360 can help you with these business processes:
Solution configurability – Extensible data model with configurable UI/forms, fields, and relationships to extend solutions.
Process modeling – Easily customize or create a new process to automate audit and risk activities.
Data visualization and analysis – Preconfigured dashboards for simple analysis of data.
System integration – Integration framework with APIs and other protocols to integrate with enterprise systems.
Pros And Cons Of SAI360
| | |
| --- | --- |
| Pros | Cons |
| Excellent solution for incident management | Not great for small project teams |
| Great customer service and support | Training is more focused on US market |
| Wide variety of options and features | |
SAI360 Pricing Plan
No set pricing plan for SAI360. But if you'd like to request a demo from them, a number of fields need to be answered.
8. Fusion Framework System – Best In Overall Business And Operational Management
Excellent Business Continuity Software For Better Operational Understanding [Custom Pricing]
Fusion Framework System gives out simple yet very interactive ways to analyze every process and aspect of your business so you can easily point out the key risks, failures, and exact strategies when a crisis hits.
With its Operational Risk Management feature, you can nurture consistency by integrating standard risk approaches.
As for its Business Continuity Management (BCM), it will help you in maintaining strategies of any type across your whole operations in a single system.
Since the risk that IT departments usually carry is heavy, Fusion Framework System has an IT Disaster Recovery Management as well. It aids in planning and creating coordinated responses between IT and the rest of your company.
Additional great features include:
Mapping critical services and product deliveries
Being able to use objective risk insights that helps with your audit process
Leverage automation to lower the burden of manual and very time-consuming tasks
Pros And Cons Of Fusion Framework System
| | |
| --- | --- |
| Pros | Cons |
| Flexible and configurable | Learning curve required |
| Easy user interface | Limited support |
| It is fast to create workflows and build reports | |
| Updated plan templates and frameworks consistently | |
Fusion Framework System Pricing Plan
Fusion Framework System has not set a definite pricing plan. But requesting a demo is very much possible.
Conclusion
With the number of data center hacks, cybersecurity breaches, and other vulnerabilities, integrating business continuity management software is already a need. 
Having a business continuity program in your operations would tremendously help your organization in times of crisis. It can provide data protection, counter the effects of possible natural disasters on your data, and faster recovery time when outages happen.
Remember, risk management via a business continuity software solution is as important as any element in your business.
I have personally picked OneTrust because it's all-around software that can help you in multiple facets of business continuity. It has a ton of features that can address issues for managing risk, compliance, privacy, audit, and others. 
ZenGRC with its business impact analysis is a big help for information security and compliance teams. And Oracle Risk Management Cloud is an excellent tool that helps businesses with threat detection and risk management needs.
How about you? Which of the applications above have you tried for your business? I'd love to read your comments below. Check out my Best Data Migration Software For 2022 article – it'll help you find the best and trusted software for your backups.