There are tons of reliable CAD programs available in the market. No need for trial and error because today, I'll highlight 7+ of the best options you can use.
CAD (Computer-Aided Design) software changes how you manage the entire design lifecycle process. It further improves the overall design quality to prevent costly mistakes and enables seamless sharing for better project collaboration.
As an enthusiast, I've researched and tested the best CAD software that professionals and students can use. I'll share the CAD programs that produce outstanding results to help you choose, including all the key features, pricing options, pros and cons, and more.
What Is The Best CAD Program?
If you're in a hurry, check out my top 3 picks at a glance: Fusion 360, SketchUp, and Solid Edge.
| | | |
| --- | --- | --- |
| 4.8 | 4.4 | 4.2 |
| Best overall. For design sharing and user collaboration. Starts at $60/month | Best value for money. Most cost-effective Web-Based 3D CAD software. Starts at $119/year) | Most features. Advanced 3D CAD software for designing simple and complex objects. |
| Try Fusion 360 | Try SketchUp | Try Solid Edge |
Let's find out what CAD program is the most suitable for your project's needs.
1. Fusion 360 By Autodesk – Top Pick
Cloud-Based, Integrated 3D Modeling, PCB, CAM, CAE, & CAD Program [Free | $60 a month]
The traditional pen-and-paper method of creating 2D drawings or 3D models remains effective. However, CAD programs offer a much faster and more accurate process to create designs in a few mouse clicks.
Autodesk is one of the biggest names in the industry that offer top-notch CAD software.
Fusion 360 is one of the best options. It's a feature-rich platform that allows you to create simple to complex designs and 3D modeling. Mesh, parametric, surface, direct, and freeform modeling are some functions you can use to complete your design.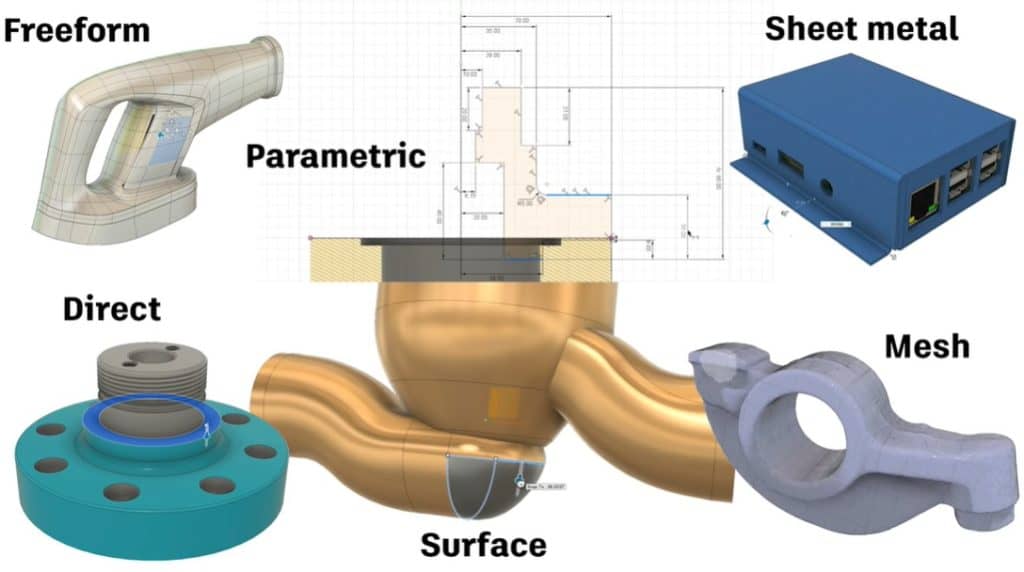 Fusion 360 is an integrated software under Autodesk's product design and manufacturing package. Therefore, you can also expect to use the full functionality of three other applications.
I've listed the mentioned applications, including their core functionality. All integrated solutions can make product design and manufacturing more straightforward and efficient.
CAM (Computer-Aided Manufacturing): Create objects and automate workflows for CNC machining.
CAE (Computer-Aided Engineering): Perform simulation to improve product designs or uncover common failure conditions. Currently, there are 12 simulation types available.
PCB (Printed Circuit Board): Provide built-in schematic designs, PCB layouts, and routing capabilities to speed up the creation process without compromising quality. It also comes with SPICE simulation to ensure accuracy and schematic capture to interconnect circuits.
Another outstanding advantage of Fusion 360 is it brings the team together for seamless collaboration.
Its software includes centralized data management where the team can streamline the development process and store all information. It provides user permissions and version control to strengthen the safety of your data.
Other administrative and design tools are also provided for your team to administer the entire project and each member efficiently.
The good news is Autodesk allows you to use Fusion 360 with its other CAD programs. The most popular is AutoCAD which is recommended for designing and annotating 3D and 2D CAD models (DWG file format).
The other option is Inventor, which is more suitable for creating 3D mechanical design, performing simulations and visualization, and preparing documentation.
Pros And Cons Of Fusion 360
| | |
| --- | --- |
| Pros | Cons |
| The user interface is simple and easy to use | The software may sometimes act up (bugs, lagging, etc.) |
| Most handy for prototyping and printing 3D objects | Can't handle complex and detailed designs |
| Receive regular software updates | Improve the integration process and provide more options |
| Can install a single-user subscription license on three different computers (max) | |
Fusion 360 Pricing Plan

Autodesk offers Fusion 360 free of charge for students and educators. Every student in the class can use all its key features, including Fusion 360 extensions for machining, generative design, and additive build.
They can also install the CAD software on a personal computer (macOS or Windows) and Chromebook with Android and iOS apps.
You can use its limited free version if you're a hobbyist or an individual doing non-commercial design. Fusion 360 for personal use includes all the basic functionalities.
You can only print a single sheet of 2D drawings (documentation), perform local rendering, and store 10 active and editable documents, to name a few.
For professionals, you can purchase Fusion 360 on a monthly, annual, or 3-year subscription plan. It starts at $60 per month.
Are you unsure if it's the right CAD software for your design needs? Use its 30-day free trial version to explore its full features.
2. SketchUp – Best Value For Money
CAD Program For 3D Modeling on the Web [Free | $119 a year]
Fusion 360 may be superior for creating detailed 2D and 3D designs, but SketchUp is far better in 3D modeling.
It provides basic drawing lines, shapes, and 3D objects to help you get started with your 3D model. It includes more drawing tools to refine the edges and surfaces of your object.
To make it look realistic, you can apply colors, textures, and materials (brick, grass, wood, etc.).
One unique feature they have is the Match Photo Feature. It allows you to add a photo and use it to add on your 3D model's face or create a model based on it.
Let's say you want to do the latter, and create a 3D model from a photo.
You can do it by uploading the photo you want and setting up your preferred axis origin, vanishing point bars, and scale. Use the line tool to trace the edges in your photo.
Click the Match Photo tab to see your photo and select the Project Textures from Photo to project the photo textures onto your 3D model.
I've shared a sample screenshot to give you a clear idea of how it works and its expected result.
More modeling tools are available on the platform, each serving a specific purpose. I've listed some of them for your reference. Most of these tools are available within the menu bar.
Style presets: Add predefined styles to your model to make it livelier and more attractive.
Geolocation: Add terrain to your model or view your model on Google Earth.
Advanced Camera Tools (ACT): Place real-world cameras in your 3D models and test your scene ideas.
The best thing about the ACT feature is that you can include different cameras to see the different perspectives within your model. The sample screenshot I've provided above comes with four ACT cameras.
SketchUp offers more features, and the company organized them into different product packages. I've listed some of its other best features to give you an idea.
3D modeling (SketchUp for web and desktop)
Mobile viewer
Cloud storage (Trimble Connect)
Pre-built 3D models (3D Warehouse)
Photorealistic and real-time visualizations (V-Ray)
It may sound challenging to learn, but it's not because SketchUp provides plenty of online tutorials to help you get started.
Pros And Cons Of SketchUp
| | |
| --- | --- |
| Pros | Cons |
| Easy to use and implement | Not ideal for rendering objects |
| Great for design presentation | Require plug-ins to create complex geometric shapes |
| Support various file formats for import, export, and layouts (stl, obj, etc.) | Can be used as a BIM tool via plug-ins, but not recommended |
SketchUp Pricing Plan
SketchUp offers a free version for primary and secondary schools. They can use all features, including printing in 3D, storing files on Google Drive or Microsoft OneDrive, and using in-app lesson plans.
For higher education, there are two options available.
The first option's pricing structure is designed per student/educator seat, which both start at $55 a year. The second option is requesting a university-wide license.
If you're a pro at handling commercial designs, you can purchase any of SketchUp's commercial product packages.
Go ($119/yr.): Access 4M+ pre-built 3D models, AR mobile viewer, and unlimited cloud storage.
Pro ($299/yr.): Everything in Go plan with access to 2D design documentation, Experience reality (XR) headset viewing, and more.
Studio ($699/yr): Everything in the Pro plan with access to real-time visualizations as you model, 360° panoramas, and more.
Try SketchUp for 30 days free of charge.
3. Solid Edge By Siemens – Most Features
3D CAD Program With Parametric Feature & Synchronous Technology [Free | Custom Pricing]
Solid Edge is one of the most advanced CAD programs available on the market. It uses a combination of artificial intelligence and synchronous technology.
Artificial intelligence is used to make the user interface more adaptive.
It will provide accurate predictions on the next action to take based on the user's behavior. On the other hand, synchronous technology is used to improve the speed of the product design process – from creating new concept designs to late-stage changes.
The screenshot above exemplifies how quickly and flexibly you can create a design using Solid Edge synchronous technology.
On top of the creation speed and flexibility, it also allows you to edit multiple parts simultaneously and prepare for simulation. Click and drag features are also provided to edit any imported 3D CAD data.
Most CAD programs feature a direct modeling approach. This approach allows CAD designers to define and manipulate a model geometry without considering its features and constraints.
The good thing about Solid Edge, it didn't restrict its capacity to this approach. It also offers parametric modeling. The 3D design approach allows you to define and capture design intent using features and constraints.
Other features available in Solid Edge are dedicated based on specific designs and purposes. See below some of its other best features.
Sheet metal
Module plant
CAD drawing and drafting
Assembly modeling and management
Pros And Cons Of Solid Edge By Siemens
| | |
| --- | --- |
| Pros | Cons |
| Excellent integration with mechanical designs | It only runs on Microsoft Windows |
| Support native and neutral file formats (IGES, Microstation, NX, etc.) | The customer support team isn't reliable in resolving all types of issues (can only resolve CAD design-related issues) |
| Offer a wide range of drawing options (Geometric shapes, symbols, and more) | Electrical design tools need improvement |
Solid Edge By Siemens Pricing Plan
Solid Edge offers a free version for students. They can download the Student Edition software, which includes topic and project-based tutorials to ensure they can learn the platform fast.
A free annual subscription is also offered to all qualifying startups.
You can pick any of the four product packages Solid Edge offers if you're a pro. Only Solid Edge Premium provides 30-day free trial access.
Read the packages below and see which one best suits your needs.
Design and drafting: Include basic part and assembly design, animation, rendering, and more.
Foundation: Include built-in basic FEA simulation for stress, motion and vibration, and more
Classic: Include advanced features like reverse engineering, photorealistic rendering, and subdivision modeling.
Premium: Include additional features for motion simulation, simulation optimization, PCB collaboration, and more.
Pick the product package you prefer to use and contact the sales team to request a pricing quote.
4. IronCAD – Feature Single Modeling Environment
2D & 3D CAD Program For Mechanical Design [Custom Pricing]
IronCAD is your go-to CAD solution for creating mechanical designs.
It's highly known for providing a single modeling environment, which allows you to access all parts and assemblies in a single workspace. It also uses 3D solid modeling techniques to ensure you can build any object or design you want.
On top of that, they develop different user interface environments to fit any design task.
As standard, they provide 3D scenes and 2D drawings. They also provide a history-based modeling environment.
It's an environment where every shape or feature of the design is recorded and modified as an individual item.
Ease of use is the top priority of IronCAD. That's why they provide a handy toolset to save time and effort.
I've listed down a few of the tools you can use. Use these tools well to make the creation and development process fast and simple.
Drag and drop function for scenes, conceptual modeling, cruising shapes, and more
SmartSnap to position shape components by dragging their edges or corners
Parts library to access hundreds of standard part designs with associated parametric data
Quick access toolbar to get direct access to all functions
Press the 'S' key to see all the most common functions recently used.
Getting started in IronCAD is easy. Creating a design project often comes in five phases.
I'll list them down to give you an idea. All steps are easy to follow; you can also visit IronCAD Academy for more in-depth tutorials.
Build the part using pre-designed or custom shapes
Use the assembly feature to bring all created parts together
Create a 2D drawing of each 3D part to communicate the design with other departments better
Add colors, textures, and other elements to provide a photo-realistic view when the parts are rendered
Use the translation feature when exporting the design
Pros And Cons Of IronCAD
| | |
| --- | --- |
| Pros | Cons |
| Only require a low learning curve | Drafting functionality needs improvement |
| Provide drag-and-drop functionality for the predefined shapes | Costly for startup companies |
| Support all major 2D and 3D file formats | |
| Allows seamless collaboration with customers and salespeople | |
IronCAD Pricing Plan
IronCAD provides different methods on how you can buy their 3D and 2D CAD software. Engineering students can use its full-Featured CAD Software free of charge.
All you need to do is register your free student license.
Another method is contacting the sales team to request a personalized pricing quote. If you know a legitimate reseller, you can find your reseller at the IronCAD website.
5. SOLIDWORKS By Dassault Systèmes – Modern 3D CAD Platform
Solid Modeling CAE & CAD Program [Free | Custom Pricing]
Dassault Systèmes is renowned for providing collaborative platforms to improve business and staff productivity and efficiency. For its 3D CAD solution, it built the 3DEXPERIENCE® platform.
It provides virtual twin experiences that allow users to push the boundaries of learning, innovation, and production.
Like Autodesk, Dassault Systèmes provides a seamless solution to integrate all its products with SOLIDWORKS 3D CAD. A single-window complete integration will prompt once you do this task.
Regarding its CAD functionalities, you won't get disappointed.
It features 15+ functions to ensure you can create any designs accurately and quickly. As standard, it comes with tools to develop ideas into remarkable product designs.
No matter which tool you use, all can help you perfect your product design when used correctly.
3D design and 2D drawing tools
Premade library of components
Integrated motion and stress analysis tools
Advanced surface-flattening tools
Support for AR and VR
Photorealistic images and videos
Simulation tools for motion and structural analysis
Automate CAM programming
Built-in configurability tools
SOLIDWORKS is also developed to address other aspects of the production.
Use its automatic cost estimation tools and manufacturability checks to reduce cost while improving the overall quality of the production. Pair it with automatic interference checks to identify unwanted interferences and misalignments before manufacturing.
It also offers built-in analysis tools to examine the environmental impact of your CAD design.
Pros And Cons Of SOLIDWORKS
| | |
| --- | --- |
| Pros | Cons |
| Excellent modification and auto-dimensioning functions | Only intended for commercial users |
| Offer design and file organization tools to speed up the R&D process efficiently | The setup process is time-consuming |
| Offer additional CAD solutions for electrical design and documentation | |
| Receive regular software updates to refine your product development process | |
SOLIDWORKS Pricing Plan
Professionals can avail of any of SOLIDWORKS product packages. Click the Buy now button of your chosen package and complete the request a quote form.
You also have the option to contact the sales team to answer your inquiries (product, pricing, or licensing options) or request a demo.
Dassault Systèmes doesn't offer a free version of SOLIDWORKS to hobbyists and enthusiasts. But they do provide a free personal license to students and educators.
Find out if your school is part of the SOLIDWORKS Education program. If yes, you can request a free personal license.
6. CATIA – Multi-Platform Software SuiteCATIA – Multi-Platform Software Suite
Product Lifecycle Management, 3D Modeling, CAM, CAE, & CAD Program [Custom Pricing]
Another excellent multi-platform software suite developed by Dassault Systèmes is CATIA. It's widely used by various industries, particularly aerospace, automotive, and mobility industries.
CATIA shares a lot of similarities with SOLIDWORKS. But still, it manages to outshine the other 3D CAD software. One unique advantage of it is its role-based platform.
There are 50+ roles available. Choose the one that best suits your duties, and CATIA will provide you with all the workflows and functionalities to get your job done right.
It also includes unified 3D dashboards to streamline your design progress, collaboration across all stakeholders, and more.
For example, your duties focus on construction. CATIA will give you tools to efficiently extract the Bill of Materials (BOM) from the provided construction model.
You can also quickly generate associative 2D documents from the construction model.
Recently, it announced a special offer for their Mechanical Designer role. At $2,268 (quarterly subscription), you can create advanced mechanical products and parts in a few simple mouse clicks.
Of course, you can still enjoy all CATIA modeler functionalities.
No matter which role you choose, you can enjoy CATIA's modeler capabilities. I've listed some of the popular functions, to name a few.
Direct modeling
Functional design
Advanced feature-based approach
Knowledgeware design automation
Pros And Cons Of CATIA
| | |
| --- | --- |
| Pros | Cons |
| All software updates are automatically installed and implemented | No real-time human support is available (via support form) |
| Offer a 30-day cancellation and refund policy for yearly and quarterly subscriptions | Speed for loading files may take longer at times |
| Learning modules are available for students | User interface's navigation requires improvement |
CATIA Pricing Plan
Dassault Systèmes developed CATIA to give professionals and students a simple way to create top-quality 2D and 3D designs. You can contact the sales team to request a personalized pricing quote or a demo if it suits your design and production needs.
For students, you can purchase a license for $60. Visit the website to learn more about the perks you will get when you buy a student license.
7. Creo By PTC – Best For Design AnalysisCreo By PTC Inc. – Best For Design Analysis
3D CAE, CAM, & CAD Program [Custom Pricing]
PTC (Parametric Technology Corporation) has been in the computer software industry since 1985. For over 3 decades, they have continued to help businesses to accelerate digital transformation across their workforce and operation.
One of their most vital achievements is producing the first parametric and feature-based solid modeling CAD software, which is now called Creo.
Like most of its competitors, it provides a powerful set of 3D CAD capabilities to ensure all users (beginners and pros) can optimize and streamline their design's workflow.
All are neatly grouped into categories based on their purpose.
Currently, there are 4 categories you can access. I've listed them down for your reference.
3D Part and assembly design (18 tools which include parametric and freestyle surfacing, design exploration, and plastic part design)
Manufacturing (additive manufacturing, tool and die design, and product machining)
Other (product data management, technical illustrations, performance advisor, and generative design)
The fourth category is dedicated to analysis, which is one of their strongest suits.
It isn't surprising since this is a critical step in assuring your product design has high accuracy and efficiency. There are 8 analysis tools available and one best to highlight is the structural analysis.
Structural analysis helps you find flaws or improve the overall support system of your product design (parts, assemblies, and mechanisms). You can do it through Simulation Live.
It will provide real-time guidance to ensure your design performs well under real-world conditions. The best part of it, the analysis will automatically update as you edit, change properties, or create new features for your design.
Aside from structural analysis, Simulation Live can perform thermal and modal analysis.
There are 5 more analysis functions you can use to simulate real-world forces in your design. Read below to get an idea.
Motion analysis
Mold fill analysis
Fatigue analysis
Creepage and clearance analysis
Computational fluid dynamics
Wait, there's more…
PTC also includes different technologies to ensure your business can collaborate better with your teams, customers, and stakeholders. I've listed below the technologies currently included in their portfolio.
Industrial Internet of Things (IIoT)
Augmented Reality (AR)
Pros And Cons Of Creo
| | |
| --- | --- |
| Pros | Cons |
| Easy to learn and administer | Only run on Microsoft Windows |
| Excellent 2D drafting tool | Initial setup requires too much work |
| Provide plenty of options for customization | Pricing packages cost more compared to other CAD programs |
| Recommended for designing sheet metal products | |
| No automatic renewal (you will receive a notification 120 days before your renewal date) | |
Creo Pricing Plan
Cree offers 5 design packages for its CAD solutions; all are available on-premise and in the cloud. As standard, it has a pay-as-you-go pricing model.
Contact the sales team to get a personalized pricing quote or answer any of your inquiries.
However, PTC offers a locked license price for some countries. Take the U.S., for example – the design packages have a starting price of $2,780.
You can visit their packages website to learn more about the offer and conditions that apply.
8. LibreCAD – Best For Creating Floor Plans & Blueprints
Open-Source 2D CAD Program [Free]
CAD programs from trusted vendors effectively improve the business workflow and design production. However, some designers prefer to get complete control over the user experience.
This is where an open-source CAD platform comes in handy.
Users have the power to customize the user interface and only include the features that matter for their project. One excellent option for 2D design is LibreCAD.
You can start by localizing the platform to the language you're comfortable reading. Then, you can move on to customize specific areas like adding features and tools (2d drafting, custom menus, and more).
You also have the option to add or remove its standard features.
Advanced snapping system
Plug-in system
Drawing entities (text, dimension, blocks, etc.)
No idea where to start?
No need to worry because LibreCAD offers various online documentation and a solid community of developers. Reach out to them, and they would be happy to extend their help.
If you prefer open-source CAD software for 3D CAD objects, OpenSCAD is an excellent option to consider.
Pros And Cons Of LibreCAD
| | |
| --- | --- |
| Pros | Cons |
| Simple and easy to use | Only reads DWG DXF files |
| User interface is highly customizable | Drawing elements are limited |
| Support over 30 languages to localize LibreCAD | No rendering function |
| Provide more options to create basic and complex shapes compared to other free CAD programs | Support via community is helpful but responds slow |
LibreCAD Pricing Plan
LibreCAD is 100% free to download and use. Visit its download page to learn where to download the compatible app for your device's operating system (macOS, Linux, or Windows).
Conclusion
The CAD programs mentioned above can help experts and students to create accurate product design representations. The best part is that most of them offer free CAD software.
If I have to pick the best CAD program on my list, I will go with SketchUp.
It's easy to use, set up, and administer. It won't even take you too long to learn the capabilities of the platform.
It's a plus that you can access it on various devices – web, desktop, and iPad.
SketchUp is often used for product design, landscape architecture, and mechanical engineering. But you can also rely on interior design and video game development.
Fusion 360's flexible 3D modeling and design make it a good option for hobbyists, students, and anyone new to CAD product designing. While Solid Edge's next-gen design and technology are more suitable for anyone who wants an affordable CAD program that covers all aspects of the product development process.
If you have other CAD programs to share, leave them in the comment section.