Looking for a detailed Clickfunnels vs. Leadpages comparison? I wrote this guide with you in mind.
Clickfunnels is a popular software for building marketing funnels, landing pages, email marketing, affiliate programs, etc. Leadpages is a Website and Landing page software for small businesses.
Both marketing software platforms have their similarities and differences. This comparison isn't a summary of other articles — it's based on my firsthand experience with these platforms.
Does Clickfunnels or Leadpages offer more value for money? That's exactly what we'll talk about. I'll highlight the key features, pros and cons, pricing plans, and who each software is for.
Let's dive right in.
1. Clickfunnels Vs. Leadpages At A Glance
To help you make a quick but informed decision, here's a set of factors to see how Clickfunnels and Leadpages compare:
| | |
| --- | --- |
| 4.8 | 4.5 |
| Best Overall. Great for creating sales funnels with social media campaigns, email automation, and follow-up funnels. Starts at $97/month. | Best for flexibility. Highly intuitive platform with options to create landing pages, pop-up forms, and alert bars. Starts at $37/month. |
| Try Clickfunnels | Try Leadpages |
2. Who Is Clickfunnels Best For?
Clickfunnels is suitable for Entrepreneurs. This includes Agency & Freelancers, Ecommerce marketers, coaches, consultants, Local business owners, B2B marketers, bloggers and affiliate marketers, etc.
I use Clickfunnels to build beautiful funnels. My friends use it. I'm yet to find an entrepreneur who doesn't have a keen interest in using it.
3. Who Is Leadpages Best For?
Leadpages is most suitable for small businesses that want to connect with an audience, capture leads, and increase sales. Use Leadpages to turn clicks into customers.
Companies like Personal Growth Lab, Greatness Magnified, Libelula Jewelry and Gifts, and a ton of other small businesses
4. A Close Look At The Features Of Clickfunnels And Leadpages
Does Clickfunnels or Leadpages offer more enhanced features for capturing leads and increasing sales? This Table summarizes the key features:
| | | |
| --- | --- | --- |
| Features | | |
| Landing Pages | | |
| Site Builder | | |
| Email Marketing | | |
| Drag and Drop Editor | | |
| Pop-ups | | |
| Site & Visitor Analytics | | |
| Funnel Builder | | |
| Shopping Cart | | |
| Run Affiliate Programs | | |
| Alart Bars | | |
| Get Started | Try Clickfunnels | Try Leadpages |
5. Key Features Of Clickfunnels
These 5 key features of Clickfunnels will help you decide if it's the ideal sales funnel and marketing software for your business.
#1 Funnel Builder: Generate Qualified Leads
The Funnel Builder is the flagship feature inside Clickfunnels. It's powerful and provides a hands-on approach to building your first funnel.
If you have no experience whatsoever, then you'll appreciate the ease of using the Funnel Builder.
Note: There are two ways to build funnels with the Funnel Builder. This includes:
The Cookbook
The Classic Funnel Builder
Let's concentrate on the latter.
From your dashboard, click +New Funnel:
Then select the method you wish to use: the Classic Funnel Builder or the Funnel Cook Book.
The process is quite simple. Simply set a Goal (e.g., Collect Emails, Host Webinar, Sell Your Product), then choose a Type.
Finally, Click Build Funnel.
Don't forget to use a custom domain to brand your funnels and make them stand out. You can also set up SMTP Integration — so you can easily send emails.
Add a payment gateway to collect credit card payments or set up your Backpack system if you want affiliates to sell your products.
#2 Etison Editor: Create Landing Pages And Sell Products Online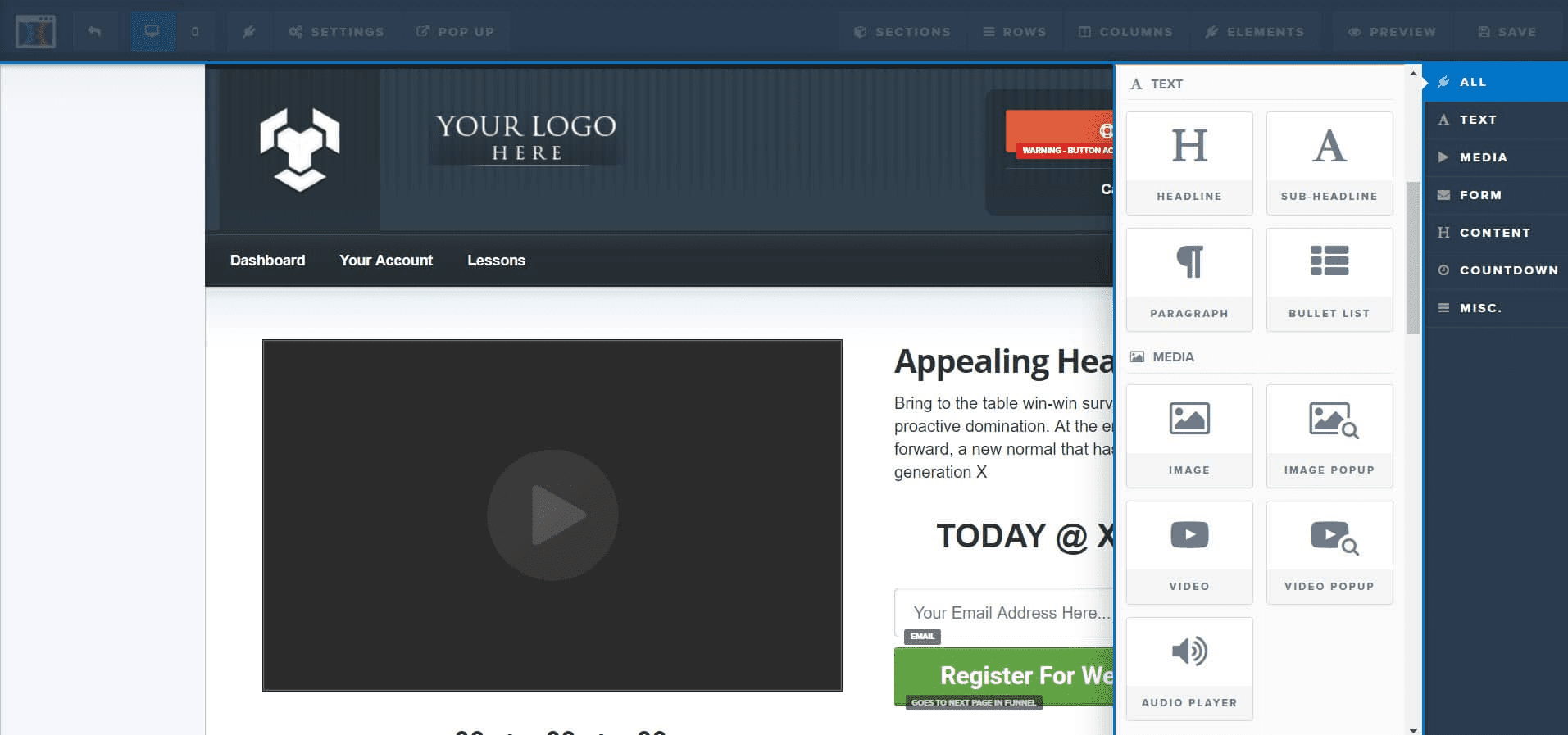 The Clickfunnels Etison Editor offers the best way to create and edit web pages and funnels without hiring a web developer or writing codes yourself.
Yes, you can edit and customize any page you create to look exactly the way you want.
Etison Editor is simple but powerful: It works in 3 simple steps:
Pick a template
Point and click
Drag and drop
You'll find dozens of stunning templates that are designed to convert visitors into leads and customers. Pick any template and use it for free; decide what type of page you want to create, then start editing to suit your style and content.
With Etison, you can create:
Opt-in Pages: To capture and grow your email list
Sales Pages: To sell products
Order Form pages: To collect payments
Upsell Pages: To implement 1-Click upsells
Webinar Event Pages: To easily host live or automated webinars
There are 50+ page elements to choose from, simply drag and drop them onto your page. Move the elements around — you're in control!
#3 Follow-Up Funnels: Send Targeted Messages To Customers
After you have captured a visitor's email address, you also need to begin the marketing process.
One of the important steps you can take is to create follow-up sequences to engage contacts on your Clickfunnels email list.
In general, keeping in touch with new leads is critical. Otherwise, you risk losing them to your competitors.
The Follow-Up Funnel is a feature that's available to Platinum users. You need an email list and SMTP Integration to use it.
You can decide how your follow-up emails should be sent. If you select all existing contacts on your list, these contacts will be queued into your Follow-Up funnel.
#4 Clickfunnels Backpack: Run Affiliate Programs Like a Pro
Clickfunnels was built by affiliate marketers who spread the word for many years.
That's why Richard Brunson takes affiliate management seriously. Because being able to track performance is the easiest way to get measurable results.
Clickfunnels Backpack is arguably the best affiliate tracking software. It's included in the Click funnels Platinum plan.
With Backpack, entrepreneurs can create two-tier type commission plans, recruit new affiliates, audit and review commissions, add affiliate type, and even fire affiliates who haven't achieved significant progress.
Backpack supports the Etison drag-and-drop builder. This makes it easy to customize the look and feel of your sales affiliate area to look professional and personalized.
Clickfunnels Backpack uses Sticky Cookie. This is perhaps the #1 reason people are loving it.
Sticky Cookie is the concept that allows an affiliate to promote any offer at any given time and gets a commission for any new sales their referrals to make in the future. Here's how it works:
To scale your online business, you need traffic. It's important to set up a system that will encourage affiliates to promote your offers.
Affiliates can send you the most targeted form of traffic that will lead to consistent sales.
Truly, Word-of-mouth traffic (mostly from affiliates) converts better than Facebook, Twitter, Instagram, and even LinkedIn traffic. YouTube might be an exception!
Expert Opinion:

Clickfunnels Backpack, for me, is the most effective affiliate tracking software. It helps me recruit new affiliates, communicate with them, and manage every aspect of my affiliate program from within Clickfunnels.
#5 Create Membership Funnels and Sites
Another key feature that Clickfunnels offers is the membership sites. With a membership funnel, it's easy to provide secure access to your content.
Is it worth creating a membership site?
Yes, membership sites can be very profitable if you have an engaged audience. With your expertise and creativity, you can build a thriving community and charge users recurring fees.
You can make consistent money with a membership site. Also, you build a tribe of people who believe, trust, and respect you.
Everything in Clickfunnels is connected to the Funnels. So to create a membership funnel, you first need to select "Build Funnel" from your Clickfunnels menu. Then follow this path:
Sell Your Product > Membership
Give your membership funnel a name you can remember easily. Then start building your funnel.
Next, choose your membership area template.
In about 15 minutes, your membership site is ready. This can be a great approach if you have an Opt-in page that offers a free lead magnet (an eBook).
When you create follow-up funnels and sequences, you can sell your membership offer to the same subscribers who have benefited from your free information.
6. Key Features Of Leadpages
Now, let's consider 5 key features of Leadpages:
#1 Leadpages Site Builder
With Leadpages Sites, anyone can build a professionally-looking website without writing codes or hiring a web developer.
While designing your website using the intuitive drag-and-drop feature.
You can preview your entire website across multiple devices, such as desktop, tablet, and mobile.
Leadpages drag and drop
All pages are mobile responsive — which means they can adjust to accommodate any device or screen size. Don't forget to optimize your site for SEO. Leadpages Sites are designed to auto-generate sitemaps and align with modern SEO best practices.
That means you can create meta descriptions, title tags, and add Alt texts to your images. You can even restrict search engines from indexing your page (suppose it's a membership site).
There's a huge collection of website templates in the gallery. The code-free drag and drop builder makes it easy to customize.
You can also add pre-built add-on pages such as the About page, Event page, Team page, and more to your website as it's being built. You can even start from a blank page and do everything from scratch.
#2 Leadpages Online Sales & Payments
Leadpages has a set of tools and features for selling online and accepting payments. You can turn clicks into sales if you know how to use these features.
Whether it's an eBook, a course, a physical product, or just about anything that offers value, Leadpages can help you set up pages to sell it.
You can create landing pages to capture leads, pop-ups to engage visitors before they leave, and a payment gateway with Stripe.
Clickfunnels also has a powerful shopping cart for selling products online.
There's no need to invest in third-party payment solutions such as Kajabi or Thinkific to be able to process credit cards from customers.
#3 Leadpages Conversion Tools
The ultimate goal of every online campaign is to increase conversions. Whether you're running Facebook ads, creating guest posts, or advertising on Google, you want to convert as many clicks as possible into sales.
Leadpages provide conversion tools such as Opt-in text campaigns. This conversion tool will make it easier for your customers or new leads to opt-in to receive a text message or prompt to join your email list via Leaddigits.
Get to track your campaign ROI. Eliminate the guesswork, digging of data, and spreadsheets, you can view each campaign's performance in real-time.
To convert visitors into leads, use the Exit-intent pop-ups. This will appear when visitors move their mouse to attempt to leave the page.
For example, when they move toward the upper right corner of the browser window, a pop-up appears with a tempting offer they can't resist.
Another effective way to improve conversions is by activating Leadlinks. This feature is useful for engaging subscribers via one-click trigger links within the email. You need this to properly segment your email list. Create a Leadlink from your account easily.
#4 Leadpages Design & Templates
I love Leadpages templates a lot. When I first discovered the power of landing pages and good-looking emails, I was introduced to Leadpages and its huge collection.
I saw the exact templates that Pat Flynn (founder of Smart Passive Income), Neil Patel, Lewis Howes, and other respected online marketers use.
There are 100+ pre-built templates and sections that you can use to cut your design time in half. Simply drag and drop a section onto any landing page or website.
Gain access to premium images, icon library, with 35+ icons and graphics you can use at no extra cost. Pick a landing page template to start using them.
Add a Countdown timer to your landing pages, web pages, and blend it into your Pop-up.
When the clock runs out, you can choose to automatically redirect the visitor to a different page or just hide the page section.
#5 Leadpages Education & Support
If you're looking for 1-on-1 guidance, then Leadpages has got your back with its Education & Support system.
A leadpages launch specialist can guide you on the best way to set up your account so you can start creating your first landing page or website.
There are free virtual workshops that expose you to marketing wisdom, professional insights, and the right mindset needed to build a thriving business.
You'll find a complete owner's manual on how to use your Leadpages account effectively, including step-by-step 'how-to' articles that will teach you everything.
There's more. Join live Q&A coaching sessions to upgrade your marketing expertise and get better results. Each session is taught by one of Leadpages marketing experts.
Expert Opinion:
There are a lot of resources to train you on how to use Leadpages to grow your business. If you're a beginner, you'll find these training sessions rich and insightful. Experienced marketers can benefit from the Workshops as well.
7. Clickfunnels Vs. Leadpages – Pros And Cons
Here's the Pros and Cons of Clickfunnels:
| | |
| --- | --- |
| Pros | Cons |
| It's fairly easy to use (no coding required) | It's a bit expensive compared to Leadpages |
| A powerful and intuitive drag and drop landing page builder | The analytics report isn't detailed. It doesn't show who watched videos, how much they watched, etc. |
| Pick from a variety of sales funnel template for different purposes | Limited templates in the Basic plan |
| Easy integrations with marketing tools | Lacks in-built Calendar for clients to auto-schedule an appointment |
| Capture leads using simple opt-in forms | |
| Lots of training and resources on the Facebook group | |
| Clickfunnels offers excellent customer support, including 1:1 chat with a team member | |
The Pros and Cons of Leadpages:
| | |
| --- | --- |
| Pros | Cons |
| Easy to use drag-and-drop builder | No new features have been added in a while |
| It's affordable compared to Clickfunnels | No chat or phone support |
| Leadpages has a cleaner user interface | It's difficult to incorporate custom fonts |
| Create stunning professional landing pages quickly | Limited video tutorials for beginners just getting started with Leadpages |
| Rich analytics reporting (more robust than than Clickfunnels') | |
| Easily customize the templates in half the time | |
| You can clone a landing page or lead box for another purpose | |
| Leaddigits, one of its flagship features lets you capture your audience's phone numbers for marketing | |
8. Where Do I Get The Most For My Money?
In this section, I'll break down the pricing plans of Clickfunnels and Leadpages (with screenshots).
Clickfunnels Pricing Plans
To get the right fit for your business, here's the breakdown of the Clickfunnels plans with pricing:
Click funnels ($97): This Starter plan gets you started in growing your company with sales funnels. It allows 20 funnels, 100 landing pages, 1 user, 3 payment gateways, 3 domains, and you can share your funels with others.
Click funnels Platinum ($297/month): This Platinum plan is for larger teams. Build Unlimited funnels and Unlimited Pages, 3 users, 9 domains, follow-up funnels, and more.
TwoCommaClubX ($2,497/month): This is the most expensive Clickfunnels plan. It lets you build unlimited funnels and pages, add 10 users, 27 payment gateways, 27 domains, and all that Clickfunnels offers.
Leadpages Pricing Plans
Leadpages offers more affordable plans. Here's a breakdown:
Standard ($37/month): Get started with Leadpages with this plan. Build 1 site, landing pages, Pop-Ups, Alert Bars, get free hosting, free custom domains, drive unlimited traffic and leads to your pages.
PRO ($79/month): This PRO plan supports 3 sites, Lead Notifications, Tech support, mobile-responsive site templates, and everything included in the Standard plan.
Advanced ($321/month): Get everything in PRO, including 50 sites, priority tech support, online sales and payments, advanced integration, 5 pro-sub-accounts, email trigger links, etc.
9. Conclusion – Which Is Better: Clickfunnels Or Leadpages?
Truly, Clickfunnels and Leadpages are two established lead generation software you can trust.
You're in good hands if you choose either.
However, Clickfunnels biggest strength is funneling. If you're looking to get more leads and convert them into customers, I'd recommend Clickfunnels. It's the best landing page builder yet.
It also comes with an intuitive Etison Editor for building professional landing pages. You'll get the best value for money with Clickfunnels' range of tools and features.
On the other hand, Leadpages is ideal for creating websites, sending emails, and selling products online. It has several stunning landing page templates you can customize using drag and drop builder.
Note: Whether you're using Clickfunnels or Leadpages, it's best to integrate with a 3rd party email service (such as ConvertKit, GetResponse, SendinBlue, etc) for your email marketing campaigns. A dedicated email tool like the ones you already know will get you better results and reporting.
There's no risk involved — both Clickfunnels and Leadpages offer a 14-day free trial and money-back guarantees. You have nothing to lose, so get started today.
10. Clickfunnels Vs. Leadpages – FAQ
Here are answers to 4 of the Frequently Asked Questions (FAQs):
How Much is Clickfunnels After the Free Trial?
After the 14-day free trial, the Standard plan (known as click funnels) costs $97/month, which is where most entrepreneurs begin. There are upgraded plans such as Platinum, and TwoCommaClubX plans that cost $297/month and $2,497/month, respectively.
Is Leadpages Free?
No, Leadpages doesn't offer a free plan. However, it offers a 14-day free trial to test all the features. After the trial, the Standard plan costs $37/month, the PRO plan costs $79/month, and the Advanced plan costs $321/month.
Can You Use Clickfunnels With Shopify?
Yes, you can. Simply integrate Shopify with your Clickfunnels account. From your Clickfunnels dashboard, navigate to the Account Menu and select "Integrations." Search for and choose Shopify. Enter your Shopify store URL into the field provided and click "Connect Integration."
Is Clickfunnels a Pyramid Scheme?
No, Clickfunnels has a variety of digital products. Clickfunnels is a marketing tool. It doesn't earn money from recruits (typical of a pyramid scheme). Richard Branson, founder of Clickfunnels earns money from 100,000+ users who renew their membership monthly or annually in order to use the funnel builder, landing page builder, email marketing tool, and so on.