Cloud Migration is the process of moving an existing business's data, email, and applications to a cloud computing environment. Cloud migration often requires businesses to shift their data from an on-premise and legacy IT infrastructure to the public cloud.
Cloud Migration Services or CMS are dedicated services and programs that aid businesses in this move. These programs are often provided by cloud providers themselves, such as Microsoft, Google, and AWS (Amazon Web Services). But companies lacking professional IT help can find these tools convoluted to operate.
Enlisting the help of a third-party program or service is typically the route most businesses take and has made cloud migration services an essential part of business expansion. With a keen interest in the cloud computing space, I'm always looking for the best solutions that help streamline cloud migration needs for companies.
In this post, you will discover the 8 best cloud migration services available today. After this 5-minute read, you'll have a thorough understanding of the most popular CMS solutions for your business.
What Is The Best Cloud Migration Service?
Here is a quick comparison of my top three picks with their ratings and features that make them stand out and take the lead: Deloitte, Accenture, Navisite.
| | | |
| --- | --- | --- |
| 4.8 | 4.6 | 4.2 |
| Best overall. Intuitive migration plan with easy-to-scale cloud migration tactics. | Feature-rich. Offers detailed migration plans with highly reliable tools to use. | Best for accessibility. Provides reliable migration while offering clients detailed roadmaps |
| Try Deloitte | Try Accenture | Try Navisite |
Read below for detailed coverage of my selections. Here's all you need to know about the best cloud migration services to acquire in 2022.
1. Deloitte – Top Pick
Best Cloud Migration Service For Complex ERP System Migration [Custom Pricing]
Deloitte understands that updating legacy systems can be a major undertaking for any company, but the company helps your business make the switch as efficient as possible. Deloitte's cloud and data migration strategies help businesses reimagine IT functions with an emphasis on transforming legacy enterprise applications.
Deloitte employs a three-step process for its migration plan: Assess, Migrate and Modernize. Cloud infrastructure is primarily accessed by the company, and a roadmap is tabled. Next, Deloitte begins the migration process and finally works to extend capabilities to the current system to modernize it.
The company offers some of the most in-depth analyses of existing company programs and IT infrastructure and creates plans and roadmaps unique to each operation. Their cloud environment migration tactics can also be utilized at scale, and core ERP solutions like SAP and Oracle ERP are supported.
Deloitte can also tailor its solutions specifically for different businesses and offer a hybrid cloud setup too. They use automation to deliver a migration system that is catered to the entire life cycle of the business's cloud journey. Refactoring of languages for a seamless integration is also supported.
The cloud and application monitoring company is trusted by thousands of businesses globally that rely on its sophisticated data and application migration strategies and tools to expand and improve business processes.
Pros And Cons Of Deloitte
| | |
| --- | --- |
| Pros | Cons |
| Configurable migration structure | Technical resources may lack depending on the industry niche |
| Integrate well with in-house teams for personalized solutions | |
| Valuable insights into the migration process are offered | |
| Has experienced cloud application specialists | |
Deloitte Pricing Plan
Deloitte caters to all business sizes and scales and features a custom pricing plan for exact business requirements. You can request a quote for your company's exact needs.
Deloitte is an industry leader when it comes to cloud migration services. The company is my top pick and an easy recommendation for everyone.
2. Accenture – Ideal For Every Business' Cloud Needs
Cloud Migration Services Suitable For AWS, Azure, & Google [Custom Pricing]
Accenture takes the worries away from their customers by assessing their requirements for them and recommending the most suitable cloud platform for migration. Accenture's highly professional team of cloud IT specialists scans every business' legacy infrastructure and selects the best alternative for their use cases.
From strategy to execution, Accenture's cloud migration solutions help transform their client's existing applications and enable future business outcomes. Accenture leverages data from discovery and analysis, identifies opportunities, and recommends the best course of action.
Their enterprise cloud migration services are scalable and provide clients with detailed and robust methodologies for migrating large portfolios and infrastructure to online cloud solutions.
Their reliable and tested tools help businesses with application inventory, analysis, code assessment, planning, and migration execution. They offer the full suite of the cloud landscape and feature solutions with public, hybrid, and multi-cloud solutions.
Accenture's cloud strategy and implementation take the guesswork away from businesses and add value to their business development structure. The digital transformation of hundreds of companies around the globe is trusted by this cloud migration service.
The cloud migration consulting teams are also helpful in tackling most issues during the migration process and are always there to answer any queries. Accenture is ideal for all businesses looking for a quick migration process.
Pros And Cons Of Accenture
| | |
| --- | --- |
| Pros | Cons |
| Experienced team ensure migration completion within budget and timeframe | Low priority tasks can sometimes be ignored |
| Excellent planning and roadmap development | |
| Great customer service | |
Accenture Pricing Plan
Accenture offers custom pricing plans for their cloud migration services regardless of industry, size, or scale. A direct quote on their services can be availed through the company.
Accenture ranks second in my list of cloud migration services, and for good reason. Their experienced team ensures that the migration takes place within the stipulated time frame and the budget specified. 
3. Navisite – IT Transformation Accelerator
Cloud Migration Services For Growing & Established Brands [Custom Pricing]
Navisite is a modern cloud service provider that revolutionizes the way businesses conduct their processes on legacy solutions and updates them to the efficient domain of the cloud. Navisite has been helping to grow and establish brands to accelerate their IT transformation one step at a time.
Navisite is a cloud-native service provider, which makes them ideal for any business' migration needs. Their cloud migration strategy is meticulously thought out by an experienced and professional team, which specializes in providing proven delivery methodologies with a platform-agnostic approach.
Navisite promises better business processes as its clients benefit from greater scalability, accessibility, and flexibility. Their skilled staff is excellent at weeding teething issues when establishing cloud migration tools and executing the move without issues and errors. Navisite's clients also benefit from a global network of dedicated data centers based on the latest cloud-based technology.
The company can also help its clients develop a personalized roadmap that can allow them to shift from CapEx to OpEx while paying for the apps and capacity they require. Navisite has experience as an AWS Advanced Consulting Partner, Microsoft Azure Expert MSP, and VMware Showcase Partner.
Navisite is a global leader when it comes to cloud migration services and has the proven industry experience needed to manage subsequent migrations for the world's leading brands.
Pros And Cons Of Navisite
| | |
| --- | --- |
| Pros | Cons |
| Knowledgeable staff that can provide immediate and 24/7 support with cloud issues | Cloud migration solutions can be a bit pricey |
| Robust hosting on VMware | |
| Excellent facilities and uptime | |
| Navisite takes complete ownership of the environment | |
Navisite Pricing Plan
Navisite caters to all business sizes and scales and, as such, does not provide a pricing plan or guide for their cloud migration services. You can request a quote for your company's exact needs through the company website.
Navisite is an easy recommendation for most brands, and due to its vast support and deployment criteria, it ranks at the third spot on my list of the best cloud migration services.
4. Infosys – Idealizing Digital Transformations
Cloud Migration Services For Enterprises Needing Full Digital Transformations [Custom Pricing]
Infosys cloud migration services refresh IT networks, storage systems, and hardware without any unnecessary downtime. Their services extend the life of legacy investments while inducing a business transformation, including scalability, availability, security, performance, and cost reduction.
The company maximizes value and mitigates risks by specifying the business strategy of transferring applications to a reliable cloud platform. Infosys also converts web applications, legacy virtual servers, ERP systems, and databases for cloud-native technology platforms.
Their knowledge-based workload migration solution suite automates remediation and improves the reliability of applications on the cloud. The migration also minimizes the effort for provisioning and application deployment.
The company offers a catalog of over 300 blueprints for cloud-first applications. It makes it simple for businesses to reformat and refactor their applications to make use of cloud-native capabilities, speeding their speed to market. They also include AI-powered solutions that speed up migration and optimize the business' use of cloud resources.
Infosys cloud management portals aid seamless consumption of IT resources and compliance with business policies and industry standards. Their cloud adoption approach and DevOps automation tools streamline backend services and enhance service quality. It manages to do this with minimal code changes at the application layer.
Infosys is a global leader in digital services and consulting. The company has over 40 years of service and over 1500 clients in one of the strongest portfolios in the world. Their cloud migration services ensure peace of mind to businesses globally with an AI-powered core at the base of all operations.
Pros And Cons Of Infosys
| | |
| --- | --- |
| Pros | Cons |
| Flexible and quick cloud migration deployments from experienced professionals | Proactivity in suggesting best practices can be slightly laggy |
| Well-trained technical team of experts | |
| Project milestones are met using intuitive solutions | |
Infosys Pricing Plan
Infosys offers custom pricing plans for its cloud migration services, and these can be requested as a quote directly through the company. Their plans are built around the specifics of the IT infrastructure, storage options, and applications to be migrated, and consultation needs to be scheduled for accurate pricing.
There are few better than Infosys in the cloud migration space. With over four decades of industry experience around its belt, the company is one of my top recommendations.
5. 3Cloud Solutions – Mainstay For Azure Cloud Migrations
Experts In Azure Cloud Migration Services [Custom Pricing]
3Cloud Solutions are a leading Microsoft Azure consulting partner, enabling the cloud to work optimally for their clients. With a 100% focus on Azure, 3Cloud Solutions is the perfect partner for any business looking to migrate to the Azure cloud platform. They build innovative solutions and solve the most challenging technology and business challenges.
The company does this by extending the functionality and capability of a business' on-premises solution and migrating it to the cloud with Azure. 3Cloud Solution helps in the modernization of traditional legacy systems and is one of the finest service providers for businesses seeking Azure as the platform of choice.
With 3Cloud Solutions, businesses can streamline workloads and begin to facilitate business operations with their solution accelerators. Azure and 3Cloud's scalable solutions help take their client's businesses to the next level.
Pros And Cons Of 3Cloud Solutions
| | |
| --- | --- |
| Pros | Cons |
| Engaged leadership help guide through the migration process | Heavy reliance on Azure ignores other cloud platforms |
| Azure consultancy makes it ideal for businesses looking for fast onboarding | |
| Powerful AI automation assistance | |
3Cloud Solutions Pricing Plan
3Cloud Solutions caters to all business sizes and scales but does not provide fixed pricing at the moment. You can use their Azure Economic Assessment to determine where your business is in your cloud transformation journey, and how these services can move your organization forward. You can request a quote for your company's exact needs through the company website.
3Cloud Solutions is an ideal recommendation for businesses looking to leverage Microsoft Azure as their cloud computing platform, but for other AWS Cloud solutions, I wouldn't recommend them.
6. Cognizant – Consulting And Cloud Implementation
All-In-One Versatile Cloud Migration Services For Businesses [Custom Pricing]
Cognizant is an IT consultancy firm that provides business process outsourcing to clients all over the globe. The experienced teams at the company are responsible for developing custom software, testing and maintaining applications, and creating digital infrastructure. Most of their efforts today rely on cloud computing development.
The company's cloud migration services are some of the most versatile in the industry. They offer migrations to Microsoft Azure and support a plethora of other cloud vendors, including Oracle, Google Cloud, and AWS. Their migration experience is seamless due to their security-focused automation efforts.
Cognizant offers a scalable cloud-native platform with some of the best professionals in cloud technology that are dedicated to providing solutions tailored to each client's requirements. The company is focused on engineering smart and flexible cloud environments for all businesses.
Cognizant's tool-based framework accelerates time to market and adds value to your cloud-enabled business transformation projects. They do this with the help of well-defined, agile methodologies in a systematic approach to execution and planning.
Pros And Cons Of Cognizant
| | |
| --- | --- |
| Pros | Cons |
| Experienced in a plethora of cloud environments | Deployment of cloud services can be slow |
| Provide scalable cloud-native platforms | Level of client-company visibility is limited |
| Experienced professionals responsive to client's issues | |
Cognizant Pricing Plan
Cognizant provides custom quotes on all cloud migration services and, as such, does not state any pricing or plans for this service. The company can be approached for a personalized offer based on the client's requirements.
Cognizant, due to the sheer versatility of cloud environments it supports, is an automatic recommendation on my list of the best cloud migration services. While their deployment is known to be laggy compared to other companies, their experienced and professional staff make up for the deficit.
7. Oracle Cloud Infrastructure – Personalized Migration Approach
Cloud Migration Services For Hybrid Cloud Or Multi-Cloud Solutions [$0.0980/hour]
Oracle in itself is an ecosystem built around a cloud-first approach. Their next generation of cloud technology is designed to run any application faster and more securely than ever before. Built from the ground up, Oracle Cloud reimagines core computing with an effort on reliability and performance across the board.
The Oracle Cloud Infrastructure offers valuable resources, tools, best practices, and tutorials to help facilitate businesses in their cloud migrations. The company ensures its workflow is streamlined and easy to follow for every company looking to switch from native and legacy IT infrastructures.
By provisioning specific tools, Oracle Cloud Infrastructure helps its customers design a robust and flexible cloud strategy while ensuring the complete manageability of cloud environments. Oracle specializes in hybrid and multi-cloud solutions as well as specialized deployments, extensive monitoring capabilities, and strategic partnerships.
Pros And Cons Of Oracle Cloud Infrastructure
| | |
| --- | --- |
| Pros | Cons |
| Best in class cloud computing performance | Performance not up to the mark with solutions based on .NET |
| Enterprise-grade security capabilities, compliance, and standards | Oracle's offering around the low end is limited |
| Cloud-native tools such as Kubernetes and DevOps | |
Oracle Cloud Infrastructure Pricing Plan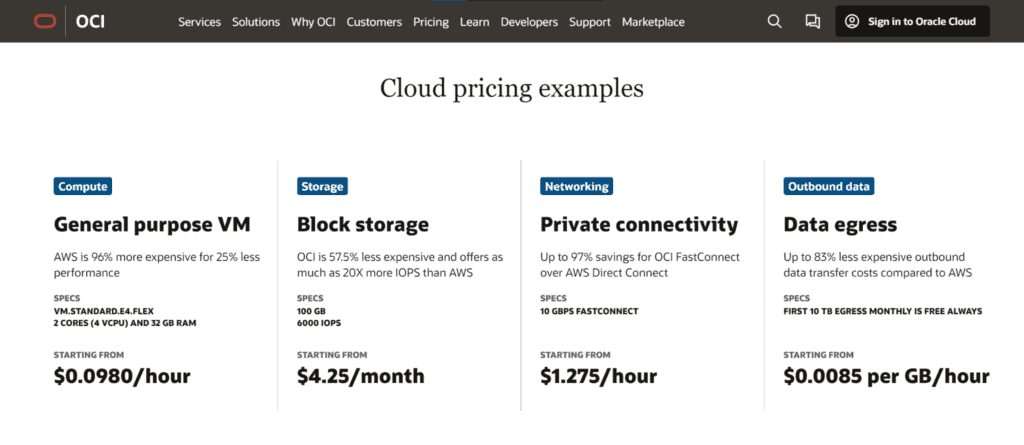 The pricing structure for the Oracle Cloud Infrastructure is as follows:
Compute – General Purpose VM [$0.0980/hour] – This plan comes with 2 cores (4VCPU) and 32GB RAM.
Block Storage – Storage [$4.25/month] – This plan offers 100GB and 6000 IOPS.
Private Connectivity – Networking [$1.275/hour] – This plan has 10 GBPS FASTCONNECT.
Data Egress – Outbound Data [$0.0085 per GB/hour] – When you buy this plan, the first 10TB Egress is free.
Oracle Cloud Infrastructure is a renowned brand in the cloud migration space and makes for an easy recommendation for anyone looking for an Oracle-specific cloud environment.
8. Chetu – Cloud Data Migration Experts
Customer-Centric Cloud Migration Services For Business [Custom Pricing]
Chetu aids businesses in creating an extensive plan for their cloud migration prior to beginning and takes into account what the final architecture would look like. They account for the way each application should interact and the order in which to migrate applications. 
Through this meticulous and cost-effective planning, the cloud migration team can offer efficiency and agility to businesses while lowering their costs significantly. The migration specialists have experience with several different cloud environments, including AWS, Microsoft Azure, Google Cloud, and IBM Bluemix.
The company can employ manual and automated cloud migration tactics that help make the process more efficient for its clients. Chetu can also provide an estimate of the potential outcomes cloud adoption can have for each business. This way, the client knows what to expect once the migration is complete.
Once migration is underway, clients also receive a cost analysis detailing how many cloud resources applications will need to assist them in staying within their budget.
Pros And Cons Of Chetu
| | |
| --- | --- |
| Pros | Cons |
| Pay attention to the needs of the business | Cloud migration turnaround times can be inconsistent |
| Provide new ideas on how to improve the cloud migration process | Long contract negotiations can unnecessarily delay migration processes |
| Easy scalability for cloud solutions | |
Chetu Pricing Plan
Chetu is perhaps the most affordable option for most companies, but they do not mention any clear pricing or plans for their cloud migration services. The company can be approached for a customized quote.
Chetu is my final recommendation and wraps up my list of the best cloud migration services.
Conclusion
Cloud migration services have become a staple for many businesses still operating on legacy hardware and IT infrastructure. Cloud-based managed services help alleviate some of the consistent growing pains any business would face while speeding up business processes and expanding outcomes.
The cloud computing space is awash with options on the best cloud migration services, and selecting the best company for the job can mitigate some of the teething pains associated with the migration process. Based on my experience and current trends, I have highlighted the most prominent options for you to explore today.
My first and most-recommended choice is Deloitte for its ability to handle complex infrastructure, followed by Accenture and Navisite for excellent cloud migration teams and scalability options. If your business could benefit from cloud migration, it would be in your best interest to use any of the aforementioned service providers.
To gain insight on more interesting topics, products and technology services, visit my blog today to stay up to date. I have all the latest trends and products that help you learn how to navigate the business space and other handy tips.