Do you need email marketing software for your small business? Two platforms are created especially for your needs, Constant Contact vs. Mailchimp.
When I first started as an entrepreneur, I tried and tested these tools myself. And so, I assure you that my article will give you an unbiased take on them.
I'll also share with you my firsthand experience of their best features, pros and cons, pricing, etc.
Let's start exploring.
1. Constant Contact vs. Mailchimp At A Glance
Here, I'll show you which email marketing software has the edge over the other through a quick glance at both's most significant features and most valuable pricing plan.
| | |
| --- | --- |
| 4.7 | 4.8 |
| Feature-rich. Great for businesses that want a simple and reliable email creation and delivery platform. Starts at $20/month. | Best Overall. Email platform with an intuitive user interface and easy-to-use features. Starts at $9.99/month. |
| Try Constant Contact | Try Mailchimp |
2. Who Is Constant Contact Best For?
Constant Contact is best suited for small businesses, eCommerce stores, nonprofits, and entrepreneurs. It's also a great fit if you're in the following industries: food, clothing, media production, books, and toys.
3. Who Is Mailchimp Best For?
Mailchimp is the best option for startups and medium companies. It's also a good choice for creatives, marketers, eCommerce stores, interior designers, and graphic artists.
4. A Close Look At The Features Of Constant Contact and Mailchimp
The best way to see if a platform is a right fit for you is by matching its features to your needs. Here, I'll show you a close look at the tools available for Constant Contact vs. Mailchimp.
| | | |
| --- | --- | --- |
| Features | | |
| Drag-&-Drop Email Builder | | |
| Email Templates | | |
| Forms & Landing Pages | | |
| A/B Testing | | |
| Email Analytics | | |
| Automated Campaigns | | |
| Mobile Application | | |
| Get Started | Try Constant Contact | Try Mailchimp |
5. Key Features Of Constant Contact
Want to know what makes loyal customers love Constant Contact? In this section of Constant Contact vs. Mailchimp, I'll show you.
We'll have a look at its top and unique features. This includes high delivery rate, event management, automation, templates, and analytics.
There is more…
Since I'll be focusing on email marketing tools in the following section, I'll brush over other features that Constant Contact enables. Back then, they were purely focused on email marketing, but now it offers more.
Social media marketing: You can post, schedule, message, and view reporting on social media, as well as make Instagram and Facebook ads.
Website creation: Their website builder lets you build one without the technical knowledge required. Their sites are also device optimized and powered by AI.
Online-store: You can create an eCommerce store that's visible worldwide and sell your digital goods and physical products with it.
Now that you've learned about this, I'll now go over the features that make Constant Contact stand out.
#1 High Deliverability
Constant Contact has a deliverability rate of 97%. Now, that's very impressive.
But, what does deliverability mean? And, why is it important for your business?
Let me explain.
Have you ever waited for an email to reach your inbox only to find it lost in your spam folder? Or, have you cleaned out old emails and discovered you had important messages left unseen?
This is what's called a low email deliverability rate.
It happens to everyone.
But, you can't risk this with your business. What's the point of carefully crafting your content and design only to find out that your subscribers didn't reach them in the first place?
That's why high deliverability is a great feature to have.
You want to make sure that your provider has this. And, with Constant Contact, it's guaranteed that the majority of your campaigns will reach your leads.
#2 Event Management
If you frequently host workshops, fundraisers, classes, or seminars, you'll love this feature. You'll be able to promote your events seamlessly with Constant Contact.
Let me share its perks:
Payments: Straight from the registration page, you can get paid and sell your products.
Data Collection: With Constant Contact, you can gather data from your audience like their preferences from the registration.
Real-time Analytics: You'll be able to view information on your attendees, how many registered, tickets sold, etc in real-time.
Brand Aligned Invitations: Your subscribers will receive event invitations that are lined up with your branding.
Landing Page: You can also create landing pages so that you can provide more info on said events. This page has a link that you can readily share on social media platforms.
All of these events feature work 24/7. Plus, your attendees will love your professional invitations and smooth registration process.
This feature isn't readily available on Mailchimp.
You're going to need an online booking service to make it happen. And, it's going to cost you some money.
Let me give you an example.
One of the top recommended services for bookings and events is MakePlans. Although they have a 14-day free trial, you'll need to pay $9 per resource/month.
#3 Constant Contact Automation
You can set standard autoresponders with Constant Contact. These have many benefits that include:
Relevance: The main benefit of automation is that you'll only send pitches and content relevant to your subscriber's interests and actions. This way, there's a higher guarantee that they'll buy from you.
Sales Increase: In connection to relevance, since you're sending targeted emails, you can expect more sales for your business.
Hassle-Free: Once you've set it up for your business, it automatically activates.
Warm Leads: This process warms up leads so they're more likely to purchase your products.
There are different types of automation you can set up. It includes:
Welcome Emails
Special Offers
Anniversary Emails
Email Series – your custom email
Simplicity is the trademark of Constant Contact. And so, expect that setting up automation will also reflect this.
#4 Constant Contact Email Builder
It's very easy to create emails and edit templates with Constant Contact.
Allow me to expound.
There are only three tabs on the upper menu for simple navigation. The builder, as mentioned earlier, is also amazing.
It makes adding features a breeze. All you need to do is drag and drop it anywhere you want.
Don't want to spend too much time styling your emails?
Constant Contact is perfect for you. You can create professional emails in a snap.
There are many template options for you to choose from as well. Plus, you can send or schedule the emails when you're done creating.
#5 Constant Contact Reporting
With Constant Contact, real-time reports are the norm.
After sending an email series, you'll be able to see the number of opens, clicks, sents, and forwards. You can also view the following: bounces, opt-outs, and spam reports.
That's not all.
Campaign statistics are also made available. See which subject line has the most engagement, devices used when opening an email, as well as trends for your click rate and open rate.
Here are other analytics data you'll get from Constant Contact:
Heat maps: This awesome feature lets you see what links have the most number of clicks.
Campaign Comparison: This one lets you compare up to 5 emails and see which one has more clicks and opens.
eCommerce Analytics: You can also view the content performance, predicted trends, revenue per customer, results by demographics, etc. for your eCommerce store.
Using their easy-to-navigate interface, you'll easily view your reporting data.
6. Key Features Of Mailchimp
What makes Mailchimp the most widely used email software in the world?
In this part of my article, I'll share with you why it's super popular with small businesses.
#1 Mailchimp Modern Newsletters
Ask any Mailchimp users for their favorite feature.
I'm sure they'll tell you how much they love Mailchimp's newsletters. They're modern and easy to edit.
They're also very beautiful.
Moreover, it has a drag-and-drop builder. It makes the entire process simple without needing a developer's help.
In case you're wondering, you can also send plain-text emails via Mailchimp. All you need to do is choose the Plain Text option when you're starting a campaign.
#2 Mailchimp Simple A/B Testing
Another feature that clients are fond of is the easy A/B testing for Mailchimp. Even beginners can set it up without any issues.
Let me define what A/B testing is in the first place.
When you're still in the early stages of your business, you're unsure what kind of emails your subscribers prefer. One surefire way to know is through A/B testing.
You'll send out different versions of an email. And then from there, you can make the necessary changes.
Small tweaks such as a modified subject line can have a big effect on your open rate. This is why A/B testing is so handy for businesses.
If you use Mailchimp's premium account, you can create up to 8 variations of the same email.
#3 Mailchimp Massive Integrations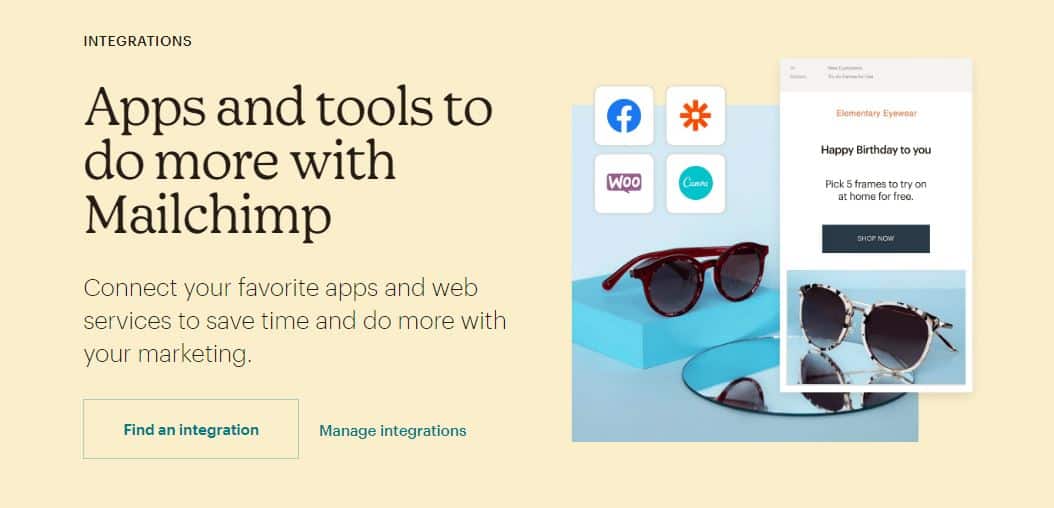 One of the biggest bonuses Mailchimp has is its vast integration.
They're connected with several partners in various industries, from apps in the social media category, finance, analytics, eCommerce, and many more.
Here are some common tools:
Centralization & Data Sync: Google Analytics, Reportei, Mixpanel, etc.
Commerce & Payment: WooCommerce, ShopSync, PrestaShop, etc.
Design: Adobe Photoshop, Canva, Unsplash, etc.
Simply use the search bar to look for your specific tool. And if you want to manage all of these integrations, head over to the Integrations section.
#4 Reports & Analytics
Mailchimp's analytics is beginner-friendly. It's simple to navigate and easy to understand.
Plus, you can view it in real-time.
Here are the campaign reports you can see with Mailchimp:
Engagement
Revenue
Growth
Downloads
Purchases
Clicks
In addition to these, you can also view competing businesses' click and unsubscribe rates. This information is useful for creating more enticing emails.
There's also the Click Map feature.
This tool is great for viewing what part of your emails caught your subscriber's eyes. It can be the text, CTA, or image.
#5 Mobile App
Want to craft emails on the go? With Mailchimp, you can do this wherever you are.
Their mobile app enables this.
Straight from your smartphone, you can create landing pages in a few clicks. You can download it on Android and Apple phones.
Here are additional features for their app:
Edit campaigns
Craft emails
Get detailed performance reports
Turn on the abandoned cart feature
Resend messages to non-openers
Receive alerts on subscriber activities
It is beloved by users worldwide, with a 4.6 rating on Google Play and 4.9 on Apple App Store.
7. Constant Contact vs. Mailchimp – Pros And Cons
It's important to weigh the pros and cons of each platform before committing. That's why I'll show you this information in this section of my Constant Contact vs. Mailchimp comparison.
To begin with, here are the upsides and downsides of Constant Contact.
Constant Contact:
| | |
| --- | --- |
| Pros | Cons |
| High email deliverability | Little customization options in newsletters |
| Extremely easy to use | No custom fields in forms |
| Contains the Check For Errors feature in newsletter design | |
And now, for Mailchimp. Let's take a look at the advantages and disadvantages of this email marketing service provider.
Mailchimp:
| | |
| --- | --- |
| Pros | Cons |
| No credit card needed for a free account | Automatic billing despite account issues |
| Amazing interface for starters | Untimely response to client queries |
| Offers a free plan for up to 2,000 subscribers | Disinterested customer service agents |
| Tons of features to offer | |
8. Where Do I Get The Most For My Money?
Money is a crucial factor when deciding which platform to pick. And so, in this part of my Constant Contact and Mailchimp comparison, I'll tell you the costs of both services.
Constant Contact Pricing Plan
Constant Contact has two types of pricing plans: Email and Email Plus.
Email: This one starts at $20 per 500 subscribers and it allows up to 3 users. It includes features in email marketing, contacts management, marketing automation, marketing channels and engagement, websites, online stores, and support.
Email Plus: The Email Plus plan, on the other hand, has a starting cost of $45 and enables up to 10 users. It has everything in the Email plan including the following: surveys, dynamic content, automated email behavioral and welcome series, eCommerce segmentation, customizable pop-up forms, RSVP, polls, coupons, online donations, and new customer consultation.
If you're in doubt, you can always try the 60-day free trial offered for both plans.
Mailchimp Pricing Plan
Mailchimp has four kinds of pricing.
Free: This one is what makes Mailchimp popular with small businesses. It allows you to use its service for up to 2,000 contacts and also has the following features: website builder, Mailchimp domain, creative assistant, landing pages and forms, and marketing CRM.
Essentials: This plan costs $9.99/month for 500 subscribers. It has all of the features present in the free plan plus email support, 24/7 chat, custom branding, multi-step journey, A/B testing, etc.
Standard: The Standard plan's pricing begins at $14.99 per month. It has everything from the Essentials plan including custom templates, behavior targeting, send-time optimization, customer journey builder, and many more.
Premium: The Premium plan's cost is $299/month for 500 subscribers. It includes phone support, everything in the Standard plan, advanced segmentation, multivariate testing, unlimited role-based access and seats, etc.
9. Conclusion – Which Is Better: Constant Contact Or Mailchimp?
Ready for my final verdict? For Constant Contact vs. Mailchimp, the winner is no other than Mailchimp.
It's cheaper, has stunning templates, and its interface is up-to-date.
Your small business will thrive with Mailchimp although it can become expensive when you grow.
Constant Contact is still a good platform. If you're the kind of entrepreneur who values simplicity and speed, go for it.
10. Constant Contact vs. Mailchimp – FAQ
Here are a couple of frequently asked questions for Constant Contact vs. Mailchimp.
What Is Constant Contact Used For?
Constant Contact offers email marketing services, social media features, and eCommerce tools. It is best suited for small business owners that prefer swiftness and simplicity.
Is Constant Contact Legit?
Constant Contact is a legitimate email marketing service provider that started in 1995. It currently has more than 650,000 customers worldwide.
Is Mailchimp Hard To Learn?
Mailchimp is beginner-friendly. It has a simple interface, drag-and-drop builder, easy-to-implement A/B testing, and a mobile app that starters benefit from.
Is Mailchimp An Email Service Provider?
Mailchimp is the biggest email service provider with over 20 million clients all over the globe. It began in 2001 and is extremely popular among small business owners because of its easy-to-use features.