Small businesses have a lot of room to grow. But in that growth process, there's not enough room to burn pockets paying for separate sales, management, and marketing tools. 
And so, if you are looking for the best customer relationship management (CRM) software to help with your small business, then you're on the right page. 
I'm an entrepreneur myself, and I tend to spread myself too thin trying to retain existing clients, generate new leads, and fix broken sales workflows all at once.
Being in this game for over 10 years, I've learned that taking advantage of a functional platform will help streamline your processes so you can focus on more important matters.
I've put together a list of the best CRM software for small businesses having in mind that it'll help you pick the best one that can work for your company.
Let's get right to it.
What Is The Best CRM Software?
If you're in a hurry, check out my top 3 picks at a glance: Freshworks, Agile CRM, and Zoho CRM.
| | | |
| --- | --- | --- |
| 5.0 | 4.6 | 4.2 |
| Best overall. Great for routine work automation and analytics reporting. Starts at $29/month. | Best for marketing. CRM with integrated marketing solutions. Starts at $8.99/month. | Best for workflows. Intuitive pipelines and information customization. Starts at $14/month. |
| Try Freshworks | Try Agile CRM | Try Zoho CRM |
If you need an in-depth comparison to make a worthwhile CRM software choice, check out the complete review below.
1. Freshworks – Top Pick
Best CRM Software To Acquire Leads & Handle Deals [Free | $29/month]
Also known as Freshsales, Freshworks presents a CRM system specifically designed for the needs of small and medium-sized businesses (SMBs). 
It's easy to use and implement, but best of all, it integrates all your workflows from sales to data management.
Freshworks is the right CRM for SMBs because it turns leads into customers with insightful information. It draws website leads using strategic chat campaigns, automates profile enrichment, and it personalizes engagements – perfect for e-commerce as well.
There's even a predictive scoring feature to help you identify warm and hot leads worth prioritizing and recommends the best next move across touchpoints lessening things to think about which greatly helps your sales management.
Other than helping generate leads, Freshworks also automates routine tasks to boost your productivity.
It takes the heavy lifting off manually by doing the following:
Booking tasks
Sending emails
Raising invoices
Following up on leads
The best feature I found in Freshworks is that it also has an analytics function that predicts cash flow.
With it, you can track the most important metrics that impact your revenue. This helps your sales forecasting initiatives. The marketing dashboard provides you with real-time insights on team performance, deals, sales activities, and revenue helping you make growth-focused decisions moving forward. 
Lastly, Freshworks integrates with popular business apps like Trello, Google Calendar, and Freshdesk to further streamline your business processes.
Pros And Cons Of Freshworks
| | |
| --- | --- |
| Pros | Cons |
| Has a comprehensive set of tools | Imported files can sometimes face errors |
| Easy setup | Reporting needs improvement |
| Allows multiple pipelines | Tedious data analysis for large data sets |
| Integrates with other widely-used business apps | |
| Good customer support | |
Freshworks Pricing Plan
Freshworks has a free version that helps with lead generation. When scaling, having the paid version will get you the tools to shorten sales processes.
Growth ($15/user/mo): This gets you everything in the Free plan plus visual sales pipelines, AI-powered predictive scoring, sales sequences, product catalog, and custom dashboards and reports.
Pro ($39/user/month): As for this one, you'll receive all the features in the Growth plan plus multiple sales pipelines, time-based workflows, AI-powered deal insights, and next best actions, chat campaigns, and Whatsapp Business.
Enterprise ($69/user/mo): The enterprise plan gives you access to everything in the Pro plan plus custom modules, auto-profile enrichment, AI-based forecasting insights, audit logs, and a dedicated account manager.
The monthly costs below are based on annual subscriptions. If billed monthly, each plan is a bit more expensive. For example, from $15/month, the Growth plan increases to $18/month.
When trying the free version, figure out if this tool is something you'll be working with for the long term, this way, you can opt for the annual subscription to save you some bucks.
2. Agile CRM – Best For Sales & Marketing
Best CRM Software For Sales, Marketing, & Service Automation [Free | $8.99/month]
Agile CRM is the best choice to sell smarter and grow faster.
It has integrated marketing automation to increase collaboration between the marketing and your salespeople. 
To engage more leads from website visitors, it's equipped with built-in web popups that display targeted offers and encourage signups triggered by the pages they are browsing.
It also includes a live chat window to answer website visitors quickly and provide a better customer experience.
Agile CRM also provides real-time alerts and notifications when contacts interact with campaigns or browse the website so you can reach out to them while the iron is hot for sales.
Additionally, it features a robust social media marketing suite to ramp up social presence and increase brand awareness bringing in more leads to nurture.
Taking care of individual leads won't require opening tons of storage files and windows. With the 360-degree contact view, you'll get every piece of information you need about a lead in one window.
From contact info to points of engagement to lead scores, you'll find it all on one page in real-time.
When reaching out to leads, the more personalized the campaign is, the higher the chances of them converting. Having this in mind, this particular CRM platform has personalized outreach features to ensure campaigns resonate well with the lead which positively affects their customer journey and helps your sales team tremendously.
Lastly, it has a call center CRM that integrates with your telephone system, so managing calls and outreach efforts won't require you to switch between the two systems.
Pros And Cons Of Agile CRM
| | |
| --- | --- |
| Pros | Cons |
| Super complete CRM tools | Still have to be optimized for Android users |
| Intuitive interface | Difficulty in importing contacts |
| Good technical support | Emails are limited |
| Easy integration with other software | |
| Centralized lead information page | |
Agile CRM Pricing Plan
Agile has a free version catering to sales needs and is good for 10 users. With it, you can store 50,000 contacts, get access to lead scoring, appointment scheduling, and email tracking.
For the paid plans, you have three options:
Starter ($8.99/mo): The Starter plan gives you everything in the free version plus marketing features like contact level analytics, web engagements, web-to-lead marketing automation, social monitoring, mobile marketing, and more.
Regular (29.99/mo): This plan gets you all the perks in the Starter plan plus service solutions like helpdesks, canned responses, activities, reports, and more.
Enterprise ($47.99/mo): This plan enables all of the features in the Regular plan plus 50+ plugins and integrations, email and phone support, Google/Shopify/Stripe sync, basic and email reports, and more.
The plan pricing above is for a two-year locked-in subscription. If you want to pay monthly, the plans start at $14.99. There's also a one-year lock subscription if you feel that a two-year commitment is too long.
If you want to get started with Agile CRM, visit their website.
3. Zoho CRM – Most Pipeline-Centric
Most All-Inclusive CRM Software For Any Small Business Industry [Free | $14/month]
Zoho CRM is worthy to consider if you're looking for a small business CRM solution that has the right features for the right price. 
It removes the complexity of a full-blown CRM but doesn't make you as inefficient as using an outdated spreadsheet to manage customer relations.
It allows for multiple pipeline creation with fully customizable stages. Its visually engaging interface makes it easier to find and utilize pertinent customer data. 
From emails to details, all customer information is arranged efficiently so you won't waste time looking for the information you need when jumping on a call or seeing them for a meeting.
Like Agile CRM, it also integrates with Telephony to improve the way you reach out to leads and clients.
Best of all, it has an intuitive mobile version so you miss important activities or appointments when away from your work computer.
Pros And Cons Of Zoho CRM
| | |
| --- | --- |
| Pros | Cons |
| Seamless email integration | Navigation can be a bit tricky |
| Great invoicing feature | Support is a little rough |
| Well-organized and centralized lead/customer information | Some functions are buggy |
| Integration with other Zoho apps | |
Zoho CRM Pricing Plan
Like the initial ones on the list, Zoho CRM has a Free plan to store 500 records and work with one pipeline. As the need for more automation grows, you have 4 paid plans to choose from.
Standard ($14/user/mo): This allows for multiple pipelines, scoring rules, a custom dashboard for tracking, and more.
Professional ($23/user/mo): This one includes everything in the Standard plan plus access to SalesSignals, inventory management, validation rules, and more.
Enterprise ($40/user/mo): As for this plan, it has all of the features in the Professional plan plus access to the CommandCenter, Zia AI, multi-user portals, advanced customization, and more.
Ultimate ($52/user/mo): The Ultimate plan gives you access to everything in the Enterprise plan plus enhanced feature limits, Zoho analytics, and more.
The Free plan is a good place to start, but you can consider the Standard plan once you start scaling. Get started with Zoho CRM by visiting their site.
4. HubSpot CRM – Most User-Friendly
Best CRM Software For Operations & Customer Service [Free | $45/month]
If you've got a lot on your plate, perform contact management and customers using one easy-to-use CRM software like HubSpot. 
In fact, it only takes minutes to learn and start tracking and managing sales processes, all in one place.
HubSpot strategically optimized its interface so you can send emails, schedule meetings, make calls, and log activities without leaving the contact information page,
With the lead management and tracking features, personalize your outreach efforts without exhaustively digging for details. HubSpot is an efficient customer relationship management software that gets you every piece of information about the content in one timeline. 
It also allows you to create a lead pipeline and utilize lead scores to nurture prospects and get them along in the buyer's journey faster.
Additionally, it also allows you to create personalized email marketing campaigns in bulk so you're more productive in less time. 
Moreover, this CRM software has a document tracker that alerts you anytime a prospect engages so you can follow up with relevant outreach efforts.
Additionally, it is equipped with built-in reporting so you can closely monitor new contacts and be up-to-date when new opportunities to engage and nurture arise.
If you're interested in other options alternative to HubSpot that is equipped with similar or more powerful features then check out the full article on HubSpot alternatives.
Pros And Cons Of HubSpot CRM
| | |
| --- | --- |
| Pros | Cons |
| Easy to navigate and onboard | Expensive |
| Automates record creation | Doesn't override personal information so duplicates can occur |
| Streamlines record updates and sales tasks in one window | Poor migration |
| Direct integration with widely-used business tools like Gmail and Google Drive | |
HubSpot CRM Pricing Plan
HubSpot has three pricing plans for its sales package options. These are:
Starter ($45/mo): This includes all free tools plus simple automation, task queues, conversation routing, and more.
Professional ($450/mo): As for the Professional plan, it has everything in the Starter plan plus lead rotation automation, sales analytics, record customization, and more.
Enterprise ($1,200/mo): This one enables all the features in the Professional plan plus predictive lead scoring, field-level permissions, user roles, conversation intelligence, and more.
HubSpot CRM has a free version with all the basic sales process functions you'll need. It's a good place to start. Test out the features here before committing to a paid version.
5. Streak – Best CRM For Gmail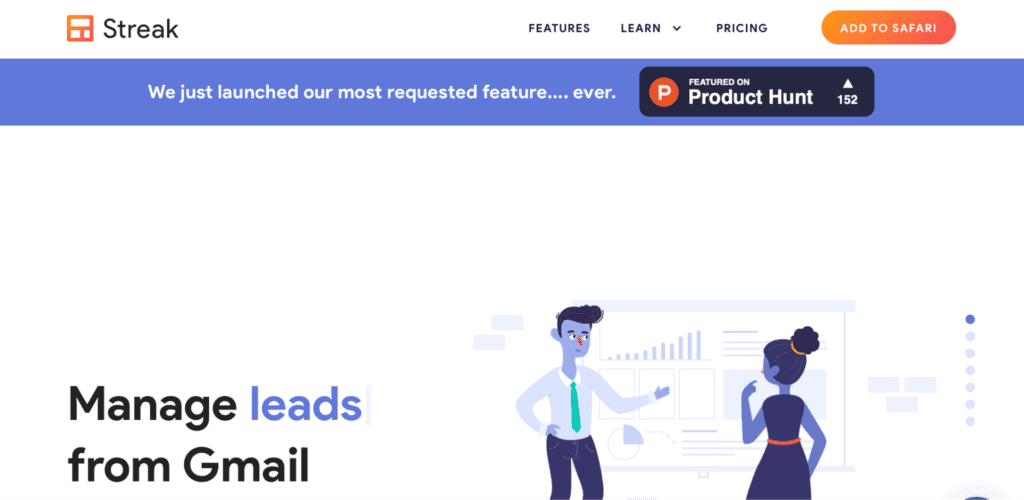 Best CRM Software For Managing Workflows In Your Inbox [Free | $15/month]
If you want a highly integrated CRM for Gmail, Streak is the best choice for you.
It allows you to track everything right in your inbox and give you the needed information about your contacts, tasks, and pipelines, so you have everything in context when contacting them.
It gives you a customizable view of your pipeline and a timeline of emails and notes so you can track interactions with your team.
It also has a task list handy so you don't forget even the minor actions that have to get done.
The best thing about Streak is that you can stay in the loop on the go. The Today Widget feature allows you to track updates in your pipeline right on your phone so you'll monitor everything monitored even out for a meeting or when working remotely.
It also has an automatic phone call log where you can enter notes to reference later for future interactions. 
By far the best feature of Streak is how it supercharges your inbox with powerful management tools. 
It has a view tracking feature where you're notified when someone sees it, so you can filter those who don't and send them follow-up emails.
Another amazing feature is a snippet or a shared library of common emails sent to save you time from composing a completely new one.
Lastly, it integrates with G Suite, Zapier, and API so you can manage leads to internal systems in one place.
Pros And Cons Of Streak
| | |
| --- | --- |
| Pros | Cons |
| Doesn't clog up Gmail with lots of folders | Poor customer service |
| Gets you access to your sales processes right in your inbox | Can be buggy at times |
| Tracks email views | |
| Snippet feature shortens email drafting | |
Streak CRM Pricing Plan
Streak has a free CRM version and with it, you get a basic CRM (500 rows of data), mail merge, and email tracking. If you need a larger database and more functions, you have 3 paid plans to choose from.
Solo ($15/user/mo): This gives you 5,000 rows of data for your CRM, private pipelines, email tracking and snippets, G Suite integration, and access to the core CRM features.
Pro ($49/user/mo): This plan includes everything in the Solo plan plus access to the advanced CRM, standard API, and basic permissions.
Enterprise ($129/user/mo): The Enterprise plan has all of the features in the Pro plan plus data validation, Webhook API, custom permissions, priority support, and custom billing.
The Pro version is the most popular paid plan choice. If you want to give it a shot, there's a 14-day free trial for it that you can try. Get started by visiting their site.
6. Salesflare – Best For B2B Small Business
Best CRM Software For B2B Businesses [Free | $29/month]
Salesflare prides itself on being a simple yet very good CRM for B2B companies.
It allows business owners to input fewer data by automating contact and company information so they can focus more on making sales.
From phone numbers to email addresses down to social profiles, Salesflare automatically adds everything to your address book.
With its One Smart View features, it intelligently assists you in what actions need to be taken together with the pertinent information in taking that action. It brings opportunities to generate leads and make sales much closer.
Salesflare also allows for efficient collaborations and project management.
Keep team members in the loop about email conversations and customer interactions with leads and clients without having to be involved in the email, calls, and meetings, making it easier to identify what the next moves are and who is responsible. 
Lastly, it integrates with Google, HubSpot, Dropbox, Evernote, and more to boost your productivity in one place further.
Pros And Cons Salesflare
| | |
| --- | --- |
| Pros | Cons |
| Integrates with G Suite | Issues with email syncing |
| Functionality specifically designed for small businesses | Keyboard navigation needs improvement |
| Zero learning curve | Doesn't have webforms |
| Powerful data automation | |
Salesflare Pricing Plan
Salesflare has three paid plans to choose from.
Growth ($29/user/mo): It includes all CRM features plus automated CRM data input, email and website tracking, mobile app, and a personalized email campaign.
Pro ($49/user/mo): This has all the features in the Growth plan plus sending workflows to multiple emails, user permissions, and a custom dashboard.
Enterprise ($99/user/mo): This plan has everything in the Pro plan plus custom training, automated data migration, and a dedicated account manager.
Find out which plan works best for you by taking advantage of their free trial.
7. Pipedrive – Most Intuitive Interface
Best CRM Software For Easy Pipeline Management [Free | $12.50/month]
Pipedrive is designed for activity-based selling. It does this by automating processes so you can focus on closing deals.
It automatically feeds hot leads from your chatbots and web forms straight to your pipeline and you can simply drag and drop in-between stages.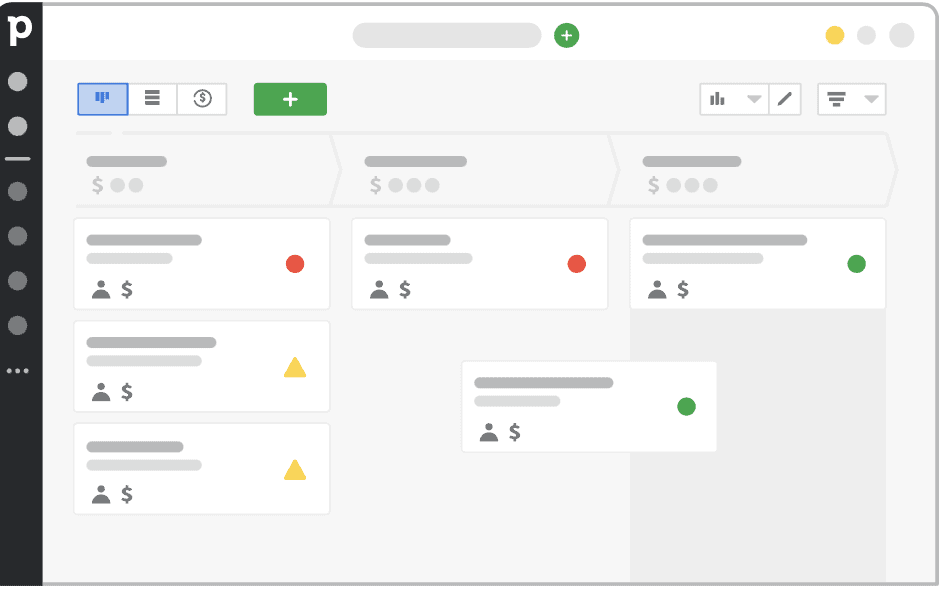 It also gets you complete timelines of contact history so you quickly pick where you left off in your next interaction.
To manage everything in one place, Pipedrive integrates with previous CRMs and has an email sync function directed to your Pipedrive inbox.
When making sales calls, take notes and review details about the lead simultaneously.
Best of all, it has a mobile app so you can manage and monitor everything wherever you are.
Pros And Cons Of Pipedrive
| | |
| --- | --- |
| Pros | Cons |
| Intuitive interface | No separation of new leads from old contacts on the list |
| Deal-drive workflow | No campaign planning |
| Unlimited database | Can't link multiple emails to one account |
| Mobile application availability | |
Pipedrive CRM Pricing Plan
Pipedrive only offers a 14-day free trial. After that, you have to switch to any of the paid plans listed below.
Essential ($12.50/user/mo): It includes a basic meeting scheduler, email link to contacts and deals, contact and org management, file attachments, data import and export, and an activity reminder.
Advanced ($24.90/user/mo): This has everything in the Essential plan plus two-way email sync, email open and click tracking, merge fields, auto-filled templates, Google and OneDrive integration, and offline docs.
Professional ($49.90/user/mo): The Professional plan has all the features in the advanced plan plus a premium meeting scheduler, group emailing, a caller, and 11 security functions.
Enterprise ($99.00/user/mo): As for this one, it gives you everything in the Professional plan plus advanced user permissions.
The best plan to get started with is the Advanced plan. It can track and automate daily tasks and includes most of the functions needed to streamline processes.
Interested in Pipedrive? Get started by visiting their site.
8. Insightly CRM – Best In Aligning Sales Efforts
Best CRM Software For Coordinating Efforts [Free | $29/month]
Insightly is great for going beyond transactions; it aligns teams to sell smarter with more confidence.
This CRM Software has a lead routing feature that includes a comprehensive activity timeline of campaigns, lead information, and tasks.
It automates routing real-time leads to sales reps so they can strike while the iron is hot and makes sales automation more efficient.
Insightly also allows you to customize workflows so you can streamline processes based on your business needs.
Moreover, it lets you model and manage data sets based on relationships allowing you to set permissions and user roles as well.
Lastly, Insightly allows you to access your work anywhere you are. Productivity-inclined mobile applications are made available both for iOS and Android users.
Pros And Cons Of Insightly
| | |
| --- | --- |
| Pros | Cons |
| Has a powerful range of functionality | Needs better technical support |
| Comprehensive reporting feature | Can be buggy at times |
| Easy set up of workflow | |
| Simple maintenance of sales cycles | |
Insightly Pricing Plan
Insightly has 3 pricing plans to choose from.
Plus ($29/user/mo): This one is equipped with 10 GB storage, allows for tracking and managing leads, sending custom tracked emails, auto capturing of leads, software integrations, and more.
Professional ($49/user/mo): This plan has 100 GB storage, includes everything in the Plus plan, lead assignments, workflow automation, role-based permissions, and more.
Enterprise ($99/user/mo): The Enterprise plan allows unlimited storage, includes everything in the Professional plan, unlimited records, and more.
Take advantage of the trial version first to gauge what functionalities you really need.
Visit Insightly to get started with your trial version.
Conclusion
The best CRM software for small businesses boils down to the one that can provide the best functionality while not being too complicated as what big corporations need.
For this, Freshworks goes above the rest because it integrates all workflows in one place but strategically maintains ease of use.
Get started with Freshworks here.
By automating most of the business process in one tool, you'll have more time to focus on increasing your business revenue.