As digital media continues to grow at a rapid pace and become vastly more complex, marketers, publishers, and companies need better methods to capture user data than run-of-the-mill analytics tools. Data Management Platforms or DMPs have positioned themselves as the primary source of data collection and insight generations.
Data-driven marketing relies heavily on DMPs as it allows agencies to gain unique insights into their customers for personalized marketing campaigns for social media and elsewhere.
First, second, and third-party data sources are leveraged with the help of a DMP and make it accessible to view in Demand-Side Platforms (DSPs). This data is then leveraged for targeted advertising, content optimization, and personalization. In an increasingly digital landscape, DMPs are essential to most agencies and businesses looking for data-driven solutions.
I've tried and tested numerous strategies and software for data-driven marketing, and this makes me in a position to recommend the data management platforms your business should look into. In this post, you will learn about the 8 best DMPs for businesses. Once you're done reading this article, you will have a deeper understanding of the best platforms for audience data capturing and organizing.
What Is The Best Data Management Platform?
Here is a quick snapshot of my top three picks: Audience Manager, Google Marketing, and Lotame, with their ratings and features that make them stand out from the rest of the crowd.
| | | |
| --- | --- | --- |
| 4.9 | 4.7 | 4.2 |
| Best overall. Ideal for most agencies because of its reliability and available options. | Best value for money. One-stop shop for all your data management needs with powerful analytics. | Most features. Extensive data sourcing capabilities with many platform packages. |
| Try Audience Manager | Try Google Marketing | Try Lotame |
Read below for detailed coverage of my selections. Here's all you need to know about the best data management platforms available today.
1. Adobe Audience Manager – Top Pick
The Data Management Platform For Every Marketing Team [Custom Pricing]
Adobe Audience Manager is a data management platform within the Adobe Marketing Cloud, and the preferred choice for most companies. Adobe is a powerhouse in software and is best known for its suite of design and creative software, but the company has its stake in the marketing landscape too. This is evident with the Adobe Audience Manager DMP.
Forrester has named it the best DMP on the market, and for good reason. The DMP allows businesses to collect user data from a wide range of sources and platforms, build new audience segment models, and discover new insights. The DMP's features allow for better, more effortless data ingestion.
Adobe Audience Manager does this with the help of:
Unlimited file transfers
Retroactive trait creation
Intelligent device graphing
Cross-device data collection
API support
Professionals can also improve audience creation and segmentation by building traits from both structured and unstructured data.
The DMP also has in-depth controls over audience segments. Adobe's product emphasizes transparency, so their customers understand their audiences and plan ad campaigns with the most accurate information on hand. It also provides users with complete control over how the collected data is organized and activated.
Adobe Audience Manager is currently in use by some of the biggest names in the business. High-profile users include Sky, National Bank of Canada, and Hyatt. Adobe's DMP is by far the best option for advertisers and digital marketing teams.
Pros And Cons Of Adobe Audience Manager
| | |
| --- | --- |
| Pros | Cons |
| Excellent integration with other Adobe products | Software has a steep learning curve |
| Easy to access software with Adobe's virtual model | |
| Handles structured and unstructured data from multiple sources | |
| Complete access to controls over data organization and collection | |
Adobe Audience Manager Pricing Plan
Adobe Audience Manager is available to download via the Adobe Experience Cloud suite, but its exact pricing is dependent on specific preferences. You can request a quote for your company's exact needs.
2. Google Marketing Platform – Best Value Option
The Sleekest All-In-One Data Management Platform For Smarter Marketing [Custom Pricing]
The Google Marketing Platform is another widely popular DMP for digital advertising. Google is a data warehouse, and as the most popular search engine and one of the biggest technology companies, it has unprecedented control over all demographics. This quality is the reason many marketers prefer Google's suite over others.
Google offers a unified marketing system that combines advertising with data management. This combination simplifies the data collection, organization, and implementation for marketers around the globe. Where with other DMPs, marketers had to utilize other tools to utilize data for ad generation, Google's option bundles the two together.
The Google Marketing Platform also integrates well with Google Analytics in the Enterprise version. It leverages the prowess of the already-widely-used Analytics tools with a custom DMP. Its Small Business plan, however, lacks this capability.
This DNP is essentially an integrated ad-technology platform that allows agencies and advertisers to better create, manage and develop high-impact digital marketing campaigns. The platform is renowned for integrating world-class solutions to aid buyers in running holistic campaigns across multiple channels.
Google's marketing platform is used by some of the biggest names. Adidas, Zendesk, UW Credit Union, and The American Red Cross. Most companies using this DNP are either in the automotive or retail sector.
Pros And Cons Of Google Marketing Platform
| | |
| --- | --- |
| Pros | Cons |
| Great option for businesses already advertising with or on Google | Limited support for companies using this DNP in developing countries |
| Incorporate advertising audience data with web data | |
| Predictive analytics are provided helping businesses make better marketing strategies | |
Google Marketing Platform Pricing Plan
Google offers its products in two formats: Small Business Plan and Enterprise. These two can be opted for depending on the specific use cases, and their pricing can be acquired through a quote from the company.
The Google Marketing Platform ranks second on my list for two very good reasons. The first is that it functions as a DMP and DSP in conjunction. The second reason for its inclusion is its versatility as a Google product and the first-party data, second-party, and third-party data that it can acquire and utilize.
3. Lotame – Most Features
Future-Proofing Acquisition With The Data Management Platform [Custom Pricing]
Lotame's audience management system enables publishers and marketers to collect, enrich, and activate first-party user data across all mediums and platforms. The DMP was developed in 2006 and has been the frontrunner in unstacked data solutions around the globe. Lotame's goal is to track marketing performance as privacy concerns and cookie usage increase on the web.
Lotame's DMP collects and analyzes first-party data and links it with other background data from 2nd and 3rd party data sources. A marketplace is also developed by the company that matches buyers and sellers of digital audiences so businesses can build relationships that lead to sales.
The Lotame DMP consists of four integrated products. The first is the Lotame Lab which is used for building audience segments and scaling audiences. Lotame Connect is the second and is used for ingesting customer data, and the third is Lotame Data Exchange which is used for purchasing audience data.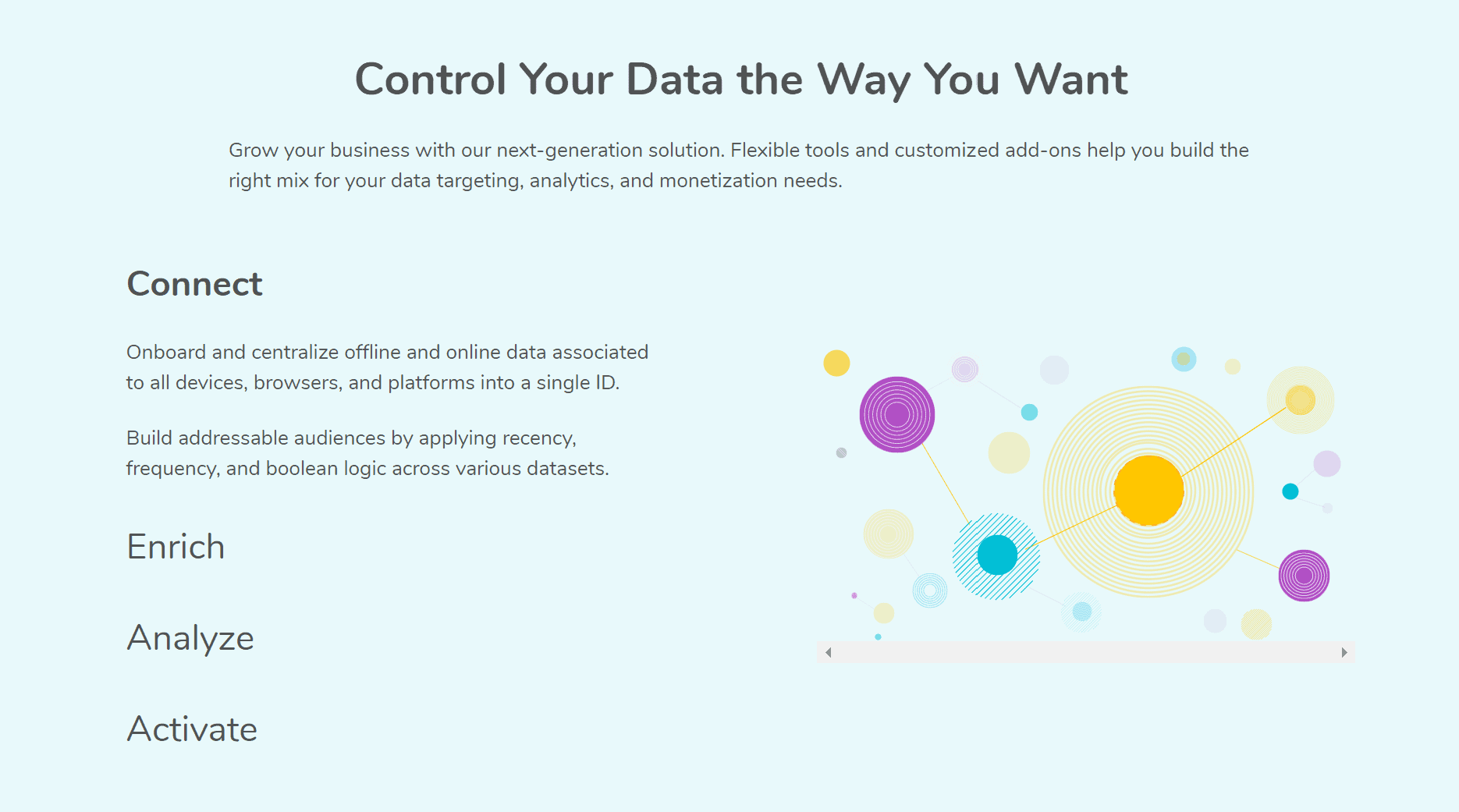 The company allows users access to any of the four products and doesn't charge for the bundle either. It places the customer in a better position as they purchase only the technology and solutions they need. Lotame also has a media-agnostic reputation and doesn't have biases in its data sources.
The platform can ingest data from virtually any source.
Lotame boasts a strong clientele that relies on its suite of products for data access and management. Some of its clients are IBM, Omnicom Media Group, and CBC.
Pros And Cons Of Lotame
| | |
| --- | --- |
| Pros | Cons |
| Unbundled model allows versatility to customers | Does not have automation features like other DMPs |
| Excellent customer service | |
| Flexible and media-agnostic data sourcing capabilities | |
| Great market reputation | |
Lotame Pricing Plan
Lotame caters to marketers, agencies, publishers, media companies, data sellers, and other platforms and providers. The DMP is not biased toward businesses of a certain type, scale, or size. Its pricing is thus custom and can be availed directly through the company.
Lotame is my recommendation to most brands due to its built-in marketplace, the ability to optimize data flexibly, and its media-agnostic approach.
4. Oracle CX Marketing – Unprecedented Control
Data Management Platform With Customer Relationship Management [Custom Pricing]
Oracle is best known in the technology industry for its database software as it offers a wide variety of products and services that cater to every sector of the market. With its data management platform, Oracle enters the big data space too. Over the years, Oracle has merged technology from BlueKai, AddThis, and Moat.
Oracle CX Marketing is the most encyclopedic and integrated marketing platform available to agencies today. It can help launch cross-channel marketing programs and unify all prospect and customer marketing signals in a single view.
Oracle's solution aid agencies generate a higher return on digital marketing investments, build on customer loyalty, and unlock real-time performance decisions in the middle of critical campaign processes.
This DMP solution integrates with Oracle's database software, which allows companies to tie their customer experience data with financial data. The DMP can also handle B2C and B2B, and it includes
Campaign management (with customer profiles)
Segmentation
Personalization
Customer journey
Acquisition and intelligence
Sata activation
Smart content
The Oracle CX Marketing platform can also function as a customer relationship management software (CRM). This powerful but easy-to-use platform is routinely used by industry giants such as Redbull Racing, Philips, Cisco, and Santander.
Pros And Cons Of Oracle CX Marketing
| | |
| --- | --- |
| Pros | Cons |
| Integration with other Oracle data software makes it the primary choice for customers already on Oracle's ecosystem | Complex to deploy compared to other competing DMPs |
| DMP has the capabilities of powerful CRM systems | |
| Can acquire different types of data from a variety of sources | |
Oracle CX Marketing Pricing Plan
Oracle CX Marketing offers custom pricing plans for its data management platform, and this can be requested as a quote directly through the company. The company does not provide a pricing plan at this time.
There are only a few names in the software development sphere that rival the pedigree of Oracle. I recommend it to any business or agency already using any of Oracle's products and technology.
5. Salesforce CDP – Unifying Data For Easy Visibility
The Expert Data Management Platform For Everyone [Custom Pricing]
Salesforce is a leading provider of Customer Relationship Management software (CRM) in the world and is also one of the pioneers in fully embracing cloud computing as its business model. The Salesforce CDP is an extension of the company's suite of cloud-ready products, and it integrates well with the CRM platform too.
The Salesforce CDP (Customer Data Platform) includes data capture, data quality management, identity resolution, and segmentation. The DMP also utilizes Salesforce's Einstein AI technology. These tools help companies gather and unify data from all sources (online, offline, and mobile apps) to provide a streamlined customer view.
Salesforce's option also employs automation to better capture first and second-party data. It helps agencies create in-depth user profiles and better ad campaigns for their target audience.
Pros And Cons Of Salesforce CDP
| | |
| --- | --- |
| Pros | Cons |
| Ability to integrate with other products | Does not feature data on ad insights for paid campaigns |
| Incredibly customizable in data governance, risk, and compliance | |
| Helpful built-in tools for agencies with a global audience | |
Salesforce CDP Pricing Plan
Salesforce CDP has integration with other Salesforce products and the company's CRM. This highly versatile DMP does not however quote exact pricing or payment plan as it can be licensed depending on the exact needs, scale, and size of the agency. For an exact quote, refer to Salesforce.
6. The Trade Desk – Most Powerful Data-Driven Advertising
Demand-Side Platform And Data Management Platform In One [Custom Pricing]
The Trade Desk aims to revolutionize media for the benefit of people. It is primarily a demand-side platform that also features a data management solution to initiate powerful data-driven advertising for agencies. The Trade Desk prioritizes the value of the open internet and lets you use data from a massive range of websites, apps, platforms, and more.
The Trade Desk features ad exchanges too which let users plan, buy, and execute data all in one place. It also allows for customization with APIs, which can be designed and built to specific growth goals. Agencies can also activate first-party data to grow existing audiences and build on new insights.
The Trade Desk's DMP technology solutions are part of the overall platform and include audience segmentation, third-party data integration, lookalike modeling, and a data marketplace.
Pros And Cons Of The Trade Desk
| | |
| --- | --- |
| Pros | Cons |
| Built-in marketplace to the DMP will be appreciated by most agencies | Deployment of cloud services can be slow |
| Featured at AdTech as a leader in the segment | Level of client-company visibility is limited |
| Commendable for its capturing of third-party data | |
The Trade Desk Pricing Plan
The Trade Desk provides custom quotes on all data-based products and, as such, does not state any pricing or plans for this service. The company can be approached for a personalized offer based on the client's requirements.
Due to its versatility and built-in capabilities as a DSP and data marketplace, The Trade Desk gets my recommendation to any agency looking for an all-in-one solution for their business.
7. Simpli.fi – Best Data Workflow Management
The Data Management Platform For Programmable Solutions [Custom Pricing]
Simpli.fi is one of the leading advertising automation platforms available today. It provides workflow software and programmatic advertising solutions and has been serving over 1,500 agencies, advertisers, and media buying organizations around the world.
The primary reason why agencies and ad buyers turn to Simpli.fi for a data management platform is its ability to unify purchasing and tracking across media. The platform also has great integration capabilities across digital venues such as social media and search and even caters to older markets such as print, cable TV, radio, and broadcast.
The company's goal is to make data collection and management simpler for larger companies and advertisers to launch and coordinate campaigns across various media channels.
Pros And Cons Of Simpli.fi
| | |
| --- | --- |
| Pros | Cons |
| Allows users to tailor audiences by focusing on precision to target certain markets | Support can be stumped with multifaceted issues |
| Create and implement site-based marketing campaigns, keyword research, and contextual retargeting tactics | Slow API can cause runtime issues for most |
| Excellent customer care and support | |
Simpli.fi Infrastructure Pricing Plan
Simpli.fi caters to large businesses and ad agencies for large-scale products and campaigns. At the moment, the company does not have a clear pricing indication for its data management platform. A quote can be requested directly for your exact use case, however.
Simpli.fi is renowned globally for its unique offerings and its ability to manage large data sets and ad campaigns. For these reasons, it is one of my top recommendations.
8. Nielsen DMP – Best AI-Powered Data Experts
Future-Proof Data Management Platform For Effective Marketing [Custom Pricing]
The Nielsen DMP is part of the Nielsen Marketing Cloud, and the platform aims to connect to Nielsen audience data and also includes AI capabilities. Since the company was founded to provide television ratings, it has real-world experience in data capture from legacy and digital mediums. It is what separates Nielsen from other competitors in the space.
The Nielsen DMP has great integration with third-party applications and mobile marketing platforms and has robust features. Some of its features include
Media planning
Segmentation
Orchestration
Profiling
In-flight analytics
Reach and frequency,
Message sequencing
Frequency capping
Users also have direct access to Nielsen's data set. Nielsen Data Management Platform helps agencies better manage, activate, and analyze their audience data. Users can also adjust their advertising and content across each channel. It helps them improve customer experience and marketing performance.
Pros And Cons Of Nielsen DMP
| | |
| --- | --- |
| Pros | Cons |
| The ability to use Nielsen data sets and from other sources | Platform can be difficult to use for inexperienced users |
| Has advanced artificial intelligence capabilities for superior analytics | Changes to products aren't communicated clearly by the company |
Nielsen DMP Pricing Plan
Nielsen does not quote any clear pricing or plans for its data management platform, but you can request a quote directly from the company.
The Nielsen DMP is an excellent all-rounder and worthy of every list on the best data management platforms. It is only fair that it concluded my list too.
Conclusion
Data management platforms (DMPs) are essential additions to digital media today. The entirety of ad generation today relies on DMPs as tools to create, analyze, and utilize data for social media and other digital platforms. They have been vital tools leading the modern global ad generation space.
The internet is filled to the brim with data management tools and platforms. Based on my experience and current trends, I have highlighted the most prominent options for you to explore today. These are the best-handpicked solutions for data management and collection.
My first and foremost choice is Adobe Audience Manager for its ability to integrate with other Adobe marketing products and handle structured and unstructured data, followed by the Google Marketing Platform and Lotame. The latter two are excellent data management platforms in their own right and can help agencies and marketers all around the world with their data-capturing and utilizing capabilities.
Our blog deals with business, technology, and its related products. The helpful guides we have give readers access to the inner working of today's industries. Check out the blog to learn more.