Managed DNS (Domain Name System) is an IT service provided by a professional DNS hosting firm. A web-based control panel is provided by a Managed DNS Provider to enable users to manage their DNS traffic.
In my years of experience as an entrepreneur, Managed DNS is essential to businesses since it eliminates the need for their clients to make upgrades to DNS servers that are operating on-premise.
The owner of a website doesn't have to create and maintain their DNS servers when they use a managed DNS service provider.
In this article, we'll explore a selection of the best-managed DNS providers that we currently use or have used in the past, as well as their advantages and disadvantages, pricing plans, and other key features.
Here are the detailed comparisons of 7+ best-managed DNS providers you should try to get an upper hand for your business:
What Is The Best DNS Provider?
If you're in a hurry, these are my top three picks: Amazon Route 53, Google Cloud DNS, and Dyn.
| | | |
| --- | --- | --- |
| 4.8 | 4.6 | 4.2 |
| Best overall. Excellent managed DNS provider for all kinds of businesses. Starts at $0.50/month. | Best value for money. DNS provider with efficient DNS services. Starts at $12/domain. | Most features. DNS provider with site optimization features through analytics. Starts at $5/domain. |
| Try Amazon Route 53 | Try Google Cloud DNS | Try Dyn |
If you're interested in learning more, let's keep going and figure out which managed DNS providers are best for your business.
1. Amazon Route 53 – Top Pick
Excellent Managed DNS Providers For All Kinds Of Businesses [$0.50 Per Month]
Amazon Route 53 is a cloud Domain Name System (DNS) web service that is always available and can grow as needed. Because it uses numeric IP addresses like 192.0.2.1 to establish connections between computers, it's meant to provide developers and organizations with an exceptionally dependable and cost-effective method of routing end users to Internet services. Amazon Route 53 is also fully IPv6-compliant.
It is possible to route customers to non-AWS infrastructure by using Amazon Route 53 to link their requests to AWS resources such as Amazon S3 buckets, Elastic Load Balancing, or Amazon EC2 instances. Configure DNS health checks with Amazon Route 53, then use Route 53 Application Recovery Controller to monitor and manage application recovery in the event of a failure.
Routing types include Latency Based Routing (LBR), Geo DNS (GDN), Geo Proximity (GPS), and Weighted Round Robin (WRR), which can be used with DNS Failover to offer a range of low-latency, fault-tolerant designs. Your end-users can be routed to any of your applications' endpoints, anywhere in the world, using the easy-to-use visual editor provided by Amazon Route 53 Traffic Flow.
Using Amazon Route 53, you can buy and manage domain names like example.com, and Amazon Route 53 will automatically create DNS settings for your domains.
Pros And Cons Of Amazon Route 53
| | |
| --- | --- |
| Pros | Cons |
| Perfect for all kinds and sizes of businesses | Website logging support is not available |
| Quickly build a website | |
| If you currently use Amazon services, this is an excellent choice | |
Amazon Route 53 Pricing Plan
$0.50 per hosted zone per month: for the first 25 hosted zones
$0.10 per hosted zone per month: for additional hosted zones
It is best to try out first the $0.50 per hosted zone per month before adding more hosted zones. Get to know more about their features and see if it is ideal for your preferences.
2. Google Cloud DNS – Widest Features
Affordable And Trusted Managed DNS Provider [$12 Per Domain]
Google Cloud DNS processes a large number of DNS queries each month, which means it has a lot to offer and should not be ignored. They'll reroute your customers based on their country, AS number, custom rules, uptime, and server load to provide the best possible user experience.
The updated data are constantly accessible online in less than 5 minutes because of their short TTL. SRV entries are now included in the list of regular records supported by Google Cloud DNS. You can also upload, import, and paste BIND zone files using their Dynamic DNS functionality.
You don't have to refresh the web page to add or edit DNS records using another simple interface. The domain servers will also be updated as soon as any changes are made.
DNS forwarding helps connect your on-premises and Google Cloud DNS environments if you have a hybrid cloud architecture. With Google Cloud DNS, You can use your current DNS servers as authoritative and sophisticated caching ensures that your requests are completed quickly—all without the need for third-party software or your computational resources.
Another feature is that VMs and inbound forwarding movements inside your network are tracked by private DNS, which records every DNS query received. Any destination supported by Cloud Logging export can be viewed and exported from Cloud Logging.
Pros And Cons Of Google Cloud DNS
| | |
| --- | --- |
| Pros | Cons |
| Changes to DNS domain servers can be tracked | Errors are not described clearly |
| Ensure that your private Google Cloud networks have an easy-to-manage internal DNS solution | |
| You can avoid spoofing and cache poisoning attacks using their DNSSEC | |
| 90 days free trial subscription is available | |
Google Cloud DNS Pricing Plan
Subscription billing ($12 per .com domain): You will be charged $12 on your next monthly statement. When your domain expires, you'll be charged $12 for a one-year renewal.
Commitment billing ($12 per .com domain): Until the domain expires, you will be billed $1 per month until it expires on your next statement. Your total charge will be $12 if you opt to remove the domain after being invoiced for 5 months ($5 total).
Monthly billing ($12 per .com domain): Until the domain expires, you will be billed $1 per month until it expires on your next statement. You can't get rid of the domain before it expires. Therefore, you'll be charged $12.
You should try purchasing their Commitment billing for only $12 per .com domain since you will be billed only for $1 per month until it expires. Before the domain expires, get to know all of its features and other advantages and see if it fits your business.
You should also try visiting their official pricing plan page to get to know more about other amazing offers.
3. Dyn – Most User-Friendly Interface
Efficient And Fast DNS Provider For IT Companies [$5 Per Domain]
As one of the Internet's oldest managed DNS providers, Dyn carries a lot of credibility worldwide. It's mostly regarded as an enterprise DNS service, which indicates that most of its customers are corporate or professional websites.
Dyn also provides plenty of other services, such as enhanced site optimization via data and analytic services.
Oracle's managed DNS has been the most important aspect of the cloud product's development process. It is utilized in the cloud area of companies. It touches on all customers' domains, which in some way affects the client directly.
To improve application and digital asset performance, customers use industry-leading DNS query response speeds (less than 30 milliseconds). New DNS records can be propagated worldwide in less than a minute using this method.
SOA, A, CNAME, MX, DNSKEY, PTR, NS, and AAAA are some of the common DNS resource record types supported by Oracle.
For web-based assets, Oracle's Authoritative DNS service delivers low-latency worldwide DNS resolution and automated translation of domain names into IP addresses. Users can control DNS changes and domain names using the service.
The customer's primary DNS service is supplemented by a secondary DNS to guarantee that key applications are accessible and that end users can access apps more quickly.
An IP address that changes often and is difficult to remember can be solved using Dynamic DNS. Stay connected to your IP-compatible gadget by creating an easy-to-remember hostname. You receive 30 unique hostnames with each purchase.
DDoS defense is a technology that detects and mitigates typical volumetric DDoS assaults and malware at all times. Assaults on the third and fourth layers of the OSI model, such as SYN floods, ICMP floods, and NTP amplification attacks, are guarded against by the service. All Oracle Cloud Infrastructure (OCI) accounts come with built-in DDoS attacks protection, and no further setup or monitoring is necessary. Malicious behavior is always being monitored, and this service is given free of charge.
Pros And Cons Of DYN
| | |
| --- | --- |
| Pros | Cons |
| The portal management is very easy to use | No mobile notifications available |
| Multiple modifications on records available in expert mode | |
| Simple billing interface | |
DYN Pricing Plan
DNS Services ($0.85 per 1,000,000 Queries / Billing Period): 1000 Supported Zones, 25,000 Records per Zone
DNS Traffic Management ($4.00 1,000,000 Queries / Billing Period)
You should try both of DYN's pricing plans. For only a total of $4.85 per billing period, you can already get their DNS Services and DNS Traffic Management system that offers wide features for DNS services.
4. CloudFlare – Ideal For Small Businesses
Best DNS Provider For Small Businesses [$20 Per Month]
CloudFlare is one of the world's fastest managed DNS providers. In addition to being a major DNS hosting provider, they also provide a free plan. Aside from being one of the most economical DNS service providers available online, CloudFlare is also the most often used. It's consistently regarded as one of the best DNS hosting services available. It's also one of the fastest services worldwide.
This service provider's speed is one of its best-loved features. CloudFlare is unquestionably one of the fastest DNS services in the industry, especially when compared to premium DNS providers.
CloudFlare, on the other hand, is a managed DNS server, so you won't have much control over it. If you like to have more control over your website, this could not be for you. A different DNS server on this list would be a better option in that instance.
Additional security features like filtering, rate-limiting, and blocking are also included in CloudFlare.
Although the internet is always evolving, CloudFlare is constantly coming up with innovative solutions to CDN, DNS, and DDoS issues. It is simpler, quicker, and more dependable to use CloudFlare than the competition because of network effects, and their customer service is super quick.
Pros And Cons Of CloudFlare
| | |
| --- | --- |
| Pros | Cons |
| User-friendly interface | It's hard to go from a CNAME to a DNS-based setup. |
| Fast services | |
| Excellent customer service | |
| Offers free subscription | |
CloudFlare Pricing Plan
Free ($0 per month): For non-business-critical projects, such as personal or hobby ones.
Pro ($20 per month): It's ideal for business-critical websites.
Business ($200 per month): For small businesses operating online.
Enterprise: Contact sales for more information.
CloudFlare also offers a pro plan for $20 per month and a business plan starting at $200 per month. The free version, on the other hand, would be enough for many enterprises.
Try the free version before upgrading to paid subscriptions.
5. BuddyNS – Fast And Secure
Reliable DNS Provider For Fast And Secure Operations [$3 Per Month]
BuddyNS is most often associated with domain name registration, but the company also provides several useful free DNS hosting services, like DynamicDNS. In addition to your main DNS hosting provider, their free DNS can serve as a superb backup or secondary DNS hosting service.
It includes a free DNS management service that anybody can use, and you don't have to buy a domain name from them to use it. BuddyNS provides a wide range of capabilities, including email forwarding, dynamic DNS, URL forwarding without advertisements, and sophisticated records like SRV, among many more.
Using BuddyNS as a supplementary free DNS provider is an excellent option. Additionally, it's one of the most user-friendly and simple-to-use web hosting services out there. With BuddyNS, you get a high-quality service that is easy to use, trustworthy, and secure.
It has an automated synchronization mechanism that takes 10 minutes to master, but you can alternatively use SyncNOW! and NOTIFY to get it to sync right away. Since its establishment, BuddyNS has maintained a 99.9% uptime rate throughout its eight global POPs. Additionally, it integrates with cPanel/WHM.
A, AAAA, CNAME, NS, MX, TXT, and SRV DNS types of records are presently supported. When it comes to boosting your site's efficiency and speed, BuddyNS is an excellent choice because of its many safe and dependable name servers spread throughout multiple regions. They also feature an easy-to-use DNS administration dashboard, so you can take complete control of your DNS settings with them.
Pros And Cons Of BuddyNS
| | |
| --- | --- |
| Pros | Cons |
| User-friendly interface | There are limited features |
| Fast and efficient site builder | |
| Access to complete control of DNS settings is available | |
BuddyNS Pricing Plan
Free: This plan includes DNS continuity, cryptographic DNS, 300K queries/month, "free"-branded delegation, and no customer support.
Pro ($3 per month): This plan includes ample traffic, real-time DNS update, "Pro"-branded delegation, basic support, and mobile notifications.
Astronaut ($16 per month): This plan includes anycast, DNSSEC, DDoS protection, 2-factor auth, and technical support.
Enterprise ($125 per month): This plan includes uncapped traffic, own IP addresses, own locations, own authentication, and immediate DNS updates.
A free plan is available, so you should try it first. You can then upgrade to a Pro subscription if you think you would need more features.
6. EdgeCast – Robust Connection
Strong Connection DNS Provider For Any Businesses [Pricing Plan Available Upon Request]
EdgeCast offers a free DNS hosting solution that connects you to a global network of robust connections. They have an IPv6-capable content delivery network with more than 60 Points of Presence (POPs).
Additionally, EdgeCast allows for a short time to live (TTL), which is not offered by many free DNS hosting services. DNS administration is also quite easy using this tool.
It is a dependable and well-known internet corporation that runs a robust DNS service. It offers a reliable DNS redundancy feature. If a lookup fails and the initial DNS server times out, it will keep trying until the proper IP address is found. The "This website is not accessible" page error appears if it cannot be resolved.
EdgeCast allows you to register a domain name in either a public or private domain name. Anyone can find out your contact details if you use public registration. The private registration option ensures that no one will be able to access the information. Everything that comes along with registering a domain is yours.
Pros And Cons Of EdgeCast
| | |
| --- | --- |
| Pros | Cons |
| Good customer support | Pricing plan is only available upon request |
| Quick website builder available | |
| Strong protection against online attacks | |
EdgeCast Pricing Plan
The pricing plan for EdgeCast is only available upon request. Contact their support to get a detailed pricing plan.
7. Microsoft Azure DNS – Best For Azure Users
DNS Provider With Ultra-High Availability And Fast DNS Queries [$0.50 Per Month]
Microsoft Azure DNS enables you to host your DNS domain on Azure, allowing you to manage your DNS records using the same credentials, pricing, and support agreement as your other Azure services.
Your DNS domain can be hosted alongside your applications with Microsoft Azure DNS. DNS records can be managed using the same login credentials, financial information, and support agreement as other Azure services. You can automate your whole deployment process by integrating Azure services with cloud DNS updates.
Fast DNS requests can speed up your applications. Using a worldwide network of name servers, you can receive quicker DNS response times for your requests. DNS requests can be automatically routed to the nearest name servers using Anycast networking.
Microsoft's worldwide network of name servers provides ultra-high availability for your domains.
Azure DNS private zones can be used to manage and resolve the names in a virtual network without the requirement to establish and administer a bespoke DNS server. Using your domain names, you can achieve name resolution for virtual machines inside and across virtual networks, as well. In addition, a split-horizon view of zone names can be used to permit the sharing of zone names across a private and a public DNS zone.
Pros And Cons Of Microsoft Azure DNS
| | |
| --- | --- |
| Pros | Cons |
| Support for migration is available | Operation speed could be faster |
| User-friendly interface | |
| Excellent customer support | |
| Can specify any TTL | |
Microsoft Azure DNS Pricing Plan
DNS
First 25 hosted DNS zones: $0.50 per zone per month
Additional hosted DNS zones (over 25): $0.10 per zone per month
First billion DNS queries/month: $0.40 per million
Additional DNS queries (over 1 billion)/month: 0.20 per million
DNS Private Resolver
Azure DNS Private Resolver inbound endpoint (1 endpoint – $180/month prorated to hours if discontinued earlier)
Azure DNS Private Resolver outbound endpoint (1 endpoint – $180/month prorated to hours if discontinued earlier)
Azure DNS Private Resolver rulesets (1 ruleset – $2.50/month prorated to hours if discontinued earlier)
You should try both their DNS first for only $0.50 per zone per month. DNS Private Resolver could be a bit pricey for small businesses.
8. Rackspace – Quick Updates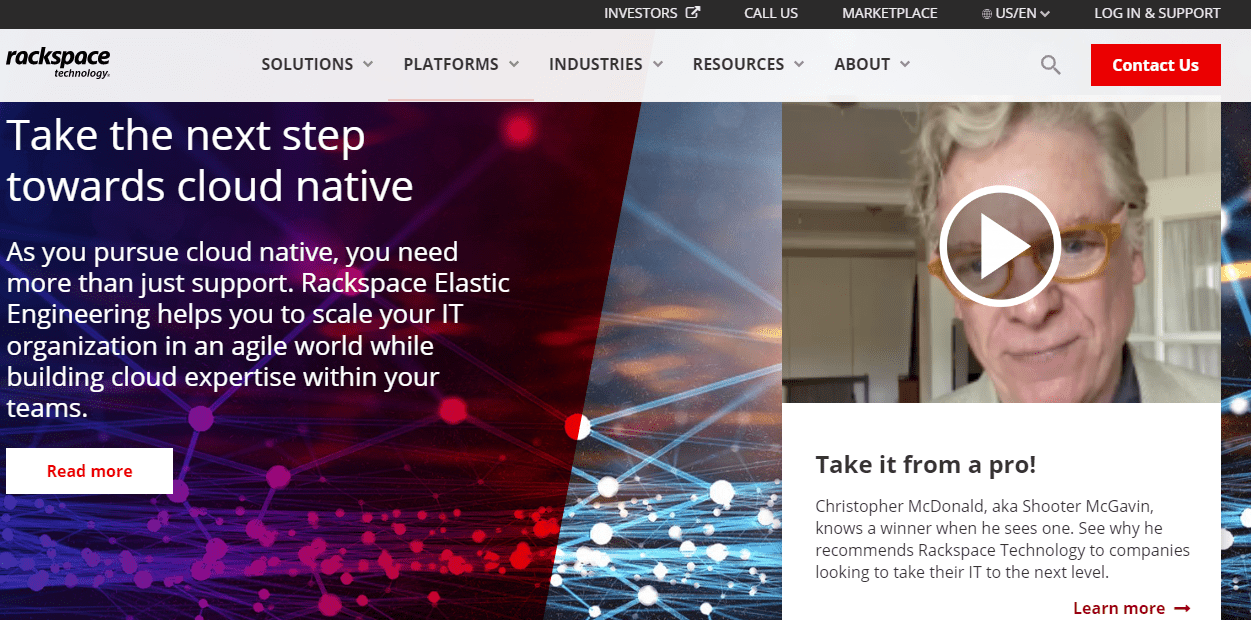 Free DNS Provider With Quickest Updates To Networks [Pricing Plan Available Upon Request]
Rackspace has been providing free dynamic DNS services from the start of its operation. There are both free and paid subscriptions available at Rackspace.
It's important not to underestimate the free option since it offers lots of solid DNS uptime handled by servers situated all over the world. When it comes to the top-level domains, this means that they will also function, regardless of where they are located.
There are four domains, each with four subdomains, four MX records, four custom DNS entries, four site redirections, and some offline settings included with the forever free plan. A, AAAA, CNAME, PTR, TXT, SPF, SRV, and HINFO are the records that they contain.
Installing and using its DDNS client is completely free, and it will continuously monitor and update the DNS record when your IP address changes.
A single subdomain is all that is required to use the free version. These services include email service, domain registration, and SSL certificates. Unlimited subdomains are included in the subscription edition, as well as all the other features.
Rackspace Technology is trusted by Google Cloud to offer managed services for a range of workloads because of our expertise in managing clouds and our results-obsessed focus on our clients. Rackspace Technology has earned year-over-year partner of the year accolades for migration and infrastructure services on the Google Cloud Platform, in addition to the highly valued Google Cloud Managed Services Provider (MSP) accreditation. Rackspace constantly provides our clients with high-quality cloud computing expertise and full-service support.
Pros And Cons Of Rackspace
| | |
| --- | --- |
| Pros | Cons |
| No setup fee required | Customer support could be better |
| Offers unlimited subdomains | |
| Forever free plan available | |
Rackspace Pricing Plan
Rackspace Cloud DNS price has not been made available by the company. For software vendors and service providers, this is standard procedure. The current price is only available by contacting Rackspace Cloud DNS.
Conclusion
The fundamental demands of your website and the direction in which you want your hosting to go should be considered when deciding on the finest DNS host for you. If you want managed DNS services, for example, think about if you'd like the one that gives you greater control over your site.
Some companies place a high value on price, so you should consider whether or not you can afford the choice you choose. In addition, you should have a broad idea of the functions you want your hosting package to cover, as well as the best possible speed and stability.
All of this taken into account, I chose Amazon Route 53 as our top pick for being an ideal managed DNS provider for every kind of business due to its flexibility and accessibility to most customers. It comes with all the needed features and at a reasonable pricing point for all the items that it delivers.
Read more of our blog posts to get to know more of the best digital tools for your business and start getting an upper hand in the digital community.