The process of collecting signatures online doesn't have to be time-consuming and expensive. Read this unbiased eSignature software review and find out which one can save your business' valuable time and money.
Running a business is hard work. And the task of collecting important signatures can make it even more challenging.
This is where I appreciate great electronic signature software.
It helps me simplify the process of closing deals; even the signees reside in different parts of the world. Since I'm mostly dealing with digital documents and have taken the paperless route, it greatly reduces my paper consumption – I can help save the world from deforestation (an excellent bonus).
Over the past ten years, I've done in-depth research on different eSignature software, and today, I'll share with you my top 7+ choices.
What Is The Best eSignature Software?
If you're in a hurry, you can take a glimpse at my top 3 picks: Eversign, Cocosign, and Sertifi.
| | | |
| --- | --- | --- |
| 4.9 | 4.6 | 4.2 |
| Best overall. Large libraries of pre-built document templates. Starts at $9.99/month. | Best value for money. Accessible and easy-to-use platform for new users. Starts at $8/month. | Most features. For collaboration and streamlined workflows. Starts at $30/month. |
| Try Eversign | Try Cocosign | Try Sertifi |
Here are my review compilations and learn which one brings the most convenience to your business.
1. Eversign – Top Pick
Digital Signature Software For Self, In-Person, & Remote Signing [Free | $9.99 a month]
It takes hard work to prepare contracts and has all signees affix their signatures on them. Stack Holdings GmbH solves this challenge by creating eversign.
Through this eSignature software, you can boost the overall turnaround time of the process and contract management… from preparation to signing.
Get started by uploading your document into its built-in document editor. Currently, there are six file formats supported:
.pdf
.docx
.txt
.ppt
.png
.jpg
Inside the document editor, you can expect to see three main sections:
On the left side, it's the section that displays all the pages included in your document. Simply click any page you want to edit.
On the right side, you can add all the recipients' names. You can also see the list of fields that you can drag and drop into your document.
The center section is dedicated to the main workspace.
Once your document is completed, you can start delivering it to all signees.
Eversign offers three options to have your document signed. The first one is self-signing, an ideal option to capture your own signature and initials.
Next is the in-person signing, an excellent way for your signees to affix their signatures using the device of your choice.
The last option is designed for remote signing. No matter where your signees are, they can securely sign any documents you've made in eversign.
All signatures can be affixed by typing, drawing using touchpads, or uploading them.
This eSignature software allows you to set the signing process in a predefined sequence or simultaneously for faster results.
All eSignatures made in eversign comply with the security and authentication requirements defined in the U.S., Europe, and worldwide. So, ease your mind that all documents are legally binding and enforceable in the court of law.
Pros And Cons Of Eversign
| | |
| --- | --- |
| Pros | Cons |
| Create an account (free & paid) in 3 simple steps | Add more and better security features. |
| Team & contact management features are also made available. | The method to communicate with customer support is based on your subscription plan (contact form & help center for free users). |
| Complete & detailed audit trails of past & present transactions are safely stored. | |
| Supported 13 languages to translate the document into your or signees' local language | |
Eversign Pricing Plan
Get started with Eversign by creating a free account. You can enjoy creating and sending 5 documents per month upon joining.
You can also add two-factor authentication for 2 signees via SMS and automate up to 3 documents (both on a per-month basis).
If you want more, you can choose from any of its monthly/annual subscription plans:
Basic ($9.99/mo.): Send unlimited documents to sign every month. You can also add 1 team member, create 3 templates, access its app integrations, and more.
Professional ($39.99/mo.): Ideal for a team of 5 with higher limits – create 10 templates, 25 API documents, and 20 SMS documents. You can also let your signee sign in the field or in-person.
Professional Plus ($79.99/mo.): Add your custom branding while adding up to 15 team members.
Eversign also offers an Enterprise plan for everyone who needs custom solutions for their team/business. You may contact their sales team to request a personalized quote.
2. CocoSign – Best Value For Money
All-In-One eSignature Software With Simple Signature Generator [Free | $8 a month]
Easy, fast, and secure are the promises CocoSign makes to all its users, and they deliver it by offering all-in-one electronic signature solution solutions designed for newbies.
Upon creating your account (free and paid), you can upload your pdf documents or any document and edit them.
Make sure to add all the important fields (date, email, etc.) before sending it to your signees. Its document editor features a drag-and-drop function for the quick addition of fields.
This eSignature software solution also promotes a faster turnaround time with less interaction.
This is delivered by providing your signees with a detailed guide on how and where they can affix their signatures.
The best part of it, your signees don't have to create their own CocoSign account. They can sign it and send them back to you from their preferred device (desktop and mobile).
Speaking of, there are three types of electronic signatures you can use, and their differences lie in their security features.
Simple electronic signatures include basic encryption technology. Audit trail history may not also be provided to authenticate the entire signing process.
Advanced electronic signatures include certifications from trusted authorities. It often requires fingerprint or facial recognition for added security.
Qualified electronic signatures: The type that is often verified by government entities or trusted third-party organizations.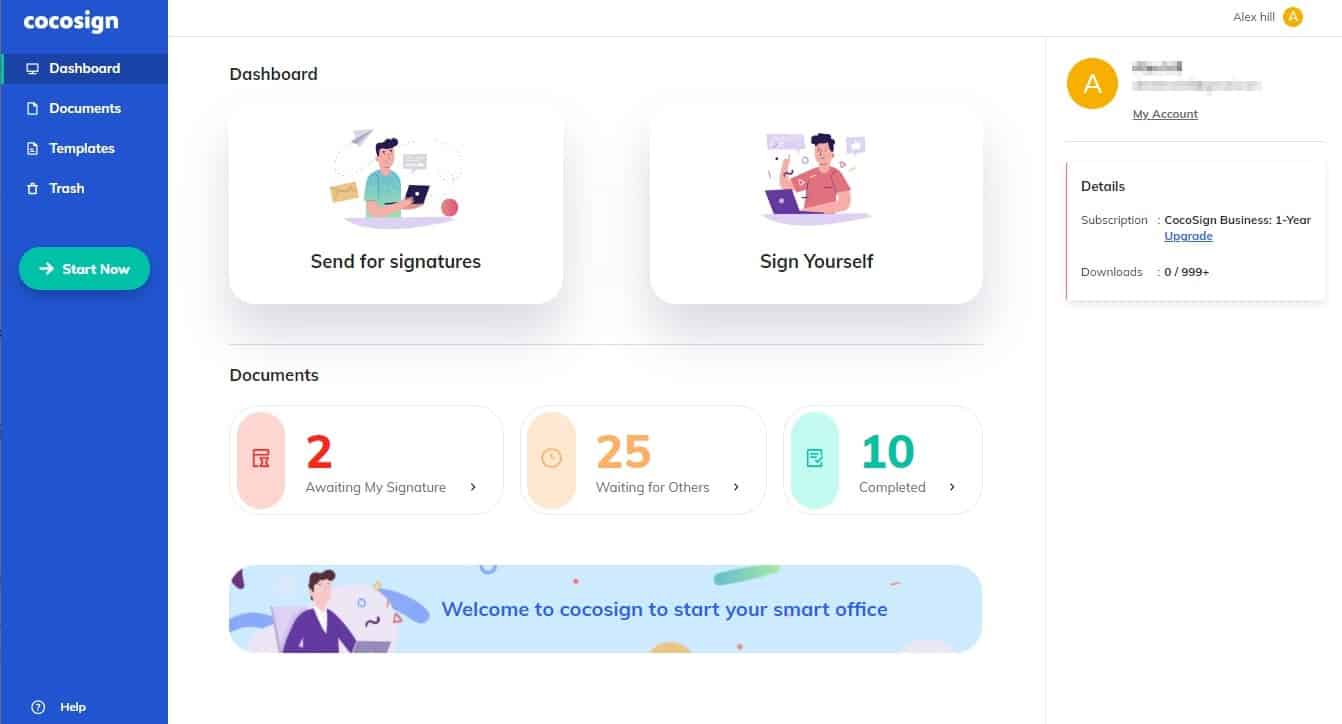 All CocoSign's features and tools are neatly positioned inside the dashboard.
Here are a few of the things you can do inside the dashboard:
Upload files from various cloud storage platforms
Create reusable templates
Simplify document workflows
Set automatic or manual reminders
Customize branding
Pros And Cons Of CocoSign
| | |
| --- | --- |
| Pros | Cons |
| Provide two options to create a signature (type & draw) | Only support the English language. |
| Include hundreds of easy-to-use forms and templates | Bulk send & requesting attachments are only available at the two higher subscription plans. |
| Send single or multiple documents straight from your Google or Microsoft account | Limited method to reach customer support (email, contact form, & help center) |
| Provide extensive audit trail history for all signed documents | |
CocoSign Pricing Plan
CocoSign is available in one free plan and four subscription plans.
The free plan is designed for a single user. Here, you can sign unlimited documents, download 3 signed files, and create 1 reusable template.
You can also do the following:
Track the overall signing progress
Customize the signing workflow
Cloud storage integration
And convert documents into signing link
If you want a more advanced feature and higher limits, you can choose from any of the subscription plans:
Essential: $8/mo.; single user only
Professional: $15/mo./user; add up to 20 users
Business: $25/mo./user; add up to 50 users
All the subscription plans include a 30-day money-back guarantee.
Do you want to collect payments? If so, CocoSign's advanced solutions might just be your best option.
Contact a sales representative to learn more about this offer.
3. Sertifi – Most Features
eSignature Software For Flexible Workflows [$30 a month/user]
Most of the available eSignature software promises to streamline your workflow and signing process. Sertifi can make it all happen with the addition of excellent collaboration features.
This is intended to ensure all your business workflows are streamlined based on your team's specific functions and goals.
No matter how simple or complex the workflows are, they got you covered.
The first to highlight is its custom-branded portal where you and team members can manage, send, embed, and track documents for signing. The best part of this portal is that you can customize the user permission levels.
This is an effective way to control what the users can do or access inside the portal.
Currently, there are five roles available:
User: Can only sign documents
Admin: Can only perform basic admin tasks like updating personal info, adding/removing contacts, viewing their own files, and more.
Auditor: Can search any document by FileID, view users and admins, resend activation links, and more.
Power admin: Can perform file maintenance, view other user files, use bulk send, add markups, and more.
Super admin: Can perform all tasks available in the Sertifi portal, except for viewing payment information.
A specific user can only access payment information after they are added to the appropriate security group.
Also, starting from the Auditor role and higher, all users with these roles can view monthly reports and sales reports. If you want to add custom reports, you can add them to your subscription plan.
Here's a list of custom reports you can add:
Admin activity by site
Rollup report: Admins by site
Deactivated users
Document database report
E-authorization usage by sender report
Usage totals
When you send a file with eSignature, one of the most important fields you need to specify is the sign type. There are three methods to choose from:
Electronically. Sign via an electronic device
Print and sign. Signees are required to print the document and affix their wet signature on it.
Electronically or print and sign. An ideal option for giving your signees power to decide how they want to sign the document.
Setting an expiration date is also recommended to ensure the document will be accomplished at your set timeline.
Once everything is well-specified, you can click the Next button to upload the document from your computer or select a signature form/reference document.
If you choose the latter option, you can fill all the necessary fields before hitting the save and finish & send button.
Sertifi also provides the same protection for requesting and collecting payments. It even adds an advanced fraud detection feature to prevent the malicious processing of credit cards.
Pros And Cons Of Sertifi
| | |
| --- | --- |
| Pros | Cons |
| Provide full support service, implementation, & onboarding training | Beginners may require a longer time to learn the platform. |
| Excellent signee workflow design & tools are included to provide a better eSignature experience. | Not ideal for small businesses & entrepreneurs on a budget |
| Access to its pre-built integrations with top business & CRM systems like Salesforce | |
Sertifi Pricing Plan
eSignature software is one of the three products Sertifi offers. To ensure you'll only pay for what you need, the company designed a quotation-based subscription plan.
The total price you need to pay will vary on the number of users you want to add.
You can also pay it on an annual billing cycle. The price starts at $30 per month/user.
Visit its pricing page to learn more about the perks when you subscribe to Sertifi eSignature product.
4. SignNow – Feature Extensive Online Library
Advanced eSignature Software With All-In-One No-Code Automation Platform [$8 a month/user]
SignNow may be one of the most advanced eSignature software available in the market today, but they still boast a newbie-friendly user interface – perfect for clients who want a great customer experience.
They deliver it by providing you with tons of intuitive tools for document management, document signing, and many more.
They recently redesigned the user dashboard to provide convenience to users when uploading and managing documents.
The new design includes the following changes:
Move the Upload Documents button to the left side of the panel
Creating new folders, bulk archives, and all other actionable options you can use to customize your documents are placed at the right side of the panel.
Select any document from the center panel and click the More button to display the complete list of options you can use for that document.
Click the All drop-down menu to filter the documents by status – Waiting for me, waiting for others, signed, or pending.
Click the bell icon to see all the notifications you've received.
Creating the documents and forms you want to send for signing is made easy. SignNow is one of the platforms that have the most extensive U.S. Legal library.
You can choose from over 85,000 state-specific legal forms.
If you want more, you can go to their marketplace section to see the complete list of forms that over 500 vendors sell.
After selecting the form you want to use, you can use its web form builder to edit them.
Placing the signature is simple. Click on the signature field and select the method you want to use:
Type your name
Draw your signature
Or, upload your handwritten signature's image
You can also do this on your mobile device. Available for Android and IOS. (signature field > add new signature then use stylus or finger to draw your signature).
SignNow is part of the airSlate Business Cloud products. This means that you can create simple and complex workflows (pre- and post-signing processes) and easily automate them.
You can also use the automation feature to streamline tasks, notifications, and more.
Pros And Cons Of SignNow
| | |
| --- | --- |
| Pros | Cons |
| Super easy to use and admin | Request & collection of payments are only available at the two higher plans |
| Provide six options on how to search for a document | Limited direct apps for integration (require Zapier connection to expand options) |
| Supported 5 file formats (PDF, Docx, PPTX, JPG, & PNG) | Include limited tools for brand customization |
| Allows workflow automation & creating custom workflow routing | |
SignNow Pricing Plan
SignNow eSignature solution is available in monthly and annual subscription plans.
Here's a quick view of what you can expect from each plan:
Business ($8/mo./user): Create and send documents for signing with primary fields, a maximum capacity of 10 users, and access to unlimited templates and a mobile app.
Business Premium ($15/mo./user): Create simple and complex eSignature workflows. Add your branding, send in bulk, and use signing link invites.
Enterprise ($30/mo./user): The popular plan to get if you want to create conditional documents, calculated fields, add signer attachments, and more.
SignNow eSignature is part of the airSlate Business Cloud product. Therefore, you can also get exclusive access to all the features included in this product at a set price of $50/mo./user.
Please note that this subscription plan requires you to add a minimum of 5 users.
Contact a sales representative now to request a demo.
5. DocuSign – Feature Automatic Data Verification
Electronic Signature and Agreement Cloud Platform [Free | $10 a month]
DocuSign eSignature is one of the trusted platforms that you can set up and use easily. You can also use it anywhere you go and on any device you want because it's created with web, desktop, and mobile apps.
The best part of the mobile app is you can sign any documents even when you're offline.
Simplifying the preparation and signing process is another strength of DocuSign. It's delivered by turning your most used documents into reusable templates.
Save time and effort.
This eSignature software allows you to set up email and SMS notifications to save your time further. This works by sending signees notifications to let them know they received the documents they need to sign.
Speeding up the completion is essential to close business deals faster.
However, it can be prone to errors. Ease your mind that this will never happen because DocuSign is equipped with a data verification feature.
You can use this feature by connecting your account to any internal or external database of your choice.
Successfully doing so will allow you to automatically verify the accuracy of the signee information before letting them affix their signature.
You can use all these functions in the monitor dashboard provided.
I've included my DocuSign alternatives comparison review if you prefer the similar functionalities of this eSignature software.
Pros And Cons Of DocuSign
| | |
| --- | --- |
| Pros | Cons |
| Excellent mobile-first experience | Customer support isn't responsive at times |
| Include 350 pre-built integrations | Price can pile up quickly for adding more users. |
| Support 43 localized languages for better signing experience | Embedded signing option is available at the highest pricing plan |
| Use the most robust data encryption technologies for security & complies with all applicable certification authorities (U.S. ESIGN Act and UETA and EU eIDAS regulation) | |
DocuSign Pricing Plan
DocuSign eSignature solution is offered in four subscription plans:
Personal ($10/mo.): Intended for individual use. Basic fields and access to mobile are also provided.
Standard ($25/mo./user): Created to accommodate up to 5 users, and sending documents for eSignature is free.
Business Pro ($40/mo./user): Can also accommodate up to 5 users and collect payments, signer attachments, and more.
Advanced Solutions (Custom Pricing): Get complete access to basic and advanced features that Docusign offers. You may contact the sales team to get a personalized quote.
If you want to test drive any eSignature plans, you can sign up for its 30-day free trial.
DocuSign is also offered in a free plan where you can sign as many documents as you need.
6. SignRequest – Feature 4 Authorization Options
Most Straightforward eSignature Software [Free | $7 a month/user]
SignRequest is one of the easiest eSignature tools you can use this 2022. The best part of it, you can create a branded account for your team.
This helps your team members access all documents they need to sign on or send to appropriate signees.
The team account is ideal for businesses with different departments or has other offices at various locations.
After setting up your account, you can start creating templates.
SignRequest provides two ways to do this task, and the first one is using its built-in template editor. Go to the main menu and select the Templates option, then Create Template.
The next step is to upload your document and add the necessary fields to them.
The other method provided is to add tags to a base document (Word or Google Docs).
This process may seem difficult and confusing at first. I suggest taking their YouTube video tutorial to familiarize yourself with the tags you need to use.
I've included a sample screenshot to give you an idea of what its results will look like.
After polishing the details of your documents, SignRequest also allows you to set the signing order and authorization level for each signee.
You can perform these tasks right after you've added your contacts. Click the Advanced button, and all the options available will appear.
The signing order always starts with '0'.
On the other hand, the authorization options are listed as follows:
Signature
Approve only
Copy only (CC)
Sign now in person
You can also add a text message verification for added security.
Aside from the verification feature, a secure audit trail and single sign-on (SSO) option are the security and legal features you can expect to get in your SignRequest account.
Pros And Cons Of SignRequest
| | |
| --- | --- |
| Pros | Cons |
| Support 17 languages | Limited integration apps are available. |
| Allows signees and sender to attach documents | A few minor crashes happen at times. |
| Fully secured and compliant (uses 256 bit AES encryption & ISO 27001 certified) | Phone support is only available at Business & Enterprise plans |
| Seamless integration with your professionally-created website, DMS or CRM system | |
SignRequest Pricing Plan
Finding the perfect plan that will work for your eSignature needs is easy because SignRequest is offered in three subscription plans.
The good news is, you can start with a free plan.
The free plan includes a limit of 10 documents per month and sends/signs using on any device. You can also access its secure audit trail and integrate your Google account.
For the monthly/annual subscription plans, here's what you can expect:
Professional ($7/month/user): Sign and send unlimited documents, create custom branding, add 1 team, and more.
Business ($12/mo./user): Add unlimited teams to your account, create unlimited templates, and include more advanced features.
Enterprise (Custom Pricing): If the plans mentioned above don't work for your current needs, you can contact a sales representative. They will help you find the best solutions for you.
The Professional and Business plans include a 14-day trial version so that you can explore its functionalities risk-free.
7. RightSignature – Most Advanced Security Features
eSignature Software by Citrix Systems [$12 a month]
As the name implies, RightSignature is created to ensure you and signees can affix a signature as accurately as possible.
And they deliver it as promised with the added convenience of being easily set up and administrate.
Here's how it works.
Upon creating your account, you can start uploading the documents you want to send for signing. Next is to identify where you want the signee to place their signature (within the document), then drag and drop the form fields on them.
You can also add your company's photo, logo, and colors to reflect your brand and make it look more professional.
Once everything is set, you can add the signees' contact information and hit send. To save time, you can integrate with your email, cloud storage, and database accounts to automatically import documents and contacts.
When it comes to sending your document, RightSignature offers two options:
Send a document to a single recipient
Or, send several documents all at once
When you choose the latter option, you can also specify the signee's order.
Sending the documents through email is the standard method used by companies of all sizes. RightSignature provides more by offering a shareable and secure link and embedding option for websites.
Properly implement any of these methods and ease your mind that completing the signing process can be done quicker.
Do signees require to create a RightSignature account?
No, they don't have to. Just like with most e-signature software, signees can affix their signatures on any document you've made in this software.
Another great advantage of RightSignature is its security features. It's by far the most advanced feature I've stumbled upon for eSignature software.
Here are a few online security features included:
Uses 256-bit EV SSL encryption by DigiCert for file protection
Additional biometric data capture and a full audit log are added
Server infrastructure of Amazon Web Services (AWS)
Backup data is stored in Amazon S3 data centers
Pros And Cons Of RightSignature
| | |
| --- | --- |
| Pros | Cons |
| Support common file formats like PDF, DOC, DOCX & image files | Limited localized languages supported (7) |
| Include a one-click document preparation with automatic field detection | No built-in document management feature (requires integration) |
| Works on any device without downloads or adding plugins | Limited options available for integrations |
| Recommended for freelancers, startups, & any fast-growing businesses | |
RightSignature Pricing Plan
RightSignature eSignature solutions are available in two simple subscription plans. All are payable in a monthly or annual billing cycle.
Here's a glance at each plan:
Standard ($12/mo.): The plan created for individual use (freelancer or a team member under a startup business). It provides you tools for document sending, adding handwritten signatures, and integrating add-ons.
Advanced ($60/mo.): The ideal plan for a team of 3. You're also provided with tools like shared templates, team statistics, request attachments, and more.
If you're not ready to commit to any contracts, you can explore RightSignature by signing on its free trial version. You can freely use it for two weeks or until you have exhausted the 5-document limit.
8. DocVerify – Legally Binding & Tamper Proof
Electronic Signature & Notarization Platform [$24 a month/license]
DocVerify isn't your average eSignature software. It's renowned for its all-in-one solution to streamline business workflows.
They deliver this by providing tools to automate workflows, sign and send documents, and notarize them (electronic and remote).
Let's focus more on its eSignature features.
It has a simple process to follow. First, you need to upload a document into your account and add all the recipients to sign on it.
Review every piece of information before clicking the send button.
DocVerify will send a link via email to all the recipients so that they can access the document you've sent. It includes a guide for signees to determine where they need to place their signature.
Once the signing process is completed, you (sender) will receive a notification.
Since it's an electronic and remote online notary platform, DocVerify is equipped with multiple layers of protection for your documents.
A few of these security features are:
256-bit advanced encryption standards (AES)
All keys for the E-Vault are protected with strong 512-bit encryption
Two-factor and three-factor authentication
Tamper-proof audit trail
Barcoding and watermarking technologies
HIPAA Compliance
Pros And Cons Of DocVerify
| | |
| --- | --- |
| Pros | Cons |
| Support popular file formats like Adobe documents, images, PDFs, Microsoft Office files & more | Limited third-party apps available for integrations |
| Include a secure e-Signature management platform | Only support the English language |
| Complies to both domestic and international e-signature laws | No phone support is included. |
DocVerify Pricing Plan
DocVerify is included in two different packages:
Business E-Sign ($24/mo./license): As the name implies, this package is exclusively designed for the eSignature platform. You can get full access to its features and tools with added capacity to purchase up to 10 licenses.
Enterprise ($65/mo./license): Provide complete access to DocVerify e-sign, e-notary, & remote online notary features. You can purchase more than 10 licenses at once.
For businesses with custom requirements, the Enterprise Group is the recommended package to get.
Unlike the previous two packages, this one requires you to contact a sales representative to get a personalized pricing quote.
Conclusion
Electronic signature tools are built differently. The best way to identify which one best suits your business needs is by looking at its efficacy, security, and ease of use.
If you're a freelancer or someone on a budget, you can add affordability to your checklist.
Of all the software I've discussed, I recommend Eversign as the best eSignature software for 2022.
It offers a highly feature-rich editor that can easily be used. It also supports a wide range of document types which also adds to the software's flexibility and accessibility when it comes to eSignatures.
Not to mention that Eversign is a tightly secured platform with auto-expire functions on certain documents and audit trails as well.
All transactions in Eversign are secured by industry-standard encryption.
Overall, all the eSignature software platforms included in this unbiased review are worth investing in this 2022. Let me know which one is your favorite by leaving a message in the comment section.