If you're looking for the best EDI for small businesses, this review is right for you.
Manual processing of paperwork is costly and time-consuming. This is why Electronic Data Interchange (EDI) quickly rose to fame for providing an affordable solution for transferring business documents securely and promptly.
What I like the most about the EDI software solution is that businesses of all types and sizes can enjoy its benefits. This review will focus more on the top EDI for small businesses, including their most prominent features, drawbacks, and more.
What Is The Best EDI Software For Small Businesses?
If you're in a hurry, you can check out my top 3 picks: Babelway, Royal Core Commerce, and PartnerLinQ.
| | | |
| --- | --- | --- |
| 4.8 | 4.4 | 4.2 |
| Best overall. Accessible platform for all B2B connections. Fitted for businesses of all sizes. | Best value for money. Reliable platform with long-term software support and development | Most features. All-in-one platform with highly intuitive dashboards and powerful B2B features. |
| Try Babelway | Try Royal Core Commerce | Try PartnerLinQ |
Looking for the full guide? Here are the top 7+ EDI platforms I recommend to help you make informed decisions:
1. Babelway – Top Pick
Non-Complex Cloud-Based EDI & B2B Integration Platform [Custom Pricing]
Babelway landed on my top pick because it's the most straightforward EDI platform you can find. You don't have to be or require to hire an IT expert to set up and use this online platform.
Its interface simplicity in design makes it easy to use.
It's also created in the cloud for accessibility and saves you from complex installations. So, how does it work?
First, you have to select the document you want to transform.
Once Babelway receives the documents, it will provide you options on what transfer methods you want to use. Lastly, select the desired file format.
Upon finishing the process, it will send the newly-transformed file to your preferred transfer method.
Currently, there are a total of 28 supported transfer methods and file formats. I've included a screenshot to give you a good reference.
You also have complete control over your document flows.
You can provide visibility to your internal users and external partners over your B2B exchanges. If there are any errors, you can edit and resubmit the documents with ease.
You can also use the visual drag-and-drop tool to move data easily.
All data is displayed in grids for quick access to all information. It includes various filtering options to see the information by specific criteria.
Some EDI software for small-sized businesses requires you to wait for a specific period before enjoying their new EDI connections and software upgrades.
Babelway understands the importance of time for your business, so they automatically implement it to speed up and simplify your business processes.
Pros And Cons Of Babelway
| | |
| --- | --- |
| Pros | Cons |
| Easy to learn, implement, and administer | Needs more tutorials on their help center |
| Subscription plan includes the cost of online training and certification | |
| Excellent expert support | |
| No additional set-up cost charged | |
Babelway Pricing Plan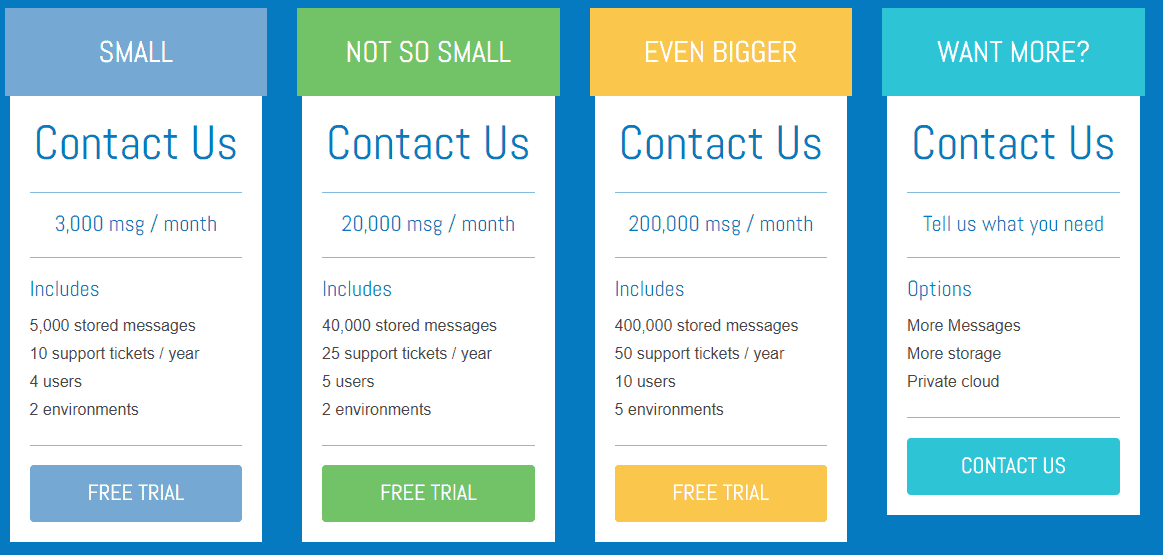 Babelway EDI and B2B integration solutions are offered in monthly subscription plans. Each plan's price is designed per business size.
The Small plan is recommended for startups. It enables a 3,000 message limit per month with additional:
4 users
10 support tickets/year
5,000 stored messages
2 environments to manage
Go ahead and try out their 30-day free trial or get in touch with their sales team to see which one best suits your needs.
2. Royal Core Commerce – Best Value For Money
Cloud-Based SaaS Platform Combines eCommerce & EDI Solutions [Custom Pricing]
Most companies prefer to manage their own EDI environment to ensure proper implementation daily. Unfortunately, this isn't recommended for small businesses due to its expensive cost and requirement to have ample internal IT resources.
That's why many entrepreneurs choose to implement either hosted- or SaaS-based EDI.
If you're looking for ease of use, efficacy, and affordability, Royal Core Commerce is the best option. Like Babelway, it's a cloud-based platform that supports B2B technologies like:
XML
RFID
EDIFACT
RosettaNet
ANSI X12 EDI
And the list goes on.
Currently, there are five EDI solutions available, but Web-to-EDI is the only one recommended for small businesses. It features a simple web form interface for ease of use.
Simple but not basic, this solution provides many benefits of EDI that can meet all your business needs.
The type of transactions you can use vary depending on the industry your business is part of. Let's take automotive as an example since it's one of the first industries that adapted EDI standards and solutions.
Royal Core Commerce provides 12 types of transactions for automotive companies.
They can also connect you with various trading partners.
Other industries it supports are listed as follows:
Retail
Grocery
Financial
Logistics
Healthcare
Manufacturing
Pros And Cons Of Royal Core Commerce
| | |
| --- | --- |
| Pros | Cons |
| Provides a full range of EDI solutions which includes customizable solutions for shipping labels and barcoding | ERP-to-EDI has limited app options for integrations (SAP Ariba, NetSuite, Microsoft 365, and Oracle Cloud Infrastructure) |
| All EDI solutions support the needs of businesses of all types and sizes | |
| Offers flexible contract that covers all fees (onboarding, interconnect, VAN, and mailbox) | |
| EDI connections range from accounting, cloud, WMS, and ERP systems | |
Royal Core Commerce Pricing Plan
I've chosen Royal Core Commerce as the best value for money because its superior EDI solutions are offered with flexible contracts. It also includes a 24/7 service desk and production enhancement.
Get your personalized pricing quote by filling up and submitting the request form.
3. PartnerLinQ – Most Features
User-Friendly EDI With Unified Digital Connectivity [Custom Pricing]
Get started with PartnerLinQ if you prefer a single platform with complete EDI, B2B, and API solutions.
Including tons of standard and advanced features in one platform can overwhelm users. But this isn't the case for PartnerLinQ because it's made for easy configuration and use.
A centralized management console is provided, and inside, you can perform the following tasks:
Track and view EDI performance
Identify transaction errors and causes
Shows statistics of current inbound and outbound transaction sets' progress
For partners, it provides a simple onboarding process.
It's incepted to natively integrate with Microsoft Dynamics 365, eCommerce platforms, and other ERP systems. You also have the option to use cloud-based or on-premises deployment.
Once properly deployed, ease your mind that PartnerLinQ will process thousands of transactions per hour.
As of writing, PartnerLinQ EDI solutions are designed for the following industries:
Retail
Logistics
Manufacturing
Transportation
Fashion and apparel
Food and beverages
General merchandise
Consumer Packaged Goods (CPG)
Pros And Cons Of PartnerLinQ
| | |
| --- | --- |
| Pros | Cons |
| Easy to use and administer | Improves the cost-benefit ratio |
| Provides a unified platform with multiple deployment options | Online documentation requires improvement (add more tutorials for new users) |
| Includes Business Rule Manager for faster onboarding of partners (also supports major transport protocols like EDIFACT, FTP, and other custom formats) | Steep learning curve for new business owners |
| Streamlines workflow processes for stock and inventory management (eliminates manual data entry) | |
PartnerLinQ Pricing Plan
Contact the sales team to get a personalized pricing quote. You can also request a demo if you want to explore its platform and functionalities.
4. GoAnywhere MFT – Feature New Enhanced EDI
All-In-One Managed File Transfer (MFT) & Encryption Software [Custom Pricing]
GoAnywhere MFT is tough to beat when securely managing and streamlining the exchange of data files within the organization.
The reason is simple.
It offers an all-in-one MFT solution, and you can access it all through its centralized interface. And though this is fully packed with powerful tools, it remains easy to use and implement. 
GoAnywhere MFT also provides you with multiple options for deployment:
On-premises
MFTaaS hosted plan
Within hybrid environments
In the cloud (Microsoft Azure, AWS, etc.)
As I've mentioned in Royal Core Commerce, hosted- and SaaS-based are the recommended deployment options for small businesses.
Therefore, you can select either the cloud or MFTaaS hosted plan. But of course, you can still choose the others if you find them the most suitable for your company's needs.
Once successfully deployed, you can begin managing all data files on the platform. The primary work it can do is securely streamlining and auditing the following:
Person-to-Person file collaboration
Batch server-to-server file transfers
User-to-system ad-hoc file transfers
Eliminate the time-consuming manual tasks with automation.
As standard, GoAnywhere MFT supports a broad range of servers (23) for exchanging data with your clients, external trading partners, and others.
It can also translate data into a variety of EDI document formats.
Tracking all the data exchange activities is also made simpler because everything is compiled in a central database. You can view the audit reporting inside your dashboard and distribute it automatically.
This is only the basics of how GoAnywhere MFT works.
You can do more tasks, but for now, I'll discuss its newly-enhanced EDI solution. GoAnywhere MFT currently can transfer and move X12, XML, and EDIFACT files.
With the latest upgrade (version 6.7), you can access the following new features:
Project Management System: This enables you to filter connections from a specific source or location.
EDI 997 Functional Acknowledgment: This one instantly provides you with a receipt once the EDI file is successfully received.
Pros And Cons Of GoAnywhere MFT
| | |
| --- | --- |
| Pros | Cons |
| Runs seamlessly on various platforms such as Windows, Linux, AIX, and the IBM i | Not suitable for new business owners or anyone with basic needs |
| Aside from EDI, it processes any data from files into XML, CSV, and JSON databases | Few errors and bugs in the system |
| Offers flexible deployment options | |
| Provides a centralized and intuitive interface with a real-time monitoring view of active sessions. | |
GoAnywhere MFT Pricing Plan
GoAnywhere MFT pricing models are available by request. Simply fill up and submit the request form to get a personalized quote.
If you want to get a live demonstration of the product, you can also request a demo.
5. Cleo Integration Cloud – EDI, Non-EDI, & API Integrations
Ecosystem Integration Platform With Flexible EDI Development Approach [Custom Pricing]
Cleo Integration Cloud is another platform for small businesses equipped with enterprise-grade EDI solutions.
It provides a simple dashboard interface where you can connect your file systems and onboard partners. This provides you with complete visibility of the following:
All activities
Notifications
Summary of activities (orders, invoices, etc.)
Integrations (business applications like Salesforce and QuickBooks)
Messages (every stage of the order/shipping process)
The summary section includes the overall assessment of your EDI integrations. This is the best place where you can pinpoint and resolve issues and other risks.
Inside the dashboard, you can also create new communication endpoints between your trading partners.
Flexibility is its biggest strength, and it's reflected in its data transformation. As of writing, Cleo transformation engine processes:
EDI to CSV
EDI to JSON
EDI to flat files
EDI to database
EDI to Web services
EDI to APIs (SOAP, REST, smart connectors, etc.)
What kind of business can you manage with Cleo? Currently, all its EDI solutions can support the following industries:
Retail and eCommerce
Logistics and transports
Software and Technology
Wholesale and distribution
Pros And Cons Of Cleo Integration Cloud
| | |
| --- | --- |
| Pros | Cons |
| Provides 99.5% uptime to prevent missing SLAs | Advanced CIC connectors come with an additional price |
| Easy automation of EDI into your ERP and other back-office applications | Requires specialized training for new users |
| Translates a broad range of data formats into any format from any application/trading partner source | Excellent customer support, but must add specialists solely for answering basic questions (current experts sound condescending when answering simple questions) |
| Provide straightforward EDI translation | |
Cleo Integration Cloud Pricing Plan
Cleo Integration Cloud is offered in five integration packages.
The Essentials package is the recommended option for small businesses. Here, you can get all the Express features with the following addition:
Integrate 15 connections
Access all analytics and operations features (except branding)
Get a staging environment inside your Cloud infrastructure and retain data for up to 90 days
If this sounds interesting, you can request a live demo of the package.
6. TrueCommerce EDI – Support 100+ Online Marketplaces
Unified Commerce Platform With EDI Integration For Business Systems & ERP [Custom Pricing]
TrueCommerce is a powerful EDI for small businesses because it can integrate all types of systems and channels.
Currently, it supports 92,000+ trading partners globally and a wide range of business systems (Intuit, Microsoft, NetSuite, etc.). If you own digital storefronts like WooCommerce and Magento, you can integrate them as well.
Additionally, you can even take advantage of TrueCommerce's new Pack & Ship solution.
This is a web-based fulfillment application that you can use to automate your back-end fulfillment process. The automation can also be extended for updating the pricing and inventory.
Other tasks you can do are printing labels for 60+ carriers and monitoring order progress.
All of these can easily manage inside the unified commerce platform they provide.
Since TrueCommerce is built with a cloud-based platform, you don't need to install any software. You can access it on any supported web browsers (latest version recommended):
Apple Safari
Mozilla Firefox
Microsoft Edge
Google Chrome
You don't even need to backup your data because everything is securely stored in the cloud.
Other EDI solutions offered are listed as follows:
EDI for suppliers
Supplier enablement
PDF to EDI integration
EDI for third-party logistics (3PL)
Pros And Cons Of TrueCommerce EDI
| | |
| --- | --- |
| Pros | Cons |
| Provides excellent customer support via email, phone, and chat | Adding new trading partners and the integration process take too long |
| Easy to use and administer | |
| Has comprehensive online documentation and resources great for beginners | |
TrueCommerce EDI Pricing Plan
No matter what EDI solutions you prefer, TrueCommerce EDI got you covered. You may contact their sales expert to request a demo or get a personalized pricing quote.
7. SPS Commerce – Full-Service EDI Solution
Cloud Supply Chain Management Software With EDI For eCommerce & Order Fulfillment [Custom Pricing]
SPS Commerce is a promising choice if you're looking for the most stable cloud EDI for small businesses.
It's one of the pioneer companies that offer cloud EDI solutions. They revolutionize the traditional supply chain to save money and time.
As standard, it comes with automation to speed up the manual processes while maintaining accuracy.
You can also manage, share, and monitor your entire supply chain (inventory, product information, sales, etc.).
As the name implies, SPS Commerce mainly focuses on retail businesses.
What kind of retail business can you manage? As of writing, it supports six kinds of retail businesses, and those are:
Grocers
Retailers
Suppliers
Distributors
eCommerce
3PLs and carriers
The EDI for small business retailers is focused more on supply chain management. It helps you automate the purchasing process and streamline the entire order cycle.
You can do this by integrating your eCommerce platforms (Such as Shopify) or business systems.
You can also connect all your trading partners for a secure and effective exchange of information like ship notices, inventory, invoices, and more.
Another EDI solution available is designed for order fulfillment. Most software requires you to use a transaction set (EDI 850, EDI 997, etc.) for proper implementation.
SPS Commerce eliminates these 3-digit codes and instead uses labels for ease of use.
They also include auto-fill, so you don't have to encode long-form information like ASNs manually.
If you need expert assistance, you can use their in-app chat to get 1-on-1 help.
Lastly, eCommerce EDI solutions help you streamline all manual tasks, drop shipping, and marketplace fulfillment.
It currently supports the following eCommerce partners:
Shopify
Magento
BigCommerce
WooCommerce
ChannelAdvisor
Pros And Cons Of SPS Commerce
| | |
| --- | --- |
| Pros | Cons |
| Invoices, orders, and shipping notices are well-organized for easy monitoring | Setting up a task to make it work semi- or fully automatic can take too much time |
| Receives instant notification when customers purchase orders | Steep learning curve for new users |
| Uses labels instead of 3-digit EDI codes to prevent confusion | |
| Supports 500+ drop-ship retailers, 11,000+ drop-ship connections, 350,000+ trading connections, and 400+ pre-qualified 3PLS | |
SPS Commerce Pricing Plan
Get the right EDI products for your small business. Contact a sales expert to request a live demo or personalized pricing quote.
8. 1 EDI Source PartnerXchange (PX) – Easy & Intuitive Solution
Web-Based EDI Software Best For Users New to EDI [Custom Pricing]
1 EDI Source PX may not be the most popular EDI for small businesses, but it's worth using. Its platform is specifically designed for anyone new and with little experience with EDI.
Therefore, you can expect ease of use.
It wouldn't even take you long to learn the ins and outs of the platform. You can get started by integrating your trading partners and ERP systems.
You can also exchange EDI forms and documents to ensure you comply with your trading partners. All exchanged forms and documents can easily be sent within your network.
To stay on top of your duties, 1 EDI Source PX is equipped with built-in intelligence and predictive alerting. All alerts are customizable to ensure you will never miss any deadlines.
This EDI for small businesses also uses transaction sets where each set is designed per industry.
If your business belongs to transportation and logistics, here are the proper EDI transaction codes you can use:
204 – Motor Carrier Load Tender
990 – Response to a Load Tender
997 – Functional Acknowledgment
210 – Motor Carrier Freight Details and Invoice
214 – Transportation Carrier Shipment Status Message
Other industries it supports are listed as follows:
CPG
Retail
Grocery
Healthcare
Manufacturing
Business services
Pros And Cons Of 1 EDI Source PX
| | |
| --- | --- |
| Pros | Cons |
| Modern EDI interface for multi-users | Only supports ERP systems for integrations |
| Easy to use and administer | |
| No complicated installation and setup required | |
| Excellent customer service support via phone and self-service help (knowledge center and downloadable guides) | |
1 EDI Source PX Pricing Plan
If you find 1 EDI Source PartnerXchange the right EDI for your small business, contact their sales team to request a demo or pricing quote.
Conclusion
This list is filled with plenty of efficient EDI for small businesses. But if I have to pick one, I'll go with Babelway.
It's simple, accessible, and secure.
You can even manage everything from the platform without the help of an IT or EDI expert.
Moreover, Babelway supports various file formats, internet and non-internet communication protocols, and can automate document flows with utmost accuracy.
Do you have other favorite EDI software? Share it with us through the comment section.