Incorporating electronic data interchange (EDI) software to facilitate information exchanges between partners and businesses reduces the reliance on paper-based processes that are often rife with errors that lead to misunderstandings. In turn, these often slow down business processes or halt partnerships.
When it comes to improving business processes and productivity, I'm always exploring tools and software, and I've realized that the right EDI software can help my employees manage a vast pool of partners and customers more efficiently.
After reading, you should know how such software benefits your business. You'll also find the best options to choose from so you can apply the right one to your business based on needs.
Here are my 7+ highly recommended EDI software solutions.
What Is The Best EDI Software In 2022?
My top recommendations for computer-aided manufacturing software are Cleo Integration Cloud, TrueCommerce EDI, and MuleSoft Anypoint Platform.
1. Cleo Integration Cloud – Top Pick
Best EDI Software For Business Process Integrations[Provided By Vendor Upon Request]
Cleo Integration Cloud is my top pick for outstanding EDI software in 2022. One of its significant benefits is its ability to provide businesses with end-to-end ecosystem integration. Cleo makes it easy to manage and monitor business transactions like shipments, invoices, supplier information, etc.
Businesses that use Cleo also benefit from the numerous pre-made templates, profiles, and connectors already included. The fully customizable dashboard lets users view specific data requirements, streamlining decision-making and making managing teams and partners a breeze.
Notable Features Of Cleo Integration Cloud
Third-party integration: Allows users to integrate with third-party tools such as account software to ensure transactions are up-to-date and organized.
Process automation: Automate specific manual tasks such as data input to reduce manual errors and save time on daily tasks.
Status process sharing: View, share, and update statuses of critical processes within departments and across supplier and partner networks.
Data transformation: Convert data formats from a source to match the format needed at its destination for easy viewing and reference. This software can process formats such as JSON, XML, EDI, EDIFACT, X12, and ANSI.
Expectation management: Use customizable dashboards to view current insights that pinpoint and identify potential risks and issues. Cleo also provides recommendations for resolving errors.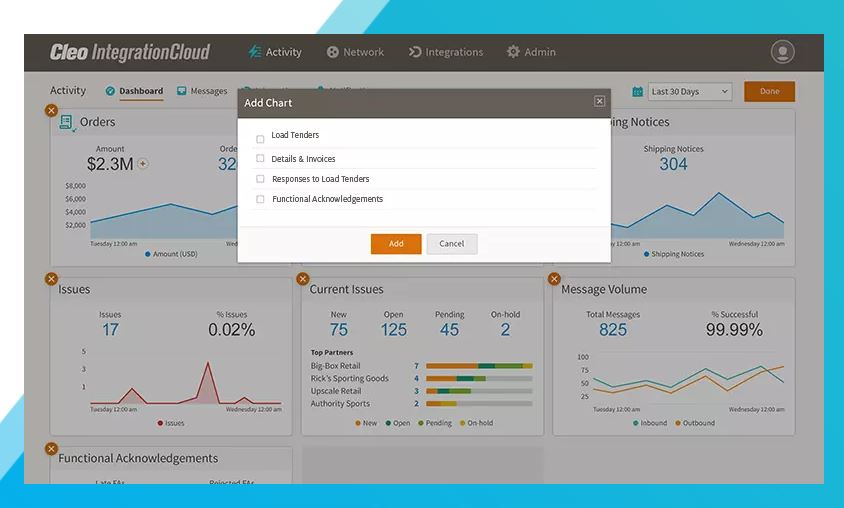 Pros And Cons Of Cleo Integration Cloud
| | |
| --- | --- |
| Pros | Cons |
| High level of scalability and flexibility, perfect for growing businesses | A steep learning curve for new users |
| Built on a microservices-based architecture for higher speed and agility | Software plus training sessions is expensive |
| Secure communication, data transfer, and data transformation capabilities | Reporting features leave room for improvement |
| User-friendly interface with pre-built templates and connectors | |
Cleo Integration Cloud Pricing Plan
Pricing and packaged plans are provided based on the following:
Type of Integration Technology: Choose from EDI, Application Integration, MFT, eCommerce Integration, and B2B Gateway, to name a few.
Trading partners: Works with partners such as Amazon, Costco Wholesale, CVS, Walmart, and XPO, to name a few.
Type of connection: Caters to Amazon Marketplace, Salesforce, Shopify, Oracle, and more.
Type of business: Supports industry businesses in logistics & transportation, manufacturing, wholesale & distribution, retail & eCommerce, software & technology, and others.
Those interested in using Cleo Integration Cloud must contact the vendor via their official website. Free demos are available for trial periods. You can also view their complete list of solutions on their website.
Cleo Integration Cloud is most suitable for medium and large businesses handling multiple partnerships and transactions daily. Its ability to organize business documents and data in real-time streamlines the monitoring and management process that would otherwise be a time-consuming task.
2. TrueCommerce EDI – Best For Integrating Sales Information
EDI Software For Sales & Supply Chain Management Across Global Markets [Free Trial | Custom Pricing]
Those looking to integrate global business transactions across multiple supply chains and partnerships can take advantage of the real-time business data TrueCommerce EDI features. As a data sharing and document transfer-focused EDI, it streamlines B2B transactions and agreements.
What sets TrueCommerce EDI apart is its centralized data sharing, which allows businesses to upload, store, revise, and create essential documents and data all in one place. Partner businesses can also access files through specified permissions and web-based accessibility.
Notable Features Of TrueCommerce EDI
Centralized document exchange: Aggregates all documents and data on one platform for easy sharing among partners.
Managed service provider: The service provider takes the helm in software upgrades, maintenance, and adjustments, so your team does not have to have an on-premise EDI implementation and maintenance plan.
Transaction management: The web-based EDI translator converts data for document use.
Data to document conversion: All documents can be sent and received in one place and supports protocols such as UN/EDIFACT, ASC, X12, and XML.
High level of customer support: High response customer support with a training platform streamlining the learning process.
Pros And Cons Of TrueCommerce EDI
| | |
| --- | --- |
| Pros | Cons |
| Integrates with existing software solutions like ERPs or account software | Sslows down when dealing with high volumes of data |
| Access to over 92,000 trading partner databases | Frequent error generation |
| Real-time business analytics | Requires repetitive tasks to keep optimal |
| Reporting functions for information tracking and updated order status | |
TrueCommerce EDI Pricing Plan
The TrueCommerce EDI Solutions include a complete list of integrations and features that work together to provide a faster, more accurate order process with global connectivity. Those interested in using TrueCommerce EDI should contact the official vendor on their website. Users can also request a free demo.
TrueCommerce EDI is ideal for medium and large businesses and enterprises working with multiple business partners and suppliers. The connection with more than 92,000 partners makes it easy to access the information required for better business decisions and scalability.
3. MuleSoft Anypoint Platform – Best For Enhanced Business Connectivity
API-Based EDI Software Connecting Hundreds Of Systems [Free Trial | Custom Pricing]
MuleSoft Anypoint Platform allows users to manage the whole application programming interface (API) lifecycle. Users can design APIs and integrations and manage the entire API program as a unified platform. With these capabilities, MuleSoft allows users to create end-to-end automation of powerful business tools that make the customer experiences faster and more secure.
Applied to business processes, MuleSoft enables users to configure EDI mapping and EDI integration easily. With it, businesses in multiple industries can have a digital transformation that streamlines business processes and speeds up customer and partner response times.
Notable Features Of MuleSoft Anypont Platform
Highly customizable: Create integrations and connections based on your business needs to meet specific targets for management and tracking.
DataWeave data language: Transfor and integrate messaging in real-time to connect with backends or cloud systems.
Faster partnership onboarding: Use pre-designed templates to quickly get your partner businesses up to speed on processes and requirements.
Automated tasks: Speed up integrations using enterprise service bus (ESB) for legacy and SaaS apps.
Performance tracker: Ensure compliance across the board with highly intuitive service-level agreements.
Pros And Cons Of MuleSoft Anypoint Platform
| | |
| --- | --- |
| Pros | Cons |
| Simplifies the implementation of DevOps platforms | Multiple deployments can be challenging |
| Pre-made templates simplify application and data integration | Loading speed is slow for some users |
| Uses pre-built transport protocols for easy coordination of cloud data | Some users report a steep learning curve |
| Choose among on-premise, cloud, or hybrid environments | |
MuleSoft Anypoint Platform Pricing Plan
Those looking to integrate the MuleSoft Anypoint Platform into their business should contact the official vendor on their website for a custom price quote. Vendors will also provide you with information on the best solutions based on your business specifications and requirements. Choose an EDI solution based on:
Industry
Initiative
Technology
Integration
Persona
MuleSoft Anypoint Platform is best suited for medium to large businesses using multiple management platforms to conduct day-to-day business. Its ability to integrate necessary tools and create a seamless connection allows a company to focus on data-driven decision-making while spending fewer resources on technical upkeep.
4. SPS Commerce Fulfillment – Best For Order Fulfillment
Cloud-based EDI Software Streamlining Order Management Purchases & Deliveries [Custom Pricing]
SPS Commerce Fulfillment focuses on strengthening the relationship between trading by featuring 200+ pre-built solutions that automate business documentation. Through SPS, businesses can maintain a centralized sharing platform that instantly connects and streamlines purchase orders and delivery statuses through cloud-based software. Its features also ensure partners meet EDI standards set for their business.
Notable Features Of SPS Commerce Fulfillment
Updated shipping notices: Enables program to confirm statuses of orders in real-time visibility on the customer queue along with details on completion or confirmation.
Eliminate manual processes: The auto-fill features reduce manual processes that often lead to errors in data entry and consume unnecessary time.
Device accessibility: A cloud-based software that all trading partners can view on the go without needing to stay in front of their PC.
Centralized transaction process: Aggregates all partner transactions in one place for easy viewing, sending, and updating invoices.
Automated data filing: The system ensures that data is automatically mapped in the correct fields, which allows for a clean data gathering and evaluation process.
Pros And Cons Of SPS Commerce Fulfillment
| | |
| --- | --- |
| Pros | Cons |
| Centralizes all documentation and transaction notices between trading partners | Limited resources can hamper integration |
| Reduces data entry time and error with the automation feature | Multiple elements can cause confusion |
| Integration solution perfect for digital transformation | |
SPS Commerce Fulfillment Pricing Plan
Those interested in using SPS Commerce Fulfillment to manage trade partner documentation and transactions should contact their customer service team from the official website. Here, you can request a quote based on your type of business and the industry. Additionally, you can request a free demo to see if the software is right for your needs.
SPS Commerce Fulfillment works well for retailers managing multiple suppliers and partnerships across a large geographical area. Its cloud-based features allow everyone to view status updates and order requests from any device or location so long as there is a stable internet connection.
5. Jitterbit – Best For Process Automation
Synchronizes EDI Communication Across Platforms Such As ERP Systems & CRM Applications [Free Trial | Custom Pricing]
Jitterbit's ability to synchronize EDI communications and automate a business's processing and handling aspects allows for streamlined transactions among partners. The application simplifies the implementation of processes across multiple applications.
The platform also uses an easy-to-maneuver point-and-click interface and automatic code generation for seamless and error-free connections and integrations. This makes it easy for users to create necessary integrations with higher functionality.
Notable Features Of Jitterbit
Create SOAP and REST services: This allows users to create EDI formats based on what client servers recognize.
EDI splitter: This enables users to customize how files are split and organized based on business needs.
All-round management: Automate essential data entry to minimize errors and save time on redundant tasks.
Multiple transaction sets: Support over 25,000 transaction sets that businesses can use for streamlining business partnerships.
NetSuite integration: Offers a comprehensive view of customers for customer success and accelerated business outcomes.
Pros And Cons Of Jitterbit
| | |
| --- | --- |
| Pros | Cons |
| EDI testing | UI leaves room for improvement |
| Use custom APIs or design new ones based on business needs | |
| Track performance with SLAs | |
Jitterbit Pricing Plan
Jitterbit offers custom pricing plans under three categories. All plans include features such as a management console, connector builder, live training, and visual designer, to name a few. Contact sales representatives on their website for a complete list of inclusions and prices. You can also avail of a free trial license for 30-days.
Standard
Professional
Enterprise
Those looking to streamline partnership management and customer relations can benefit from Jitterbit's custom plans based on healthcare, manufacturing, or retail industries. Users can also customize their features based on integration needs and EDI data required.
6. DiCentral EDI – Best For A Growing Business
Cloud-based EDI Software With Supplier Solutions & Buyer Solutions [Custom Pricing]
DiCentral's main feature is simplifying complex B2B processes regardless of business size. This makes it the perfect solution for businesses just starting or are expecting to grow. The cloud-based platform offers a high level of visibility into global supply chains so users can optimize their supply chain management and deliver the best customer service to their market.
DiCentral also offers features that work for multiple industries by allowing high-level integration with accounting systems, eCommerce platforms, and Oracle. The supplier solutions will enable the business to stay abreast of advanced EDI systems, compliance, and customer business regulations. On the other hand, buyer solutions allow customers to remain at par with competitive industries and collaborate with suppliers seamlessly.
Notable Features Of DiCentral
High integration capability: Integrates with vendors such as NetSuite, SAP, Microsoft, and Oracle, to name a few.
Pre-built kits: Use pre-built kits to make connection building easier for business partners.
Availability: Use the software cloud-based or on-premise feature to access via a web browser from any location or industry.
Rule development: Apply rules to trading partners based on specific information while managing their KPIs and actionable insights.
Pros And Cons Of DiCentral
| | |
| --- | --- |
| Pros | Cons |
| Highly user-friendly with consistent and reliable customer support | Lacks advanced features |
| Allows for smooth communication between partner businesses and customers | Sometimes experiences connectivity and performance issues |
| Easy to install and learn as compared to other options | Cheaper option starting at $30 monthly |
DiCentral Pricing Plan
DiCentral offers pricing options based on quotes. Users can access this by contacting their vendor on the official website. The starter pricing plan is $30/mo, but this highly depends on the features and plan to size your business needs.
Because DiCentral offers supplier and buyer solutions across multiple industries, it's an excellent option for businesses of any size, including small businesses. It's also scalable, allowing users to incorporate new features or move to a higher plan to encompass growth.
7. GoAnywhere MFT – Best For Managed File Transfers
EDI Software With A Highly Secure& Compliant File Transfer System [Free Trial | Custom Pricing]
GoAnywhere MFT leverages the ability of the business to transfer EDI documents and EDI files securely on a centralized system. Users can transfer data within or outside the organization with standard protocols, which adds extra security to sensitive data.
Moreover, GoAnywhere features FTP automated options that encrypt data between server systems and clients. Users can also share EDI in internal systems and among chosen suppliers and partners.
Notable Features Of GoAnywhere MFT
Schedule workflows: Easily manage workflows and schedules to ensure full compliance and required standards.
Automate batch file transfers: Transfer large amounts of data and documents without worrying about errors or malfunctions.
Supports various file types: Supports file types such as CSV and Excel.
Data mapping: Visually configure and map X12 EDI documents.
Pros And Cons Of GoAnywhere MFT
| | |
| --- | --- |
| Pros | Cons |
| Secure data transfer between trading partners and businesses | Does not have premium consulting |
| Manage files on-premise or via cloud options | |
| Supports SFTP, FTPS, HTTPS, and SCP protocols | |
| SSL encryption | |
GoAnywhere MFT Pricing Plan
GoAnywhere MFT pricing is based on personalized plans and quotes, which official sales representatives on their website can provide. Users can also request a free demo of GoAnywhere MFT for 30 days.
Businesses, organizations, and entities managing sensitive documents and files will benefit from the high level of security and encryption that GoAnywhere MFT provides its users. With it, you can easily manage file transfers without worrying about data leaks or errors in translation.
8. CircleCI – Best For DevOps
EDI Software With Development Tools For Testing & Deploying Code [Free | $15/mo]
CircleCI simplifies the user development process of testing and deploying software with reliable speed. Additionally, it allows users multiple customization options to streamline pipeline maintenance. The configurations provided are also reusable and can be applied to multi-project management. Users can also benefit from the clean build starts that automate the management and installation of plug-ins and core functionalities.
Notable Features Of CircleCI
Configure computer power: Configure CPU and RAM capabilities to reach optimal performance and speed.
Manage workflows: Design how building, testing, and deployment will proceed without manual configuration every step of the way.
Testing: Run pipelines on a clean container to identify potential issues or bugs quickly.
Pros And Cons Of CircleCI
| | |
| --- | --- |
| Pros | Cons |
| Automated deployment of successful pipelines | Configuration still has bugs that need to be addressed |
| Send notifications when there is pipeline failure | System can be slow at times with the wrong configurations in place |
| Track and optimize integrations with insights | |
CircleCI Pricing Plan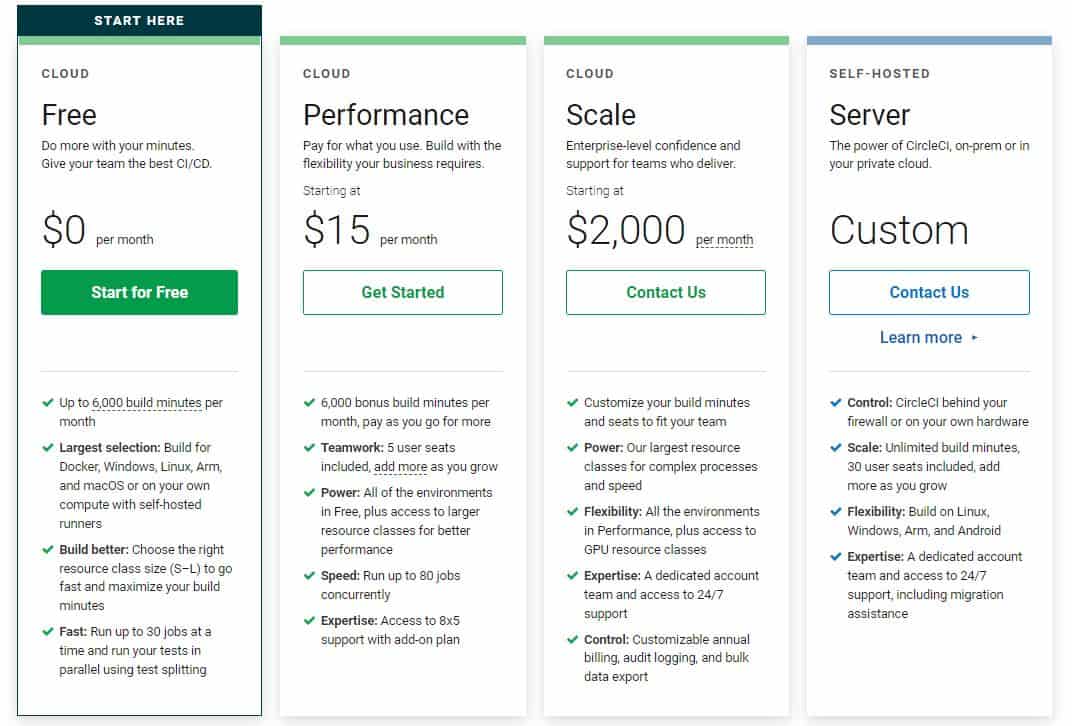 Users can test out CircleCI with their free version, which includes 6,000 build minutes, multiple platforms, resource class choice, and up to 30 builds running simultaneously. For those looking to work with paid plans, the options are:
Performance: Includes an additional 6,000 build minutes with five seats. Also allows access to larger resource classes and can run up to 80 jobs concurrently.
Scale: Customized build minutes and seat options with many classes for complex processes and speeds. Also includes billing control, audit logging, and bulk data export.
Server: Features your hardware with unlimited build minutes and seats and expert customer support 24/7.
Plans offered by CircleCI are based on business size and build requirements. Those who require small build times and have a limited team will benefit from the free or Performance plan. Those with more extensive configuration and build needs should opt for the Scale and Server plans.
Conclusion
The best EDI services will include various integrations like Microsoft Dynamic, SAP Business One, Sage ERP, and more. Integrating CRM systems to track customer orders and streamline customer service are essential features of great EDI software solutions.
I recommend EDI software such as Cleo Integration Cloud and MuleSoft Anypoint Platform for businesses and organizations that require integration of all their used platforms to create a connected business environment. It works seamlessly with already existing tools and makes business processes faster.
On the other hand, warehouse management systems that monitor supplier and trading partner deliverables and transactions like Truecommerce EDI and SPS Commerce Fulfillment leverage the ability of businesses to access transaction, shipping, and order data quickly. Such features also allow users to enhance their business processes without relying on paper-based documentation.
To learn more about software options and tools that enhance business capabilities and facilitate a digital transformation, visit us at Novum.