An enterprise search software allows corporations to streamline their knowledge management capabilities to create an effective workflow. Unlike a traditional standard web browser search engine like Google Search, you cannot expect to find files that are not publicly shared online. This lack of capability to scout through your files and analyze data for your company means that looking for a specific document can be quite a chore.
As a business owner, I have explored various advanced business intelligence programs and knowledge management tools that can provide the best enterprise search software on the market. There is nothing more critical about a successful business than having the capabilities of instant search to find that one crucial file that you need.
At the end of this article, you should have enough information to make an informed decision on which enterprise search software you should use for your business knowledge management.
There are dozens of enterprise search software available online. However, these 7+ are the best enterprise search software that all types of entrepreneurs can utilize for better workflows and efficiency.
What is The Best Enterprise Search Software?
These are my top three recommendations for an enterprise search engine: Elasticsearch, Algolia, and Yext.
| | | |
| --- | --- | --- |
| 4.9 | 4.5 | 4.2 |
| Best overall. Open-source solution with extensive cloud-based storage. Starts at $95/month. | Best value for money. Focused on multiple search systems. Starts at $1.50 at 1,000 searches/month. | Most features. AI search solutions using NLP-based machine learning. Starts at $199/per year. |
| Try Elasticsearch | Try Algolia | Try Yext |
1. Elasticsearch – Top Pick
Multifaceted And Easy-To-Use Enterprise Search Solution To Business Knowledge Management [$95 Per Month]
The best software are usually the ones that have been in business for quite some time. This particular company has been around since 2010 with its Elastic Enterprise search and has been steadily growing to provide a plethora of programs and software that every entrepreneur can find useful.
Elasticsearch is its solution in providing enterprise search software that is not only simple to maneuver but also robust in capabilities and workflows. The software uses a cloud-based platform that enables its users to easily search through applications by allowing companies to choose from their set of refined APIs or build their own customized search tools. 
Elasticsearch also comes with a variety of multifaceted tools through a simple set-up interface that entrepreneurs can use to help scale their business and improve search engine functionality with your website, such as:
Search-as-you-type
Web Crawler
Vector and cross-cluster search
Client libraries
Dynamic schemas
Integration with Slack
Pros And Cons Of Elasticsearch
| | |
| --- | --- |
| Pros | Cons |
| A large number of available tools at your disposal | Performance issues that improve when security settings are turned off |
| Simple and easy-to-use interface | Does not offer any form of free trial option |
| Integrates with pushing custom data easily | Additional payment for premium consultation services |
| Offers resource-based payment option | |
Elasticsearch Pricing Plan
Standard ($95/mo): The standard option offers the full core of Elastic cloud features such as data visualization, dashboarding, data clustering, and stack security. In addition, alerting and in-stack actions are also included at this price point.
Gold ($109/mo): This tier includes everything that comes with the standard options including its access to field statistics, Elastic maps, and Canvas access. In addition, you are granted additional tools such as multi-stack monitoring, third-party alerting actions, and reporting software.
Platinum ($125/mo): Upgraded tier that includes everything from previous levels but includes a more advanced set of security features. Machine learning AI for anomaly detection, supervised learning, and 3rd-party model management included.
Enterprise ($175/mo): Everything in all tiers included. In addition, searchable snapshots, and support for searchable cold and frozen tiers are also included.
You can also take advantage of this pricing by only paying for the resources that you need instead of paying for a hefty full subscription. However, Elastic uses a subscription tier model that focuses on using all of Elastic's software and programs.
Elasticsearch suits larger businesses perfectly as it helps store intercompany data easily. This software allows for a high number of user access at one time which helps implement the search system more efficiently for your entire company.
I recommend the Gold Plan as it contains all the necessary components of Elasticsearch alongside a suite of other tools from their company that can help your business scale more effectively.
2. Algolia – Perfect For eCommerce Marketplaces
Great Enterprise Seach Software For eCommerce For Its Customizable Search Options [$1.50 Per 1,000 Searches Per Month]
Algolia's goal is to provide a robust search API that caters specifically to enterprises that aim to connect with their audience in a seamless manner. This SaaS-based enterprise search software prides itself on its consistent delivery of high-performance enterprise search with less than 10ms per data response on all search results.
This software achieves that goal by utilizing features such as SOC 3 and GDPR-certified security to ensure a highly secure and seamless user experience for your customers, similar to how Amazon works. The included packaged API building blocks also allow both customers and employees instant results via search and navigation recommendations.
Algolia Search also features a range of additional features to help both customers and employees use that can make the search solution function smoother.
Geo Search – allows adjustment based on the ranking search results based on received geodata.
Voice Search – easily connects with voice assistant data across multiple devices for easier and faster relevant results generation.
Site Search – allows the search engine to learn deeper contexts by learning from possible typos, synonyms, request type, language, and other keyword search parameters.
Mobile Search – integrates easily with mobile platforms such as iOS, Android, and others to improve mobile user experience.
Pros And Cons Of Algolia
| | |
| --- | --- |
| Pros | Cons |
| High-performance cloud search API for eCommerce companies | Limited team member space |
| Easy integration with your tech stack, framework, or platform | Pricing can be widely cheaper or more expensive depending on usage |
| Wide array of configurable cognitive search data analytics options | Relevant data analytics is hard to set up and customize to your liking |
Algolia Pricing Plan
Algolia allows for a free subscription but contains a fee based on your overall usage.
Algolia Search ($1.00 to $1.50 per 1,000 searches/mo): There are two options available for the Agolia Search options which are the standard and premium options. Both tiers offer analytics retention of 90 days, A/B testing, access to prebuilt UI libraries, NLP engine, and query suggestions. The premium version also offers I, dynamic re-ranking and synonym checker, advanced APIs, and an increase to 20 team members.
Algolia Recommend ($0.60 per 1,000 requests/mo): This system includes the full list of features at one price point. Everything from event analytics, recommendation API, related products, and frequently bought together integration are included.
The entire appeal of this enterprise search engine focuses on small to medium-sized businesses that aim to keep their costs low. I recommend starting out your plan with the $1 Algolia Search option before settling down for the premium version. Once your business starts increasing in search volume or you need to increase your team member count to 20, then it is time to upgrade.
3. Yext – Advanced AI Search Capabilities For All Industries
Best Self Learning Enterprise Search Software For Any Industry [$199 Per Year]
Artificial Intelligence (AI) has gone a long way when it comes to providing a compelling search experience. Most content management software integrates a form of AI-based learning to help deliver modern websites up to code with better usability and a faster search setup.
Yext uses a deep advanced AI semantic search solution that grows by learning through natural language processing (NLP) and full-text. This system allows the AI to generate recommendations in on-site search by utilizing key search terms. These keywords will then be processed separately using NLP machine learning to provide accurate search results instantly. 
The enterprise search software uses three components that make its advanced AI search solution more advanced than other competitors.
Learn through Natural Language Processing for context
Knowledge Graph syncing for a centralized direct delivery for all search queries on all platforms
Multi-algorithm approach that searches for structured, semi-structured, and unstructured documents based on your Knowledge Graph
Pros And Cons Of Yext
| | |
| --- | --- |
| Pros | Cons |
| Top-tier business search solution using proprietary advanced AI engine | A sophisticated tool that requires a high learning curve |
| Natural Language Processing for easy advanced automatic query suggestions | Partner listings for businesses can be limited depending on the package purchased |
| Easy directory listing management for businesses | Focuses too highly on custom AI-driven search engine |
Yext's Pricing Plan
Free Trial ($0/Limited Time): Entrepreneurs that want to use this search system can opt for a limited-time free trial.
Emerging ($4/week or $199/annual): All package plans include a free training session to improve Yext's Advanced AI search software. Every plan is committed to the last 12 months. A limited number of websites are available for listing.
Essential ($9/week or $449/annual): Same contents as the previous options but with more options to list your business including Google, Yahoo, Facebook, and more.
Complete ($10/week or $499/annual): All listing partners included. In addition, you gain access to their PowerListings+ program and usage of data analytics.
Premium ($19/week or $999/annual): Includes everything found in the Complete package with the addition of review monitoring and the usage of website widgets to enhance content on your website. 
Custom pricing differs per company on the usage of the advanced AI search engine. However, listing your business online is done through these available payment packages.
Yext's advanced search system is a great tool for medium to large-scale eCommerce-focused companies to use. The best bang for your buck, in my opinion, goes for the Essential Price Plan. 
4. Celebros – Best For Ease Of Use
Best Relevant Search Software For Companies With A Large Library Of Search Domain Choices [$950 Set-up Fee + $95 Per Month]
Finding the right site search solution can be challenging, especially when there are hundreds of IT companies out on the market competing for brand supremacy. Celebros is an enterprise search software that handles relevant search results using its natural language processing site search.
This enterprise search engine focuses on growing web traffic for businesses by utilizing its set of merchandising and conversion tools. The search tool powers complex websites with tons of merchandise stock and condenses it into a simplified yet thorough search platform.
The search UI build focuses on making intelligent navigation to help boost eCommerce conversion rates. Other tools that you can use in conjunction with the search engine include but are not limited to:
Dynamic Merchandising for category promotions and banner landing pages
Traffic Builder for your top searches
Full set of conversion analytics at your disposal
Pros And Cons Of Celebros
| | |
| --- | --- |
| Pros | Cons |
| Great for web pages with a huge library of search domain options | Extremely high price makes it hard to suggest for smaller companies |
| Easy to use and customizable site search engine | Analytics can come across as barebones compared to other top enterprise search software |
| Easy integration for multi-language sites | Integration of 3rd party applications can be tricky to use |
| Consistent and thorough support | |
Celebros Pricing Plan
All plans come with a hefty $950 setup fee.
Starter Plan ($49/mo): Allows for 1000 monthly unique searches and 1000 products per month. Gain access to Celebros' NLP search domain, visual merchandising, virtual categories, campaign and synonym manager, dynamic filter, and refinements. Also, the plan allows for manual data synchronization.
Base Plan ($99/mo): Increased monthly unique searches and products to 2000 per month with a lock-in 12-month term. Includes everything from the Starter plan but with automatic daily data synchronization.
Intermediate Plan ($299/mo): Large jump to 10000 monthly unique search results but still remain at 2000 products per month. Everything from previous plans included the addition of Celebros' advanced AutoComplete & AutoSuggest features alongside its unique Machine learning and AI capabilities.
Performance Plan ($499/mo): Increased capacity of monthly searches to 20000 with up to 5000 products per month. In addition, instant NLP search is available for users of this plan.
Premium Plan ($799/mo): Highest capped plan at 50000 unique monthly searches and 10000 products per month. This plan also comes with full guided navigation for a larger number of products.
Enterprise Plan ($$$/mo): Custom-priced plan that can go above the 50000 unique monthly searches and 10000 products per month listing. Features such as product finder, cross-sell product recommendations, personalization options, B2B & B2C profiles, multi-lingual support, and voice search are available as add-ons for this plan.
This enterprise search solution requires a 12-month lock-in period that can suit medium to large businesses that contain a large library of data to best utilize this system.
I highly recommend most companies to start with Celebros' starter plan before settling with other options. Once you feel that this is the right software for your business, then you can move on to higher-tier plans.
5. Swiftype – Easiest For Web Content Management
Seamless Integration Of Search Software For Websites [$79 Per Month]
Most companies would already have a website that they have personalized and molded to fit their brand's ideals. This system allows for easier web content management should there be a need to conduct a data search or access usage insights without any worry about 3rd party plans.
Swiftype is a leading provider when it comes to its ability to implement advanced capabilities in search software. Their software allows entrepreneurs to easily integrate their custom search platform into your website using a code-free rollout. You also gain access to their search engine's complete list of valuable tools and formats as part of your site's user interface.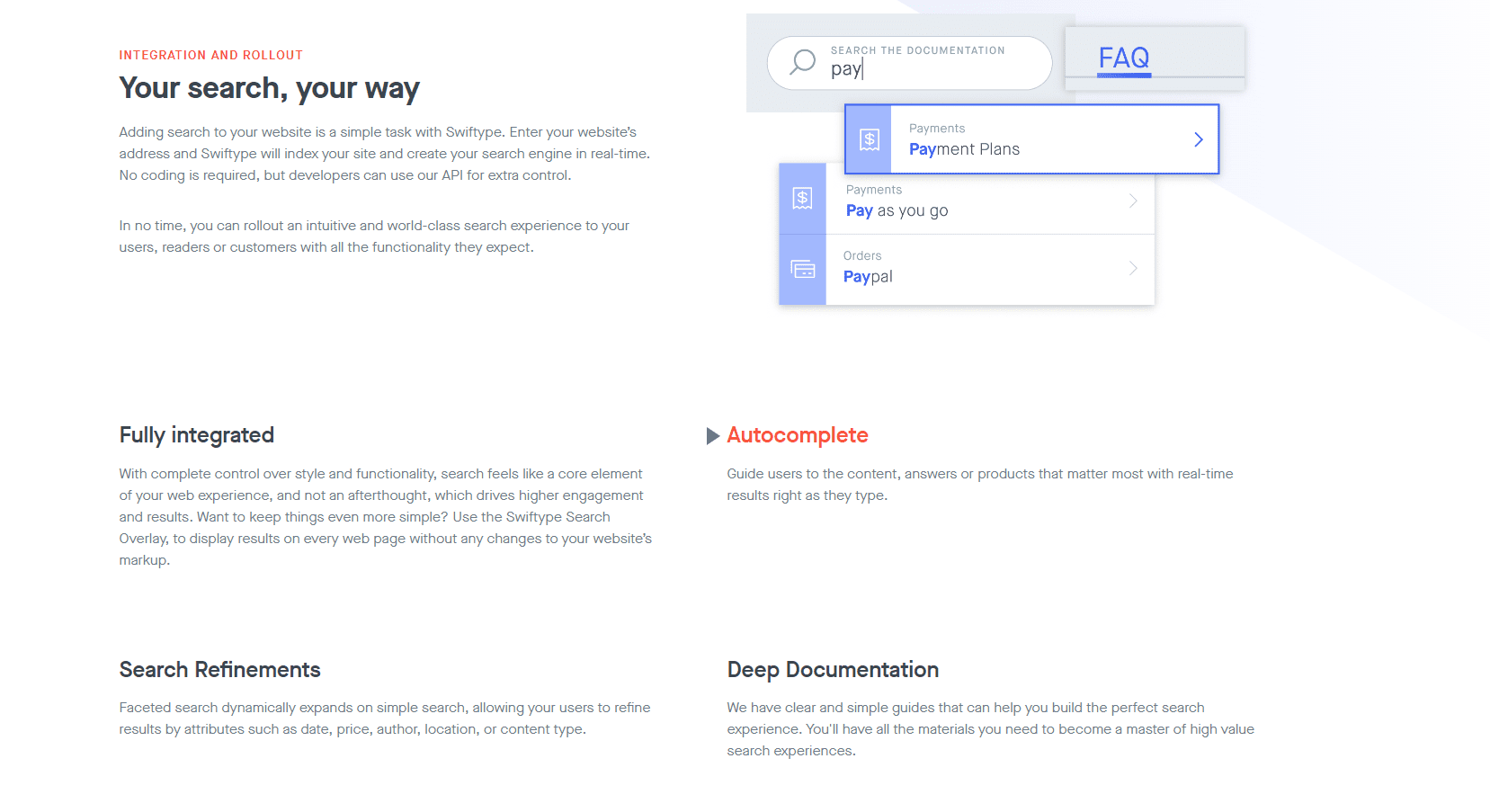 Some of the features that you can have with this fully managed software service include the following:
Secure enterprise search system
Deep documentation of all relevant data
Optimized real-time automation
Search refinement availability
Full integration to match your website's style and functionality
Pros And Cons Of Swiftype
| | |
| --- | --- |
| Pros | Cons |
| Simple search functionality integration | More notable features are locked away on the higher-priced plans |
| Full access to data analytics through your website's enterprise search software | Response time and accuracy are not as profound as other competing search software |
| Customizable site search personalization | No configuration options for indexing documents |
Swiftype Pricing Plan
Free Trial ($0): Swiftype offers a 14-day free trial for any user to experience the seamless integration ability of their search software.
Standard ($79/mo): This plan includes the core search features, a weekly crawl with a once-per-day manual allowance, and automation for recrawl every 3 days. Also, gain access to Swiftype's search analytics data sources. In addition, an unlimited number of users can use the Swiftype site search system with its multilingual support.
Pro ($199/mo): Includes every benefit of the standard plan but with an increase of 2 crawls per day. Manual recrawls can be done once per hour while automatic recrawls happen every 12 hours. The plan also allows Swiftype site search to conduct a cross-domain search for an additional $30 per domain. Also included features are an audit log, advanced crawler settings, document management systems for indexing, and custom extraction. 
Premium (Custom Pricing): This custom-priced plan provides both enterprise-level security and SLA. It also comes with a personalized account manager for your website, commercial TOS, and an expert implementation team to help increase the rank of your website and products. Recrawls are automatically done consistently to provide the most accurate data analytics per refresh. 
As with any software that offers a free trial period, do not hesitate to use that promotion to help determine if your businesses will benefit from their offering. Swiftype caters best to small and medium-sized businesses with the benefit of no limit on team member usage. I recommend utilizing the Pro Plan early, especially if there are plans for your business to branch out into other domains.
6. Apache Solr – Free Open Source Alternative
Best Enterprise Search For Small Companies With A Limited Budget [Free To Use]
Most enterprise search software will cost businesses a large sum of money to operate. The more extensive the feature set of each software, the higher the advanced search techniques. However, there are easier alternatives out there for prospective small companies that want to scale their business without settling on paying a hefty price.
Apache Solr functions as a completely free, open-source enterprise search platform. This software has rich search capabilities without needing to feel restricted on a price plan. In today's business world, saving money can be easily done with the right knowledge and tools to operate various programs.
This scalable open-source enterprise search engine allows users to tailor their business data into a seamlessly integrated system. With this software, you have the capacity to rival the index lifecycle management and unique JavaScript-based technology of other enterprise search software, provided that you have the knowledge to operate a complex program.
Pros And Cons Of Apache Solr
| | |
| --- | --- |
| Pros | Cons |
| Completely free to use for all users | Require extensive programming knowledge |
| Can set it to integrate with all your 3rd party applications and website seamlessly | Tutorial can be hard to understand for new users |
| Have relevant results appear more frequently | Higher potential for errors due to bugs and improperly installed software |
| | Guides and information is fairly limited |
Apache Solr Pricing Plan
Free Download ($0): This is an open-source enterprise search software that allows for a completely free experience for all users. All you need to do is to follow the steps instructed and run through the tutorial to fully use this software to its highest potential.
The open-source approach of Apache is not restricted in its ability to provide a high-functioning search experience. However, this type of software can only be recommended to small-scale businesses that can have the time to manage the program more thoroughly. Since this software is completely free, you can take advantage of learning the ropes on how to make this work if you have the time and dedication.
7. Searchstax – Complete Data Analytics Information
Best Enterprise Search For Customer Data Collection And Analytics [$499 Per Month For Single Site]
Information is key during crucial business decision-making. The more enterprise data you have from your customers, the higher potential you have at further driving up sales for your business. As such, it is important that you have secure connectors with your data analytics.
Searchstax emphasizes the ability to use relevant results and turn them into data that you can use to make adjustments fast. This search software allows for easy insights on search volumes, click-through rates, top content, average click position, and more. 
This enterprise search platform prioritizes features that can help understand the data from your customer such as:
Synonyms Management
Custom Ranking
Geo-Search
Spellcheck
Auto-Suggest
Facets
Search API
Pros And Cons Of Searchstax
| | |
| --- | --- |
| Pros | Cons |
| Equipped with data-driven analytics | Lacks additional features compared to other search engines |
| Integrates well with personal website | Steep pricing |
| Easily personalized search | |
Searchstax Pricing Plan
Searchstax offers two different pricing options depending on the software that you want to be bundled with it. However, there are various tier-based prices for each option.
Single Site ($499/mo): This price option includes all the core search functionality and components from analytics, UX accelerators, relevance checkers, search personalizations, search experience adjustment, and support & SLAs. The single-site option is also limited to 100 thousand search requests but is upgradeable up to 1 million for a custom price. Also, analytics retention stays for 90 days and a cap of 50 thousand items for indexing.
Multi-Site ($699/mo): Enterprise search software available to 3 different websites. All options included from single-site are included in this price plan. In addition, an increased cap to 100 thousand items for indexing and retention for analytics data increased to 1 whole year. Also, search requests are still limited to 100 thousand with the option to upgrade up to 5 million for a custom fee.
Custom: This volume-based solution is perfect for businesses that have an ever-growing library of products and global reach. Complete unlimited website integration for Searchstax's search engine. 100 thousand search requests with an infinite upgrade available for a custom price. No limit on items indexed and analytics retention for 1 year or more depending on your company's needs. Lastly, this price point includes a dedicated search infrastructure. 
Searchstax is a great option for medium to large-scale businesses but is hampered by the high asking price, which only larger establishments can comfortably afford early on. For large companies looking for a reliable search engine with complete data analytics, then the multi-site option is a great option for its tremendous value.
8. Salesforce – Best For AI-powered Search Relevance
Best Enterprise Software For Account And Leads Managemen [Custom Pricing]
Salesforce is an AI-powered search tool that uses NLP to easily find specific information. Salesforce seems to have solved the enterprise search problem. In spite of a limited set of data, the company is utilizing AI to help deliver more relevant results. For now, it's limited to accounts, contacts, and opportunities, but over time, the company plans to expand.
Pros And Cons Of Salesforce
| | |
| --- | --- |
| Pros | Cons |
| Significant amount of customizable features | Case-to-case problems can take time to solve |
| Cloud-based functionality eliminates the need for on-premises connectivity | Requires specific knowledge of what is needed to choose the right features |
| Provides multiple avenues for technical support | May lead to trying too much too soon |
Salesforce Pricing Plan
What makes Salesforce great is its ability for users to customize their plans and features depending on the specific needs of their company. Features and plans can cater to businesses, large or small, and can accommodate high levels of data. Here are the three basic packaged plans for small businesses to consider:
Small Business Solutions ($25/mo): Organises critical business information all in one place and connects your email to automatically view customer details. With that businesses can answer customer queries faster and keep them abreast of their concerns. 
Sales Professional ($75/mo): This plan offers streamlined account and contact management, opportunity tracking, lead management, and a fully customizable report and dashboard. All these are great for management teams when planning their next steps in business growth. 
Service Professional ($75$/mo): Includes professional features plus: workflow management, enterprise territory management, profiles and page layouts for essential team members, and customized app development. 
Users can also search for the right package and features based on the industry they function in. Each option comes with its own list of recommended features but still allows you to add or take out things that are not necessary. To do so, you can speak directly to a Salesforce representative for the best plans and prices based on need.
Salesforce offers up tons of customizable features and plans aimed at targeting the specific business needs of each client. It can be overwhelming to pick and choose, but starting with the Small Business Solution is a great starting point. Should you require more features, it's easy to contact support and discuss additions or changes to your current plan.
Conclusion
The critical factor to note when choosing a search platform for your company is to consider its ability to explore site suggestions and the way it handles file-sharing services such as Elasticsearch. 
One thing to note about enterprise search engines is that advancement in AI allows end-users to experience a more seamless experience. Software such as Yext focuses primarily on developing their machine-learning AI to generate recommendations faster than other engines.
However, the overcrowded nature of IT software available would mean that there is an abundance of features that more than one provider will deliver. Take the time to read reviews and check the price plans that will suit your company's needs.
eCommerce businesses can take full advantage of enterprise search engines that cater to increasing sales. Algolia and Celebros are perfect for those that want a company that can do more than provide excellent search engines.
But to those that want to integrate a competent search functionality to their already established website, then options like Swiftype and Apache Solr are your best options. The latter can also be a great option for those that have the knowledge and skills at coding as it is entirely free to use.
Discover more tools for your business that streamlines efficiency and productivity by visiting us at Novum.