Enterprise Resource Planning, or ERP, is a method companies employ to integrate the important aspects of their business. They do this with ERP software that helps knit all vital processes under a single system. ERP for small businesses is the fundamental piece of a kit in almost every industry.
Other than the key processes of a company, an ERP system can also help integrate entire divisions of the workforce. Planning, finance, marketing, logistics, human resources, and other arms of a company function under one system. All communication and data reporting are then aligned under one constituency.
Every small business or large corporation today requires an ERP solution for all important business management needs. As an avid researcher in the world of business planning and data analytics, I'm always looking for the best solutions that help streamline business needs and workflows.
In this post, you will discover the 8 best ERP software in the market today. After reading this article, you will be on course to pull the trigger on a dedicated and reliable ERP software solution for your professional services.
What Is The Best ERP Service?
Here is a quick comparison of my top three picks with their ratings and features that make them stand out and take the lead: NetSuite, Acumatica, and SAP Business One.
| | | |
| --- | --- | --- |
| 4.9 | 4.7 | 4.2 |
| Best overall. Cloud-based business management platform. Great for businesses of all kinds. | Feature-rich. Customizable and intuitive software with powerful integration tools available. | Best for flexibility. Affordable and powerful while being highly easy to deploy and start using. |
| Try NetSuite | Try Acumatica | Try SAP Business One |
Read below for the detailed coverage of my selection. Here's all you need to know about the top ERP services to buy for small businesses in 2022.
1. NetSuite – Top Pick
The Best In Class ERP For Small Businesses Globally [Custom Pricing]
NetSuite is a cloud ERP solution for every business size and scale and presents itself as the first and last contender in the category. The all-in-one cloud business management software aims to streamline work processes with exceptional transparency. Its integrated management suite ensures tight control over all business processes.
Businesses deploying the NetSuite ERP solution can easily compress operational and financial performances in a single system. The software allows users to gain a visual representation of their data and has solutions for managing supply chain, accounting, processing, and inventory.
NetSuite is big on automation too, and lets users automate manual tasks for easier workflows. Businesses can also tie in multiple subsidiaries, legal entities, and business units under the same software for better global management.
Its strengths are highlighted as a financial management application too. With state-of-the-art reporting and analytics on its side, businesses can quickly get all data on procurement order processing and invoicing. It is also the ideal ERP software for any supply chain management needs.
NetSuite boasts a large user base already and is trusted globally by thousands of companies as the primary enterprise resource planning software. It promises to eliminate discrepancies and free up the time and resources startups would need to remain competitive in a shifting business landscape.
Pros And Cons Of NetSuite
| | |
| --- | --- |
| Pros | Cons |
| Configurable subsidiary structure | Managing multiple profiles can be cumbersome |
| Custom reporting and analytics | |
| Audit tracking functionality built-in | |
| Great third-party integration and support | |
NetSuite Pricing Plan
NetSuite caters to all business sizes and scales and has a custom pricing plan for specific business requirements. You can request a quote for your company's exact needs.
NetSuite is by far the most well-known ERP platform available today, and for good reason. Their services and solutions are some of the best in the class.
2. Acumatica – Feature-Rich ERP For Every Scale
ERP For Small Business Packed With Features And Utility [Custom Pricing]
Acumatica is a feature-rich cloud ERP platform that helps businesses navigate the digital world with ease. Ideal for eCommerce and traditional businesses, this business management software aims to meet the requirements of midmarket companies and their clients. Acumatica seamlessly integrates all aspects of your business.
This ERP platform is a clean and easy-to-use software powered by the tools already present in every company. It empowers collaboration with cross-module workflows and provides data transparency from any device. Acumatica is also renowned for its top-notch scalability – helping businesses of all sizes and scales.
Everything from inventory management to resource management reporting can be powered with Acumatica. A custom marketplace for powerful integration tools is also present with business tools that further enhance the ERP's capabilities.
Acumatica also bolsters its suite with enterprise-grade security and privacy standards and allows users to set custom permissions for collaboration in and outside the company. It also features a handy CRM solution, aiding sales, service, and marketing teams.
The ERP solution is ideal for companies of all sizes and scales, and since it's entirely cloud-based, scalability is easy and painless. Businesses can opt for features they require and tailor the product to their specifications. It helps keep clutter to a minimum and enables faster delivery turnaround times and more efficient decision-making.
Automatica aims to accelerate growth with this custom ERP solution and looks to help sustain a successful business process environment for every company around the globe. With hundreds of trusted clients, Automatica is pioneering the ERP space with its feature-rich profile and scalability options.
Pros And Cons Of Acumatica
| | |
| --- | --- |
| Pros | Cons |
| Ready-to-use functionality out of the box | Steep learning curve in the user interface |
| Detailed financial and project management reporting | |
| Cloud-based integration ensures easy deployability | |
Acumatica Pricing Plan
Acumatica offers custom pricing plans for every business regardless of industry, size, or scale. The company encourages you to request a personalized quote for your company directly through their website.
All in all, the ERP solution ranks second-best in our list due to its powerful capabilities, ease of deployment, cloud architecture, and ability to streamline business processes. The Acumatica marketplace is unique in its ability to integrate existing tools and platforms and is a solid all-rounder on our list.
3. SAP Business One – Most Powerful Workhorse
The ERP for Small Businesses With The Most Customizability To Offer [Custom Pricing]
SAP Business One is an all-in-one (AIO) solution for businesses of all types, sizes, and scales. From accounting and finance to inventory, sales, and customer relation management, SAP Business One can do it all. This powerful ERP Suite helps you gain better control over all aspects of your business.
SAP Business One is also one of the few ERP solutions to offer its services either through the cloud or on-site. On-premises solutions like these don't come cheap, but this ERP has its claim to fame as being one of the more affordable options. It also offers integrated business intelligence capabilities.
Integration with business operations tools is also possible, making it one of the few with a robust working format. SAP Business One is also easy and quick to deploy in any business environment and allows for instant onboarding too. Its true utility can be seen as accounting software.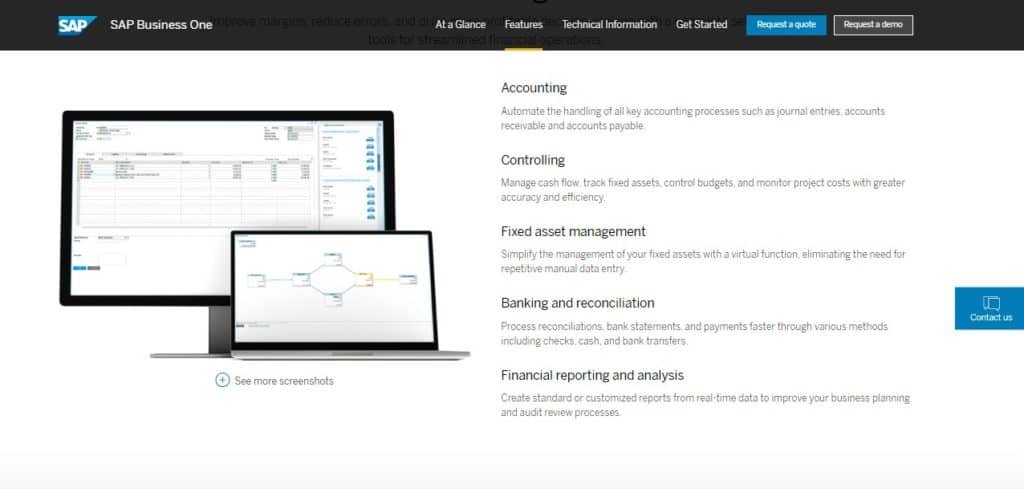 Businesses can aim to improve margins, minimize financial errors, and make more profitable decisions. It also features order management and more transparent inventory and purchasing controls. Analytics and reporting are also its strong suit.
From an ERP software standpoint, SAP Business One is one of the finest in the industry. Businesses have trusted the platform, and those already using SAP HANA will find themselves in familiar territory with easy and powerful integration.
Pros And Cons Of SAP Business One
| | |
| --- | --- |
| Pros | Cons |
| Fast implementation and deployment | Software can prove to be a test for some new users |
| Allows for automatic alerts for critical information | |
| SAP HANA integration | |
| Increased transparency in business operations | |
SAP Business One Pricing Plan
SAP Business One caters to all business sizes and scales but provides custom pricing or plans. You can request a quote for your company's exact needs through SAP Business One's website.
SAP has been in the business solution industry longer than most on this list. It has the pedigree to make its ERP system an easy recommendation for any small business looking to get started.
4. Genius ERP – Great All-rounder For Every Scale
Solid ERP Software For Small Businesses In The Manufacturing And Supplying Space [Custom Pricing]
Genius ERP strays from the rest of the software in this list with its emphasis on industry specialization. The ERP solutions provider is aimed at businesses in the manufacturing segment of the industry. This specialization enables Genius ERP to be the best fit for companies operating in this domain.
Another key part of the company's specialization is that it prioritizes small-to-medium sized businesses primarily, although larger corporations are welcome to use their solutions. The software aims to simplify custom manufacturing from the engineering process to the delivery.
Genius ERP is a complete toolkit for custom manufacturers looking to take control of every part of their business operations process. It features great automation options, estimates with high accuracy, and looks to reduce all manufacturing bottlenecks. From the design and planning stage to delivery, Genius ERP manages it all.
Genius ERP also has solutions other than their software, which include professional experience and consultancy services for on-field expertise. Their ERP solution has strong accounting, product engineering, project management, sales CRM, and vendor management tools.
Their solutions are provided as a software-as-a-service (SaaS) and constantly look to bolster relationships with manufacturing businesses by providing more than ERP software. Their team of solution architects, consultants, and technical analysts provides unparalleled support for manufacturing businesses of all scales.
Finally, Genius ERP can tailor-make their ERP solutions for their clients. Genius ERP offers customized solutions for companies depending on their size and manufacturing output, which helps improve business efficiency and volume of deliverables. t
Pros And Cons Of Genius ERP
| | |
| --- | --- |
| Pros | Cons |
| Report editing abilities are best in class | Geared toward the manufacturing industry |
| Well-trained team of specialists for ERP implementation | |
| Customized options for businesses of all sizes and outputs | |
Genius ERP Pricing Plan
Genius ERP has custom pricing plans available, and these can be requested as a quote directly through the company. The ERP solutions provider caters to specific requirements. The true quote isn't available at this time.
For businesses in the manufacturing space, there are few better options available than Genius ERP. Their custom solutions make them an easy recommendation for anyone in the relative industry.
5. Oracle Fusion Cloud ERP – Best Mainstay In The ERP Space
An ERP For Small Businesses Looking For Cloud-First Solutions [Custom Pricing]
The Oracle Fusion Cloud ERP is the best choice for smaller companies looking for cloud-ready deployment. The suite comes powered with the most advanced AI automation capabilities and automatic updates to ensure the software is running at peak efficiency. Oracle's offering simplifies workflows for the entire company.
It does this by using machine learning for predictive planning and forecasting so users can employ wider datasets and speed up overall response times. And with the help of its AI, up to 96% of tasks can be automated on Oracle Fusion Cloud. These tools help in a variety of business functions.
With Oracle Fusion Cloud ERP, users can bring financial, project management, procurement, supply chain, and warehouse management all under the same roof. The ERP is powerful enough to be deployed in various industry types and offers unparalleled scalability due to its cloud-first architecture.
Pros And Cons Of Oracle Fusion Cloud ERP
| | |
| --- | --- |
| Pros | Cons |
| Easy navigation and setups through the functionality of each of the modules | Some new users may take time to get used to the interface |
| Easy export of information from each of the ADF-based web pages to Excel | |
| Powerful AI automation assistance | |
Oracle Fusion Cloud ERP Pricing Plan
Oracle Fusion Cloud ERP caters to all business sizes and scales but does not provide fixed pricing at the moment. You can request a quote for your company's specific needs through the company website.
Few can rival Oracle's pedigree in the software development world, and their ERP is no different. As one of the pioneers in this technology, Fusion Cloud is an easy recommendation.
6. QuickBooks – Best Cloud Accounting ERP For Businesses
All-In-One Cloud-Ready ERP for Small Businesses [Custom Pricing]
QuickBooks is an efficient and simple ERP solution for small and medium businesses. Thanks to its cloud-ready architecture, it lets you manage sales, time-tracking, inventory, reporting, and payroll from anywhere in the world. QuickBooks ties every aspect of business operations to one place.
QuickBooks is also one of the few ERP systems for small businesses that offer transparent pricing. Packed with features, this ERP is the best choice for businesses looking for a quick and easy solution to deploy. It is also flexible to every business's unique needs and can be customized based on the requirements.
The ERP platform features handy tools such as inventory management, auditing, sales customer relationship management, and order management. It does this with automation built into its core and aims to speed up business processes across the board. The ERP also features a robust app library with additional plugins and integrations to help further streamline operations.
Due to its recent foray into the ERP space, QuickBooks has some teething pains. But its vast third-party support and ease of use make it a solid recommendation for SMBs.
Pros And Cons Of QuickBooks
| | |
| --- | --- |
| Pros | Cons |
| Easy to use and learn for first-timers | Lack of industry and business-specific features (such as lot tracking, eCommerce, and barcode scanning) |
| Flexible third-party applications and integration with other systems | Instability/system crashes |
| Affordable prices for small businesses | |
QuickBooks Pricing Plan
The pricing structure for QuickBooks is as follows:
Simple Start [$12.50/month]: Offers a host of features, including income and expenses, invoices and payments, tax deductions, cash flow, and general reporting.
Essentials [$25/month]: It offers all the features included in the Simple Start plan plus bill management and facilitates 3 users.
Plus [$40/month]: This plan includes all the features of Essentials but can facilitate 5 users. It also offers reporting on inventory management and project profitability.
Advanced [$90/month]: Offers a host of features, including business analytics, customized access, workflow automation, batch invoices, and expenses. It also includes a dedicated support team and training.
The Essentials plan is a good place to start until you decide which features are most important to your business.
7. SYSPRO – Best Business First ERP Solutions
ERP For Small Businesses In Manufacturing And Distributing [Custom Pricing]
SYSPRO ERP solutions are one of the best options available to businesses in the manufacturing and distributing sector. Its cloud-ready environment makes for easy deployment for all business sizes. The ERP system enables seamless reporting and tracking of all business data, analytics, and reports.
The ERP platform ensures streamlined business processes so you can focus more on faster delivery times and error-free outcomes, thus ensuring increased profitability. Founded in 1978, the company boasts a significant pedigree over other offerings too. Its solutions are some of the best in ensuring smooth deliverables and efficient workplace management.
The SYSPRO ERP software can provide cost-controlling measures, traceability, financial management, warehouse management, supply chain management, and process improvement suggestions. Today, SYSPRO is deployed in a multitude of industries and is trusted globally by hundreds of manufacturing companies.
Pros And Cons Of SYSPRO ERP
| | |
| --- | --- |
| Pros | Cons |
| SQL support makes report writing easy | Difficult to learn for fast rollouts |
| Great user interface with clean and customizable layout choices | Support response times are slow |
| Forms and reporting templates are easy to modify and edit | |
SYSPRO ERP Pricing Plan
SYSPRO does not offer a fixed pricing plan at the moment, but its plans can be customized based on business size and industry type. Request a quote for accurate pricing.
SYSPRO has trusted the world over, and for good reason. The company has almost 50 years of industry experience and is utilized by businesses the world over.
8. FinancialForce – Best Cloud Salesforce ERP Platform
Customer-Centric Financial ERP For Small Business [Custom Pricing]
FinancialForce helps you put your customers at the center of everything you do. It gives you a full-color picture of your business from a customer-centric point of view. With the assistance of a single customer account record, you get a source of truth you can trust and use to streamline business operations.
FinancialForce accelerates business growth with Professional Services Automation (PSA), customer-centric ERP, and Customer Success solutions. It is run on the leading cloud platform, Salesforce, and enables businesses to unlock valuable customer insights and create innovative experiences off its back.
If you are running a digital business and want to achieve accelerated growth and build a resilient structure, FinancialForce will be your partner in that. It is a platform that has achieved recognition and success in doing the job as promised.
FinancialForce enables businesses to handle orders from multiple channels in a single system due to its robust reporting and management tools. It unlocks a new way to optimize existing payment processes while ensuring all datasets in the financial sphere remain accessible, transparent, and scalable.
Pros And Cons Of FinancialForce
| | |
| --- | --- |
| Pros | Cons |
| Comprehensive spreadsheets and dashboards | Financial reporting is tricky to use |
| User-friendly and modern interface | Systems can be slow when overwhelmed with data |
| Easy scalability for smaller businesses | |
FinancialForce Pricing Plan
FinancialForce has a simplified and scalable pricing format but does not offer clear plans online. You can request a quote from their website.
FinancialForce is a great recommendation for any business looking for an agile ERP solution for their real-time needs.
Conclusion
Enterprise Resource Planning software has become the lifeblood of businesses the world over. Today, most companies simply cannot function efficiently without a reliable and capable ERP solution at the helm. These platforms continue to evolve and improve business processes and operations globally.
With the internet littered with options, selecting the right ERP solution for your company can be the single-most-important decision for your business' longevity and success. Based on my experience and current trends, I have highlighted the most prominent options for you to explore today.
My top choice in the vast ERP market is NetSuite. For complete customization options and scalability, Acumatica and SAP Business One take second and third spots, respectively. If you're looking into ERP software and want your business operations streamlined, I'd recommend selecting any of the previously mentioned options.
My list features some of the most capable options available in the market today. All ERP software essentially does the same functions, but finding one that fits your business's unique requirements is easier said than done. My list of the best recommendations should be a great start.
Visit our blog today to know how to navigate the business space and other handy tips. Everybody can use our comparative reviews and in-depth analyses.