Looking for the best field sales software you can get for your reps? You're in the right place. I've got my favorites listed down for you.
I've been managing my business for over 10 years now, and this is what I learned: while most leads can be found online, your client circle will increase significantly when you also cater to those who prefer being reached out offline.
But the traditional pen and paper won't suffice to fill the needs of the evolving field sales dynamics. Business processes and sales operations are getting more complex by the day.
So I've compiled the best field sales software for 2022 for you to check out.
Let's get right to it.
What Is The Best Field Sales Software?
If you're in a hurry, check out my top 3 picks at a glance: SalesRabbit, ForceManager, and Skynamo.
| | | |
| --- | --- | --- |
| 4.8 | 4.5 | 4.2 |
| Best overall. Excellent inclusive field sales software with full features. Starts at $0.50/lead. | Best for flexibility. Field sales software with offline connection availability. Starts at $34/month. | Easiest to use. Highly optimized field sales software for fewer administrative duties. |
| Try SalesRabbit | Try ForceManager | Try Skynamo |
Need to know more before you can decide? Here's the full detailed list:
1. SalesRabbit – Top Pick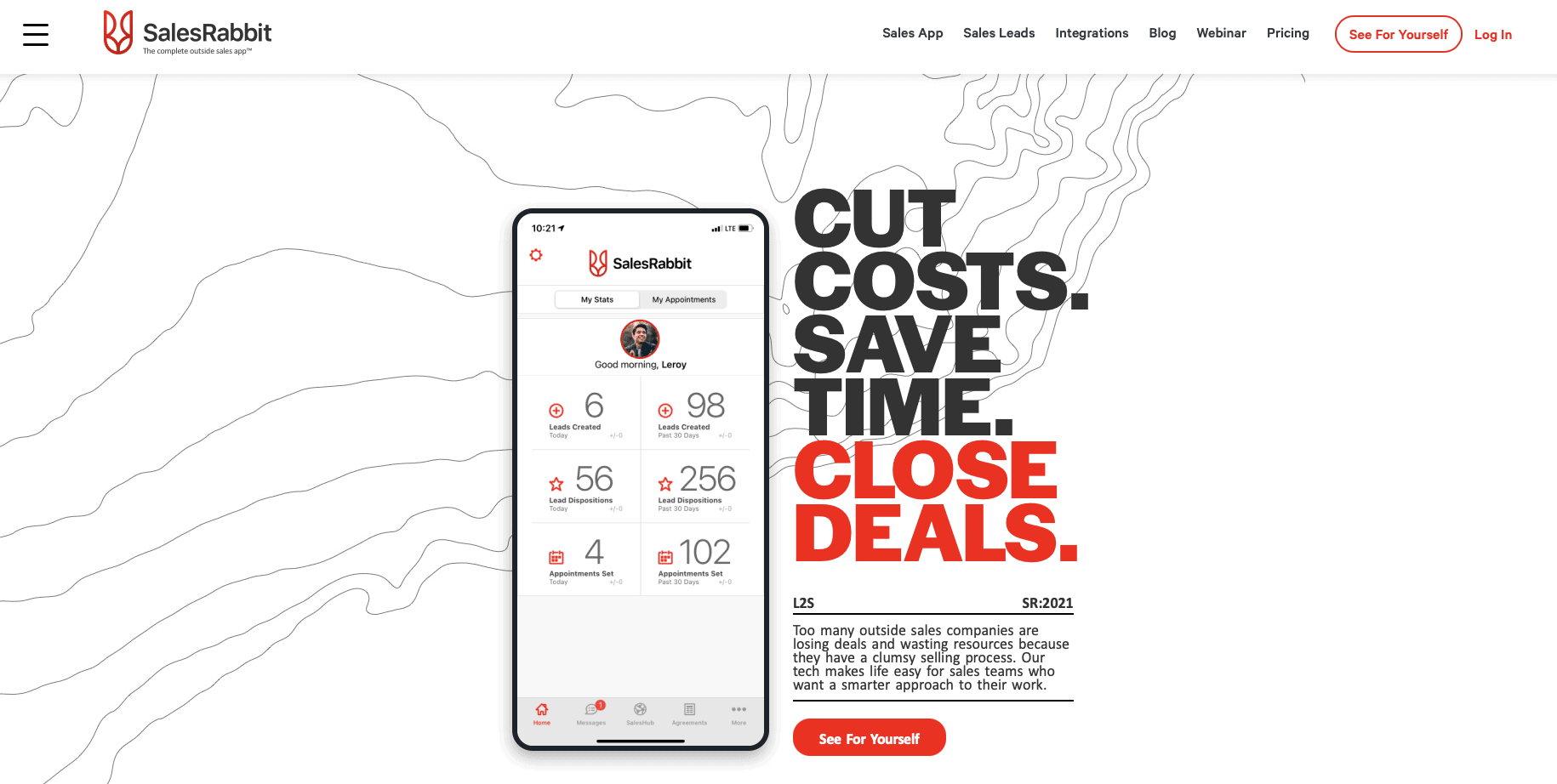 Most Comprehensive Field Sales Software [Free Version | $0.50/lead]
With SalesRabbit, you can enjoy all-inclusive field sales software solution. It works as a sales enablement service and mobile CRM (Customer Relationship Management), designed entirely to support outside sales. 
It comes with team management functionality that includes tools for:
In-app messaging tool
Sales territory mapping
Sales rep tracking system
Sales rep performance leaderboards
With these tools, managers can track field sales reps and communicate with them quickly. It also analyzes the reps' performance so they can make the necessary adjustments.
This software also comes with lead management functionality.
It includes a lead stacking tool which can be useful when pinning leads on apartment complexes. It stacks the leads into the list of one location where you can still pull out data of specific leads individually.
To avoid a mix-up of schedules, this software comes with an Organize And Notify feature to get everything in order and avoid dropping leads out of the funnel when their scheduled meetings are forgotten.
It also includes a Route Planner so you can prioritize leads and map out where you should head for the day.
When you get to the meeting with clients, the Presentation And Proposal feature will come in handy.
With it, you can upload and organize documents, training materials, and sales materials.
You can also play high-quality video presentations and illustrate points using the sketch tool.
Closing a deal is also made easy and digital.
This field sales software comes with a form and contract builder, which can be signed digitally to streamline processes and minimize transaction time.
Lastly, to make sure you aren't wasting your time pitching to the wrong people, SalesRabbit does credit and title checks to make sure the leads are qualified enough to convert as customers.
Good news to managers, SalesRabbit offers a GPS tracking tool to assist you in tracking down your sales reps' whereabouts.
Pros And Cons Of SalesRabbit
| | |
| --- | --- |
| Pros | Cons |
| Easy appointment setting | Map isn't very up-to-date with new buildings |
| Keeps accounts organized | Needs narrowing down on homeowners pinning feature |
| Great in lead tracking | Dropdowns get stuck |
| Links calendar to notify on scheduled appointments | |
| Lets you focus on prospects | |
SalesRabbit Pricing Plan
SalesRabbit has seven pricing plans. The first one includes all the features, while the rest are task-specific plans.
SalesRabbit ($35/user/mo): This first plan comes with all the features to make outside sales successful.
DataGrid AI ($19/user/mo): This plan includes complete information about each destination they'll go to before they visit it.
Digital Contracts ($12/user/mo): This plan allows you to upload PDFs, build custom contracts, and get them eSignatures from clients.
Learn ($12/user/mo): This plan is a comprehensive learning platform for outside sales teams.
Movers ($0.50/lead): This plan includes tools to get you notified of new mover leads in any US area.
Weather ($19/user/mo): The Weather plan gets you access to in-app map overlays and historical weather reports.
Boost ($2000/mo): This plan is composed of a digital marketing technology to increase close rates of outside sales reps.
SalesRabbit comes with a free version where you utilize the lead management and appointment setting tools. You can take advantage of this first and scale to the SalesRabbit plan when the need arises.
Interested? Visit their website to learn more.
2. ForceManager – Offline Availability
Best Field Sales Software For Simplifying Tasks [Starts at $34/mo]
ForceManager has specifically-designed features for making fieldwork easy for field reps.
Access all the sales information you need during a client visit using its mobile app (available on iOS and Android devices).
With this app, accounts and opportunities are geolocated so that outside reps can manage their accounts and follow up on prospects on the mapping system and dashboard.
It shows key data you'll need to be up to speed with before meeting the client face-to-face.
Added to that is the What's Next feature that provides the following:
Updates on specific deals
Quickest routes for your client visits
Suggested drop by on nearby accounts
It's equipped with a recording function to review sales calls and visits and accurately keep note of the discussion and agreements made.
You'll also enjoy a personal AI feature combined with the sales activity data to get real-time recommendations.
Last but not least is an optional add-on feature called GoalManager that allows reps to track and visualize targets to increase productivity by 20%.
Pros And Cons Of ForceManager
| | |
| --- | --- |
| Pros | Cons |
| Intuitive user interface (provide 360° overview of the entire sales process) | Glitches on the geolocation feature |
| Can be used offline | Closed system, changes need to go through the support team |
| Helps reps focus on client needs | |
| Keeps meetings and negotiations organized | |
| Creates activity analysis | |
ForceManager Pricing Plan
ForceManager has three pricing plans. All three have the following basic field sales features:
CRM integrations
10 GB data storage
Sales activity timeline
Real-time notifications
Pre-configured reports
Team performance analytics
The plans mainly differ in how many users are granted.
Small Business ($34/mo): The Small Business plan allows for up to four users.
Business ($59/mo): The Business plan enables up to five users.
Enterprise ($94/mo): This plan lets you have up to twenty users.
Before committing to a plan, take advantage of the free demo to make sure you get the right plan for your needs.
For more information on ForceManager, visit their website.
3. Skynamo – Most User-Friendly
Best Field Sales Software For Manufacturing & Distribution Services [Custom Pricing]
If you sell physical products, Skynamo is your best choice.
This tool will help you cut down on admin tasks data entry so sales reps can spend more time selling.
With it is a digital full-color catalog containing all available products that potential clients can scan.
Capture orders right in the field by accessing the product info like prices, stock levels, and discount offers.
Plus, you don't need to head back to the office to fulfill orders. You can submit digital order forms to reduce order turnaround time and ensure their accuracy.
It comes with a performance tool where you can set weekly goals and get them analyzed to make better sales.
When planning your field route for the day, this tool makes it easy for you with a live customer location and route planning feature.
You can even see which customers are overdue, so you can prioritize them for a visit.
Best of all, it provides you with a database of customer information and history so you can engage with customers prepared and have better chances of landing a sale. 
Skynamo promises to provide everything you need from a field sales app. Its team of experts delivers the promise by developing the sales platform as field sales management software.
Here, you can expect to perform any of the following functions:
Automated sales analysis with real-time reporting
Streamline your CRM and contact management (including products ordered)
Sales team management
Capturing and tracking live orders
Integrate your current accounting and ERP software
Pros And Cons Of Skynamo
| | |
| --- | --- |
| Pros | Cons |
| Great after-sales support | Contact section needs more options |
| Easy to use with clear data visibility | Insights interface requires improvement |
| Includes functions for additional revenue | |
| Also offer an order management solution | |
| Option to add multiple forms for multiple customers | |
Skynamo Pricing Plan
Skynamo doesn't provide a structured pricing plan.
You have to fill up a form on their website to request a pricing plan and get more information on the feature set. However, you can also request a demo at the same time.
4. Repsly – Reverse Logistics Enabled
Best Field Sales Software For Retail Execution [Custom Pricing]
Repsly is best for field sales teams that need to make decisions at the store level to win shelf share.
It provides insights to execute merchandising programs and grow incremental sales.
With it, reps can let clients view product details and place orders right on the spot.
It also equips reps with a customizable product catalog and price list plus an order entry tool for faster order turnarounds.
Moreover, it can process returns from the store. Sales reps are equipped to handle reverse logistics with a workflow for accepting and tagging returns fast. 
To improve sales performance, this field sales software provides real-time coaching insights for the team's performance with scorecards and trended summary dashboards.
Additionally, to streamline team collaborations, this tool comes with a team scheduling feature.
It improves execution and territory coverage with targeted tasks and recurring schedule management.
Lastly, supervisors and managers can ensure sales reps are doing what they're expected to in the field.
This tool has a feature for tracking work time and distance traveled by sales reps using a GPS. It records the following:
Route traveled
Distance covered
Start and end time
Pros And Cons Of Repsly
| | |
| --- | --- |
| Pros | Cons |
| Collaboration tool increases productivity | Scheduling feature needs improvement |
| Photos can be stored for every retailer visited for reference | Can be buggy sometimes |
| Gives a full view of sales cycles and reports include geotagging | Tricky data exporting |
| Easy implementation | |
| Provide a guide in creating a sales territory management plan | |
Repsly Pricing Plan
Repsly provides the feature set for each plan but not the actual pricing. You have to contact sales support to get the pricing details.
Essentials: This plan is great for merchandising and promotion execution. It includes features like scheduling, time and mileage tracking, basic reporting, and more.
Pro +: The Pro+ plan is made for field sales teams that pace orders and process returns. It includes all the features in the Essentials plan plus sales and orders and returns functions.
Premium: This plan is for data-driven execution teams. It includes all the features of the Pro+ plan plus single sign-on, and insight dashboards.
When scheduling an appointment to get the pricing details, request a demo too so you can see all the features in action. 
5. Spotio – Best For Productivity
Top-Tier Field Sales Software For Sales Engagement [Custom Pricing]
Choose Spotio if you want to leverage the interaction with leads to increase sales performance and profitability. 
For sales productivity, it features three tools:
Sales routing
Sales tracking
Task automation
First of all, the sales routing tool helps you plan daily routes, create recurring routes, and track mileage along the way.
For sales tracking, Spotio provides email notifications for team reps and managers to keep everyone on the same page.
It helps team leaders see performance and progress while salespeople can stay on track to meet their quotas. 
With its task automation function, reps will spend less time on manual admin work. It automates CRM data capture as well as provides templates for emails, texts, and calls.
This field sales software also comes with sales territory mapping to eliminate gaps and overlaps between reps. Territories can be cut by zip codes or by drawing agreed boundaries.
For sales prospecting, this tool provides valuable lead data that makes it easy to determine qualified from those that aren't so you know who to prioritize.
It also comes with an appointment setting function so you can set a meeting straight from the app.
Pros And Cons Of Spotio
Pros
Cons
Provides real-time information
Some mapping pins go missing
Always updated and improved
Has occasional glitches
Remarkable customer service
Easy to navigate
Operate as a Field Sales CRM dedicated
to field employees and managers
Spotio Pricing Plan
Like Repsly, Spotio provides a feature set for their plans, but you have to contact the sales representatives to get the pricing details.
Team: The Team plan includes lead and appointment managing, calendar integrations, leaderboards, customizable reports, document management, and more.
Business: The Business plan has everything in the Team plan plus native CRM integrations, Google Places integrations, territory hierarchies, eContacts, and more.
Pro: The Pro plan includes all the features in the Business plan plus advanced reporting, email and SMS templates, a dedicated account manager, and more.
Enterprise: The Enterprise plan provides everything in the Pro plan plus advanced security, custom pricing, and advanced customization.
Start with the Team plan unless you need advanced mapping functionality. In that case, you can go for the Business plan. Check out their website to learn more.
6. Map My Customers – Most Efficient
Excellent Field Sales Software For Small & Mid-Sized Businesses [Free Trial | $60/mo]
If you belong to small and mid-sized business groups and you want a tool to simplify your day-to-day business dynamics, Map My Customers is a great option.
It lets you stay productive wherever you are.
With its Customer Visualization function, you can see customers with the deals you make with them pinned on the maps to see an overview of your sales landscape.
When in a call, making visits, or receiving messages from prospects, this software logs the activity with pre-filled information to reduce data entry.
You also won't need to bring a notepad with you.
This tool features Instant Notes allowing you to log and store notes on your mobile device and automatically save them to the cloud so you can access them with your other devices.
Moreover, to know which prospect to prioritize, this tool comes with Filters And Colorization to organize pins by product type, tier, or deal stage.
Additionally, when visiting prospects, you can optimize routes based on location, deal size, and priority.
Lastly, Map My Customers helps you find nearby leads to make up for the lost time in case of a canceled appointment and you're already in the area.
Map My Customer is a mobile sales tool compatible with any device (app is available on the App Store and Google Play).
Pros And Cons Of Map My Customers
| | |
| --- | --- |
| Pros | Cons |
| Easy to use | Lags sometimes |
| Important info in one window to make visits efficient | Buggy |
| Perform route optimization using the Route Builder | |
| Great customer service | |
Map My Customers Pricing Plan
Map My Customers has two pricing plans.
Personal ($60/mo): The Personal plan has a feature set built for individual sales reps that need to map their customers and enhance their daily workflow.
Team ($105/mo): The Team plan is equipped with a feature set for field sales teams needing functionalities for oversight and visibility into performance and sales activities.
A free trial of the Personal plan can be availed upon request. Just fill up the free trial form, and you'll be granted free use of the software. 
If you're interested to see the Team plan in action, you can request a demo.
7. LeadSquared – Best In Automation
Top-Notch Field Sales Software For Management [Custom Pricing]
With FieldSquared, you can automate daily tasks like:
Check-ins
Planning routes
Lead and task allocation
Once a lead gets captured, it is automatically assigned to sales reps in the closest proximity, so response time will be reduced, increasing the chances of closing deals. 
It also features daily route planning to ensure more meetings are made per day and thus reach maximum productivity.
Team leaders can also be kept up-to-date with its team monitoring feature with geo-tracking and geo-fencing.
To make sure field reps get the right compensation, this tool features field attendance and payout management.
Check-ins are restricted until reps are in the meeting locations, which helps calculate attendance and payouts correctly.
LeadSquared provides multi-channel communications to boost customer experience. Text, WhatsApp, email, social, and self-serve portals, to name a few.
Pros And Cons Of LeadSquared
| | |
| --- | --- |
| Pros | Cons |
| Easy lead capture | Needs built-in calling system |
| Features daily lead reporting | Gets stuck when running large campaigns |
| Highly customizable | |
| Detailed dashboard | |
LeadSquared Pricing Plan
LeadSquared provides customizable plans specifically tailored depending on your needs.
You have to get in touch with the sales team first from their website so they can assess the features you need and then give you customized pricing based on preferred feature inclusions.
8. Veloxy – Email Tracking Enabled
Outstanding Field Sales Software For Closing Deals Fast [Free Trial | $25/mo]
Veloxy is the one tool you need to close fleas on the field fast.
It comes with a Prospect Finder Map to help you find new sales opportunities wherever you are.
This tool is equipped with Veloxy Mobile's 360°, an account-based selling structure that allows you to access a lead's first and second-degree account connections.
Other than these, this tool also features:
Calendar
Caller ID
Notifications
GPS navigation
Location services
Inbox and email application
Pros And Cons Of Veloxy
| | |
| --- | --- |
| Pros | Cons |
| Tracks daily activity | Annoying when driving location-based notifications |
| Great with follow-ups | Outdated interface |
| Integrates with Outlook and Salesforce | |
| Has email tracking | |
Veloxy Pricing Plan
Veloxy has two pricing plans.
Veloxy Lite ($25/user/mo): The Veloxy Lite plan comes with email tracking and history, integrations, task priorities, and more.
Veloxy ($49/user/mo): The Veloxy plan includes everything in the Lite plan plus fast-add tasks. Lead conversion, auto-logging, calendar sync, one-tap meetings, directions, and more.
The Veloxy Lite plan is too limited. The Veloxy plan is a better choice if you need a comprehensive set of tools on the field. 
Since a free trial is offered, it's best to take advantage of this first so you'll be sure you'll only be paying for features you'll use.
Visit their site to inquire about your options.
Conclusion
If you have no time for a guessing game, I'd recommend you go with SalesRabbit.
It's an all-inclusive tool that gets you a messaging function, sales mapping, tracking, and performance boards.
Simply said it has everything you would need to handle field sales reps.
Best of all, it also has a function for proposals and presentations as well as an eSignature functionality to ensure deals are closed without any delays.
This tool makes you productive and helps you scale your revenue.
Check out SalesRabbit now.