Partnering with the right fulfillment provider for your Shopify store can be a tedious process.
There are tons of options available, all claiming to be the best in the industry.
On the other hand, new logistics companies continually emerge.
You need to make the best-informed decision as an entrepreneur.
In this article, I will share nine of the best fulfillment service providers. You'll learn all about their features, pros, and cons, as well as who they're a great fit for.
I'll also teach you about the benefits of 3PL businesses, how the fulfillment process works, and how you can choose the best one for your company.
Let us begin.
The Limitations of Shopify Fulfillment Network
In addition to creating online stores, Shopify also offers fulfillment services. In case you are wondering why you would need other providers when it already offers this existing service, I've listed four important reasons.
SFN is a recently developed service.
Its fulfillment pricing can be expensive.
It can only serve US-based businesses.
There are products that you cannot sell using SFN.
I will expand on each of these reasons in the following sections.
Newly-launched fulfillment service
Shopify was launched in 2004 by Tobias Lütke, who first developed it to sell snowboards. He later realized that it could be used for selling other products.
Now in 2022, Shopify is one of the most popular platforms for online store creation.
Its users don't need web design or coding skills to do this. It is also self-hosted, meaning there's no need for software installation or web hosting services.
As long as you have access to the internet and a web browser, your virtual shop is good to go.
It was only in 2019 that the company extended its services and launched the Shopify Fulfillment Network (SFN).
SFN supervises business data, stores merchandise, and delivers orders to consumers. Users are also enabled to track inventory levels, customer data as well as shipments using one platform.
For this reason, despite the massive company backing it, this newly-launched service has some noteworthy limitations that aren't present in more experienced providers.
Costly fulfillment pricing
Having your products sold and delivered through the same platform is incredibly efficient. However, one of its downsides is the pricing.
The basic Shopify plan, which costs $29/month, enables order management only for a single user.
You'll need the premium service, which is priced at $299/month, so that you can give access to other people. This will allow up to 15 people plus extra services included like advanced reports and real-time carrier shipping.
For US-based Businesses Only
The majority of SFN centers are situated in the United States. For this reason, SFN mostly caters to companies located in the US.
Here are the current locations of SFN:
New Jersey
Georgie
California
Nevada
Texas
Ohio
Pennsylvania
There are also SFN centers situated in Ontario, Canada.
For Selected Goods Only
SFN frees up time for entrepreneurs allowing more focus on their end through their inventory preparation, picking, packing, and shipping service.
Moreover, it can handle from 10 to 10,000 daily orders. 
The drawback, however, is that if you have regulated or perishable products, you won't be able to sell them via SFN.
It is also only a good fit if you have less than 2,000 SKUs.
ShipBob is a logistics provider that utilizes first-class technology. In 2020, the company garnered the #1 Best Fulfillment Technology award given by Adweek Retail Awards. 
This tech-enabled fulfillment company offers easy Shopify integration. You can also link your eCommerce store in a matter of minutes.
ShipBob's dashboard enables to track the fulfillment process from buying to delivery in real-time
Key Features
Offer free shipping to customers: You'll be able to offer free shipping to your customers at an affordable rate. If a fulfillment center is located near them, this will allow faster deliveries and therefore, lower costs.
Same-day and 2-day deliveries in the US: ShipBob's strategic location plus its first-rate technology also lets you guarantee cheap same-day and 2-day deliveries.
Pros and Cons
| | |
| --- | --- |
| Pros | Cons |
| With ShipBob's real-time inventory management, you'll be able to anticipate inventory needs right through your dashboard. You'll also be automatically notified when your Shopify store needs additional stocks. | You may see a rise in return items because of their hassle-free returns management. |
| You can use your own branded boxes and packaging. | |
| ShipBob is also known for its stress-free returns processing. | |
Best Suited For
ShipBob Shopify fulfillment is perfect for your company if you want to automate your fulfillment process, deliver over 100 orders every month, want affordable same-day and 2-day shipping, and require kitting services.
With more than 60 fulfillment centers in the United States and 15 in Europe, Australia, and Canada, it is also a good fit for businesses with a strong US customer base while also serving an international market.
Shipwire has more than 154 warehouses situated in 45 countries. Moreover, its onboarding process, as well as its dashboard, are simple and easy to begin.
The orders made through your Shopify store are automatically submitted to Shipwire's Order Entry API. Once a purchase is made, the rest are taken care of.
Key Features
Trackable shipments: Details regarding shipments are made trackable through Shipwire.
Synced inventory: The inventory count and status are also synced for Shipwire's warehouses.
Optimizer preferences: Upon checkout, you'll also get to pick the most affordable shipping rates, carrier, warehouse, and packaging for your business. However, this feature isn't included in all Shopify plans. You'll need that guarantees access to Shopify's Carrier Services API.
Pros and Cons
| | |
| --- | --- |
| Pros | Cons |
| You can take pre-orders with Shopify even if the inventory hasn't been transported to Shipwire yet. | There's no mobile app for Shipwire. |
| Shipwire offers branding customization for its clients. | Their customer service isn't the best. |
| You can have several Shopify stores connected to your Shipwire account. | Although you can simply ignore it, you'll see the message "There are no available services for the countries you've selected" under your Shopify admin panel. |
Best Suited For
Shipwire has dropshipping automation systems that support B2B and B2B shipping, as well as crowdfunding.
It is also a good fit for businesses in the retail industry that accommodate a wide global market.
Easyship has access to over 50 couriers worldwide, making domestic and international shipments effortless.
Its streamlined Shopify fulfillment allows for uncomplicated and worry-free operations.
Key Features
Pay international taxes, duties, & fees in advance: In addition to offering full visibility on all necessary import fees, taxes, and duties, you'll also be able to pre-pay them.
Cheap shipping insurance: The platform also guarantees insurance for shipping and a shorter claim time than most providers.
Prefilled shipping documents: Easyship generates and fills in all the documents needed for deliveries.
Pros and Cons
| | |
| --- | --- |
| Pros | Cons |
| The Shipping Rules feature lets you personalize and automate your shipping preferences. You can select the destination, type of goods, weight, etc. This will help save time and eradicate repetitive tasks. | There can be hidden fees that may entail the use of Easyship. |
| Easyship enables mobile tracking updates. You can also customize your messages according to your brand. | There are some reports of lagging with Easyship's software. |
| You'll be able to manage your returns and create return labels in a few minutes. The documents will also be sent to your customers via email. | |
Best Suited For
Easyship is a good fit for online retailers that want reduced costs for global deliveries as well as those that prefer dropshipping. You also won't encounter any problems regarding duty charges and international taxes.
NextSmartShip is a fulfillment provider that caters to eCommerce companies around the globe.
They have centers located in the United States, Europe, Hongkong, and Australia, but their headquarters is situated in Shenzhen China.
Key Features
100% Transparent Pricing: NextSmartShip offers full transparency with their fulfillment costs. They also do not have any hidden fees.
No minimum orders required: This company is also small business-friendly since it does not require any minimum shipping engagements. 
Free services: Clients can get up to 90 days of free storage at their China warehouses. There is also no fee required the receive goods and when you open an account.
Pros and Cons
| | |
| --- | --- |
| Pros | Cons |
| They have 24/7 customer service and a dedicated account manager for their clients. | NextSmartShip was only founded in 2019. It is a relatively new company that might may have some flaws that are absent in a more experienced company. |
| You can also manage your inventory in real-time. | |
Best Suited For
It is a good fit for small-sized eCommerce businesses with a strong global customer base. NextSmartShip also specializes in subscription boxes and crowdfunding fulfillment. 
Whiplash is a modern eCommerce fulfillment platform with more than 20 facilities in the UK, Canada, and the US.
Unlike other providers, they partner up instead of owning the warehouses where it stores inventories.
Its Shopify fulfillment service is hassle-free and seamless.
Key Features
Simple setup process: Whiplash's integration with Shopify enables instant and easy synchronization.
Dedicated customer agents: The customer support in this company is both knowledgeable and friendly.
Decreased shipping costs: Due to aggregated volume, they are also able to negotiate shipping discounts to carriers.
Pros and Cons
| | |
| --- | --- |
| Pros | Cons |
| You can view the history and status of every product in your catalog through Whiplash's real-time inventory tracking. | Although they offer phone and email support, Whiplash does not have live chat customer service. They also only open on weekdays from 9 a.m. to 5 p.m.  |
| Additionally, you'll also be able to pause and edit orders, adjust destination, shipping method, order contents, etc., as much as possible. | |
| You can personalize everything from the boxes, packing slips, etc. | |
Best Suited For
Whiplash Shopify fulfillment is a great option for small businesses like startups, eCommerce stores selling apparel and cosmetics, as well as those that work in the music industry.
If your company sells small items and you want to bundle the shipping volume to lower your costs, they also offer affordable fulfillment options.
Red Stag has one of the best Shopify fulfillment accuracies in the industry. In fact, in 2019, it was awarded as the Best Fulfillment Service by Fit Small Business.
It operates through a cloud-hosted technology and offers picking, packing, and shipping services.
Red Stag offers quick and seamless integration with Shopify API. Its custom dashboard enables you to track orders from warehouse to delivery.
Key Features
Refund for damaged goods: Red Stag offers zero shrinkage. You'll also receive a refund for any errors made regarding packing and shipping your goods. 
Balance in affordability and speed: They have centers located across the United States, allowing for quick deliveries. Due to the massive deals they get, they are also able to negotiate discount rates with major carriers. 
Secure inventory management: Red Stag includes backup systems for the internet and power. They also have cameras for warehouse monitoring. 
Pros and Cons
| | |
| --- | --- |
| Pros | Cons |
| Red Stag's Shopify fulfillment service includes same-day shipping, with the cut-off time as 3-5 p.m. US time. | Red Stag only offers fulfillment for US-based merchants. As of 2022, there are no international shipping options available. |
| They also offer a free 30-day risk-free trial sign-up. If you are not happy with their service, process, and staff, Red Stag will not bill you for their fulfillment service. | |
| Additionally, they can handle light customization and assembly services. | |
Best Suited For
Red Stag's Shopify fulfillment service is best suited for online merchants who offer subscription boxes, as well as those who have bulk and heavy/oversized shipments.
eFulfillment Service (EFS) is one of the best logistics businesses in the industry.
It has been the recipient of the Top 3PL Provider award four consecutive years in a row since 2016.  It also has an A+ rating given by the US Better Business Bureau.
EFS's order fulfillment for Shopify retailers is made cheap and simple through its top-notch technology.
Key Features
Risk-free investment: To help online merchants mitigate the risks of business, EFS offers free support from their in-house staff, no add-on fees, no setup costs for warehousing and fulfillment, no minimum order volume requirements, and no long-term contracts.
Secure & user-friendly technology: Their technology was created for order fulfillment alone. Data is safely guarded through physical security and several firewalls. It also has a simple interface that integrates smoothly with Shopify.
Pros and Cons
| | |
| --- | --- |
| Pros | Cons |
| You can check the inventory and order status in real-time. | EFS does not have packing customization options for its clients. |
| You'll also receive a notification if your inventory levels become low. | They also don't have global centers. |
Best Suited For
EFS is the best option for small and mid-sized US-based eCommerce retailers who are looking for cheap and on-time deliveries.
It is not ideal for larger businesses because they do not store merchandise for a long time. As soon as it reaches a warehouse, it will be delivered right away. Expansion for huge companies may seem impossible due to the lack of storage space.
ShipStation is a shipping platform, inventory management hub, and order fulfillment for eCommerce companies with an international customer base.
You can streamline your deliveries and quickly set up your Shopify store in a matter of seconds. You'll also gain insight and control all stages of shipping from multiple selling channels.
Key Features
Mobile Compatibility: You can manage your shipping wherever you are because ShipStation is web-based and mobile compatible.
Branded Shipping: You'll also be able to brand your shipping labels, tracking packages, emails as well as send personalized messages in packing slips.
Small business-friendly pricing plans: ShipStation has a total of six pricing plans that are dependent on the number of shipments sent monthly and the number of user accounts. Their cheapest plan costs $9 per month. There's also a free trial available.
Pros and Cons
| | |
| --- | --- |
| Pros | Cons |
| ShipStation enables automatic shipping updates. Right after shipping label creation, the delivery status, tracking number, and carrier details will be sent to your customers and Shopify. | Their software is not very user-friendly. |
| Additionally, through their multi-channel shipping, you can ship orders from other marketplaces like eBay, Amazon, and Walmart. | Some clients believe that their alert notifications can be made more noticeable. |
Best Suited For
ShipStation is best suited for enterprise-level operations, small-scale businesses, and entrepreneurs that are looking for affordable shipping fulfillment. Moreover, they also offer international deliveries for their clients.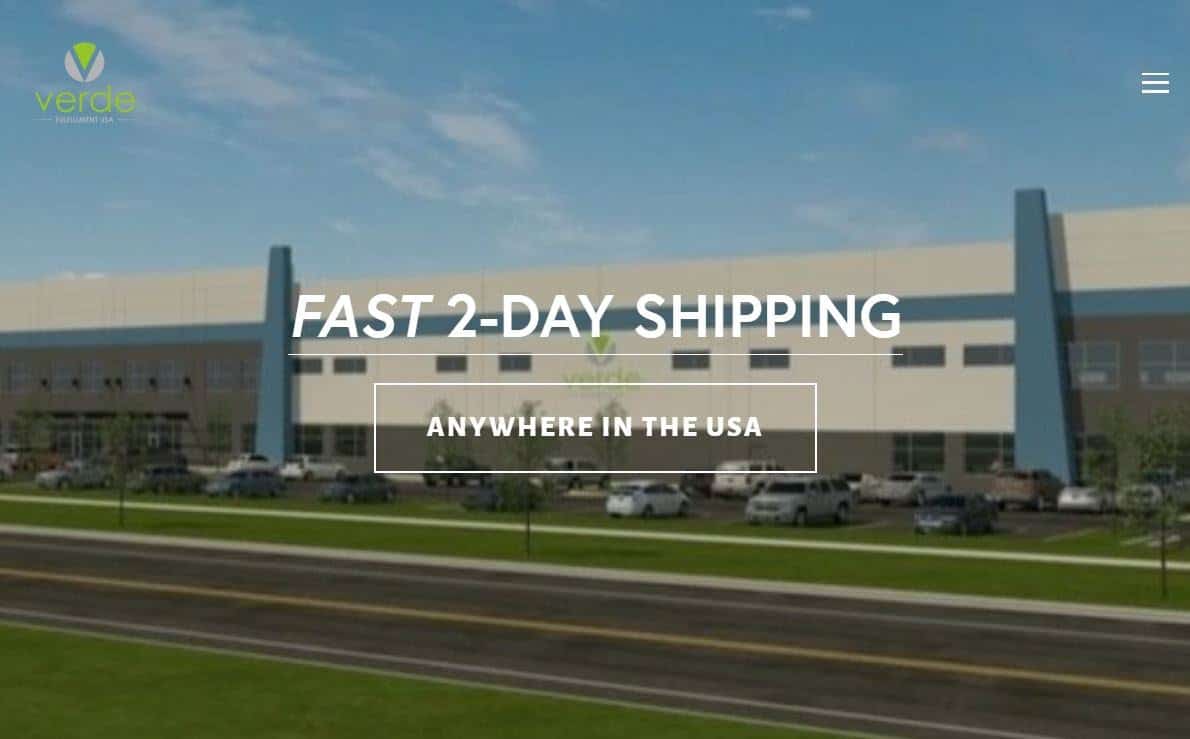 Verde Fulfillment is a fulfillment service catering to the US market and is efficiently integrated with Shopify. They operate via a cloud-based system which allows for swift synchronization.
You'll be able to manage your inventory and track your orders in real-time. Additionally, you will be alerted when stocks are running low.
Moreover, Verde also processes product returns.
Key Features
Client Coordinator: You will have a go-to expert that will assist you via phone, email, Skype. This high-trained person will be available 24/7 and can help with every aspect of fulfillment.
IT team support: If you're transitioning to giving promos like $5 shipping or free shipping, a dedicated IT team will ensure the process is smooth.
Pros and Cons
| | |
| --- | --- |
| Pros | Cons |
| If your brand requires assembly or personalized packaging, Verde Fulfillment can handle these for you. | Verde Fulfillment doesn't offer international shipping. |
| They also offer multi-channel support with platforms like Amazon, eBay, etc. | |
Best Suited For
Your company is a good fit with Verde Fulfillment if you have customers all over the USA. Also, if you need large retailer shipments, full-truckload shipments, pallet movements, to be delivered, they can deliver these on a daily basis.
Benefits of Using Third-Party Logistics
Hiring a third-party logistics service is a sign of progress. This means that you no longer have the capacity to handle everything by yourself. Rest assured that when you select a top-notch fulfillment provider, you'll be able to experience seamless scaling, gain more time for other important aspects of your business, and work with dedicated experts in the field.
How Does the Fulfillment Process Work?
The order fulfillment process can differ for every company. But, the basics involve warehouse storage, product packaging, inventory management, shipping, and returns processing.
How to Choose a Fulfillment Services Provider
In choosing a fulfillment provider, you need to ensure that their features match with your business needs. 
You should also conduct research regarding some drawbacks that you may experience with the company. If you find that a specific downside, for example, poor customer service, is a non-negotiable, you definitely have to keep on looking. 
There are also industries, product types, and specialized services that some companies have extensive experience with.
Additionally, the location and number of warehouses they have can also affect delivery speed and pricing for your customers.
Conclusion
That's a wrap!
In this article, you learn about nine excellent fulfillment providers that integrate well with Shopify.
Remember that it's necessary that you conduct as much research as you can before choosing your fulfillment provider.
Give potential partners a call and discuss whether your company's products are a good fit for their services.
It can be a huge hassle to retrieve your inventory and resync it with another provider should you make this crucial mistake early on.
It's also a good indicator when a company offers a free trial period. This can help you get a feel if their services are right up your alley.