Entering international trade is an excellent opportunity for your business to grow and improve your brand's reputation. Keep reading to learn what global trade management (GTM) solutions can do to enhance your trade processes, cash flow, and workflow.
Trading globally may bring many benefits to business, but it comes with complex processes. Not to mention bumping into various supply chain disruptions like natural disasters, cyber and security attacks, and the most recent COVID-19 pandemic.
As an entrepreneur for over a decade, I've implemented different strategies and methods (including trial and error) to solve these problems and achieve success.
If you're experiencing the same challenges, this post is right for you. I'm sharing the most reliable global trade management solutions available this 2022, including their best features, disadvantages, and pricing structure.
At the end of this post, you can confidently choose the best solution for your business and learn how to apply them to your global trade strategy and action plan.
Let's get started.
What Is The Best Global Trade Management?
If you're in a hurry, check out my top 3 picks at a glance: e2open, Oracle GTM, and 3rdwave.
| | | |
| --- | --- | --- |
| 4.8 | 4.5 | 4.2 |
| Best overall. A secure, automated platform to optimize the entire trade process. Request pricing options. | Best value for money. Suitable for companies of all sizes. Request pricing options based on your requirements. | Best for scalability. Build and manage your supply chain platform the way you want it. Get a quote. |
| Try e2open | Try Oracle GTM | Try 3rdwave |
Read on and find out the advantages of each global trade management solution.
1. e2open – Top Pick
Global Trade Management Suite With Comprehensive Trade Content For Regulatory Compliance [Request Pricing Info]
Building an international trade strategy can be challenging for business leaders. There are many factors to consider and trade-related issues to address. e2open can help you solve all these challenges by providing efficient tools and functions.
Since international trade changes rapidly over time, the e2open team equips the GTM platform with superior security certifications. Each certification possesses sufficient power and flexibility to protect your data and its technologies against future global supply chain disruptions.
Some certificates are also acquired to guarantee that the GTM platform only uses certified technologies and processes:
ISO® 27001 Certification
SSAE18 SOC1 Type II
SSAE18 SOC2 Type II Audit
Drummond Certified™ AS2
e2open is an SAP partner and solution provider. Therefore, you can quickly connect your data from your existing Enterprise Resource Planning (ERP) system. You can do it using its integration adapter (acquired from SAP certification).
You can immediately use all the configuration tools after deployment. It's essential to customize the interface to enable the applications properly and boost your productivity.
Regarding e2open's tools and functions, each is designed for various purposes. But one thing is sure: they can help you create an intelligent and more connected global trade management platform. It also applies automation to several functions to ensure accuracy while saving time and boosting productivity.
Restricted Party Screening: An automated screening of customers, vendors, suppliers, and other partners against 770+ government and denied party lists.
Export Management: Include a user-friendly portal where you can classify products accurately, identify if a transaction requires an export control license, and more.
Import Management: Provide end-to-end visibility of your import activities (all stages), cost, taxes, and more.
One-Click Custom Filing: Ideal for anyone who doesn't use a customs broker. You can do self-filing in the right format using the app.
China Trade Management: Everything you need to acquire ACE status, reduce duty costs, and access the trade content database to maximize China's trade opportunities.
Trade Agreements: The feature you need to reduce product cost and improve margins. It comes with a comprehensive bill of materials (BOM) analysis to reduce errors.
Customs Warehouse Management: Manage your inventory using this app so you can freely move your products in and out of customs warehouses while staying compliant.
Pros And Cons Of e2open
| | |
| --- | --- |
| Pros | Cons |
| Easy to use and deploy with its user-centric interface | Enhancements and add-ons are pricey |
| Provide flexible automation & optimization functionalities | The mobile app has limited functionalities |
| Include an automated product classification system to prevent penalties and delay | Customer service's response time needs improvement |
| Gives a complete and single view of global trade, demand, logistics, & supply. | |
e2open Pricing Plan
e2open's global trade suite is available in a subscription-based pricing plan. You may contact their sales representative to request a demo. If it matches your business requirements, you can request their pricing information based on your current needs.
2. Oracle GTM – Best Value For Money
Global Trade Management Application With Excellent Content Management [Request Pricing Info]
Like e2open, Oracle Global Trade Management (GTM) provides a unified platform where you can automate, monitor, and plan all your cross-border transactions and business processes. Of course, Oracle GTM stands out from the competition by adding more functionalities to further centralize and optimize trade processes.
The company understands that not all business systems support trade data, so it developed its GTM platform as a centralized trade data repository. One tool to highlight is global trade content management. Here, you can upload the trade content required for the transactions.
You also have the option to use it for key services like restricted party lists, product classification codes, and so on. Other functionalities of the Oracle GTM focus on four categories. Each category is designed to support specific goals efficiently.
Trade compliance: Provides plenty of features to efficiently automate, manage, and streamline these processes: trade control determination and license lifecycle management. You can also screen restricted parties to reduce noncompliance risk and financial penalties.
Customs management: It eliminates the need to hire a customs broker. Using common workflow, tools, and datasets, you can create and standardize customs processes. You can also build customs declarations for self-filing.
Trade agreements: Everything you need to collaborate well with your suppliers, capture data savings, and more. You can even analyze your bills of materials (BOM) to know if your products qualify for free trade agreements.
Global trade intelligence: Gives you detailed and extensive trade data to determine the success of your business operations. It also displays trends to let you analyze in real time whether they are negative or positive. You can view all metrics (statistical, financial, regulatory, etc.) in a user-friendly dashboard.
Oracle GTM solution uses an integrated logistics platform. Therefore, you can quickly connect other software solutions under Oracle Cloud Supply Chain Management. Each solution can expand the capabilities of your existing GTM application.
Warehouse management
Intelligent track and trace
Transportation management
Internet of Things applications
Pros And Cons Of Oracle GTM
| | |
| --- | --- |
| Pros | Cons |
| Provides satisfactory support from customer service & community | Deployment requires a longer time |
| Has comprehensive coverage of trading partner data (9 types) for storing & management | Better to provide more end-user training resources |
| Uses four types of matching logic engines for more accurate screening requirements | Only provide an internet application |
| Provide a secure platform for collaboration (suppliers, customers, carriers, brokers, etc.) | |
Oracle GTM Pricing Plan
Paying for what you only need is what Oracle provides for all its users. You can start by requesting a demo to get an exclusive look at their global trade management software's functionalities. If you're satisfied, you can ask for a pricing plan based on your current business needs.
3. 3rdwave – Most Features
Suite Of Global Trade Management Modules With 360-Degree Data Visibility [Quotation-Based Pricing]
Most global trade platforms today focus more on the activities related to supply chain management (SCM). This is where 3rdwave has an advantage because it provides excellent supply chain logistics solutions too. Together, they can increase your business's competitive edge and bottom line.
On its single platform, it includes different tools and functions. They may have different purposes, but all can efficiently support your business processes (import and export compliance), trade compliance, and logistics activities. All trade tools are neatly organized on the dashboard for quick access.
The best part is that you don't have to change how you operate your supply chain processes just to fit into 3rdwave's technology design. All GTM features are offered in individual modules. Select what you need, and its team will integrate them based on your organization's unique requirements.
Once everything is set up, you can enjoy its 360-degree visibility.
The extensive visibility starts with its product master data (PMD), a database that provides item-level visibility. PGA, country of origin, kits, sets, and product attributes are only a few data it covers. The first step to enjoying this functionality is to integrate your existing ERP system for an automatic population of details.
Once all the details are placed into the PMD, you can use it to speed up the product classification and automatically perform denied-party screening. You can also generate any document you want.
Packing list
USMCA certificates
Commercial invoice
Shipper's letter of instruction
Pros And Cons Of 3rdwave
| | |
| --- | --- |
| Pros | Cons |
| Has automated self-filing works in 4 easy steps | Limited functions for denied party screening |
| The platform supports various languages (English, Finnish, Chinese, etc.) | Online training videos are outdated (YouTube) |
| Can easily generate custom or standard documents (commercial invoices, certificates of origin, etc.) | No 24/7 support (customer rep via phone isn't reliable at all times) |
3rdwave Pricing Plan
3rdwave global trade management capabilities are available as an individual application. Contact the sales team to get a pricing quote based on your unique process. They can also help you identify the application you need if you have no idea what to get.
4. Bamboo Rose – Best For Supply Chain Visibility
Multi-Enterprise Platform With Modern Global Trade Management System [Quotation-Based Pricing]
Bamboo Rose is renowned as a multi-enterprise product and supply chain platform with superior product lifecycle management (PLM) software for retail. Its PLM solution simplifies the product creation and delivery process.
It also connects business owners to the entire retail community and suppliers so they can bring quality products to the market fast.
If you're planning to join the world of international trading, you don't need to get another platform. You can use Bamboo Rose's very own global trade management software. You can create a unified hub to streamline and optimize your trade processes.
Finance
Sourcing
Logistics
Compliance
Design processes
Purchase order management
Regarding the sourcing and design processes, Bamboo Rose also adds a quality control feature to ensure accuracy and complete transparency. It automates testing processes based on product, material, and market attributes. It can also pull up internal or external lab records results for testing.
If I have to pick the best feature, I'll go with its end-to-end supply chain visibility. It shows every aspect of the logistics and management processes. Whether it's in production, transit, or distribution centers (DCs), you will monitor its progress.
Wait, there's more…
The supply chain visibility also includes intelligent prioritization. It's a strategic method to optimize your inventory levels. It's a strategic method to reduce the risk of getting an item out of stock. It also eliminates the need for safety stock, which saves you a lot of money.
Pros And Cons Of Bamboo Rose
| | |
| --- | --- |
| Pros | Cons |
| Offers fast delivery of the newest products across multiple selling channels | Best to improve the support's reliability |
| Provide extensive visibility to all relevant information | The platform is efficient but not the easiest to use. |
| Include an order management system integration that can coexist with an ERP system | |
| Comes with an effective finance system to eliminate the manual management of excel spreadsheets | |
Bamboo Rose Pricing Plan
Get Bamboo Rose's global trade management software with deep regulatory and country-specific automation. Schedule a meeting to learn more about the benefits you can get. You can directly request a personalized pricing quote if it suits your business needs.
5. Thomson Reuters GTM – Best For Denied Party Screening
Global Trade Management Software Under ONESOURCE [Request Pricing Info]
Thomson Reuters global management solutions are in neck-in-neck competition with 3rdwave for offering the most features. It may not win that title, but it remains a valuable tool for performing denied party screening (DPS).
Fraud is a common problem when transacting with international buyers. That's why Thomson Reuters put extra effort into developing their denied party screening process to ensure you will only form partnerships with trustworthy buyers, internationally and locally. It updates 24/7 to help you feel secure when doing your business.
How does it work?
Like most global management software, it starts by integrating your ERP system. If you also have CRM and SRM systems, you can freely integrate them for a thorough screening process. Once everything is in order, this DPS software will automatically screen all your suppliers and customers.
It will compare them against the 650+ global list of restricted persons, companies, and sanctioned/embargoed countries. You can view the results on your dashboard or print them as reports (Excel file format). You can manually upload your customer-specific lists if you don't have existing corporate systems.
It may have a different process, but it will work the same. The screening process is fully automatic: the system will trigger the screening process when a new customer or supplier's information is added to your database. It also includes an audit trail based on the best practices of global regulatory agencies.
Pros And Cons Of Thomson Reuters GTM
| | |
| --- | --- |
| Pros | Cons |
| Technical support is helpful and responsive | Must improve its ease of use and deployment (outdated interface design) |
| Excellent in understanding the business needs | |
| Provide multilingual options for profile creation | |
| Has seamless online integration with the corporate system (ERP/CRM/SRM) | |
Thomson Reuters GTM Pricing Plan
Thomson Reuters GTM features are developed as an individual application. There are two ways to purchase them – pay for any software as a standalone product or the integrated version (ONESOURCE Global Trade suite). The first option is ideal for startups and small businesses, while the latter is for its intended consumers (large enterprises).
Do you need more information? Visit Thomson Reuters' global trade management web page and select the feature you want to explore. Once you're satisfied, click the contact sales button to request the pricing information.
6. SAP GTS – Most Reliable Compliance Checks
Global Trade Management Solution With On-Premise & Cloud Deployment Options [Request Pricing Info]
As we live in the digital age, data is treated as a new form of currency for businesses. Gathering the right data will help business leaders make smarter decisions when entering new markets. No company can process massive data better than SAP.
SAP is one of the world's largest companies that produce reliable enterprise software. One of its most successful products is the enterprise resource planning application. It combines the power of modern technologies (artificial intelligence, advanced analytics, and machine learning) to improve business resiliency and integrate the organization's core business processes to create a single, unified system.
If you also want to automate and streamline your trade processes, you can use SAP's Global Trade Services (GTS). It's a module under the financial management product that you can deploy on-premise or in the cloud. Whichever option you choose, you will be given a complete guide so that you can install and configure it seamlessly with your existing IT landscape.
Like the previous global trade management software I've discussed above, it comes with various capabilities. All are skillfully developed to simplify international trade's complex tasks and processes.
Process automation
Streamline regulatory compliance
Self-filing and broker communication
Free-trade agreements management
Simplified reporting and consolidation
Comprehensive import and export management
There's more to explore, but one function SAP GTS is known for is its real-time compliance checks. There are three main areas where you can enable this feature, and the first one is the sanctioned party list screening. Create a sales/materials management document in the feeder system, which will automatically start screening.
The screenshot above shows a sample workflow of the compliance checks for sanctioned party list screening. From here, you can see how the SAP GTS system will use and process your data to give you an accurate result. Speaking of, you can monitor all the results in the dashboard provided.
The second and third areas are dedicated to legal control – import and export. The process is similar to the first one: create a business document in the feeder system, and it will begin the export/import control. The checking also includes embargo checking and license management.
Pros And Cons Of SAP GTS
| | |
| --- | --- |
| Pros | Cons |
| Has plenty of room for customization | Require a longer time to configure and get used to its interface |
| Offer fixed cost for all GTM services | |
| Integration with other business systems is satisfactory | |
| Provide a quicker method to find the right training manuals or courses (SAP Portal) | |
SAP GTS Pricing Plan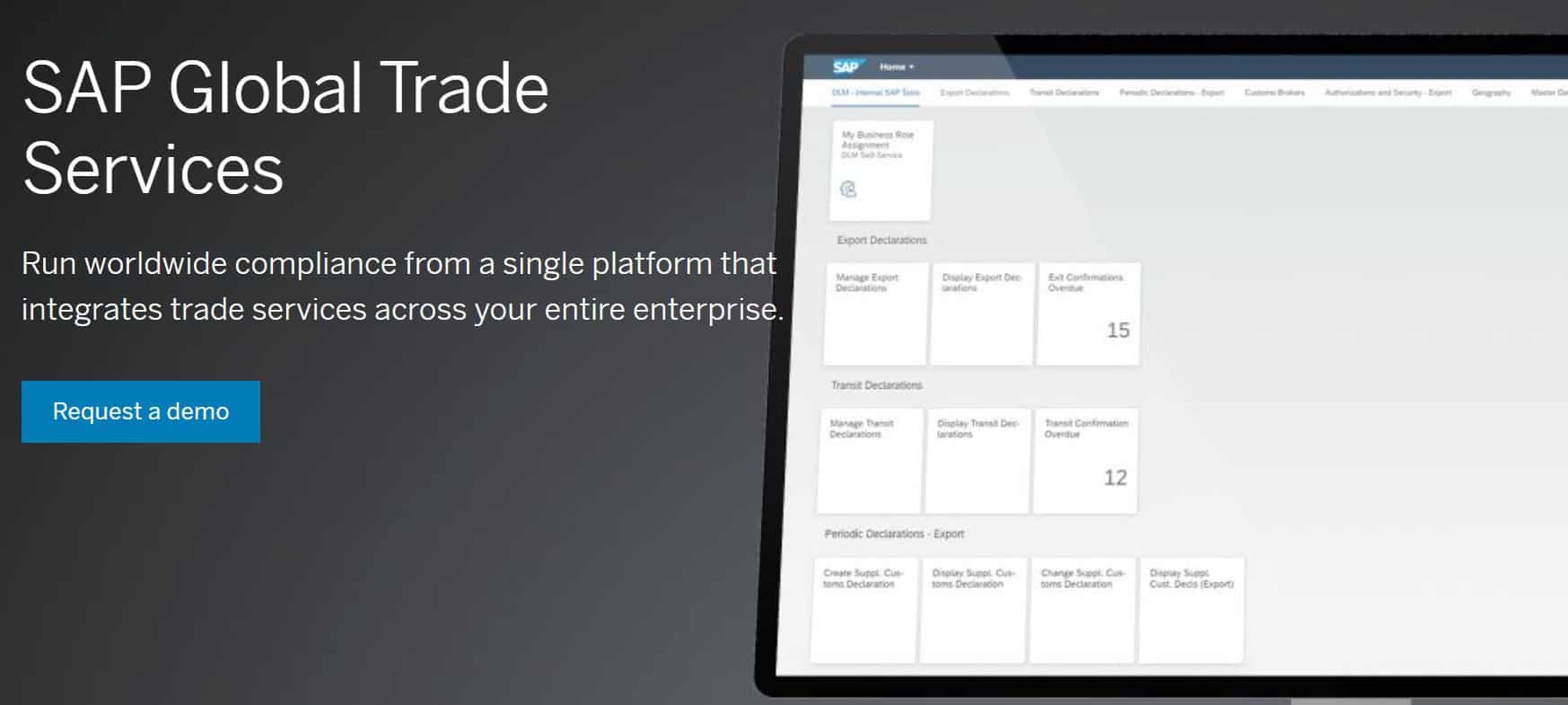 You can purchase SAP GTS solutions individually or in bundles. If you're hesitant, you can start with its demo to get a closer look at its capabilities. Contact their sales team to request a demo or personalized pricing quote.
7. ImportKey – Best For Simple Data Search
Global Trade Management Software With Product Discovery Tool For Amazon [$29.99 a month]
ImportKey is a global trade management platform that uses the U.S. and global data (import and export) to help you make a data-driven investment decision. It also includes U.S. customs data and records for more accurate results. Simplicity is the primary advantage of the platform – type in the attribute in the search field, press enter, and it will display all relevant answers.
What can you search for in ImportKey?
Currently, there are 8 attributes you can search for. Buyers, suppliers, and shipment records are the standard option you can choose. However, you can also search for the below attributes when you use the advanced search option.
Buyers
Products
Date Range
HS/HSN/HTS code
Mode of transportation
BOL (Bill of lading) number
Company name and address
Port of lading (origin and destination)
All the search results are shown in the dashboard. Click any results, and it will take you to its overview tab. I've shared a screenshot below to give you an idea of what it looks like when searching for buyers.
Under the overview tab, you can expect to see the top 5 suppliers that the buyer works with, shipments by month, and top products by count. The monthly shipments are shown in a bar graph so that you can easily digest the information presented.
It can also show you the company carriers (container ships) and where the carriers deliver the goods (listed by country port).
Amazon is one of the most successful platforms for selling products in the U.S. With the high success rate, many started their own Amazon FBA (fulfillment by Amazon) business. If you don't have your own products to launch, you can always source products using ImportKey's Product Discovery.
It's an effective Amazon FBA tool that can show you the products with the highest margins. You have the option to search by product, keyword, or brand. Each option has its own tab to prevent confusion.
Ensure to complete your search by adding a category. Let's say you're looking for products under the sports and outdoors category. The system will choose a hot market for your search attribute and present all information relevant to your needs (price change, size tier, review rate, etc.).
Pros And Cons Of ImportKey
| | |
| --- | --- |
| Pros | Cons |
| Simple and quick to get started | Free trial option only works in the enterprise plan |
| It comes with an intuitive search bar | Display tons of supplier information, but some names or contact info are hidden |
| All data is presented for easy understanding and downloading (CSV or XLS format) | |
ImportKey Pricing Plan
Get ImportKey's global trade management software by selecting any of its 3 flexible plans. All subscription plans are payable on a monthly, half-year, or annual billing cycle. You can expect to get its standard feature, whichever pricing plan you choose.
Visual maps
Company searches
Company contact info
Dedicated email support
Downloadable search results
Algorithmic data analysis and charting tools
The primary differences between the plans are the number of daily searches, user licenses, and data you can access. I've listed the differences to give you a clear picture.
Startup ($29.99/mo.): Search up to 20 companies/day, provide 2 user licenses, and 2-year access to BOL import/export records and dynamic data insights.
Business ($49.99/mo.): Search up to 50 companies/day, provide 3 user licenses, and 3-year access to BOL import/export records and dynamic data insights.
Enterprise ($99.99/mo.): Unlimited company searches/day, provide 6 user licenses, and 6-year access to BOL import/export records and dynamic data insights.
If you're a client, you can start with the Startup plan to capture information for your target organizations. While companies who want to look through shipment information for a couple of years choose either the Business or Enterprise plan. Contact their sales team to learn more about their solution.
8. Livingston International GTM – Best For Global Trade Compliance
Customs Brokerage Service Provider With Two Global Trade Management Solutions [Get A Quote]
Livingston International may not be the most competitive and recommended global trade management solution in the market, but they do an excellent job of improving one's international trade practices. One best tool to highlight is its 10-minute trade compliance health check. It's a free assessment tool that helps you find gaps in your current procedures.
It's completely online. Therefore, you can perform the assessment anywhere. You need to fill up the information, and you're good to go.
Upon completing the assessment, you will receive a web-based report outlining the status of your current trade processes. It will point out the areas you need to improve and suggest other processes that can help you reduce costs and compliance risks.
The compliance assessment is just the beginning. If you want to strengthen your compliance practices further, you can use any of its available services.
Value determination: Experts will introduce various valuation methods to help you determine the accurate value of your products (each).
Voluntary disclosures and appeals: Experts will walk you through the appeal process if you disagree with the customs authorities.
Process and internal control design: Experts will help you create the entire trade compliance process and other formal process documentation required.
You can also rely on their experts for audit assistance. Apart from the free tool and trade consulting services, you can also have two options for the global trade management solution you want. The first option is the standard GTM software, similar to most modern GTM products.
It provides plenty of tools to help you manage and screen foreign suppliers, importers, and exporters. You can also track and solve issues on your warehouse and international carriers. The second option is called TradeSphere®, the platform that allows you to integrate with your ERP/supplier's system.
All TradeSphere® features are packed as modules (6). Therefore, you have the option to use them as a standalone app or integrate them all into a single platform. The latter is the ideal option for enterprises and any business with complex operations.
Pros And Cons Of Livingston International GTM
| | |
| --- | --- |
| Pros | Cons |
| Provide flexible and scalable modules for easy automation | Its data and clearance system may sometimes crash, lag, or shut down |
| Constantly updated with the current issues (CARM, USMCA, Brexit, etc.) | The support team must improve their response time (it can take days before getting a response/answer) |
Livingston International GTM Pricing Plan
Livingston International is a trusted partner to your growing trade business. You can get started by scheduling a call to learn more about their GTM solutions. You can get a free quote if you want an estimate based on the service you need and the industry your business is involved in.
Conclusion
Ensure to keep up with the ever-changing supply chain world using a trusted global trade management solution. If I have to choose the best from my recommendation list, I'll select e2open. It offers a superb method to streamline your cross-border transactions, import/export processes, and customs filings.
It's a plus that it can also help you reduce tariffs and increase duty savings. Oracle GTM gets in second place for having a scalable solution, making it a good option for businesses of all sizes. Its autonomous database will keep your data organized and secure.
Lastly, 3rdwave is an excellent option if you also want unparalleled control, automation, and visibility over your logistics processes. Do you use any of the listed global trade management solutions? If so, write your experience in the comment section.