A grant writing software helps you write formal proposals that win grants. Using a grand management solution, you can easily improve the quality of the grant proposals you send out. This can help you secure a higher level of grants and funding from donors.
If you're looking for such a solution, you've come to the right place. Being an entrepreneur for the past decade, I've come across a lot of software that provides grant management.
I've tried and tested all the software that I'm going to list down in this blog for a 100% honest review.
Let's begin.
What Is The Best Grant Writing Software?
If you're in a hurry, take a look at my top 3 picks: Instrumentl, Submit.com, and Good Grants.
Now, let's get back to the detailed review of the best grant writing software that you can choose from in 2022.
1. Instrumentl – Top Pick
Best Grant Writing Software To Secure Fundings [Starting at $179/mo]
Instrumentl is at the top of my review list because it provides 360-degree grant management to its customers. Starting in 2014, Instrumentl has quickly gained massive popularity in the US and now the software is used by many to streamline, improve, and manage their grants.
One of the biggest problems that grant seekers face is finding prospective agencies that are willing to invest in causes you support. Instrumentl takes care of finding agencies that are looking to make a positive impact through positive social changes. 
You can save valuable time by focusing on grant initiatives while the software takes care of making the grant management process faster, easier, and more efficient. Instrumentl serves non-profits to help move the world forward through valuable contributions.
With this grant writing software, you can discover grants that are aligned with your goals. Further, you can track all grants applied for a specified period. By getting the right features, your staff will be more effective and efficient in securing their desired grant for the nonprofits.
Let's look at some of the features that make Instrumntl my top pick.
Grant Management: Manage the grants easily through the interactive dashboard. Keep tabs on the previously applied grants. Do research to find suitable agencies for grants and improve the grant lifecycle.
Discover Funders Easily: Instrumentl helps you find new grant opportunities and funding sources that have the highest ROI for your project. You'll also receive a funders list to choose from.
Fund Tracking: When you have grants approved you can easily allocate grant budget to projects and carry out disbursements as well.
Compliance: Instrumentl ensures you meet all criteria. A thorough eligibility screening takes place before grants are applied.
Moving on, it's time to see the pros and cons of Instrumentl and see whether it is worth using the software.
Pros And Cons Of Instrumentl
| | |
| --- | --- |
| Pros | Cons |
| Equipped with data privacy and relevance | Limited grant search unless you upgrade |
| Exceptional grant management | Weak search parameters |
| Easy to use | |
| Free trial available | |
| Organized project management | |
Instrumentl Pricing Plan
Instrumentl offers the following pricing options along with a 14-day free trial:
Basic ($179/mo): The basic plan comes with a 10 project limit and 3 users.
Plus ($299/mo): The plus plan allows 20 projects and 3 users.
Custom Plan: For customers looking to get customized grant writing solutions for their business needs.
If you're just starting out, Instrumentl's basic plan is a good deal for you.
2. Submit.com – User-Friendly Grant Management Tool
Top-Tier Grant Management System [Custom Price/Demo]
Submit.com is a grant writing software that provides you with the tools you need to create a winning proposal and win grants. It can help you research funding opportunities, track deadlines, and organize your thoughts and materials. And best of all, it can make the writing process itself much easier. With its built-in templates and easy-to-use format, Submit.com can take the stress out of writing a proposal.
It is a cloud-based software and it works best for grants, scholarship, and awards management. You can easily create applications and look over all administrative tasks. Submit.com also comes with a thorough reporting feature where you can easily identify the effectiveness of your grant proposals. I like this software's flexibility in terms of adapting to your grand management process all coupled with high scalability.
Not many software provide accessibility and seamless grant management – Submit.com does. Further, you can create, review and manage all applications whether they are housing or community grants. Data management is crucial especially when grants are involved. With Submit.com, you get efficient data management through the screening process.
Let's look at some of the features of Submit.com:
Bulk Messaging: Using the platform, you can update applicants and external evaluators without any hassle. The notifications and reminders are sent through email to recipients.
Compliance Management: Organize, plan, control, and lead grant activities to ensure all compliance standards.
Compliance Tracking: Track compliances before applying for grants.
Mobile Access: You can access the platform easily from any device including a mobile phone – making it easily accessible to everyone.  
Let's take a look at submit.com's pros and cons to understand what the software lacks.
Pros And Cons Of Submit.com
| | |
| --- | --- |
| Pros | Cons |
| Easy to use | Complex add ons |
| Exceptional customer support | Less customizable |
| Has data management | |
| Multiple data formats supported | |
| Intuitive software | |
Submit.com Pricing Plan
This software doesn't have a pricing plan however, it works on a custom model. You can request a demo to test the test and see if it's something your business needs. 
3. Good Grants – Modern Grant Writing Solution
Intuitive Grants Management [Starting at $115/mo]
Nonprofits are often looking for donors who are willing to do something good for their community and for a cause they believe in. Good Grants provide such nonprofits the ability to find suitable grants for their projects. Ultimately, the goal of the company is to bring positive results and improve society through good funding decisions.
This grant writing software helps in making quality proposals that get the job done. Often bad proposals cause many refusals and are a setback for good nonprofits looking to make a difference. The powerful features that Good Grants provides allow grantmakers to easily deal with administrative processes, make informed decisions and save a lot of time – all in flexible and transparent pricing plans that can fit every budget well.
Good Grants can be suitable for organizations and programs of all sizes. But, in dealing with grant management, compliance is a huge concern. This platform is ISO/IEC 27001 certified and GDPR + CCPA compliant which means that your nonprofit will be their responsibility too when it comes to grant compliances.
Also, the dashboard feature is pretty useful as it provides multiple functionalities within the same location. You can check user CRM, track grant applications, allocate budgets and organize applications with categories, attachments, and tabs for an easy filter.
Let's look at some of the features that Good Grants offer:
Compliance Management: You won't need to worry about meeting all compliance standards before applying for grants – Good Grants will take care of that.
Grant Application Management: Manage your application directly from the platform and stay on top of every update.
Applicant Management: This helps track the applicants' data for a smooth grant application process.
Grant Discovery: Easily discover available grants directly from the platform and find ones that are suitable to you and your cause.
Pros And Cons Of Good Grants
| | |
| --- | --- |
| Pros | Cons |
| User-friendly | No free version |
| Has a dashboard overview | Lack of financial integrations |
| Comes with multi-language support | |
| Equipped with decisions progress | |
| Has budget tracking | |
Good Grants Pricing Plan
Good Grants offers the following pricing options along with a 14-day free trial:
Intro ($115/mo): This plan comes with application management, fund management, the ability to add unlimited users, and fund allocations.
Premium ($485/mo): Priced at $485, this plan offers everything in the Intro plan plus flexible branding options, API integrations, HD video applications, review modes, and much more.
Enterprise: Get grant writing and management solutions based on what you need.
Good Grant's intro plan is a good place to start your grant writing journey.
4. GrantHub – Easy-to-Use Grant Writing Solution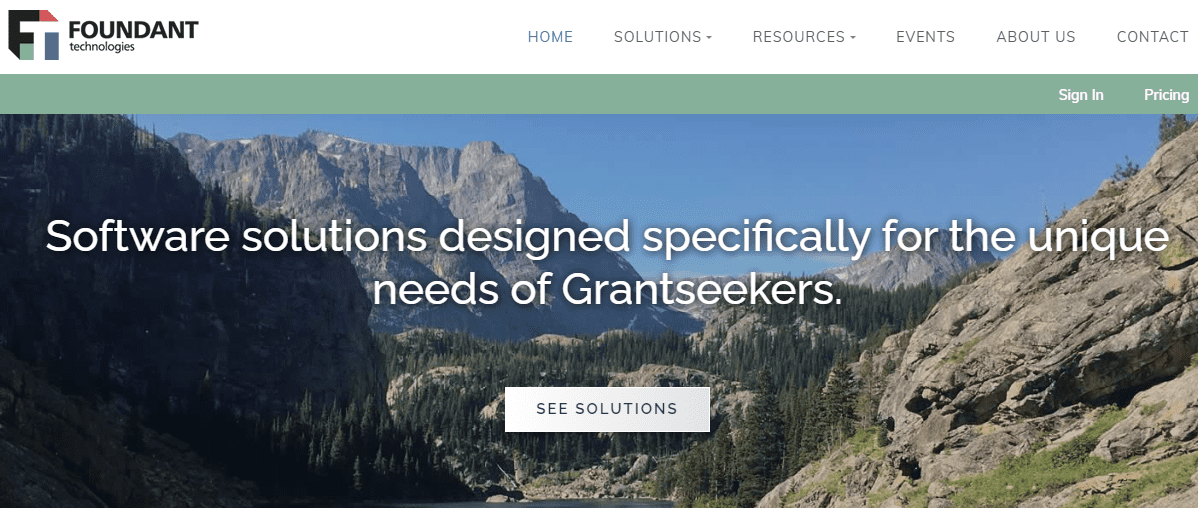 Reliable Online Grant Writing Solution [Starting at $75/mo]
GrantHub is a grant writing software by Foundant Technologies. It is a modern platform that helps users identify potential funders and grants. It provides both parties (grantors and grantees) the ability to find the right counterpart. For instance, grantors looking to fund nonprofits that support specific causes or grantees looking for grantors who support causes related to the NGOs.
Further, you have the ability to track and organize your grants. This includes grant documents, reports, deadlines, and applications. If you're still using manual methods such as spreadsheets, calendars, file storage systems, or task managers, you'll be spending a lot of time doing things that can be easily digitized by GrantHub.
To help you stay proactive, GrantHub sends regular email reminders to users in order to inform them about any updates or incoming deadlines to submit their applications. Further, for consultants, GrantHub has application features where consultants can manage and track applications from multiple clients.
It is a web-based cloud platform that gives great accessibility. One of the most important features of any good software is customer support. With GrantHub you have the access to support with the help of email, forum, knowledge base, phone, and chat.
Here are some of the features that GrantHub has to offer:
Grant Award Tracking: Track the status of your application directly from the platform.
Compliance Management: Ensure your grants meet the compliance criteria.
Contract/License Management: Manage your contracts and licenses directly from the dashboard.
Grant Discovery: Find suitable grantors and grantees without any hassle.
Pros And Cons Of GrantHub
| | |
| --- | --- |
| Pros | Cons |
| Has task tracking and reminders | Poor donors searching |
| Licenses up to 35 users | Needs more reporting options |
| Comes with pre-built reports | |
| Intuitive dashboard | |
GrantHub Pricing Plan
GrantHub offers two pricing plans:
Monthly Plan ($75/mo): In this plan, you can manage up to 35 users with a 20GB storage limit and unlimited customer support.
Annual Plan ($795/mo): Annual plan offers the same features as the monthly plan however, you have the option to purchase 20 GB of additional storage at $150/year and an additional block of 10 users for an extra $150/year.
GrantHub's monthly plan will be a good fit for users with limited storage needs.
5. EveryAction – Best Donor Management Solution
Best-in-Class Nonprofit Fundraising Software [Demo Available]
EveryAction helps with donor management and fundraising, particularly for nonprofits. It provides a cloud-based unified platform where you can easily manage fundraising, volunteers, and donors. Along with this, it can help organizations of any size and provide campaign management as well as emails. To support easier donations, EveryAction has one-click donations integration which allows users to have a loyal and engaged supporter base.
Non-profit organizations can handle multiple projects and manage grants within the platform through a seamless dashboard that provides every important function directly on it. For instance, to find donors or grantors for your projects, EveryAction supports multi-channel campaigns so you can use traditional marketing as well as digital channels to look for potential donors.
Moreover, you can do segmentation on your campaigns in order to track and manage them without any confusion. Digital marketing tools provided in this software include targeted email campaigns. You can keep the marketing costs as low as possible thanks to social networks and multiple useful integrations that can help spread the word organically.
Here are some of the important features offered by EveryAction:
Social Advocacy: This advocacy feature allows NGOs to approach targets whether they are federal, state or custom.
Data Management: With the help of organization tools, even a new user can manage data and understand it. EveryAction uses charts and graphs to explain numbers in a way the user can easily comprehend.
360 View: Donation history, petition signups, and email engagement data are recorded to provide a 360 view. Multi-channel tools further improve the effectiveness of grant management and donor management.
Pros And Cons Of EveryAction
| | |
| --- | --- |
| Pros | Cons |
| Has donor management | Poor interface |
| Equipped with social media integrations | No free trial |
| Multi-channel support | Issues with database |
| Exceptional customer support | |
EveryAction Pricing Plan
EveryAction offers no pricing plan, instead, it works on a custom model. You can request a demo account to test out this platform before you make the purchase decision.
6. Bryte Bridge – Grant Writing To Grow Your NonProfit
End-to-End Grant Writing System [$1649/mo]
Bryte Bridge is a flexible solution for nonprofits to run their operations smoothly. Grant writing is provided by Brye Bridge for nonprofits so they can win grants and awards in order to keep moving forward with their cause. Grants provide a huge source of income for many nonprofits and given the tough competition for grants, it is important to ensure the content is of high quality and makes your application stand out.
Only limited applicants actually receive the grant, therefore, with the help of a grant writing service you can deliver the right application in the best way possible. This way, you can secure the funding you need for the targeted programs and projects.
The goal of Bryte Bridge is to empower important causes. For NGOs, Bryte Bridge provides end-to-end grant management that results in winning applications. The forms created by this grant writing software help in creating effective applications.
Here are some of the important features offered by Bryte Bridge:
Budget Creation: You can create a budget and allocate to projects accordingly.
Grant Writing: Improve the chances of winning grants with the help of professional grant writing.
Compliance Management: Ensure grant compliance for every application.
Pros And Cons Of Bryte Bridge
| | |
| --- | --- |
| Pros | Cons |
| Provides grant research | Only suitable for NGOs |
| Ensures grant compliance | A little pricey |
| Prepare grant readiness list | |
| High-quality grant writing | |
Bryte Bridge Pricing Plan
With Bryte Bridge's grant management plan, you'll receive:
Dedicated Development Coordinator
Expert Grant Writer
Grant Management Technology
Regular Reporting
Letter of Inquiry
If your usage of grant management and writing is greater, this plan is perfect for you to automate your overall grants lifecycle.
7. Submittable – Best For Social Impact
Most Comprehensive Grants Management Software [Demo Available]
Launching and growing social impact programs are easier with Submittable. Along with grants, you can also apply for CSR programs and scholarships. The goal of Submittable is to partner up with nonprofits to bring a positive impact to the community through receiving free grants. Thanks to smarter workflows and efficient decision-making, you will never miss grant programs.
Submittable's dashboard is user-friendly and provides a useful space to search for grants and keep tabs on previously applied ones. Further, you can also research different grants directly from the software – making it extremely effective. The organized dashboard gives Submittable an edge over its competitors.
Using this software, you'll quickly learn how to be a pro when it comes to managing grants. Its intuitive user interface is the reason why it is easier for everyone to understand the software in a short time. Not many grant writing software provides the same level of 'ease of use' through their software interface.
Here are some of the important features offered by Submittable:
Campaign management: Manage all campaigns directly from the platform using social media tools available for better campaign outreach.
Online application management: You'll never miss an application deadline and produce quality proposals for grant applications.
Budgeting: Intuitive dashboard provides forecasting and budgeting to help you see the big picture.
Pros And Cons Of Submittable
| | |
| --- | --- |
| Pros | Cons |
| Advanced reviews | Features are complicated to use |
| Anonymous submissions | No free version |
| Automated review | No free trial |
| Has funds trackings | |
Submittable Pricing Plan
Submittable doesn't offer any free trial or free version of the software. However, you can request a demo version by filling out their contact form. Once you're satisfied with the software, you can have custom features installed in this grant writing software.
8. Eleo – Most Affordable Donor Management Software
Robust Features by Eleo [Starting at $39 per month]
Eleo provides centralized payments for any permits, fines, and fees so that you can have evidence for every transaction all in a single location. Moreover, the platform provides auto calculations in order to reduce errors and make submissions simple. You can further improve the audit trails by assigning particular roles to each member of your team and external reviewers.
In these technologically advanced times, workflow automation is a great feature in any software. Eleo provides workflow automation for administrative tasks (that are repetitive). You can also filter out applications and move them automatically.
Here are some of the important features offered by Eleo:
Application Deadline Tracking: To ensure all application deadlines are met.
Grant Expenses: Allocate grant expenses directly from the platform.
Unlimited Document Uploads: No limits on uploading documents.
Pros And Cons Of Eleo
| | |
| --- | --- |
| Pros | Cons |
| Comes with data management | Outdated interface |
| Has grant management | Poor automation |
| Allows for funds trackings | |
Eleo Pricing Plan
Eleo offers 6 pricing plans:
$39/month: You get 2500 donor records.
$59/month: You get 5000 donor records.
$99/month: You get 10000 donor records.
$139/month: You get 12500 donor records.
$159/month: You get 15000 donor records.
$199/month: You get 20000 donor records.
Depending on your grants requirement (number of projects you're working on), you choose the best one. Ideally, a $100/month plan will work best for most users.
Wrapping Up
Using grant writing software is necessary for businesses because it helps in securing grants from donors. It can also help perform many functions such as:
Organizing the proposal's content
Budgeting reports
Expense reports
Assists with timelines
Contact management
Report builders
The software I listed above, comes with many functions that assist in grant management.
If you're looking for the best-performing solution, I'd recommend Instrumentl, however, in terms of the best value for money, I'd recommend Instrumentl.
If you're looking to learn more about different types of software, head over to software reviews.