Which is better, working for someone else or being your own boss? If you're considering making the transition, this 'how to be your own boss' guide is the perfect start for you.
Leaving the monotonous 9-to-5 grind and making a jump as a full-time entrepreneur is not a light decision to make.
I, myself, take a few years of contemplation before finally carving my own path to becoming my own boss. And after years of hard work, it eventually pays off.
Since people still have difficulty making the transition, it inspires me to create this free guide.
Here I'll share a step-by-step guide on how to start, handy tips, and perks of being your own boss. On top of that, I'll cite the best business ideas that don't require capital.
Let's get started.
Advantages of Being Your Own Boss
Nothing can compare to the fulfillment when you do a job you love and make you smile every second of the day.
So, if you're going to ask, is being your own boss worth it? The answer is an energetic yes.
The perks and advantages you can get are limitless when you successfully become the boss of your business… and your life as a whole.
Here are its top four advantages to give you a clear idea:
#1. Take Full Control
When working as an employee, your career's future is in the hands of executive management. You don't even have the influence in making an important business decision.
Let's say you're allowed to contribute to making a decision, your superior can always take credit for it.
This is the reason working for yourself is way more rewarding. You have the freedom to make all the executive decisions and allow your creativity to implement each to get the most profit.
When it comes to your career, you're no longer restricted by your job description.
As your new business progresses, you'll be able to develop your skills and learn new sets.
#2. Implement your Idea of Work-Life Balance
More companies are acknowledging the importance of work-life balance. Unfortunately, not all of them implement it.
If you're the boss, you can implement your own ideas of a healthy work-life balance.
You can finally tailor-fit a solution to prevent job burnout and living in a monotonous cycle.
Creating a schedule that promotes efficient work is one solution you can start. Don't forget to make it flexible too.
Making a flexible schedule prevents you from rushing into things and having more time to spend on yourself and your family.
#3. Choose the Best Workspace
One thing you can never get as an employee is the ability to choose your own workspace.
Whether you're placed between colleagues who love to gossip or directly facing the AC fan, you don't have a choice but to accept.
But being your own boss, you can choose any place you like to set up your workspace.
Most new entrepreneurs pick a specific location of their home and transform it into a cozy and productive workspace. It's pretty convenient because you don't have to deal with traffic.
Also, there's no strict dress code to follow, so you can wear any clothes you're comfortable in.
But of course, it's not limited to that location. You can work anywhere you want with minimal distractions, all thanks to modern technology.
#4. All Profits Go To You
Most people couldn't leave their full-time job because of their paycheck. It may be fixed, but it's consistent monthly.
What they didn't know is that starting a business can double or even triple their monthly income.
You may not have noticed it at the early stage. But as soon as the business consistently grows, the money will start to flow, and they're all yours.
Since earnings are different each month, it's best to spend your earnings wisely. You can use them to do any of the following:
Upgrade your equipment and other business improvements
Invest in self-development
Hire skilled professionals to lighten your workload
Leave a cash buffer in your account for emergencies
While all these elements are essential, don't forget to save for your retirement. This way, you can retire whenever you like.
5 Steps To Become Your Own Boss
Now that you know the advantages of being your own boss, I'll discuss how to make it into reality.
I understand that starting a business can get you too excited or overwhelmed. That's why I've created a simple step-by-step checklist for you to follow:
Step #1: Get a Million-Dollar Business Idea
Let's start with the basic yet most important step, get your idea ready.
Every business starts with an idea, big or small. And from that idea, you can determine what type of business you want to start and what people to target.
If you don't have one yet, it's wise to consider your hobbies.
Most entrepreneurs nowadays start their businesses by transforming their hobby into a money-making business. It's favorable to you since you already have the skills and knowledge to do it.
Not to mention, the passion you have for your idea makes you more persuasive in marketing and promoting it.
You can also consider your personal experiences.
An excellent example of this is when you invest in an expensive product and do not fulfill its intended purpose. It can drive you to madness.
As frustrating as this experience may be, this may be a good opportunity for you to develop an excellent solution to the problem.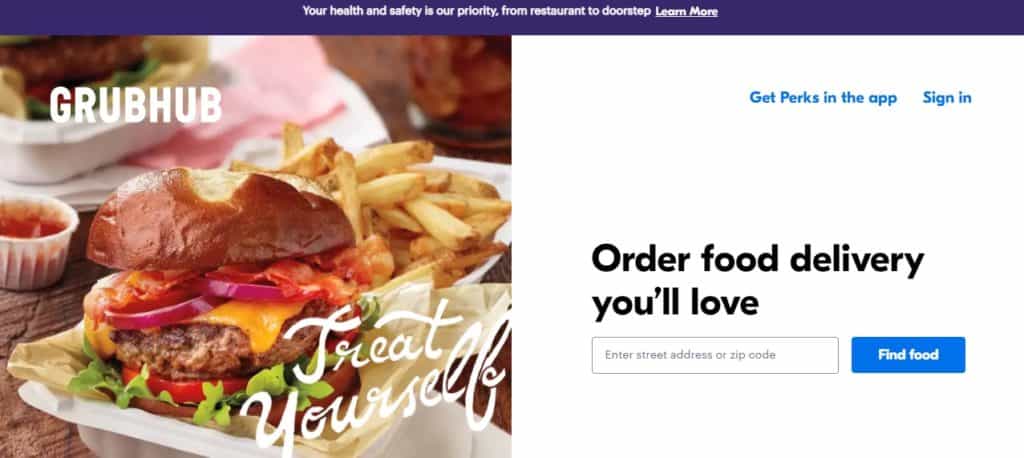 This is exactly what happened to Matt Maloney and Mike Evans when they came up with the GrubHub idea.
They were annoyed at how difficult it was back then to order a dinner takeout. They need to call restaurants and read their credit card information manually.
Since they were already working on rental real estate's geographic lookup searches, it hit them that they can do the same for food delivery.
This only shows that as long as there are problems to solve, you can come up with an innovative solution.
Step #2: Understand the Different Types of Business
Now that you identify what you want to do and offer, it's smart to understand the type of business you're getting into.
Starting a business comes with different challenges and unexpected surprises. However, if you understand your business' ins and outs, you can prepare yourself for it.
There are three types of businesses you can start:
Audience-based business: This type of business is often used by experts and educators who offer coaching and training programs. But as trends change, you can also use it to start a blogging and podcast career.
Product-based business: This type of business is most suitable for anyone with a product to offer, both physical and digital. You can sell your products in person and in an online store to achieve the most profit.
Service-based business: This type of business is focused on delivering quality services like home repairs, health care, and other professional services. Creating a website and social media channels are the best strategies to introduce your business and get to know your audience.
If you're planning to start an audience-based business, you also must understand the smart approach per audience type.
For example, your target audience is executives from big corporations. You need to provide the information they find worth sharing with all their employees or have a powerful impact on their decision-making.
Step #3: Research and Evaluate your Idea
You can indeed create tons of business ideas. Unfortunately, not all of them are worth pursuing.
So, how do you know if an idea is good or bad?
The answer is simple, in-depth research. This method helps you discover all important questions and pain points that your idea can answer and solve.
But before diving into the specifics, you must ask yourself first:
What do I already know about this idea? And, what do I want to learn at the end of the research?
List all your answers, and from there, you will figure out the exact topics you want to cover in your research.
There are different strategies to conduct research, but one of the most efficient is seeking opinions from family, colleagues, and friends.
This strategy is completely free and gives you a good reason to hang out with them. Once you're with them, pitch your idea and ask them:
Is the idea unique?
Have you known anyone who already pursued this idea?
How likely would you purchase it?
How much would you pay for it?
To get a more comprehensive answer, you can use the following strategies:
Carry out an online survey or poll
Research all your potential competitors on Google and analyze their strategies (product and marketing)
If no one else is pursuing it, research if people are looking for a solution similar to your idea. You can use social media channels, Google, and case studies to find answers.
Once you reach the end of the research, compile all the information you've gathered, and analyze them. From here, you can evaluate your idea if it's capable of working successfully and has a solid market interest in it.
Step #4: Test your Business Idea
With today's internet technology, testing your business idea is free and easy to accomplish.
You can start by using your email and various social media platforms like Facebook and Twitter. If you own a blog, feel free to use it to your advantage.
Of course, you can't connect to your audience empty-handed.
You need to create an initial pitch to pique their interest. In drafting your pitch, always remember to do and mention the following:
Make the message clear, on-point, and easy to understand
Use effective storytelling techniques to connect and engage your audience
Highlight all the problems it solves
Customize the pitch based on your target audience
There's no specific time frame on how long you should run your testing period. But in my opinion, you can do it until you find solid proof that there's a consistent demand for your business idea.
Step #5: Start Small
Once you reach this step, congratulations. You're now one step closer to becoming your own boss.
When starting up, make sure to start with baby steps.
This will give you the freedom to do the following:
Observe the demand trend
Address all the problems that may arise
Personally attend to your customers' inquiries
Also, even if you received positive results on your testing, it doesn't guarantee it will replicate the same result on the actual launch. So, it's ideal to take one step at a time to give you room for improvement.
I've also included a short checklist.
This checklist covers the important things you need to accomplish before offering your product/service to the public:
Set your goals
Pick a business name
Choose which platform you want to start selling
Create your business and marketing plan
Create quality content for your product/service
Best Home Business Ideas You Can Start With No Money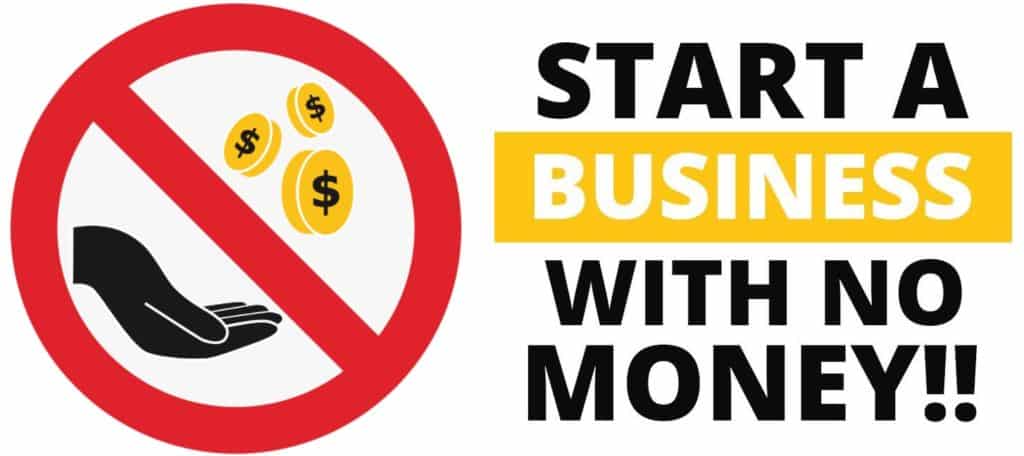 Yes, you read it right. It's possible nowadays to start and grow a business without spending a single cent.
I've compiled 10 of the best business ideas you can start in the comfort of your home:
Content creators: For skilled professionals like content writers, photographers, or video makers, you can start a freelancing career. You can use LinkedIn, Fiverr, and similar platforms to connect with potential customers and post your service.
Influencer: The use of social media channels evolves fast over the past years. Now, you can also use it to earn cash by reviewing/endorsing products or showcasing your money-making talent.
Sell your personal masterpiece: This is one example of turning your hobby into a business. If you've completed tons of artwork, you can start displaying and selling them through Instagram, Amazon, and other shopping cart platforms.
Babysitting service: If you love to be around kids all the time, this business idea is perfect for you. Just make sure you've completed basic babysitting and infant care courses and first aid training.
Pet care and training service: This is suitable for all animal lovers. You can start it free if you have already completed various training sessions.
Consulting service: For highly experienced professionals, you can offer a consulting service to share your expertise and help entrepreneurs grow their businesses.
Personal health trainer: Living a healthy lifestyle is a challenging task; help others stay focused and motivated by giving them advice. You can also offer customized meal plans and exercise routines for each customer.
Academic tutor: If you're an educator, you can offer parents a series of one-on-one sessions to help their kids with their curriculums.
Coaching service: This is ideal for skilled multilingual artists (musicians, photographers, and alike) who want to give anyone a private training session.
Online seller: Handmade or pre-loved products, you can sell them on your social media channel or by signing up on an online shopping platform's free account.
There are more available home business ideas online. Feel free to research them and determine which one best suits your needs.
Examples of Successful Self-Employed People
Starting a business can be intimidating. That's why I've compiled two of the most successful self-employed entrepreneurs' stories to keep you inspired.
Ron Stefanski is one of those people who graciously climbed their way up to the corporate ladder. Before reaching 30, he was able to achieve his goal to be a Digital Marketing Manager.
When he starts to fall in love with traveling, it opens his eyes that there are better places outside his cubicle.
Shortly after that, he realized that he wanted to get out of it. But just like everybody else, he couldn't let go of his full-time job that easily.
Instead, he started to do various online projects on the side.
After several failed projects, he finally noticed a small success on one of his project, and from there, he decided to quit his job and gave himself a year to succeed on this project.
Today, Ron's profits reach over $1 million from his media business, where his main goal is to help people start an online business.
He also has a blog and YouTube channel where he shares tips and teaches new entrepreneurs for free.
For anyone who wants to find success in online selling, Suzanne Canon is the best role model.
When she first used the marketplace app called Poshmark, her primary goal was to earn extra money from her pre-loved clothes. But one good thing led to another, and five years later, she's the first app user who earned $1 million on the app.
In 2012, she met Tiffany Kroeger on the app, and with their shared passion for fashion, they decided to build their own brand called Infinity Raine.
Today, Suzanne is one of the self-made millionaires who keeps inspiring other female entrepreneurs to make their dreams a reality. She still sells her goods full-time on Poshmark while co-managing Infinity Raine.
Top Tips on How to Become Your Own Boss
I've compiled a few of the simplest yet most effective tips on how to find success as your own boss:
A college degree isn't required or shouldn't be treated as a barrier when starting a business. It can help you get started, particularly if you offer service-based businesses like marketing consultancy and corporate training programs.
If people close to you and don't know you say that your idea is good, this is an excellent sign that you're on the right track.
Not because an idea doesn't fit your goals now, it automatically means it's a bad idea. It's best to save them, and if you have time to spare, you can start innovating them and find good use.
Always remember, that great ideas mostly come during zone-out moments. So, don't pressure yourself to come up with a great business idea; just relax and let it naturally come to you.
When you're the boss, you can easily get caught up with everything happening in your business. It would help if you learned how to switch it off.
When you pitch your business to people, learn how to be a sponge and absorb all people's opinions and reactions. All these represent how your potential consumers will react to your business, and better prepare an action plan.
Conclusion
Everyone wants success and financial security in their life. For many years, most people got these for having a full-time, corporate job.
But for others who wish to find success by doing the job, they love, instead of finding it, build it yourself.
Being your own boss gives you tons of benefits and freedom. Sure, it sounds challenging at first, but you can do it right with the right tools and guidance.
There's no perfect formula for how to be a successful self-employed entrepreneur.
The only way you can stand a chance is by doing the following:
Believe in yourself and your product
Stay disciplined to follow your work schedule
Set realistic goals
Create content with value
Lastly, stay true to your promise and customers
I hope my 2021 free guide on "How To Be Your Own Boss [No Money Needed]" inspires you to pursue your dreams.
If you have inspiring stories or tips to share, feel free to write them down in the comment section.
FAQ
Can I Make Money Without a Boss?
Yes, you can make a good amount of money even without a boss. Two of the popular careers you can do without a boss are online sellers and social media influencers.
How can I start a business online with no money?
You can start a business online by creating an account on social media platforms like Facebook, YouTube, and Instagram. Once you set up your profile, you can start creating quality content that is relatable to your audience.
Can I Make a Full-Time Income Working From Home?
Yes, you can. Tutors, virtual assistants, writers, and business consultants are a few of the in-demand jobs you can do at home.