When it comes to managing and taking full advantage of your talented staff, you'll need to have proper HR analytics software to help you find the chinks in your system.
I have plenty of experience managing workers, and I know that it can be challenging to track what works and what doesn't, who does their best, as well as those who are underperforming.
From what I've learned in the past, approaching this problem using analytics and data is the best solution. When you have the proper HR tools, people management is a lot more streamlined and convenient.
Today, I'll be introducing you to 7+ HR analytics software for 2022.
What Is The Best HR Analytics Software?
If you're short on time, you can also take a look at my top 3 picks: ADB Workforce Now, Nakisa Hanelly, and Tableau.
| | | |
| --- | --- | --- |
| 4.9 | 4.6 | 4.2 |
| Best overall. All-in-one HR analytics platform for organizations and businesses of any kind and size. | Best for scalability. Accessible to large businesses and enterprises with its scaling features. Starts at $500/month. | Most user-friendly. Easy to get started with intuitive dashboards and user interface. Starts at $15/month. |
| Try ADP | Try Nakisa Hanelly | Try Tableau |
Now, let's get started with the in-depth list of the 7+ best HR analytics software that you can get your hands on:
1. ADP Workforce Now – Top Pick
All-In-One HR Analytics Software Solution [Free Trial | Custom Pricing]
ADP Workforce Now is an HR analytics tool that pretty much delivers on almost everything that you can think of when it comes to managing your talented workforce.
It also provides the following diverse features:
Communication
Management of different teams
Hiring and onboarding new team members
Tracking employee progress and payroll
Some features that I personally see ADP be highly useful for are their general overview of company-wide workforce management and their employee performance metric trackers.
For their workforce management, it brings in a great overview of real-time employee management.
In addition to enabling timecard approval statuses, it can also monitor the following:
Those on overtime
Currently active ones
Numbers of employees
Employees on time-offs
You can see the total hours that workers have accumulated on certain days over the duration of an entire week.
Not only that but you are also reminded of any HR-related tasks that need addressing.
Whether it be for time-off requests, shift reviews, or missing card punches. ADP's Team Dashboard is highly intuitive, with the information presentation spread out in different tables and sets.
With this, you can get an easy solid grasp on what is happening in the back-end of your entire business workforce.
ADP's Performance Goal dashboard is another feature that is worthy of praise.
It accurately measures the different key performance metrics that each employee has on their plate and tracks them according to their progress.
From here you can reliably see the following:
Rejected tasks
Projects requiring approval
Projects currently being worked on
Employees and projects need your attention
The dashboard also covers the entire business employee roster so you can have an easier time managing employees from different departments.
ADP's current setup with their Performance Goal dashboard is especially great for startups, and medium-sized businesses as these can effectively make streamlined workforce management.
There are also plenty of other areas that this HR analytics software shine such as:
Payroll overview
Third-party integrations
Talent hiring and onboarding
Turnover probability explorer
Time and attendance scheduling
ADP data cloud – benchmarking industry data
It also comes with unified human capital management (HCM) system to manage your employees in the U.S and Canada. You can use it to organize and view all your employee data and set up payroll schedules.
Currently, ADP Workforce Now is primarily a cloud-based solution platform so you won't need to install it on any platform.
Pros And Cons Of ADP Workforce Now
| | |
| --- | --- |
| Pros | Cons |
| Highly intuitive user interface | Steep learning curve |
| Wide range of extensive features | Reports often come with unnecessary data |
| Convenient employee onboarding | Can have long loading times |
| Include tons of core HR features and options that are easy to use | |
ADP Workforce Now Pricing Plan
ADP Workforce Now does not display their prices for its platform on its website but they do post details on the different packages that companies can avail themselves of.
What's great about this is that they can accommodate business sizes as well, so you can get more beneficial rates if you have a smaller team to handle.
They also offer a very generous 3-month free trial for their packages for new users to experience their platform, which can be enough time to get a good learning experience and opinion on whether or not the platform would be suitable for you.
2. Nakisa Hanelly – Best For Large Companies & Enterprises
HR Analytics Platform For Global Organization Management [Free Trial | $500/mo]
Nakisa Hanelly leads as one of the most innovative picks in the field of HR analytics solutions. 
They primarily serve large businesses and enterprises.
One of their strongest features is that they have the capacity to handle global workforce management conveniently.
Their organization chart can operate on an international scale and their implementation of this system is just absolutely stellar, with many convenient options for you to choose on how to view your workforce.
You can locate staff and employees depending on their location using an interactive in-app map that Nakisa Hanelly offers.
You can also access the relevant information that you need about the specifically chosen branch all in one simple dashboard.
Another extensive feature that Nakisa Hanelly offers is Hanelly Insights.
This is a system that can display global information regarding your organization's character and traits.
It also shows the following:
The total salary you are providing
The number of managers you have at hand
The number of employees across different branches in the world
The amount of information that Nakisa Hanelly's insights provide helps organizations chart the current health of their business and make the proper decisions based on these much-needed workforce analytics and information.
Not only that but it also offers another added feature called data quality index.
This basically means that the Hanelly Insights also takes into factor the quality of the information that it analyzes and shows you how accurate they are.
If and when there are issues regarding data quality, you can easily check the root causes of these problems by checking through the following:
Divisions
Departments
Business units
Different branches
Nakisa Hanelly's platform is well-known and used by Fortune 500 companies due to its advanced AI and machine learning techniques.
This allows you to get the most valuable data and accurate reports predictive analyses and forecasts.
Pros And Cons Of Nakisa Hanelly
| | |
| --- | --- |
| Pros | Cons |
| Innovative and extensive features | Third-party export functions need work |
| Reputable and used by Fortune 500 companies | Reported technical glitches |
| Data quality assurance through Nakisa index | Not intuitive search function |
| Uses prescriptive and predictive analytics to automate HR processes and data | |
| Provide multiple structure views and dynamic data filtering so HR leaders can quickly get the results they want | |
Nakisa Hanelly Pricing Plan
Nakisa Hanelly offers three distinct pricing subscription plans on their platform for small businesses ranging from 1 to 2,999 employees.
For larger companies, it only offers quotation-based pricing.
It also has a free trial for interested clients that are looking to try out their software without any needed costs.
Basic ($500/mo): For the Basic plan, you have access to all features on their org chart and a simple in-chart analytics platform. You also gain access to some other features such as online training, simple user management, and language localization.
Standard ($1,000/mo): For Standard, you gain all the previous features while getting access to all the tools in Nakisa Hanelly's analytics services. You can enjoy advanced dashboards with layered filtering, employee maps, employee trends, organization headcount and salary overview, and more.
Advanced ($1,500/mo): The Advanced plan gives you access to all the features of Nakisa Hanelly including their organization design platform. This provides you with an extensive list of tools such as creating scenarios, succession planning, creating and tracking targets and KPI's, scenario validation, and you also can enjoy a more intuitive drag & drop functionality that can make your life a lot more convenient. You also have a dedicated account manager for easy communication.
3. Tableau – Most User-Friendly
Convenient & Visual HR Analytics Software [Free Trial | $15/monthly/user]
When it comes to creating and visualizing data, Tableau just hits it right with its intuitive user interface and impressive presentation of data analytics.
This makes it all the more easier and convenient for any HR professional to take in the much-need information without having to spend too much time digging through the numbers.
Tableau's winning point is its capacity to create stunning information packets from relatively complex data and numbers that can be hard to comprehend.
Just take a look at how they present sales profitability on this map:
Tableau isn't much of an HR analytics software at its core but instead is a data analytics platform that can do a wide variety of things, including HR data management.
It's highly flexible with its capacity to cover many areas from financial data to sales analytics and more (and that includes HR data as well).
For example, this is one of the analytics dashboards that the Tableau community has created for human resource workforce management – a headcount fluctuation dashboard. Through this, you can easily check for employee turnover rates and plan accordingly with how you manage growth.
Another example of an intuitive dashboard is Tableau's LinPack which is basically a headcount dashboard that can check the number of staff that you have at hand and also track employee trends as well with its built-in analytics.
While it is true that it can have quite a steep learning curve, it's more often well-worth learning the platform due to its flexibility with plenty of varying data fields.
Lastly, Tableau's versatility does cover not only its dashboards but also the platforms that it supports, with mobile, desktop, and web-based applications available for any user to enjoy.
Pros And Cons Of Tableau
| | |
| --- | --- |
| Pros | Cons |
| Flexible and wide covering data analytics platform | Not specifically tailored for human resource management |
| Stunning data visualizations | Learning curve due to the amount of flexibility involved |
| Custom community-made HR dashboards | Can be costly |
Tableau Pricing Plan
Tableau has a free trial for any interested parties, and they also offer a special promo for students and teachers with an entire year of free use of their platform.
Note: Their pricing packages are billed annually.
Tableau Viewer ($15/monthly/user): Viewer provides you easy access to view different dashboards and interact with them as well. You can make your own custom views and even download these visualizations and summary data. You can also comment on the dashboard and receive data driven-reports.
Tableau Explorer ($42/monthly/user): Explorer gives you more access to other features such as the capability to manage user permissions. You can also author curated data. For collaboration, you can enjoy creating data-driven alerts and creating subscriptions for others. Author-wise, you can be able to create and publish new workbooks and edit existing workbooks and visualizations.
Tableau Creator ($70/monthly/user): Creator provides you with all of the existing features from the previous two and provides you a powerful toolset with server administration, advanced server deployment monitoring, and content migration. You are also now able to create and publish new workbooks with a new data source and even make your own data sources.
4. Engagedly – Best In Customer Support
Workforce Engagement & Management Combined With Analytics [Custom Pricing]
Engagedly takes a different approach when it comes to HR analytics as it is a platform that also provides an easy way to manage talent.
One key feature is that employees can easily and actively engage with one another.
Meanwhile, managers and team leaders are able to conveniently observe the entire workforce's status in one unified platform.
Let me elaborate on this.
An example would be Engagedly's real-time feedback system where employees can provide accurate feedback on each other's performance.
Primarily, the data that Engagedly focuses on is the individual capacities of each employee.
While it has a dashboard that tackles the general overview of the organization, its specialty is in tracking employee performance for managers.
An example of this is through its reporting system.
It features their nine-box initiative where leaders can get an easy idea of the performance and potential a certain employee is displaying based on the feedback and ratings that they've gotten.
Another feature that Engagedly has on its sleeve is its goals and KPI tracker.
It is a dashboard that displays all the current goals and projects that are currently in the pipeline.
These are all pooled together from all the current ones that each employee is a part of. It also displays the performance and status of each goal.
Managers can have a comprehensive overview of which projects are currently at risk and which projects are in progress or haven't yet started.
Engagedly supports mobile, desktop, and web applications.
They also have a customer service program available through the following:
Email support
Phone assistance
24/7 Live representative chat
When it comes to training, Engagedly offers its users webinars, documentation, in-person training, and live online services.
Pros And Cons Of Engagedly
Pros
Cons
Responsive and active customer support
Some complicated features
Useful and increasingly helpful feature list
Limited dashboard customization
Extensive training support for users
Analytics needs improvement
Provide excellent employee performance
management solution
Seamless integration with your existing
HR systems (HRIS, Slack, Gusto, etc.)
Engagedly Pricing Plan
If you want to use Engagedly, get in touch with their sales team to get your personalized pricing.
Their plans are also subscription-based, and a free demo is provided for interested users.
5. BambooHR – Customized Reporting System
Personalized HR Management & Analytics Platform [Free Trial | Custom Pricing]
BambooHR is a workforce management platform that provides a lot of personalization options.
It can also automate the following HR-related activities:
Hiring
Payroll
Reporting
Sick leaves
Data analyzing
BambooHR's user interfaces when it comes to dashboards, reporting, and personalization sheets are top-notch quality.
It also boasts great distribution of information and in-depth features that any employee can use with convenience.
Take a look at one of these personalized sheets right here:
Aside from this, BambooHR also shines brightly with its data analytics software.
You'll be able to view the following information:
Payroll data
Turnover rates
Total hours worked
One great thing about their reporting platform is that you can also make a customized reporting system.
Just fill in the appropriate fields that you need automatically filled out.
BambooHR also comes along with support for the following platforms:
Not only that, but when it comes to training and customer service, it follows through with:
Live training
Email support
Phone support
Extensive documentation
Customer success webinars
Overall, BambooHR is an all-in-one tool where you can easily manage your team and at the same time have all the much-needed data analytics tools that you can get your hands on in one full sweep.
Pros And Cons Of BambooHR
| | |
| --- | --- |
| Pros | Cons |
| Intuitive and sleek user interface | Inconsistent software updates |
| Company calendar feature | Mobile application lacks full-functionality |
| Allows individual employee customization | Lacks an internal chat service |
| Effortless collection, maintenance, and analysis of people data | |
| Best for improving company culture and talent acquisition | |
BambooHR Pricing Plan
BambooHR does not offer transparent pricing plans for its packages.
They do offer a free trial for those looking to avail their platform.
Essentials: For their Essentials plan, BambooHR offers full access to their HR management suite and employee-self service features. These include standard reporting, employee records, time-off management, employee directory and organization charts, email alerts, standard workflow and approvals, and more.
Advantage: Advantage covers most of the features that Essentials offer but with extra powerful tools and access to hiring and onboarding platforms, data sharing and integration, employee satisfaction reporting, and advanced components ranging from company branding, audit trails, advanced reporting, customized email alerts, tabs, fields, and access levels, and many more.
6. intelliHR – In-Depth Analytics
Best HR Analytics Software For Education, Health, & Legal Industries [Free Demo | Custom Pricing]
intelliHR is one of the best when it comes to HR analytics.
The industries that are best suited for it are the following:
Legal
Education
Non-profit
Hospitality
Accounting
Technology
Engineering
Medical and health
It features a lot of powerful tools, from talent management and streamlined workflows to data management and analytics.
One of the core features of intelliHR is its intuitive workflows feature and employee dashboard overview.
Here, almost everything that an employee needs to track their progress on tasks, training, and performance can be measured in one single dashboard.
intelliHR's automation processes for HR managers are also another feature that makes the platform stand out from the rest.
All done in the platform, you can conveniently conduct the following:
Training
Compliance
Performance
Employee onboarding
Employee experience management
Another added feature in their automation process for workflows is that it can entirely be customizable.
You don't need to do all the heavy lifting since intelliHR also provides a wide range of templates for dashboards and reports.
All you need to do is choose, fill them up, do some tinkering, and you're automating HR tasks that otherwise would be a repetitive task that can eat up a lot of your time.
Aside from talent management, intelliHR also is strong in its data analytics.
With metrics and analytics assigned for many different things ranging from employee performance and ratings all the way to financial ROI's, compliance reports, and more.
intelliHR also takes advantage of advanced AI and machine learning to provide a much more in-depth result from their reporting systems.
You can easily say goodbye to spreadsheets with ready-to-use reporting tools from charts, dashboards, graphs, and more.
To give you some idea of the scale of these pre-built analytics templates that you can use, I'll provide you a list of these reporting templates that you can use and customize right out the bat:
Surveys
Compliance
Wellness checks
Attrition and turnover rates
Overall employee headcounts
Goal and performance reports
Training costs and investments
Employee sentiment and satisfaction
You can also customize and make your own reporting template if some of these are just not your type, all without needing to do everything from the ground up.
Pros And Cons Of intelliHR
| | |
| --- | --- |
| Pros | Cons |
| Excellent and responsive customer service support | Inputting external old data can take time |
| Provides actionable insights and powerful people analytics | Lack of integration implementation |
| The intuitive user interface can help you build unique employee experiences for the entire employee lifecycle (every stage) | Often a clunky software |
intelliHR Pricing Plan
intelliHR offers four different subscription packages for their users.
These packages are split between monthly and annual payments where you can save a bit more going with their annual plans instead.
Employee Engagement ($3.9/monthly/employee): Employee Engagement provides you basic access to the suite and engagement features. You can enjoy real-time feedback, quarterly eNPS, feedback report summaries, manager dashboards, easy email communication, org charts, multi-factor authentication, and even Zapier integrations.
Performance Enablement ($6.5/monthly/employee): Performance Enablement gives you all the previously mentioned features plus additional powerful features for tracking organization performance such as automated performance reports, cascadable team goals, OKRs, performance reviews, performance improvement on plans, workflows, and case management, and more.
Strategic HR ($10.5/monthly/employee): Strategic HR unlocks all the features of intelliHR's suite alongside complete admin access. You also get premium features such as complete employee profiles, customizable forms and workflows, record/reporting on employee skills and training, mandatory qualification compliances, workforce analytics, attrition analysis, and more.
Enterprise Solution (Custom Pricing): Enterprise solution is akin to StrategicHR. However, the pricing depends on the size of the business, and oftentimes, you can save a lot more as compared to having to pay for each employee on the previous packages on custom quotes.
intelliHR does not offer a free trial for their service but they do give free demos of their product.
7. ActivTrak – Real-Time Monitoring
HR Analytics Software With The Most Intuitive Interface [Free Version | $9/monthly/user]
ActivTrak takes up a unique spot in this list as it is the only HR management and analytics software that provides a free version of its platform for interested users to checkout.
It also has powerful workforce data analytics and workload management features.
Additionally, its interface is sleek and well-designed.
ActivTrak currently supports mobile, desktop, and web-based deployments.
It also boasts a unified scrollable dashboard where all relevant data from analytics, workforce management, and reports are displayed for viewing.
Currently, ActivTrak sells itself as an employee monitoring software, and it does well in this regard as it can support different branches and even global deployments.
It's great for analyzing sales, productivity metrics, and total active time that the employees of a branch have allocated during a specific period.
There are also time breakdowns on how an employee spends their day and how much an employee allocates their time on specified tasks and projects.
When it comes to viewing data, ActivTrak does this with proficiency.
HR managers and data analysts can come in and view all aspects of the business, from the overall organization view down to the individual workers.
ActivTrak also has real-time user activity tracking to check on the progress of individual employees.
Its reporting system also shines well, with different scales, graphs, and dashboards available for users to enjoy.
These are also customizable, intuitive, and easy to understand.
Overall, ActivTrak is an extensive monitoring platform with an added feature of HR analytics to make things a bit more in-depth and specific. It gives business leaders the advantage of making informed decisions effortlessly.
Pros And Cons Of ActivTrak
| | |
| --- | --- |
| Pros | Cons |
| Free version available for users | Menu navigation needs improvement |
| Real-time activity monitoring for employees | Employee invasion of privacy concerns |
| User activity for web applications and screenshot option for desktops | Limited reporting options |
ActivTrak Pricing Plan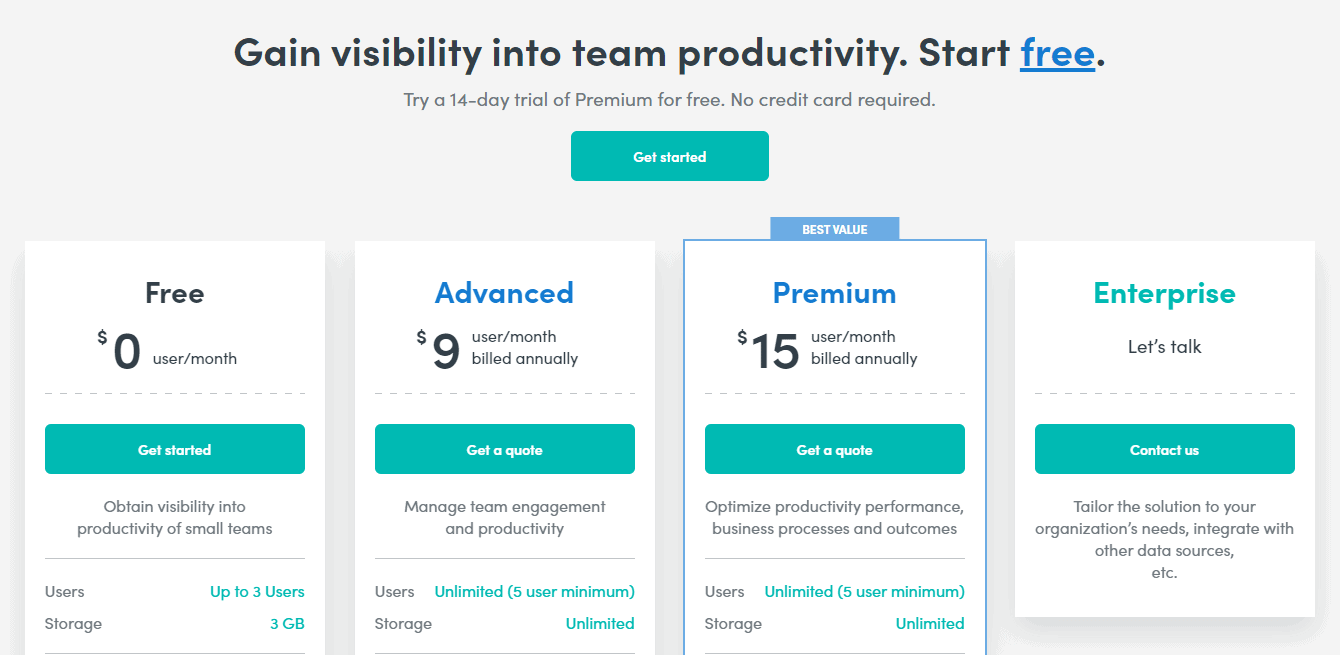 ActivTrak provides users with a 14-day free trial without the need for credit cards.
They have two different subscription packages to offer for their clients which are billed per user annually as well as another option for enterprises which is quote-based.
Free – For their free version, you can only have up to 3 users and are allotted 3 GB of storage. However, you can still enjoy a wide range of features from activity dashboards, top websites, users, applications, and category reports. You also can use productivity reports and receive email notifications.
Advanced ($9/user/monthly): Advanced really starts opening up with ActivTrak's features, as you can now have unlimited users and storage space. Features you can enjoy are team productivity pulse, working hours report, USB File & File Transfer detection, alarm-triggered screenshots, and even remote install. You have access to customer support on chat, phone, and email support, plus diagnostics and health checks for your software.
Premium ($15/user/monthly): Premium starts with team productivity goal setting & tracking features and productivity benchmarks. You can also now get virtual coach recommendations alongside an organization's health dashboard—personal insights dashboards for employees and even workload balance & burnout risk reports. 
Enterprise (Custom Pricing): Enterprise is specifically made for large businesses that have quite a bit too many employees for the previous package to make it cost-efficient and Enterprise offers a custom quote for the needs of your business.
8. Visier – AI-Driven Software
HR Management Analytics With Security & Integrations [Free Demo | Custom Pricing]
Visier is flexible with its range of industries that cater.
They provide a platform for financial services, healthcare, manufacturing, tech, and even science fields.
One of their key features is that their platform is primarily AI-driven and the solutions that they provide for their users are data visualization through simplicity and ease of use.
Visier takes a big step when it comes to employment history and tracking their career progress as time goes on.
Alongside this, it can also check the entire organization's employee movement summary.
On a specified timeframe, departments, and branches, you can track the number of employees that have switched, added, or removed.
These reporting systems also cover a wide range of fields that includes:
Benefits
Retention
Incentives
Performance bonuses
Another feature of Visier is that HR managers can create customized analytics based on real-time driven data.
Moreover, Visier doesn't only cover HR management but can also integrate other data as well from financial-related activities to other custom fields.
This gives financial and HR teams an easier way to coordinate and work together.
Visier is currently only a web-based platform with a mobile application available for clients.
Pros And Cons Of Visier
| | |
| --- | --- |
| Pros | Cons |
| Easy to use and intuitive for new users | Hard to use mobile version |
| Accurate data reports | Long waiting time for report preparation |
| Plenty of features for data analysis | Onboarding process could be improved |
Visier Pricing Plan
Although pricing plans aren't visible on their site, Visier offers a free demo.
Conclusion
When it comes to HR analytics software, there are plenty of choices to go around, and it can be quite overwhelming with its unique features and quirks.
But at the end of the day, it all comes down to the overall general use and mix between workforce management and data analysis.
If I have to choose, it would be ADP Workforce Now, as it is a great mix while at the same time not costing too much for the average startup or user.
The features that come alongside it with performance reviews, team dashboards, employee hiring and onboarding, payroll, and third-party integrations just hit right for most HR managers out there looking to get the best bang for their buck.
Plus, the three-month free trial offer is just simply too much of a great offer to pass up.