Is manually handling employee relations cases and requests getting too much to handle? It's time to turn to a digital system through dependable HR case management software to streamline workforce management processes.
As I hire more employees for my online businesses, my attention has been hugely divided between running operations and handling employee queries. Since then, I've explored tools to discover the most reliable ones.
In this article, I've compiled the best ones in the industry. Selecting any of these HR case management software is guaranteed to make your workload lighter so you can focus on important matters.
What Is The Best HR Case Management Software?
If you're in a hurry, check out my top 3 picks at a glance: Neocase HR Ready, ServiceNow, and LBi HR Helpdesk.
| | | |
| --- | --- | --- |
| 4.8 | 4.5 | 4.2 |
| Best overall. Leading case management solution for HR teams. Starts at $100/month. | Best for ease of use. User-friendly dashboards and intuitive features for HR management. | Feature-rich. HR management platform with machine learning features. Starts at $150/month. |
| Try Neocase HR Ready | Try ServiceNow | Try LBi HR Helpdesk |
1. Neocase HR Ready – Top Pick
Top-Notch HR Case Management Software With The Most Efficient Request Processing [Starts at $100/mo]
Neocase HR Ready offers your human resources teams a collaborative tool to process employee requests efficiently while limiting inessential interventions.
With its management tools, HR employees or service reps can focus on service quality and efficiency with a real-time dashboard.
With the clear graphic dashboard, you'll know everything that's happening in the service center. It's also equipped with warning zones to inform you what you need to prioritize.
True to their words, Neocase's HR case management solution is proven effective in improving the organization's employee experience.
They deliver it by combining this HR software with an inseparable module called knowledge management. This tool offers a personalized knowledge base to address recurring questions immediately without HR intervention.
It helps lessen the load for HR teams, and employees will have the answers to common concerns promptly.
Moreover, it comes with a recommendation engine that provides appropriate answers based on the details the employee provides.
There's also a function for satisfaction scores to keep HR reps focused on providing employee satisfaction. With this, reps will know where to focus their energies to get the most satisfaction ratings from the employees.
Its best feature by far is the AI feature that helps managers configure auto-routing rules based on the HR rep's workload, competencies, and other criteria.
Pros And Cons Of Neocase HR Ready
| | |
| --- | --- |
| Pros | Cons |
| Easy to use for end-users | Limited customization |
| Has metrics reporting | Problems with troubleshooting |
| Reduces rep intervention with a knowledge base | Routing capabilities need improvement |
| Has recommendation engine | |
Neocase HR Ready Pricing Plan
Neocase HR Ready doesn't provide pricing plans and feature sets. You have to contact the sales team by booking a demo to get more information about it.
Based on personal knowledge, the lowest monthly subscription they offer is around $100.
For more information, check out their website.
2. ServiceNow – Most Proactive In Addressing Issues
User-Friendly & Well-Organized HR Case Management Software [Custom Pricing]
ServiceNow is equipped with a variety of features that make case management proactive.
This tool comes with a feature for case forms that can be customized as needed to track details related to solving an issue. It also has UI elements like selectors and picklists to make data collection consistent and easy.
When communicating with an employee, the conversation is recorded to reference details that might be left out when notes are taken.
An account modeling and industry support functionality are also provided to track complex customer service relationships.
While there is a default set of entities, it can be customized to include more based on the needs of the company and the employees.
SLAs (service-level agreement) are also set up to track task conditions within a specified timeframe. It ensures that cases are closed and resolved as efficiently as possible.
ServiceNow's case and knowledge management application is part of its HR Service Delivery package. Therefore, you can also expect to support hybrid work with a unified employee experience, simplify HR processes, and more.
HR Service Delivery offers mobile apps to efficiently complete onboarding and other HR-related tasks anytime and anywhere.
Pros And Cons Of ServiceNow
| | |
| --- | --- |
| Pros | Cons |
| User-friendly interface | Demands strong internet connection |
| Easy to implement | Provides lots of KPIs for reporting |
| Well-organized | |
| Makes daily concern ticketing easy | |
ServiceNow Pricing Plan
Like Neocase HR Ready, ServiceNow has no available pricing plan and feature set. You can get details on inclusions and pricing when the sales team is contacted. 
Interested? Visit ServiceNow's website.
3. LBi HR Helpdesk – Best For Employee Engagement
HR Case Management Software With Machine Learning & Chat Feature [Free Plan | $150/mo]
LBi's HR Helpdesk is an intuitive tool known for its impeccable case management process automation that can decrease HR costs by 75%. It identifies constant patterns of employee issues while maintaining confidentiality.
This tool also improves employee satisfaction while, at the same time, mitigating organizational risk. 
With this HR case management software, HR service centers can efficiently manage concerns and inquiries while implementing automatic workflows and improving service delivery. Thus, tracking cases to closure is much easier.
By far, the best features of this HR case management system are artificial intelligence and machine learning for employee questions.
Recurring questions can have a consistent answer without contacting HR teams repeatedly because it includes an employee self-service portal equipped with a full knowledge base of FAQs and advanced search and queries.
It also comes with a chat feature that connects HR reps to employees for fast communication.
There's also an executive dashboard for HR users to help the HR team function more effectively.
It features a real-time case history equipped with confidentiality measures to keep track of employee concerns and protect the parties involved. 
Lastly, it comes with HR analytics to get insight into performance and make the needed improvement in certain areas as needed.
Pros And Cons Of LBi HR Helpdesk
| | |
| --- | --- |
| Pros | Cons |
| Easy to use | Pricey |
| Fast, courteous, and efficient customer service | |
| Offers efficient functionality | |
| Utilizes artificial intelligence feature | |
LBi HR Helpdesk Pricing Plan
LBi HR Helpdesk doesn't outline a feature set and pricing like the first two HR case management software. You have to contact the sales team to know about package inclusions and pricing. 
If you need current pricing updates without initially contacting support, third-party reviews sites provide pricing details given by the company.
LBi HR Helpdesk Pro ($150/mo)
LBi HR Helpdesk Pro Plus ($$289/mo)
LBi HR Helpdesk Enterprise (Custom Pricing)
Only the pricing has been provided, contact the sales team to know about the features and to avail of the free version.
For more information on LBi HR, visit their website.
4. PMG Case Management – Best For Unstructured Work Streams
Simple Yet Powerful HR Case Management Software [Free Plan | $2,000/mo]
PMG's case management capabilities aim to support the processing of both planned and unstructured workstreams.
It handles solutions to routine and non-routine activities. This includes opening and tracking inquiries and undefined work processes.
This tool aggregates communication and information to support your company's unique processes and manage unpredictable interactions between data, people, and policies that go with it.
Using this tool and its consolidation capabilities, it allows viewing real-time data and functional options for caseworkers.
It also increases collaboration across work teams when handling planned and unplanned activities.
With it is a configurable work dashboard where all relevant data are present to successfully handle cases in a single portal interface.
It's accessible and easy to reference, plus it allows for permission-based access, so only assigned workers will see certain case data.
Pros And Cons Of PMG Case Management
Pros
Cons
Simple but has many capabilities
Needs additional granularity in permissions
Unhelpful customer support
Tricky to manage localization
Implements customer feedback and suggestions
Flexible to requests
Provide a REST-based API builder with simple
low-code configuration tools
PMG Case Management Pricing Plan
PMG Case Management has two priced options.
Business ($2,000/mo): The Business plan allows for up to 10 concurrent users in 2 environments, provides 99.90% uptime and 9 to 5 support.
Enterprise ($5,000/mo): The Enterprise plan enables more than 10 concurrent users in more than 3 environments, provides 99.95% uptime, and 24/7 support.
There's also a free version that allows one admin in one environment. An On-Premise option is also available, but the details are provided only when the sales team is contacted. 
PMG Case Management has a website for more information.
5. Cherwell Case Management – Best For HR Staff Productivity
Transparent HR Case Management Software With Workflow Automation [Custom Pricing]
Cherwell's case management functionality aims to increase HR staff productivity by resolving most direct employee inquiries through a self-service portal.
When recurring concerns are addressed, they can focus on more important or complex problems.
This tool provides a way for employees to submit requests easily.
With workflow automation in place, requests are immediately routed to the appropriate HR worker. Plus employees will be able to see the status of their requests in real-time through the portal. 
The self-service portal standardizes resources and interactions upon the HR team's consolidation of information.
It manages common customer concern information and also lets HR reps manage their daily workload.
Using this tool, the HR rep will be able to manage employee requests from the initial request up to the closure period. It's easily trackable for both the employee and HR rep.
It documents all transactions to provide a transparent audit trail of employee communication to the HR department. This helps foster accountability and provide task ownership to ensure consistent and timely delivery.
HR delivery is also made seamless with automated workflows. Key processes are automated using the tool's automation engine to ensure policy and SLA compliance. 
Thus it reduces administrative tasks, increases consistency, and notifies stakeholders of pending tasks that may cause company policy and SLA violations. 
Pros And Cons Of Cherwell Case Management
| | |
| --- | --- |
| Pros | Cons |
| Easy to use | UI needs improvement |
| Reliable | Difficult to find closed tickets |
| Robust | |
| Fast and easy log of HR cases | |
Cherwell Case Management Pricing Plan
Cherwell Case Management has no set pricing plan. You have to book a demo to get in touch with the sales team to provide you with the feature and pricing information. 
Take a look at Cherwell's website for more information.
6. i-Sight Case Management – Best In Streamlining Investigative Processes
Configurable HR Case Management Software For Businesses With Complex Needs [Custom Pricing]
i-Sight Case Management streamlines employee case investigations so you can easily analyze data and focus on prevention.
It comes with powerful features to help you stay organized, accountable, and productive using the following:
Deep search
Insightful analytics
One-click case reports
Configurable workflows
Upon case creation, this tool lets you flag-related parties and cases to save time in reaching out and answering related concerns.
This also ensures you'll have a complete picture of the incident when the investigation starts.
Suggested links are provided to alert you and other HR reps to other cases. Fields can also be configured to cater to related party information and cases.
With it are fully configurable workflows ensuring needed reviews and approval by the stakeholders. Progress is triggered by alerts and reminders to keep the investigation moving forward.
Moreover, customized forms and custom fields can be added to capture any case type, incident, and party. New forms and fields are automatically implemented, so all relevant data gets saved.
All the data is recorded, dated, and time-stamped in a centralized file to provide full transparency. With it is a graphical status timeline to show progress at a glance. 
Case management is also made flexible. Multiple allegations, corrective actions, and parties can be tracked in the same case file.
Additionally, this HR case management software ensures the security of parties and confidentiality of cases by providing configurable role-based access anytime and anywhere. Access can be restricted for any access down to the field level.
With it, you can also generate reports fast and easily. Since all investigation information data is stored in one place, comprehensive investigation reports can be generated in no time.
It also comes with a drag-and-drop report builder to include flowcharts, graphs, heat maps, and more on a report template.
This way, data visualization is easier, and pinpointing preventive or corrective actions are provided in real-time, including:
Overdue cases
Incomplete tasks
Missed deadlines
Using this case management system, you can work on multiple cases in an organized and efficient manner, thus streamlining investigative processes. 
i-Sight provide a series of webinars to help you get HRCI, SHRM, and other continuing education credits. They also offer training opportunities for you to deepen your knowledge about investigating the following areas:
HR
Security
Compliance
Ethics
Pros And Cons Of i-Sight Case Management
| | |
| --- | --- |
| Pros | Cons |
| Extremely configurable | Requires more compatibility with devices |
| Meets the needs of complex organizations | Needs additional search capabilities |
| Streamlines case investigations | |
| Good customer service | |
i-Sight Case Management Pricing Plan
i-Sight Case Management tailors its system and pricing needs to the organization's needs so you have to book a demo first to get the pricing details.
The two factors that mainly contribute to the cost are configuration cost and annual recurring fees.
If you're looking to grab i-Sight's platform, visit their website.
7. PeopleDoc – Best In Empowering Employees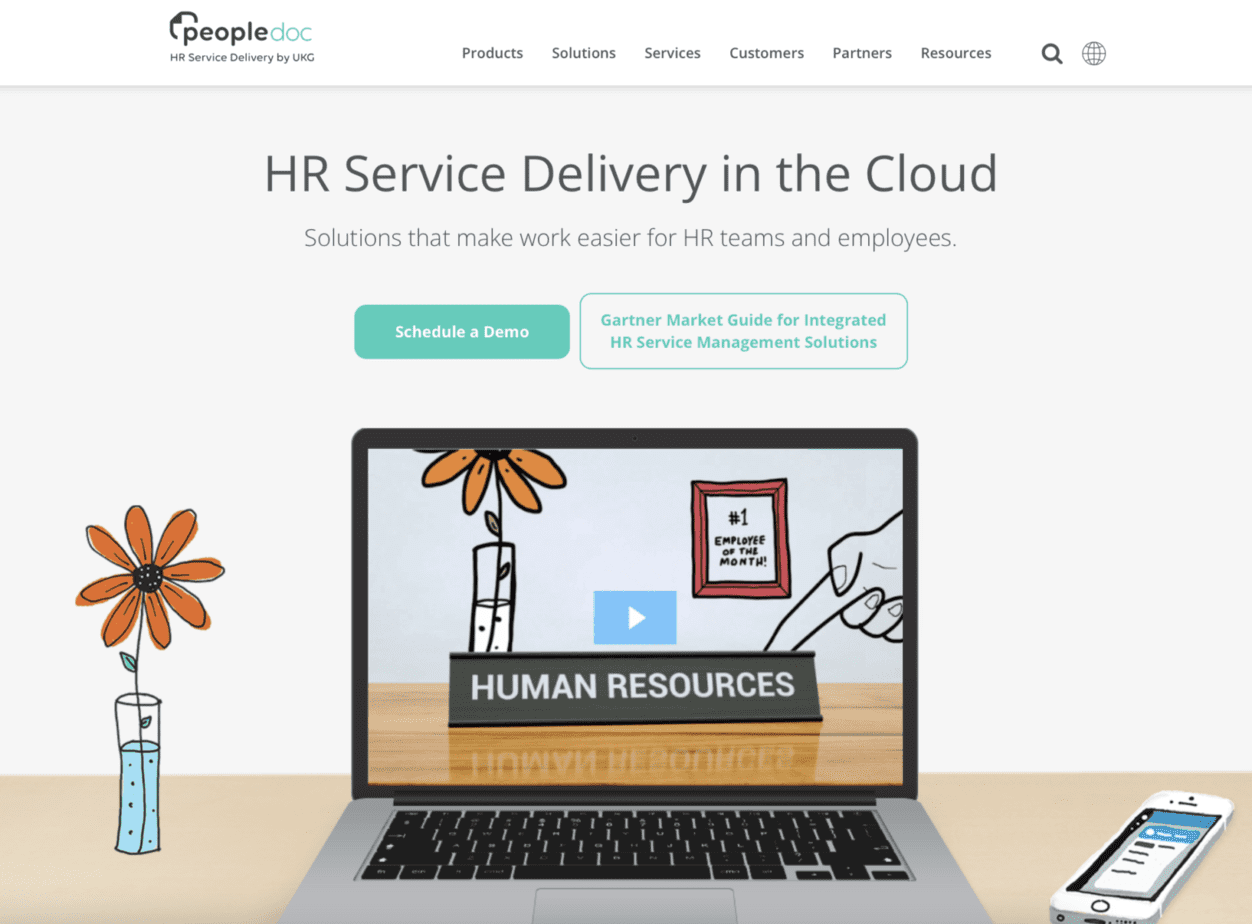 Top-Tier HR Case Management Software With Detailed Analytics [Custom Pricing]
PeopleDoc helps streamline services for HR reps.
To avoid spending too much time catering to repetitive questions, this HR case management software provides HR teams with a searchable and personalized employee knowledge base.
This way, HR can route and rapidly respond to non-routine and more complete requests and concerns.
PeopleDoc also provides an employee case management solution to empower employees in filing more complex requests to HR and enjoy a better user experience. The case creation process starts by allowing employees to fill out a form.
Then, it will automatically be routed to the appropriate HR personnel based on a predefined workflow.
It also comes with a helpdesk where employees can view the status of their request and engage with the HR personnel assigned to their case. 
With it is an easy building of workflows to support employee lifecycle events and accurately route requests for fast resolutions.
You also get a file management functionality where employees can access relevant files and archives when closed in the Document Manager.
Additionally, there's the employee portal, a one-point contact for all HR-related information that's accessible anywhere and on any device.
Last is the KPI and SLA dashboard, where a clear view of response times is provided together with incoming requests and satisfaction rates.
This functionality allows fast reporting productivity of HR reps.
Pros And Cons Of PeopleDoc
| | |
| --- | --- |
| Pros | Cons |
| Helpful analytics | Onboarding needs improvement |
| Enhances HR processes | |
| Helps HR reps focus on non-routine concerns | |
| Streamlines efforts | |
PeopleDoc Pricing Plan
Like most HR case management software, PeopleDoc doesn't provide a packaged pricing plan for its tools.
To get the feature and pricing information, you should book a demo and get in touch with their sales team.
PeopleDoc has a website that you can visit for more information.
8. Dovetail – Best In Modernizing Case Management
Robust HR Case Management Software Equipped With Full Audit Trail [Custom Pricing]
Dovetail's case management capabilities modernize the way HR Teams manage, track, and report on employee inquiries and concerns.
It efficiently manages incoming employee questions and requests using its HR Delivery Service.
It also enables automated workflows to provide better tracking and reporting capabilities complete with a customizable dashboard.
They've dubbed their dashboard the "HR Home Console," where HR teams gain complete visibility of their workloads, fully monitor SLAs, and respond to urgent requests so an immediate resolution can be provided.
It segregates data based on profile and lifecycle stage. It also ensures that data security is fully maintained.
In the case creation, upon the contact of an employee, HR reps can either update an existing entry or create a new one based on the nature of the inquiry and concern.
This way it's easier for HR teams to gain full visibility of the employee's HCM core data.
This HR case management software also provides an automatic knowledge searching functionality.
It searches across existing cases and articles, including attachments, thus providing instant access to a wealth of external and internal knowledge.
This way, resolutions can be made faster.
With tracking and escalation, this tool monitors ongoing and even resolved cases so during the case lifecycle, senior team members will get an overview of what's in the works.
It also provides automated escalation workflows to complement manual ones. Plus, notifications are sent via email to keep HR reps and employees in the loop of the case's progress.
Last is the audit timeline, where an entire audit trail is provided for complete lifecycle transparency of cases. Any interaction, including notes, will be logged to get HR teams accurate information of the chronological order of the case's progress.
This timeline also helps to find bottlenecks that need to be improved and employee disputes that need to be addressed quickly.
Pros And Cons Of Dovetail
| | |
| --- | --- |
| Pros | Cons |
| Robust analysis capabilities | No graphical representation in dashboards |
| Receptive to feedback | Buggy at times |
| Excellent user experience | Poor transcription |
| Great info storage and dashboards | |
Dovetail Pricing Plan
Dovetail doesn't lay out feature sets with pricing packages. You have to contact the sales team to get the information you need. Visit Dovetail's website for more information.
Conclusion
Still confused about which HR case management software to go for? Go with Neocase HR Ready.
It offers all the essential elements for addressing employee concerns and queries: a personalized database, a recommendation engine, and a provision for satisfaction scores to rate their experience with the HR rep.
With it is a dashboard to give an overview of the workload and task progress. It's a highly collaborative tool that lets HR reps focus on important and non-routing concerns rather than catering to the same concerns over and over again.