Intranet software is a crucial aspect of any business that is looking to accelerate growth. This is simply because Intranet software streamlines communication and collaboration seamlessly in one secure platform.
I've had my personal share of handling a business and oftentimes, communication and collaboration are two aspects that are highly influential to the success of getting things done.
Having a reliable platform is a must, especially in the current situation of remote work becoming all the more popular. If you are a company that heavily relies on outsourcing or at the very least, have some employees that are not in-office then Intranet software becomes all the more vital.
In this article, I've compiled a list of the 7+ best intranet software that you can use, including all their top features, drawbacks, and features.
What Is The Best Intranet Software?
If you don't have the time to read through it, don't worry. Here's a compilation of my top 3 picks instead: Microsoft SharePoint, Workplace From Meta, and Simpplr
| | | |
| --- | --- | --- |
| 4.8 | 4.6 | 4.1 |
| Best overall. Long-standing intranet software with extensive integrations. Starts at $5/month. | Best for convenience. Familiar platform with social media-like features. Starts at $4/month. | Best in support. Easy-to-use and aesthetic user interface with rich Intranet features. |
| Try Sharepoint | Try Workplace | Try Simpplr |
1. Microsoft SharePoint – Top Pick
Intranet Software For Medium – Large Business [$5 Per User / Month | $20 Per User / Month]
Starting off with the first on the list, Microsoft SharePoint is a staple choice for many medium-large businesses out there in the world. With its initial launch way back in 2001, SharePoint already has a long history with continuous support and constant yearly updates from Microsoft.
Microsoft SharePoint has an extensive list of features that provides good functionality for its purpose of creating an environment for employees and team members to create, view, and share information and data on a secure platform.
First up on the block of features is Microsoft SharePoint Lists. If you ever worked with Excel or Google Sheets before then this is just like that however this can be shared and worked with by other team members.
This feature provides you the chance for easy collaboration and reduces the hassle of having to email a new spreadsheet each time to other members. Microsoft SharePoint Lists allow multiple users to work on a single document at the same time enabling faster productivity sessions among peers.
Aside from Lists, you also have Libraries to play around with. This feature allows team members to upload, import, create, and edit existing files that need to be worked on by multiple people at once. This is especially important for content creation and documentation.
Libraries also have ready-made templates from Microsoft that allows you to get started in an instant. If these templates don't suit your needs, you can also customize each Library according to what you want them to be.
These customizations can include controlling the following:
Which documents can be viewed
How many documents can be created inside the library
Actively track different versions of files
Custom views
Create workflows
Aside from this, Microsoft SharePoint also has a search tool. Using SharePoint Search gives you easy access to almost any files that are inside a site and any sub-sites that are included.
These results can range from exact matches or partial matches of documents, libraries, lists, pages, and even other sites. SharePoint Search can also be customized to allow for specific permissions from users.
Microsoft SharePoint's strongest feature, however, is not because of its tools but because of its valuable integration with other Microsoft applications, particularly Microsoft 365.
If your business is already using Microsoft then proceeding with Microsoft SharePoint as your Intranet platform would give you access to an integrated productivity suite that includes MS Office, OneDrive, Teams, and many more. What's even better is that everything works well alongside Microsoft SharePoint.
Pros And Cons Of Microsoft SharePoint
| | |
| --- | --- |
| Pros | Cons |
| SharePoint integration with Microsoft 365. | Can be complicated to start using. |
| Enhanced data security. | Might get expensive fairly quickly. |
| Highly customizable application. | No existing "Drag & Drop" features. |
| Huge storage capacities. | Oftentimes can be slow to use. |
Microsoft SharePoint Pricing Plan
Microsoft SharePoint has three different plans for users to enjoy, with two of the first plans primarily accessible only online. While the third plan includes the full package of Office 365.
All of these plans are annual subscriptions and are auto-renewed unless changed.
SharePoint Online Plan 1 [$5 Per User/Month]: Access to 1 TB of OneDrive storage per user. Ability to move files between OneDrive & SharePoint and manage content with document libraries versioning and access control. You also have access to SharePoint mobile application and 24/7 phone and web customer support.
SharePoint Online Plan 2 [$10 Per User/Month]: Online Plan 2 carries over all the previously mentioned features plus unlimited personal cloud storage. You also have access to customizable enterprise searches and results across Microsoft 365. Access with advanced DLP capabilities to protect, identify, and monitor important sensitive information and many more.
Office 365 E3 [$20 Per User/Month]: Office 365 gives you access to all office applications and services such as Yammer, Exchange, Teams, Delve, Skype For Business, and more. You also have access to a custom email domain address, desktop versions of Microsoft Office applications, and Web versions of Word, Excel, and Powerpoint. Number of users cap is also removed and you can enjoy online-video conferencing features with up to 250 people.
Interested in Microsoft Sharepoint? Get started by visiting their website.
2. Workplace From Meta – Ease of Use
Intranet Software For Businesses Of All Sizes [$4 Per User / Month]
Workplace From Meta is another Intranet software that was originally created by Facebook just before their rebranding. Companies that use Workplace can enjoy a multitude of features from live video conferencing all the way to analytics and insights.
But first and foremost, Workplace From Meta offers a great and familiar user interface that is akin to how Facebook operates. For employees and users that have personal Facebook accounts, they'll find it a lot easier to navigate around in Workplace as they relatively have the same structure.
Commenting and post reactions are also available for users to enjoy on their Newsfeed.
Workplace From Meta also has something called a "Knowledge Library" where all static information and content that is important or beneficial for employees to have continuous access to can be posted, created, and edited.
This feature is highly integrated with the entire platform so all resources are available for everyone so each individual can easily search and canvas the library for any content that they are trying to find.
In terms of moderation for the Knowledge Library, admins can enjoy familiar tools to use whenever posting or creating content. These tools also include attaching files and sharing links while admins can also go so far as to customize what content people can and can't see.
Workplace From Meta also covers an entirely unique Workplace Chat mobile application that users can enjoy using for work-specific purposes only. This is alongside their desktop platform as well which users can install on their desktops.
Workplace Chat is available for Android and IOS phones. Workplace From Meta also allows for video conferencing with around 50 participants per meeting.
Other features of Workplace From Meta include:
Post-pinning
Secure File Storage
File Sharing
Workplace Annotation
Project Tracking
TaskList
Dedicated Project Groups
These features greatly enhance productivity as they all can provide a seamless collaboration system for users to share, create, and manage ongoing projects, all the while having convenient access to a large pool of work-related information.
Pros And Cons Of Workplace From Meta
| | |
| --- | --- |
| Pros | Cons |
| Moderately good-looking user interface. | Existing bugs and glitches in the platform. |
| Workplace Chat is a great communication platform. | Search functions can be improved. |
| Activity logs are easy to go through and monitor. | Lacking project management features. |
| Voice-chat and video conferencing calls are top-notch quality. | Highly reliant on internet connection to use. |
Workplace From Meta Pricing Plan
Workplace From Meta offers a quite different pricing package for their platforms as opposed to the rest with one individual package alongside two additional add-on plans for access to exclusive features.
The billing plan offered by Workplace From Meta is by month and per user. They also offer a 30-day free trial for new businesses looking to try out their platform.
Core [$4 Per User/Month]: Core is the only package that they offer and it provides you access to most features of the platform from the Knowledge Library, Newsfeeds, Live Video, engagement features (comments & reactions on posts), and analytics. You also can download their mobile applications for use.
(ADD-ON) Enhanced Admin and Support [$2 Per User/Month]: Enhanced admin and support is just exactly what it means. This additional package provides businesses the chance to increase their control through admin functions and priority support. Users are also provided with additional sign-on options for better security.
(ADD-ON) Enterprise Live [$2 Per User/Month]: Enterprise Live brings exclusive access to live videos without stressing business networks. This provides more leeway for businesses that are always conducting live streaming to keep going without having to suffer from slowdowns and networking problems.
Start with Workplace by visiting their site and getting started.
3. Simpplr – Best in Customer Support
Intranet Software For Start-ups & Medium-Sized Businesses [Custom Quote]
Simpplr deserves a spot on the top three as it also rivals Workplace From Meta with its highly intuitive design and easy-to-navigate user interface. It has quite a unique approach with regard to design and aesthetics as compared to the rest. Simpplr is visually pleasing to work with.
Topping off the first feature that Simpplr is recognized for is their Launch Pad. Particularly for apps and external links that are mostly used by users. These aren't necessarily integrations but are easy access navigation buttons for further productivity apps and many more.
Simpplr also has a Search Feed that can provide results with exact matches or closely related matches on posts, albums, sites, and more.
Simpplr also does great with customization as users can enjoy playing around with their pages on the tiles that they want to feature the most. This section can be restricted by admins if there is a need for certain tiles that must always be displayed on the top sections.
These tiles can be specialized to include many different topics such as:
Welcome Tile
Latest Blogs
Data Policies
Social Campaigns
Company News Filtered by Latest / Popular
Date Celebrations
Pinned Albums
And many more!
The platform has a unique feature called "sites" where content is stored and displayed for users to explore. Sites are also great spots for collaboration and distribution of content. For example, a site can be specifically dedicated to HR activities, ongoing projects, or even just a group of people that have common interests in a work-related subject.
Currently, there are three types of sites that Simpplr provides:
Public: which are open to every employee in the company
Private: specific members access only. Can still be viewed in the All Site index.
Unlisted: site members and system admins. Cannot be viewed from All Site index.
Inside sites, users can expect to see an overall dashboard of all the content. Sites can be managed and have their own list of elements such as:
Dashboards
Feeds
Pages
Albums
Files
Events
Specific sites, depending on the members, can hold a lot of information for collaboration and ease of communication without others noticing. In real-life terms, it's basically an office.
Lastly, Simpplr also has an analytics feature that admins can use to view reports and insights on whatever is happening inside the organization depending on the specific timespans. These analytics can include logins per user, total views, total content views, and even user behaviors.
Simpplr can provide ideas as to how many users are actively contributing to content or posts inside the entire site while also maintaining those that are just participating such as editing, commenting, or collaborating.
Meanwhile, observers are also taken into consideration as users that are only there to look into whatever is happening. Simpplr analytics is great for knowing what users are mostly doing in a month, week, or day.
Aside from these features, Simpplr also has great customer support with reviews of users telling about how responsive and in-depth customer support representatives are with user problems regarding the use of the platform.
Pros And Cons Of Simpplr
| | |
| --- | --- |
| Pros | Cons |
| User-friendly and highly navigational interface. | Often poor integrations. |
| Fast software setup and implementation. | Their help site can use further improvements. |
| Customizable features, especially with sites. | Reliable on internet connection to use. |
| In-depth user analytics. | Graphic displays can get buggy sometimes. |
Simpplr Pricing Plan
Simpplr does not offer a pricing plan for its users but instead opts for custom quoting depending on the needs of a business and its size.
You have to manually go to their site to request a quote and wait for a response.
4. Samepage – Best in Task Management
Intranet Software For Large Businesses [$4 Per User / Month]
Samepage is another Intranet software that is widely popular amongst businesses to use, simply because it is a great platform for productivity and task management.
One of its best highlights is Samepage's task list. This feature allows users to individually track the things that they need to get done all in one application. Samepage isn't simply an Intranet software that companies can use but it can also double as a task management application.
The tasks bar allows active tracking of to-do's, assignments, and tasks that you've delegated to other members as well. With this comes along the ability to comment, check on progress completions, and visit tasks pages in one simple dashboard.
Another feature that Samepage does great at is their Calendar Tool – also known as Master Calendar in Samepage terms. As mentioned earlier, Samepage does great at task management and this doubles down on that.
Master Calendar shows all the public events, deadlines, meetings, and schedules that you have upcoming on the following days ahead of the month. There is also another different calendar called "My Calendar" that highlights all of the different calendars that you are currently subscribed to.
In the case that your Master Calendar gets too crowded, you can always opt to filter this through and check which specific categories you want to see.
If you already have an existing calendar tool that you use then you can also sync this with Samepage to provide an easier time of migration between applications.
These are just some of the highlighted features that Samepage does best but there are also many more that the platform provides for its users.
Take a look at some of them in this list:
Samepage Chat (1-1, Team Chat, Page Chat)
Team Pages
Member Classifications
Collaborative Editing
File Sharing
External Integrations
Samepage provides a lot of powerful tools for productivity and communication for businesses and their employees, two strong elements that Intranet platforms are expected to provide.
Pros And Cons Of Samepage
| | |
| --- | --- |
| Pros | Cons |
| Flexible and customizable platform. | Video quality can be improved. |
| Free plan is offered. | Hard to identify user permissions. |
| Extensive user permissions allocation tools. | Certain integrations still need work. |
| Excellent productivity-centered features. | User interface can do with an upgrade. |
Samepage Pricing Plan
Samepage is a great start for companies that are looking to get into Intranet platforms without paying as they offer a free trial plan for users to enjoy. They also provide a 30-day free trial for all of the packages involved.
Samepage's pricing plan is billed monthly.
Free [No Costs]: Free gives you access to basic document collaboration, task and event management, communication features, folder sharing, and data controls, plus 2 GB of data storage.
Standard [$7.50 Per User/Month]: Standard gives you access to most features of Samepage with full document collaboration, advanced folder sharing, enhanced data and privacy controls, and an upgrade for data storage with an additional 1 TB of storage available.
Pro [$9 Per User/Month]: Pro provides you with all the previously listed features with upgrades on folder sharing with full access to features and complete data and privacy controls. You also have access to single sign-on for users and 1 TB of storage per member. Pro subscribers can also enjoy priority support.
As of this moment, Samepage is not accepting any new signups as they were recently acquired by another company. You can stay tuned for any updates by visiting their contacts page.
5. Jostle – Cloud-Based Intranet Software
Cloud-Based Intranet Software For Businesses Of All Sizes [Custom Quote]
Jostle is a cloud-based intranet software that is specially made for businesses that are looking to have an affordable and easy-to-access intranet platform. It's great for startups or businesses that have a small number of employees.
Starting off with one of Jostle's star features is its events panel where you can actively see whatever is happening inside the company for the entire month. This includes meetings, holidays, birthdays, and more. Social events can also be posted here.
The events taskbar includes a mini calendar but also a side panel where you can click on the events to see more information on the posts. This makes it a lot more convenient for users to get the information that they need for interesting upcoming events.
Jostle also has a blog feature on their news dashboard where users can post articles that they write about. These blogs can also be customizable with categories for users to know what the article is about whenever they see it on their news tab.
When it comes to editing, formatting, and posting on articles, Jostle provides a host of tools for content creators to use in creating their articles from heading images, links, highlights, comments, and more.
It can also be configured for specific audiences whether this post can be viewed by certain employees based on the filters used.
These filters can include:
Location
Organization Units
Employee Types
External Contributors
Specific Individuals
Teams
Jostle also has an organizational chart feature where you can see all the different departments and the hierarchies of employees involved. From executives, team leaders, and project managers to normal employees can all be seen in this chart.
This tab also serves as an employee directory where users can actively check all the current employee lists and their associated roles. There are also filters that can be used to narrow down search options such as location or org units.
Additional features that Jostle also provide are the following:
Employee Profile
Private Messaging
Discussions
Search Panel
Notifications
Content Libraries
Integrations
Users also have access to Jostle's mobile application available for both Android and iOS
Pros And Cons Of Jostle
| | |
| --- | --- |
| Pros | Cons |
| Fast setup and easy to use | User interface can be slow |
| Information is highly organized | Reporting and Metrics are bland |
| Calendar tab is helpful for reminders on company events and birthdays | Library navigation needs work |
| Organization list and search filters | Mobile application is hard to use |
Jostle Pricing Plan
Jostle has quite a unique way of pricing as they require a certain number of businesses to input on their platform to provide an accurate measure of price per user. However, they still have four different packages to offer.
They also offer options where businesses can choose (depending on the package) certain access to features that can enhance the experience of Jostle.
Bronze: The bronze package gives you access to the basic features of Jostle. The initial package includes news, activities feed, org values, shout-outs, directories for employees, and discussions made available for users to enjoy.
Silver: Silver includes all the previously mentioned features plus libraries, links, and HTML pages plus an additional free option to add.
Gold: Gold includes all the features of Silver and Bronze plus an additional 3 options to choose from.
Platinum [Custom Quote]: Platinum is made for custom quote customers and provides access to all the features of Jostle including all the options that are made available.
If your company has less than 15 people then you can avail Jostle with a free plan. If you want to get a number on the pricing for the number of employees you have, head on to their pricing site.
6. Workvivo – Aesthetically Pleasing Design
Intranet Software For Both Startups and Large Businesses [Custom Quote]
Workvivo is probably one of the best Intranet software that has beautifully designed aesthetics that come along with the platform.
It's also not just for show as the design goes well along with the user experience for both site admins and moderators to content creators and just the basic user.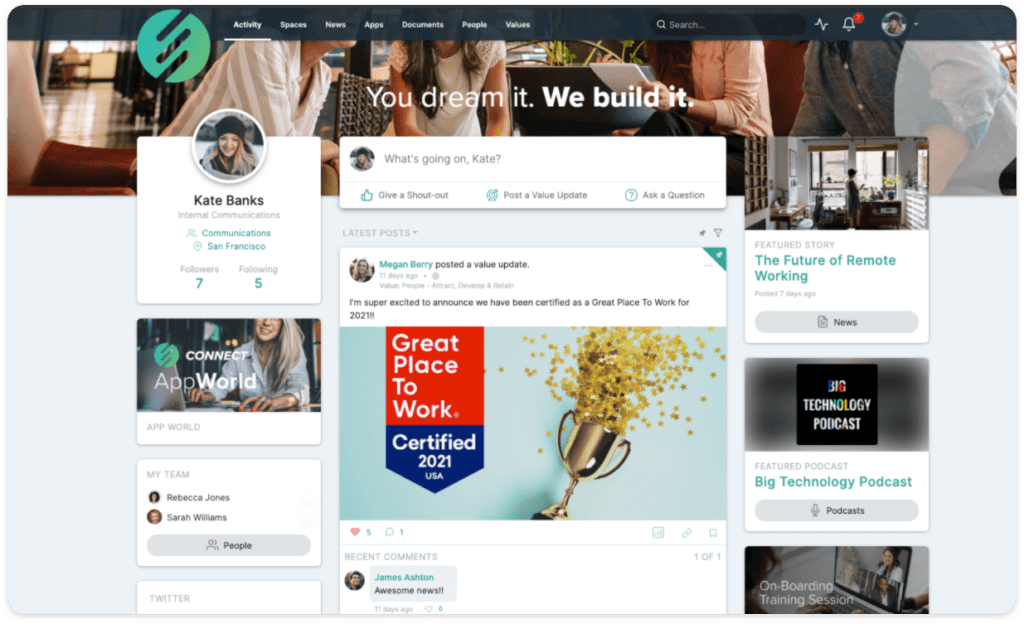 Workvivo comes along with a variety of features such as a unified dashboard for all content to be posted on, whether this is through custom posts, blogs, polls, announcements, and many more.
The platform also comes with an organization chart alongside an employee directory for easy access. Search features are present within this element so that users can find the persons that they are looking for if and when they know the name.
Workvivo also has the following features:
Q&A Functionality
Polls
Collaboration & Knowledge Posts
External Application Integrations
Content Repositories
Data Visualization
Feedback Collection
Messaging
And many more!
With regards to security, Workvivo doesn't disappoint as the platform is fully certified with ISO270001 and SOC2. They also have constant monitoring and penetration tests that are done within the platforms to ensure maximum security with constant threats.
Workvivo also has a mobile application for users to enjoy on their phones and can be downloaded for both Android and iOS
Pros And Cons Of Workvivo
| | |
| --- | --- |
| Pros | Cons |
| Aesthetically pleasing site design. | Can be confusing to start using. |
| High-level security measures. | Mobile apps need some improvements. |
| Responsive and helpful customer support. | Search function is a bit lacking. |
| Great integration with external apps. | Needs more Intranet features. |
Workvivo Pricing Plan
Workvivo does not offer pricing plan packages. You would need to get in contact with their team to get a custom quote based on your needs. However, they do offer a free trial version of their app. You can schedule a free demo right now if you'd like.
7. Blink – Communication-Focused Intranet
Intranet Software For Healthcare & Hospitality Industries [$3.40 Per User / Month | Custom Quote]
Blink is another Intranet software that is especially focused on communication and centralized content sharing and collaboration. One of its main features is its central hub where all content is located and shared.
From here, users can create, modify, and delete folders where content can be placed. The types of content that can be created are diverse with pages, files, forms, shortcuts, sections, and even micro-apps that can all be placed inside the platform.
One of the best features of Blink is its communications and messaging style with a clear and easy-to-use design for managing chats with different employees and groups.
Chats can be modified to be direct messaging or secured groups where specific members only have access to that specific communication line. Within these chats, users can send not only text messages but also files, links, spreadsheets, documents, gifs, PDFs, and more.
This feature can also be configured to have restricted messaging so that only specific members can send messages while the rest are only allowed to view and react.
There are plenty of other extra tools that chats offer for users to enjoy such as:
Custom formatting
Video conferencing link integrations
Favorites
Notifications
Share locations
Status checks
Highlights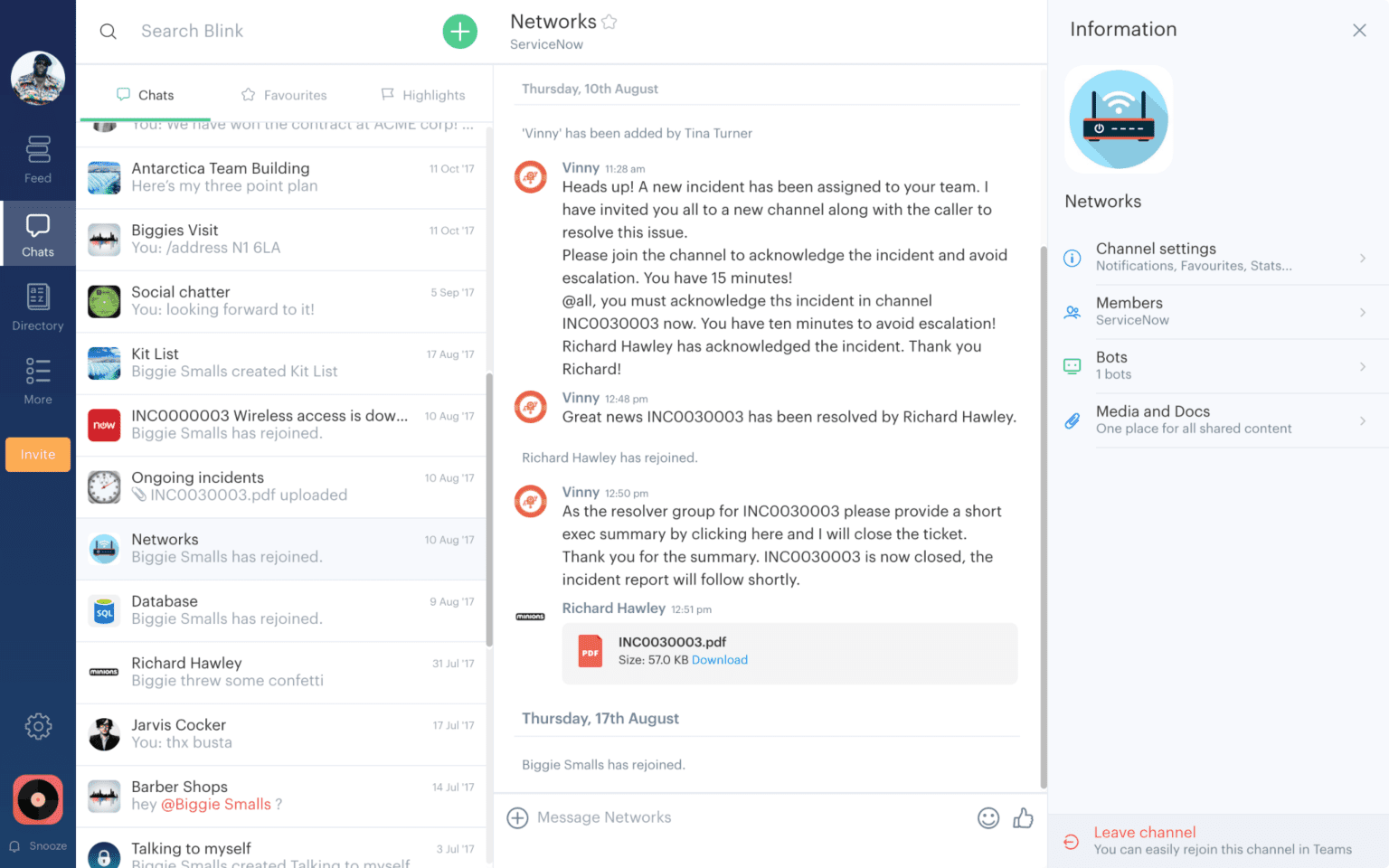 Blink has plenty of other features that come alongside it with analytics tools, aliases, quick links, featured content, and SSO for easier password management are all included in the platform for both users and administrators to take advantage of.
It also has a mobile application for users to download on their phones with iOS and Android being actively supported.
Pros And Cons Of Blink
| | |
| --- | --- |
| Pros | Cons |
| Spot-on communications platform | Small functionality issues |
| Content hub for easier collaboration | Search function needs improvement |
| Easy to use and setup, even for starters | Lacks other important Intranet features |
| Integrations with 3rd party software | Directory lacks customizability |
Blink Pricing Plan
Blink currently offers two different types of payment schemes which are Monthly and Annually. Users can expect to save a bit more with annual plans as opposed to monthly plans.
Blink currently has four different types of pricing packages, all of which have different types of access to specific features on the platform. They offer a free demo for all the packages and their appropriate features.
Essential [$3.40 Per User/Month]: Essentials provides the basic features of Blink with access to company news feeds, people's directories, CMS, messaging, search functions, and app branding. Users can also avail to download the desktop and mobile apps of Blink.
Business [Custom Quote]: Business follows through with the previously mentioned features but with the addition of mandatory reads and digital forms integration features.
Enterprise [Custom Quote]: Enterprise starts to open up with a lot of powerful features for users such as API access, SharePoint integration, and better Identity Management functions with SSO & SCIM being utilized.
Enterprise Plus [Custom Quote]: Enterprise Plus opens all the features of Blink with on-demand translations, e-payslips, custom digital forms, federated organizations, regionalized data hosting, and priority support being made available for users subscribed to this pricing plan.
Get started with Blink by visiting their site.
8. Friday – Simple & Effective Intranet Platform
Intranet Software For Small Businesses & Startups [Free | $8 Per User / Month]
Out of all the available Intranet software in this list, Friday is the easiest to learn and simplest to use yet it also has a very friendly user interface for employees to enjoy with emojis and icons being noticeable and aesthetically pleasing to view.
The platform has one centralized dashboard where users can actively check daily activities such as goals, meetings, tasks, news, and content from other users on the platform.
Friday also doubles as a productivity app with plenty of features for employees to track their progress with calendars and trackers being available to use.
There is also a feature within the platform to set check-ins for creating routines for employees so that consistency can be done on specific tasks that require constant work.
The platform also features an automatic ping system where notifications can be sent to specific employees. What's great about this is that the ping system can also be integrated with other external platforms such as Slack, Gmail, Microsoft Teams, and more.

Another feature that Friday does great are emotes and reactions. Team leaders and employees can interact with one another as both can send posts for questions and forms while users can react, comment, or even provide suggestions to these posts.
When it comes to content collaboration, Friday provides a handbooks feature for ease of access for employees to check on guides, policies, and memos in the company.
Friday still has plenty of other features such as:
Planners
Routines
Goals
Profiles
Directories
Power-ups
Widgets
Pros And Cons Of Friday
| | |
| --- | --- |
| Pros | Cons |
| Intuitive OKR tracker | Lacks powerful features |
| Tools are fairly easy to use | Needs better content collaboration tools |
| Features are customizable | No mobile application |
| Widgets are fun additions | |
Friday Pricing Plan
Friday currently has four distinct pricing plans and they also offer a free trial for two weeks on most plans except on their company plan with a custom quote being required.
Free [No Costs]: Free provides access to the most basic features of Friday with calendar integrations, tasks, posts, check-ins, and a chrome extension being available for users to enjoy.
Individual [$4 Per User/Month]: Individual follows through with the previously mentioned features but with the addition of planners, task integrations, calendar syncs, goals, and reports.
Team [$6 Per User/Month]: Team starts with the additional features of chat integrations, collaborative goals, widgets, teams, and further improved reporting for employees.
Company [$8 Per User/Month]: Company provides all the features of Friday with unlimited teams, company add-ons, directory syncs, access to user permissions, and advanced reporting being made available.
Interested? Get started with Friday by visiting their site to learn more.
Conclusion
Intranet software is an important part of any growing company and it's because it provides a great way for employees, team leaders, and executives to communicate with one another and actively collaborate on the many tasks that need doing.
Out of all on the list, I'd highly recommend Microsoft SharePoint as a go-to Intranet platform for users to begin using as it has already established its presence as a great tool for companies to use alongside Microsoft 365 integration and Microsoft Teams.
If you are planning to get Microsoft SharePoint, you'll have access to plenty of guides, communities, forums, and online support as its long history has already created a community of experienced users to share their experiences.