The fast-paced nature of today's digital businesses has led to a recent trend in IT outsourcing services or business process outsourcing (BPO) where companies are shipping out projects to other parts of the country, or even the world.
They provide other businesses with the best solutions for their IT requirements and tailor them to specific needs, markets, and audiences. Today, these solutions are built with the requirements of the target audience in mind.
The benefits of outsourcing IT services are plentiful too. The biggest advantage is the bulk of the cost it shaves off for a prospective company since they won't have to invest in in-house teams.
And for businesses already fielding in-house teams, it can help them allocate more time and resources toward high-priority tasks. An IT outsourcing company also takes complete responsibility for frictionless scalability and performance.
With over a decade of experience in the world of technology and having tried many IT outsourcing services, I have the perfect list of companies providing top-notch IT outsourcing services globally.
Once you've read through the entire article, you will be familiar with the best companies for the job and can make an educated decision on which one to go for.
What Is The Best IT Outsourcing Service?
You can view my top selections for the companies offering the best IT outsourcing services. These are Accenture, Infosys, and Capgemini.
| | | |
| --- | --- | --- |
| 4.8 | 4.5 | 4.2 |
| Best overall. Ideal for most business needs with a long-standing reputation. | Best value for money. Top-notch multi-domain services. Best for small businesses. | Feature-rich. High scalability and offers IT solutions to multiple countries globally. |
| Try Accenture | Try Infosys | Try Capgemini |
Read below for detailed coverage of my selections. Here you will find an in-depth analysis of the top IT outsourcing services available to businesses today.
1. Accenture – Top Pick
The Top Rated IT Outsourcing Service For Most Businesses [Custom Pricing]
Accenture is rated the highest on my list of the best IT service providers for several reasons. It is one of the most popular options for small businesses and startups and offers advanced information technology solutions. 
Accenture can also handle all aspects of a business's process functions and can drive real change and streamline existing strategies.
From consultation to marketing solutions and cybersecurity to automation, Accenture has solutions for all businesses and has built its reputation as the primary outsourcing service for the biggest names in technology.
The company also offers a wide range of services to companies such as:
Data analytics
Cloud services
Digital commerce
Application services
Finance consultation
Customer experience
Change management
Supply chain management
Accenture is the leading name in the industry as one of the best outsourcing companies that provide improved IT functions based on new technologies such as artificial intelligence.
With a steady clientele in almost every industry, Accenture is also great for companies with unique business needs. They have served the aerospace & defense industry and have expertise in
Retail
Travel
Health
Utilities
Banking
Chemicals
Industrial equipment
The company ensures that all businesses get a competitive edge in their respective markets with greatly enhanced services and solutions.
Pros And Cons Of Accenture
| | |
| --- | --- |
| Pros | Cons |
| Access to a global talent pool | Require a well-defined strategy from clients to provide exact services |
| Flexible outsourcing teams are easier to train and get started immediately | |
| Highly adaptable to meet the changing requirements of the client | |
| Great capacity to execute services globally | |
Accenture Pricing Plan
Accenture's IT outsourcing services rival the best options on the market, and they do this by tailoring to the exact requirements of the company. For this reason, the exact pricing of their services isn't available at this time and quotes can be availed directly through the company.
2. Infosys – Best Option For Digital Transformation
The Best IT Outsourcing Service For Small Businesses [Custom Pricing]
Infosys Limited is an IT outsourcing company based in India that provides solutions to businesses in telecommunications, software testing, and development, and other parallel domains. 
Founded in 1981, the company has been an industry leader since and aims to provide the best consultation and development services to boost digital transformation globally. Infosys has a lot of outsourcing services under its belt, including:
Recruitment
Payroll services
Supplier relationship management
Contract management and analysis
The company is regarded as one of the industry leaders that provide cutting-edge technology solutions and consulting services. They also have cost-effective IT support and infrastructure for small businesses and have expertise in engineering services, data analytics, data management, digital supply chain, and salesforce.
Infosys has been at the forefront of business growth acceleration and introducing companies to the latest innovative technologies and taking up operations to enhance productivity.
Infosys also has a special emphasis on striving for a sustainable digital future with improved profitability and currently offers IT outsourcing services in the following domains:
Applied AI
Blockchain
eCommerce
Data analytics
Digital marketing
Cloud computing
Digital interactions
Internet of Things (IoT)
Enterprise Agile DevOps
cybersecurity, and many more
Pros And Cons Of Infosys
| | |
| --- | --- |
| Pros | Cons |
| The company has a global presence and is highly accessible | Resource quality offshore can be slightly hit or miss, especially with junior staff |
| Flexibility in customer experience with tailor-made solutions | |
| Incorporation of machine learning and artificial intelligence in outsourcing services | |
Infosys Pricing Plan
Infosys has a variable structure to its pricing and offers its IT outsourcing services with great flexibility to its customers. But ultimately, these services have to be picked by you, and only then can Infosys provide a detailed quote on their services. Contacting the company directly for the exact services you require is the best option.
3. Capgemini – Most Enhanced Options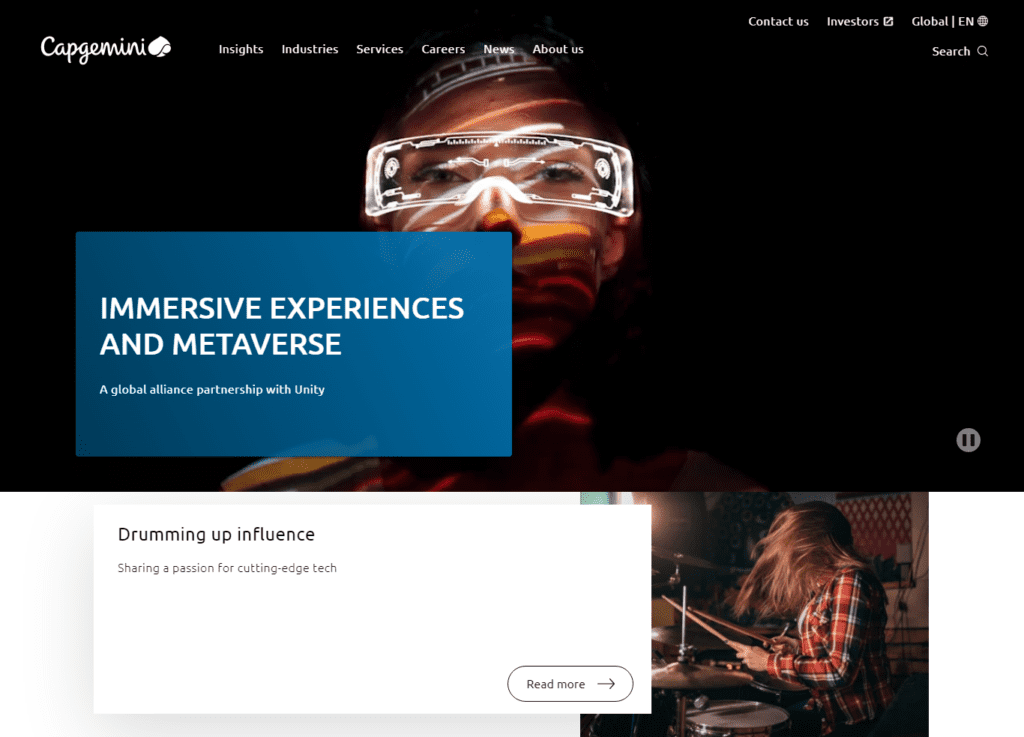 Best For Future-Proofing IT Outsourcing Services [Custom Pricing]
Capgemini is a French IT company that provides a wide range of IT operations to more than 36 countries. They offer IT outsourcing services with highly scalable solutions for businesses and have served some of the biggest companies like Microsoft and Intel. 
Founded in 1967, the company has the necessary industry experience to help streamline IT functions for companies and help them implement the latest methodologies too. Their cutting-edge project management services include the likes of:
Cybersecurity
Cloud services
Digital services
Applied innovation
Artificial intelligence
Business operations
Enterprise management
Mobile app development
Sustainability, and many more
Capgemini also helps companies accelerate their marketing and sales strategies for companies by smoothening customer relationships.
Capgemini has experience in providing IT solutions and services to businesses in a range of industries which include:
Retail
Hospitality
Healthcare
Automotive
Life sciences
Manufacturing
Banking and finance
Aerospace and Defense
Telecommunication and more
As one of the global leaders in digital and technological service providers in the world, Capgemini has a wide range of services available. The company's expertise in a vast range of IT services also makes them the de facto solution for most small and large-scale businesses.
Pros And Cons Of Capgemini
| | |
| --- | --- |
| Pros | Cons |
| Wide range of solutions and services for businesses in the IT sector | Implementation of some services are known to take time |
| Offer business agility with on-demand services | |
| Available in multiple markets globally | |
| Rich market reputation as an industry leader | |
Capgemini Pricing Plan
Capgemini is one of the best companies for IT outsourcing solutions and has dominated the space for more than half a decade. Their solutions can be seen listed on their website but do not indicate a pricing strategy on them. It is best to consult Capgemini directly for any pricing quotes and queries.
Capgemini is my third-best recommendation on the list because of its global presence, ample experience in the IT sector, and state-of-the-art deployment strategies to help businesses of all scales and sizes.
4. Wipro Technologies – Most Innovative Solutions
Most Ideal IT Outsourcing Services For Offshore Companies [Custom Pricing]
Wipro Technologies is one of the industry giants in the IT outsourcing domain. The company has esteemed technology solutions and helps companies outsource their solutions and technologies to better optimize business processes. 
Based in India, the company has built its reputation as one of the premier outsourcing firms, providing large-scale deployments of various software development services.
Wipro Technologies has expertise covering a vast spectrum of industries, and offer ingenious solutions to aid businesses to succeed. Some of their marquee outsourcing services include cloud solutions, cyber security, and product lifecycle management.
Since the company provides all solutions on an on-demand basis, small to medium-sized businesses can effectively make swift, cost-effective, and innovative decisions to bolster profitability and growth.
It is one of the top multinational IT outsourcing companies in India that provides business processes services, information technology, and consultation services to businesses.
Wipro is renowned for providing IT-specific infrastructures to businesses based on their needs and helps them accelerate the organizational processes to ensure seamless workflow. The company helps businesses meet customer expectations.
Pros And Cons Of Wipro Technologies
| | |
| --- | --- |
| Pros | Cons |
| Cater to a vast array of industries including defense, banking, communications, retail, and healthcare, among others | Services are known to be on the pricey side |
| Sustainable business strategies to help businesses with long-term solutions | |
| Expertise in artificial intelligence and machine learning | |
Wipro Technologies Pricing Plan
Wipro Technologies offers custom pricing plans for its IT outsourcing services and these can be requested as a quote directly through the company. The company does not provide a pricing plan at this time.
Wipro Technologies have built a strong industry presence and excel at deploying IT teams for a multitude of tasks around the world. For this reason, they are included in my list today as the best service providers.
5. VironIT – Best For Prioritizing Scalability
Highest Expertise IT Outsourcing Services For Every Scale [Custom Pricing]
Since 2004, VironIT has been working as an IT outsourcing service provider company. Every business has different requirements, and VironIT is completely aware of them. 
That's why it offers a comprehensive range of services using all the latest technologies like Android, iOS, C++, AngularJS, Unity, nodeJS, .Net, PHP, and Java. The services it offers include:
Game development
Dedicated developers
Web app development
Blockchain development
IoT software development
VR/AR application development
Mobile application development
Enterprise software development
VironIT's software development process is based on all the latest technologies and processes. It uses an agile methodology which enables them to modify things according to the latest requirements from the client.
VironIT uses the latest tools and technical components to take reporting and control to a whole new level. Tasks and processes are kept in order resulting in a much better ecosystem. All of these reasons make the company incredibly easy to collaborate with VironIT for IT outsourcing.
Pros And Cons Of VironIT
| | |
| --- | --- |
| Pros | Cons |
| Comprehensive IT department | Can have slower deployments for complex or large-scale business structures |
| Excellent for application development and other software-based services | |
| Helpful upgrades for agencies with a global audience | |
VironIT Pricing Plan
This highly versatile IT development firm does not quote exact pricing or a payment plan for its outsourcing services as these can be licensed depending on the exact needs, scale, and size of the agency. For an exact quote, refer to VironIT.
VironIT is one of the best recommendations to any business looking for software development outsourcing capabilities. The firm has a broad range of expertise in the field and is well-equipped to handle even the most challenging of deployment tasks.
6. Fujitsu IT Services – Multidimensional Outsourcing
IT Outsourcing Services For Hardware & Software Needs [Custom Pricing]
A lot of companies are providing their services in the field of consumer and industrial electronics. But there is one particular corporation that works to provide environmentally friendly technology and products.
The company comes under the name of Fujitsu Ltd., a Japanese tech company and a big name in the market for servers, laptops, tablets, media centers, displays, storage hardware, air conditioning, PCs, and heat pump units.
Fujitsu was founded in 1936, and the company became renowned with the introduction of its first computer in 1954. It has been in this business for around 80 years and maintains its place as the second-oldest IT outsourcing company in operation. The company's headquarters are situated in Kawasaki and it has provided its services around the world.
To meet its customers' digital transformation needs, Fujitsu IT outsourcing division creates, develops, and manages systems and information access. Its tailor-made solutions portfolio includes:
Cybersecurity
Business services
Enterprise services
Application services
Cloud-based services
Digital workplace services
Network and communication services
Pros And Cons Of Fujitsu
| | |
| --- | --- |
| Pros | Cons |
| Can help develop hardware products as well as software IT support | Deployment of cloud ecosystem can be slow |
| Personalized multi-cloud ecosystem to keep all technology connected | Level of client-company visibility is limited |
| Experts in enterprise and cybersecurity services | |
Fujitsu Pricing Plan
Fujitsu provides custom quotes on all its IT outsourcing capabilities and products, and as such does not state any pricing or plans for this service. The company can be approached for a personalized offer based on the client's requirements.
Because of its versatility and cloud ecosystem and hardware capabilities, Fujitsu gets my recommendation to any agency looking for an all-in-one solution for their business.
7. IBM – Outsourcing Global Leader
Most Specialized IT Outsourcing Services Provider [Custom Pricing]
International Business Machines Corporation (IBM) is a technology company that provides hybrid cloud and artificial intelligence (AI) solutions. It offers integrated products and solutions to businesses and industries that use data and information technology (IT). Its departments consist of software, consulting, infrastructure, and financing, among others
IBM's BPO services help you stay resilient, agile, and intelligent. It helps you evolve and efficiently optimize your business operations. IBM extends support across the enterprise including finance and accounting, procurement and sourcing, and talent and transformation, and helps set up all IT infrastructure including staff augmentation at companies.
IBM can enable ongoing innovation and deliver continuous value through better ways of working, helping you to improve your organization's ability to serve customers and compete more effectively. Its services can be elevated with expertise in:
Process
Strategy
Automation
Cybersecurity
Cloud technology
Data and analytics
Change management
User experience design
Legacy systems integration
Technology support services
Pros And Cons Of IBM
| | |
| --- | --- |
| Pros | Cons |
| Experts in data analytics, machine learning, and artificial intelligence capabilities | Some may find the company offers a lack of control over the process and management |
| Create and implement widespread technological solutions for multi-faceted companies | |
| Excellent customer care and support | |
IBM Pricing Plan
IBM caters to a large expanse of companies working today. At the moment, the company does not have a clear pricing tier for its outsourcing capabilities. A quote can be requested directly through their customer sales teams for your exact use case.
IBM is a global leader in the IT industry and is one of the best options available for its outsourcing as well. Rivaling some of the biggest names in the category, IBM is placed firmly in seventh place on my list.
8. Deloitte – Best AI-Powered IT Experts
Best IT Outsourcing Services For Fintech Startups [Custom Pricing]
Deloitte is an international professional services organization headquartered in London. It provides numerous services including risk analysis, auditing, consulting, tax services, and IT services including artificial intelligence and machine learning.
Deloitte's outsourcing success can be credited to its BPO and outsourcing experts who focus their energy on finding the best professionals in each field and negotiating with them on their terms. Deloitte then works on this relationship to smoothen the process of transitioning and setting up the foundation in the outsourced country.
It includes giving seminars, and training sessions, and holding frequent meetings to go over every little nitty-gritty detail. Plus these seminars and training sessions also give Deloitte a great insight into the vendor management landscape.
Deloitte then extracts valuable insights into important market trends, opportunities, and challenges the outsourced operations may face in the future.
Pros And Cons Of Deloitte
| | |
| --- | --- |
| Pros | Cons |
| Pioneers in the disruptive outsourcing model led by cloud and automation | The company exhibits a lack of experience working with remote teams |
| Has advanced artificial intelligence capabilities for superior software development | Some have cited issues with project visibility and control |
Deloitte Pricing Plan
Deloitte does not quote any clear pricing or plans for its IT outsourcing solutions, but you can request a quote directly from the company's help desk.
Deloitte is an excellent all-rounder and worthy of every list of the best IT outsourcing companies. It is only fair that it rounded off my list as well.
Conclusion
The costs of hiring in-house and dedicated teams and resources aren't a feasible option for most businesses. And in a highly competitive corporate environment, not every business can afford entire departments for their businesses. These are some of the reasons why IT outsourcing services are so in-demand today, with the industry expected to grow in the future too.
Strolling the web pages can help you locate one company after another, but honest reviews seldom come by. I've weighed the best options currently available that have the required personnel and technical expertise to help with most of your IT challenges. My list includes the highest-rated companies with the best reputations around the world.
My primary choice for IT outsourcing is Accenture due to its global reach and the sheer amount of technological services they provide. Second and third-placed Infosys and Capgemini are selected for their pedigree and reputation respectively.
If you liked this article, my blog is regularly updated with similar content that helps customers and businesses make the best purchase decisions, regardless of the product or service they require. For more information on technology and the world of business, read more on my blog today.