Welcome to my Jungle Scout vs.Helium 10 comparison post.
In this article, I am going to review these two items, pit them towards each other, and hopefully, convince you which tool to get for your FBA business.
These items are both powerful tools or software used in Amazon FBA. They aim to eliminate much of the guesswork that comes with selling on Amazon and have you operate using analytics, trend management, and all kinds of helpful data.
In this review article, I am going to show you the potential of using both Jungle Scout and Helium 10 for your business. I will discuss their features, pros and cons, quirks, pricing, tips and tricks, and more.
Are you ready to learn?
Let's start.
1. Jungle Scout vs.Helium 10 At A Glance
If you ask any successful Amazon seller, they will be quick to tell you the importance of using efficiency-based tools such as these. I am not exaggerating when I say that these tools can improve your Amazon experience tenfold, maybe even more.
| | |
| --- | --- |
| 4.8 | 4.5 |
| Best Overall. Better pricing plan. Has a massive Amazon listing database. Equipped with opportunity finder. Starts at $49/month. | Comes with a business trends tool. Has a landing page builder. Equipped with Amazon analytics tool. Try for free. |
| Try Jungle Scout | Try Helium 10 |
Now, that doesn't look like a clear win, wouldn't you agree?
I could just recommend both and be done with it. However, that's going to be unfair to you since you want to know which one is best for you.
In the next sections, I will do an in-depth analysis of all their features. I will also compare some of their overlapping features to see which one comes out on top.
Now, I can't promise to get you a clear winner but I will try.
2. Who Is Jungle Scout Best For?
If you're an FBA seller, there's no question about it, you need Jungle Scout.
When all of your competitors are already using tools like this, you're limiting your ability if you choose not to utilize this powerful tool.
3. Who Is Helium 10 Best For?
If you want something that has more features than all of its competitors, then Helium 10 would serve you the best.
What I like about Helium 10 is its willingness to experiment with its features. If you check their website, you will see plenty of features tagged as "new" which means that they are at the forefront of the industry.
4. A Close Look At The Features Of Jungle Scout and Helium 10
To give you a more detailed comparison between these two FBA tools, I listed some of the most popular features in this segment.
| | | |
| --- | --- | --- |
| Features | | |
| Equipped with product and competition research | | |
| Has an opportunity finder | | |
| Comes with an inventory manager | | |
| Has a built-in landing page builder | | |
| Has 24/7 customer support and training | | |
| Has product tracking and supplier finder | | |
| Has browse extension features | | |
| Comes with a refund assistant | | |
| Get started | Try Jungle Scout | Try Helium 10 |
5. Key Features Of Jungle Scout
Selling on Amazon is not just about posting a product and hoping someone would click it anymore.
The online marketing landscape has changed so much, with extensive data being available with a snap of a finger. It makes sense to use all the information you can get to arrive at your goals more efficiently.
#1 Access to Massive Amazon Listing Database
The Jungle Scout web app will help you find lucrative niches by scraping Amazon's database. You can narrow your search by category: price, sales, revenue, rank, trend, and many other categories that you haven't even heard of.
Here's an example of their search result. You can see all the categories near the top. Just click the little arrow near the category and it will be sorted according to your preference.
What makes this a powerful tool is you can easily see the characteristics of the #1 ranked product in your niche. You can even copy their marketing style, or improve upon it.
#2 Chrome Extension
The main reason why a browser extension is used is to make research and sorting easier. You don't even need to actively use the extension for it to run. It always runs in the background.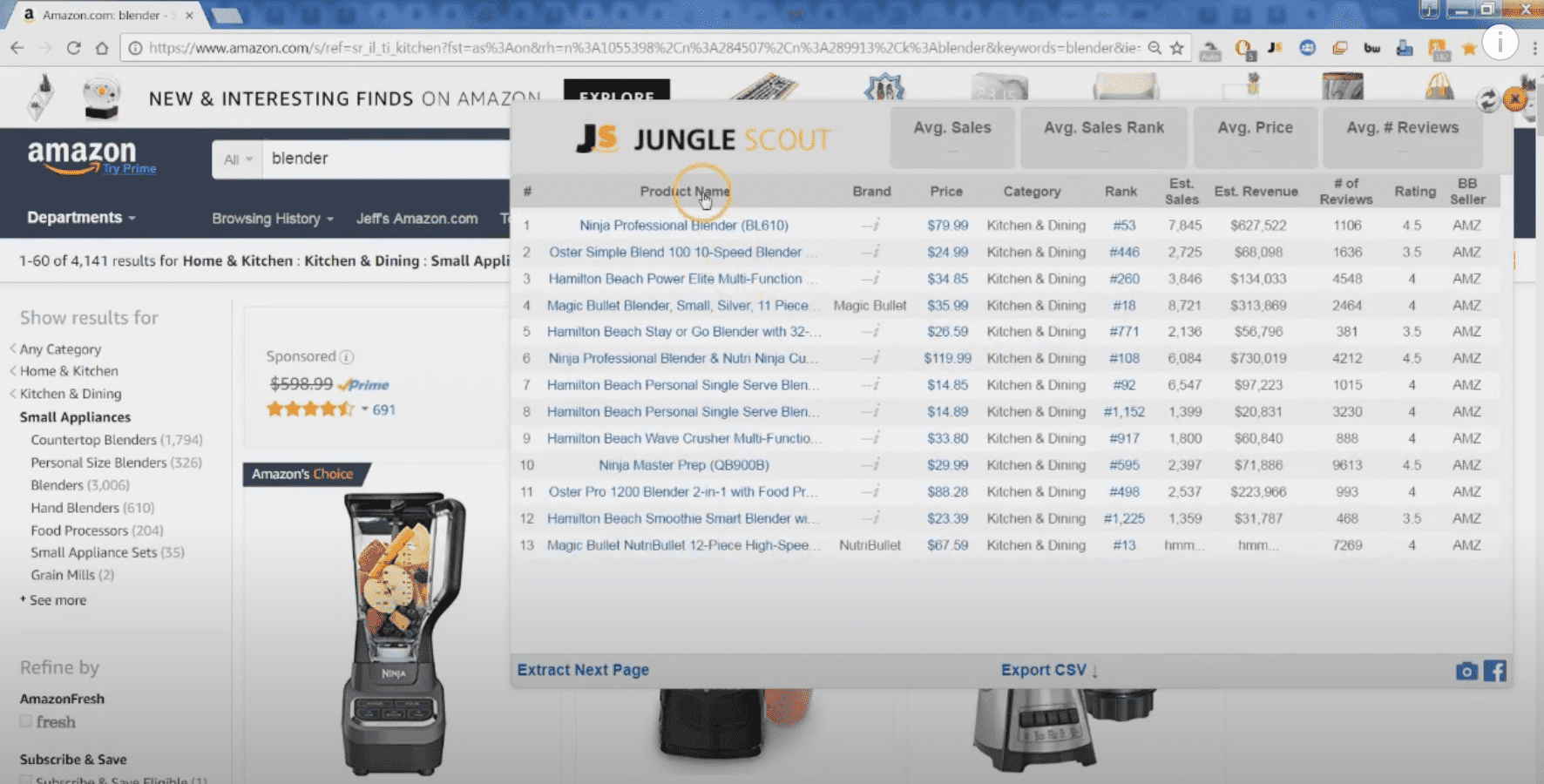 As you can see in the screenshot above, all I did was search on Amazon using the keyword "Blender" and it returned a pretty damn extensive set of data.
There are slight differences between the 3 plans of Jungle Scout, with the more expensive plans having more capabilities. This is to be expected as you will get what you pay for.
Here are the categories you can use on your Jungle Scout research.
Monthly Sales & Revenue
Industry-Leading Accuracy
Rating & Review Tracking
Category & Seller Ranking
Ongoing Support & Updates
Web App Advanced Integration
Sales Item Profit Calculator
Dimension & Weight of Items
FBA Fee Estimator
Opportunity Score
Historical Price, Rank & Sales Data
#3 Opportunity Finder
This feature is pretty self-explanatory.
What this feature does is allows you to search for a winning product in a category of your choosing. It does all the brunt work, practically.
All you have to do is select a category, or categories, then fill these with your product criteria (see screenshot below).
For instance, if you want to compete in some low competition niche, just adjust the filters accordingly. You can even exclude keywords that you don't like. If for some reason, you don't want to sell dog items, then just input "dog" into the keyword prompt.
#4 Review Automation
Amazon has changed the way people do their review requests.
Back then, sellers could send customized emails to all their buyers. Amazon is moving away from that.
Now, all your review requests will be done by a third-party app. In this case, that's Jungle Scout.
There's not much to it. All you have to do is tick the "Review Automation" on and you're good to go.
Whether you're a seller or a buyer, you must know the importance of reviews. Everyone almost always skips a product that has few reviews. This is why review requests are so important on Amazon FBA.
#5 Sales Analytics
This is the bread and butter of all Amazon FBA tools on the market. In my opinion, this is the feature that makes or breaks a product.
To put it simply, this feature gives you the full financial health of your company. Here, you will see how many units you sold, the net margin in percentage, ROI, net profit, PPC, revenue, and many more.
You can even see the data in graphs. For instance, if you want to view your net profit over time, they have a tool for that as well.
This gives you the ability to see what processes need adjustments.
Take note that these are just the noteworthy features of Jungle Scout. They still have a lot of features that I did not include in this summary because their features honestly deserve their article. Here's a screenshot to give you an idea.
6. Key Features Of Helium 10
Helium 10 can be considered the pioneer in providing third-party service to Amazon FBA sellers. Their tagline "Everything you need to sell on Amazon and more" rings pretty true, all things considered.
Their industry-leading popularity is made possible by all their powerful features.
In this section, we're going to go over their most noteworthy tools. I may miss a couple of features but that doesn't mean I overlooked them. They just simply missed the cut. Discussing all the features would make the article too long.
#1 Black Box Amazon Product Finder
This is their main feature. This is their all-in-one tool which gives you the ability to find products to sell, research your competition, research niches you want to sell on, and many more.
This tool is just one big swiss-knife tool.
Black Box has access to over 450+ million products which I'm sure is enough database for anyone searching for some products to sell.
Anyone can use this tool to find a product to sell on Amazon. The dashboard is intuitive and anyone can learn within a few minutes of using it.
#2 Trendster
Now, all of your data would pretty much be meaningless unless used in a context.
That's where this tool comes in. What it does is show your data in a graph that is easy to understand. Let me show you an example below.
It shows you the TRENDS. It's a powerful tool to check for trends in your business. You can then study these upticks to replicate your success at any given time.
#3 Portals Landing Page Builder
Now, this is a feature that you won't see in most of its competitors.
Their landing page builder makes it possible for you to build your brand outside of Amazon. When used in tandem with their PPC manager, you can have a separate income source from Amazon, which diversifies your income.
What's great about this is you can make these pages your main landing page. Their templates are so good that they can directly compete with funnel builders like ClickFunnels.
They also offer free hosting which is a big plus.
#4 Profits – Amazon Seller Analytics
This is another analytics-heavy feature that focuses on things like gross revenue and net profit.
Oftentimes, it's not enough to just have good revenue figures. You need to have a good net profit to justify your business. Businesses that have high revenue but incomparably small net profit will not last, unfortunately.
You can set your values but Profits already has some presets that should work for the most part.
#5 Refund Genie
The Amazon refund process is extremely tedious and confusing even for experienced sellers. If you are offering extended warranties, the refund process will take even more of your time.
Now, this Refund Genie tool rids the process of all the unnecessary procedures inside a refund request. All you have to do is click yes or no.
You will receive FBA refund estimate totals in seconds instead of manually slugging through all refund requests.
Similar to the Jungle Scout section, these 5 tools are just the noteworthy features of Helium 10.
Helium 10 still has a lot of features that are missing here because there are just too many. I only wrote about their special ones. In any case, here's a screenshot showing all of its features.
7. Jungle Scout vs.Helium 10 – Pros And Cons
Jungle Scout is a tool that removes all the guesswork from Amazon. With this tool, you can see precisely where your FBA campaign needs adjusting.
Jungle Scout:
| | |
| --- | --- |
| Pros | Cons |
| Cheaper than most of its competitors | Does not have a landing page creator |
| Has an intuitive dashboard that makes understanding trends much easier | No mobile app |
| Has browser extension for enhanced FBA browsing | |
| Straightforward pricing packages | |
| The easiest to use opportunity finder in the market | |
Helium 10 can be considered the more complete tool compared to Jungle Scout. In this pros and cons section, we're going to list all the good things about Helium 10 as well as the negatives.
Helium 10:
| | |
| --- | --- |
| Pros | Cons |
| The best all-in-one tool in the FBA market | Email marketing is not as robust compared to other more focused platforms like Clickfunnels |
| Considered the market leader in the industry | Easy to learn but hard to master |
| Has a built-in landing page builder | Pricier than its competitors |
| Provides extensive Amazon training | |
| Introduces features that are considered experimental which means you get access to bleeding-edge strategy | |
| Intuitive dashboard and interface | |
8. Where Do I Get The Most For My Money?
I will be posting several screenshots in this section to help you see their pricing package breakdown much easier.
Jungle Scout Pricing Plans
The screenshot above shows yearly which is their discounted rate. You get up to a 40% discount on their yearly package.
Below is their usual monthly rate.
Basic ($49/month): This is the cheapest package out of all of the packages listed here. This one is pretty bare as it only unlocks the full features on the FREE browser extension.
Suite ($69/month): This is their most popular package. It gives you all the basic features plus review automation, multi-user login, historical data for keywords and product tracker, and advanced seller features.
Professional ($129/month): You get all of the Suite Features plus 1000 ASINs tracking, 6 user logins, 6 months of historical data access, 2 years of historical keyword access, and priority onboarding.
To have a better idea of what to expect from Jungle Scout, I suggest you apply for their 14-day money-back guarantee trial. Should you decide that the product is not for you within 14 days, they will give you a refund, no questions asked.
Helium 10 Pricing Plans
Helium 10 offers 5 sets of plans, but it is just 4. Their first offer is the trial version. Take note that they give 2 months free for annual plans.
Just like in Jungle Scout, I encourage you to give Helium 10 a try by availing of its 30-day FREE trial. You will only have access to basic tools but that should already give you an idea of what to expect from this product.
Platinum ($97/month): This is their most popular plan which only supports a single user but gives access to an index checker, keyword tracker, alerts, follow-up emails, and Freedom Ticket Amazon Training ($997 value).
Diamond ($197/month): This plan allows for multiple users. It practically offers the same features as their platinum package + 3 more features. This plan gives you access to an index checker, keyword tracker, alerts, follow-up emails, +++ PPC management platform, Inventory Management, and Unlimited SKUs.
Elite ($397/month): You will get every diamond feature in this plan plus

Higher-tier access to Helium 10
In-person workshops
LIVE monthly training
Elite Facebook Group access
Automated PPC management platforms, ADS
Enterprise ($499/month): As for their Enterprise plan, you would have to get in touch with their representative to get a quote of its total cost.
9. Conclusion – Which Is Better: Jungle Scout vs.Helium 10?
To be honest, even with the detailed comparison between the two, it's incredibly difficult to recommend just one item.
Let me start by saying that both of these products are worth the money. I could even argue that you cannot succeed in Amazon FBA (Fulfilled By Amazon) without using tools like these.
Think of it this way — 99% of your competitors are using these tools. Why would you purposely gimp yourself and only use the standard tools when you can get tools like these? Seems like a no-brainer?
Now, back to the question at hand, which is better?
Now, here's the thing. These tools are practically the same speaking in terms of capability. You can do anything that the other can do with the only difference being the methodology used. Helium 10, in my experience, is a bit more efficient, though.
That being said, it's hard to beat Jungle Scout's pricing of $29, $49, and $84 per month. Helium 10's offering $97, $197, and $397 per month may seem considerably pricier but when you consider the number of features you get, it seems like a fair trade.
Remember that these tools are not just expenses. They are investments.
It's okay to spend a bit. If you play your cards right, you will get your money back plenty of times more.
But before we go to the last section of this article, let me remind you that both of these tools have FREE Chrome extensions. Yes. FREE.
All you have to do is search for their extension online, download it, and use it. That should make your decision a little bit easier since you can easily compare which one fits your profile better.
10. Jungle Scout vs.Helium 10 – FAQ
In this section, we're going to go over questions that I may have missed in the Jungle Scout vs.Helium 10 comparison.
Are Any Of These Programs Free?
No, but both of them offer FREE Chrome extensions. While these extensions will not give you 100% capabilities, they will offer you a really good taste of what to expect from these products.
Both of these products also offer their tool for a limited trial (14 days for Jungle Scout and 30 days for Helium 10).
What is the difference between Jungle Scout and its Extension?
The full Jungle Scout product is a web-based software where you can get more extensive search results for your product research, keyword, smart listings, and suppliers.
Jungle Scout extension, on the other hand, is a browser add-on that pulls data directly from Amazon, giving you access to simple research data without having to type it out on the Amazon search bar. You can get this extension for FREE.
Both are available if you get the premium version.
What is the difference between Helium and its Extension?
The answer is practically the same above.
Helium 10 is web-based software for more extensive data results. Their extension provides basic data from Amazon search results.
What Is A Chrome Extension?
A browser extension is just an add-on designed to make your browsing experience better overall. If you've installed some type of Adblock, then you must already be familiar with how an extension works.
An extension gives you the power to access information from other sources without disrupting your browsing experience. Think of it as a background process that pops up anytime you need it.