Searching for trustworthy and reliable antivirus software can prove to be a bit time-consuming; that's why in this Kaspersky vs. Norton comparison, I will help you choose between the two household names in the industry.
Since my line of work involves the internet, I use antivirus software to protect myself and my business from the cyber threats that loom over us as I use the web. As I searched for the best antivirus software, I stumbled upon a few trusted names in the industry, Bitdefender, McAfee, Kaspersky, and Norton.
In this post, I'll show you the key features, pros and cons, pricing, and other important information about Kaspersky and Norton that will help you decide which of these two antivirus software is the best for you.
Without any delays, let's get right to it.
1. Kaspersky vs. Norton At A Glance
As two of the most trusted antivirus software in the market, let's look at this Kaspersky vs. Norton comparison to see how they fare against each other.
| | |
| --- | --- |
| 4.6 | 4.7 |
| Feature-rich. Security platform with deep threat intelligence and innovative security solutions. Starts at $29.99/month. | Best Overall. Wide-reaching platform with device security, online privacy, and threat identification. Starts at $39.99/month. |
| Try Kaspersky | Try Norton |
2. Who Is Kaspersky Best For?
Kaspersky is excellent for anyone who connects to the internet, be it students, workers, freelancers, or families. Equipped with comprehensive security and protection features, surfing the web with Kaspersky will leave you feeling at ease.
If you're an individual running an online business or your line of work involves connecting to the web, Kaspersky will also work for you since it has features that will help keep your online transactions safe and secure.
3. Who Is Norton Best For?
Norton, like Kaspersky, is also suitable for students, workers, content creators, families, freelancers, and anyone who uses the internet. Norton's features ensure that the four key areas — device security, identity, online privacy, and home & family — that need protection are safe and secure.
Kaspersky also offers protection for small business owners to help prevent security breaches and keep your business's data secure.
4. A Close Look At The Features Of Kaspersky and Norton
Let's glance at the features between Kaspersky vs. Norton and find out which features make each of them stand out.
| | | |
| --- | --- | --- |
| Features | | |
| Antivirus/Anti-Malware Engine | | |
| Web Protection | | |
| Optimization Tools | | |
| Parental Control | | |
| Password Manager | | |
| Identity Theft Protection | | |
| Dark Web Monitoring | | |
| VPN | | |
| Webcam Protection | | |
| Ransomware Protection | | |
| Get Started | Try Kaspersky | Try Norton |
5. Key Features Of Kaspersky
Kaspersky is a veteran in the cybersecurity industry. I'll show you the features resulting from years of Kaspersky's expertise in their chosen field.
#1 Antivirus Engine
Have you ever downloaded something from the internet, maybe an email attachment or an executable file that may or may not come from trusted sources? These files are potential hazards to your computer as they may contain viruses that can sabotage your files and threaten your privacy.
Here's where Kaspersky comes in.
Kaspersky comes with an excellent antivirus scanner, the primary tool that detects and identifies potentially malicious files or programs on your computer. An antivirus scanner is the core feature that all antivirus software must have.
So, how exactly does Kaspersky's antivirus scanner work?
Kaspersky's antivirus uses its extensive virus database and deep machine learning technology to detect all types of malicious software, files, and programs.
What happens if there's a new and potentially malicious file?
Once Kaspersky detects a new and potentially malicious file, it uploads the file to the cloud, and the cloud-based scanner will analyze the file with machine learning to determine if the file is malware.
Kaspersky offers five different kinds of virus scans for your computer. These are:
Quick scan – If you want a fast scan of your core system files, you can select the quick scan. In this scan, Kaspersky checks your system startup files, boot sectors, and system memory files, the locations where you can usually find the malware.
Full scan – If you think you need a deep scan, choose full scan. Kaspersky conducts a thorough scan of your computer and scans every file, folder (yes, even your hidden ones! *wink*), and partitioned sectors on your system.
Selective scan – Now, if you only need to scan specific locations on your computer, you can opt for a selective scan. Kaspersky only scans your selected drive, files, and folders for potential malware.
Removable drive scan – To be sure that plugged-in removable drives like flash drives or portable hard drives are clean of viruses, you can select Kaspersky's removable drive scan.
Vulnerability scan – If you want to find out if your computer is at risk of malware infection, you can run Kaspersky's vulnerability scan. It checks your system for outdated applications and software exposed to malware.
Now that you know about the different scans, did you know that you can schedule your scans with Kaspersky? You can specify the time, whether it be after application startup or after every update.
Isn't that convenient?

You won't have to worry about manually scanning your computer. Kaspersky does that for you.
#2 Kaspersky Safe Money and Web Protection
Of the thousands of stories about phishing sites and sketchy websites, it feels like the web is not a safe space after all. With attackers at malicious sites lurking everywhere, you have to exercise caution when you surf the web.

Is there a solution that lets you browse the internet safely?
Kaspersky's Web Anti-Virus feature is multi-layered web protection that addresses your concern about safe internet browsing. With this feature, Kaspersky determines that the site you visit is safe.
Let me explain how.
By checking if the website is in the database of malicious web addresses and using heuristic analysis to determine if the URL has suspicious behavior.
That's not all.
Kaspersky also gives you a browser extension that lets you do the following:
help in detecting malicious links and marking sites as safe or unsafe
blocks trackers and ads
use a virtual keyboard
Its web protection does not end with the browser extension.
You can even access banking websites, do some online shopping on e-commerce sites powered by Wix, WordPress, Shopify, Squarespace, etc., and enter sensitive payment information without worry with Kaspersky's Safe Money.
How does it keep you safe?
Kaspersky Safe Money is a secure browser that blocks potentially malicious software attacks online. It works perfectly with Kaspersky's virtual keyboard that prevents programs that log what you type from getting your password through your keystrokes.
Nifty, right?
You can now enjoy browsing the internet safely and without worry.
#3 Kaspersky PC Cleanup Tools
Have you ever felt that your PC has been running a bit sluggish recently? A slow computer might be a sign that it's time for some cleanup.
Conveniently, Kaspersky comes with system clean-up tools. You won't need a separate application to clean and optimize your computer.
Kaspersky's PC cleanup tools are:
PC Cleaner: If you have applications, programs, or browser extensions that you rarely use, and want to remove or fix, PC Cleaner will help you with that. It will check your computer for these and remove them for you, with your permission, of course.
Unused Data Cleaner: Aside from rarely used apps, another possible cause of a slow computer is the large amounts of log and temporary files in your computer, especially the Recycle Bin. The Unused Data Cleaner will locate these files for you and present you with several options of what you can do with the found files.
Privacy Cleaner: If you want to remove traces of your online activity, the Privacy Cleaner is just what you need. It will clear your browser history, cookies, caches, and other data related to your online activity.
Handy and convenient, right?

With these tools, you can now speed up your computer's performance.
#4 Kaspersky Safe Kids
Do you have kids who're beginning to explore the internet and establish their online presence? This might leave you in constant worry for their online safety and security.
Kaspersky just got the solution to relieve you of your worries.

Safe Kids is Kaspersky's parental control feature for parents as a form of solidarity and commitment in keeping children safe and secure online and giving children a positive online experience.

Here's what you can do with the parental control feature:
set your children's usage limitations
filter content, sites, and apps they can access
monitor your children's social network and location tracking
Isn't it reassuring that you're not alone in this battle?

To make it even easier for you, Kaspersky gives a quick tutorial and advice on how you can discuss with your children parental controls and internet safety as you set up your parental controls.
#5 Kaspersky Password Manager
Trying to remember your passwords for different accounts can be overwhelming and makes you more prone to have passwords that are easy to crack. Having a password manager that will keep your password security can be a great solution.
There's no need to look further since Kaspersky comes with a Password Manager.
The password manager can store your passwords, bank cards, addresses, and other sensitive information and keep them safe and secure. Kaspersky uses 256-bit AES encryption, the industry-standard encryption that banks use, and has a strict zero-knowledge policy.
But that's not all.
With the password manager's password generator, you can create randomly generated passwords that are 4-99 characters long, including uppercase and lowercase letters, numbers, and symbols.
You can access the password generator from the app and the browser extension.
Now, that's a handy feature.
Kaspersky's password manager may not be as feature-packed as standalone password managers. Still, it does its job well in giving you the security you need to keep your password and sensitive information safe and secure.
6. Key Features Of Norton
Norton commits itself to protecting and empowering your online security so that you can live your digital life safely. Here are the features that Norton offers to help you achieve that.
#1 Anti-Malware Engine
Sometimes, exposure to malicious files and programs can happen without your knowledge. Connecting to the internet increases your vulnerability to cyber threats such as viruses and malware.
This is where Norton comes to your rescue.
As I've mentioned before, every antivirus software must have an antivirus scanner since this is an antivirus software's core function.
Does Norton meet this need?
It does not disappoint in this aspect as it provides you with an exceptional anti-malware scanner that not only detects but also protects you from different kinds of cyber threats.
So, how exactly does Norton protect you?
Here's how the anti-malware engine works:
It utilizes an extensive malware directory and uses heuristic analysis and machine learning to detect malware.
You also get various scanning options and real-time protection that keep malware from your device.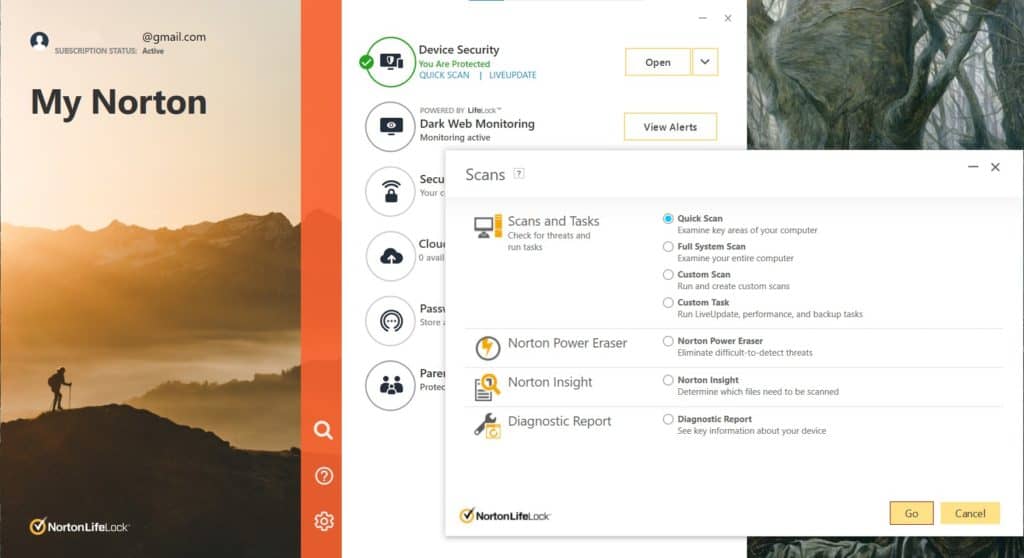 These are some of your scanning options:
Quick scan: If you need a fast scan of your computer's key areas, where you usually find malware, a quick scan is your best choice. It scans your temporary files, running processes, system files, and other core locations.
Full scan: If you want to scan every nook and cranny of your computer to get rid of well-hidden threats, doing a full scan is the answer. The full scan will examine your entire computer thoroughly.
Custom scan: When you only want to scan specific folders, disk locations, or removable storage, you can go with the custom scan.
Norton Insight: This scan is when you need to quickly scan specific files, like recently downloaded files, for possible viruses.
What else can you do with the anti-malware scanner?
Scheduling your scans with Norton is easy. You can set a specific time and schedule weekly or monthly scans.
#2 Dark Web Monitoring
I'm sure at some point you've come across the term dark web. The dark web is like the internet's "black market," where you can find web pages not indexed by conventional search engines.
Is there a need to monitor the dark web?
It's not that there's a need, but it would benefit you greatly if you have the means to monitor the dark web since most data breach leaks occur in the unregulated part of the internet.
Why?
Because the earlier you know that your information is part of a data breach, the faster you can take action to protect your information.
Now, here's how Norton's Dark Web Monitoring works.
Norton securely stores your personally identifying information (PII) and scans the dark web forums, credit reports, and breached databases if your information is in any of them.
What happens if there's a hit? Norton will notify you immediately.
Here are some of the PII that Norton monitors:
Bank account numbers
Credit cards
Addresses
Driver's license information
Insurance numbers
Telephone numbers
So, what sets Norton apart from other database-based breach monitors?
Live human agents paid by Norton infiltrate dark web forums. These dark web assistants find data that most companies can't.
They also give feedback and advice in the instance that they find your information on the dark web.
But, here's the thing:
The dark web monitoring feature is currently only available to US, UK, Germany, Australia, and New Zealand users.
#3 Identity Theft Protection
Do you know that identity theft is a severe internet threat that you have to be wary of? It is where someone obtains your personal or financial information to use your identity to commit fraud and make unauthorized transactions.

Ease your mind because Norton got your back.
Norton gives you LifeLock identity theft protection services that include live credit report monitoring. With this, you receive notifications about:
Purchases
Investments
Loans
Credit card applications
Other transactions that contain any of your personal identifying information
Norton's identity theft protection doesn't stop there.
LifeLock offers insurance payouts of up to $1M and legal assistance in case of serious identity theft. Besides this, you also get credit freezing and home title, court record, social security, 401k, and ID monitoring.
Impressive, right?
There's a catch though, identity theft protection features and services are currently only available for users in the US.
#4 Norton Safe Family
The internet is vast, and cyber threats loom over us constantly. Having children with a growing online presence and increasing online consumption can leave you in a state of constant worry for their online safety.
Norton is here to lessen your worries.
Norton's parental control, Safe Family, gives insights to help you protect your children and give them safe and secure access to the internet. With the parental controls, you can:
Filter inappropriate content
Monitor your children's YouTube and Hulu activity
Location tracking for mobile devices
Blocking inappropriate apps on Android devices
Set time-limited usage for all devices
Set emergency contacts
School Time mode
Remarkable and assuring features, don't you agree?
With Norton Safe Family, you can be at peace knowing that your children have protection against online threats.
#5 System Tune-Up Tools
Are there moments when you feel like your computer is running slower than usual? This might mean that your computer needs some optimization.
Worry not; Norton has built-in device optimization tools.
The built-in system tune-up tools are fast, efficient, and comprehensive. Here are the optimization tools that come with Norton:
Optimize disk: Defragmenting your hard drive improves your computer's performance, and that's exactly what optimizing disk does.
File Cleanup: Removing temporary files from Windows and your web browsers can also speed up your computer. That's what the file cleanup tool does.
Startup manager: The startup manager shows you a list of programs that run on startup that significantly affect your computer's performance.
Graphs: The graph displays a timeline of your device's important activity.
Simple yet effective tools.
These device optimization tools may not be as feature-packed as other antivirus software, but they get their job done efficiently and boost your computer's performance.
7. Kaspersky vs. Norton – Pros And Cons
Before determining the best antivirus software between Kaspersky vs. Norton, I have to show you both their pros and cons. Knowing these pros and cons will help you see more clearly which antivirus is the one for you.
Here are Kaspersky's pros and cons.
Kaspersky:
| | |
| --- | --- |
| Pros | Cons |
| Excellent malware protection | Unlimited VPN available only in the premium plan |
| 100% detection rate | Free plan is only available on Windows |
| User-Friendly | |
| Low impact on memory and system performance | |
| Free version available | |
| Offers ransomware protection | |
| Online banking protection | |
Now, let's take a look at Norton's pros and cons.
Norton:
| | |
| --- | --- |
| Pros | Cons |
| Comes with ransomware protection | Price increases after the first year |
| VPN included in all plans | Multi-license pricing not available |
| Identity theft protection | Scan runs slow at times |
| Multi-platform support | |
| Comprehensive feature list | |
8. Where Do I Get The Most For My Money?
So which antivirus software between Kaspersky vs. Norton gives you more bang for your buck? Which one is worth the investment?
I will now present to you Kaspersky and Norton's pricing plans.
Kaspersky Pricing Plans
Kaspersky's pricing plans depend on the number of devices and the length of the license. They currently offer one free plan and three paid plans.
Kaspersky's free plan is only available on Windows and comes with a limited set of features.
These are what you'll get with Kaspersky's three paid plans:
Kaspersky Anti-Virus (Discounted Price: starts at $29.99 for one year, per 1 device; Regular Price: starts at $39.99 for one year, per 1 device): The Kaspersky Anti-Virus package lets you block viruses and malware, gives you ransomware protection, filter phishing emails, and defend your network against attacks.
Kaspersky Internet Security (Discounted Price: starts at $44.99 for one year, per 1 device; Regular Price: starts at $59.99 for one year, per 1 device): Kaspersky Internet Security package comes with all Kaspersky Anti-Virus features with the addition of payment protection, privacy cleaner, two-way firewall, protection for multiple devices, and webcam protection.
Kaspersky Total Security (Discounted Price: starts at $59.99 for one year, per 1 device; Regular Price: starts at $79.99 for one year, per 1 device): The Kaspersky Total Security includes all Kaspersky Internet Security features and data encryption, password manager, and parental controls.
Norton Pricing Plans

Norton comes with five paid plans. Unlike Kaspersky, it does not offer any free plan.
Here's what you'll get with each paid plan:
Norton 360 Standard (1st year: $39.99/year, 2nd year onwards: $84.99/year): In this plan, you can have one device, and you get anti-spyware, antivirus, malware, and ransomware protection, online threat protection, smart firewall, password manager, virus protection promise, secure VPN, SafeCam, 10GB Cloud backup, and dark web monitoring.
Norton 360 Deluxe (1st year: $49.99/year, 2nd year onwards: $104.99/year): This plan includes all Norton 360 Standard features except you now have up to 5 devices, 50GB cloud backup, parental control, and privacy monitor.
Norton 360 with LifeLock Select (1st year: $99.48/year, 2nd year onwards: $149.99/year): In this plan, you get all Norton 360 Deluxe features plus now you can have 100GB cloud backup, LifeLock Identity Alert System, credit monitoring, and million-dollar protection package.
Norton 360 with LifeLock Advantage (1st year: $191.88/year, 2nd year onwards: $249.99/year): This plan has all Norton 360 with LifeLock Select features, but now you can have up to 10 devices, 250GB cloud backup, identity lock, phone takeover monitoring, bank and credit card activity alerts, fictitious identity monitoring, and court records scanning.
Norton 360 with LifeLock Ultimate Plus (1st year: $299.88/year, 2nd year onwards: $349.99/year): All Norton 360 with LifeLock advantage features come with this plan plus now you have unlimited devices, up to 500GB cloud storage, 401(k) and investment activity alerts, and home title monitoring.
9. Conclusion – Which Is Better: Kaspersky Or Norton?
As this Kaspersky vs. Norton comparison comes to an end, it's time to give the verdict on which is the better antivirus software between the two.
I'll give Norton the win over Kaspersky for being packed with features not usually included in antivirus software, such as dark web monitoring and identity theft protection.
Norton may come off as more expensive after the first year, but given all the tools, features, and benefits(e.g., identity theft insurance) that you'll get out of it, I believe that Norton's price is reasonable.
Does that mean that Kaspersky is not a good antivirus software?

Quite the opposite, Kaspersky is still one of the best antivirus software in the market, given its track record and demonstrated expertise in its field. Although Norton's number of features outshined, the protection and security from malware and antiviruses that Kaspersky provides are at par with Norton's.
Interested in other comparisons? Take a look at my Kaspersky vs Mcafee or Kaspersky vs Bitdefender.
10. Kaspersky vs. Norton – FAQ
Here I'll answer four of the most frequently asked questions about Kaspersky vs. Norton.
Is Norton better than Kaspersky?
Norton offers more advanced security and protection features than Kaspersky. It has dark web monitoring and identity theft protection services, something that not all antivirus software, including Kaspersky, offers.
Is Kaspersky good for Windows 10?
Yes, Kaspersky antivirus is compatible and works with Windows 10. Kaspersky provides excellent antivirus protection and security for different platforms, including Windows 10, macOS, Android, and iOS.
Can Kaspersky remove malware?
Kaspersky's antivirus scanner will scan your device to find threats. Kaspersky will remove any threat found from your device and notify you.
Which Norton is best?
If you're on a budget and just need the basic features and protection, Norton 360 Standard might work for you. If budget is not an issue, without a doubt, Norton 360 LifeLock Ultimate Plus is the best since you'll be getting all of Norton's excellent features.