Are you looking for new clients to pitch to? You're in the right place. In this post, I'll highlight 7+ of the best lead capture software, free and paid.
I've been in the digital marketing space for a little over 10 years and to stay afloat I needed to put forth the needed effort to find the right kind of clients rather than just wait for them to come around.
Here's what I learned so far, pitching to just anyone without background knowledge of who they are and what they do will only get you so far.
It's always best to get a little info about them so you know their pains and concerns. This way, your pitch will be tailor-fit to their needs and you'll have higher chances of converting them to clients.
That's what this post will be all about, helping you decide which lead capture software works best for you to get you to gain more qualified leads.
What Is The Best Lead Capture Software?
If you're in a hurry, check out my top 3 picks at a glance: Lusha, HubSpot, and AWeber.
| | | |
| --- | --- | --- |
| 5.0 | 4.7 | 4.2 |
| Best overall. Flexible and accessible lead capture software with good reporting systems. Starts at $74/month. | Best value for money. Highly automated platform with customizable features and tools. Starts at $45/month. | Most features. Optimized and specialized platform for email marketing lead capture. Starts at $16.50/month. |
| Try Lusha | Try HubSpot | Try AWeber |
To discover more about each lead capture software, scroll down below to know the complete features.
1. Lusha – Top Pick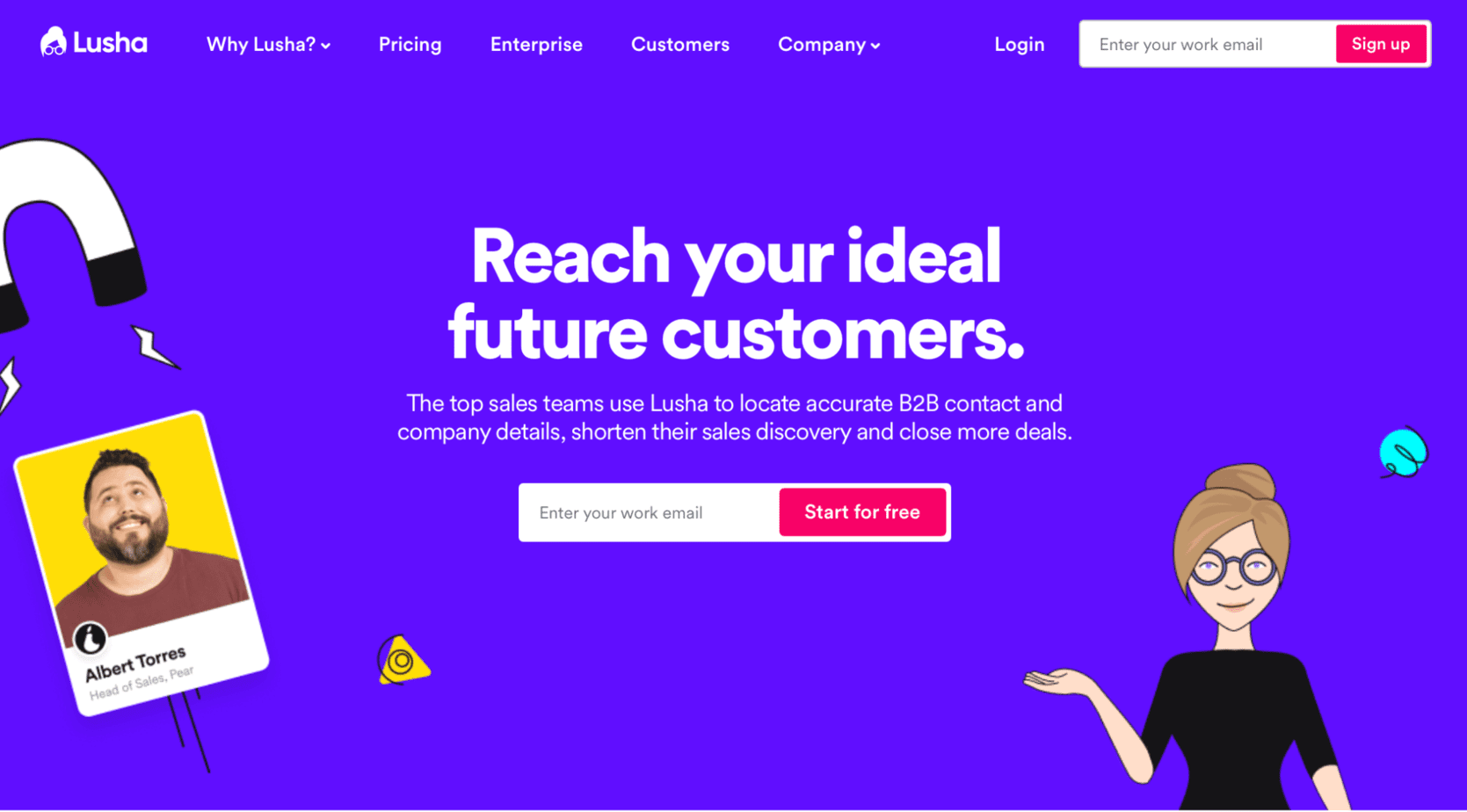 Best Lead Capture Software For Finding B2B Clients [Free Version | $74/month]
With Lusha, you can get access to qualified leads fast. It uses firmographic data coupled with actionable insights to identify and connect with leads in no time.
Using the Lusha Extension, you get accurate B2B phone numbers and email addresses from LinkedIn, B2B websites, and the Gmail inbox while being compliant with GDPR and CCPA regulations.
This browser extension feature which shortens sales cycles is compatible with Firefox, Chrome, and Edge.
With it, you can reach 100+ prospects directly and increase engagements by up to 90%.
With just one click, you can gather prospect data and save them directly, so you start your outreach initiatives.
Other than the browser extension, Lusha is equipped with an API you can access by contacting the sales team. You get accurate and up-to-date data such as the:
Name
Position
Industry
Website
Contact details
Pros And Cons Of Lusha
| | |
| --- | --- |
| Pros | Cons |
| Gets you accurate contact details that work | Can be quite expensive |
| Syncs with CRMs quickly | Needs more integrations with service providers |
| Prospecting tool allows you to narrow down to warm or hot leads | |
| Has organized reporting features | |
| Scrapes multiple profiles which cuts down prospecting time | |
Lusha Pricing Plan
Lusha has a free version, with it you can get email addresses and phone numbers. If you need more than that information, you can choose from three paid plans.
Professional ($74/mo): The Professional plan is good for 2 users that include 1,200 credits/year, extracting email addresses and phone numbers, exporting contacts, and building a list of accurate prospects.
Premium ($149/mo): The Premium Plan includes 5 users and everything in the Professional plan, plus build data enrichment and CRM integrations.
Enterprise (Custom Pricing): The Enterprise plan is built for scaling and includes everything in the Premium plan plus more CRM integrations, team management, a dedicated success manager, and API access. The exact subscription cost will be given after a consultation with the sales team.
The monthly subscription cost indicated above is for packages paid annually which is the kind of subscription I would suggest since paying monthly will be more expensive.
Get started with Lusha by visiting their site.
2. HubSpot Lead Capture – Most Well-Rounded
Best All-In-One Lead Capture Software For Marketing Automation [Free Version| $45/month]
If you want versatile lead capture software, HubSpot Lead Capture is the best choice. Primarily because more than just capturing leads, it's mostly a customer relationship management platform (CRM software).
When collecting data, you can automatically organize information and start interactions.
Using HubSpot will save you from the hassle of going back and forth between apps. It seamlessly funnels information to your CRM ready for the marketing team to use.
It also comes with drag-and-drop forms used to collect data your team needs. It then organizes it as a segmented list so you can easily score leads and help the marketing team understand who provides the best value so they can prioritize outreach efforts.
Not to mention that HubSpot also has its own marketing tools, and it's especially good at being a marketing automation software. However, most of the marketing features of HubSpot do cost extra so it can be expensive at the same time.
You don't have to worry about breaking data privacy laws because it's also GDPR compliant so all your lead data and lead information are well secured in this management software.
Lastly, after the leads are captured, HubSpot also comes with a drag-and-drop email builder so you can start creating targeted campaigns on your email list to nurture those newfound leads.
Other features that HubSpot has are the following:
Sales Automation
Business Card Scanner Tools
SEO Marketing Tools
Follow-Up Feature
List Segmentation
Landing Page Builder
and many many more rich features within their different software packages.
HubSpot also has a mobile app available for business needs. Currently supporting both Android and iOS platforms. This can actually double as a project management app since you can create reminders, tasks, and even update customer details if need be.
Pros And Cons Of HubSpot Lead Capture
| | |
| --- | --- |
| Pros | Cons |
| Great for easy monitoring of customers and analyzing demands | Interface can be more engaging |
| Integrates all marketing efforts to streamline processes | Comes with a hefty price tag |
| Will organize and segment leads | |
| Includes a scoring system to easily determine who to prioritize | |
| Easy to use | |
HubSpot Lead Capture Pricing Plan
HubSpot Lead Capture comes with free tools. With it, you can generate new email leads, send 2,000 outreach emails per month, and allow for 5 segmented lists.
For more functionality and higher limits, you can choose from three paid plans.
Starter ($45/mo): The Starter plan includes all the free tools plus 1,000 marketing contacts, 5x contact tier email send limit, 1 inbox, 25 active lists, 1000 static lists, email health insights, and more.
Professional ($800/mo): The Professional plan allows you to enjoy everything in the Starter plan plus 2,000 marketing contacts, 10x contact tier email send limit, 100 inboxes, 1,000 active lists, additional features for email health insights, etc.
Enterprise ($3,200/mo): The Enterprise plan has all the features in the Professional plan plus a 20x contact tier email send limit, 1,500 active lists, 1,500 static lists, and so much more.
HubSpot Lead Capture tends to be very expensive, especially for small businesses. When starting out, the free version is equipped with the basic tools you'll need to capture leads.
As you scale, determine what functionalities you need so your investment in the tool will be maximized. One of the important requisites of choosing HubSpot and its many plans is to be a competent decision-maker as the pricing can really affect the financial capabilities of a business.
Get started by visiting HubSpot to learn more.
3. Aweber – Best For Email Marketing Lead Capture
Device-Optimized Lead Capture Software [Free Plan| $16.15/mo]
Aweber's lead capture is a mobile-friendly and eye-catching signup form. If HubSpot is a CRM with a mix of lead capture software features then Aweber is lead capture software with a mix of lead generation software as well.
You can personalize it to include custom questions and information. You can also create it straightforwardly, gathering just the name and email address.
With Aweber, you can choose to create capture forms from scratch or take advantage of ready-to-use templates.
The opt-in forms are dynamic enough to look good on any device. They can also be:
Applied in pop-up forms
In-line within a blog post
Triggered by a time delay
Embedded on websites and social media accounts (ex. Facebook)
To make sure it's compelling enough to get people to fill it up, Aweber is equipped with a split test function to try out what works best. This is especially good if you want to improve conversion rates as you can be sure to use the elements that provide the best results.
AWeber is also great with integrations with the following applications:
ClickFunnels
WordPress
Paypal
Quiz Maker
Elementor
Shopify
and plenty more other integrations from content management to productivity tools.
Lastly, when meeting face to face with prospects, you can use the Atom app to allow them to provide their information, adding another contact to your list. This is best used in physical stores, conferences, and other events.
Pros And Cons Of Aweber
| | |
| --- | --- |
| Pros | Cons |
| Allows for list management and segmentation | Upgrades have steep learning curves |
| Includes engagement tools to connect faster with prospects | Cannot import subscribers bought from a third party |
| Offers great customer service | Limited integrations |
| Easy to use | |
| Allows for customized lead capture forms | |
Aweber Pricing Plan
Aweber's pricing plan is fairly simple, either you choose a free plan or a paid one.
Free: For the Free plan, you get a 500 subscriber limit, 3000 email sends/month, access to signup forms and its WordPress plugin, subscriber tagging, and basic segmentation.
Pro ($16.15/mo): With the Pro plan you get everything in the Free plan plus unlimited subscribers, unlimited email sends, save and send to custom segments, sign up form split testing, and more.
Try out the Free plan first and stick to it until you need more functionality. 
4. Monday.com – Simplest To Navigate
Most User-Friendly Lead Capture Software [Free Plan | $8/month]
While mainly a CRM, Monday.com is equipped with lead capturing capabilities. Leads are captured in two ways: forms (through their form builder) and API. 
It allows you to create tailor-made boards with specifications that translate into forms. These client-pleasing and time-saving forms automatically populate the board as it is filled up.
You can either embed the form to the website or share it with clients through a link.
For the API, Monday.com partnered with Clearbit to collect data privacy compliant information that can be pulled up from the sources, with the following added features:
Lead generation
Contact enrichment
Financial compliance
Like the forms, the Clearbit integration automatically populates the lead boards created. You can also configure what type of information you want to be pulled out.
When leads are captured, Monday.com allows you to assign team members to work on them so you can start nurturing those potential customers into sales.
Monday.com also functions as a project management tool at the same time so it's a great addition for workflow improvements, especially if you want to track projects and manage your ongoing campaigns
If you're looking for platforms similar to Monday.com, take a look at the best Monday.com Alternatives out there in the market.
Pros And Cons Of Monday.com
| | |
| --- | --- |
| Pros | Cons |
| Provides real-time information updates | Automations sometimes experience glitches |
| Has an integration with Clearbit to pull data from more sources | |
| Easy to create associated forms and boards for automatic lead population | |
| Has a team assignment feature | |
| Can set up boards quickly | |
Monday.com Pricing Plan
Monday.com's lead capture functionality isn't a stand-alone offer. Since it's a CRM the pricing packages include CRM features.
Individual (free): For the Individual plan, you get 500 MB file storage and access to shareable forms.
Basic ($8/seat/mo): The Basic plan gets you 5 GB file storage, access to shareable forms, and unlimited boards.
Standard ($10/seat/mo): The Standard plan gets you features from the Basic plan, a 20 GB file storage, 250 integrations, and 250 automation.
Pro ($16/seat.mo): The Pro plan gets you features from the Standard plan plus 100 GB file storage, 25,000 integrations, and 25,000 automation.
Enterprise (Custom Pricing): The Enterprise plan gets you features from the Pro plan plus 1,000 GB file storage, 250,000 integrations, 250,000 automation, and more customized functionality for enterprise needs.
The free plan is too limited in storage and acts just as a teaser to the paid plans. The Basic plan will already get you access to lead capture capabilities but the plan you choose will depend on how large your lead database is.
Interested in Monday.com? Visit their site now to get started.
5. Landingi – Drag-&-Drop Functionality
Best Landing Page Lead Capture Software [Free Trial | $8/month]
With Landingi, you can capture leads with landing pages.
The lead capturing landing page can be built using a drag-and-drop builder that integrates with a marketing stack, so you optimize and analyze lead nurturing campaigns.
With this landing page method, you can encourage leads to provide information in exchange for a lead magnet like a webinar or an ebook.
You don't have to be a web developer to take advantage of Landingi. You'll have access to 400 templates that you can customize to include any field information you need.
Lastly, you'll never lose a captured lead. It also comes with a lead inbox, a lead export tool, and an autoresponder so you can start integrating them into your email marketing campaigns.
Pros And Cons Of Landingi
| | |
| --- | --- |
| Pros | Cons |
| Includes 400 templates to get started easily | Limited third-party integrations |
| Easy to use drag-and-drop editor | Layout can be clunky at times |
| Has a responsive customer service | |
| Can manage leads with Pipedrive and HubSpot | |
Landingi Pricing Plan

Landingi gets you access to any of their paid plans for 14 days, so you can test out what works best for you.
Core ($29/mo): The Core plan allows you to create unlimited landing pages for 1,000 unique visitors/month, 1 custom domain, access to the lead inbox, leads export to CSV, and email lead notifications.
Create ($65/mo): The Create plan gets you access to the features of the Core plan plus 2 custom domains, and CRM/sales integrations.
Automate ($89/mo): The Automate plan gets you access to features of the Create plan plus 4 custom domains, an autoresponder, and funnels.
Agency ($109/mo): The Agency plan gets you all the features from the Automate plan plus 5 custom domains.
You can maximize your savings if you choose to bill annually since it comes with a 2-month free subscription. Visit Landingi's site to get started.
6. Pipedrive – Best For Lead Nurturing
Chatbot-Enabled Landing Page Lead Capture Software [Free Trial | $12.50/month]
Like HubSpot, Pipedrive is mainly a CRM with lead capture capabilities.
It comes with a lead's inbox for a clutter-free pipeline where you can qualify new leads to know who to prioritize.
You can capture leads by importing them from a spreadsheet or letting them flow freely from integrated sources.
It also allows you to sort or filter leads by a label.
Pipedrive also takes advantage of a chatbot to find new leads and qualify them before drifting elsewhere. With the use of qualifying questions, leads will be directed to the right sales rep.
It features fully customizable web forms to capture leads in this method as well. You can configure it to must-have information.
Lastly, visual reminders will be given for important fields like contact preferences or birth dates so you can personalize lead nurturing efforts on another level.
Pros And Cons Of Pipedrive
| | |
| --- | --- |
| Pros | Cons |
| Easy to use intuitive interface | Doesn't come with campaign planning |
| Includes a data import and export feature | Downloading leads can be clunky |
| Makes lead management easy | |
| Ensures the leads don't get stale | |
Pipedrive Pricing Plan
Like Landingi, Pipedrive's paid plans have a 14-day free trial.
Essential ($12.50/mo): The Essential plan comes with 3000 open deal limited/company, 30 custom field limit/company, lead and deal management, leads inbox, deal rotting notification, and data import and export.
Advanced ($24.90/mo): The Advanced plan comes with everything from the Essential plan but with a 10000 open deal limit/company, and 10 custom field limit/company.
Professional ($49.90/mo) The Professional plan comes with everything from the Advanced plan but with 100000 open deal limit/company, 1000 custom field limit/company.
Enterprise ($99/mo): The Enterprise plan comes with everything from the Professional plan but with unlimited open deal limit/company, and unlimited custom field limit/company.
If you want to use this CRM/lead capture software for the long term, choose the annual billing option to enjoy 17% savings.
Start with Pipedrive by visiting their site.
7. Bitrix24 – Best In Lead Conversion Estimation
Feature-Packed & Multichannel Lead Capture Software [Free Plan| $34/month]
The same as HubSpot and Pipedrive, Bitrix24 is more than just a lead capture software; it's a CRM.
To capture leads, it uses live chat widgets, website forms, and demand generation tools that come with the CRM.
With it, you can capture leads on the Bitrix24 website, on other websites, as well as on social channels.
It also has a lead scoring capacity where the distribution can be fully automated.
With the lead capture software, you also get information like where the leads were generated, what percentage will turn into paying customers, and an average timeframe of when they are expected to convert.
Lastly, the captured leads will directly be integrated into sales pipelines, ready to be nurtured by sales reps.
Pros And Cons Of Bitrix24
| | |
| --- | --- |
| Pros | Cons |
| Great user interface | Technical support takes a while to reply |
| Captures lead from various sources | Doesn't allow configuration of integrations |
| Easy project coordination to nurture leads | |
| Features appointment scheduling for leads | |
Bitrix24 Pricing Plan
Bitrix24 has a standalone free plan for startups but it only comes with 5 GB storage and limited lead capturing.
Here are your choices for the paid plans:
Basic ($34/mo): The Basic plan comes with a 24 GB storage, unlimited contacts, custom fields configuration, and CRM forms.
Standard ($60/mo): The Standard plan comes with the inclusions from the Basic plan but with a 100 GB storage and unlimited leads addition.
Professional ($120/mo): The Professional plan has everything from the Standard plan plus 1,024 GB storage.
To maximize savings, you can opt for the annual plan, which gets you 30% off or a 2-year subscription for a 40% discount on any of the plans. 
Interested in getting Bitrix24's free plan? Visit their site now and get started.
8. Octopus CRM – Best For LinkedIn Lead Capture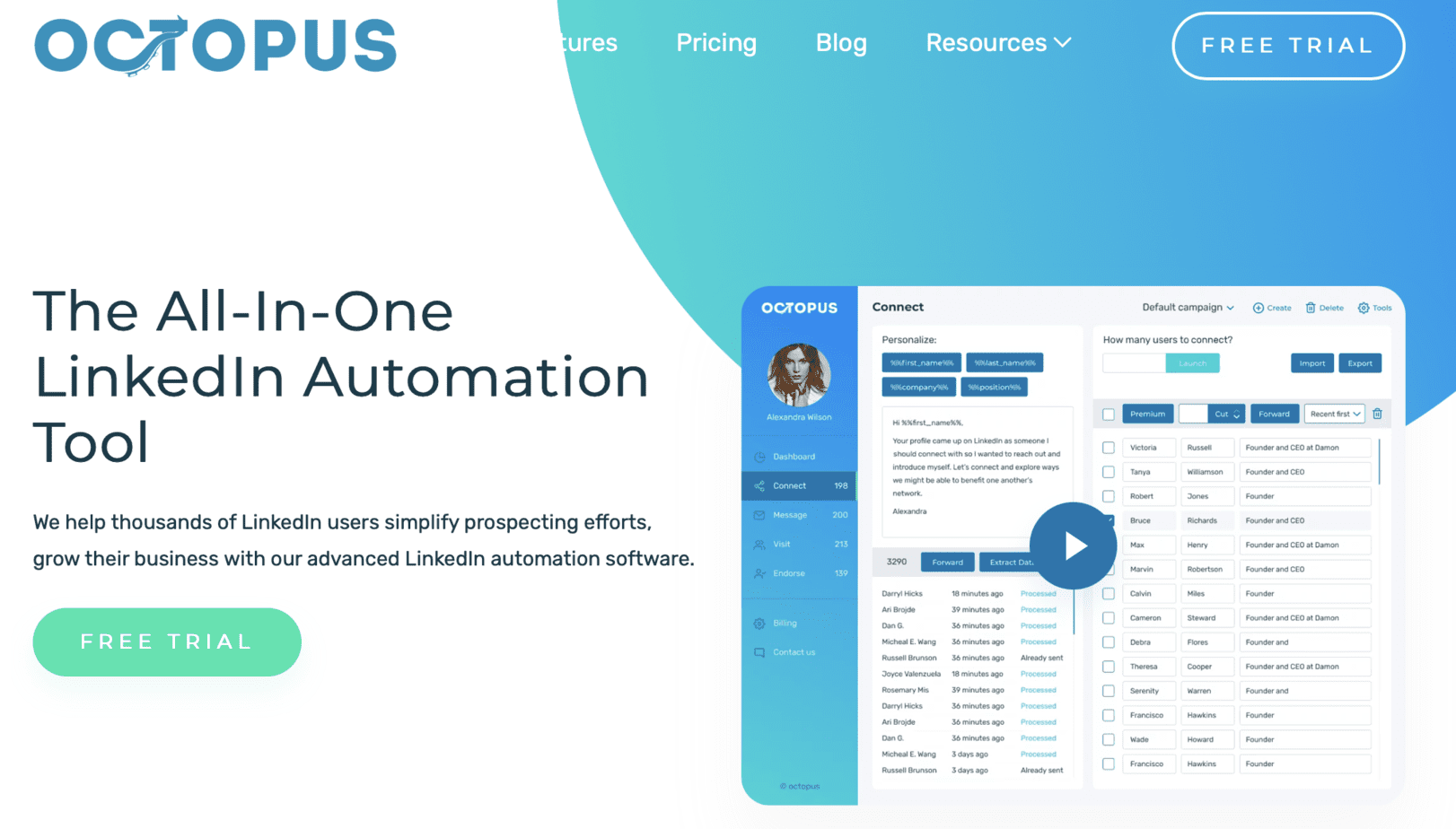 Most Streamlined Lead Capture Software [Free Trial | $6.99/month]
Octopus CRM is best for automating lead capture in LinkedIn.
With it, you can build personalized campaigns to populate leads on autopilot. You can also create your own lead generation funnel to save 25 hours of work from doing it manually.
Additionally, it allows you to send connection requests in bulk to capture more leads in less time.
You don't even have to worry about the weekly invite limit because Octopus CRM has the capacity to bypass this without risking your LinkedIn account.
Once leads are captured, an evaluation will help you track and analyze progress.
Lastly, you can use auto view profiles to get more engagements and increase outreach efforts by prospects.
Pros And Cons Of Octopus CRM
| | |
| --- | --- |
| Pros | Cons |
| Easy to set up | A limited number of leads in one list |
| Can personalize connections | Navigating contacts need to be easier |
| Can send connections requests in bulk without risking your own account | No list filtering |
| Expedites the prospecting process | |
Octopus CRM Pricing Plan
Octopus CRM has four pricing plans and comes with a 7-day free trial.
Starter ($6.99/mo): The Starter plan allows you to personalize auto invitations and connect with Premium LinkedIn users.
Pro ($9.99/mo): The Pro plan includes everything in the Starter plan plus sending automated messages in bulk and auto viewing profiles.
Advanced ($14.99/mo): The Advanced plan has all the features in the Pro plan plus export/import of data and funnel building.
Unlimited ($24.99/mo): The Unlimited plan allows you to enjoy all the perks in the Advanced plan plus other CRM integrations and bypass of the weekly invite limit.
The Pro plan is the best plan to start with and when scaling, the unlimited plan works best since it can bypass weekly invitation limits.
Start with Octopus CRM by visiting their site.
Conclusion
Wrapping up this list, the best pick for me is Lusha because with it you don't just get any leads but you get qualified ones which means a higher level of assurance of turning prospects into paying customers.
Plus, even though you get a wide range of information from an individual or a company, you won't get in trouble since it's GDPR compliant.
So there you have, I hope you enjoyed and found the best lead capture software you can use to find prospects and increase revenue for your business.