Are you exploring the best lease administration software to get complete control over your lease contracts and assets management? If so, this review can help you.
One lease administration mistake can hurt your business's health.
The good news is you can prevent it using the right tools. Save your time from endless searches because I'll share the top 7+ lease administration software with you, including their features, disadvantages, and more.
What Is The Best Leasing Administration Software?
If you're in a hurry, you can check my top 3 picks: Property Matrix, Visual Lease, and Lease Harbor.
| | | |
| --- | --- | --- |
| 4.8 | 4.6 | 4.2 |
| Best overall. Streamlining leasing processes with automation features. Starts at $400/month. | Best value for money. Centralized dashboards for convenient lease portfolio management. | Most features. Highly reliable platform for lease management with extensive security features. |
| Try Property Matrix | Try Visual Lease | Try Lease Harbor |
1. Property Matrix – Top Pick
Fully Customizable Lease Administration Software With Comprehensive Document Management [$400 a month]
Manually managing one property is already labor-intensive. So, what more if you're handling multiple properties at different locations.
Property Matrix is a powerful choice because it can streamline your lease properties and processes in one secure place (called the Properties page).
It's easy to use, and you can access/navigate it on desktops, smartphones, and tablets. As standard, you can find and review all the details available for the following:
Buildings
Units
Leases
Maintenance
Marketing
You can also set property and owner profiles to streamline processes and automate tasks.
Setting profiles is important because it eliminates errors and prevents missing critical dates (expirations, renewals, cancelations, etc.).
All tasks created on the Properties page include color-coded unit notifications to determine their status quickly.
Property Matrix platform is fully customizable. Therefore, you can expect to use different custom functions:
Fields for seamless tracking of unique information (buildings, units, and leases).
Reports to analyze all the data easier
Automation to perform task-specific actions
Labels for quick search and navigation
Lease administration isn't designed solely for organizing your entire real-estate portfolio.
It can also manage payments and books through its complete accounting solution.
You can take advantage of its built-in Management Company Accounting to add and track your transactions, income, and expenses.
You have the option to create books per property or combine multiple properties into the same book.
Lastly, Property Matrix is known for its comprehensive document management solution. You can create or upload documents to provide more information about your properties by default.
One of its unique advantages is real-time cloud document scanning (Fujitsu Scansnap Cloud).
You can scan any document to use for audit trail or send copies of bills to owners along with their statements.
Pros And Cons Of Property Matrix
| | |
| --- | --- |
| Pros | Cons |
| User-friendly and easy to use | The interface isn't intuitive. |
| The support team is responsive and helpful. | Lack of online help documentation |
| Accept all types of payments – recurring ACH, credit card, and check. | Its customizable features provide too many options that can overwhelm new users. |
| Include a comprehensive document management system for seamless audit trail, online document signing, and more. | |
Property Matrix Pricing Plan
Property Matrix lease administration software is available in three subscription plans. All prices include a setup fee and are based on a quarterly payment.
Here's a quick view of each subscription plan:
Standard ($400/mo.): Include 250 units and manage properties pages, payments, maintenance, and more.
Property Matrix Pro ($475/mo.): Added three Pro features – commercial properties, budgets, and CAM charges.
Enterprise ($1,200/mo.): Include all Standard, Pro, and custom features available
The Standard and Pro subscription plans come with a free demo to see all its functionalities in action.
2. Visual Lease – Best Value For Money
Lease Administration Software For Every Lease Type [Custom Pricing]
Visual Lease is one of the recommended lease administration software for managing multiple types of leases.
As standard, it provides a single and secure dashboard to centralize all your lease portfolios and other supporting documents. The dashboard is built with different sections to offer you a 360-degree view of all activities.
Upon logging into your account, it will show you the summary of your lease portfolio – from lease locations on a map view to critical dates.
One section of the dashboard is designed for project management. Here, you can upload and manage as many projects as you need.
You can also link them to a specific record for a quick search.
To stay organized and audit-ready, you can freely use any of the following dashboard sections:
Asset management
Contact management
Document storage
When storing documents, you have three options. The first one is the manual uploading of lease/transaction documents.
The remaining two options are connecting it to your corporate Content Management System (CMS) or a shared network drive.
Missing critical dates can negatively impact your business and financial health.
Visual Lease got you covered by allowing you to set up alerts. You can also use this function to notify you of upcoming events and tasks.
Like Property Matrix, this lease administration software is customizable.
Therefore, you can configure your dashboard, reports, and fields based on the company and lease requirements.
Pros And Cons Of Visual Lease
| | |
| --- | --- |
| Pros | Cons |
| Provide a highly configurable dashboard and reporting | Only provide a complete guide for lease accounting |
| Easy to navigate and review options help you track data across the organization | The mapping feature isn't always accurate. |
| Include seamless integrations with all major financial systems and point-solutions | |
| Create custom alerts to keep you updated with the leases' critical dates | |
| Audit-ready and compliant (FASB, GASB, and IFRS standards) | |
Visual Lease Pricing Plan
Visual Lease is available in a custom pricing model. Ease your mind that you'll only get charged based on the number of leases in your portfolio.
Contact a sales expert to get a personalized pricing quote or demo.
3. Lease Harbor – Most Features
Lease Administration Software With Fully Featured Data Management [Custom Pricing]
Lease Harbor is the recommended partner for businesses handling a variety of portfolios. Leases, real estate properties, and all types of assets – they got you covered.
It's a 100% web-based platform hosted in tier III+ data centers.
The company takes security seriously. They equipped the platform with industry-standard encryption and maintained current SOC reports.
Secure and comprehensive, Lease Harbor provides you with a feature-rich platform.
You can add, manage, and track all essential data from your portfolios. For the assets, it provides 13 common fields to include all general information.
Here's a complete list at a glance:
Allocations
Clauses
Contacts
Documents
Expense item responsibility
Key dates
Log items
Options
RE tax
Recurring and one-time expenses
Security deposits
Size change
Space utilization
It also provides unlimited custom data fields to ensure you can include all client-specific information.
All data fields include a data type validation feature to ensure accuracy.
Poor organization of records and data can lead to costly delays. That's why this lease administration software includes sub-records and client-defined hierarchies.
The sub-records are handy to identify the parent-child relationships of the assets and agreements.
Do you have existing ERP systems?
If so, you can integrate it into your account to sync your payments and invoices.
Wait, there's more…
Lease Harbor can also be integrated with its lease accounting, task management, and workflow.
Pros And Cons Of Lease Harbor
| | |
| --- | --- |
| Pros | Cons |
| Provide offline reporting and analysis | No trial version is available |
| Include multinational support | Its formatting options are a bit confusing for new users. |
| Its web-based platform allows unlimited users to sign in at multiple locations simultaneously. | The quality of customer support isn't impressive. |
| Accept standard and custom data fields to achieve the utmost accuracy (assets and client info) | |
| Audit trail reporting supports SOX compliance efforts | |
Lease Harbor Pricing Plan
Lease Harbor's lease administration software is available in a custom pricing model. All prices are based on the number of locations and equipment leases you manage.
Request a demo to see its functionalities in action.
4. Lucernex – Built-In Portfolio Center
Full-Service Lease Administration Software [Custom Pricing]
Lucernex is the only platform that offers two lease administration solutions. This is intended to ensure they cover each of your portfolios' needs.
The first one is for effective management of the real estate and equipment leases, called LX Contracts.
It provides all the tools you need to organize all lease scenarios (simple and complex) and mitigate risks. You can integrate your Enterprise Resource Planning (ERP) tools to streamline your processes.
The other lease administration solution is designed for managing commercial real estate, known as Portfolio Center.
It provides you with a centralized dashboard to configure your portfolio settings. You can also set notifications, create reports, and use location mapping.
The dashboard is also divided into different sections to make way for its other powerful features, such as:
Reports
Document management
Lease and transaction management
Critical date management
Cost management
And more.
Accounting takes a huge part in Lucernex. That's why the company ensures it complies with all the necessary lease accounting standards.
Currently, it's compliant with the following:
ASC 842
IFRS 16
GASB 87
Financial Accounting Standards Board (FASB)
International Accounting Standards Board (IASB)
Pros And Cons Of Lucernex
| | |
| --- | --- |
| Pros | Cons |
| Highly customizable interface | No included trial version or free plan |
| Support multiple currencies and languages | Require a bit of a learning curve (add more online help documentation for new users) |
| Include comprehensive reporting | |
Lucernex Pricing Plan
Contact a Lucernex expert to request a product demo or personalized pricing quote.
5. Tango – Proactive Tracking Of All Lease Information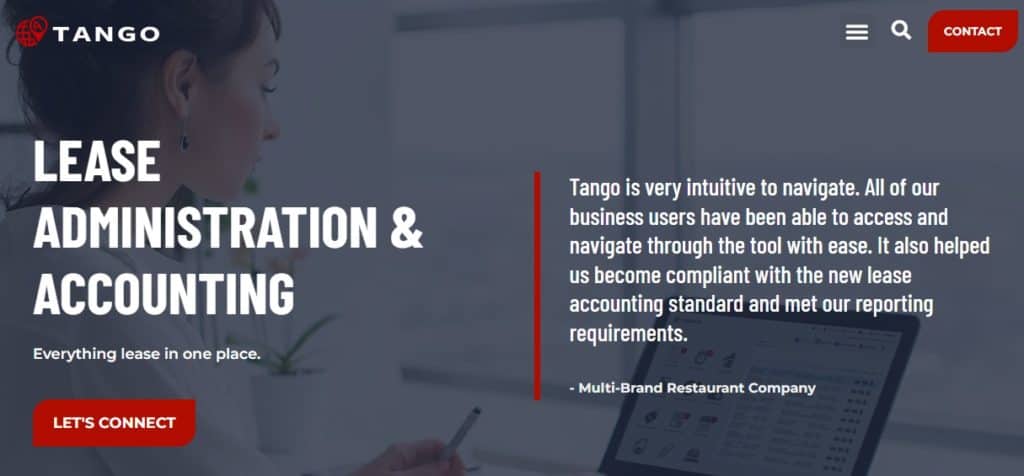 Lease Administration and Accounting Software [Custom Pricing]
Tango is one of the best lease administration software for handling enterprise-level expenses and massive, complex leases.
It currently supports real estate properties, equipment, and embedded leases.
Like Lucernex, it acquires various accounting compliance to ensure conformity – FASB ASC 842, IFRS 16, and GASB 87. It also provides a dashboard called My Actions.
You can configure and prioritize lease, administration, and accounting tasks inside the dashboard.
Managing thousands of data daily is time-consuming and prone to mishandling. Tango will never let you down as it provides tools that help you proactively track key dates and other critical lease information.
It also includes status changes to keep you up-to-date.
Efficient visualization of data helps you make smart and accurate decisions. This lease administration software uses different methods to provide actionable insights.
A few of these methods are listed as follows:
Market knowledge
Lease metrics
Occupancy indicators
Pros And Cons Of Tango
| | |
| --- | --- |
| Pros | Cons |
| Excellent in capturing all lease information | Limited online help documentation available |
| Provide a user-focused dashboard that makes it easy to administer all tasks | The support team is responsive but takes a lot of time to resolve support tickets. |
| Provide expense reconciliation function to prevent overpayments and penalties from delays | |
| The process of reporting and accounting entry generation is pretty straightforward. | |
Tango Pricing Plan
Schedule a demo and explore what Tango lease administration and accounting software can do for your business.
6. CoStar – Feature Built-in Application Tools
Lease Administration Software For Any Portfolio Type [Custom Pricing]
So far, we've learned that it's a must for every lease administration software to have:
Key date management
Accounting compliance
Market-based benchmarking
Streamline payments
Mapping tools
And notifications
It's also promising to have document management and seamless integration with various business systems.
CoStar certainly will exceed your expectations because it levels up all its capabilities.
Getting the most accurate market information is essential in making crucial business decisions. You can achieve that in CoStar because it uses verified research and innovative technology.
You can get the most comprehensive market information and analytics in commercial real estate.
You can access it all on your dashboard and generate reports. The dashboard and reports are customizable, so you can configure them to produce results based on your portfolio's needs.
Missing essential dates is unlikely to happen because it includes automated, user-defined email reminders.
The company also added lease status change notifications to keep you updated with the latest progress. There's a long list of features included in CoStar, and if it isn't enough, you can use its built-in application tools.
Two of the tools available are dedicated to date calculator and clause bank.
Pros And Cons Of CoStar
| | |
| --- | --- |
| Pros | Cons |
| Provide comprehensive market information (global) | Bugs and glitches may occur at times (logging in, pulling data, etc.) |
| Add unlimited users and user-defined fields | It's not the easiest platform to use and a bit confusing (provide too many options per function). |
| Include automatic routing of vital reports | The support team isn't always reliable (difficult to reach or takes too long to resolve a problem). |
| All information is also accessible on smartphones, tablets, and wearable devices (iOS and Android) | |
CoStar Pricing Plan
Schedule a demo today and finds out the benefits of CoStar lease administration software your business can take advantage of.
7. Occupier – Best For Expense Tracking
Lease Administration Software With Excellent Analytics Dashboards [Custom Pricing]
Taking control of your real estate lease portfolio is a challenge. But Occupier consistently develops the right tools to overcome all challenges.
At a glance, its features are similar to other lease administration software.
It includes an automation function for notifications to keep you up-to-date with all critical dates and tasks. Filter and organize all lease clauses for quick search.
Tracking of income and expenses for all leased assets is also made simpler.
So, what makes it stand out?
The answer lies in its analytics and reporting features.
This lease administration software uses various methods to capture all the right insights. All insights gathered can help you track risks and opportunities in your real estate portfolio.
Space analytics gathers space utilization data for every space type you're managing.
It also breaks down the square footage vacancies and compares them to occupancies. Successfully doing so will help you identify the following key metrics:
Desk ratio
Capacity by space type
Headcount by space type
Leases by space type
And total square footage of a given space
If you want to break down the expenses by space type, you can use expense analytics.
The available insights will also help you identify the average expenses, cost of vacancies, and other additional costs (rent percentage, utilities, etc.).
Analyzing thousands of insights can cause a headache.
You will never feel like that with Space Analytics because it features a visual analytics dashboard. Last year, it improved the design interface to make all insights easy to digest.
It also eliminates the need to use spreadsheet sorting and calendar notifications.
EXPERT OPINION: One unique advantage of Occupier is its digital workflows. Here, you can seamlessly collaborate with all your stakeholders and quickly track any type of documentation.
Pros And Cons Of Occupier
| | |
| --- | --- |
| Pros | Cons |
| Eliminate the need of using spreadsheets files | The software is still young, so glitches and bugs may occur sometimes. |
| Easy to track the progress of activities (deal, critical dates, etc.) | |
| Use ASC 840 to calculate deferred rent. | |
| Cover three types of data categories – space, clause, and expense | |
Occupier Pricing Plan
Occupier lease administration software is available in a custom pricing plan. Contact a sales representative to request a demo and personalized pricing quote.
8. Nakisa – Best For Activity Control
Lease Administration Software With Lease Lifecycle Management Solution [Custom Pricing]
For the last recommendation, I choose Nakisa Lease Administration.
This is a lease administration software developed for enterprises managing real estate, fleet, and equipment leases.
Its capabilities are neatly organized per purpose for ease of use. Under its data migration and management, a mass import function is available to save time.
It also supports lease classification and determination with an assessment wizard.
All users can identify leases based on their accounting policies through this feature. If you want more control over your lease activities, here are the tools you can use:
Role-based access control
Approval workflows
Disclosure and reconciliation reporting
One of the unique features of Nakisa is the complete lease lifecycle management.
It provides you 360° coverage of all your leasing needs. It got you covered, from planning and forecasting to setting up a budget.
Nakisa Lease Administration is a powerful software that offers a comprehensive lease accounting solution.
Therefore, you can expect to get a scalable framework for heavy lease portfolios with complex terms and conditions, diverse assets, and sustained activity.
As of writing, it acquires IFRS 16, ASC 842, and GASB 87 compliance.
Pros And Cons Of Nakisa
| | |
| --- | --- |
| Pros | Cons |
| Built with lessee and lessor accounting | Don't provide quick start guides for new users |
| Include a mass import function (legacy applications and Excel spreadsheets) | The resource library is outdated and limited; one-on-one training isn't always helpful and direct. |
| Operate in Microsoft Edge and Google Chrome | |
| Most suitable for heavy lease portfolios | |
| Excellent customer support via chat and phone | |
Nakisa Pricing Plan
Book a demo to learn more about getting a competitive edge using Nakisa Lease Administration software.
Conclusion
In the modern world of business, it isn't cost-effective to manually track and manage all your lease data, contracts, and assets. Digitize your portfolios and processes using lease administration software that best suits your business needs.
I'll choose Occupier as the best overall out of my recommended choices.
All its capabilities are handy in tracking opportunities, risks, and expenses to your leases and portfolios. You'll never have difficulty as well in managing all your key dates, financial obligations, assets, and workflows.
It even provides lease abstraction services for easy onboarding of new leases, training new users, and analyzing lease abstractions.
Occupier is easy to use with friendly and responsive helpdesk support.