Learning a language has its perks, but not everyone has the time to do all the studying and practicing of a new language that they are trying to pick up. Sometimes, all you need is just a reliable machine translation software to help you go through the language barriers.
In my time dealing with plenty of businesses in the online world, I've had my fair share of language barriers, and through personal experience, I've come across various translators that are handy for my needs.
In this article, I'll be sharing with you 7+ of the best ones that you can fully rely on.
What Is The Best Machine Translation Software?
If you don't have the time to go over the entire article, take a glance over my top 3 picks: Google Translate, Microsoft Translator, and DeepL.
| | | |
| --- | --- | --- |
| 4.9 | 4.7 | 4.1 |
| Best overall. Free to use machine translation platform with extensive language support. Available for free. | Best value for money. Highly intuitive translation platform with accurate translation figures. Starts at $10/million characters. | Most features. For professional translation use with sophisticated translation features. Starts at $10.49/month. |
| Try Google Translate | Try Microsoft Translator | Try DeepL |
Here are 7+ of the top machine translation software for 2022:
1. Google Translate – Top Pick
Most Accessible Machine Translation Software [Free]
Google Translate is perhaps the most staple and recognizable translation software available for everyone that uses the Internet.
It's easy to use and fairly quick with the results. In fact, it's faster than any human translator out there.
However, its accuracy and quality of translations can often be hit-or-miss.
The reason why Google translate is the top pick is simple – it is the most accessible, convenient, and free machine translation software that you can get your hands-on, and most of the time, it's enough for the work that it does.
The technology behind it is quite complicated. But in a nutshell, it derives its translations from the frequency of word pairs that are often used between two distinct languages.
This works most of the time for everyday use, but the only problem is that it doesn't take context into account, which can play an essential part in translating make sense.
Another reason why Google Translate takes the top pick is because of the number of languages that it supports, with over 100 languages detectable by the online platform and another 59 languages for offline translation.
It is also available through different platforms from browsers and mobile applications.
This gives Google Translate better availability than other machine translation software out there because it is reliable, simple, and just available out there if you need any fast translation to be done in seconds.
Depending on the current database that Google has, some languages that are not widely used might produce some other inaccurate and nonsensical results than, say, English to Spanish translations.
Google Translate also suffers from the fact that there is no way to get customer support for your translations or corrections.
And so, you're just stuck with the translation that you get whether or not it makes sense.
At the end of the day, Google Translate is enough for most translations, and with the convenience and free price that it provides, it's simply a no-brainer for plenty of translation situations.
Pros And Cons Of Google Translate
| | |
| --- | --- |
| Pros | Cons |
| Accessible anytime | Non-existent customer support |
| Free to use | No correction for mistranslations |
| Reliable for standard translation | Significant grammatical errors |
| Instantaneous translation results | Not ideal for confidential usage |
| 100+ available languages | |
Google Translate Pricing Plan
Google Translate is absolutely free of cost. Aside from translating through your computer, you can also download its app that's available for both Android and iOs devices.
2. Microsoft Translator – Most Intuitive
Real-Time Machine Language Translator Best For Enterprises [Free Plan | $10/million characters]
Similar to Google, Microsoft also has its own machine language translator specifically tailored for businesses and enterprises that are looking for a reliable and intuitive translator.
However, this translator is part of the Azure cloud platform.
You might have to do a little bit of digging as to whether or not you want to be on board with all the tedious processes of getting their translation software.
While signing up and reading through all the documentation can be quite tedious, it is worth it in the end since Microsoft's translation platform has numerous integrations with other related programs.
Here's a list of integrations that Microsoft's translation software is compatible with:
Bing
Skype
MS Word
Visual Studio
Microsoft Teams
It also has its own mobile application, and while its user interface can be like stepping back a couple of years, its usability still stands with the quality translations that it can provide.
One thing that Microsoft has in its pockets, however, is that they also have a desktop application aside from its mobile and browser choices. Hence, it actually covers a lot more ground as compared to the rest.
Microsoft's translator can cover a wide variety of fields when it comes to their translation from:
Photos
Plain text
Documents
Voice conversations
Another great thing about it is that it can translate in real-time for group conversations making things all the easier for situations such as business meetings.
Pros And Cons Of Microsoft Translator
| | |
| --- | --- |
| Pros | Cons |
| Incredible integrations with Microsoft apps | Reliant on Azure platform |
| Supports custom translation | Dated mobile app |
| High-quality sentence translations | Can be pricey |
| Instant translation results | Less language support |
| Available customer support | |
Microsoft Translator Pricing Plan
Microsoft offers a free plan for their Azure-based translation software with 2 million characters being made available to any users for any standard combination.
Its features include:
Transliteration
Language detection
Bilingual dictionaries
Custom translation training
Microsoft's paid plan typically involves payment per million of translation and is also dependent on either custom or standard translations, with custom and document-related translations opting to cost a lot more.
However, these pricing plans are specifically for pay-as-you-go. There are also other packages that Microsoft offers that can save you a buck or two.
Interested in using Microsoft Translator? Visit their site to learn more.
3. DeepL – High Quality Translations
Context-Based Machine Translation Software [Free | $10.49/mo]
DeepL is a breath of fresh air as compared to the tech giants of Google and Microsoft.
This machine translation software focuses on its strength of creating quality translations, and it doesn't disappoint.
DeepL offers high-quality translation through its use of the Linguee online context dictionary, which has one of the most extensive libraries of human translations to date.
It also puts context as a factor in determining the translation that it creates, so more often than not, it can understand specific sentence structures and nuances that other translation machine software might make a mistake on.
The tool also constantly improves with DeepL taking much consideration of user feedback to improve the quality of their translations.
They also have a customer service hotline that is available for any user to tap into for any problems that they might encounter.
It also has a highly reliable grammar machine that can do reliable translations with the 72 different language combinations that are available to the user.
This machine translation software is based on their page and desktop application but there is no mobile application that you can use on the go.
DeepL also needs an internet connection to work so it can get pretty iffy availability-wise.
Pros And Cons Of DeepL
| | |
| --- | --- |
| Pros | Cons |
| Free version available | Notifications can get annoying |
| Can detect nuances and certain context | No mobile application |
| High-quality sentence translations | Less language support |
| Instant translation results | Desktop application crashes |
| Available customer support | |
DeepL Pricing Plan
DeepL offers a wide variety of packages for their users, and these packages can also differ depending on the user's location.
They also provide free trials for their starter and advanced packages for interested parties to try and check if it suits their needs well.
Free: Their free version can get you reliable security for your translation, limited character and volume translation, file translation up to 5 MB, and 1 glossary that is limited to 10 entries only.
Starter ($10.49/mo): For the starter pack, you receive an unlimited amount of text translations plus 5 files per month (within 10 MB file size) of translations. You also gain access to formal and informal tone translations plus a glossary covering over 5,000 entries.
Advanced ($34.99/mo): Advanced pack offers you all the previously mentioned packages plus additional uploads of files up to 20 per month. What separates the Advanced Pack from the Starter is that you receive a staggering 2,000 glossaries with 5,000 entries. Plus, you also get a feature called CAT tool integration.
Ultimate ($68.99/mo): The Ultimate Plan features all the aforementioned packages plus, but you are able to now translate up to 100 files per month while still maintaining the 10 MB file sizes.
Get started with DeepL by visiting their site.
4. Systran – Pioneer Translation Company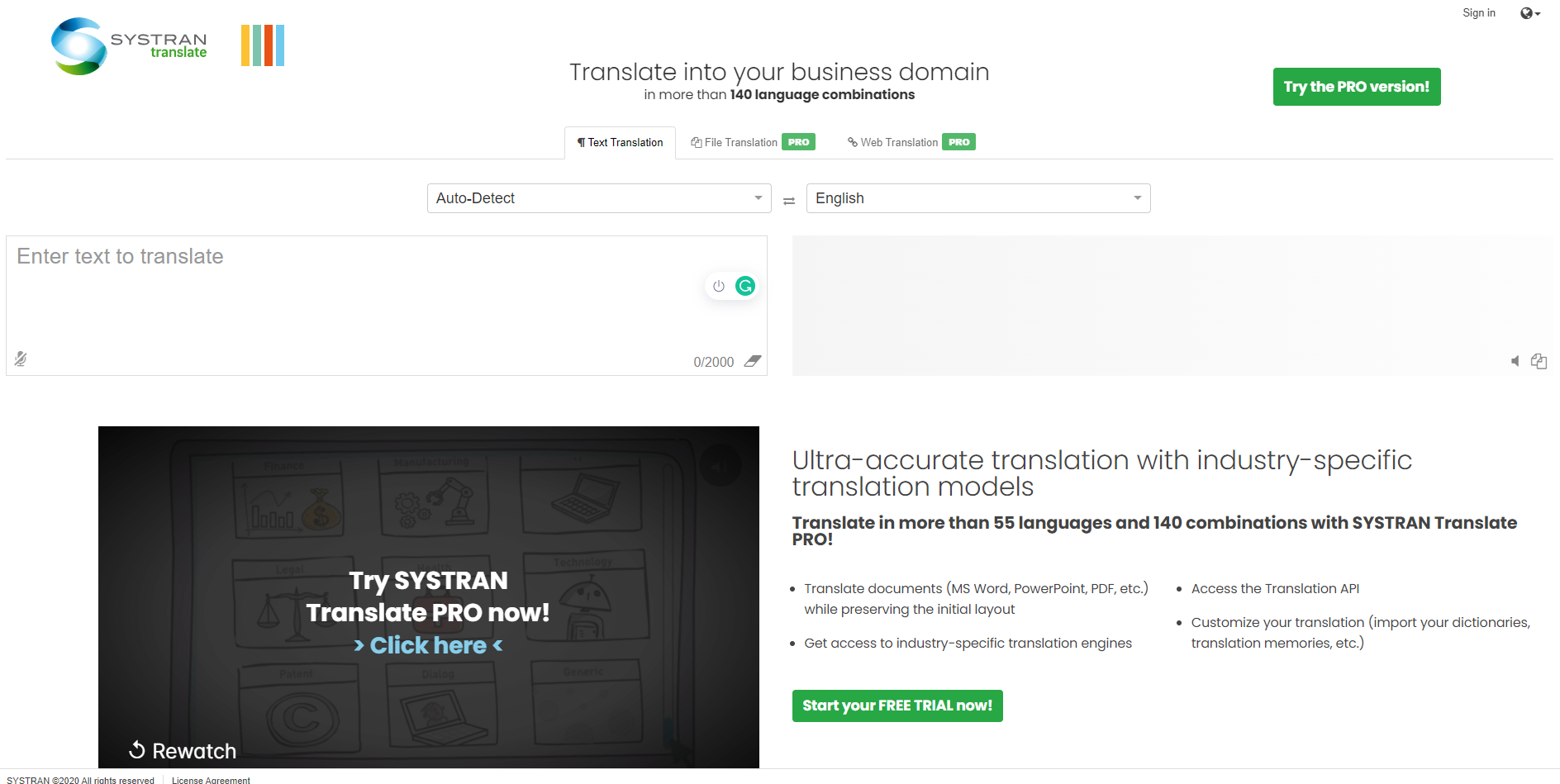 Open-Source Machine Translation Software [ Starts at €6.99 or $9.24/mo]
Systran is a long-standing machine translation software being the very first company to offer machine translation as a commercial product having been founded in 1968.
Its roots are stammered onto bedrock as far as machine translation software goes.
One unique aspect of Systran is that it is primarily open-sourced, meaning that it gets a lot of contribution in terms of innovation through the communities that it has created.
It allows users to translate their texts almost instantly while enjoying nearly 140 language combinations, mainly sourced from its communities.
There is also the Systran Quick File Translator, which can be used to translate more complicated documents that require in-depth consideration. This system can easily translate the entire file or folder instantaneously because of its capacity to translate large data packs simultaneously.
Systran also offers three unique products that come along with its translation platform with its OmniTranslator module that auto translates text that is hovered on by the cursor. SystranLinks & SystraNet, on the other hand, provides users the chance to translate web pages and Microsoft Office files on the fly.
It is primarily based on its web platform, but it also supports a phone application to use for any situation.
Pros And Cons Of Systran
| | |
| --- | --- |
| Pros | Cons |
| Wide variety of language combinations | Dictionary limitations |
| Auto hover translation | Dated mobile app |
| MS file translation capabilities | No free version |
| Software can be for offline use | Steep learning curve |
| Free trial available | |
Systran Pricing Plan
Monthly Pricing Plan
Annual Pricing Plan
Systran has three different types of pricing plans that it offers for its users, and it also provides two distinct types of payment styles which are monthly and annual payments.
You can save about 30% of costs if you opt for their annual payment schemes. Systran also offers a free trial version for all their packages for you to try.
Note: The average page consists of 1,500 characters / 250 words.
Lite (€6.99 or $9.24/mo): The Lite plan provides you access to translate straight text, word, excel, and PowerPoint documentations in 55 different languages. You also are provided with 150 pages of text translations per month.
Plus (€19.99 or $26.42/mo): Plus provides you the previous features in Lite but with the added PDF translation and an increase of 600 pages of text translations per user per month.
Premium (€44.99 or 59.47/mo): Finally, the Premium plan provides you with CAT/TMS tools connectors and translation memories as the main feature and a staggering increase of 2,000 pages of text translations per user, per month.
Visit Systran's homepage to get started.
5. IBM Watson Language Translator – AI-Powered Translations
Best Machine Translation Software For IT, Education, & Financial Services [Free Trial | $0.02/1,000 characters]
IBM's software translation service caters to businesses needing customer support, content searching, website translation, training, and many more.
Primarily, this platform is used by companies that are deep into the financial services, IT, and education industries.
IBM's translation software can easily translate documents with its multiple domain-specific models.
They also offer customized translations depending on the terminology of the specified text and the language base.
IBM has three distinct customizations available which are:
Forced glossary
Corpus-level text translation
Parallel phrases customization
One thing it really does great is data privacy and security. They don't intend to keep your translated text for feedback and improvement, but instead, they focus on keeping your data secure from any possible leaks.
IBM Watson's Language Translator also features capacities in translating applications and webpages as well as producing multilingual chatbots for enterprises.
Pros And Cons Of IBM Watson Language Translator
| | |
| --- | --- |
| Pros | Cons |
| Live online training and webinars | Steep learning curve |
| 24/7 online support | Translation errors |
| Translation data security | Dated user interface |
| Instant translation results | No mobile support |
| Free Trial Available | |
IBM Watson Language Translator Pricing Plan
IBM Watson's Language Translator is embedded into the IBM Cloud, which basically means that you have to sign-up as well for their service in order to get access to their language translator platform.
They have four different types of pricing packages for their services.
Lite (Free): Lite provides you with the basic necessities and features of IBM's Watson Language Translator with support for the identification of 68 languages and document translation for 12 different file types.
Standard (Charged per 1,000 characters): Provides base translation models. However, custom models are not included in the package.
Advanced (Charged per 1,000 characters with additional fees): Base models are provided as before and access to custom models as well, however, at an extra cost.
Premium (Custom Pricing): Features are discussed through quotes with an IBM representative.
Want to use IBM Watson Language Translator? Visit their site to get started.
6. Amazon Translate – Deep Learning Neural Translation
Most Versatile Machine Translation Software [Free Tier | $15/1 million characters]
Amazon has dipped its hands into the machine translation software industry with its own iteration called Amazon Translate.
They utilize a technology called Deep Learning Neural Translation, which primarily means that rather than using traditional methods of basing translation through rules and statistics, they opted for a neural network that can take into account the context of source sentences into the translation that is generated.
Their translation platform covers 71 languages and different related variants, with almost 4970 translation combinations available for users to take advantage of.
They also utilize language identification which is pretty much a standard where the software automatically identifies the source language that is being used/
Another feature that Amazon Translate has in its pocket is that it can do both batch and real-time translations for any language, directly providing you the text that you need at lightning speed until the capacity limits of available text input are reached.
This covers large different file types from:
HTML files
Word documents
Excel spreadsheets
Powerpoint presentations
Pros And Cons Of Amazon Translate
| | |
| --- | --- |
| Pros | Cons |
| Accessible to many file formats | Less language support |
| Supports custom translation | Cost pricing |
| Translations are SSL encrypted | App can often be slow |
| Batch and real-time translations | Translation inaccuracies |
| Available customer support | |
Amazon Translate Pricing Plan
Amazon's pricing plan for their translations can be quite expensive with the different packages they offer, but they do offer a free tier translation for users who aren't really doing any heavy loads or are just simply trying out their software. However, this only lasts for 12 months.
Standard Translation ($15/1 million characters): For standard translation, you get the base platform of their software with capacities for real-time and batch translations.
Free Tier, Standard Translation: For their free tier of standard translation, you have access to 2 million characters per month for 12 months. You receive the basic platform and the standard services as their base package. If you do exceed the number of translations or if your usage expires, pay-as-you-go rates start to apply.
Active Custom Translation ($60/1 million characters): Custom translations are available to you through the usage of parallel data to customize machine text translations.
Free Tier, Active Custom Translation: The same features are available as the previous package for custom translation. However, you only get 500,000 characters per month. After that, standard pay-as-you-go rates apply.
Visit Amazon Translate to get started.
7. MemoQ – Cloud-Based Translator
Collaborative Translation Software For Businesses Of All Sizes [Custom Pricing]
MemoQ is a CAT-based translation software that offers a great translation tool to its market base for both enterprise and personal use.
It is primarily a cloud-based tool that can work with any translation projects for businesses of all sizes.
They have plenty of features such as Live Documents, which can easily translate documents on the fly while also supporting many different file formats for ease of translation.
Another feature that MemoQ has, aside from Live Documents, is their Translation Memory. This makes custom translations that you have made in the past add into the context of future translations that you make.
Basically, MemoQ remembers the segments of translations that you have created in the past.
It also makes it a lot easier for continuous work to be done as they also have a feature called Predictive Translations, which adds in predictive words based on your previous translations in the past.
Collaboration is also convenient with MemoQ as it is primarily a cloud-based platform, so if you need files from your clients or your coworkers, you can easily upload items to its servers.
Pros And Cons Of MemoQ
| | |
| --- | --- |
| Pros | Cons |
| Extensive features | Limited payment packages |
| Intuitive and easy | Slow and often buggy interface |
| Supports various API's | Can be pricey |
| Different file format support | Less language support |
| Available customer support | |
MemoQ Pricing Plan
Custom Pricing: For businesses and enterprises that are looking to get a machine translation platform, MemoQ offers custom quotes depending on your needs. They do provide options for licensing, integrations, and extensions for the quotes that are offered.
MemoQ Translator Pro ($770/License): The Pro package provides a license for individual translators that are looking to use the platform for their own personal use. The package involves all the base features of MemoQ such as LiveDocs, Glossaries, SDL resources, segmentations, Live previews, and many more.
Interested? Visit MemoQ's website to get started.
8. Trados Studio – Highly Accurate Translations
Best Machine Translation Software For Freelancers & Professionals [Starts at $375/yr]
Trados Studio is an all-in-one translation platform for many businesses, professionals, and freelancers to use.
It has an extensive product list that can cater to clients depending on their needs.
Trados Studio is primarily a cloud-based service, but there is also an existing desktop application for easy access.
It also has a brilliant memory translation service that can accumulate translated content from many different projects that have been done in the past for easy reuse and added accuracy..
Trados Studio also features terminology management that can easily customize your translations depending on the tone, brand, and technical terms that are being used to ensure a consistent voice when it comes to the translations.
Aside from these many important features, it also has Language Weaver, which is a neural machine translation that can automatically translate text and content with considerable accuracy using artificial intelligence.
Pros And Cons Of Trados Studio
| | |
| --- | --- |
| Pros | Cons |
| Wide variety of plans and translation products | Application crashes |
| Plenty of features | Steep learning curve |
| Software regularly updated | Clunky user interface |
| Amazing translation memory service | Limited document format support |
| Available customer support | Expensive |
Trados Studio Pricing Plan
Individual Translators
Translation Teams
Trados Studio offers a wide variety of products for different businesses and professionals. This is easily shown through their product offering that can change depending on the client type, whether or not it is a team of translators or a single individual.
Most of the time, Trados Studio offers licenses and a subscription package for individual translators and teams. Custom quotes are available for more in-depth packages.
For Individuals:
Freelance ($675 Licensing): Access to all features of Trados Studio with their CAT tools being made available.
Freelance Plus ($819 Licensing): Primarily best for two translators, includes all the features of Trados Studio, better for translators working together.
Freelance Subscription ($375 Annually): An easier payment method for depending on the length of use with incurring annual costs for access to Trados Studio.
For Teams:
Professional ($2,895 Licensing): CAT Tool for businesses and enterprises for easy project management on multilingual content translations.
Professional Network (Custom Quote): Includes all features of Trados Studio but licensing access to multiple center users across the Globe.
Team (Custom Quote): Primarily a cloud-based offer for translation teams, Trados Live offers all the features of Studio but includes a next-generation cloud-based project management solution that is best suited for any translation team of any size.
Looking to grab Trados Studio? Get started now.
Conclusion
If you're looking for an everyday use that doesn't require deep translations, then Google Translate will do you well.
Meanwhile, there are plenty of ways that you can grab your own machine translation software. Some are free, easy to use, and reliable, while there are also some that are specifically made for professional translation, where full suites of features, payment options, and accommodating integrations make it a lot easier for businesses to collaborate through the language barrier.
That's why it's important to consider your company's needs when selecting a machine translation software. I hope that you've chosen one from this list that's perfect for your business.