Determining which one is the best marketing software, Mailchimp vs. HubSpot becomes clearer with my unbiased and in-depth comparison.
In the long hours I've spent testing and exploring, I've discovered Mailchimp and HubSpot's strongest features and restrictions. Therefore, after reading this comparison post, you will know what cloud-based platform can empower your business through its superior marketing automation, stunning templates, and simple integrations.
In this Mailchimp vs. HubSpot comparison, I'll share their most powerful features and tools, advantages and disadvantages, competitive standing in today's market, and directly answer the most popular questions asked.
Let's get this comparison started.
1. Mailchimp vs. HubSpot At A Glance
At first glance, it's undeniable that these two email marketing platforms look similar. In this section of my Mailchimp vs. HubSpot comparison, I'll point out their primary differences.
| | |
| --- | --- |
| 4.8 | 4.6 |
| Best Overall. Full-fledged email marketing platform with automation and contacts sync. Starts at $14/month. | Best for versatility. All-in-one multipurpose platform with CRM, sales, and customer support tools. Starts at $50/month. |
| Try Mailchimp | Try HubSpot |
2. Who Is Mailchimp Best For?
Mailchimp was initially built to accommodate all the marketing needs of small to medium-sized businesses (startups and established). But after years of continuous upgrades, it added quality features and tools that are best suited for the following professionals and institutions:
Freelancers and agencies who support clients with small businesses
Entrepreneurs who own an eCommerce or retail shop
Mobile and web app developers
Nonprofit organizations and charities
Lastly, anyone new to the email marketing game
3. Who Is HubSpot Best For?
With HubSpot's comprehensive and complete marketing solution, it is ideal to use for entrepreneurs managing small to large-sized businesses. It is also suitable for any individuals looking for great affiliate programs and easy-to-manage automation.
Try its all-in-one marketing software now by subscribing to its free plan or take its 14-day free trial for any of its paid plans.
4. A Close Look At The Features Of Mailchimp and HubSpot
This Mailchimp vs. HubSpot comparison serves as a guide to help you make a smart purchase. For this section, I'll focus on comparing the email marketing platforms' strongest and most unique feature offerings:
| | | |
| --- | --- | --- |
| Features | | |
| Contact Management | | |
| Email Marketing | | |
| Lead Management & Segmentation Automation | | |
| Email Builder | | |
| Email Design | | |
| Creative Assistant | | |
| Custom Domain | | |
| Third-Party Integration | | |
| Get Started | Try Mailchimp | Try HubSpot |
5. Key Features Of Mailchimp
In this day and age, modern marketing is very competitive. Let's find out how MailChimp features and tools can help you make an advantage.
#1 Mailchimp Dashboard
I'll start with Mailchimp's basic feature – dashboard. The dashboard is your one-stop platform where you can build, organize, analyze, and track all your marketing campaigns and audience.
The dashboard tab is the default page you can see upon creating your account and it contains a brief overview of your account's activities.
Other tabs you can access on the dashboard are the following:
Create – Mailchimp is not limited to creating amazing email campaigns. In this tab, you will find out all the campaigns you can create, design, send, and even print on your account.
Audience – Build, manage, and analyze your audience all in one place. In this tab, you can access the audience dashboard, entire contact directory, inbox, add/embed signup forms, tag your contacts, and create segments.
Recently, Mailchimp also added a survey and preferences center to this tab.
Campaigns – This tab contains all campaigns run in your account, saved email templates, and real-time analytics reports.
Automation – Save time by automating repetitive tasks. This tab allows you to access all automation templates you can use, including retargeting ads and scheduling a recurring postcard campaign.
Website – Mailchimp's advantage is it allows you to create a website that is fully equipped with built-in marketing tools. Here, you can access all its web-building tools and connect them to a custom domain.
Content Studio – Sync all your files, images, social media posts, and products in this tab to easily access them when creating a campaign.
Integrations – Mailchimp comes with tons of powerful features and tools. If you're planning to expand its capacity or add new functions, visit this tab and see all the third-party apps you can integrate into your account.
#2 Website Builder
Establish your brand by creating stunning websites. Mailchimp makes it easier to achieve by providing a simplified website builder.
The first page that will welcome you is called the manage site. Here, you can create and manage all the web pages of your website.
You can also tweak the web pages' styles by simply clicking "styles" on the sidebar menu.
Click any web pages you wish to edit and you will be directed to the main website editor. Inside this platform, you'll find all the editing tools that can help you customize every aspect of the web design.
For non-designer users, Mailchimp added an extensive selection of free images and pre-built templates to help you get your business online fast. Edit text, resize images, or add a section – all the changes made are applied in real-time.
#3 Customer Journey Builder
Lead your customers to the right path by creating a unique and automated journey map. You can easily create one in Mailchimp because it is built with a sophisticated Customer Journey builder.
There are two options available in journey creation:
Customer Journey: Select this one if you intend to create an automated route based on the different interactions your contact is making.
Classic automation: This is the ideal option for creating single to multiple targeted emails. Mailchimp built a dedicated classic automation builder that is packed with segmenting, scheduling, and design tools.
Once selected your preferred option, you can proceed by entering the journey name and then clicking the "start building" button.
Now that you've created your first journey, you can begin to add the starting point. Mailchimp allows you to add up to 3 starting points per journey map.
For quick and easy setup, Mailchimp provides various templates for each event or activity.
The next step is setting the journey points – rules and actions.
There are 3 rules you can add to your customer journey – if/else, wait, and delay. While action includes four – send an email, add/remove a tag, add/remove a contact to a specific group, and unsubscribe contact.
Once successfully activated the customer journey, you can start viewing its performance on your dashboard. Pause a journey map at any time in one simple click.
#4 Dynamic Content
Avail Mailchimp's Standard and other higher plans to enjoy their advanced Dynamic Content tool.
The Dynamic Content tool is Mailchimp's solution to minimize the effort given in creating multiple versions of emails for different contacts. Now, you only need to create one email and then set the applicable conditions for it.
Properly setting the conditions will ensure that the right content will only be sent to the right contacts. The table below will show you the available parameters and operators you can use under the Dynamic Content conditions:
This Dynamic Content tool is easy to use. Here's a step-by-step guide on how to use it:
Add a new content block to your email
Click the "Set Dynamic Content" on the editing panel
Choose the parameters and desired operators
Select your preferred target contact or group
Lastly, click the "confirm" button then save
#5 Transactional Email Analytics
Mailchimp's transactional email is a smart tool for developers to quickly send billions of personalized emails globally via API or SMTP.
It includes comparative analytics to easily monitor and optimize your transactional email's performance, open rates, and more. As Mailchimp intended, you can get the analytics on your dashboard, export API, or webhooks.
6. Key Features Of HubSpot
HubSpot makes modern marketers' jobs simpler by offering excellent and easy-to-use marketing tools. Here, I'll discuss a few of the strongest features they offer:
#1 Customer Relationship Management (CRM)
One of the popular features of HubSpot is its CRM tools. This is one place in your account board where you can create/import, store, and organize all your contacts' records.
The CRM in HubSpot covers four standard objects: contacts, companies, deals, and tickets. If you subscribe to the Enterprise plan, you are eligible in creating custom objects.
Each CRM object represents a specific type of relationship or process. Set up their respective properties properly and you will collect the right information for your database as a result.
HubSpot CRM tools also allow you to create up to 3 buyer personas. Create it fast and easy using their "My Persona Tool".
In this platform, you can customize fictional characters and include all the behavioral patterns of your target audience.
Start the process by choosing a name and avatar for each character to humanize your buyer persona. The rest of the process lets you determine their demographic traits, industry, size of their business, goals, and more.
Other CRM tools that are worth using are focused on creating and tracking deals and tasks.
#2 Marketing Tools
Another strong feature of HubSpot is its marketing tools. There is no steep learning curve in using these tools as they are built with a straightforward design.
Marketing your business starts by creating engaging emails. HubSpot provides you with an email builder for quick creation and sending.
Click the "create email" on your marketing email page to access the email builder. A new page will appear where you can select what type of email to create – regular, automated, or blog/RSS.
Select the regular or automated email and you will be directed to the email template center. There are two template types available – basic and advanced.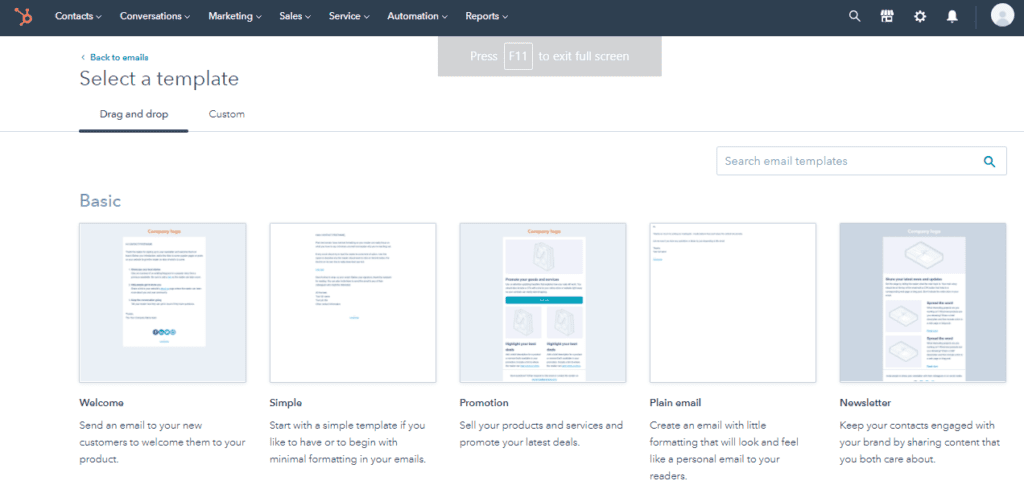 The basic templates include a well-structured layout completed with text and image blocks. While the advanced templates feature a pre-built design.
Pick any template and you can personalize the design by simply dragging objects and dropping them in the desired position.
Complete your email by creating a strong call-to-action phrase. Do this using HubSpot's simple CTA builder.
Access this builder by clicking "Lead capture" under the marketing tab.
Inside the CTA builder, you can freely personalize the button content, style, and color. Access its advanced options if you also want to customize the button's size, pixel padding, and custom CSS style.
#3 Connect to Social Media Channels
Widen your business reach and visibility by connecting various social media channels to your account. You can do this by navigating Marketing > Social and then clicking the "connect accounts" button.
A new page will appear where you can connect your Facebook, Instagram, Twitter, and LinkedIn accounts. After fully setting up, you can start creating and publishing social posts, export data, analyze social reports, and more.
#4 HubSpot App Partner Program
In the competitive world of online marketing, HubSpot also built some of its features and tools based on specific users.
For developers and entrepreneurs that build apps as their main product/service, HubSpot proudly introduces its App Partner Program. This is a one-stop, open platform where anyone connects all tools they need to create their app.
The App Partner Program contains over 500 powerful third-party apps that are compatible with HubSpot. Visit the directory page now and discover all the integrations available.
#5 HubSpot Conversations
HubSpot created the conversation section to centralize all your communications made through emails, chat, forms, and Facebook Messenger.
Successfully connect any or all of these channels to your account and you can begin to manage and respond to any of them without leaving your HubSpot account.
Other tools you can take advantage of in your conversation section are creating a chatflow, snippets, and email templates.
Chatflow is the tool where you can create a unique and personalized chat experience for your customers/visitors. While the snippets provide you with a simple builder that allows you to create a shortcut to your most common responses.
For emails that are proven successful in converting leads, you can use HubSpot's email template builder to save time. You can create them from scratch or use any templates from the template library.
7. Mailchimp vs. HubSpot – Pros And Cons
Like any other email marketing product, Mailchimp and HubSpot have a fair share of pros and cons. In this section of my Mailchimp vs. HubSpot comparison, I'll outline them all to help you decide whether Mailchimp or HubSpot is a great fit for your eCommerce business.
Mailchimp:
| | |
| --- | --- |
| Pros | Cons |
| Offers an AI-powered, creative assistant that can make beautiful multichannel designs | Limited advanced email automation |
| Customer journey builder available to increase open and click rates | Automation is not easy to setup |
| Ability to create a website and get a custom domain | Documentation language and live chat can only support English, French, and Spanish speakers |
| Include a dynamic content tool to better personalize email campaigns | Not ideal for affiliate marketers |
| Offers better integration tools | |
Is HubSpot the right fit for your business? Let's weigh its pros and cons to find out.
HubSpot:
| | |
| --- | --- |
| Pros | Cons |
| Generous freemium plan | No direct features and tools to add eCommerce platforms (require an integration) |
| Simple creation and scheduling of social media posts | Setting up marketing automation comes with a price |
| Easy, responsive, and intuitive user interface | Reporting tools need improvement |
| Email automation system is excellent in gathering accurate data from the visitors | Not ideal for businesses with a large number of sales staff or complex sales team structures |
| Ability to implement B2B and B2C marketing strategies | |
8. Where Do I Get The Most For My Money?
Every business owner sets a unique budget. In this section of my Mailchimp vs. HubSpot comparison, I'll give you an in-depth look at their respective pricing plans including the features and tools you can expect to get.
Mailchimp Pricing Plans
Mailchimp offers flexible subscription plans and divides them into three categories – marketing platform, transactional email, and pay-as-you-go.
Under the marketing platform, Mailchimp offers four pricing plans where each is designed for specific marketing needs.
Free ($0/mo.): The free plan includes all the basic features and multi-channel tools to build your business and grow your audience at the same time. A few of these features are marketing CRM, creative assistant, website builder, claim a MailChimp domain, and other tools for creating forms and landing pages.
You're also eligible to build up to 2,000 contacts and manage a single audience.
Essentials ($9.99/mo.): For business owners who only require an email-only sender, this plan is the best one to get. The Essentials plan can provide you with 24/7 email and chat support, multi-step journeys, custom branding, email A/B testing, and access to beautiful email templates.
You're also eligible to build 500 to 2,000 contacts and manage three audiences.
Standard ($14.99/mo.): Do you want your business to grow faster? The Standard plan is the recommended plan to get as it provides data-driven automation and optimization tools.
Enjoy all features in Essentials with the additional branching points on the customer journey builder, send-time optimization, behavioral targeting, and access to customizable templates and dynamic content. You're also eligible to build 500 to 100,000 contacts and manage five audiences.
Premium ($299/mo.): Do more customization using Mailchimp's advanced tools and features are what you can enjoy when subscribing to this plan. You can also build 200,000+ contacts and manage unlimited audiences in one account.
Everything in the Standard plan is included with added advanced segmentation, multivariate testing, comparative reporting, unlimited seats and role-based access, and phone support.
If you are a developer who wants to increase your email capacity without upgrading your current plan, the transactional email plan is the best one to subscribe to.
One block is equivalent to 25,000 emails. It has a standard cost of $20 per block but this will change the more blocks you added.
If you are a new user, you can enjoy 500 emails for free to all email addresses on your verified domain. You are also eligible to send 25 emails (max) in an hour and receive 100 (max) inbound emails per day.
Not everyone enjoys a monthly commitment. If you're one of them, Mailchimp's pay-as-you-go plan is the best to invest in.
This plan is ideal for all professionals and entrepreneurs who manage project-based campaigns or seasonal businesses. It is also advisable for marketers that only intend to send bulk campaigns to large, laser-targeted senders.
All credits acquired on this plan have a 12-month expiration.
HubSpot Pricing Plans
HubSpot divided its pricing plan into two categories – products & plans and bundles.
The products & plans are designed to charge per service.
Get started on HubSpot and automatically enjoy 23 free CRM, 15 marketing tools, 17 sales tools, and 19 service tools. A few of the tools included are contact management, storing company records, building forms, and landing pages, and set-up a shared inbox.
If you only wish to market a specific range of contacts, the marketing hub plan is a suitable subscription plan to get. There are three pricing plans included and these are the following:
Starter ($50/mo.): Enjoy all the free tools with additional 5 features to effectively attract your target audience's attention, 3 to better understand your leads, and another 3 for engaging your leads. You can also market and store 1,000 contacts.
Professional ($890/mo.): Send beautiful email campaigns to 2,000 contacts when you get the Professional plan. On top of the Starter features, you can also use 4 features for automating and personalizing your marketing campaigns, 3 to easily get found online, 4 for optimizing conversion rates, and 5 for building custom reports.
Enterprise ($3,200/mo.): If you are aiming to market 10,000 contacts, the Enterprise plan is the recommended plan. It equips you with features and tools for managing your brands and teams, extending your platform, and creating advanced reporting.
The sales CRM software is a must-have when it comes to organizing and storing your data and quickly closing tons of deals. If this is what you're aiming for, you should get the sales hub plan.
It also offers three pricing plans:
Starter ($50/mo.): All free tools are also included in this Starter plan with added 4 tools for streamlining your sales process, 3 communication tools, and 2 for tracking, iterating, and improving your goals. This subscription plan allows 2 paid users.
Professional ($500/mo.): This plan starts with 5 paid users and covers all Starter plan features. Other tools and features included are designed to manage your growing team better, customize your outreach, and provide accurate pricing rates and quotes.
Enterprise ($1,200/mo.): Get this plan if you want more advanced admin controls and sales analytics, build a library of sales, transcribed recorded calls, and more.
Top-notch customer service is an effective method to turn a customer into a valuable patron. Provide this to your business by subscribing to the customer service hub plan.
Compared to the three products & plans, the CMS hub plan only offers two pricing plans – professional and enterprise. Both offer a free 14-day trial period.
Professional ($300/mo.): This plan is focused on providing you with powerful tools for building beautiful, responsive, and secure web pages. It is also equipped with features that can grow your traffic and convert them into valuable leads.
Enterprise ($900/mo.): Provide better user experience, customize permission for your team, expand your brand by adding brand domain, automate A/B testing, and manage multiple currencies are a few of the best features included in the Enterprise plan.
If your marketing needs are a combination of all, the bundles are the recommended plan to get. It provides three growth suite plans that start at $50 and can reach up to $4,200 per month.
Pay only for the features that you need or fit your budget is made possible as HubSpot also allows you to create your own bundle plan.
9. Conclusion – Which Is Better: Mailchimp or HubSpot?
Determining which email marketing software is best to use always depends on your business size, marketing needs, and budget. But between Mailchimp and HubSpot, I'll definitely go with HubSpot.
HubSpot's main advantage is its complete marketing solutions are handy for all business sizes, including affiliate marketers and developers. If you own an eCommerce store, HubSpot offers a smarter integration that can save you time and effort.
Unlike Mailchimp, HubSpot offers more in its free plan. Therefore, you can manage and run your campaigns and expect success in them without breaking your budget.
10. Mailchimp vs. HubSpot – FAQ
In this section of my honest Mailchimp vs. HubSpot comparison, I'll provide a direct answer to people's most asked questions:
Is Mailchimp's Creative Assistant feature included in the free plan?
Yes, Mailchimp's newest design tool (Creative Assistant) is available in the free plan. You can find it under the content studio tab of your dashboard.
Can you cancel your HubSpot paid subscription at any time?
Yes, HubSpot allows you to cancel any paid subscription plan at any time. Before canceling your current plan, please note that you still need to pay the remaining duration of the commitment length stated in your contract.
What are the limitations of the MailChimp free plan?
In Mailchimp free plan, you are only allowed to store 2,000 email addresses on your mailing list, send 10,000 emails per month, basic reporting access, a limited selection of templates, and create automated welcome emails.
Is HubSpot free to use forever?
Yes, you can grow your business in HubSpot without paying a single cent. You can create your account and enjoy using 23 CRM tools, 15 marketing tools, 17 sales tools, 19 service tools, and add unlimited users and up to 1,000,000 contacts.