As a business owner, you've witnessed countless marketing schemes fail. One of the most common reasons behind this is the lack of proper planning, thus the need for an efficient marketing calendar software.
In the past, I've tried and tested several marketing calendar platforms to assist me with the implementation of my campaigns.
I compiled the top ones in this list to help you select which one is most suited for your business needs.
What Is The Best Marketing Calendar Software?
If you're in a hurry, here are my personal top three picks for you to consider: Monday.com, SEMrush, and Crosscap.
| | | |
| --- | --- | --- |
| 5.0 | 4.7 | 4.2 |
| Best overall. Well-designed marketing calendar software with project management features. Starts at $8/month. | Feature-rich. All-in-one marketing platform with business marketing calendar tools. Starts at $199.5/month. | Easiest to use. Highly intuitive user interface with easy-to-navigate dashboards. Accessible to any business needs. |
| Try Monday.com | Try SEMRUSH | Try CrossCap |
Looking for the complete guide to learn which is the best marketing calendar software? Here's the full guide to let you which best suits your needs.
1. Monday.com – Top Pick
Top-Tier Marketing Calendar Software For Businesses Of All Sizes [Free Version | $8/mo]
Monday.com is a brand that's been around in the industry for quite some time now, since 2012.
You've probably known it as a project management software that features Kanban mode, but it also has an intuitive calendar software that is proven and tested.
Its marketing calendar software is excellent. It provides different unique templates that users can customize for campaigns.
For easy delegation, it also allows assigned tasks for team members with specific action items – making posting to different marketing channels easy.
These actionable items can also be conveniently monitored by you, supervisors, managers, or project leaders. It's a perfect addition to your content calendar.
It also features a modern design with different segments that can be personalized.
Moreover, its marketing calendar platform allows you to customize the following:
Pros And Cons Of Monday.com
| | |
| --- | --- |
| Pros | Cons |
| Customizable calendar | Insufficient integration with third party calendars |
| Sleek UI design | No automated weekly reports |
| Fast and reliable platform | Bad automation functionality |
| Continuous software updates | |
Monday.com Pricing Plan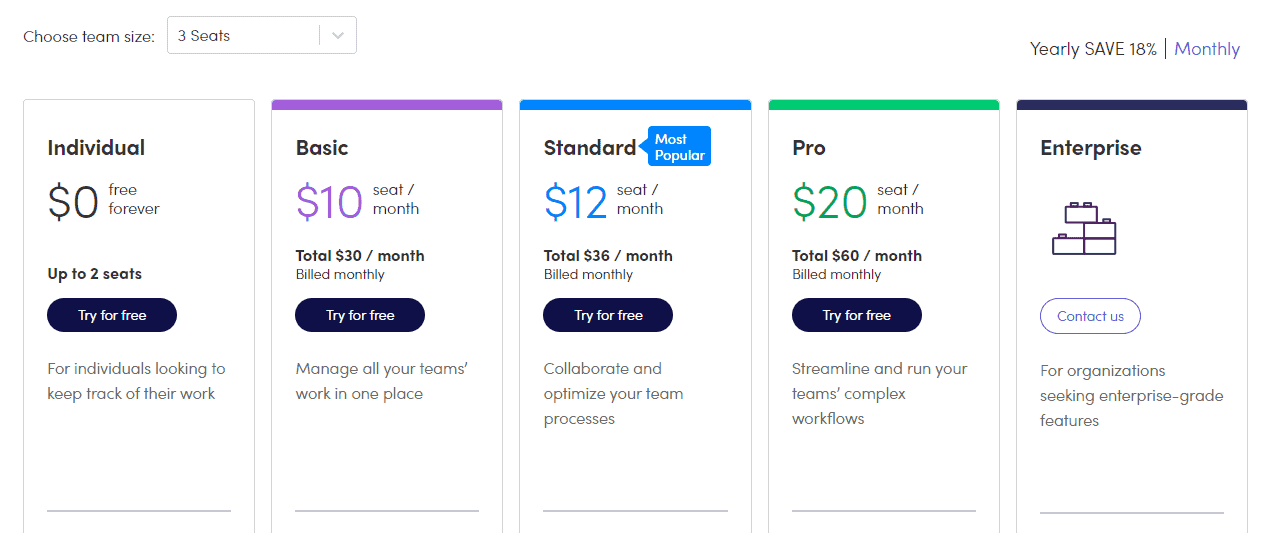 Monthly Plans
Annual Plans
Monday.com offers affordable pricing plans for their clients. They also have a free trial that's available for all of their packages. Aside from the trial, a free version can also be used.
Note: Monday.com only features their marketing calendar software from their Standard Plan and above.
Individual (Free): For individuals, you will be able to enjoy boards, docs, templates, and different column types to support and build your dashboards. You also get access to Monday.com's iOS and Android applications on mobile.
Basic ($10/Month/User): The basic plan offers a great initial start for the services that the platform provides, such as unlimited read-only viewers, unlimited items on dashboards, plus a 5GB file storage on the platform itself, and you also have prioritized customer support.
Standard ($12/Month/User): Standard plan starts to feature their calendar view for users and Timeline & Gnatt views, unique features that Monday.com is known for because of their intuitive designs. Automation and integrations are also available for standard users, with up to 250 actions that can be done per month. The standard plan also features a dashboard that can combine data from 5 other separate boards.
Pro ($20/Month/User): The Pro plan starts to offer a lot of quality of life improvements for their users as chart view, time tracking, and formula columns are made available to users that are subscribed to this plan. Automation limits are also increased up to 25,000 actions per month, and the same goes for integrations.
Enterprise (Customized Pricing): Monday.com offers a plan for organizations and large businesses looking to streamline their productivity strategies. The Enterprise package comes with new features such as enhanced security, organization-level automation & integrations, multi-level permissions, premium support, and advanced reporting & analytics tools to use.
If you are looking for just a calendar software along with some productivity tools to complement it, then the Standard package will just be more than enough for your marketing needs since it also includes automation and other views for you to use.
2. SEMrush – Most Versatile Features
Best Marketing Calendar Software For Medium & Large Companies [Free Trial | $199.5/mo]
SEMrush is an all-in-one marketing tool. It also features visuals and graphics that will help you grow and manage your business.
All done through a single platform, it has a wide variety of features useful for marketing activities, such as:
Content marketing
Competitor research
Search engine optimization
Now you might ask, what's all this to do with marketing calendar software? Well, they have that as well, with plenty of added features that come with it.
You can conduct recurring activities with the calendar tool that SEMrush provides. With this, you won't need to repeat once they have been completed.
It also offers templates and campaign budgeting which are convenient for starting immediately and checking the budget of your ongoing projects.
SEMrush's calendar software also has activity history logs so that you can go back to previous versions and review what has been done in the past. 
If you are worried about other users editing items, then you can set permissions as well – perfect for teams doing content creation. One great thing about this marketing calendar software is that communication can also be done through the action points with comments and mentions making content planning and creation more efficient.
It also has features of a project management tool. For example, for marketing-related tasks, you have customizable notifications, delegation of assignments to different users, and due dates as well. If you're thinking of showing these data to other people, then you can also export the files to PDFs or share calendar external links. 
Pros And Cons Of SEMrush
| | |
| --- | --- |
| Pros | Cons |
| Plenty of usable features | Extra seats for users can be expensive |
| Great user experience design | Discrepancies between data shown |
| Excellent visuals and graphics | Pricing structures can be confusing |
| Analytics and metrics tool available | Often slow to use platform |
SEMRush Pricing Plan
Monthly Plans
Annual Plans
SEMrush has expensive pricing plans compared to the rest of the items on this list, but that's because of the number of tools it features.
It typically caters to teams, businesses, and agencies, from medium to large sizes. It's not suited for small businesses and individuals since it's pricey to start with.
You can still avail of their free trial and try it for yourself.
Note: SEMrush only features their marketing calendar software from their Guru Plan and above.
Pro ($119.95/Month/User): Their Pro plan offers the basics of the platform's tools with access to 5 projects, 500 keyword tracking, domain, backlink, and keyword analytics as available tools to use. They also feature reporting, social profiles monitoring, and page crawling per project and per month.
Guru ($229.95/Month/User): The Guru package takes in a lot of the previous features and increases the amount offered by around 2x or 3x. This is also where users can receive a single calendar for their marketing use and access to the different tools related to SEMrush's content marketing platform.
Business ($449.95/Month/Use): The Business package covers plenty of features such as unlimited use for calendars and better reporting for the content marketing platform. Their project features have also increased dramatically, with the number of access to projects increased to 40 and keyword tracking at 5,000 (with daily updates). The Business plan also provides API access and product listing advertisements.
SEMrush is a big platform to invest in. Its calendar software is also very enticing because of the number of integrations and features. The customizations available for their calendar software is nice to have.
However, this tool comes at a steep cost. It's best to use it only if you are holding a large marketing operation and are going to utilize the other tools as well.
3. Crosscap – Most Intuitive Interface
Simple-To-Navigate & Marketing-Focused Calendar Software [Customized Pricing]
Crosscap is a platform that's solely focused on providing marketing solutions. Their premium product is the marketing calendar software that's capable of handling the needs of any marketer.
When it comes to consolidating campaigns and tracking performances of marketing projects, Crosscap is specially built with its 360-degree view encompassing all types of marketing initiatives. 
Its marketing calendar supports plenty of features such as multiple calendar views that includes the following:
Yearly
Weekly
Monthly
Quarterly
You can easily filter campaigns and customize them to organize the projects that matter to you the most.
Not only that, but you can also refine your marketing plans by assigning customer or product segment tags.
Crosscap's marketing calendar software also has integrations with other external applications, particularly with several SAAS platforms that include:
Integrations also come with workflows that can be easily analyzed and exported to stakeholders to review.
Pros And Cons Of Crosscap
| | |
| --- | --- |
| Pros | Cons |
| Easy navigation interface | Relatively new |
| Great user experience | No accurate pricing list |
| Focused on marketing softwares | |
| Plenty of SAAS integrations | |
Crosscap Pricing Plan
Unfortunately, there doesn't seem to be an accurate pricing list that Crosscap can provide on its website, so there isn't much to go with when it comes to how they go about pricing their products.
If you are interested in availing their services, you can easily send them a request for a demo from their website and get a quote for what you need.
4. Curata – Best Calendar Software for Content Marketing
Top Calendar Software For Marketers [Customized Pricing]
Curata's primary purpose is to provide your marketing team with easy access to planning, management, and tracking tools. It's a great tool to
For your content strategy, it features the following:
Data insights
Account-based marketing
Analytics and metrics reporting
Curata can quickly and conveniently organize all your data, whether in the form of blog posts, images, and other content-related items that you have at hand. It also has the following perks:
Content templates
Marketing calendar
Team-wide collaboration
Unified reporting dashboard
Third party software integrations
Additionally, it has an amazing content analytics tool that you can use to research and evaluate existing marketing tasks that you have at hand.
You can easily collect valuable information on what content is a hit for a specific audience or stage.
Pros And Cons Of Curata
| | |
| --- | --- |
| Pros | Cons |
| Content curation and great search parameters | Quite expensive compared to competitors |
| WordPress content sharing | Analytics needs improvements |
| Responsive customer support | Lackluster social sharing |
| Excellent onboarding process | |
Curata Pricing Plan
Curata does not offer a pricing plan for viewers to check on their website. It's best to request a demo from their website and get a quote for their software platform to get more information about it.
5. Smartsheet – Dynamic Workspace
Affordable Marketing Calendar Software [Free Trial | $9/Monthly]
Smartsheet is a collaboration platform that has a multitude of uses.
It offers a dynamic work platform that can be customized and be done through pre-built templates and solutions.
When it comes to the platform's core capabilities, you can easily have access to planning, management, automation, and reporting tools, along with the vital visuals and graphic dashboards to monitor the progress of your workspace.
Smartsheet also allows users to look at their data using the Calendar view. This enables easy interaction and customization from the client's end and can quickly be published on Google, Outlook, and Apple Calendars.
Setting up row hierarchies, summary tasks, date ranges, and reminders tabs are great features you can use with Smartsheet as your marketing calendar software.
You can also combine the data from multiple sheets into one single calendar in order to better visualize all your projects.
Moreover, there is permission sharing available to prevent errors with data displayed on your calendars.
Pros And Cons Of Smartsheet
| | |
| --- | --- |
| Pros | Cons |
| Covers basic project management needs | Report feature is needs improvement |
| Multiple data viewing | More export formats needed |
| Kanban, Gantt, and calendar views | Dashboards needs filters |
| Cloud-based platform | Steep learning curve |
Smartsheet Pricing Plan
Billed Monthly
Billed Annually
Smartsheet's pricing plan is one of the most affordable on this list. However, it is limited to only three types of plans. You can try these different packages for free, as it offers a free trial for users.

They also come in two different types of payments: monthly and annually.
Pro ($9/Month/User): The Pro package gives you access to unlimited sheets, reports, and dashboards, as well as 10 viewers being allowed per object. You also get private sheets and reports for your use, and so much more.
Business ($32/Month/User): Business package includes all the features from the previous one but now with a lot more intuitive and quality of life features such as automation, document builders, widgets, proofing, adobe creative cloud extension, baselines, report grouping, and summarizing, etc.. It also comes with a massive 1TB storage attachment.
Enterprise (Customized Pricing): The Enterprise package includes plenty of extra integrations and applications such as Docusign Integration, Single Sign-on/SAML feature, custom email domains, approved domain sharing, access to Smartsheet Advance, 24/7 phone support, domain validation, unlimited attachment storage, and many more.
6. Wrike – Best For Collaboration
Intuitive Marketing Calendar Software For Agencies & Organizations [Free Version| $9.80/Monthly]
Wrike's main goal is to allow users to track and coordinate projects all in one giant platform conveniently.
This is combined with its drive to create an intuitive user experience and interface that allows both ease of use and depth of tools at one go.
One of the tools that Wrike offers its users is its calendar. Their system works in two different ways with layers.
Each layer allows users to display their projects and tasks according to the specified filters, parameters, and context that you have created when making the layer.
There are two types of layers that come along with Wrike's calendar: smart and classic.
Classic layers are naturally used when you have manually added tasks that you have created in the calendar. You should only use this if you want to specify these tasks or if they are a priority.
Smart layers, on the other hand, are tasks and projects that are grouped together according to their filters. You can easily use this when you need to monitor a task along with its associated folders and other related projects. It's easier to use when it comes to filtering as well.
Wrike also features plenty of other visuals such as Kanban, Gantt, and spreadsheet tables.
Pros And Cons Of Wrike
| | |
| --- | --- |
| Pros | Cons |
| Cloud-based software | Lack of filtering options |
| User guide and online help available | Bad loading speed |
| Free version | Confusing user-interface |
| Plenty of powerful features | |
Wrike Pricing Plan
Wrike offers a free version for users, however, there are a lot of limitations. It also has a free trial available.
Note: Wrike only features their marketing calendar software from their Business plan and above.
Free: For Wrike's free plan, you get access to a lot of features such as initial access to task management projects, account-wide work schedules, external and internal collaborators, cloud storage integration, and interactive board and spreadsheet views. You also get a 2 GB storage space along with the plan.
Professional ($9.80/Month/User): For professionals, you start getting access to a lot more premium features such as shareable dashboards, interactive Gantt charts, extra added integrations with MS Project, Excel, and RSS, along with 1 to 2 GB storage per user. You initially receive 5 to 200 users, so that comes around to 400 GB's of maximum storage for all users combined.
Business ($24.80/Month/User): Business plan is where it all starts getting a bit more powerful with the features that are provided with automation (200 actions/user monthly), custom workflows, custom fields, real-time reporting and report templates, calendars, resource management, and workload charts. You also get access to extensions for Adobe Creative Cloud and have 5 GB storage per user.
Enterprise (Customized Pricing): Enterprise features a lot more security and administrative features, including audit reports, custom access roles, password policies, two-factor authentication, Single Sign-On, and an added 1,000 actions for automation per user.
7. Coschedule – Most User-Friendly
Drag-&-Drop Interface Suited For Beginners & Small Businesses [Free Trial | $39/Monthly]
CoSchedule is a work management platform that is specifically tailored for the needs of most marketers, with their calendar as their main product.
Its user interface is one of the best and most intuitive designs I've seen, boasting a sleek dashboard.
You can easily categorize different segments and filter the tasks that you have lined up through prioritization and color categorization.
You can also add in text, drag and drop your labels, and basically turn your calendar into the way that you want it to look.
Plus, you can seamlessly put your projects in their calendars and organize them by dates, months, or even years.
Moreover, you can check each date and look at the respective tasks that you have lined up for that day.
Another feature it has is task templates. This ensures that you won't have to make them from scratch.
When it comes to marketing campaigns, you can observe pieces of content, check their specifics, monitor whoever is working on these projects, and have a big picture view of the overall process.
You can also label each different large-scale marketing campaign you have at hand and go through their specifics with a customized workflow.
Pros And Cons Of Coschedule
| | |
| --- | --- |
| Pros | Cons |
| Specially tailored for marketers | Quite costly as compared to competitors |
| Team performance metrics and reports | Platform often has technical issues |
| Task templates and tags | Integrations have functionality problems |
| Integration with many third party tools | |
Coschedule Pricing Plan
CoSchedule's pricing plan is split into two different parts of which are billed monthly and annually, although you can still save a lot more if you pay yearly. When it comes to the packages, then there are only two. You can also enjoy their free trial to check if their platform works for you.
Marketing Calendar ($39/Month/User): CoSchedule's marketing calendar plan basically gives you access to their real-time marketing calendar and all its associated features such as custom views, read-only, and intuitive organization of rescheduling projects at a whim. You also can enjoy automation with your calendar as well as with social publishing.
Marketing Suite (Customized Pricing): Marketing Suite often has a lot more extra features to enjoy along with the base platform, such as automated team workflows, managing marketing requests, team progress tracking, and asset and file storing. You get access to Content, Work, and Asset Organizer tools that you might not have previously had before with the base platform.
8. Welcome – Feature-Packed Marketing Calendar Software
Inexpensive & Unified Calendar For Creative Teams [Free Plan | $19/Monthly]
Welcome is a full-on content marketing management suite that provides plenty of marketing and management tools from editorial calendars, communication, campaign planning, analytics, etc.
It's a workspace that brings marketing assets together in one unified system where collaboration can be conveniently reviewed, executed, and analyzed by key metrics. It greatly helps in simplifying the execution of marketing strategies.
Currently, Welcome offers its clients content, email, digital, product, and brand marketing.
However, one of its best features is its marketing calendar which is specifically catered for campaign planning and execution. You can quickly post dates, assign, approve, and remove marketing plans all in one go through it.
Welcome's calendar features dedicated workspaces for individuals to work on specific projects and collaborate with one another.
You can also easily monitor every ongoing project through the interactive timelines that the calendar provides.
There are also monthly visual calendars being created to grasp better how projects are moving for each month. Kanban boards and calendar's flexible workflow tools help with monitoring each individual project.
Once that's done, you can easily measure your progress with operational efficiency, content product, and campaign performance analytics that come along with Welcome's calendar.
Pros And Cons Of Welcome
| | |
| --- | --- |
| Pros | Cons |
| User-friendly experience | No custom permission tools |
| Platform can be easily customized | Confusing feature rollouts |
| Live marketing analytics tool | Limited formatting capabilities |
| Excellent customer service | |
Welcome Pricing Plan
Welcome's pricing plan is generally a great way to start with content management tools and get your very own usable marketing calendar software. It also has a free version available for grabs, as well as a free trial for each package.
Free: From their free plan, you already have access to their monthly marketing calendar. It also comes with Gantt, Kanban, and spreadsheet views for you to visualize your marketing plans. You also have access to keyword recommendations, competitive research, and up to 50 Tasks/month with up to 5 users.
Plan ($228/Annually): For Plan, you have access to campaign workspaces and project briefs. You can enjoy unlimited campaigns and tasks as well to maximize your usage. For support, you can access Welcome's knowledge base as well as their customer support service.
Create ($588/Annually): Create brings in a lot of powerful features such as Office 365 integrations, unlimited stock images, flexible workflows, asset proofing, and annotations. You also now have access to their content scheduler as well as WordPress and Social Integrations. Premium customer support is also provided.
Orchestrate (Customized Pricing): Orchestrate unlocks pretty much an entire arsenal of features with shareable workspaces, extra security through SSO and two-factor authentication, dynamic forms, intelligent routing rules, requests dashboards, campaign budgeting, unlimited asset storage, and operations analytics.
Conclusion
In this list of 7+ of the most powerful marketing calendar software, Monday.com is without a doubt the best option to go for. Its pricing is reasonable, plus the features are top tier.
However, every company has a different set of needs. So if you find one here that's more suited for your business, you should definitely give that platform a go. I've only compiled the best in this article, so rest assured that whichever you pick will be amazing.