Meeting management software is used by businesses to help and guide them through team meetings. It allows them to structure a productive and fruitful meeting, making it worth the staff's time.
Having a decade of experience in the marketing industry, I have been in meetings that felt like it was structured a day before. Meetings that were unorganized, confusing, and made you question the team behind them.
Setting up meetings isn't an easy task. Every aspect of it, from beginning to end, should be well planned. Since most professionals who organize meetings also have other job-related tasks to attend to, this is where meeting management software comes into the picture.
In this article, I'll be listing the best meeting management software out in the market today. These applications can greatly help you in organizing the most productive meetings possible.
What Is The Best Meeting Management Software?
If you're in a hurry, check out my top 3 picks at a glance: Fellow, nTask, and Meeting.gs.
| | | |
| --- | --- | --- |
| 4.9 | 4.7 | 4.2 |
| Best overall. Leading software with over 2 million meeting agendas. Starts at $5/month. | Feature-rich. Powerful meeting management customization tools. Starts at $3/month. | Best for accessibility. Mobile application with high accessibility. Starts at $12/month. |
| Try Fellow | Try nTask | Try Meeting.gs |
1. Fellow – Top Pick
Best Meeting Management Software For All Teams [Free Plan | $5/mo]
Fellow can be considered as a hub for meeting agendas, action items, and feedback. It's an application where teams can gather to have group meetings or one on one.
The features allow users to review past notes and encourage everyone to add important or talking points to the meeting agenda. It can fully archive meeting notes history to remind team members of what was discussed.
Fellow also has a feature for building meeting agendas collaboratively. It makes teams start meetings with clarity and focus.
If you're in a hurry or don't have the resources for meeting preparation, then Fellow also has meeting templates available to use on the fly. This allows virtual meetings to happen as quickly as possible without sacrificing much on the side of the quality of life for both meeting attendees and the speaker.
Aside from meeting features, it also has an accountability feature.
Users can end every meeting knowing who is doing what task and project. It's a great help for task management and preparing to sift through key agenda items that matter.
Fellow also believes in continuous improvement as a collaboration tool for many businesses.
Its users are able to receive and give feedback as work or projects develop. It allows team members to request and track real-time feedback on meetings and performance.
In summary, Fellow, as an online meeting management solution, solves three major problems in running video meetings:
First, it addresses the agenda. It can delegate meeting topics to team members.
Second, it allows note-taking in one place. This makes key points easy to remember.
And lastly, tracking the action items after every meeting. The team knows what their tasks are regarding a project.
Pros And Cons Of Fellow
| | |
| --- | --- |
| Pros | Cons |
| Great collaboration features | Needs a bit of time to learn everything |
| Suggestion and improvement can be applied immediately | |
| Great tracker for personal and professional action items | |
Fellow Pricing Plan
Free: This plan is great for teams of less than 10 members who want to test out Fellow. It comes with limited searchable notes, agenda templates, meeting notes, 1 on 1's, private streams, and send notes.
Pro ($5/mo.): The Pro plan is great for remote teams who are serious about managing their meeting notes while creating a culture of accountability. It has unlimited shared streams, notes, note version history, integrations, comments, and meeting automation.
Organization (Custom Pricing): The pricing for this plan needs a quotation from Fellow. This plan opens up all features, including apps and extensions, expert-led team onboarding, feedback requests, feedback in meetings, workspace analytics, and templates.
2. nTask – Most Features
Great Task & Meeting Management Software For Small Businesses [Free Plan | $3/mo]
The second in this list is nTask. It's a project management tool that helps streamline the following:
Tasks
Project planning
Financial summary
Project deliverables
As you can observe, it is an application that goes beyond meeting management duties. It's considered a go-to tool for other important business activities as well.
Going back to its meeting management feature, users can schedule meetings with all team members and allow minutes to be evaluated and reviewed before publishing.
The software also allows the linking of meetings to various tasks. This creates better communication with the team members involved.
nTask also has a great meeting management module that creates a clear meeting agenda to keep the meeting productive, precise, and on track to discuss significant matters.
Another excellent feature that it presents would be the ease of creating meetings and repeating them based on a predefined time interval. This removes the hassle of scheduling meetings again.
nTask understands that taking note of important points in meetings is usually done through another application. But by using their software, users can jot down notes and key points on the application itself.
Pros And Cons Of Tool
| | |
| --- | --- |
| Pros | Cons |
| Excellent meeting management features | Customer service needs improvement |
| Great tool for tracking and managing tasks/projects | No Zoom integration |
| Good for a collaborative work environment | Limited customization options |
| Has time tracking features | |
nTask Pricing Plan
Basic (Free): The Basic plan comes with 100 MB storage and is limited to 5 members per team. It has unlimited workspaces, tasks, meetings, timesheets, and issues tracking.
Premium ($3/mo.): Considered as the most popular plan, Premium has 5 GB storage, access to Kanban board, Gantt charts, bulk actions, custom filters, and projects. It has a 14-day free trial for you to test it out.
Business ($8/mo.): It's considered as the plan for larger businesses. It has 10 GB storage, access to risk management features, custom roles and permissions, Kanban board templates, and advanced reporting and integration. This plan also has a 14-day free trial.
Enterprise (Custom Pricing): Pricing for this plan needs a call to nTask, but the features include custom onboarding, dedicated account manager, and dedicated cloud.
3. Meetin.gs – One-Stop Hub For Meeting Information
Best On-The-Go Software [Starts at $12/mo]
Meetin.gs is one of those well-rounded platforms that any team will find very useful for web conferencing.
It rids the use of long back-to-back messages in scheduling meetings. With this software, it lets you pick the dates easily and automatically synchronize them with your calendar.
Developers of the software know that there are multiple types of meetings a professional encounters:
Quick meetings
Lunch meetings
Teleconferences
Online conferences
Board meetings.
Meetin.gs makes it easy to filter each type of meeting using its scheduler. With this, users don't have to look at a single massive list.
This software also understands how some information about your meeting is always stored on some third-party application which makes it tiresome to constantly switch applications just to find a document or enter a sheet.
To address this common pain point, Meetin.gs provides a next-level integration feature. The software can integrate with the following:
Calendars
Address books
Social networks
Live communication tools
A great feature that it has is its availability on mobile devices, which is perfect for on-the-go people.
Pros And Cons Of Meetin.gs
| | |
| --- | --- |
| Pros | Cons |
| Good hub for all meeting information | Limited to only meeting management |
| Hassle-free mobile app | |
Meetin.gs Pricing Plan
Pro Monthly ($12/mo.) & Pro Yearly ($129/yr.): Meetin.gs only has these two subscription plans for its users. If they go for the Pro Yearly, a one-time payment, it saves them 10% compared to the monthly plan.
Both plans come with scheduling and organizing meetings, managing schedules, action points, and meeting materials. Both also allow access to the mobile application and actions to set up meeting reminders and follow-ups.
4. Hirebook – Great For Teams With Multiple Projects
Meeting Management Software For Project Effective Meetings [Free Trial | $10/mo]
Hirebook is a platform that helps companies with their teams' meetings, dialogues, objectives, and actions.
It allows team leaders to monitor employees and have space for their progress.
All of its meeting management features are made to make the whole process easier.
Users can utilize real-time information from the system to populate the meeting agenda. This ensures the team will have the most accurate data to have a productive meeting.
Hirebook also makes it easy for its users to have team meetings and one on ones. Since it's easy to keep everyone on the same page, productivity and clarity increase.
The Check-In feature enables managers and their teams to discuss the progress of a project or the future plans that the team has. This feature is also a way for managers to know the current state of their members to support and guide them better.
Hirebook also helps in clearly defining your objectives and key results for your team. The dashboard aids by showcasing project status so the team could be up to date on what tasks are lagging and what projects are nearing their completion.
Pros And Cons Of Hirebook
| | |
| --- | --- |
| Pros | Cons |
| Excellent tracker for project's progress | More personalization features could be implemented |
| Managers can have closer contact with their members | Analysis and reporting could be more in-depth |
| Aside from meeting management, projects can be monitored as well | |
Hirebook Pricing Plan
Business ($10/mo.): This plan includes all modules, unlimited data retention, unlimited integrations, and external collaborators.
Enterprise (Custom Pricing): Although there's no clear pricing on this plan, this plan works best for very large businesses and those in regulated industries. The Enterprise plan comes with enterprise security, offline backup, and advisor and board observers.
5. ClickMeeting- Simplest Interface
Great For Companies That Regularly Hosts Events [Free Trial | $25/mo]
ClickMeeting is one of the most straightforward meetings management software out in the market today. It has features on online meetings, enterprise-wide video conferencing, and webinar software to help students and professionals be together.
The software is also suitable for freelancers and organizations of all types. It aids micro businesses to international enterprises.
Regarding online meetings, users can select their meeting room layout and allow up to 25 people to talk and brainstorm ideas. It also allows its users to highlight the presenter's stream during online classes and moderated discussions.
The platform provides users the ability to record meetings and use annotations for specific information during calls; making meetings a lot more accessible and convenient for storing and sharing information amongst team members.
Unfortunately, ClickMeeting does not offer a feature for automated meeting minutes.
ClickMeeting also gives and revokes access to meeting participants. The host can also do the following:
Run private chats
Assign presenters
Moderate discussions
For companies that like to host big events, this meeting management software is a great help. They can connect ClickMeeting to platforms like Eventbrite and Paypal through Zapier.
Pros And Cons Of ClickMeeting
| | |
| --- | --- |
| Pros | Cons |
| Customization of meeting layout | Customer service needs major improvement |
| Neat and clean interface | Audio/visual glitches |
| Integration is great | |
ClickMeeting Pricing Plan
Free Trial: A free trial for 30 days allows users to explore the possibilities of live, automated, on-demand webinars. The attendees for a free trial plan are capped at 25.
Live ($25/mo.): The Live plan comes with an unlimited number of meetings and webinars. The number of cameras is capped at 25, and there could only be one host and presenter. As for its recording, storage is at 6 hours maximum, and file storage is at 1GB.
Automated ($40/mo.): The Automated plan is considered the most popular one among its pricing plans. It has unlimited automated recurring webinars, allows auto stream on Facebook or Youtube, and auto send the recording to Dropbox account.
6. Fuze – Flexible Cloud-Based Software
Excellent Collaboration Tool [Free Trial | $15/mo]
Fuze is a cloud-based meeting management software that's ideal for teams of all sizes. Some consider it as a central hub for their calls, meetings, and contact centers.
With its calling feature, it uses an enterprise cloud-based phone system. It has a video and screen share feature, making presenting and communication as simple and smooth as possible.
The same feature also makes it easy for Fuze users to connect with groups of coworkers and external parties. It allows one on one or group messaging with meeting IDs, group notes, and shared content.
As for its meeting feature, it helps in engagement and productivity with its HD audio and video conferencing.
Fuze allows up to 1,000 participants, which is more than enough if you're a small to mid-sized business.
This amount of participants makes Fuze a great way to communicate with a large group of people for agenda management and company-wide meetings.
Besides the high audio and video quality, it allows its users to have a dynamic screen and content sharing. These features are integrated into the same application with a consistent user experience across desktop, web, and mobile.
The chat feature of Fuze allows named group chats to have a certain degree of file-sharing with users having the capacity to send the following:
It can also be used to keep track of the next steps, or next to-do's that a member should do, making team collaboration all the more convenient.
This particular feature can also be used to communicate with customers, vendors, or partners.
Pros And Cons Of Fuze
| | |
| --- | --- |
| Pros | Cons |
| Available for both mobile and desktop | Needs a bit of time to learn everything |
| Developers listen and act on suggestions and complaints | Does not support the export of contacts |
| Makes team and client communication more effective | |
Fuze Pricing Plan
Fuze Meetings ($15/mo.): The plan has unlimited internal calls, incoming calls, and outbound calls. It already supports 1:1 video calling and desktop sharing. Fuze Meetings plan already opens up all integration and administration features.
Fuze Calling ($25/mo.): The Fuze Calling plan allows sharing desktop content, taking meeting notes, and whiteboard. It also has features on listening/whisper/join calls. It has everything that the Fuze Meetings plan has.
Fuze Pro ($35/mo.): Considered the recommended plan, the video conferencing with HD audio can cater to up to 1,000 participants. The plan also comes with the action of inviting Fuze guests to meet and message.
Fuze International ($45/mo.): The plan comes with everything the other plans have to offer, but the main difference for Fuze International is it allows the users to make unlimited outbound calls to 34 countries.
Fuze Unlimited Global ($65/mo.): The same thing as Fuze International, this particular plan allows users to make unlimited outbound calls to 116 countries.
7. HubSpot Meetings – Flexible Meeting Scheduler
CRM Solution With Meeting Management Features [Free Access]
Many businesses go with HubSpot because of its various functionalities that help them make processes easier and simple.
One particular aspect that it excels at would be its meeting management software which is called HubSpot Meetings.
It is perfect for people looking for a simple yet effective scheduler and calendar application that can notify its users about upcoming meetings and events.
This feature eliminates hours of back and forth messaging since it gives prospects the option to book meetings with the business.
A good aspect of this feature would be embedding your calendar on your website without any coding work. This also allows people to conveniently set meetings with you directly on your website.
When using HubSpot Meetings, you know that it can seamlessly work with applications that your team already uses. It can integrate with the following:
Gmail
G Suite
Outlook
Office 365 for Windows
Microsoft Teams
Slack
Moreover, it gives you opportunities to work on various aspects of your business. The software is so powerful that it can help with:
Calling
Emails
Reporting
Documents
Lead scoring
Sales automation
Additionally, HubSpot also has support for iOS and Android with respective downloadable apps for both devices available for users to download and enjoy a much more mobile version of the platform.
If you HubSpot isn't the one for you, you can choose from the different HubSpot alternatives available today in the market.
Pros And Cons Of HubSpot Meetings
| | |
| --- | --- |
| Pros | Cons |
| Free to use with HubSpot CRM | Limited features on its free version |
| Ease of use | Need for additional features can be expensive |
| Excellent interface | It does not have any audio and video calling features |
HubSpot Meetings Pricing Plan
If you're going to use HubSpot Meetings for meeting purposes only, you can have access to it for free on the free plan of HubSpot.
8. Vyte – Great For Calendar Synchronizations
Excellent For Customer Bookings [Free Plan | $8/mo]
Vyte is a smart all-in-one scheduling tool that helps users save time and effort setting up teams' meetings.
If you're looking for an alternative to Google Calendars then this might be the software you need as it improves on the existing workflows of Google Calendars and adds more extensive features.
It offers a personal page and meeting schedule straight from the browser.
Vyte's Smart Group scheduling can help in creating events with multiple invitees. Invitees can vote on their preferences making decision-making all the easier for the user to choose and they can do so with just a simple click of a booting.
Its booking page feature is a simple page where people can schedule an appropriate meeting time.
It shows when you're busy and when your available time is. Once the person picks a date, they can submit a video conference request that directly goes to your calendar.
Vyte also provides notifications to the user if prompted.
Additionally, the Vyte page is highly customizable. You can also simply send a link to your Vyte page to others so they can easily book a meeting with you.
Pros And Cons Of Vyte
| | |
| --- | --- |
| Pros | Cons |
| Easy integration of calendar | Interface needs improvement |
| Has voting option for the date and time of the meeting | Steep learning curve |
| Time zone detection and handling | |
Vyte Pricing Plan
Free: The free plan comes with a series of features like syncing your calendar, seeing everyone's availability, seamless timezone handling, and setting of event duration.
Pro ($8/mo.): Although this is a paid plan, Vyte allows interested users to try it for free for 14 days. The Pro plan comes with multiple calendar syncs, access to advanced features of group meetings, and a Vyte page. It also allows access to the custom background, subdomain, and URL.
9. Lucid Meetings – Accessible Platform For All Businesses
Best Meeting Management Software For Individual To Medium-Sized Businesses [Free | $12.50/host/month]
Lucid Meetings is made to make meetings more productive.
To start off, it has a meeting scheduler such as the likes of Calendly, with professional meeting invitations to let attendees know of the details and sync the schedule to their personal digital calendars.
Incredibly, it also has a poll feature that asks participants the best time to do the meetings and even translates the schedule based on each attendee's time zone.
It lets you gear up even before the actual meetings happen with its agenda collaboration function where you're provided with a professionally designed template you can send along with your meeting invitations.
With it, you can distribute reports and other agenda materials as well as prepare action items for review.
This meeting management tool is great for conferences and collaborations as well.
For audio and video conferencing, it integrates with the following:
Skype
Whereby
TurboBridge
Custom Audio
UberConference
Attendance is automatically tracked and a chat channel is available for team or private messaging.
It also organizes those who want or need to speak in a queue, has a share screen feature for giving presentations, and logs the participation of each attendee.
Lucid Meetings also has a feature for recording meeting minutes. With it, you'll be free from the burden of drafting the meeting minutes and notes.
It keeps everyone in the loop because a follow-up email on the meeting is sent to attendees either in Word, PDF, HTML, or Test form. It can be integrated into systems like Basecamp and Confluence.
Lastly, you won't even need to take a notepad out, Lucid Meetings has a real-time note-taking feature to capture the following:
Meeting notes
Action items
Support tags
Decision highlights
Votes on formal notions
This makes everything visible and assignees are also held accountable.
Pros And Cons Of Lucid Meetings
| | |
| --- | --- |
| Pros | Cons |
| Makes meetings more productive | Lucid charts slow on Chrome browsers |
| Has comprehensive functions available for every meeting needs | Technical problems on participant access can sometimes occur |
| Makes remote meetings more visible for participants | No integration to Zoho calendar |
| Easy and intuitive use | |
Lucid Meetings Pricing Plan
Lucid Meetings has pricing plans for both small and mid-sized groups. If you want a more personalized package, it has an Enterprise pricing plan you can talk to sales about and get customized features.
Team ($12.50/user/mo): This plan allows for 1 administrator, 1-20 meeting hosts, 1-50 users, and 200 meeting guests.
Business ($249/mo): This one lets you have 10 administrators, 100 meeting hosts, 25-250 users, and unlimited meeting guests.
Enterprise (contact sales to get a quote): As for this plan, you'll get unlimited of the following: administrators, meeting hosts, users, and guests.
Both the Team and Business pricing plans have a trial version you can test out. At the end of the trial period, you have the option to downgrade to a free personal account.
10. Cisco WebEx – Best For Customized Meeting Needs
Best Meeting Management Software For Large Enterprise [Free | Contact Sales To Get A Quote]
Cisco WebEx prides itself on solving hybrid work needs with its meeting management tool.
Leaning on the video-conferencing side of meetings, it has an immersive share function where you can layer yourself over the content you share making your presentation more engaging and personal.
It also has an extensive translation feature where meetings are translated into over 100+ languages to make collaborations more global and exclusive for participants anywhere in the world.
Cisco WebEx is also great for interactive webinars and conferences having a function for audience engagement in mind. It allows participants to give live feedback through polls and Q&As.
When participants need to work in smaller groups, this meeting management tool allows for breakout rooms for smaller sessions.
Meeting focus is also important for Cisco WebEx. It features a noise-removal technology so that unnecessary sounds will be canceled out or minimized.
Last but not the least, it has a virtual assistant feature that writes your notes for you. By using voice commands, you get real-time recorded transcripts of the meeting which also allow you to highlight key parts.
Pros And Cons Of Cisco WebEx
| | |
| --- | --- |
| Pros | Cons |
| Easy to join meetings | Delayed new feature releases |
| Has a noise-canceling feature for the audio output | Lags for Mac users |
| Has a file transfer feature via email for large files | Needs better mobile capability |
| Immersive share feature | Menu system and buttons need to be more intuitive |
Cisco WebEx Pricing Plan
Cisco WebEx hasn't provided pre-set price plans. You have to contact their sales support team to get access to the paid plans.
The good thing is that this meeting management tool has a free version that allows you to use it as long as you like. For this version, you get 100 meeting participants, screen sharing, HD video, and a personal room.
11. Microsoft Teams – Best Value For Price
Versatile Meeting Management Software For Family & Work [Free | $5/user/month]
If you're looking for a work-efficient meeting management software that can double as a virtual bonding place for family and friends, Microsoft Teams is a good choice.
Just like Lucid Meetings, it is built with every meeting need in mind.
It has a schedule and share function where you can send invites that include the agenda, notes, and related recordings. You can also chat with the participants prior to the scheduled meeting.
Microsoft Teams has a one-touch join feature so you can connect to the meeting fast and easily.
When at the meeting, it has a blur background feature so you can keep things in the background in private.
It also allows you to share content to make presentations more visual and allow recording for an easy recall of what was discussed.
The collaboration continues even when the meeting is over.
Meeting notes and recordings can be uploaded so you can have a single source of information for all of the participants.
The chat feature connects you with other team members so you can keep giving updates on the progress of the agenda covered and also set the cadence by setting up the following meeting.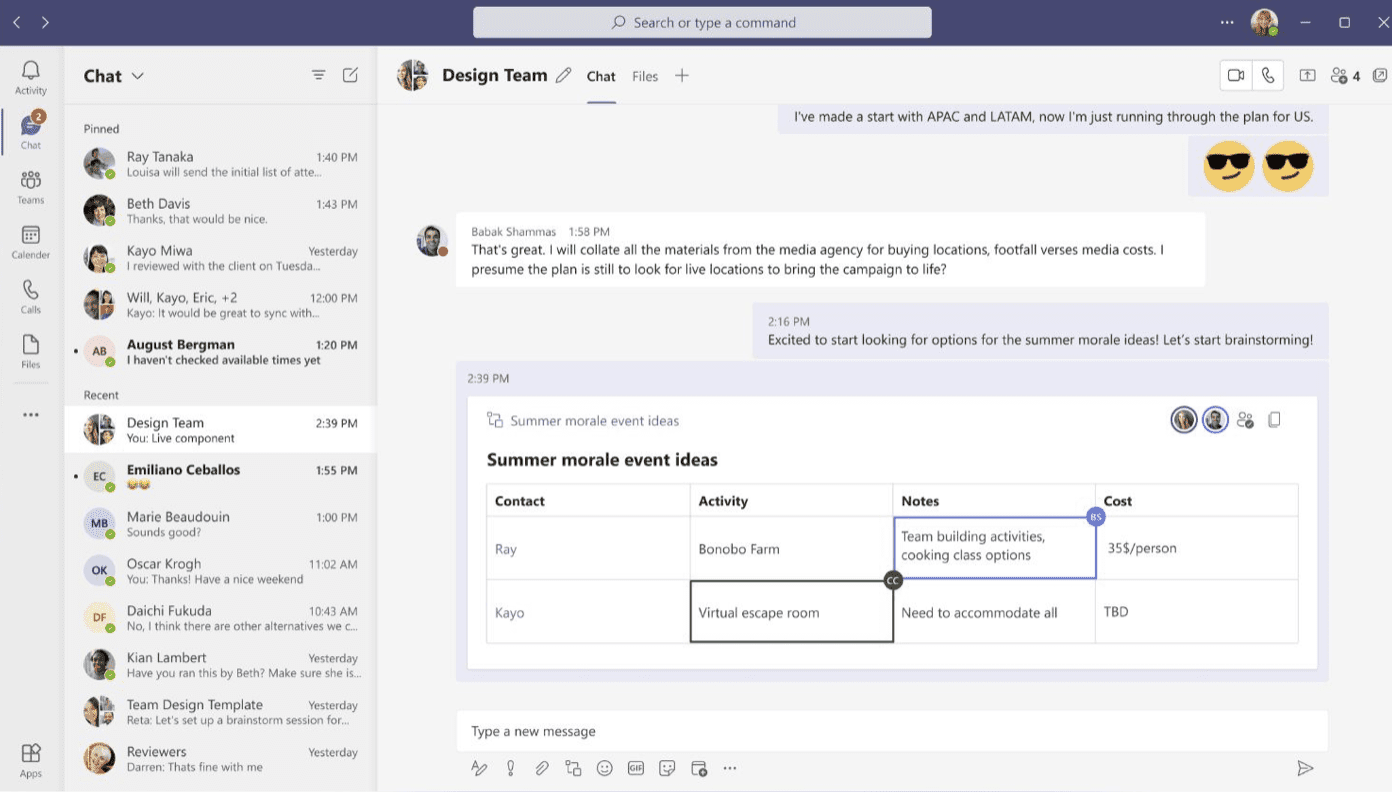 Pros And Cons Of Microsoft Teams
| | |
| --- | --- |
| Pros | Cons |
| Increases team productivity with comprehensive features | Confusing file structures |
| Seamless integration with Microsoft tools | Limited flexibility in replicating the structure of one team to another |
| Allows for cloud storage for meeting documents | Doesn't work well with Apple products |
| Granular permission for different user roles | A bit clunky navigation |
| Smooth and easy to use chat feature | |
Microsoft Teams Pricing Plan
Microsoft Teams is forgiving for those who don't have the budget for a paid meeting management software. It has a free plan you can take advantage of.
Microsoft Teams (Free): This allows for 100 participants, 60-minute meeting duration, meeting scheduling, screen sharing, 2GB file attachment on chat, 10 GB file storage, and more.
Microsoft 365 Business Basic ($5/user/mo): This basic plan lets you enjoy all Microsoft Teams features plus 300 participants, 24-hour meeting duration, 1 TB file attachments on chat, 1 TB file storage, and more.
Microsoft 365 Business Standard ($12.50/user/month): This one has all Business Basic features plus reporting feature, enforced multi-factor authentication, and more.
While you can always stick to the Microsoft Teams free version, the Business Basic and Business Standard both have one-month free trials you can avail of if you're looking to take advantage of more features.
12. GlobalMeet – Made For Online Events
Excellent Meeting Management Software For Large Virtual Events [Contact Sales To Get A Quote]
GlobalMeet caters not just to online meetings but also to much larger events like live streaming and live video webcasting- useful for events like online concerts and webinar workshops.
As for meeting needs, it has a meeting scheduler.
It also allows for simultaneous screen shares for meetings to be more collaborative.
Additionally, it also offers an unlimited cloud storage feature to record meetings for easy reference.
It's also equipped with a GSuite integration so that document sharing and calendar integration can be more efficient.
GlobalMeet truly lives up to its name having a function for multilingual support to cater to users all over the globe.
Moreover, its unique core feature is a digital whiteboarding function allowing you to brainstorm and collaborate much easier in real-time.
Lastly, GlobalMeet uses VoIP audio for improved clarity with the suppression of background noise so understanding the meeting will be at a much higher level.
Pros And Cons Of GlobalMeet
| | |
| --- | --- |
| Pros | Cons |
| Has a dedicated phone line and computer audio | No green screen option when sharing camera |
| Easy to navigate | Needs a feature to minimize audio feedback |
| Allows for easy integration with Outlook and Microsoft Teams | No transcript generation |
| Setting up just takes seconds | No attendee list alongside recording |
| User-friendly scheduler | |
GlobalMeet Pricing Plan
While GlobalMeet outlined what functions are available for each pricing plan, the actual price is left to be told by the sales support when you contact them.
Essential: This lets you have 1,000 viewers, event builder, audience engagement tools, screen share, password event security, detailed reporting and analytics, and more.
Professional: This plan has all features in the Essential plus 3,000 viewers, advanced security, advanced customized player and branding, live event script, and more.
Enterprise: As for the Enterprise plan, you'll get all in the Professional plus 10,000 viewers, simulated live presentations, duration-based certification, attendee portals, and more.
For simple online meeting needs, the Essential plan will suffice. But if you'll be catering to larger events such as webinars and conferences, the Enterprise plan carries the features needed.
Visit their site to get started on your plan.
13. MeetingKing – Excels In Meeting Administration
Excellent Meeting Management Software Small Teams [Free | $9.95/month]
MeetingKing makes it easy to plan, execute, and follow up on meetings.
Its collaboration tool has functions before, during, and after the meetings. With it, you can prepare the meeting agenda, share documents, record minutes, and provide updates on tasks.
Additionally, it stores all meeting materials in one place, making it easy to locate. It lets you identify and access the latest agenda and presentation. It also allows everyone to see the same notes and action items to keep everyone in the loop.
MeetingKing is equipped with a central interactive task list where a task manager sends automatic reminders so you're up-to-date on the tasks of each team member.
To stay on track in meetings, it has a "parking lot" feature where you take note of an issue or agenda outside the current topic so you can discuss it in another meeting.
For managers and team leaders, MeetingKing has a feature that keeps you updated on what was discussed, what was decided on, and what agreed actions have already taken place.
Lastly, you won't have to waste your time looking for a previous document or meeting note ending up discussing the same issues over and over again. This platform is primed with a search feature so you can easily search past discussions and action plans.
Pros And Cons Of MeetingKing
| | |
| --- | --- |
| Pros | Cons |
| Agenda and meeting minutes in one place | Lacks resource area for meeting-specific documents |
| See and modify notes easily on a mobile device | Can experience minimal software glitches |
| Integrates with Google calendar | Take time to set up meetings |
| Very intuitive so it's easy to use | |
MeetingKing Pricing Plan
MeetingKing has 4 pricing plans to choose from. What you'll choose largely depends on the number of people involved in the meetings.
Pro Single ($9.95/mo): This allows for 1 user, unlimited meetings, Google calendar integration, 1 GB storage space, and unlimited archive feature.
Pro Small ($39.95/mo): You'll have all of the features included in Pro Single but with 5 users, members account management and 5 GB storage space.
Pro Medium ($64.95/mo): For Pro Medium, you'll enjoy all features in the Pro Small but with 10 users and 10 GB storage space.
Pro Large ($124.95/mo): As for this one, you'll get everything in the Pro Medium but with 25 users and 25 GB storage space.
Again, your pricing plan depends on how many people are involved in the meetings. But for managing just a couple of people, the Pro Small or the Pro Medium will work just fine.
Want to grab this meeting management platform? Head over to MeetingKing to get started.
14. Samepage – Best For Collaborations
Excellent Meeting Management Software For Sales, Marketing, & Human Resource Teams [Free | $9.95/month]
Team collaboration is at the heart of this meeting management software, whether you work face-to-face or remotely.
Samepage makes meetings more productive.
Using a single collaborative document, you can do the following:
Take notes
Assign tasks
Schedule meetings
Prepare the agenda
There's no need to send a meeting summary after the call has ended.
Remote meetings get real-time results with this tool.
Start an audio or video call on an agenda and get everyone to see the same content and notes for quick and easy collaborations.
You can even communicate the way you want with Samepage. Conversations can take place not just in chat but also in pages, sheets, task boards, and mind maps making collaboration faster and task-specific.
As for the chat tool, it's directly connected to the content you are currently working on so you don't lose track of discussions and produce faster outputs.
Lastly, Samepage is equipped with integration features for Google Drive, Dropbox, and One Drive. Thus it's easier to keep discussions and content on a specific topic on one page.
Pros And Cons Of Samepage
| | |
| --- | --- |
| Pros | Cons |
| Project timeline transparency | Sluggish transfer speed |
| Collaborative ability with clients | Limited dashboard customization |
| Integrated file management | Cannot markup uploaded PDF files |
| Seamless task feature | |
| Ease of use | |
Samepage Pricing Plan
Samepage has a free version for those just starting out in using meeting management software. Plus 2 paid options for more functionality.
Free: This plan allows for basic document collaboration, task and event management features, communication features, basic folder sharing, basic date controls, and 2 GB storage.
Standard ($7.50/mo): The standard plan contains all in the Free plan plus full document collaboration, advanced folder sharing, extended data, and privacy controls, in-app support, 1 TB storage.
Pro ($9/mo): As for this one, it has everything in the Standard plan plus full folder sharing, complete data and privacy controls, single sign-on, priority support, and 1TB storage per member.
Start out with the free version until you see what added functionality you need for meetings.
15. Zoom – Trend Setter Platform
Excellent Meeting Management Software For Video Conferencing Needs [Free | $14.99/month/license]
Zoom is one of the most widely used video-conferencing tools to date.
For your meeting needs, it is equipped with streamlined calendaring where you can get support scheduling from Gmail, Outlook, or iCal.
It supports 1000 video participants with 49 videos simultaneously on screen that you can drag to position for easy visibility of key attendees.
It's designed to engage them with the following features:
Polls
Reaction
Hand-raising
Content sharing
Zoom also allows for collaboration tools that can be co-annotated.
Additionally, you can record the meetings with searchable transcripts.
Lastly, its chat feature makes activity history searchable and file sharing integrated.
If you're looking for Zoom alternatives – check out this article on that entire subject.
Pros And Cons Of Zoom
| | |
| --- | --- |
| Pros | Cons |
| Great video quality | Confusing controls |
| Has an option for virtual backgrounds | Face to voice distortion |
| Allows arrangement of collective sessions | Limited features displayed on the mobile version |
| Easy of use | |
| Efficient screen sharing | |
Zoom Pricing Plan
If you're hosting 100 participants or fewer and are holding meetings for less than 40 minutes, you can take advantage of the Basic (free) plan of Zoom.
But if you need more functionality, here are your choices:
Pro ($14.99/mo/license): This has all features in the Basic plan plus increasable participants to 1,000 with the Large Meeting add-on, group meeting for 30 hours, social media streaming, and 1 GB cloud recording per license.
Business ($19.99/mo/license): This one has everything in the Pro plan but with 300 participants, single sign-on, recording transcripts, managed domains, and company branding.
If you want uninterrupted meetings, go for the Pro version.
Interested in grabbing Zoom? Visit their site to get started.
Conclusion
Setting up meetings is tiresome, time-consuming, and requires tons of back and forth. So, when it comes to choosing the best meeting management software, you need to greatly consider the ease of use and its features.
In this list, Fellow is my recommended software. It's a central hub for all things meeting-related.
It helps in setting up meetings, taking note of action items, and making it easy to give and receive feedback.
On top of all those things, Fellow has an accountability feature that lets team members know who's doing what task.
Do you have a meeting management software in mind that I haven't included in this list? Or are you already using some of the software above?