There are a lot of networking monitoring software out there to choose from. New tools, software, and utilities are released almost every year in the ever-changing market for IT.
You can collect valuable data from various network parts in a network monitoring tool. As a result, the network will be easier to manage and control. Network monitoring focuses on monitoring performance, faults, and accounts.
As an experienced entrepreneur, I've experienced multiple network monitoring tools which have helped me find out what works the best for my needs.
In this article, I've outlined the best network monitoring tools, highlighted their main strengths, and explained why they're among the best tools.
Keep reading to find the software that works best for you and fits your business needs.
Let's begin.
What Is The Best Network Monitoring Software?
If you're in a hurry. Here's a quick overview of my top 3 picks: PRTG, Solarwinds, and Datadog.
| | | |
| --- | --- | --- |
| 4.8 | 4.5 | 4.2 |
| Best overall. Great for network monitoring and optimization. Starts at $1799/per license. | Best flexibility. Fast deployments while being highly intuitive to use. Starts at $1,638/Subscription. | Feature-rich. For real-time monitoring and network management. Starts at $5/month. |
| Try PRTG | Try Solarwinds | Try Datadog |
Now, if you want to know more about the rest of our picks in detail, let's get things started.
1. PRTG Network Monitor – Top Pick
Best Network Monitoring Tool For Most Optimized IT Infrastructure [$1,799/Server License]
Known for its advanced infrastructure management capabilities, PRTG Network Monitor software is one of the most widely used products in the industry. Easily view performance, alerts, and traffic for all your devices, systems, and applications in a hierarchical view. PRTG uses a variety of technologies to monitor the entire IT infrastructure, including
SNMP
WMI
SSH
Flows/Packet Sniffing
HTTP requests
REST APIs
Pings
SQL
Organizations with little experience in network monitoring software will find it the most suitable choice. It has a powerful user interface for a positive user experience that makes it very easy to use.
Here are some standard features that this network monitoring software offers:
Advanced Analytics: You can get insights in the form of graphs and tables based on multiple KPIs. The best ones to watch out for are cloud performance, server availability, database configurations, and bandwidth monitoring and utilization, among many others. All of these add to the overall application performance.
Broad Compatibility: An advantage of using PRTG is that you get immense compatibility with IoT and all network protocols.
Detailed Dashboard Analyzer: The maps and dashboards are present within the network monitoring software to provide you with real-time data and results.
Customizable Alerts: As an admin, you can get alerts using 10+ by 10+ prebuilt channels and customized templates and dashboards that contain 300+ mapped objects.
Multiple User Interfaces: PRTG allows multiple user interfaces with the help of a mobile app (Android and iOS), a desktop app, and a full-featured web interface along with intelligent wearables (powered with integrations).
Every PRTG Network Monitor license comes with a failover solution. The network management dashboard is therefore always available to you. Perpetual licenses for PRTG start at $1,799.
For large, complex environments, PRTG offers perpetual on-premise licenses, which makes it unique. However, the implementation process is lengthy due to the number of components you must configure.
Pros And Cons Of PRTG
| | |
| --- | --- |
| Pros | Cons |
| Easy to build custom report | Complex interface |
| Supports multiple alert mediums (calls, emails, etc.) | Requires a lot of practice |
| Has a freeware version | |
| Effective network performance monitoring | |
| Sensors designed for better individual app and server monitoring | |
PRTG Pricing Plan
PRTG offers five different pricing plans which are:
PRTG 500 ($1799/Server License): Allows you to monitor up to 50 devices and almost 500 aspects of your network devices.
PRTG 1000 ($3399/Server License): Allows you to monitor up to 100 devices and almost 1000 aspects of your network devices.
PRTG 2500 ($6899/Server License): Allows you to monitor up to 250 devices and almost 2500 aspects of your network devices.
PRTG 5000 ($11999/Server License): Allows you to monitor up to 500 devices and almost 5000 aspects of your network devices.
PRTG XL1 ($15999/Server License): Allows you to monitor up to 1000 devices and almost 10,000 aspects of your network devices.
I suggest using PRTG 500 if your network monitoring needs are not that high.
2. Solarwinds – Best IT Monitoring Solution
Top-Tier Network Monitoring Software For Large IT Environments [Free Trial Available | $1,638 Subscription/ Quote Based Pricing]
With SolarWinds Network Performance Monitor, your network can be monitored quickly and easily. Upon discovery of network devices, the tool automatically deploys them within an hour. The user interface is intuitive and easy to use due to its approach to overseeing an entire network.
There is a great deal of customization available in the product, and the interface can be easily managed and changed quickly. Users can customize dashboards, charts, and views on the web to meet their needs. For your entire network infrastructure, you can design a topology that is tailored to your needs. Additionally, you can create intelligent alerts based on dependency, as well as several other features.
Here are some of the features offered by Solarwinds:
Minimum Network Outages: Solarwinds reduces network outages by timely identifying network issues and glitches in network performance through quick diagnoses. It also resolves any issues in no time to avoid unnecessary network outages.
Effective Monitoring: Check which applications are consuming the most bandwidth to control the overall network speed. You can also keep an eye on multiple apps in this way.
Real-time Alerts: You can receive immediate alerts based on traffic activity changes (traffic analysis).
Alternate Monitoring: If the network monitoring software is not providing timely network performance data, you can also set up real-time alerts instead.
Easy Identify: Identifying the root cause of network performance is accelerated by simply dragging and dropping the metrics on a standard timeline.
Pros And Cons Of Solarwinds
| | |
| --- | --- |
| Pros | Cons |
| Have useful real-time alerts | Difficult for non-technical users to navigate and use |
| Auto-discovery mode helps with network performance | Poor integration with third-party tools |
| Free trial available | |
Solarwinds Pricing Plan
Solarwinds network monitoring software comes with a custom pricing plan. However, the subscription version starts from $1638 and Perpetual License starts from $2995. Further, you can have a 30-day free trial to test out the product.
I recommend utilizing the trial period to first analyze the product. Once you're satisfied, you can request a quote.
3. Datadog – Excellent Real-Time Network Monitoring
End-To-End Network Monitoring And Optimization [Free Trial Available | $5/mo]
In addition to exploring networks, Datadog can detect all devices connected to it. The network monitor will use this information to build an asset inventory and draw up a topology map of the network. As a result, the setup routines for the system are performed on their own.
In addition to providing end-to-end visibility of all connections, Datadog also reports performance issues. You can access cloud-based dashboards through standard browsers. Data on network performance is centralized from many sources, covering the entire network, end-to-end.
Here are some of the features that Datadog offers:
Exceptional Dashboards: Setup networks and investigate them without any hassle using Datadog. You can view all analytics that are important to you straight from the dashboard.
Environment Scans: Without any action on your part, the network monitoring software's watchdog environment scan will help you deal with any network anomalies in your environment.
Integrations: More than 500 integrations are at your disposal when it comes to making processes more manageable.
Built For Enterprise: Datadog is trusted by many renowned companies worldwide for their network monitoring and optimization needs.
Pros And Cons Of Datadog
| | |
| --- | --- |
| Pros | Cons |
| Has an intuitive interface | A short trial period is available only |
| It provides a holistic view of network performance | |
| The auto discovery feature allows automatic network discovery | |
Datadog Pricing Plan
Datadog comes with a 2-week free trial for you to check out the product and test its capabilities. Further, there are two pricing plans available for Datadog:
Network Performance Monitoring ($5/host/mo): In this pricing plan, you'll receive the ability to do network traffic mapping, meaningful traffic aggregation, hybrid, on-premise, and cloud coverage as well.
Network Device Monitoring ($7/device/mo): In this pricing plan, you'll receive the user-defined tagging, device auto discovery, and the ability to carry out deployment in minutes.
My recommendation is the Network Performance Monitoring plan since it's cheaper and includes all features that you would need.
4. ManageEngine OpManager – Most Cost-Effective Network Monitoring Solution
User-Friendly Network Monitoring Tool [Start With A Free Trial | Custom Pricing]
Monitor a network system in real-time with ManageEngine OpManager, a network monitoring solution that monitors servers, routers, switches, and virtual machines. The dashboards can be customized by adding more than 200 widgets to create your own unique monitoring experience.
With SNMP monitoring, you can keep track of the performance of all the devices in your network. New devices can be automatically discovered and mapped with network mapping for greater visibility. Network discovery can be scheduled to find new devices once they've been added to your network.
You can respond quickly to performance changes by using the alerts system. As a result of ManageEngine OpManager's network events correlation, only relevant alerts are presented to the user to minimize false positives. Alerts are sent by email and SMS to keep you up to date on any emerging issues.
Here are the key features of ManageEngine OpManager:
Simple Interface: This network monitoring software works best for new users as well as those users who are non-technical due to its easy-to-use interface.
Automatic Discovery: Automatically find network issues or performance glitches without any hassle.
Let's take a look at ManageEngine OpManager's strengths and drawbacks.
Pros And Cons Of ManageEngine OpManager
| | |
| --- | --- |
| Pros | Cons |
| More than 200 customizable widgets | Requires time investment to learn correctly |
| Uses intelligent alerting to reduce alert fatigue and false alarms | |
| Easy to integrate with other ManageEngine products | |
ManageEngine OpManager Pricing Plan
ManageEngine OpManager works on a custom pricing plan. You can get a quote based on your network, and IT needs.
5. Site24x7 – Most Featured Network Monitoring Software
Excellent Network Monitoring Tool [Starting From $9/mo]
Site24x7 provides monitoring services for networks, servers, and applications. By exploring the network for connected devices, the system monitors the network 24/7. Further, IT draws an inventory and topology map of the network according to its findings.
In the Network Monitor, devices are polled every minute using the Simple Network Management Protocol (SNMP). These responses reveal any changes in the network infrastructure that need to be updated in the inventory and topology map.
The monitor's dashboard interprets the results of the devices' responses into live data. Users can customize the screens if they want a tailored experience. Further, you can access the dashboard of Site24x7 through any standard browser.
Here's a list of features offered by Site24x7:
Network Health: Stay on top of your network's health with up-to-date information on your CPU time and performance data storage.
Ease of Use: Easy interface to navigate for non-technical users.
Useful Alerts: Get notified of important notifications such as device issues, resource shortages, and performance issues.
Let's take a look at Site24x7's strengths and drawbacks.
Pros And Cons Of Site24x7
| | |
| --- | --- |
| Pros | Cons |
| It provides holistic network monitoring | It is feature rich and may take users some time to learn fully |
| Real-time data is used to provide valuable data and network analytics | |
| User-friendly network monitoring software | |
Site24x7 Pricing Plan
Let's look at the paid subscriptions that Site24x7 has to offer.
Starter ($9/mo): With this package, you'll receive 10 websites/servers, 1 synthetic web transaction, 1-minute Poll Frequency, and the ability to select from over 120+ locations.
Pro ($35/mo): With this package, you'll receive 40 websites/servers, 3 synthetic web transactions, 1-minute Poll Frequency, and the ability to select from over 120+ locations.
Classic ($89/mo): With this package, you'll receive 100 websites/servers, 5 synthetic web transactions, 1-minute Poll Frequency, and the ability to select from over 120+ locations.
Enterprise ($225/mo): This is the most expensive plan of Site24x7, which is perfect for enterprises with significant network monitoring needs.
You can try Site24x7 by getting a 30-day free trial. For subscriptions, I recommend the starter plan which can help fulfill your basic network monitoring needs.
6. Atera – Secure And Effective Network Management
Top-Notch Network Management Tool [Start With A Free Trial]
Managed service providers can use Atera as a package software solution. Using this SaaS platform, you can automate your professional services and monitor and handle your business remotely.
An agent deals with remote monitoring through the Windows Server. Agents enable services to scan networks and identify the network devices they run on. Agents act as SNMP managers and perform this task using SNMP (Simple Network Management Protocol).
As a result of the SNMP system, agents can identify traps, which warn of potential problems with devices. Atera shows these traps as alerts on the dashboard for network monitoring. In addition to the main subscription packages, Atera offers an automated topology mapping service.
The features that Atera offers are:
Constant Monitoring: All your connected devices are continuously monitored and you're able to receive real-time status updates as well.
Customized Alerts: Set alerts of the information important to you.
Automated Reports: Help you keep an eye on system health, performance, and assets.
The software's strengths and drawbacks are:
Pros And Cons Of Atera
| | |
| --- | --- |
| Pros | Cons |
| Includes remote system management tool | Network mapping costs extra |
| Has real-time alerts | |
| Has remote automated network discovery | |
Atera Pricing Plan
Atera pricing plan isn't unavailable on the website. However, the software has a free trial to get you started.
7. Nagios XI – Fastest Network Monitoring Solution
Reliable Network Maintenance Solution [Starting From $1995/License]
Designed for freelancers, SMBs (Small-to-Medium-Business), and large corporations alike, Nagios XI appeals to a wide audience. This makes Nagios's XI pricing model one of the most flexible. It offers a free version, open-source, one-time license, and subscription. The tool provides a high degree of flexibility (thanks to its ability to integrate plug-ins).
This tool focuses on network performance monitoring which enables better network performance and low network downtime. The most important IT components that Nagios XI monitors are database, network, and infrastructure.
As far as installation goes, it's pretty basic, however, it might take you some time to get used to the software. You can auto-discover devices with Nagios XI which is a bit let down. If you want monitoring done for devices, add them manually using a configuration file.
Here are some features that Nagios XI comes with:
Easy Monitoring: Monitor nodes and the uptime without any hassle.
Reporting: You get a visualization of data that is easier to understand.
Issues Monitoring: Keep an eye out for network issues and help in troubleshooting them before they cause a problem.
Operating Systems: Microsoft, VMWare, and Linux are the OS that Nagios XI supports.
Pros And Cons Of Nagios XI
| | |
| --- | --- |
| Pros | Cons |
| Open-source | It doesn't support auto-discovery mode |
| Simple and user-friendly interface | Complicated to install and get started |
| Multiple alerting options | |
Nagios XI Pricing Plan
It only comes with a 30-day free trial after which you'll need to choose from the following two pricing options:
Standard Edition ($1995/license): With the standard version, you'll receive advanced features such as GUI configuration, customer user dashboards, custom user views, summary report, custom actions, advanced reporting, and notification escalations.
Enterprise Edition ($3495/license): With the Enterprise version, you'll receive different reporting options (capacity planning, managed reports, and SLA reports), you can also schedule reports, use bulk-modification tools and perform audit logging. Everything from the standard edition is included in this pricing plan.
Try Standard Edition to improve your software understanding as well as to understand your network monitoring needs.
8. Zabbix – Best Open-Source Network Monitoring Software To Use
Network Monitoring System For Unlimited Scalability [Free]
Zabbix is an open-source network monitoring software that is best for higher scalability. It helps with:
Applications
Services
Networks/LAN/WAN
Servers
Cloud Services
You get advanced modules, wireless network configuration, configuration management, auto alerting, higher response time, traffic monitoring, and remediation, all completely free. This software is providing solutions for multiple sectors such as retail, government, and aerospace among many others.
As far as its interface is concerned, Zabbix offers a decent, easy-to-use interface that helps users navigate easily. The Web GUI is also aesthetically pleasing with multiple configuration options to make it useful for your specific needs.
The trending functionality and monitoring capabilities of Zabbix are second to none, especially considering that you can get full-featured access for free. Further, Zabbix can help you forecast traffic easily with calculated traffic measurements and behavior based on the available data.
The features of Zabbix include:
Data Gathering: You can gather network data easily with extendable and flexible options.
Auto-detection: Zabbix is equipped with one of the most important features – the ability to detect network devices and to catch any changes in the device's configurations.
Advanced Alerts: Receive notifications and alerts for the information important to you through multiple supported mediums.
Escalation: Develop multiple scenarios for escalation using Zabbix's latest version.
Let's look at Zabbix's pros and cons.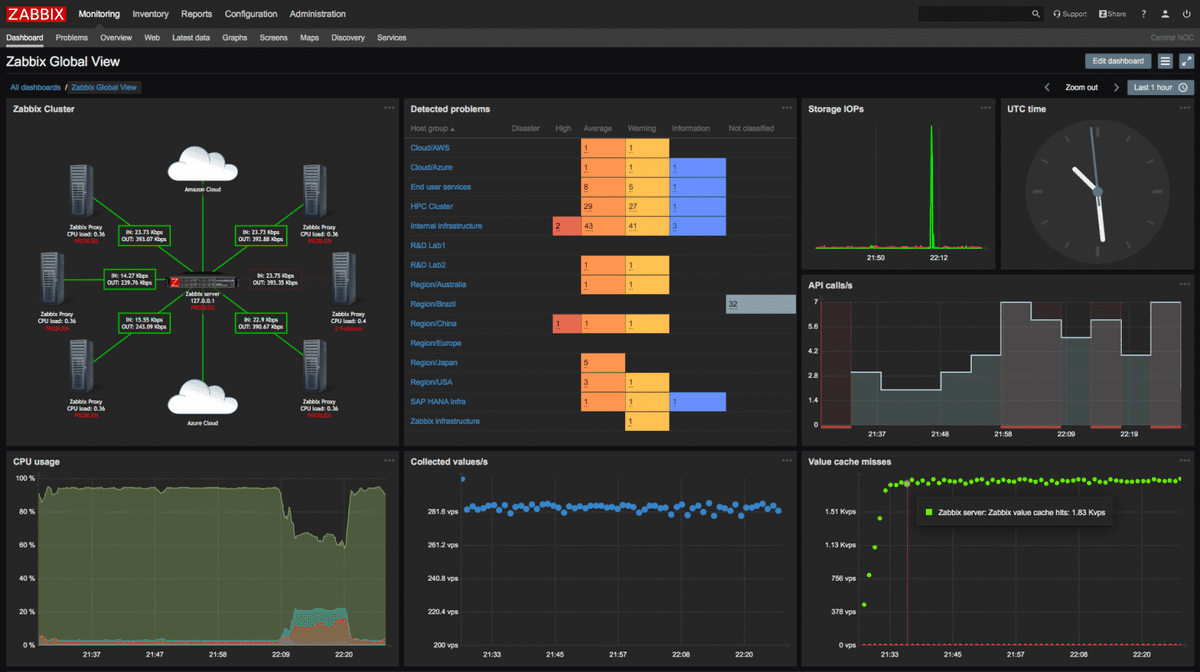 Pros And Cons Of Zabbix
| | |
| --- | --- |
| Pros | Cons |
| Open-source networking monitoring | Weak user interface |
| Auto-detection of new devices and networks | |
| Robust alerts system | |
Let's look at Zabbix's pricing plan.
Zabbix Pricing Plan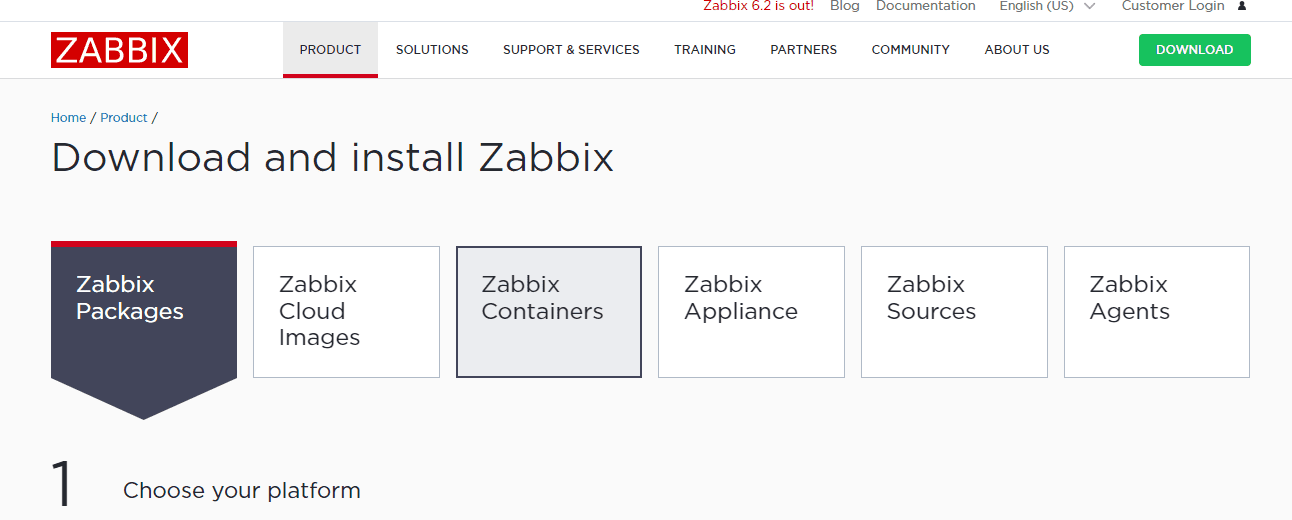 Zabbix is a truly open-source solution and is available to everyone for free. Just fill out the form and get started once you download the software and install it.
Conclusion
There you go.
My top picks are PRTG, Solarwinds, and Datadog. For ideal data and network monitoring, I recommend PRTG. Whereas, Solarwinds is more useful in terms of IT infrastructure health and management. Finally, Datadog is great in terms of providing the ultimate end-to-end network monitoring experience with many useful features. Find out which one works the best for you.
Need more expert opinion on other types of software? Check out our software reviews to learn more about useful solutions for your business needs.