Online courses and e-learning are exploding in popularity and the industry will continue to expand as more and more people turn to virtual classrooms. 42% of U.S. organizations have also experienced a boost in income thanks to this upward-trending industry which is estimated to grow to a worth of $325 billion by 2025. 
With the worldwide e-learning market set to soar to such heights, there are countless opportunities right now for those looking to profit from sharing their knowledge and skills.
If you are interested in developing any type of digital training to help others enhance their knowledge, this guide is for you. In it, we take a look at some of the best online course platforms of 2022 to help you determine which one is the right one for you.
We have researched dozens of options and reviewed 17 of the top platforms that have everything you need to be successful in creating and selling courses online.
This guide compares and ranks the software based on features, marketing tools, reliability, ease of use, and technical support. With it, you will be able to quickly cut through the clutter to find the best learning management system for you.
So, without further ado, let's dive right in!
What Are The Best Online Course Platforms?
To get started offering your own training online, you need a reliable online course platform (also called a learning management system, or LMS). This is undoubtedly one of the most important components, and there are tons of options to choose from.
But not all platforms are created equal, and it's crucial to understand the different features each one offers so you can choose the one that is best suited to your needs.
Essentially all learning management systems have the following 'standard' uniform features:
Apps and Analytics (quality varies)
Assignment submission
Capacity to upload or download files
Discussion forum
Grading
Instant messages
Online quiz
Online calendar
Online announcement and news (institution or course level)
Widgets for connection to various social media platforms
Since many online learning platforms are so similar, you must consider the following factors in choosing the one that is ideal for your needs:
Ease of Use: Consider your skill level, as well as the technical experience of your students.
Reliability: Is the LMS provider a long-established company with a good reputation?
Appearance: Does the platform have a professional look and feel?
Third-Party Integrations: Is there an ability to integrate with various other platforms and student information systems?
Customer Support and Training: Does the platform offer great support or help with course design, upgrades, etc.?
Special Features: What special features do they offer that differentiates them from the other online learning platforms?
Cost: Is this an affordable platform or will it require a significant investment upfront/every month?
At this point, many people start to wonder, "Why can't I just use a site builder like WordPress instead of an online course platform?"
While it's definitely possible for you to build your training portal using a site builder, you will spend so much more of your money and time re-inventing something that is already out there. By using a pre-built solution, you will save a lot of time and money, as well as provide a much better experience for your students.
So, now that you know what to look for in a learning management system, here are 17 of the best online course platforms of 2022:
Thinkific is the best online course platform currently available. It's an all-in-one solution that helps you not only create online training courses but also allows you to market them effectively.
With the easy-to-navigate course builder in this popular cloud-based software, you can create and customize your courses to match your brand. Thinkific's user-friendly dashboard also lets you manage clients, payments, integrations, course materials, and more.
This makes it a great option for anyone who wants to run their entire digital course business from one convenient place
Key-Features
Whitelabel Capabilities – Thinkific gives you the ability to white-label all your course materials.
Drag and Drop Feature – Lets you organize your web content quickly and easily.
Set Course Expiry – You can set a time limit to each course that you create.
Sales Page Builder – This helps you create beautiful pages for marketing your course.
Pros and Cons
| | |
| --- | --- |
| Pro | Con |
| Powerful course and sales page builder | Does not offer a mobile app |
| Beginner-friendly interface | 2-step checkout process not optimal for conversions |
| Zero transaction fees on all plans | Does not support Paypal recurring payments |
| Built-in support for advanced course elements | There is no live chat support |
Best suited for
This platform is best suited for online course creators who want to run their businesses from one place while keeping things simple.
Teachable is our second pick because it's a website that provides a user-friendly yet powerful course-building interface. With this cloud-hosted LMS solution, there is no advanced technical skill needed and you will be able to set up a fully-functioning course with just a few clicks of the mouse.
Everything is set up via your dashboard, including your course content, payment system, your course sales page, and your affiliate center. Teachable offers an in-house payment processor that accepts payments for you. Their plans differ in price according to the different features, which means you won't have to pay for any features you don't need.
Key-Features
Multi-Media Lectures – Teachable excels in helping you create engaging courses.
Import Content – Easily import content from Dropbox, OneDrive, and Google Drive.
Course Certificates – You can issue certificates for course completion.
Convenient Payment – Teachable accepts payment from over 130 currencies.
| | |
| --- | --- |
| Pro | Con |
| Powerful reporting and analytics for courses | Limited site customization capability |
| Comes with an iOS App | No support for advanced quiz features (eg. question banks) |
| Well-optimized, 1-click checkout process | Limited payment options for recurring subscriptions |
| Handles Digital Goods VAT Tax for EU | Very few direct third-party integrations |
Best suited for
Teachable is ideal for online course creators who don't need deep customizations but want quick set-up speed and ease of use.
Kajabi is a well-known online course platform with numerous site themes to help you create in-depth courses. With this software's easy to use dashboard, you will be able to build your own customized digital training with ease.
It's a tool that is ideal for running a course business and it has the advantage of powerful features that are built with non-technical users in mind. This means that you can get your course up and running without the need for any existing web designing skills.
Kajabi is among the most complete cloud-based learning management systems you'll find anywhere.
Key-Features
Email Solution – With Kajabi's built-in email marketing solution, you don't need a separate provider.
Multiple Site Pages – It allows you to create many pages for your static site.
Drag-and-Drop Editor – Build stunning pages without any need for coding skills.
24/7 Support – The site offers support around the clock.
Pros and Cons
| | |
| --- | --- |
| Pro | Con |
| All-in-one solution ideal for beginners | Does not allow the creation of certificates natively |
| Well-designed themes with limitless customization options | Does not handle EU VAT Tax |
| Android/iOS mobile app | The starting price is pretty steep |
| Marketing automation tools | No support for advanced quiz elements |
Best suited for
The ideal Kajabi user is someone who wants a powerful email platform and advanced marketing automation tools directly in their learning management system. The software is perfect for both beginners and advanced marketers alike.
Podia is an easy-to-use e-learning platform that lets you create, host, and sell your digital training. It's among the simplest course platforms and helps you manage your course content, students, and payments with ease.
Podia also supports live chat messaging, making it easy to communicate with your students. The platform is great for course creators who want to design eye-catching programs. With this software, you will be able to process secure payments quickly and easily.
No technical skill is needed, and the streamlined user interface makes managing your entire online course business a breeze. Customer service is very responsive and you can get help through email or live chat.
Key-Features
Digital Downloads – This platform handles all your digital downloads, such as PDFs, ebooks, checklists, and more.
Built-in Email – Podia has tools designed to help you improve your email marketing results.
Live Previews – The platform offers convenient live previews.
Locked Content – You can control content access for individual users.
Pros and Cons
| | |
| --- | --- |
| Pro | Con |
| Clean, modern design for student area | Doesn't support cloud import |
| You can create individual 'posts' for members | No course completion certificates |
| Free migration to Podia | Does not offer a mobile app |
| Ability to integrate Podia checkout to any site | Not ideal for building a multi-page site |
Best suited for
Podia is an all-in-one solution that is best suited for anyone who wants to keep their course creations and marketing simple and in one place. It's particularly ideal for beginners who want to get up and running as quickly as possible.
LearnWorlds helps you build and sell your online courses even if you have no prior experience. From responsive templates to marketing automation, this site provides everything you need to get started and start making sales from your audience.
You can build unique and professional-looking courses and online training programs from the many different styles available. This all-in-one platform has tons of options to satisfy the different needs of digital information publishers.
Once you sign up, you'll gain access to your admin area where you will see a feature-rich dashboard with everything you need to get started.
Key-Features
Built-in Social Network – Learnworlds allows your students to connect with each other.
Powerful Page Builder – Create fantastic sales pages from hundreds of quick-start templates.
Assessment Engine – Every plan includes advanced quizzes, assignments, exams, and more.
Interactive Ebooks – Allows your learners to make annotations as they read.
Pros and Cons
| | |
| --- | --- |
| Pro | Con |
| Customize logo to match your brand | Does not support bulk uploading |
| Ability to create a blog natively | Does not offer a mobile app |
| Offers copyright protection for your content | There are no site themes |
| Powerful online community building features | You can't offer Paypal and card options together |
Best suited for
Thanks to its ease of use, this platform is great for beginner online course creators. But it's even more ideal for advanced trainers who want more robust features compared to what other platforms offer, such as social learning tools, interactive ebooks, and popup text.
Learndash is a popular WordPress LMS plugin that helps you set up courses online quickly and easily. This self-hosted platform essentially gives you full control over your own course creation and customization.
There are no limits with this powerful tool. It features an intelligent course builder, as well as course completion certificates and badges. No technical skills are needed, beyond knowing how to navigate your WordPress dashboard.
Once you purchase the LearnDash license, you will get instant access to the online account area where you can download the plugin. However, you may have to spend a bit of time on the integrations of different plugins.
Key-Features
Advanced Quiz – This feature lets you create extremely complex quizzes and assessments.
Learner Progress – LearnDash offers a sleek profile area where learners can keep track of their progress.
Course Progression – You can prevent learners from advancing until they have completed previous lessons/quizzes.
White-Labeling – White label every aspect of your course to your business.
Pros and Cons
| | |
| --- | --- |
| Pro | Con |
| Intelligent course builder | May not be easy to use for non-WordPress users |
| Lets you create custom messages for learners | Vast documentation and lots of help videos can cause analysis paralysis |
| You can give video, text, or image hints to users | No free trial to test the plugin before committing |
| Very helpful community forum and support | Need to update plugins regularly |
Best suited for
LearnDash is ideal for creators who want to complete control over their online course business, including branding and customer information. It's perfect for those already using WordPress who are okay with the additional maintenance that comes with the LMS plugin.
Simplero is a robust online course creation platform that lets you scale your business using automated marketing tools. This cuts out the need to get more people involved as your business grows, saving you lots of money and time.
With this software, you will have the ability to quickly grow your email list, send broadcasts, and sell your memberships and courses without all the tech issues that normally accompany such a business model.
Simplero also helps infopreneurs provide value to their audiences in an effective way and helps them to leverage an existing marketplace to generate new members.
Key-Features
Affiliate Management – This software lets you manage all your affiliates from your dashboard.
Email/Online – Integrated email marketing tools help you provide a streamlined user experience for your learners.
Affiliate Tracking – Keep an eye on marketing activities easily with the affiliate tracking feature.
Commission Management – Manage and track sales from your affiliates for quick and accurate compensations.
Pros and Cons
| | |
| --- | --- |
| Pro | Con |
| Simple to use, great for beginners | Too many features to choose from |
| Complete functionality ideal for growing businesses | Not enough design customization abilities |
| Sophisticated affiliate schemes | No multi-lingual support or tutorials |
| Robust marketing automation tools | Back-end user interface doesn't look sleek |
Best suited for
As suggested in the name, Simplero is great for marketers and coaches who want a simple, yet powerful tool with various marketing automation features to help them grow their business at scale.
Ruzuku is a powerful and sophisticated online course creation tool that is designed to help you get your course built and sold in the shortest time possible. The platform gives you the ability to create a basic outline for your curriculum with ease.
Packed full of helpful features, this software can handle all media formats, including PDF, audio, and video. You can also offer webinars through Ruzuku's teleconferencing system. The platform is built with non-technical users in mind, which means that you only need basic skills to navigate its interface and create your first course.
Key-Features
Technical Support – Ruzuku provides your students with helpful support on how to use the platform.
Webinar Hosting – The software lets you run webinars through the teleconference interface.
Optimized Checkout – Ruzuku has an optimized checkout process to help you generate more sales.
Email Integration – The platform integrates with Mailchimp email marketing software.
Pros and Cons
| | |
| --- | --- |
| Pro | Con |
| Allows you to re-run previous courses | Only supports two payment processors |
| Ability to host video and audio streams | Customizations options are limited |
| Send email course announcements to students | Webinars can only host a certain number of students |
| Unlimited webinars | No customer support chat, only email |
Best suited for
Ruzuku is the ideal online course creation platform for you if you not only need to create beautiful, multimedia courses but also need to run webinars for your students, as well.
Academy of Mine offers a complete and sophisticated learning management system. With this software, you can create courses, build fully-fledged websites to host your courses and market your creations to your audience – all from one easy-to-navigate dashboard.
Although not as popular as the other tools listed above, the Academy of Mine platform is still a powerful and affordable way to share your knowledge and expertise with your students. It's undoubtedly one of the best ways to market continuing education, professional training, and certification.
The platform is also customizable and scalable, giving you the ability to match your course to your brand.
Key-Features
Interactive Content – Keep students engaged with interactive PPT, PDF, and video content.
Self-Paced Courses – Students can complete the courses as quickly or as slowly as they wish.
Customized Features – The features on the platform can be customized to suit your needs.
3rd-Party Integrations – Software integrates easily with various other tools.
Pros and Cons
| | |
| --- | --- |
| Pro | Con |
| Custom-built solutions to suit individual needs | Needs initial work to customize site to your needs |
| Easily connects to other marketing tools | Not enough in-depth video guides |
| SCORM/xAPI compliant | Simple report system |
| Built-in support for certificates and gamification | Pricing is a little steep for beginners |
Best suited for
This online course platform is great for any organization that requires a custom-built e-learning platform. This includes businesses in continuing education, healthcare, safety training, law, and insurance.
AccessAlly is one of the leading all-in-one WordPress plugin LMS options available on the market right now. It offers a wide range of important features that are designed to help you create your digital course quickly and get it to market.
The plugin has a drag-and-drop page editor that allows you to easily create quizzes, assignments, and exams. You will also be able to keep track of your learners' progress and award certificates for completion. This robust tool also includes membership management software, as well as conversion-focused order forms.
The payment system is set up to allow both one-time and recurring payments. It can also create upsells and cross-sells for your course, as well as run your entire affiliate program. As you can see, this WordPress course plugin has a lot to offer anyone who is serious about growing their online course business.
Key-Features
Tag-Based Automation – This feature helps you sell more of your courses and deliver optimal UX.
Membership Site – AccessAlly has all you need to build a thriving membership site.
Student Segmentation – Allows you to segment your learners based on where they are in the course.
All-in-one Solution – This WordPress plugin doesn't require numerous add-ons and integrations.
Pros and Cons
| | |
| --- | --- |
| Pro | Con |
| Fully-fledged membership management tool | The checkout page is not fully optimized |
| Robust marketing automation features | Not ideal for non-WordPress beginner users |
| Affordable pricing for such a wide range of features | There's a lot to learn before making the most of the tool |
| Gamification and blended learning | Too many options and capabilities may be confusing |
Best suited for
AccessAlly is ideally-suited for organizations that require complex membership site designs and setups. It's also great for digital training providers looking to scale their memberships without incurring more work or expense.
LifterLMS is yet another well-known WordPress learning management system that offers an all-in-one solution for running your course business. The software offers a lot of powerful features that aren't available in other cloud-based or WordPress plugin LMS options.
If you are already a WordPress user, then getting up to speed with the features in this tool will be easy. All you need to do is integrate the self-hosted LifterLMS plugin with your email marketing software and payment processor.
You can then upload your online course content and configure everything from your WordPress dashboard. There are fewer integrations and you won't have to piece together different solutions to get the results that you want.
Key-Features
Complete Solution – Complete solution for all your online course creations and marketing needs.
Automated Setup – Use the default theme to get everything else set up for you, including login, registration pages, order forms, etc.
Notifications – This feature allows you to show notifications to the learners after they take an action toward completing the lesson.
Reporting – The software provides in-depth reporting to help guide your marketing decisions.
Pros and Cons
| | |
| --- | --- |
| Pro | Con |
| Countless positive reviews online | Does not include email marketing |
| Provides a great user experience for customers | Cannot be used for other content management systems besides WordPress |
| Build unique and attractive courses | UI does not fit well on smaller screens |
| Lots of available 3rd-party integrations | Priced higher than many other alternatives |
Best suited for
LifterLMS is designed for digital course creators who would rather have full control over their courses, brands, and customer information.
Digital Chalk is a cloud-based all-in-one course creation and selling platform that provides a sustainable online learning strategy. Whether you're an expert wanting to sell courses or an organization looking to train employees, this platform has everything you need all in one convenient place.
Each new Digital Chalk customer is provided with product training and assigned a Quick-Start Success Manager at no additional cost. This is ideal for those who are completely new to the world of online course creation and marketing and will help you get your course ready in no time.
Key-Features
Guided Migration – Digital Chalk experts will help you move from your current LMS.
Custom Branding – Deep customization features allow you to make your course unique.
Easy Analytics – The custom reports provide you with data to measure your business results.
Unlimited Storage – With this tool, you can create as many courses as you like.
Pros and Cons
| | |
| --- | --- |
| Pro | Con |
| Great for hands-off course delivery | No function for student revisions |
| Clean, functional, and user-friendly interface | No notification for course module completion |
| Easy integrations with 3rd-party tools | No free trial available |
| Quiz randomization feature improves engagement | Limited customer support software |
Best suited for
Digital Chalk is great for online course creators who want to build highly engaging courses featuring animated PowerPoint, HD videos, quizzes, and SCORM content. It's ideal for anyone who wants hands-free course management and delivery system.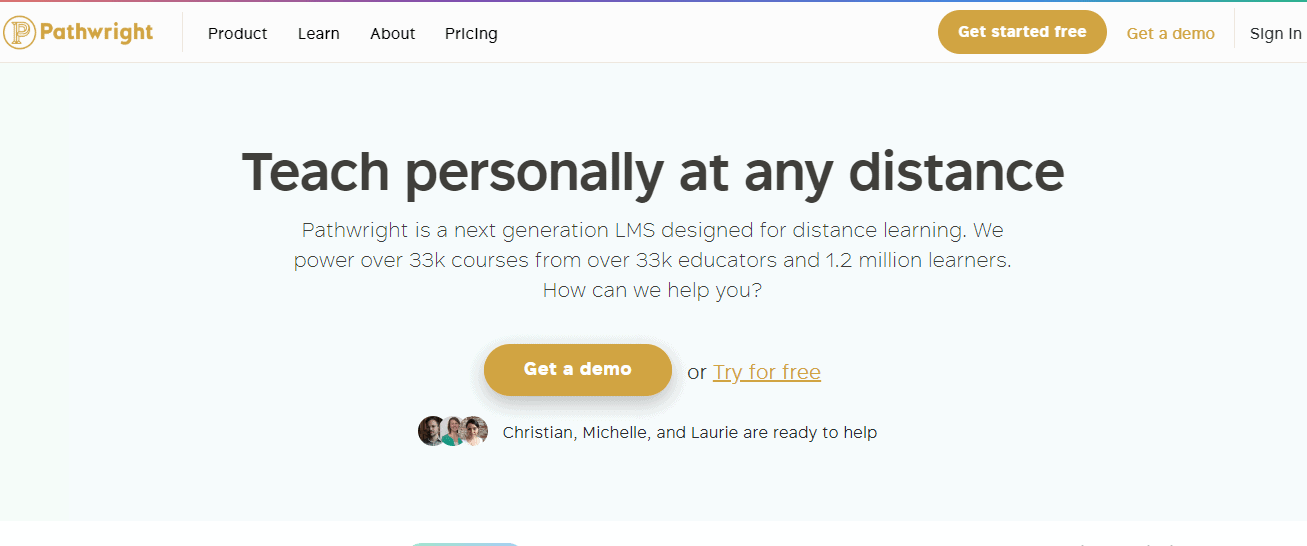 Pathwright is a course building tool that enables organizations to create customized courses to educate their employees. The software is also ideal for teachers who want to develop online courses for students. You can import course content onto the platform from many different applications.
The course material can be presented in multiple media formats and this Pathwright allows you to publish courses in a variety of ways, including an LMS, training software, or as stand-alone computer/web-based training. This platform has a lot to offer organizations and coaches who value a design-oriented approach to imparting knowledge.
Key-Features
Learn Anywhere – Pathwright can be used on devices of all screen sizes.
Immersive Learning – The software creates a step-by-step path for learners to follow.
Easy Annotation – Learners can easily take notes on the things they learn.
Chat Feature – Allows discussions between you and your learning community.
Pros and Cons
| | |
| --- | --- |
| Pro | Con |
| Great e-commerce applications | No customization options for content block |
| Offers convenient mobile learning app | There's a bit of a learning curve |
| Flexible, professional and intuitive UI | Online chat support can be slow |
| Seamless transition between creator and learner view | No reports on customer data and insights |
Best suited for
Pathwright is enterprise power offered at a personal scale, which makes the platform ideally suited for small to medium-sized businesses with a need for customized courses and online training.
Zippy Courses is a tool built by online course creators for other course creators. It is a complete set of tools designed to help you build, teach, and sell your course in the quickest time possible. Some LMS tools are optimized for course creations, while others are optimized for selling.
This standalone course building tool claims to solve the 'course-building puzzle', by simplifying both the creation and marketing of a course. The Zippy Courses interface is sleek and professional-looking, with a dashboard that is very easy to navigate.
You can customize your course to match your branding and you can also use access tiers to sell different versions of the same course.
Key-Features
Drag-and-Drop Editor – Build your courses faster with a simple drag and drop editor.
Launch Windows – This helps you enroll more students with 'evergreen' courses.
Drip-Content – You can either release your course at once or in installments.
Access-Tiers – Use this feature to turn one course into multiple courses for different levels.
Pros and Cons
| | |
| --- | --- |
| Pro | Con |
| The course user interface has a professional appearance | Some of the content addition processes are not optimized |
| Flexibility to create multiple payment options | Videos must be hosted elsewhere |
| Ability to create complex quizzes and infographics | You can't set emails to go out on specific dates |
| No tech experience necessary | Customer support sometimes slow to respond |
Best suited for
Zippy Courses is a great choice for someone who is looking to create a highly functional, professional-looking digital course but does not want to spend too much time on the technical side of course creation and marketing.
What are the best Online Learning platforms?
While most people use these two terms as if they are synonymous, they actually mean different things. An online course platform is a software that allows course creators to publish their content online. They can then market the courses to their respective audiences.
An online learning platform, on the other hand, is a portal filled with educational content on a wide range of topics that is focused on providing students with information and tools to advance their knowledge.
However, some platforms combine both sides: course creator and student. These platforms usually have traffic and a large audience, which you can take advantage of as a course creator.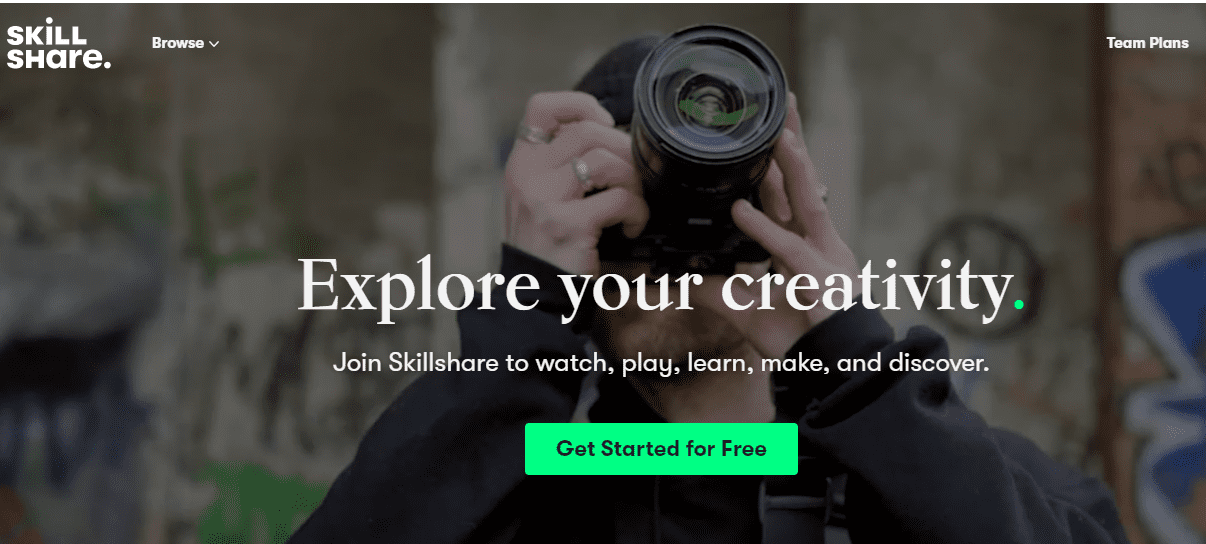 Skillshare is an online learning platform focused on helping students learn in convenient, easy, and engaging ways. The platform includes numerous topics that are related to a wide range of topics, including e-commerce, cooking, analytics, data science, graphics design, and much more.
The Skillshare online learning community is vast and helpful, always ready to support creators and learners. This is a great way for students and instructors to access a wide range of content in one place. Since there's nothing to change or customize, using this online learning platform is very easy.
Key-Features
Built-in Audience – Market your courses to Skillshare's existing audience.
Mobile Learning – You can learn from anywhere, any time.
Earn Monthly – With Skillshare, you will earn monthly royalties for your content.
Social Media Links – You can link to your profiles in your bio to gain even more exposure.
Pros and Cons
| | |
| --- | --- |
| Pro | Con |
| Provides an opportunity for passive income | Not all courses are high-quality |
| Very easy to get started | There are several complaints from customers that Skillshare won't stop billing |
| Intuitive user interface | Poorly displayed student feedback for individual courses |
| Very affordable pricing and great affiliate program | Affiliate program may cause distorted reviews |
Best suited for
Skillshare is great for anyone who wants to impart some of their knowledge and make money while doing so, even without an audience of their own.
This is another online learning platform that offers coaches and teachers a chance to get started quickly and easily. With LinkedIn Learning, you can upload video courses and market them to the social site's massive following.
This is a great site for anyone who is looking to be among professional content creators as it does not accept poor-quality videos. LinkedIn Learning is undoubtedly a great place for a course creator to make a name for themselves and build a strong following.
Key-Features
High-Quality Content – LinkedIn Learning will not accept poor quality courses.
Personalized Recommendations – Get your content in front of the right people with AI-driven custom recommendations.
Interactive Learning – This platform offers immersive social learning.
Multiple Languages – Courses are available in 7 different languages.
Pros and Cons
| | |
| --- | --- |
| Pro | Con |
| Great user management | Not all courses make the cut |
| Wide range of course templates to choose from | Editing courses isn't a smooth process |
| Browse trending topics effortlessly | Not a wide range of industry-specific courses |
| Easy access on all devices | The platform hangs up a bit sometimes |
Best suited for
LinkedIn Learning is best suited for individuals and businesses that want to impart knowledge in a professional online learning setting, rather than be lost in a sea of poor-quality courses.
Udemy's online teaching platform allows you to easily create courses on a wide range of topics, including marketing, design, business, entrepreneurship, and much more. This website is well-known and has continued to grow in popularity thanks to their ease of use for both teachers and students.
Udemy has a massive audience that teachers can use to gain momentum when selling their courses.
Key-Features
Multiple Languages – You can create courses in many different languages.
Branding – Udemy allows you to easily build your personal brand.
Integrations – You can plan your lessons in Google Docs or Microsoft Excel.
Video Recording – Udemy helps you record videos for your courses.
Pros and Cons
| | |
| --- | --- |
| Pro | Con |
| Instructor dashboard to keep track of courses | New/unpopular courses don't get much marketing |
| No technical skills needed to create courses | Videos get reviewed before publishing |
| Provides soft and technical skills in one place | Grouping categories need refinement |
| Mobile learning app | Role and skill management is missing |
Best suited for
Udemy is the perfect marketplace solution for anyone who wants to start selling their course to an audience immediately. With over 30 million students to market to, you can be sure you will be making your first sale before very long.
Coursera is an online learning platform that focuses on higher education. Like all its competitors (Skillshare, Udemy, and Linkedin Learning), this platform is completely online and offers courses on an impressively wide range of topics. But unlike the others, Coursera also offers certificates for completion. Some of the courses on this site are free, but others are paid.
This is great for beginners who may want to get started learning from this application, as well as instructors who want to build awareness and develop relationships with new learners.
Key-Features
AI Recommendations – Coursera matches students with the right content.
Personalized Browsing – Learners receive tailored suggestions for relevant courses.
Customized Homepage – After logging in, learners can resume their course in one click.
Cloud Import – For faster and more efficient content management.
Pros and Cons
| | |
| --- | --- |
| Pro | Con |
| Dropbox and Google Drive integration | Mobile interface has room for improvement |
| Create question banks easily | Some courses are low-quality |
| Machine-assisted peer review | Inadequate forum moderation |
| Learner skill tracking | Some of the courses are pricey |
Best suited for
Coursera is ideally suited for anyone looking to create practical and value-packed courses that they can market to the platform's existing audience.
What Are the Highest-Rated Online Courses?
According to data from OnlineCourseReport.com, the highest-rated, on-demand courses right now are: 
Conclusion
If you are passionate about helping other people and businesses, online courses can be a fantastic way for you to make money online. Creating and selling the course is quite simple. Building your audience and the ability to market yourself is usually the harder part. But once it is built, you are unstoppable and nothing stands in the way of a bright future.