There are lots of free order management software (OMS) available in the market, but which one best fits your business needs? It's a question that many business owners have, especially considering it can do a lot of good when it comes to addressing certain issues.
Luckily, this guide can help you learn your options.
Providing customers with an effortless buying experience is one of the primary keys to achieving customer satisfaction and business success. It's one of the core lessons I learned when I started diving into the entrepreneurial world.
I've been an entrepreneur for over a decade now. Since then, I've discovered the power of order management software – how it helps me get what I need to satisfy my customers best.
Looking through the many available options on free order management software in the market, I've come to choose specific ones that stand out the most for me.
Today, I'll share my absolute favorites, including their top features, setbacks, and more.
What Is The Best Order Management Software?
At a glance, here are my top 3 picks: Zoho Inventory, MyStore, and Vienna Advantage.
| | | |
| --- | --- | --- |
| 4.8 | 4.4 | 4.1 |
| Best overall. Efficient cloud-based inventory management platform. Available for free. | Best for value. Intuitive and accessible features for the best pricing value. Available for free. | Feature-rich. Omnichannel order management solution. Available for free. |
| Try Zoho Inventory | Try MyStore | Try ViennaAdvantage |
1. Zoho Inventory – Top Pick
Order Management Software For Businesses Of All Sizes [Free]
Trustworthiness and efficacy are two reasons I've chosen Zoho as my top pick. It has been a prominent company for creating excellent online productivity tools and SaaS applications since 1996.
When it comes to efficiently transform your order management processes, they offer their Zoho Inventory product.
This is a cloud-based application. Therefore, all you need to get started is a stable internet connection and any of the latest versions of the following web browsers:
Google Chrome
Mozilla Firefox
Safari
Edge
Once you set up your account and organization details (industry type, address, base currency, and timezone), you can start enjoying all its order management solutions.
You can create a centralized system for your sales channels to control, process, and manage all your customers' orders.
As of writing, you can integrate with Amazon, eBay, Etsy, and Shopify. You can even set up notifications to stay up-to-date with the latest activities.
A few of the notifications you can set up are for the following purposes:
Low stock
Marketplace sync status
New product updates
Upon receiving the customer's order, collecting payment is part of the process. Zoho makes it easy by allowing you to integrate your preferred payment gateway.
There are currently 13 payment gateways available, including Stripe, WePay, PayPal, and Authorize.net.
Delays are a common problem in fulfilling orders.
Zoho resolves it by providing dropship and back order functions. Dropshipping is ideal for fulfilling demands on short notice.
You can allow your supplier to deliver the product to your customers.
While the backorder is ideal for implementing when your products are low on stock, you can sort all confirmed orders, prioritize them based on delivery time, and reallocate the products.
And when it comes to packing, it allows you to print your own labels.
Finding the most updated shipping rates will never be difficult because Zoho Inventory provides a real-time view of rates from 30 different shipping services.
Once everything is completed, you can generate insightful reports.
The reports may contain your purchasing and sales trends, most profitable products, and more. You can export all reports in CSV, XLS, or PDF file format.
If you're always on the go, you can download and use its free mobile app (iOS and Android).
Most order management software for mobile is pretty limited compared to its web app. But this isn't the case for Zoho Inventory because you can mostly access everything with additional barcode scanning and item grouping features.
Zoho Inventory is an inventory management software by inception.
Therefore, you can expect to use various cloud-based inventory management solutions such as:
Comprehensive inventory control system
Multi-location warehouse management
Multi-channel selling (transact in different currencies)
Set up an order fulfillment system (integrate with 40+ shipping carriers)
You can access all these features on your dashboard.
To create a unified hub for your data, you can also integrate all Zoho products and third-party business applications.
You can connect your shopping carts like WooCommerce, Magento, XCart, and more to ensure you can support your customers and reach new markets.
Pros And Cons Of Zoho Inventory
| | |
| --- | --- |
| Pros | Cons |
| Run well on any devices (desktop and mobile) and web browsers | Limited eCommerce platforms are available for integration (a total of 4) |
| Provide real-time shipping rates for 30 different shipping services | No automatic data backup is available (users with admin role is the only one who can initiate a data backup) |
| Offer a 15% discount to non-profit organizations. | |
| Also offer paid subscriptions plans where each includes free 2-hour setup assistance (trial extension is also provided, conditions apply) | |
Zoho Inventory Pricing Plan
You can get the order management software included in the Zoho Inventory by signing up for an account.
Here, you can expect to manage, process, and track the following every month:
50 orders
Create 50 shipping labels
50 AfterShip tracking
You can purchase any of its paid subscription plans if you want more. All plans charge per organization you add and manage.
Here's a quick view of each (annual plans):
Standard: $59/organization/mo.
Professional: $99/organization/mo.
Premium: $159/organization/mo.
Elite: $239/organization/mo.
You can start with its demo account if you want to explore the software before signing up for an account.
2. MyStore – Best Value For Money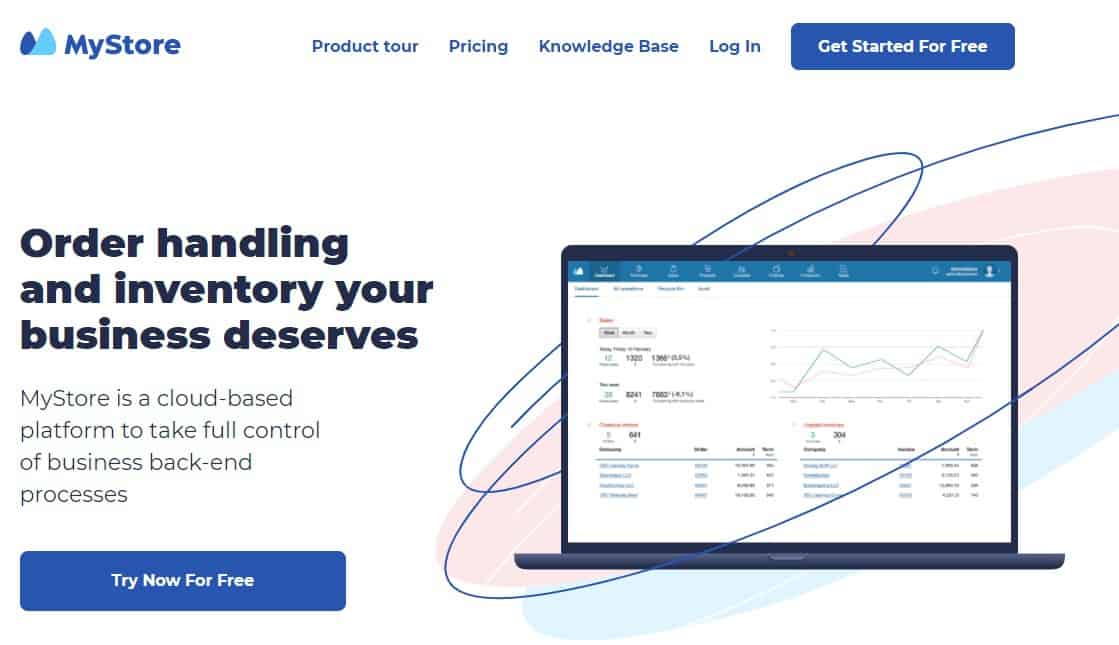 Order Management Software For Small & Medium Businesses [Free]
MyStore isn't as feature-rich compared to Zoho Inventory.
However, its excellent order management solutions remain to hold a good value for money, particularly for businesses in the following industries:
eCommerce
Wholesale
Warehousing
And manufacturing
Inside the platform, you can optimize order management and fulfillment processes (receiving, processing, and shipping).
But before you can do so, you need to fill in your inventory. There are three ways to accomplish this task:
Manual encoding of products (name, selling price, etc.)
Scanning barcodes
Import XLS or CSV file (ideal for bulk uploads)
MyStore's order management software isn't limited to these functionalities. You can also process returns, reserve products, and plan/predict future demand inside the dashboard.
The latter function is delivered using the demand forecasting feature, a management tool that can help you simplify your purchasing process.
The future demand forecast is automatically calculated based on the following factors:
Profit
Sales history
Number of days your stock is held in the warehouse before being sold
Aside from the future demand, this feature can calculate demand metrics for days of supply and reorder quantity.
Other management tools available are designed to increase your productivity. First on the list is the notification.
Compared to Zoho, MyStore allows you to set up notifications for both events and tasks, such as:
When customers fail to pay their invoices
Cashiers opened and closed POS shifts
Import and export tasks are completed
Once you set it up, you can now choose the methods you want to receive the notifications.
Currently, it allows you to receive notifications through the Notification Center, mobile push, and email.
Workflow automation is another excellent management tool available. Simply specify a trigger, action, and when the action will start to implement this feature.
Automated workflows are created as active by default.
Pros And Cons Of MyStore
| | |
| --- | --- |
| Pros | Cons |
| Supports unlimited warehouses and multiple currencies | The mobile app is only available for iOS devices and contains basic features. |
| The mobile app runs online and offline. | Integration is limited to Shopify stores. |
| Include demand forecasting feature to make better and more informed decisions | |
MyStore Pricing Plan
MyStore's free order management software includes the following perks:
Manage 1,000 items
Save 1,000 records in your contact list
Process 1,000 transactions
Manage 2 Shopify stores
Save images and files attachment with 50 MB file size
If you want more advanced features, you can choose its premium plans. All plans charge per number of users you add.
Here are the premium plans at a glance:
Basic ($16/user/mo.): Unlimited capacity, manage up to 4 Shopify Stores, and use custom fields.
Professional ($33/user/mo.): Manage up to 6 Shopify stores, integrate with your CRM systems, and more.
Get started with MyStore by signing up for a free account.
3. Vienna Advantage – Most Features
Community Edition Order Management Solution For Developers & Micro Enterprises [Free]
Most order management software available in the market is designed for businesses in the private sector.
This is where Vienna Advantage stands out as its omnichannel order management solution is developed for both the private and public sectors. On top of that, its OMS covers the needs of different types of users.
If you're a developer or own a tech company, you can use its Community Edition.
It's 100% free and open-source, so there's plenty of room to customize it according to your business needs. It comes with various modules (free and paid), each includes a specific set of features.
Let's take a peek inside the order management module.
Order management form is the feature that helps you fulfill, schedule, and track orders. Flexibility is one of the strongest suites of Vienna Advantage, so you can also use it for the following purposes:
Collect payments
Automate tedious, repetitive tasks
View the entire sales process
You can use its report feature to consolidate all data and give you a comprehensive look at your sales (monthly, yearly, or quarterly).
The order management module also includes all standard features such as:
Order fulfillment
Sales order
Inventory tracking (stock management form)
Invoice schedule
Service contracts
You can create the service contracts automatically or manually.
The best thing about Vienna Advantage is that it also offers unique features. Blanket sales order is the first to highlight.
This feature is most suitable for fulfilling customers' large orders with multiple release dates or call-offs.
Another unique feature is commission management. As the name implies, this feature allows you to manage and track sales incentives and commissions.
You can calculate commissions either at an invoice level or order level.
Vienna Advantage is created as an open-source ERP and CRM Solution with a powerful document management solution by default. Therefore, you can also add these to your OMS.
Successfully doing so will help you handle millions of documents securely and collaborate effectively with your team members.
Pros And Cons Of Vienna Advantage
| | |
| --- | --- |
| Pros | Cons |
| Modules available are easy to deploy and update | Community Edition contains limited order management features (3) |
| Provide excellent support via live chat and email | No database included (but compatible with Oracle and PostgreSQL) |
| Inbuilt document management system with tamper-proof digital signature integrated to ensure compliance. | |
| It allows you to use their translation management module to translate their system into different languages and resell them through their marketplace. | |
Vienna Advantage Pricing Plan
Get started with the Community Edition and enjoy using the following modules:
Sales order
Variant configuration
Service orders
Organization management (4 features)
Financial management (7 features)
Procurement (5 features)
Materials management (10 features)
Pricing (except EDI)
Project management (4 features)
Development and customization (all)
Reporting (3, including Crystal and Jasper reports integrations)
Excel import
Administration and security (except master data versioning)
Workflow management (2 features)
Marketing (4 features)
CRM (5 features)
Plant maintenance (1 feature)
Do you want to explore it first? You can do so by requesting a demo.
4. Hydra OMS – Open-Source Application
Order Management Software For Small & Medium-Sized Companies [Free]
Hydra OMS is another open-source order management system you can rely on. Its primary advantage over the competition is, it runs on the Activiti BPM (Business Process Management) engine.
The BPM engine will take care of all your business tasks – from designing business processing models to automation.
Designing and updating your own business processing models can be time-consuming and tedious. This is why it's built with a visual editor.
Not only will it speed up the process, but it also ensures all process models you'll create comply with applicable ISO standards.
Aside from the BPM engine, it's well-supported with an OMS server. It both provides API and web interface for efficient administration and order management.
Overall, Hydra OMS is built with four main components.
I've already discussed the first two, and the other two components are listed as follows:
Embeddable BPM widget comes with a configurable Order Execution Wizard to help your employees remember all processes available.
Order database to securely store all your store's orders. It also supports PostgreSQL's hybrid relational/object storage.
When expanding its functionalities, you have two options: integrating its very own billing system (designed for telecom and service providers) and adding SQL databases.
It's limited, but they are sufficient for managing service/job orders and other business processes.
Pros And Cons Of Hydra OMS
| | |
| --- | --- |
| Pros | Cons |
| Provide order execution wizard for easy and quick setup | Currently, they only support SQL databases and their own Hydra Billing system for integration. |
| Built with SLA timers to get early warnings when something goes wrong on a specific process | No available inventory and warehouse modules |
| Provide quality customer and technical support through phone and support ticket | Not ideal for complete beginners |
| The interface supports the Russian and English languages. | Limited online help documentation is available for new users. |
Hydra OMS Pricing Plan
Get started with Hydra's free order management software by trying its demo or downloading its latest version on GitHub.
5. Orderhive – Comprehensive Shipping Solution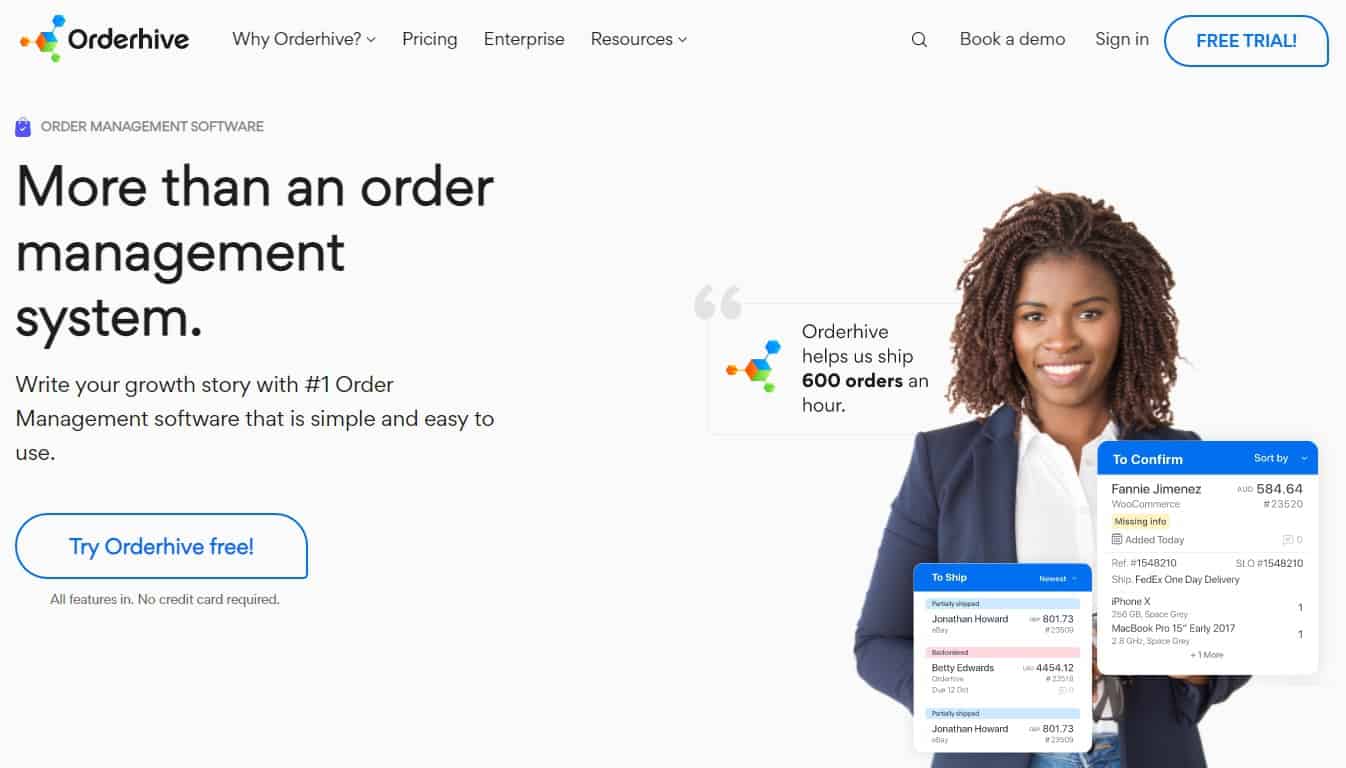 Order Management Software For Retailers, Wholesalers, & eCommerce Sellers [Free]
Eliminating bottlenecks is another excellent benefit of order management software. Orderhive has the advantage because it can automate all tasks, events, and processes of your eCommerce store's day-to-day operations.
Currently, there are two types of automation available – inbuilt trigger and custom trigger.
Both types work perfectly; their only difference is the execution method. The inbuilt trigger is set for automatic implementation after satisfying the specified conditions.
On the other hand, the custom trigger will only run at a specific time interval.
Don't forget to give a proper name for every automation you've created. This will help you identify and search for them.
Order management software often includes import/export sales orders and other bulk order functions.
It certainly levels up its game by allowing you to manage and sync sales orders online and offline. You can manually encode it into your system for offline orders by going to the Orders page and clicking the Add Order button.
Handling thousands of orders daily can make the search challenging.
Orderhive resolves this problem by providing tags. Tags are customizable, so you can choose any name for each tag that best describes your sales orders (sell, backorder, critical, etc.).
The good news is, you can assign multiple tags per order.
Another time-saving feature is the cloning function. Here, you can clone similar orders instead of creating a new one.
You can also do the same for purchase orders.
Here are other order management features and tasks you can expect to use and perform:
Collect basic and custom order information
Create and manage a picklist
Send order to Amazon FBA
SLA management
Returns management
Download and print invoices and payment receipts
Pros And Cons Of Orderhive
| | |
| --- | --- |
| Pros | Cons |
| Track online and offline orders | May encounter a few bugs at times |
| Thirteen modules are available for you to use | Not the easiest to use and setup |
| Run well on Windows, Mac, and Ubuntu operating systems | Don't support two-way sync. |
| Allows you to ship unlimited orders from one location to multiple shipping carriers (300+) | Onboarding and setup assistance comes with an additional charge ($99) |
Orderhive Pricing Plan
Orderhive has a total of five pricing plans. If you only manage a Shopify store, you can get started with the free plan.
You can get all orders, shipping, and inventory management features as standard.
You can also process unlimited SKUs and receive email support for onboarding. The other four pricing plans are designed to charge a base price, the number of active users ($50/user), and the number of orders.
Here's a quick view of each pricing plan:
Lite: $44.99/mo. (base price) and includes one user seat and 200 order limit (30¢/extra order)
Starter: $134.99/mo. (base price) and includes three user seats and 1,200 orders (15¢/extra order)
Growth: $269.99 (base price) and includes five user seats and 3,000 orders (12¢/extra order)
Enterprise: Custom pricing and includes unlimited users seats and order capacity
Get started by signing up for its free plan or booking a personalized demo.
6. OrderMS – Fully Automated Solution
Order Management Software For Manufacturers, Wholesalers, & Retailers [Free]
Many make OrderMS their go-to tool because it provides reliable business intelligence tools and in-depth reporting modules.
All these tools and modules are designed to support the core business operations of manufacturers, wholesalers, and retailers. One best to highlight is the alerting system that helps you stay up-to-date with your operation's activities.
Sales communication is also provided to make it effortless to share information and communicate with your business stakeholders.
Like most order management software, OrderMS allows you to create a centralized platform for all your business systems. You can do this through integration.
The best part of the integration is connecting your POS (Point Of Sale) systems to it.
When it comes to the modules, two modules that come standard are the sales order and purchase.
The sales order module permits you to manage and process unlimited orders, including their quantity, pricing, and customer profiles. While the purchase module helps you manage all purchases, returns, and suppliers.
Other modules available are listed as follows:
Dashboard
User management
Warehouse management
Inventory periodic filters
Reports (includes periodic filters)
Since the platform is open for collaboration, they provide user access control.
This gives you full control over what your team members can view and access. This is an excellent feature to keep your platform safe from accidental deletion and secure from data breaches.
No stable internet connection?
No worries, OrderMS is one of the few order management software to operate online and offline. Once offline, its system will send all vital information straight to your mobile phone.
Pros And Cons Of OrderMS
| | |
| --- | --- |
| Pros | Cons |
| Include tons of unlimited features | No offline feature is provided |
| Also, offer paid subscription plans which include 24/7 support and employee training. | No app is provided for mobile devices. |
| Provide a broad range of modules, including multi-dashboard, user management, and more | Limited online documentation is available for new users (outdated blog) |
OrderMS Pricing Plan
OrderMS' free order management software is designed for a single user. It provides access to all modules and unlimited limits for the following:
Orders
Shipments
Purchases
And warehouses
You can select any of its three pricing plans if you want more.
Each plan charges per the number of orders you set. Here's a quick view of the pricing plans with their starting price:
SMEs: $39.95 | include 2 user seats
Regular: $49.90 | include 5 user seats
Business: $98.90 | include 10 user seats
Not sure what pricing plan to purchase? Schedule a free demo to get an exclusive look at the OrderMS platform.
7. My Inventory Online – Purchase & Sales OM Solutions
Inventory & Order Management Software For Small & Mid-Sized Businesses [Free]
With the previous five order management software, you probably noticed that inventory and order management always comes side-by-side.
That's why for the next software, I'll discuss easy-to-use inventory and order management software – My Inventory Online.
My Inventory Online (MIO) is a reliable web-based platform that you can access anywhere you go. The best part of it, the company takes care of the maintenance (platform and server) and data backup.
How about data security?
MIO uses FastSpring to support global online payments and store sensitive credit card data. For safe data transfer, it uses 128-bit SSL encryption.
Flexibility is another strength of MIO.
You can customize it to fit perfectly with your business. A few of the aspects you can customize are listed as follows:
Logo
Multiple user's logins (individual)
Location (warehouse, head office, etc.)
Preferred weight and length units (imperial or metric measurements)
You can even set your location's currencies, applicable tax rates, and exchange rates (for foreign transactions).
Once everything is set, you can add your products by importing a CSV file. From there, you can begin to manage your products, stock location, and make necessary adjustments.
One unique feature of product management is setting your pick policies (FIFO or LIFO).
The order management solutions available are designed for sales and purchase. The sales order allows you to sell one item with multiple currencies and apply the tax.
You can also add discounts if you offer one.
Sending invoices doesn't have to be difficult. MIO provides you with options to send your invoices either by email or print and post.
Once the invoices are settled, you can now dispatch the order (single or in batches).
To further save you time and manual labor, your inventory will automatically be updated as soon as the orders are released.
All tasks are accomplished with a simple click of a button.
Product order management has a similarity to sales order management. The unique features it has are listed as follows:
Print putaway lists
Generate purchase orders from low stock reports
View and sort purchase reports for a specific period or supplier
Pros And Cons Of My Inventory Online
| | |
| --- | --- |
| Pros | Cons |
| Run well on any devices (Windows and Mac) and modern web browsers (Firefox 3+, Safari 4+, Chrome, and Internet Explorer 9+) | Only support Xero accounting software for integration |
| Uses 128-bit SSL encryption for secure data transfer and FastSpring to store credit card data. | No real-time and human support via phone or live chat is provided for the Free plan users (contact form only) |
| Import and export data in CSV format | |
My Inventory Online Pricing Plan
Get started with My Inventory Online for free.
If you manage and process more products, you can purchase any of its four subscription plans. All plans charge based on the amount of data your business needs.
Here's a quick view of each:
Small ($19/mo.): Provide two user seats, 500 products to manage, and add 50 stock locations.
Medium ($39/mo.): Provide ten user seats, 1,000 products to manage, and add 100 stock locations.
Large ($59/mo.): Provide 20 user seats, 10,000 products to manage, and add 1,000 stock locations.
The good news is, you can also start your preferred plans free of charge for 30 days.
You can avail of it by signing up for its 30-day trial version.
8. Marello – Community Edition
Digital Operations Platform With Order Management Solutions For Developers & Startups [Free]
I've decided to discuss a digital operations platform (DOP) for my last recommendation.
Like the conventional OMS, DOPs unify your business core operations to produce a single, comprehensive view. It also provides secure access to real-time data and tons of tools to streamline your omnichannel order management operation.
So, what makes it a good choice?
The answer is simple, flexible workflow management. There are different types of commerce business (B2C, B2B, single-channel, omnichannel, or a combination), and each has unique workflow needs.
With DOPs flexibility, it guarantees to support of different custom order management workflows.
If you're looking for the best digital operations platform, I recommend Marello.
Marello unifies your entire operations by integrating your business systems. POS, eCommerce platforms, warehouse management systems, ERP, CRM software, and 3PL are just a few you can connect.
Its order management solutions are divided into three groups:
Keeping track of the order lifecycle
Omnichannel capabilities
Return and refunds management
The purpose of each group is intentionally well-described to prevent confusion.
If you have multiple sales channels (online and offline), you can track all orders and immediately know when and where the items are sold. This is intended to eliminate blind spots in your operations.
It also provides real-time updates of your inventory levels.
The omnichannel capabilities mostly evolve by integrating all your sales channels, warehouses, POS, etc. If you operate globally, you can leverage its international features.
You can create a sales order with different languages, currencies and apply the applicable tax.
Did you know that at least 30% of all products ordered online are returned?
This is why it's important to have an excellent return and refund management system to handle the process. Marello can take care of it because it provides a central place to register, check, and manage the returned orders.
It also provides you the option to add back non-defective orders to your inventory.
Processing returns and refunds often come with numerous steps. Automate them all by setting up an efficient workflow.
The best part is that you can gather all the reasons why the products are returned and use them to improve your process and sell the products.
Pros And Cons Of Marello
| | |
| --- | --- |
| Pros | Cons |
| Provide REST API to integrate other business systems | Not suitable for non-tech users (coding is required) |
| Provide community chat in Slack and online help documentation | Setting it up may take longer compared to cloud-hosted OMS (on-premise deployment). |
| The dashboard contains a launchpad and widget for quick navigation of menus and tools. | |
| Create flexible Warehouse Fulfillment Allocation (WFA) rules for accurate assignment of shipments to warehouses and fulfillment of orders | |
Marello Pricing Plan
You can download Marello Community Edition free of charge. If you want to explore its functionalities first, you can fill up their request form to get a demo.
Conclusion
Manually streamlining and automating your order flow is time-consuming and labor-intensive. Order management software can make everything effortless and efficient.
I have to choose OrderMS as the best order management software out of my recommendations.
Accessibility and ease of use are my primary reasons. Its SaaS-based cloud solution allows you to use it anywhere you go. Though it requires a stable internet connection to operate, it stays productive when offline.
Its system will automatically send all updates on your registered mobile phone.
Its OMS is also scalable because the free plan permits you to manage unlimited orders, shipments, purchases, and warehouses.
Do you have a favorite order management software? Share it with us by leaving a comment below.