OTT or Over-the-Top platform is a new way of delivering videos and streaming services. Not bounded, this access is available anywhere they want on any device of their choice, unlike the traditional cable system. With digital nomads and remote work culture becoming more common, OTT platforms are growing in popularity day by day.
If you are a digital broadcaster who is struggling with content management and audience engagement, then the OTT service is a jamboree for you since it makes hosting, organizing, and monetizing video content easy.
On the other hand, established online video providers are always looking for new avenues to explore. With OTT platforms, they can reach even more people with new offerings such as live video or on-demand events in addition to the existing inventory of videos.
As a digital content creator myself, I know the impact an excellent OTT streaming service can have. I have used the services of many OTT platform providers over the years, which has enabled me to give you insightful information about the 8 best-performing OTT service providers.
When you are finished reading this 7-minute read, you'll be able to identify which OTT platform meets your demands most effectively.
What Is The Best OTT Platform?
Here is a quick comparison of my top three picks with their ratings and features that make them stand out and take the lead.
| | | |
| --- | --- | --- |
| 4.8 | 4.7 | 4.2 |
| Best overall. Lowest latency and offers top-notch services for businesses. Starts at $39/month. | Best for flexibility. Provides templates and allows imported designs. Starts at $79/month. | Most features. Large list of monetization features with different subscription plans. |
| Try Dacast | Try Uscreen | Try Kaltura |
Read below for detailed coverage of my selection. Here's to all the ins and outs of these OTT platforms:
1. Dacast – Top Pick
All-In-One OTT Platform Offering Premium Services [$39 Per Month]
Dacast is an online video platform that helps businesses of all sizes launch, organize,  and monetize streaming services. With additional features like live event support, it's a great option for companies that want to broadcast content to their audience around the world.
One of the most important aspects of any product is its user experience. And if you're looking for an OTT platform that's easy to use, and has a good value and user experience, Dacast is an option worth considering.
Dacast's content management allows you to access your content from anywhere in the world. Since it is a cloud platform and data is stored on remote servers which can be accessed over the internet, there's no need for physical drives or other media devices.
All new video files are automatically uploaded after encoding when they are added to your library on the Dacast OTT Platform. You can also import existing videos from YouTube or Vimeo into your library in minutes.
The distribution of multi-language subtitles and closed captions are also automated. No special equipment is needed here either – it's just another feature built right into the system.
If you want to make money from your video streaming service, Dacast is a great OTT streaming platform for monetizing. It gives you the ability to monetize your streaming service in a variety of ways. You can dynamically insert ads in the middle of videos or after they play out. The Dacast OTT services also allow you to sell advertising space on your channel page, which shows up as part of the feed.
Dacast has been in business for quite some time and is known as a leader in providing OTT services. Not only does it have an elegant and intuitive user interface, but it also offers excellent customer support and a powerful feature set that will help grow your audience base quickly by giving them access to premium content.
Pros And Cons Of Dacast
| | |
| --- | --- |
| Pros | Cons |
| Offers a wide range of features | End-users occasionally may face disruptions and downtime |
| Multiple options for monetizing your content | |
| User interface is intuitive, clean, and easy to use | |
| Minimal lag | |
Dacast Pricing Plan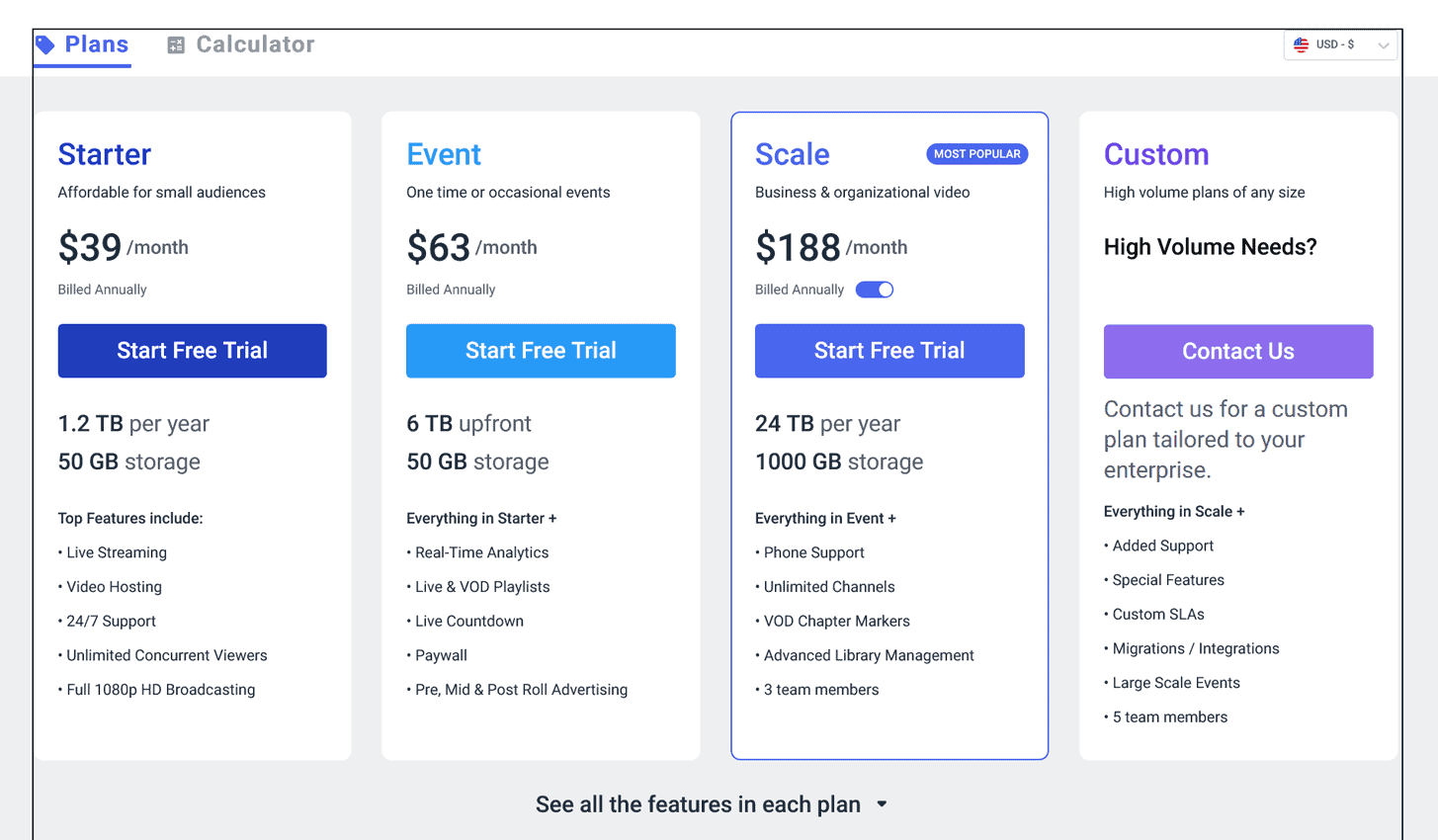 To meet the needs of different users, Dacast offers four different packages:
Starter ($39/month): Designed for smaller audience sizes. It offers 1.2 TB per year with 50 GB storage.
Event ($63/month): It is meant for people looking to use the service rarely. With this package, you get 6 TB upfront and 50GB of storage.
Scale ($188/month): This plan caters to the needs of businesses that intend to use the platform more frequently. It gives you 24 TB per year and 1000 GB storage.
Custom (Custom pricing): You can reach out to their sales team, which will provide a plan that is specifically made to fit your needs.
Best to start with the Starter plan until you identify your best-needed features.
2. Uscreen – All-Round Content Delivery Solution
Your One-Stop OTT Platform To Catch The Best Action [$79 Per Month]
Uscreen is an all-in-one OTT platform purpose-built for video on demand (VoD) and live-streaming services. The Uscreen OTT video streaming platform includes all the essential tools you need to launch, operate and monetize your online video subscription service.
Uscreen handles everything from content hosting and delivery to payment processing, marketing, real-time data analytics, and more. This cloud-based video platform helps you launch your own OTT service and offers multiple video monetization models and a highly customizable player.
With Uscreen's video hosting, CDN, and delivery network, your videos will be hosted on their servers and delivered through their CDN network. Their live chat function can increase viewer engagement on your live feeds.
Unlike some other players in the OTT market, Uscreen allows users to create their own design templates using the pre-built functionalities or by importing their own designs.
Marketing tools provided by Uscreen let you identify the viewers of specific videos, the devices they're using, the time of day they're watching, and their geographic location. All this data will allow you to monitor how your videos are performing over time and help in future marketing decisions based on user behavior.
The Uscreen OTT platform has many different ways in which it lets content creators earn money from their content via advertising revenue-sharing agreements with brands. This includes advertising, pay-per-view (PPV), and subscription models.
Uscreen uses the latest encryption technology to protect your content. This OTT service provider has a bunch of integrations, which are very useful for people who have extra tools they want to connect with.
The content delivery network provides a complete solution for broadcasters and media companies, allowing them to launch their own branded OTT service within minutes of signing up. It can help them build a video-on-demand service, live streaming service, or any other video-based project. Uscreen is an all-in-one solution for creating, managing, and growing your own OTT platform.
Pros And Cons Of Uscreen
| | |
| --- | --- |
| Pros | Cons |
| Offers best-in-class security | Some may find prices on the higher side |
| Great set of marketing tools | |
| Highly customizable | |
Uscreen Pricing Plan
Uscreen has three pricing plans:
Basic ($79/month): It costs an additional $0.50/subscriber per month. This plan offers 50 hours of video storage.
Growth ($159/month): Costs an additional $0.50/subscriber per month. It comes with video storage of 150 hours.
Uscreen Plus (Custom pricing): This plan offers tailored packages and dedicated account management. Get in touch with them for a custom quote.
Depending on how much storage you need, you can pick from the 3. It's best to pay on an annual basis to get 20% off the original pricing plan. 
3. Kaltura – Uncompromised Quality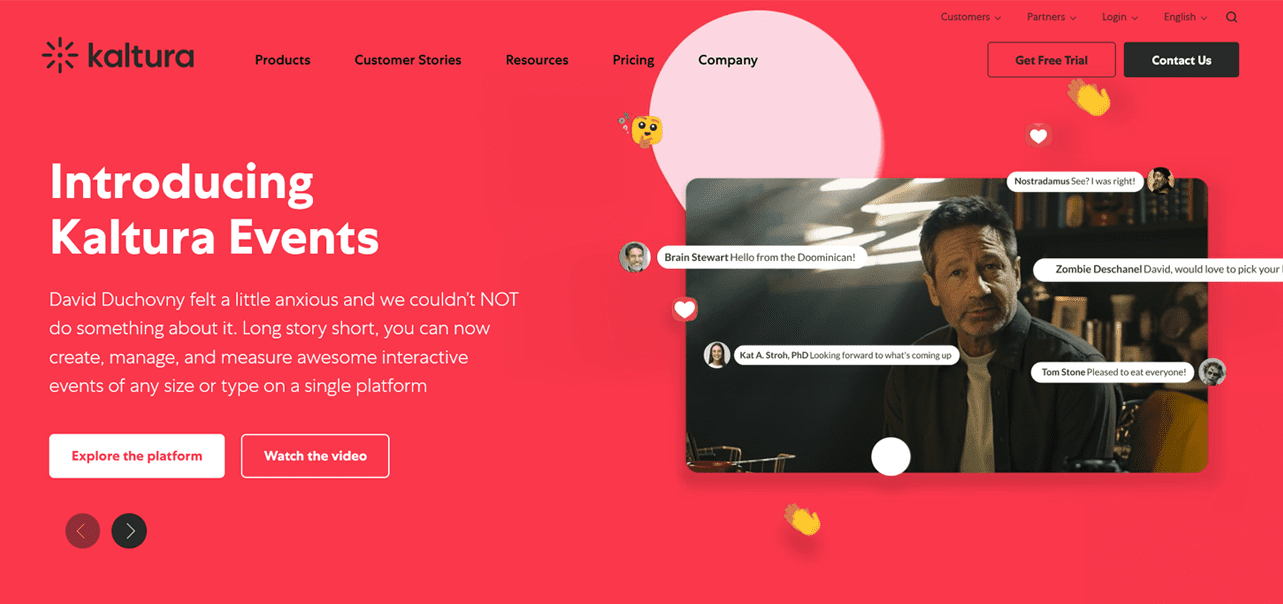 The Most Widely Used OTT Platform by Leading Brands [Custom Pricing]
Kaltura OTT Platform comes from one of the largest open-source video communities in the world. With over 1 million users and some of the most popular streaming services on its platform, Kaltura is a leader in providing enterprise video solutions for large companies to small organizations.
Kaltura is a white-label, cloud-based platform that allows you to customize it to your needs and add your own branding to it. The OTT app also provides features such as content packaging for multiple devices including smartphones and tablets, personalized recommendations via social networks, or email invitations.
Kaltura OTT video streaming services offer a large list of monetization options like adding ads to your videos and setting up a subscription plan for viewers. Also, it offers pay-per-view options for buying individual videos.
Kaltura OTT Platform is a popular solution for both B2B and B2C businesses looking to launch a streaming media service that they can customize heavily and build upon over time. Kaltura also powers thousands of smaller businesses providing them an easy way to create and share content via YouTube-like channels.
The many features offered by this platform make it easy for even novice users to get started quickly while also providing advanced functionality that can be leveraged if needed down the road when you're ready for more.
Pros And Cons Of Kaltura
| | |
| --- | --- |
| Pros | Cons |
| Best provision of control over content distribution | Fallbacks in security |
| Easy accessibility with affordable rates | |
| Efficient integration with other systems | |
| Easily customizable | |
Kaltura Pricing Plan
Kaltura has a custom plan for every individual service offered. You have to contact their support team to request a quote.
4. Wowza – Reliability On Point
Most Stable OTT Platform for Live Streaming [$25 Per Month]
Wowza Streaming Cloud is a fast, reliable, and cost-effective way to stream media over the internet. Wowza Streaming Cloud is a software-only solution that allows you to stream live and on-demand content to any device without having to build or manage the infrastructure.
You can use the Wowza OTT platform right out of the box, with no installation required. The interface is simple and intuitive, you'll be able to set up your first channel in minutes after signing up for an account.
The API for Wowza OTT is also well-designed, making it easy to integrate with third-party analytics or ad platforms. It offers simplified management since all streams are processed on one server instead of being distributed across multiple devices. Also, the improved scalability helps increase performance without having to buy new hardware.
Security is a top priority for the Wowza OTT platform. The streaming service is designed to be secure from end-to-end encryption and ensures that your OTT content streams always reach viewers with an industry-leading level of security.
All in all, Wowza is a complete video streaming solution that you can use to create, deliver, and monetize your live and on-demand video services. With this platform, you can scale to millions of viewers with minimal operational cost.
Pros And Cons Of Wowza
| | |
| --- | --- |
| Pros | Cons |
| Great set of features | Support might not be up to par for some |
| Easy integration | |
| Solid security | |
Wowza Pricing Plan
Wowza offers four pricing plans:
One Month of Streaming ($149/month – one-time purchase): The plan gives you 15 streaming and 500 viewing hours. Storage will cost you additionally.
Pay As You Go ($25/month): The plan comes with flexible streaming hours. In this package, the usage will be billed separately.
Annual ($130/month): It includes 300 streaming and 10,000 viewing hours. Limited storage of 150 GB is included in the plan.
Enterprise (Custom pricing): A custom plan for large audiences. Price is available on request.
Best to start off with the Pay As You Go plan to test the waters out first.
5. JW Player – Scalable Features
Comprehensive OTT Platform That's Easy On Pocket [30-Days Free Trial]
The OTT platform ranking 5th on my list is JW Player. A full-scale solution that is suited to both new and established players in the industry. The platform manages all aspects of your video delivery, from hosting to monetization. JW Player is used by the biggest names in the online video industry and has been powering online entertainment since 2011.
Like its other counterparts, the JW Player OTT platform comes with flexible monetization options including adverts, subscriptions, and transactions. Transactions are another paid service that allows users to buy goods and services directly on your site.
JW Player's OTT Platform is a great solution for content creators who are building their first OTT service or looking to expand their existing offering. The platform includes all of the essential features needed to run your own video service. In this OTT solution, there is also a native recommendation engine for increasing viewer engagement.
Pros And Cons Of JW Player
| | |
| --- | --- |
| Pros | Cons |
| Extremely customizable | Limited storage in starter plan |
| User-friendly interface | |
| Reliable video hosting | |
JW Player Pricing Plan
JW Player offers three pricing plans:
Trial Subscription (Free): Comes with limitations. You get 25GB of hosting and 75GB of streaming.
Starter ($10/month): This package provides you with 150GB of hosting and 500GB of streaming.
Enterprise (Custom pricing): Pricing is available on request for this plan.
Take advantage of the trial subscription first to figure out your most-used tools before you commit to a paid plan.
6. Netflix – Unparalleled Popularity With Advanced Streaming Technology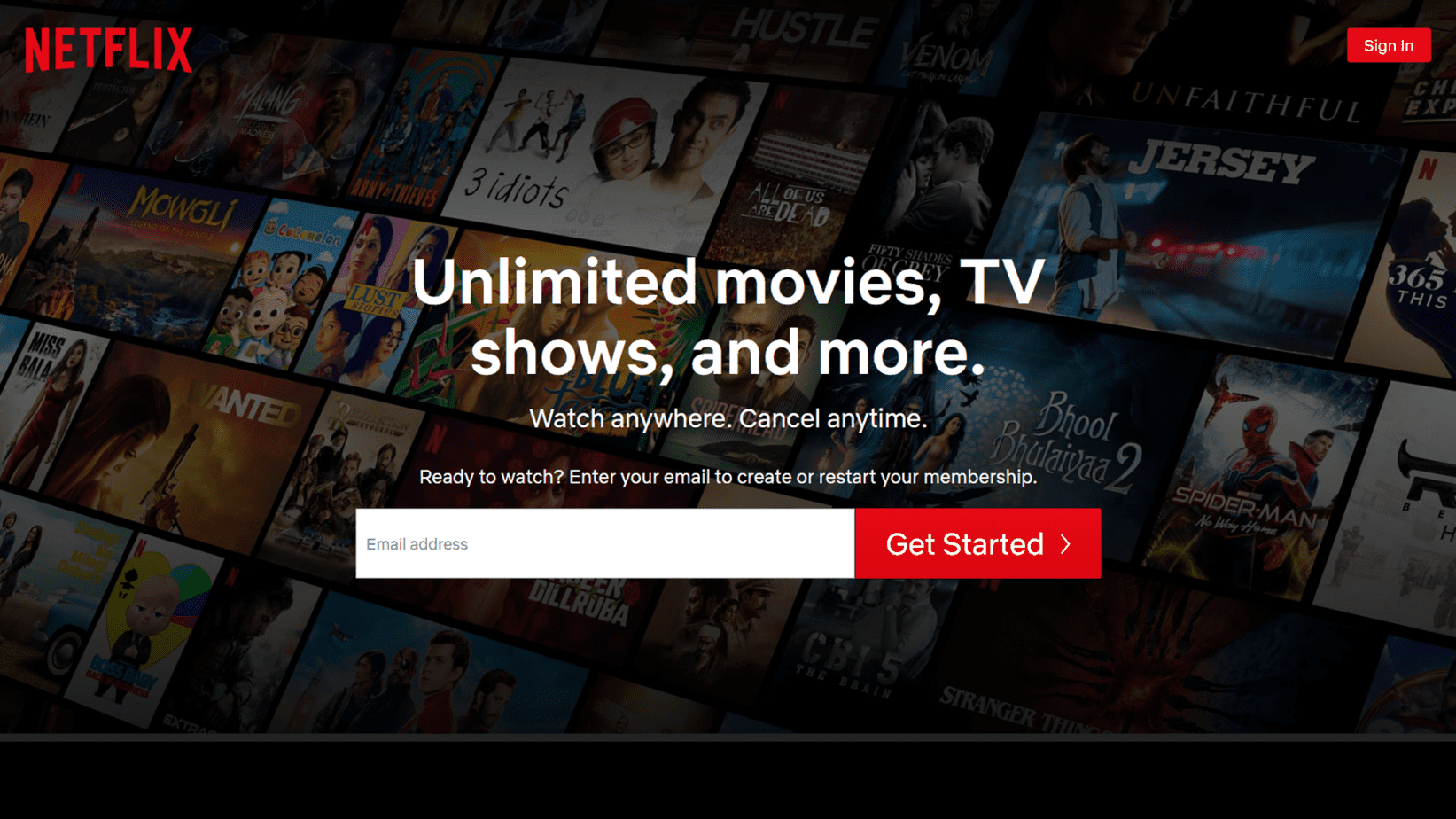 An OTT Streaming Service Like None Other [$9.99 Per Month]
Netflix is a name that even every kid is familiar with. Netflix has been around for many years now and it's still going strong. This makes it one of the contenders in my rating of OTT streaming service providers. 
It has a variety of content and a lot of options to choose from. Netflix has mainly focused on providing original content in its large catalog. It is available in over 190 countries around the world, including Australia and New Zealand where it's been dubbed Netflix Oz.
The service is also accessible by almost any internet-connected device capable of streaming video content. There are thousands of titles available on the platform. You can stream anything at any time from any device with an internet connection.
Netflix is a good service for many reasons, including its pricing, availability, streaming experience, and the fact that it is constantly improving. The company has been able to stay on top of the game for so long because it is always coming up with new ways to deliver content that people love.
Netflix does have some issues such as a limited amount of content available in other countries and problems with buffering on older devices but these things aren't deal-breakers by any means.
Pros And Cons Of Netflix
| | |
| --- | --- |
| Pros | Cons |
| Netflix is a completely ad-free service | Library needs to be upgraded |
| Steady streaming bandwidth | Not available in certain countries |
| Offers multiple viewership | |
Netflix Pricing Plan
Netflix offers three monthly pricing plans:
Basic ($9.99/month): This plan allows for 480p resolution. Can be viewed on one screen at a time.
Standard ($15.99/month): It allows 1080p resolution. Two users can use the service at the same time.
Premium ($19.99/month): It allows 4K+HDR. Can be viewed on four devices at the same time.
The Premium plan has the best quality. To maximize your subscription, ask friends and family to share the plan.
7. Amazon Prime Video – Streaming Powerhouse
OTT Streaming Service With Unordinary Technical Potential [$8.99 Per Month]
Next on our list is an OTT solution somewhat similar to Netflix, but with differences that might want you to consider. Amazon Prime Video is a streaming service that is included with an Amazon Prime subscription. The service offers thousands of movies and TV shows.
Amazon Prime Video is available on a variety of devices, including Android and iOS smartphones, smart TVs, set-top boxes, and streaming media players. You can also watch it through game consoles like PlayStation 4 or Xbox One if you have an Amazon Prime account as well.
It's a great service for families and people who want to watch a lot of movies and TV shows. If you want to watch the latest released content, this is where you should be looking. With Amazon Prime Video, you can get HD quality as standard. Without additional fees, you can download up to 25 pieces of offline content to various devices.
That's the reason why Amazon Prime Video is so popular. It has been providing a quality viewing experience since 2006 and continues to grow in popularity. So if you're looking for high-quality content, Amazon Prime Video is definitely worth checking out.
Pros And Cons Of Amazon Prime Video
| | |
| --- | --- |
| Pros | Cons |
| Offers a 30-day free trial. | The interface can use some enhancement |
| Downloads for offline viewing are available | This platform is heavy on streaming |
| Offline downloads available on multiple devices | |
Amazon Prime Video Pricing Plan
Amazon Prime Video ($8.99/month): It comes with the option of streaming on 3 devices simultaneously at HD quality.
If you buy a monthly or annual Amazon Prime membership, you can get an Amazon Prime Video subscription with it.
8. Hulu – Best Option To Replace Cable TV
OTT Streaming Service With Unlimited DVR [$6.99 Per Month]
Hulu is one of the best and most generous streaming services that are out there. It has a huge library of both AVOD content and live TV. This ensures that you'll find something to watch in the massive catalog no matter what type of entertainment you prefer.
Hulu was launched in 2007 by NBC Universal, Fox Entertainment Group, and Disney-ABC Television Group. Hulu soon joined the Netflix, Amazon, and HBO army as one of the earliest streaming services, offering a wide selection of TV shows and movies.
The IPTV service provider offers a wide selection of TV shows and movies to subscribers, who can watch on their computers or mobile devices as well as streaming players like Apple TV, Fire TV, and Roku.
You can use Hulu anywhere those things are accessible without worrying about paying extra for more streams or using more than one device at once. And since it's better not to have commercials anyway, this is especially awesome.
Pros And Cons Of Hulu
| | |
| --- | --- |
| Pros | Cons |
| Offers unlimited storage with no additional cost | You need to upgrade your package to avoid seeing any ads |
| Access to live TV channels | You need to have a premium plan for downloading content |
| Recording of Live TV is possible | |
Hulu Pricing Plan
Hulu offers three pricing plans:
Hulu ($6.99/month): The plan offers 6 user profiles and streaming on 2 screens at the same time.
Hulu No Ads ($12.99/month): It comes without ads and gives you the option of downloading content. 
Hulu + Live TV ($69.9/month): The plan comes with 75+ live channels and the option to record live content. 
Try out the Hulu plan first until you feel the ads are too bothersome, then you can change to the Hulu No Ads plan.
Conclusion
OTT platforms have revolutionized our lives. It is a modern approach for your business growth by helping your business jump the competitive curve. For example, better customer relationships and helping you deploy new business models.
While there are so many out there, choosing the best OTT provider that meets your needs is crucial. Based on my experience, I've narrowed down the top OTT platforms in terms of their features and restrictions.
My top choice is Dacast for its comprehensive premium services. The second to make it to the list is Uscreen which offers customization with excellent features. With the best UI, Kaltura takes the third spot on our list. 
To learn more about other solutions that can help you scale your business, you must visit our blog where we have compiled comparative reviews of all possible products a business may need.