Patch management is installing updates or patches to an operating system to fix bugs, vulnerabilities, and other issues. If you are not doing this regularly using patch management software, then the security of your system is at risk.
Being an entrepreneur for over a decade, I've learned the qualities and red flags you should look out for when selecting a patch management tool. I realized over time that you need an up and running OS to minimize interruptions and also avoid possible security risks.
Below, I have compiled a list of the best patch management tools and apps available in 2022 that will help you determine the best software for your business needs. You will be able to learn important features when selecting a patch management tool.
Let's begin.
What Is The Best Patch Management Software?
If you're pressed for time. Here's a quick summary of my top 3 picks: Atera, Solarwinds, and ManageEngine.
| | | |
| --- | --- | --- |
| 4.9 | 4.6 | 4.1 |
| Best overall. Excellent patch management features. Starts at $99/month/user. | Best value for money. Extensive IT infrastucture monitoring features. Start at $2,006/license. | Feature-rich. Best for comprehensive real-time updates with powerful insights. |
| Try Atera | Try Solarwinds  | Try ManageEngine  |
Let's dive right into the detailed discussion on all of my picks.
1. Atera – Top Pick
Best Patch Management Software For Most Optimized Updates [Free Trial | $99/user/month]
Using Atera Patch Management Software, you can manage the patches on your servers thanks to its cloud functionalities. Administrators and IT departments alike can benefit from this powerful integrated solution. Among its numerous features are:
Remote Monitoring and Management (RMM)
Professional Services Automation (PSA)
Billing
Service desk
Ticketing
Furthermore, it can plan and schedule tasks for single or collection applications, such as installing Java updates. It can also configure Microsoft updates for each endpoint user and create unique automation for each.
Users can create software bundles for each customer or add custom patches to IT automation profiles. Additionally, special software can be excluded from patches to meet specific requirements if necessary.
Here are some of the best features that Atera offers:
Automated Patch Management: Patching is automated, and endpoint vulnerabilities are tracked through a remote agent. By using third-party integrations such as Chocolatey for Windows and Homebrew for Macs, they can set and automate patching for both Windows and Apple macOS.
Admin Control: Administrators can access these insightful reports anytime to ensure complete control and airtight security. They can share these reports with their customers.
Shared Script Library: Scripts are shared from managed service providers (MSPs) through Atera's Shared Script Library. It is possible to clone and customize scripts and add them automatically to automation profiles. The in-house patch management team tests and tunes these scripts to enhance patch management.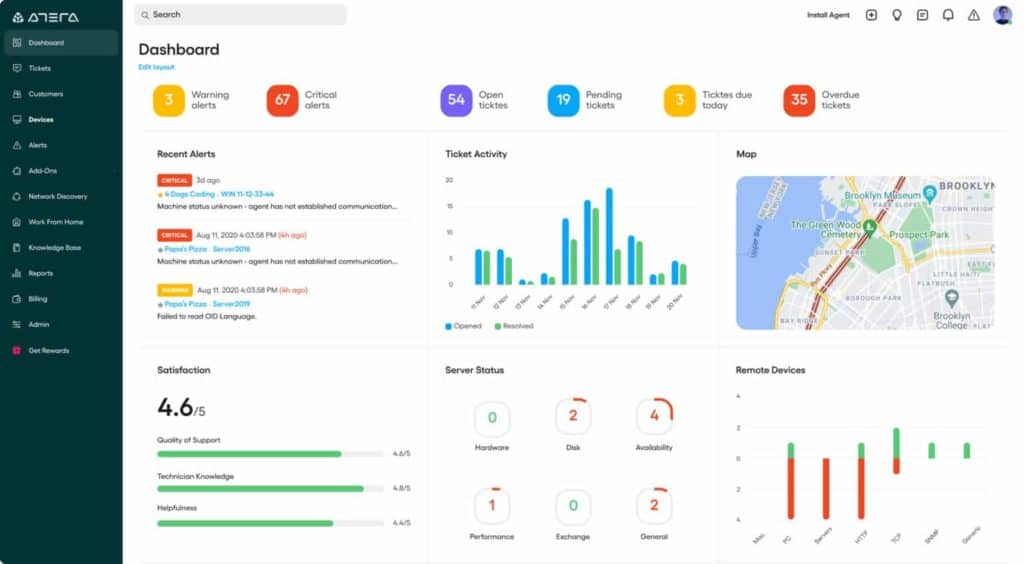 Next, we'll discuss the benefits and shortcomings of Atera's patch management tool.
Pros And Cons Of Atera
| | |
| --- | --- |
| Pros | Cons |
| Ease of software deploying and updating | It doesn't provide patch management for Linux |
| Provides extensive task automation | |
| Patching for Windows and macOS | |
| Activity logging for compliance reporting | |
| All-inclusive package | |
Atera Pricing Plan
Atera offers a free trial for users to test the patch management software's capabilities. Additionally, Atera has 3 pricing plans:
Pro ($99/user/month): You'll receive remote management, automations & scripting, monitoring alerts, helpdesk and ticket automation and more.
Growth ($129/user/month): You'll receive Mac support, Up to 10 support addresses, API up to 600 RPM and more.
Power ($168/user/month): You'll receive File transfer (up to 50GB), unlimited support addresses, API up to 700 RPM and more.
If you're looking for a patch management tool for a large enterprise, Power plan would be the best choice. But first, start your free trial to check out the product.
2. Solarwinds – Best Patch Monitoring Solution
Top-Tier Patch Management Software For Heavy IT Monitoring Needs [Free Trial | $2,006/License]
SolarWinds offers server patch management as well as network management and monitoring tools. Several versions are available, including one for the cloud and one for on-premise deployment.
Viewing device status reports can identify vulnerabilities in domains or platforms. Patch Manager allows admins to implement security solutions quickly by deploying pre-tested patches.
In addition to displaying essential patch data, the tool's web interface provides administrators with a general overview of the environment based on patches.
As well as providing updates for operating systems, SolarWinds Patch Manager provides updates for a diverse range of business applications as well. Many business environments have multiple software solutions that require these updates, such as:
Critical updates
Security updates
Definition updates
Third-party patching
Service packs
In addition to updating third-party applications, Patch Manager is the perfect way to extend WSUS and MECM capabilities.
Here are some of the best features that Solarwinds Patch Manager offers:
PackageBoot Technology: It simplifies the application patching process. After ensuring that the right environment is created early in the patching process, it controls the deployment itself to reduce security risks. Patching processes are prevented from failing because this clears the path for complex installation scenarios.
Dashboards and Exposure Management: You can monitor everything from one central location. Reports provide insights into vulnerabilities. As soon as users start monitoring ongoing patches, they will also be able to identify any unsuccessful patches and take action accordingly.
Scheduling Features: By using advanced scheduling features, administrators can determine when and where updates are done.
Next, we'll discuss the benefits and shortcomings of Solarwinds patch management software.
Pros And Cons Of Solarwinds
| | |
| --- | --- |
| Pros | Cons |
| Has compliance reporting | Only provides patch management for Windows |
| Extends the WSUS process | |
| Has patching for third-party tools | |
| Pre and post-patching environment settings updates | |
Solarwinds Pricing Plan
Solarwinds Patch Manager subscription starts from $2,006, and perpetual licensing starts from $3997. You can get a quote for your usage needs. 
Further, you can have a 30-day free trial to test the product.
I recommend using the free trial to the best of your ability. Once satisfied, you can request a quote for customized patch management software.
3. ManageEngine – Best In Real-Time Patch Management
End-To-End Patch Management & Optimization For Operating Systems [Free Trial | Custom Pricing]
ManageEngine's Patch Manager Plus is another software and server monitoring and management tool from a market leader. The tool automatically deploys patches for Windows, macOS, and Linux. This software's on-premises and cloud versions support over 900 patches for over 500 third-party applications.
With this program, you can perform endpoint management for missing patches such as antivirus/malware updates, security patches, windows server updates, and network monitoring. You can automate the deployment process and report the results and current status.
Therefore, the tool minimizes deployment risks associated with second-party applications and operating systems.
Reports and dashboards provide detailed insights that can also be used as audit references. A single console can seamlessly deploy patches across desktops, laptops, servers, roaming devices, and virtual machines.
It shows administrators what patches have been installed on a platform, whether installed or missing, so they can see the current security and compliance status. A network-wide view of missing patches, including patch count and severity, is available.
Here are some of the best features that Patch Manager Plus offers:
Health Status Report: In the system view, you can see the patch severity and the number of missing patches for each system. They are rated as "healthy," "vulnerable," or "highly vulnerable."
Multi-view Analysis: The data search can be narrowed further with filters that allow administrators to analyze multiple tables and view patch statuses and compliance data in different combinations and comparisons.
Tracking Ability: This patch management software lets you stay on top of the patching process. The tracking feature allows you to view patch deployments and reboots to ensure that the process has been completed successfully.
Next, we'll discuss the benefits and shortcomings of ManageEngine patch management software.
Pros And Cons Of ManageEngine
| | |
| --- | --- |
| Pros | Cons |
| Manages operating systems on multiple sites | It is not a SaaS package |
| Performs regular vulnerability management | |
| Performs patch Verification | |
| Supports third-party software | |
ManageEngine Pricing Plan
ManageEngine offers custom pricing. There are 3 plans available:
Free Edition: This is most suitable for small businesses. You'll receive a fully functional version that can be used on up to 20 computers and 5 servers.
Professional: You'll receive 3rd party and server application patch management, service pack deployment, patch management reports and more.
Enterprise: You'll receive bandwidth optimization, antivirus definition updates, tests and patches.
All plans are available on free trial. You can use a 30-day free trial to check the product and see whether it can solve your patch management issues.
4. NinjaOne – Most Cost-Effective Patch Monitoring Solution
User-Friendly Patch Management Tool [Free Trial | Custom Pricing]
IT professionals can use NinjaOne Patch Management – formerly NinjaRMM – to address issues with user devices by securing them. It is easy to patch devices from anywhere in the world using a cloud-based patching solution.
In addition to a higher rate of patch compliance, this tool also offers an improved user experience since endpoints do not need to be on a domain (or connect through a VPN) to patch. Since no servers need to be patched, it is cost-effective compared to setting up, maintaining, and administering servers.
With NinjaOne, you can manage patches across Windows, Mac OS, and Linux operating systems, making it an ideal solution for complex network architectures. In addition, patch policies provide optimization and automation of patching processes at scale, along with ad-hoc management for quick deployment of critical updates in an emergency.
Here are some of the best features that NinjaOne offers:
Patch Facilitation: Through patch deployment schedules, approvals, and identifications, admins have greater control over the whole process.
Admin Control: The tool allows administrators to patch over 135 popular applications without human intervention or input, even when the endpoint is offline.
Patch Update Selection: You have complete control over which application to choose or remove for patch management and updates. You can either blacklist or remove applications from the list that are not important or can create security problems.
Next, we'll discuss the benefits and shortcomings of NinjaOne patch management software.
Pros And Cons Of NinjaOne
| | |
| --- | --- |
| Pros | Cons |
| Offers patching and hotfixes for all connected devices | It is not a standalone service |
| Stores patch logs in the Cloud | |
| Supports third-party software | |
ManageEngine Pricing Plan
NinjaOne works on a custom pricing plan. You can get a custom quote based on your patch management needs.
5. TOPIA – Most Featured Patch Management Software
Best Patch Management Tool For Financial Sector [Free Trial | Custom Pricing]
TOPIA is a cloud-based patch management tool. It detects and remediates the most critical infrastructure risks in real-time with advanced automation features and contextual analysis capabilities.
The patching process can either be fully automated and patched en masse or run automatically when trigger events occur. Administrators can either test and deploy patches manually or automate the process en masse. Administrators can respond to particular triggers or select specific endpoints using this patch management software.
Thanks to this lightweight patch management system with a small digital footprint, servers and virtual machines are protected from downtime and bandwidth loss during patching.
Here are some of the best features that TOPIA offers:
Scheduling: You can use TOPIA to schedule patch deployments even during off-hours. This saves valuable man hours that you would otherwise spend on deployments.
Reporting: TOPIA provides detailed reports which are accurate and enriched with information. Accurate tracking of changes allows these insights to be precious.
Auditing: The reports created by this patch management solution can help with auditing and scrutinizing the patch management process and overall performance.
Next, we'll discuss the benefits and shortcomings of TOPIA.
Pros And Cons Of TOPIA
| | |
| --- | --- |
| Pros | Cons |
| Offers patching and hotfixes for all connected devices | It is not a standalone service |
| Stores patch logs in the Cloud | |
| Supports third-party software | |
TOPIA Pricing Plan
TOPIA comes with the following pricing options:
Starter: This plan provides patch management for up to 50 workstations and five servers. Further, you will also be able to scan the network for patch needs and patchless protection. You can start this plan for free and start paying as you scale your work.
Premium: With the premium plan, you'll receive patch management for unlimited workstations and servers. Additionally, you'll be able to use a network scanner, risk management, rich reporting, automated actions, and more. This plan also comes with a free trial.
I advise picking the starter plan to learn more about the software and its intricacies. Once you're well versed in it, you can upgrade your plan to use the premium plan benefits.
6. Syxsense Manage – Secure And Effective Patch Monitoring Solution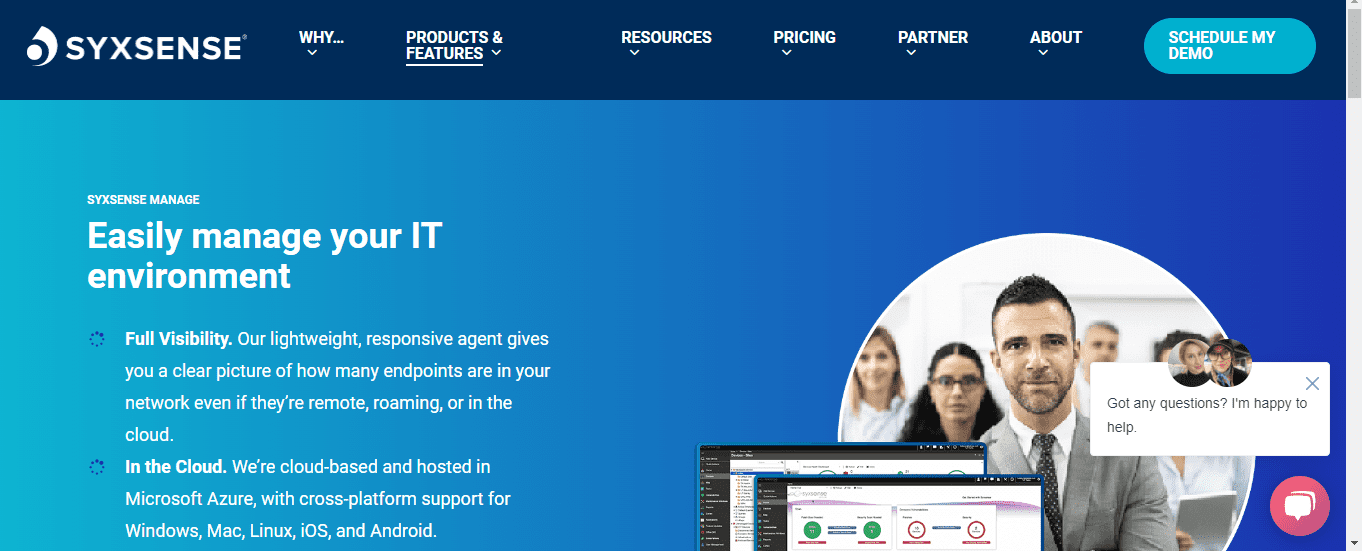 Top-Notch Patch Management Tool For Your IT Environment [ Free Trial | Custom Pricing]
Syxsense Manage allows you to manage patches. This tool makes it easy to organize and implement all aspects of patching. The Syxsense Manage platform is cloud-based and includes a single agent, making it easy to install, use, and monitor endpoints. Further, monitoring can be done on physical or virtual endpoint servers in the cloud or on-premise.
Endpoints are monitored to ensure that all patches and security standards are up-to-date; assets include operating systems, hardware, and software. The tool prioritizes patches based on the threat posed by the detected vulnerabilities and even displays exploited vulnerabilities after a scan reveals there is indeed a vulnerability.
Here are some of the best features that Syxsense Manage has to offer:
Patch Tracking: It is a versatile tool that enables administrators to track patching and updates for Java or Windows 10 feature updates. This allows them to see all Windows 10 versions at a glance.
Reporting: Reports can be shared or exported to prove compliance with security guidelines like HIPAA, such as the "Security Risk Assessment" report that shows the network's overall health.
Vulnerable Devices Tracking: Determines which endpoints are vulnerable and need patching immediately.
Next, we'll discuss the benefits and shortcomings of Syxsense Manage.
Pros And Cons Of Syxsense Manage
| | |
| --- | --- |
| Pros | Cons |
| Endpoints management | Software updates are poor |
| Patch and vulnerabilities logs | Provides only a 14-day free trial |
| Patch prioritization based on security risks | |
Syxsense Manage Pricing Plan
Syxsense offers three plans all based on custom pricing:
Syxsense Manage: With this pricing plan, you'll receive cloud-based architecture, discovery agent, device management, inventory history & audit logs, patch scan, patch management (OS & third-party), and more.
Syxsense Secure: This plan provides all features in the first plan along with threat alerts, real-time views & actions, a network map with device health, IoT discovery, device timeline, and more.
Syxsense Enterprise: This plan provides all features in the above plans, along with 24/7 intelligent automation, security remediation, cortex workflow script library, MDM, open API, and data export for SIEM.
All the above pricing plans come with a 14-day free trial period for you to test the software.
I recommend trying the Syxsense Secure plan since it includes basic to moderate features that might be enough for your patch management needs.
7. PDQ Deploy – Fastest Patch Deployment Solution
Reliable Patch Maintenance Solution [Free Trial | $1,275/Admin/Year]
Deploying software, scripts, or configuring systems is quick and easy with PDQ Deploy. Additionally, patch management campaigns can be automated using it. Multiple application patches can be deployed, custom scripts can be executed, and Windows system commands can be executed remotely using this tool.
The PDQ Deploy tool can do much more than just manage Windows patches and software deployments – it's capable of copying files, sending notifications, and forcing reboots in case endpoint users don't want to take action.
Here are some of the best features that PDQ Deploy offers:
Package Library: There are over 250 ready-to-deploy, third-party applications in the Package Library, such as Adobe Reader DC and Microsoft Cumulative Updates, which are tested for bugs and kept up-to-date.
Silent Updates: Many Windows systems can be silently updated; schedules can be set so that updates are sent at specific times; even if an endpoint is offline, the downloads start as soon as it is back online.
Patch Deployment: Deployment and patching processes can be collaboratively managed by administrators. The tool allows multiple admins to access a shared database and be notified when deployments are successful.
Next, we'll discuss the benefits and shortcomings of PDQ Deploy.
Pros And Cons Of PDQ Deploy
| | |
| --- | --- |
| Pros | Cons |
| Contain extensive patches library | No patching for macOS and Linux |
| Patches Windows OS | Only provides a 14-day free trial |
| Patch prioritization based on security risks | |
PDQ Deploy Pricing Plan
PDQ offers three pricing plans:
Basic($1,275/admin/year): With the basic plan, you'll be able to deploy patches silently, access 250 + ready-to-deploy apps, perform manual and scheduled inventory scans, and more. 
Deploy+Inventory ($1,500/admin/year): Enjoy all benefits from the first plan, along with the ability to create custom multi-step deployments.
Enterprise: This plan offers all benefits from earlier plans plus volume-based discounts. Schedule a demo to get started.
I recommend using the basic plan as it also comes with a 15% discount if you have less than 50 employees.
8. ITarian – Best Patch Management Software To Identify Vulnerable Endpoints
Patch Management System For Unlimited Scalability [Freemium Version | $1.25/Endpoint]
By identifying which endpoints contain vulnerabilities, tagging them, and scheduling automatic patch deployments, ITarian identifies and tags vulnerable endpoints. 
To organize endpoints according to business requirements, administrators can create custom tags. Also, they can schedule deployments by time, group, computer, or severity, as well as by vendor and type. Administrators can also test patches before they are approved for deployment.
Here are some of the best features that PDQ Deploy offers:
Administration Capabilities: It is possible to discover that systems have versions of Java that are vulnerable if they look at more specific tasks.
Reporting: The tool's powerful reporting lets admins stay informed about patches, deployments, vulnerabilities, and every agent.
Next, we'll discuss the benefits and shortcomings of ITarian.
Pros And Cons Of ITarian
| | |
| --- | --- |
| Pros | Cons |
| Up to 50 free endpoints for end-users | No patching for macOS and Linux |
| Old and new Patches tracking | |
| Provides effective IT supports | |
| Quality help desk | |
ITarian Pricing Plan
ITarian has a freemium account including all features you can use for up to 50 devices. Once you cross 50 devices, you have to pay $1.25 per endpoint.
Wrapping Up
Patch management software does all the work on comprehensive updates for applications while at the same time minimizing disruptions and security risks for your business. It reduces the workload for your IT management and cybersecurity concerns.
Further, it also makes the configuration manager's job all the more efficient to provide quality service management for your IT operations.
To recap, my top 3 picks were Atera, for effective patch management, Solarwinds for best IT monitoring, and ManageEngine for constant network scans and real-time updates.
Need more tools to streamline your processes? Check out our blogs to learn about other useful software for your business.