Getting the right photo management software helps you save time in organizing your growing photo collection. If you're shopping for one, this review can guide you in making a smart purchase.
Did you know that there are 1.12 trillion photos captured worldwide in 2020? And according to a study, it will have a 25% increase this 2021 despite the pandemic.
As an eCommerce merchant, I've uncovered many of its benefits in handling my products' photo collection. This inspires me to showcase the 7+ best photo management software that you can use from any device.
What Is The Best Photo Management Software?
If you have little time to spare, you can check out my top 3 favorites: Mylio, Aftershot Pro, and Capture One Pro
| | | |
| --- | --- | --- |
| 4.7 | 4.4 | 4.2 |
| Best overall. Provides facial recognition and offline use support. Starts at $9.99/month. | Best value for money. Aftershot Pro is a one-time purchase product. Priced at $79.99. | Most features. Includes an intuitive management dashboard for photos. Starts at $19/month. |
| Try Mylio | Try Aftershot Pro | Try Capture One |
Let's keep this review rolling to find out the ultimate choice for your devices and needs.
1. Mylio – Top Pick
Best Photo Management Software For All Devices [Free | $9.99 a month]
At a glance, Mylio seems to be similar to other photo managers. It provides a clean and easy-to-navigate dashboard where you can organize and edit all your greatest photos.
But I can assure you, this photo management software can handle more than just photos.
Its platform is designed to efficiently catalog and secure all files on your devices (Windows, Apple, and Android). This comes in handy if you have an extensive collection of videos, digital scans, and documents.
Through its setup wizard, you can start setting up your devices and importing your files. Successfully doing so will allow you to do any of the following tasks:
View all photos in different styles (calendar, map, people, and album)
See all notifications
Perform quick and recommended actions
Explore library stats
Access help guides, latest updates, and contact support
The best part of this setup is that you're allowed to access all files using any device that's connected to your account. If you make any modifications to your photos, the changes will also automatically sync in.
It's convenient and time-saving.
Privacy is also a top priority in Mylio's platform, and they deliver this by not offering a cloud service for storage.
Its creator believes that the best way to keep your files secure and hack-free is by saving them on your own devices. It's a plus that it provides you complete control over how you want to manage them.
But if you prefer to add one, you can do it by clicking add device on your dashboard (under actions).
You also have the option to add an external hard drive or a NAS device for an extra layer of protection.
Pros And Cons Of Mylio
| | |
| --- | --- |
| Pros | Cons |
| Automatic downgrading to a free plan when you stop your premium subscription. | The phone screen should stay ON during the syncing process; otherwise, it will stop. |
| Provide a complete guide on how to use 3-2-1 backup | Don't include a built-in duplicate finder tool. |
| Excellent customer support in community forums | Don't offer auto-storing and backup on a cloud service |
Mylio Pricing Plan
Once you create an account in Mylio, it will automatically give you their free plan. This provides you a limit of 5,000 photos and the power to sync on 3 devices.
If you need more, you can always upgrade your account to a premium plan:
Monthly: $9.99
Annual: $99.99
Explore its interface first before committing to a subscription plan by signing up for its 14-day trial. You can enjoy all the same benefits as premium users.
2. Corel® AfterShot™ Pro – Best Value For Money
Simple Photo Management Software For Windows, Mac, & Linux [$79.99, One-Time Fee]
Simplicity is the main advantage of Corel® AfterShot™ Pro, and it starts with the installation process.
Download this photo management software, and it will automatically sync all the files on your computer. It uses file tree indexing to store all the records.
You can quickly notice it because it's neatly presented on the dashboard.
Corel® AfterShot™ Pro also provides multiple options for the quick and efficient organization of photos. You can organize them by adding each to any of the following categories:
Versions
Stacks (grouping similar photos)
Thumbnails
Labels
Ratings
Flags
By default, this photo manager can sort and output photos solely on your computer devices. It supports photo formats in JPEG, TIFF, and a wide range of RAW formats (12 camera brands supported).
Compared to Mylio, Corel® AfterShot™ Pro is built and launched as a photo editing software with flexible photo management features.
Therefore, you can also enjoy its image editor. This features a non-destructive editing environment, which helps you edit any photos without damaging the original version.
Layers, masks, and rendering raw images are some of the robust editing tools you can use inside the platform.
Corel® AfterShot™ Pro 3 is the latest version available in the market today. Here, you can enjoy advanced tools such as:
Built-in lens profile creation tools
Open camera SDK
In-product plugin library
Modular camera profiles (no patch needed to add cameras)
Pros And Cons Of Corel® AfterShot™ Pro
| | |
| --- | --- |
| Pros | Cons |
| Eliminate the long-term commitment of subscription fees | No quick start guides available upon installation |
| Easy to navigate and use | Highlight and color recovery from overexposed portions of the photo isn't impressive. |
| No importing required | Don't support other digital media assets. |
Corel® AfterShot™ Pro Pricing Plan
You can purchase the latest version of Corel® AfterShot™ Pro for a one-time price of $79.99 (regular price). There's a 30-day money-back guarantee in case it doesn't meet your exact needs.
They also have an upgrade option for anyone who already owns this photo management software.
The upgrade contains all the newest additions and enhanced features you can use on this platform. Here's what you can get:
Comprehensive watermarking
Highlight recovery
Blemish remover tools
Image preset library
You can get all these for a small fee of $59.99.
Not ready to commit? Try it for 30 days free of charge by downloading its trial version.
3. Capture One Pro – Most Features
Best Photo Management Software For Major Camera Brands [Starts at $19 a month]
Capture One Pro is another photo editing software with an impressive photo manager.
Most professional photographers use this software because it provides tons of advanced image editing tools. It also offers tethered support for various camera brands to allow you to actively capture a photo directly from your computer.
As of writing, Capture One Pro supports 14+ camera brands and is compatible with Mac and Windows computers.
Capture One 21 is its latest edition released, and here, you can expect to use the following smart management tools:
Lightroom importer: The tool that can help you effortlessly switch from Lightroom to Capture One.
Export recipes: This advanced tool allows you to produce and export photos in different formats. You can do the export individually or simultaneously.
Catalogs and sessions: Organize large photo collections into catalogs and smaller collections into sessions (preferably part of your daily on-set workflow).
Sorting and culling tools: Use color tagging and star rating for easy sorting.
Filters and smart albums: Quickly search specific photos in your collection by filtering their keyword, lens type, and other important details.
Designing the workspace that fits your needs is what Capture One Pro promises to provide. They deliver this by designing a customizable workspace.
You can drag and drop any section from one position to another or hide tools you no longer need.
Customize it properly, and ease your mind so that you can work smart with less distraction.
Pros And Cons Of Capture One Pro
| | |
| --- | --- |
| Pros | Cons |
| Impressive raw file conversion | Platform interface has a steep learning curve. |
| Include a tethered capture feature | Require high RAM and storage capacity |
| Capture pilot app available for remote shooting | Ideal for experienced photographers and tech-savvy enthusiasts |
Capture One Pro Pricing Plan
Capture One Pro both offers one-time payment licenses and subscription plans (monthly and annual).
If you're a single user, you can avail any of the following:
For every camera: There are four pricing tiers available, and two of them are one-time payment licenses (price starts at $299). The other two offer monthly subscription plans that start at $24 a month.
For Fujifilm/Sony/Nikon: This is perfect if you only use one camera. There are three pricing tiers for you to choose from: get the monthly subscription of $19, a one-time license cost of $199, or get the bundle for $289 (one-time payment).
For professional teams and enterprise-level businesses, here are the options you can choose from:
Multi-users: This pricing structure in this plan is designed per number of users. You can add up to 50 users, but you can always start with $359 a month for 2 users.
Enterprise: Its pricing structure is the same as the multi-users. Their only difference is that you can start with 1 user for $229 a month.
Get started with Capture One Pro now by downloading its free 30-day trial version.
4. Google Photos – Recommended For Browsers & Devices
Budget-Friendly Photo Management Software with Automatic Backup & Sync [Free | Starts at $1.99 a month]
Google is a renowned company that consistently delivers excellent online tools to simplify one's job and life.
In 2015, they finally launched Google Photos, a photo management software that can protect your video and photo collections. It's designed to work on all devices and the latest versions of web browsers to ensure they're always available.
Don't have a stable internet connection?
Don't worry, Google Photos allows you to access your collections even when you're offline.
This photo management software can protect your photo and video collections because it includes an automatic backup and sync feature.
All collections are automatically backed up from your computer, phone, tablet, connected cameras, and external storage devices upon installation.
When it comes to organizing your photos, it will never give you a hard time. Google Photos automatically sort all your photos by location, people, and other things that matter.
If you want to see a specific photo by time, you can do so with a simple pinch (zoom) or taps (jump).
Do you want to hide photos that you no longer need?
You can do it by selecting the photos and moving them to the archive. Don't worry, they will still come up on search results in case you'll be needing them again.
Pros And Cons Of Google Photos
| | |
| --- | --- |
| Pros | Cons |
| Can share edited photos with families & friends via email, text, or social media channels | No offered real-time human support via phone and chat |
| Offer photo printing service | Free plan comes with a limited 15GB storage capacity |
| Include a locked folder to protect your confidential photos and videos | The pinch-and-zoom function is not available on browsers. |
Google Photos Pricing Plan
Google Photos offer three storage subscriptions which are all payable on a monthly or annual billing cycle.
100GB for $1.99/mo.
200GB for $2.99/mo.
2TB for $9.99/mo.
If Google Photos best suits your needs, be sure to sign up for its free plan.
5. Photos for macOS
Must-Try Photo Management Software For Mac Users [Free | Starts at $0.99 a month]
Photos for macOS is the simplest photo management software available for Apple users. It's free to use and already installed on your devices.
The desktop version will automatically open once you connect your iPhone, iPad, or iPod touch.
It also instantly organizes your collection with smart albums. But of course, you can customize it by grouping them into different categories:
Media types
Places
People
Time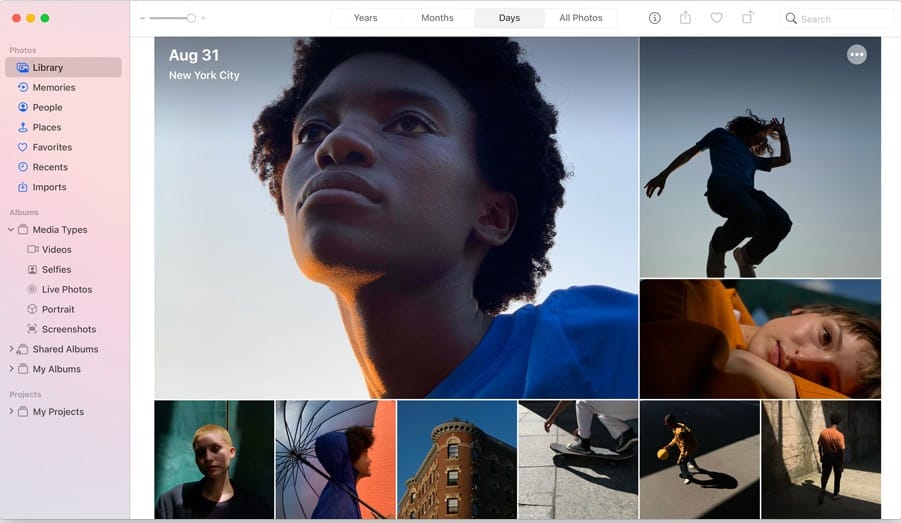 Apple's mission is to showcase your best photographs and highlight the important moments of your life.
They deliver this by giving your best shots with larger previews and creating stunning slideshows for your memories. You can add theme music, titles, and cinematic transitions to make it livelier.
Just like with other photo management software, Photos for macOS provides built-in editing tools.
Here are a few of the intuitive editing tools you can use:
Five studio-quality lighting effects
Smart Sliders
Nine photo filters
Markup tools (add text, shapes, etc.)
If you want to use your pictures as gifts or create beautiful websites, you can download third-party project extensions from the Mac app store.
Pros And Cons Of Photos for macOS
| | |
| --- | --- |
| Pros | Cons |
| Clean interface makes it easier to find your photos | No advanced features included |
| Include smart albums to organize your photos automatically | No phone support is available. |
| Newly-captured photos and videos are automatically added to iCloud Photos | |
| Ideal for storing high-volume of photos and videos | |
Photos for macOS Pricing Plan
Photos for macOS offers a free plan which gives you 5 GB of free storage in iCloud. If this isn't enough, you can upgrade your iCloud storage.
There are three subscriptions you can choose from:
50 GB ($0.99/mo.): This is the most popular storage subscription for anyone who has a good number of photos, apps, and other digital media assets to store or backup.
200 GB ($2.99/mo.): An ideal plan for single and multi-users.
2 TB ($9.99/mo.): This is the recommended plan if you intend to share it with your family members (up to 5).
Get the right storage subscription that works for you, and start storing all your precious photographs.
6. Magix Photo Manager Deluxe – Best For Windows
Professional Photo Management Software with Intelligent Selection Feature [$49.99, One-Time Fee]
Magix Photo Manager Deluxe is one of the most powerful photo management software available today.
It provides you with a clean and simple workspace where you can arrange all your memories into albums. It also contains many organizational tools to help you sort, browse, optimize, archive, and search your photos.
One advantage of Magix Photo Manager Deluxe is it supports a broad range of file formats:
Photo: BMP, JPG, Kodak Photo CD, and TIF
Video: AVI, MPEG, MOV, MXV, and WMV (HD)
Audio: MP3, non-copy-protected CD titles, OGG, sound recordings and camera sound, and WAV
For effective decluttering, this photo manager uses an intelligent selection wizard. This AI-powered tool performs image analysis to find poorly captured, duplicates, and blurry photos.
Once they detect it, they will automatically sort it out.
If you want to enhance the photo quality, you can use any of its built-in editing tools. Aside from the basic functions (crop, red-eye removal, etc.), you can add impressive effects and create slideshows.
Protecting your privacy is a top priority in Magix Photo Manager Deluxe.
They deliver this by providing a password protection option and sending backup copies (CD, DVD, or external hard drives).
Pros And Cons Of Magix Photo Manager Deluxe
| | |
| --- | --- |
| Pros | Cons |
| Reliably support RAW files for hundreds of camera models | Only support Windows-based device |
| Include system restore | Manual backup required |
| Handles photos, videos, and audio files | |
Magix Photo Manager Deluxe Pricing Plan
Unlike other photo management software, Magix offers the most straightforward pricing tier.
You can get it with a one-time fee of $49.99. The best part of this is you can also get all the future upgrades, and new versions released free of charge.
Of course, this must agree with the coverage of your Update Service.
If not, you can get all the upgrades with a small fee of $29.99 (one-time payment).
Explore what Magix Photo Manager Deluxe stores for you by downloading its 30-day free trial version.
7. gThumb – Most Stable For Linux
Open-Source Photo Management & Viewer For GNOME Desktop [Free]
There are tons of photo management software for Linux, but gThumb remains to stand tall. The reason is simple, it's the most feature-rich platform of all.
Here are its top features:
Photo browser – Perform standard tasks like copy, move, delete, bookmarks (folders and catalogs), and more. All photos are shown in thumbnails.
Photo viewer – View photos in thumbnails or full-screen mode, rotate, flipped, and mirrored. It supports 10 formats, including BMP, JPEG, GIF, PNG, TIFF, and more.
Photo organizer – Group photos in catalogs and add comments on each for quick search.
Photo editor – Enhance the photo quality (color, contrast, lightness, etc.), crop, red-eye removal, scale, and rotate. You can save all edited photos in PEG, PNG, TIFF, and TGA formats.
It also provides advanced tools to help import your collection from digital cameras, find duplicate photos, and so on.
Do you want to expand its functions?
It's possible because gThumb is built with a reliable plug-in system to support extensions.
Pros And Cons Of gThumb
| | |
| --- | --- |
| Pros | Cons |
| Lightweight application | Provide basic photo editing tools |
| No minimum or recommended system requirements needed | Additional support is required for managing RAW & HDR image formats. |
| Handles all major image formats, including GIF animations | |
gThumb Pricing Plan
If gThumb seems to be the photo management software that works for you, download it now. It's 100% free to use.
8. ShootProof – 100% Online
Superb Photo Gallery & Sales Platform For Photography Business [Free | $10 a month]
All the photo management software in my list is required or recommended to be installed on devices for quick access.
However, if you're looking for a photo manager that runs 100% online, ShootProof is your ultimate choice. You can open it on any default web browser on your device (desktop and mobile).
It saves time and storage space.
By default, you can use it to back up your photo collections. In doing this, make sure to upload the full-resolution versions of the photos.
It must also be in JPG format and sRGB color space.
You can start uploading your photos by creating a new gallery (located on your Studio Panel).
For high-volume photo collection (including complex album structure), they recommend installing the ShootProof Lightroom plugin or desktop uploader.
Both options guarantee fast upload with minimal to zero supervision required.
The best thing about ShootProof is it's also built as an eCommerce platform. It can support your photography business by providing you with tools to:
Create your ShootProof homepage (no existing website)
Integrate your homepage to your website
Generate reports (sales, orders, top seller, and more)
Set prices for all your products (prints, add-ons, digital items, and upgrades)
Create and manage contracts
You can also create and manage invoices in your account. Inside the platform, you can add any of the following options:
Accepted payment method
Add discounts
Specify if it's a retainer, deposit, or non-refundable payment
Installments and payment plans
AutoPay
Link to a contract
Pros And Cons Of ShootProof
| | |
| --- | --- |
| Pros | Cons |
| Flexible payouts of available funds (daily, weekly, & monthly) | Only support JPG photo formats (50MB max. size) |
| Apply watermark on every photo to upload | ShootProof Pay include payment processing fee (2.9% + $0.30/transaction) |
| Each gallery has an individual checkout page/shopping cart. | Require average learning curve to learn on how to sell |
| 100% commission-free on sales | |
ShootProof Pricing Plan
ShootProof offers four subscription plans which you can pay either on a monthly or annual billing period. The annual plans are recommended due to the given discount with 2 months free of use.
The subscription plans are primarily designed for storage capacity:
1,500 photo plan: $10/mo.
5,000 photo plan: $20/mo.
25,000 photo plan: $30/mo.
Unlimited plan: $60/mo.
If you're not ready to commit to any plans, you can try its free trial version and get 100 photo capacities.
Conclusion
With more people getting hooked on photography, the demand for excellent photo management software increases rapidly.
All photo managers available online seems to be a good choice. Unfortunately, not all guarantee efficacy and ease of use.
If I have to choose one, I'll go with my top pick – Mylio.
It provides you with everything you need to organize and manage your digital files like child's play. You can even easily share your files with family and friends via email, messaging apps, social media, and text.
It's a bonus that it offers a free trial, free-forever plan, and low-cost subscription plans.
I hope you find my honest review of the best photo management software helpful. If you have suggestions, tips, or questions, please feel free to drop them in the comment section.