Are you looking to establish your online platform for online courses and e-learning? In this article, we'll be looking at a comparison between two of the best online course platforms available in the market, Podia vs. Kajabi.
In this comprehensive comparison, I will guide you throughout the article to decide which online course platform is the best for you.
You'll become familiar with Podia and Kajabi's pros and cons, key features, pricing, and more. All of this information will lead you to make the best decision ever.
Now, let's get started.
1. Podia vs. Kajabi At A Glance
Undoubtedly, Podia and Kajabi are two strong brands in the e-learning platform industry. Let's take a closer inspection at how they stack against each other through a quick glance at their most valuable features and popular pricing plans.
| | |
| --- | --- |
| 4.9 | 4.5 |
| Best Overall. Affordable and beginner-friendly platform with handy features for online course selling. Starts at $39/month. | Feature-rich. Robust premium platform for online course selling and many other digital contents online. Starts at $149/month. |
| Try Podia | Try Kajabi |
2. Who Is Podia Best For?
Podia is perfect for beginner creators who are just starting a career in the eLearning niche and need an affordable and accessible online course platform solution.
Its user-friendly and easy-to-use interface will create online courses a breeze even if you don't have much technical knowledge.
3. Who Is Kajabi Best For?
Kajabi is best for established and medium-sized businesses and creators who can utilize all of the powerful tools that Kajabi offers without worrying about the cost.
Its comprehensive platform lets you create online courses, sales funnels, and more, all in one place.
4. A Close Look At The Features Of Podia and Kajabi
Let's place Podia and Kajabi side by side and take a closer look at their tools and features. What features do they have in common, and what makes one stand out over the other?
| | | |
| --- | --- | --- |
| Features | | |
| Zero transaction fees | | |
| Automation | | |
| Customer engagement with a live chat tool | | |
| Third-party integrations | | |
| A/B Testing | | |
| Affiliate marketing programs | | |
| Email Marketing | | |
| Customizable | | |
| Get Started | Try Podia | Try Kajabi |
5. Key Features Of Podia
#1 Podia's Website Setup
Like Kajabi and Teachable, Podia is one of the best online course platforms currently used by tens of thousands of creators. 
One remarkable feature that these creators love about Podia is the intuitive and easy-to-use interface making setting up your online course-selling site easy-breezy.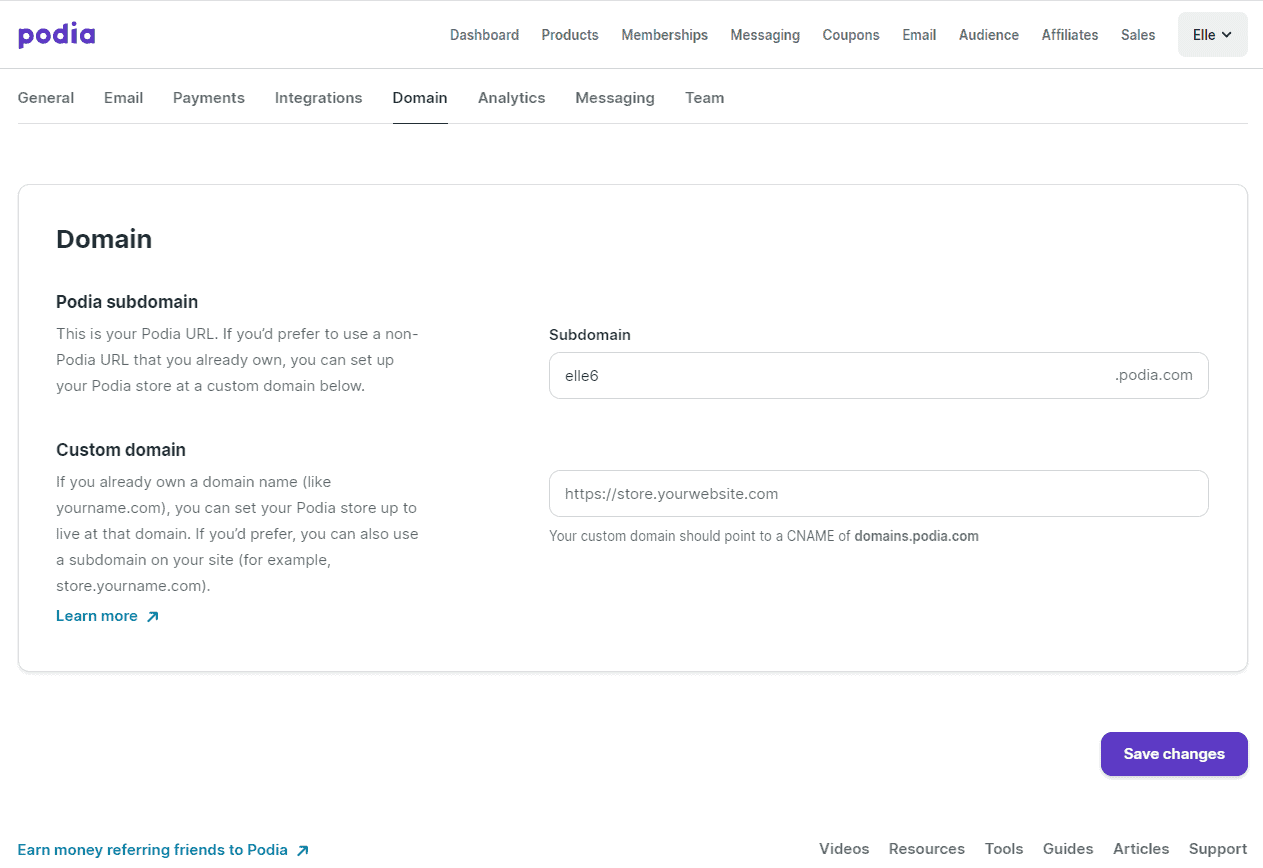 When setting up your website with Podia, you'll get the following:
Free migration – Podia will help move your previously hosted or saved content.
Live customer support – Podia's live chat will be available and ready to help whenever you need it.
Unlimited hosting included – Hosting is included in the plan you avail, no need to pay for separate hosting and deal with technical difficulties.
Multi-language and multi-currency – You can choose from 11 languages and 22 currencies.
Build your website – You can add pages you'd like your audience to see.
Custom URL – You can have your custom URL.
Integrations – You can connect to Google Analytics, Facebook Pixel, and more.
#2 Brand Customization
Podia's website editor gives you a live preview, making customizing your website easier since you can immediately see the changes you apply. In the editor, you can select a layout, and theme, add your bio, and any relevant links, and craft a stunning page for potential customers.
You can be at ease knowing that your site is optimized to look stunning on every device.
When customizing your site to fit your brand, Podia offers the following:
Add videos, images, texts, and more – Adding rich text, videos, photos, testimonials, and more is easy with Podia.
Flexible layout – Podia gives you control over how you want your page to look and where you want to place elements.
Live previews – You can see exactly how the changes you make will affect your site in real-time.
Customizable branding – Podia lets you add your logo and change the colors to fit your brand.
Beautiful on all devices – Podia made sure that your site is mobile-responsive so that it looks fantastic on desktops, tablets, and mobile.
#3 Podia's Product Variation
With Podia, you can sell online courses, digital products, membership plans, webinars, or a mix-and-match of those products in a bundle. Also, with Podia, you have unlimited bandwidth, unlimited products, and unlimited customers.
Let's have a closer look at what you can do with these products.
With Podia, You can make various online courses that align with your business and customer's needs. Podia supports every file type, hosts all of the content, and does not limit the number of content you can upload and sell to your customers.
You can create the following with Podia:
Single course – Your course can contain any content, including text, images, audio files, MP3, PDF, PSD, quizzes, videos, and more.
Drip courses – Your students receive your course contents section-by-section over time.
Course bundles – Group up courses that are similar to a bundle and offer them to your students.
Pre-sell courses – Pre-sell your courses before launch without worrying about time or usage limits.
Pre-launch courses – Pre-launch courses let you test out your ideas or topics with your audience before creating an entire course.
Quizzes – Create interactive quizzes at the end of modules to test your students' knowledge.
Podia lets you upload and create any file or kind of download that you want. Podia enables you to sell a wide range of different products such as text files, eBooks, templates, image files, PDFs, PSDs, audio files, MP3 files, quizzes, a mix of file types, and more.
Having memberships is perfect for creators like you since they give freedom and flexibility in growing your business.
With Podia, you get membership site software that lets you capture emails and deepen relationships with your community. You can share content, engage with members, and generate recurring revenue.
Offering free memberships lets you have an effective lead-generating platform that's more interactive and personal than an email list.
With memberships, you can post new ideas and content quickly since it doesn't need long-form content like courses. Your members can give you instant feedback and comments as soon as you post new content, increasing your interaction and engagement with your members.
Having a membership also lets you transition from a "one-to-one" to "one-to-many," which is the quickest and most effective way to leave a more significant impact on your community. You are also expanding your product offerings when you add a membership since you can serve a wider breadth of customers.
Membership also gives you and your business more flexibility since you won't have the pressure of intense launch deadlines, unpredictable revenue, and demanding clients. Podia membership gives you the freedom to choose when to work, what to work on, and who to work with.
Let's look at the key features that Podia membership offers:
Multiple membership levels – You can offer a free plan and a premium plan. Podia lets you offer as many membership tiers as you want.
Public posts – You can publish free content with anyone who has the link.
Private posts – You can limit access to content by membership levels by allowing specific members to access more premium content. Free members will want to upgrade if they wish to access premium offerings.
Pin posts – You can pin a post at the top of your membership feed to welcome members, offer resources, and more.
Schedule posts – Podia lets you schedule your content in advance easily.
Bundle products – You can bundle together products you are selling such as online courses, digital products, and more, into your membership plans.
Comments and ❤️'s – You can interact with your members by letting them share their thoughts, ask questions, like content, and more on any content you post.
Email notifications – Your members will receive an email when you publish new content.
Embed content into your posts– Podia lets you directly embed videos, images, and social media content into your membership posts.
Connect to Facebook, Slack, or Palapa – With Podia membership, you can connect your existing Facebook group, Palapa account, or Slack channel.
You can host live video sessions with unlimited participants powered by Youtube Live and Podia. There is no need for a separate webinar tool like Zoom or GoToMeeting when hosting a Podia webinar.
Webinars are perfect for coaches and consultants, online entrepreneurs, professional speakers and educators, and health and wellness professionals who want to bring their passion, expertise, and services online.
Podia allows you to offer your webinars for a fee or for free.
You can also set a schedule for your webinar and allow possible attendees to sign up quickly with Podia's checkout. Once paid, your attendees receive all the info they need to show up at the scheduled time.
When your webinar is over, Podia automatically stores the recording allowing you to choose to let new customers purchase the replay after it's over.
You can also bundle your webinar with online courses or digital products or include it as part of a membership plan.
Selling webinars with Podia means that your webinars, online courses, and digital products are all in one place, making it more straightforward for you and your customers. Also, all Podia plans include webinars at no additional cost.
#4 Podia's Marketing Tools and Solutions
Podia's marketing tools and solution lets you build and grow your audience. Let's take a look at the marketing tools and solutions that Podia has to offer.
With Podia, you can send your customers any kind of email, from newsletters to drip campaigns. Podia stores all of your subscribers in your dashboard, and you can sort, segment, and export them quickly at any time.
Podia also provides you with email capture tools to grow your list from scratch or continue building an existing list. Podia also gives you full access to your email analytics so you can track open rates, conversion rates, clicks, and more.
Let's have a look at some of Podia's email marketing features.
Email newsletters – You can send your subscribers one-off updates or targeted updates.
Drip campaigns – You can send targeted email sequences that engage subscribers and ultimately convert them.
Professional-looking emails – Podia gives you a clean, professional-looking email template to deliver your message.
Email capture tools – Podia lets you capture email anywhere on your website, be it your homepage or sales pages.
Podia gives you an integrated live chat tool to engage and build deeper relationships with your customers. With live chat, your customer gets a convenient way to reach you, and you can capture customer questions, requests, and feedback even when you're not online.
Podia's live chat gives a personalized touch to customers and builds trust by answering their questions.
Podia's live chat tool integrates with your website smoothly and comes in Podia plans at no extra cost.
#5 Selling Your Product with Podia
When you finish setting up your online courses, the next step is selling and earning from them. Podia offers you tools so you can maximize your earning potential.
Let's take a look at the selling features and tools that Podia offers:
Payment plans – Podia offers you the choice to give your customers the option to pay for your courses in monthly installments. Doing so may increase conversions.
Affiliates – You can give your affiliate partners commissions for selling your courses.
1-click upsells – Offer relevant upsells to customers who avail of your products can increase the order size.
Coupons – Coupons customized with time or usage limits can entice customers to buy your products.
Embeds – Embed "buy" buttons on your website so you can sell your products directly from your website.
Bundle products – Selling similar products together as a package or bundle encourages customers to buy more.
Pre-launch products – Even before launching a product, you can start collecting full pre-payment or email addresses.
Cross-sell products – Segment campaigns by your subscribers' purchased products and recommend them something else they will like.
6. Key Features Of Kajabi
#1 Kajabi Products
Share your passion and expertise with the world as a digital product. Kajabi will help you turn your skills into polished and profitable digital products.

Kajabi's product generator lets you create online courses, membership sites, subscriptions, and much more quickly and easily.
Kajabi's Product Blueprints offers a collection of easy-to-use templates for creating your products, so you don't have to worry about coding or programming.
#2 Kajabi Website Builder
Kajabi lets you build a website that houses your content, marketing, and products all in one place.
Kajabi offers you a library of beautiful, ready-made themes that you can customize to match your brand with a drag-and-drop builder. Kajabi's website builder replaces Wix, Squarespace, and many other site builders.
Kajabi also lets you customize your domain to match your brand so that your customers can easily recognize your site.
#3 Kajabi Pipelines
One of Kajabi's prominent features is the sales pipeline management software or Kajabi Pipelines that optimize, automate, and scale your marketing campaigns.
You can use Kajabi Pipelines for launching a product, giving promotional offers, or giving free reports. You can also automate every marketing aspect.
Kajabi gives you Blueprints for the type of pipeline you need or create your own from scratch.
#4 Analytics by Kajabi
Kajabi's Analytics lets you make smarter business decisions with real-time insights into your business. You can view reports, customer progress tracking, user forecasting, and determine how customers engage with your business.
With Kajabi, all the key performance indicators you need to track, such as revenue, offers sold, subscription metrics, and more, can be seen in one web analytics dashboard.
Kajabi gives you in-depth reports on subscription churn rate, student progress, and more to help you discover the areas your products can improve.
You also receive transparent, streamlined reporting for your website and pages to help you find out how your pages are performing.
#5 Email Marketing with Kajabi
Kajabi's email marketing software helps you grow, manage and reach your subscribers with personalized emails. With Kajabi's new visual email editor, you can create and send stunning messages with integrated video, automation, countdown timers, and more effortlessly.
You can send automated email sequences or one-time email blasts based on your customers' behavior. Kajabi has templates for every type of email you need.
7. Podia vs. Kajabi – Pros And Cons
Let's have a closer look at Podia's pros and cons.
Podia:
| | |
| --- | --- |
| Pros | Cons |
| Affordable pricing plans | No phone support |
| Straightforward to use and navigate | No free plan |
| No transaction fees | No mobile app |
| Unlimited courses | Limited customizability |
| Built-in email marketing | Email marketing feature is not so robust |
| Unlimited storage | |
Here you will see Kajabi's pros and cons.
Kajabi:
| | |
| --- | --- |
| Pros | Cons |
| You can build an entire website | No free plan |
| SEO | The website is not that easy to navigate |
| Sales funnel and landing page tools | No unlimited storage |
| Mobile app | Pricy |
| You can create an online community, assessments, and quizzes. | |
8. Where Do I Get The Most For My Money?
Between Podia and Kajabi, where do you get the most value for your money? Which one is worth the investment?
Let's take a look at Podia and Kajabi's pricing plans.
Podia Pricing Plans

Podia offers two pricing plans that you can choose from when your 14-day free trial ends. Podia's free trial grants access to all of Podia's premium features for a limited time.
Mover ($39/month): This is the basic plan which includes having your website, online courses, digital downloads, webinars, email marketing, messaging, additional teammates at $20/month each, zero transaction fees, unlimited everything, 7-days-a-week support, daily live Q&A sessions, and free migrations.
Shaker ($79/month): This is a premium plan which includes all of the features of the Mover plan, except you get memberships, zoom integration, blog, offsite buy buttons, affiliate marketing, and third-party code.
Kajabi Pricing Plans
Kajabi offers three pricing plans:
Basic ($149/month): This plan includes three products, three pipelines, 1000 active members, one website, one admin user, zero transaction fees, 10000 contacts, unlimited landing pages, unlimited marketing emails, webinars & events, templates, assessments, automation, and so on.
Growth ($199/month): This is the most popular plan and includes all features of the basic plan, except it has 15 products, 15 pipelines, 25000 contacts, 10000 active members, one website, ten admin users, advanced automation, affiliate program, ability to remove Kajabi branding, and more.
Pro($399/month): This plan includes all the features of the growth plan, except it has 100 products, 100 pipelines, 100000 contacts, 20000 active members, three websites, 25 admin users, and a code editor.
9. Conclusion – Which Is Better: Podia Or Kajabi?
We've now reached the end of the article, and now it's time to decide which one is better.
If you're a beginner creator who's just getting started with online course creation, Podia will be right up your alley. It's affordable, easy to use, and packed with all the essential features that will be important in setting up your online course platform.
If you're an established and medium-sized business or creator, Kajabi is the recommended one for you. You'll be able to utilize to its fullest all of the powerful and advanced features that Kajabi has to offer in creating your online course platform.
Equipped with robust features, Kajabi truly fits its description as an all-in-one business platform for creating, selling, and scaling your business with online courses, membership sites, and more.
10. Podia vs. Kajabi – FAQ
Here are the answers to four of the most frequently asked questions (FAQs) about Podia and Kajabi.
Can you sell physical products on Kajabi?
Kajabi allows you to sell physical products, but Kajabi is mainly for people who want to sell courses and all forms of digital products.
Does Podia have an app?
No. As of the moment, Podia does not have a mobile app.
Can you blog on Podia?
You can replicate a blog with Podia's membership "public posts" feature.
Is Kajabi good for SEO?
Yes. Kajabi has a variety of tools and features to help you with SEO. Kajabi also makes your site user-friendly and mobile-friendly, which improves your site's overall experience, an essential factor in SEO.