Using product design software is practical in many ways. Not only does it help an entire design team make their vision a reality, but it can also lessen the cost of developing new products.
A typical product development platform can assist in both the streamlining and optimization of the product design process. And with the right one, correcting design flaws doesn't have to be complicated.
However, after years of using this tool, finding the right product design software that matches your needs can get tricky given that more options become available. To help you choose the right one, we came up with 7+ of the best product design software options today.
By the end of this post, you'll be well equipped to decide which product design software to leverage. Let's get right to it. 
What Is The Best Product Design Software?
If you want to jump straight into my top 3 picks, then you have ZBrush, Blender, and Rhino.
| | | |
| --- | --- | --- |
| 4.8 | 4.6 | 4.1 |
| Best overall. Great for digital sculpting. Subscription starts at $39.95/month.  | Feature-rich. Open-source all-in-one 3D modeling platform with powerful tools. Available for free | Best value for money. Uses free-form geometry for less rigid modeling. Starts at $195. |
| Try ZBrush | Try Blender | Try Rhino |
Now, if you want to know more about the rest of our picks, let's get things started.
1. ZBrush – Top Pick
Product Design Software With Exceptional Tools [$39.95/mo | $895 – One Time Purchase]
First on our list is ZBrush by Pixologic. This software is known for its advanced tools that allow digital artists to push the limits of their imagination.
Working with ZBrush is often described as working with "digital clay" where you can explore endless possibilities.
It comes with a powerful ZBrush system that lets users sculpt virtual objects in real time. It can work on a variety of tasks from simple shapes to some of the most complicated art pieces that you can think of. For this reason, the ZBrush is quite popular in different industries including game developers and concept artists.
You'll get 300 customizable ZBrushes in its default program. You can also make your own ZBrush or just get the third-party ZBrushes from marketplaces.
ZBrush is known for handling a maximum of 100 million polygons per mesh (depending on the hardware that you have). ZBrush uses what Pixologic calls Pixols. Pixols are 2D pixels that come with depth making them "2.5D". Once you render the Pixols, ZBrush can then turn them into 3D voxels.
In its 2021 update, Pixologic added the cloth functionality in its Dynamics panel. This made ZBrush even more competitive against other 3D modeling software since other programs have already featured user-friendly cloth tools along with cloth ZBrushes.
There's also the addition of the MicroPoly. This allows the tiling of meshes using the Dynamic Subdivision panel, making it easier for users to create more detailed cloth and weave products such as baskets.
Next is the Thick Skin functionality that lets users add clay with different ZBrushes. This means that users get to feel as if they're using clay in real life. As for the 2022 update of ZBrush, Pixologic added new tools such as knife ZBrushes.
However, ZBrush is a bit intimidating for newbies especially when you look at the number of tools in the menu. The good news is that it comes with an active community that offers a lot of useful tutorials for entry-level users.
A perpetual license costs $895 while a monthly subscription is $39.95 per month.
If you find the ZBrush to be a bit too expensive and hard to use due to limited hardware, Pixologic also offers the more affordable and lighter versions ZBrushCore and ZBrushCoreMini.
Pros And Cons Of ZBrush
| | |
| --- | --- |
| Pros | Cons |
| Powerful ZBrush system perfect for sculpting | Costly |
| New features every year | Complicated for beginners |
| Great 3D workflow | |
ZBrush Pricing Plan
ZBrush comes in three pricing plans. The plans differ not in the features for each package but in the duration, you can use the tool. 
One Month ($39.95/mo): Pricing plan good for those who want to pay on a monthly basis.
One Year ($359.90/year): Pricing plan for those who want to use the tool for a whole year.
Perpetual ($895): No expiry usage.
While it's tempting to get the Perpetual plan, it's best to test the waters out with the one-month subscription first. 
2. Blender – Best For Educational Use
Product Design Tool For Best Process Experience Suited For Hobbyists, Solo Artists, and Individual Projects [Available For Free]
Next on our list is Blender. Considered an underrated program, it isn't surprising that professional designers wouldn't even want to use Blender.
On the other hand, if you're someone who doesn't want to buy tools, or is still trying to learn a new skill, then Blender is something that you might want to use in your product development process.
Blender is the jack-of-all-trades as far as product design is concerned. It comes with an overwhelming number of modeling tools. The best part about this is that it is an open-source application. It means that it's a free 3D design tool that can be used by anyone. And since its code is open source, developers have improved its overall functionality making it comparable to some of the more expensive programs in today's market.
Blender covers the entire 3D workflow including modeling, rendering, simulation, composting, and even video editing and 2D animation. It is available for free on Windows, Linux, and Mac.
Other features include:
Real-time rendering with the help of the EEVEE engine.
Aside from EEVEE, the design team can also render using Cycles.
One of the newest features of Blender is the geometry nodes. This even makes it better than expensive 3D software options in the market. This allows users to unlock creative ways of making designs within parameters.
So who should be using Blender? Surprisingly, it's something that many professionals from different industries should try at least once. Whether you're animating, sculpting, creating visual effects, or even editing videos, it's something that proves to be practical in different ways.
If you are a hobbyist, or someone trying to learn product design, then this is a great tool that can help you improve. But for commercial use, users might want to try other software in the market.
Pros And Cons Of Blender
| | |
| --- | --- |
| Pros | Cons |
| Open-source | Difficult to use interface |
| Great tool for beginners | |
| Covers the entire 3D workflow | |
| Two types of rendering | |
Blender Pricing Plan
Given that Blender is open-source, using this tool is free of charge, just download the tool and you can start using it.
3. Rhino – Best Value For Money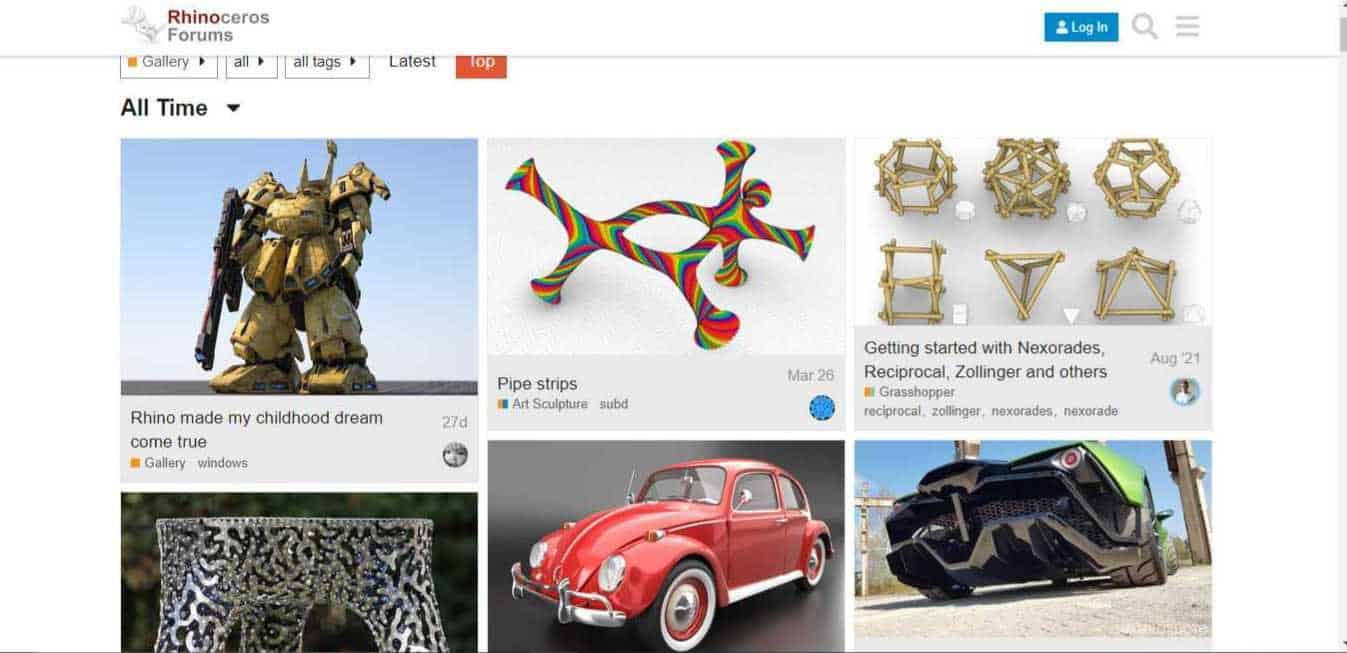 Most Practical Product Design Software For Industrial Design [$995 – One Time Purchase]
Rhino has transformed from AutoCAD to becoming a 3D CAD program over the years. Throughout its evolution, it has been used in different fields. It's a practical choice for architecture, industrial design, prototyping, and 3D modeling industries.
Unlike programs such as ZBrush which operates in a subtractive method, where the design team chops a block until you get what you want, the Rhino is best known for its free-form geometry. This program has less rigidity as far as parametric commands are concerned.
The software is based on what is called NURBS geometry. NURBS means non-uniform rational basis spline.
NURBS offers flexibility making it essential in different fields from animation to illustration. It can represent not only the standard geometric patterns such as circles, and spheres. But instead, it offers free-form geometry giving users the chance to create complex designs from car bodies to human anatomy.
A lot of people prefer to use Rhino because of its ability to design objects with high precision. It can be used not only in creating mechanical parts but in objects like jewelry as well.
Once you are done with your design, you can have the project exported to STL or OBJ format and ready for manufacturing.
In summary, the Rhinoceros can build designs more artistically than with the precision needed in engineering, automotive, machine shop, and electronic-based projects. It simply doesn't have the parametric modeling ability required of engineering-centric product design programs such as Creo. However, you can still use it for engineering designs.
Even if this isn't exactly an engineering-first program, the good news is that you can still have a plug-in to make the program parametric.
Pros And Cons Of Rhino
| | |
| --- | --- |
| Pros | Cons |
| Can design objects with high precision | Not easily compatible with 3D printing |
| Student-friendly pricing | Hard to use in engineering designs |
| Uses a free-form geometric approach | |
Rhino Pricing Plan
Rhino is free to download and use for 90 days. After that, you have to purchase a license key to keep on using it.
For Windows And Mac ($995)
For Bongo 2 ($495)
If you have an older version of Rhino, you can upgrade the tool for $595 (Windows and Mac) and $295 for Bongo 2. If you're either a student or faculty member, you can get the license for just $195.
4. Adobe Creative Cloud – Full Platform Suite
Best Product Design Solution For Existing Adobe Environment Users [$54.99/mo]
The Adobe Creative Cloud is a good choice for users who plan on using different Adobe products in product design. It's a collection of 20 different design and production apps giving different designers a collection of tools that they use for their projects.
The Adobe Creative Cloud can be used for editing films, creating videos, designing wireframes, and building 3D product demos, making it practical for people who need to fill in different roles for their company. This is also a standout collaboration tool as it comes with up to 100GB worth of cloud storage making it easy to save and share projects with other members of the design team. 
But what makes Adobe Creative Cloud stand out compared to other product design software is its mobile version. This gives users the chance to do their work even when they are not in front of their computers. Its mobile version is compatible with both Android and iOS devices.
It also comes with a 2GB complimentary cloud storage, but most likely, you'll need more in case you're working on multiple projects.
But of all the tools featured in the Adobe Creative Cloud, the Adobe Dimension is the perfect fit for designers working on 3D projects. Adobe Dimension can simplify the overall design process without dealing with confusing layers via Adobe Photoshop and Illustrator. With Dimension, what used to take days can be completed in a few hours.
Users can have a 2D image transferred into a 3D object. It also has machine learning capability which lets the program automatically determine the right lighting. It can align objects with ease in relation to the horizon line.
Aside from Adobe Dimension, Adobe Creative Cloud also comes with Adobe Stock where users can download 3D models.
Pros And Cons Of Adobe Creative Cloud
| | |
| --- | --- |
| Pros | Cons |
| Multiple tools available | Adobe Dimensions can't create custom shapes |
| Adobe Dimensions makes use of AI tech | Slow export |
| Apps can be integrated with each other | |
| Straightforward interface | |
| Mobile-friendly tool | |
Adobe Creative Cloud Pricing Plan
Adobe Creative Cloud doesn't have many pricing structures.
Individual ($54.99/mo): This includes 20 Creative Cloud apps Photoshop, Illustrator, Adobe Express, Premiere Pro, and Acrobat Pro.
If you're either a student, a faculty member, or a business that needs team access, Adobe Creative Cloud will allow access for a more affordable price. 
5. Creo – Excellent 3D Product Projects
Best Product Design Software For 3D Mechanical Models [$2,780 Locked License Price]
3D designs are not only limited to non-moving products. Some 3D projects involve models that require moving parts whether it's a car or a simple machine. For this type of project, Creo comes as a top choice.
A program considered a favorite by many engineers, Creo is known for its emphasis on physical fidelity by providing parametric modeling features. Physical fidelity is defined as the level at which the virtual world replicates that of the real environment.
Creo makes it easy to build mechanical models. Users no longer have to deal with incompatibility with CAD software systems. Instead, it integrates both 3D and CAD in one.
It comes with an intuitive user interface that can help save time, especially when it comes to designing complex models. And since it is designed for precise geometry, it comes with automation for dimension sketches, simplifying the overall design process.
With its Shrinkwrap tool, Creo is perfect for assembly modeling and creating accurate representations of different mechanical products. Creo also meets international standards such as ISO, JIS, and ASME for both 3D and 2D designs.
Since most Creo users are dealing with mechanical designs, the software can validate how the design moves, and perform static structural analysis of its parts.
Pros And Cons Of Creo
| | |
| --- | --- |
| Pros | Cons |
| Designed for engineers and machinists | Expensive |
| Meets international standards for 2D and 3D modeling | Specific for mechanical designs |
| Integrates both 3D and CAD | |
| Can be used to develop mechanical designs well | |
Creo Pricing Plan
Creo's pricing packages are based on where the tool will be used and the price starts at $2,780 (locked licensed price). For succeeding packages, you can contact their sales support for more information.
6. Fusion 360 – Mechanical 3D Design Platform
Best Product Design Tool For PCB Designs [$60/mo | $495/yr]
Fusion 360 is another great choice not only among 3D artists and product designers but even for those with more technical occupations such as engineers and machinists. It's a great choice if you're dealing with mechanical and PCB designs. This features a generative design as well as 2.5, 3, 4, and 5-axis machining.
But other than creating 3D product designs, it can also easily turn 3D models into 2D models. Plus, it also gives users advanced simulation capability. Here, you can figure out errors right early in the manufacturing process. Attempts to edit the designs are also made easy for user experience thanks to its user-friendly interface and toolset.
Compared to other 3D software in the market, it comes with a straightforward approach. It is easy to learn plus it lets users become creative with their work. There are also some YouTube tutorials released by Autodesk that will let you maximize the overall functionality of Fusion 360.
For hobbyists, the good news is that Fusion 360 can still be used for free. However, it's only a limited version. Nonetheless, even if it doesn't have 3+2 milling, mill-turning, rapid feed, setup probing, and automatic tool change features, the limited version of the Fusion 360 is still worth it.
So what are things that you might not like with the Fusion 360 software? For one, it's a little buggy. Also, some problems will require users to search forums online to find workaround solutions.
Pros And Cons Of Fusion 360
| | |
| --- | --- |
| Pros | Cons |
| It comes with a free version for hobbyists | The software comes with a few bugs here and there |
| A lot of tutorials online | |
| Great for working on 2D and 3D models | |
| Straightforward UI | |
Fusion 360 Pricing Plan
Fusion 360 doesn't come in different pricing packages, the only difference in pricing is based on the length of subscription you prefer.
Monthly ($60)
Yearly ($495)
3 Years ($1,410)
Before committing to a plan, you can take advantage of the 30-day free trial they offer.
7. Modo – 3D Modelling & Animation
Best Product Design Software For Furniture Design [$68/mo | $462/yr]
Modo is a sophisticated program that comes in handy in 3D modeling, furniture design, animation, and many others. It comes with a highly customizable interface perfect for users who want to work on their own terms.
Unfortunately, Modo is not as popular compared to other product design software that we've featured in this list. But one of the reasons to give Modo a try is the fact that it comes from Foundry—the company that brought different 3D production pipeline tools.
Upon using Modo, it has an easy-to-understand and beginner-friendly approach to its interface. It comes with a better layout compared to the likes of Blender. If you're still confused trying to figure out how Modo works, there are a lot of tutorials available online that can help you become familiar with the software or even how to perform 3D modeling in general.
Modo is equipped with different modeling features such as direct modeling, procedural modeling, and ZBrush-based sculpting. This allows users to create and revise the design down to the finest details. It also comes with a superb texturing feature. Users can wrap the polygon models with their preferred texture to match the vision they have in mind.
Modo also gives users the option before they commit to a time-consuming rendering process. Here, it gives users the chance to see their work in the near-final phase.
Pros And Cons Of Modo
| | |
| --- | --- |
| Pros | Cons |
| Great modeling features | Not a lot of user-generated tutorials |
| Straightforward UI | |
| Customizable interface | |
| Rendering options | |
Modo Pricing Plan
Modo comes with 2 options for single-user software licenses.
Pay per month ($68)
Pay yearly ($462)
The given rates are still subject to applicable taxes. To start, you can leverage the 30-day free trial.
8. Autodesk Maya – Specialized 2D/3D Design Platform
Best Product Design Solution For Complex 2D & 3D Designs [$225/mo | $1,785/yr]
Maya has been a staple since the early 2000s. Its success especially early on is what makes it a great choice. Maya allows users to customize workspaces according to their preferences.  3D modeling in this program is available in NURBs, sculpture modeling tools, and Maya's polygon.
This is a great choice for dealing with complex 3D and 2D designs. Unfortunately, because of its robust capability, it is easy for its users to experience feeling overwhelmed by the number of tools.
Plus, the program crashes often. And worse, it can get even more annoying if you don't make it a habit to save your progress.
And if you're planning to get Maya, it isn't exactly cheap. It costs $1,700 annually or somewhere around the $4600 ballpark for 3 years.
Pros And Cons Of Maya
| | |
| --- | --- |
| Pros | Cons |
| Customizable UI | Expensive |
| Great for animation and 3D design | Confusing for beginners |
| Software that pros love to use | |
Autodesk Maya Pricing Plan
Like Fusion 360, Autodesk Maya doesn't come in different pricing packages, the pricing is based on the length of the subscription.
Monthly ($225)
Yearly ($1,785)
3 Years ($5,085
Before committing to a plan, you can also take advantage of the 30-day free trial Autodesk Maya offers.
Conclusion
Computer-aided design has revolutionized the way companies approach the manufacturing process. Over the years, product design software options became more diverse. But with all the factors considered, we'd say that ZBrush is the best choice for those looking for product design software. 
It is perfect only for digital sculptors but even for those who will need to create mechanical designs. It's a great tool for creating a digital product in an actual prototype for 3D printing.
But at the end of the day, it still boils down to your preference. Maybe, you want something that has an organized data management capacity or a tool that offers a great project lifecycle experience. Or perhaps, you want a program that has a focus on automation, a straightforward user interface, and robust functionalities. In that case, it's best to leverage the free trials of each software on the list.