RCM software plays a vital role in simplifying the complex billing and revenue collection processes. This guide is right for you if you're ready to implement one.
Inefficient processing of billing and collections is just one of the many challenges that negatively impact the revenue cycle.
This is where Revenue Cycle Management (RCM) software comes in handy. It efficiently optimizes all financial work within your medical organization while improving the patient experience.
I've done in-depth research on the best RCM software, and here, I'll share with you my top recommendation.
What Is The Best RCM Software?
Are you in a hurry? Check out my top 3 picks: Waystar, CHANGE Healthcare, and XIFIN.
| | | |
| --- | --- | --- |
| 4.8 | 4.5 | 4.5 |
| Best overall. Cloud-based RCM software for financial transparency. | Best for value. All-In-One RCM software for clinical solutions. | Feature-rich. RCM software for high-volume billing transactions |
| Try Waystar | Try Change Healthcare | Try XIFIN |
1. Waystar – Top Pick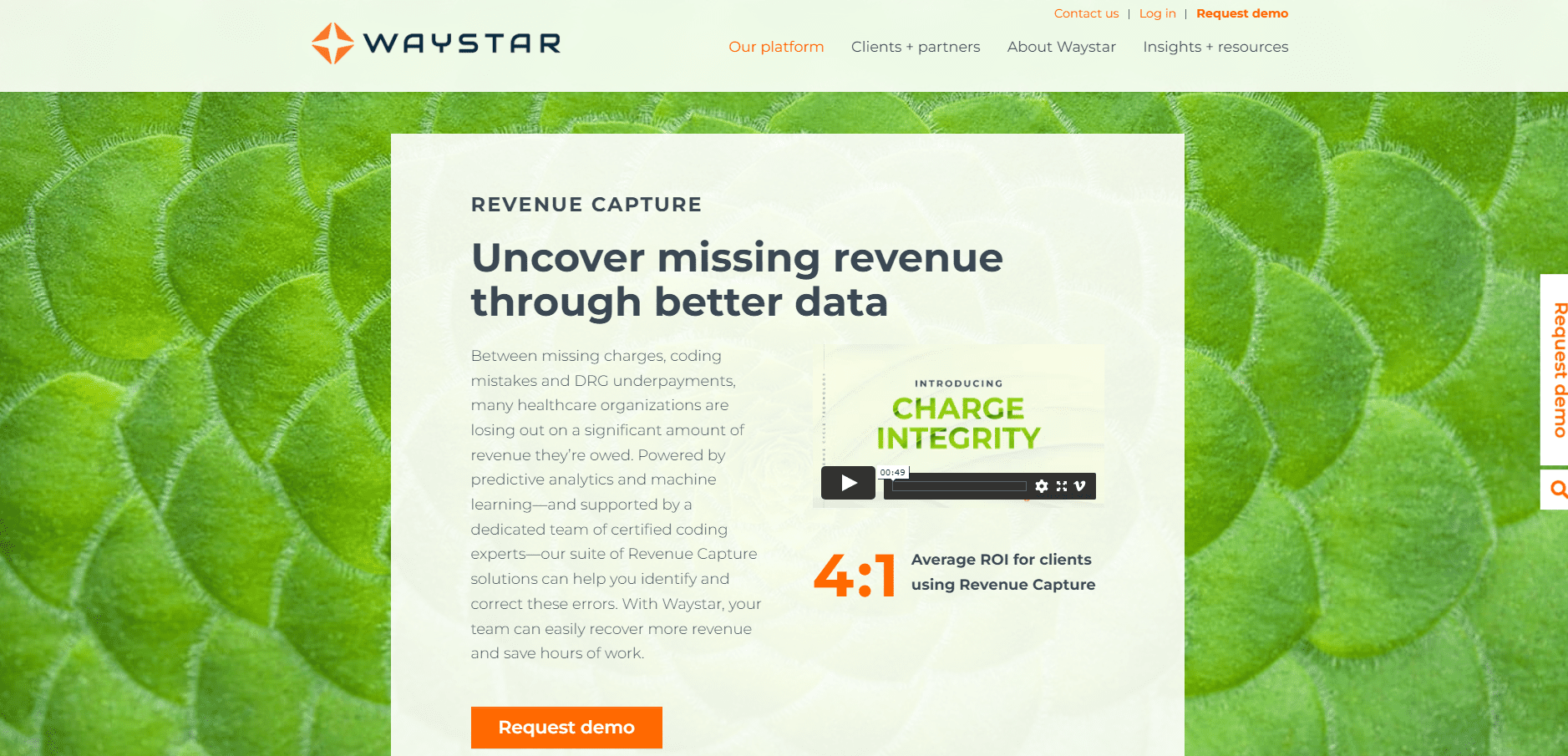 All-In-One RCM Software Built For Full Transparency of Patient's Financial Experience [Custom Pricing]
There are lots of information to consider when choosing the right healthcare revenue cycle management software. Waystar makes it simpler because it provides all the must-have capabilities.
Its cloud-based platform makes it accessible and easy to deploy.
All you need is a laptop or desktop, a stable internet connection, and the latest version of any web browser. You can also save hardware storage space because all your data is securely stored/backup in the cloud.
Complete training is provided to ensure all your employees can quickly learn its functionalities.
All these functions are categorized per purpose:
Financial clearance: Provide tools for payment collection, simplify eligibility verification, prior authorization process, and more.
Revenue capture: Include tools that can help you detect and correct coding errors, missing charges, and diagnosis-related group (DRG) payments.
Claim management: Monitor, automate, and streamline claims efficiently (including their attachments).
Payment management: Provide flexible options to collect and manage patient payments and reimbursements – in-person, phone, online, or mobile.
Denial prevention + Recovery: Keep your denial processes up-to-date to ensure you will address all appeals and reduce denials.
Analytics + Reporting: Provide analytics and business intelligence tools to get the latest insights that can help you identify, analyze, and resolve problems.
It also adopts artificial intelligence (AI) and robotic process automation (RPA) technologies to boost its efficiency further.
These modern technologies can streamline and automate your revenue cycle management with utmost speed and precision. You can finally save time from performing labor-intensive, repetitive tasks and focus more on your high priorities.
Pros And Cons Of Waystar
| | |
| --- | --- |
| Pros | Cons |
| Easy to use and learn | Helpdesk isn't always active and reliable |
| Provide tons of online training documentation through their blog, YouTube channel, and knowledge base | Do not provide a list of business systems they support for integration (require contact with the helpdesk team) |
| Provide a comprehensive look at all active insurance coverage, the complete cycle of a claim/denial, payments, and more. | Too many add-ons are available per function (can quickly pile up the costs) |
| Built with an automation platform to simplify healthcare payments processes | |
Waystar Pricing Plan
Implement an efficient revenue cycle using Waystar RCM software. You can get started by requesting a personalized demo and pricing quote.
2. Change Healthcare – Best Value For Money
RCM Software With Payment Cycle & Clinical Information Exchange Solutions [Custom Pricing]
Like Waystar, Change Healthcare's mission is to optimize every stage of your revenue cycle. This includes enhancing the following areas:
Employee's efficiency
Simplifying workflows
Patient engagement
Accelerate cash flow
Prevent denials
Of course, it managed to get an advantage by designing the platform with end-to-end revenue cycle management solutions (also called Revenue Performance Advisor).
What does it mean?
Change Healthcare is fully functional and doesn't need any third-party system to meet the customer's requirements.
Though it's fully functional on its own, it still provides flexible APIs. This is a handy feature to achieve custom solutions tailored solely for your medical practice or organization.
It has a plug-and-play format for ease of use and deployment.
When you avail of Change Healthcare's Revenue Performance Advisor, you will get a dedicated dashboard.
Inside the dashboard, you can access the following features:
Patient insurance eligibility verification: A centralized hub where you can access payer's information (up to 2,100 payers) and streamline all payment collections and management in real-time.
Medical billing and claims management: Provide online correction tools to edit, prioritize, and organize claims.
Rejections and denials management dashboard: Uses artificial intelligence to predict which claims have a higher potential to get denied.
Revenue cycle reporting and metrics: Get valuable insights and transform them into easy-to-understand reports. You can use all the insights to identify the cause/source of problematic trends, top rejected claims, and more.
Pros And Cons Of Change Healthcare
| | |
| --- | --- |
| Pros | Cons |
| Uses artificial intelligence and machine learning to get actionable and precise insights | Customer support is difficult to reach and unreliable in solving issues |
| Easy to manage, submit, search, and track claims | You can only access the mobile app (Android and iOS) if you receive an invitation to use it from the company. |
| Its cloud-based network can support 14 billion clinical, financial, and operational transactions yearly. | |
| Offer Accounts Receivable Management to improve the financial performance of healthcare organizations and health systems. | |
| Provide EMR (Electronic Medical Record) data optimizer for radiologists | |
Change Healthcare Pricing Plan
Get an exclusive look at Change Healthcare's Revenue Performance Advisor by requesting a demo. One of their experts will contact you to discuss the benefits you can get based on your organization's existing goals.
3. XIFIN RPM – Most Features
End-To-End RCM Software Designed For High-Volume Medical Billing Environments [Custom Pricing]
XIFIN landed on my most features because it combines the power of revenue cycle management and revenue performance management (RPM) solutions.
RPM is a process that analyzes all information and strategies to maximize revenue potential. Most companies use all the data gathered from marketing and sales efforts.
XIFIN covers more areas to ensure completeness and accuracy.
Here are a few of the information it collects and analyzes:
Laboratory
Medical devices
Radiology information
Billing systems
Processing thousands of data can be time-consuming. That's why XIFIN equipped the platform with artificial intelligence to optimize the processes and workflow.
AI technology is mainly used for automation (XIFIN RPM Engines).
You can use it to automate billing workflow, patient-to-cash process, or simply minimize manual work. Other automation capabilities it covers are listed as follows:
Document storage and management
Claim status
Interactive Voice Response (IVR)
Prepayments
Patient and physician engagement
To make smarter decisions, XIFIN also uses AI for its analytics. This is intended to quickly identify financial opportunities like profitability, reimbursement, and more.
As standard, XIFIN provides two portals:
Client portal
Patient portal
The client portal allows physicians and staff to create, edit, and adjust order entries.
If errors occur, they can examine statements at the line-item level and correct them immediately. It also helps specialty physician groups and diagnostic providers to communicate and exchange data with ordering physicians.
The patient portal is an online self-service platform.
It allows patients to set up their preferred payment method, view billing statements or test results, and more. XIFIN intentionally provided this to replace the tedious process of calling customer service.
One thing you should know about the patient portal – it isn't exclusive to patients.
Laboratories, medical devices, pathology practices, and telehealth companies also have access. But there's nothing to worry about because they can only input their unique rules and parameters for their payment plans.
Verifying the patient's eligibility and insurance information can be time-consuming.
XIFIN makes it simpler through their Patient Service Center. It features an easy-to-use screen where the diagnostic providers can input all patients' information (demographic, insurance info, etc.).
It has a built-in patient responsibility estimator to estimate how much a patient needs to pay for their medical service.
Pros And Cons Of XIFIN RPM
| | |
| --- | --- |
| Pros | Cons |
| Automation solutions available include front-end workflow and back-end denials, and appeals management workflow. | It takes a longer time to learn the ins and outs of the platform. |
| Provide 100+ pre-configured operational reports (supports FASB and PAMA reporting requirements) | Support tickets may take a few months to get an update or resolution. |
| Built with individual portals for patient and client (user-friendly and intuitive) | |
| The platform is equipped with multi-layers of cybersecurity features and is designed action-oriented. | |
XIFIN RPM Pricing Plan
XIFIN RPM 14 is the latest version available. Request a demo now and get an exclusive look at its new capabilities.
4. PrognoCIS – Electronic Health Record (EHR) Platform
EHR Medical Billing Software With Complete RCM Solutions [Custom Pricing]
My top 3 picks are entirely developed for revenue cycle management. I'll discuss healthcare systems that fully adopt RCM solutions for the rest of my recommendations.
And I'll start with PrognoCIS.
PrognoCIS is an Electronic Health Record (EHR) platform by inception. It collects and stores digital copies of all the patients' medical history like:
Age and gender
Hospital discharge instructions
Health history
Immunization status
You also can enable sharing, so all patients' data will be shared with all the parties involved in their medical care.
It features a customizable workflow to ensure it will fit your medical practice.
There is a long list of features included inside this EHR platform, and one of them is the medical billing service. This is where they integrated with revenue cycle management solutions.
Creating a single, unified source of data is essential.
PrognoCIS deliver it by combining its EHR workflow and payments collection. Together, they can streamline the entire life cycle of a patient transaction – from registration to settling the final payment.
You can also perform any of the following tasks:
Eligibility checking
Denials and appeals management
Generate patient statements
Customize your own scrubber checks to meet all your guidelines (location, billing, etc.)
Follow-up claims to ensure the patient will accept and settle them
Are you ready to make the switch to PrognoCIS?
They make the transition more straightforward and quicker because they offer a free EHR data migration. Simply sign up for its request form, and they'll take care of the rest.
Pros And Cons Of PrognoCIS
| | |
| --- | --- |
| Pros | Cons |
| Provide comprehensive solutions at an affordable price | There are times that the support team takes a long time to resolve an issue. |
| The platform is easy to learn and use. | Occasionally encounter bugs and system glitches. |
| Offer a free custom medical billing analysis before making a purchase (send a request) | |
| Offer flexible pricing models. | |
PrognoCIS Pricing Plan
By default, PrognoCIS' pricing models are designed to charge a monthly subscription fee per provider.
Usually, it ranges from $225 to $450/month/provider. But they can offer a flexible arrangement depending on your organization or medical practice's needs.
You can contact their product expert to request more information about the product or a live demo.
5. Practice EHR – Features RCM Manager Portal
EHR Software With Revenue Cycle Management Solutions [Custom Pricing]
Practice EHR is another EHR system integrated with revenue cycle management. As standard, it comes with an intuitive workflow to handle all your primary tasks.
Through its automation feature, you can efficiently speed up manual processes, like:
Appointment reminders
Eligibility checks
Claim scrubbing
Automating the claim scrubbing is handy for streamlining your claim management and payment collection.
Since errors are inevitable, Practice EHR uses an integrated clearinghouse to ensure all codes are instantly checked. You will receive warnings once it detects errors.
Aside from the clearinghouse, it's also integrated with a medical billing solution.
This is intended to have complete control of the revenue cycle work and sustain the organization's overall financial health. RCM manager portal is also provided to give you a full view of your financial activities and workflow.
Its comprehensive reporting capabilities are another strong suit of the software.
You can view and track every aspect of your practice straight from your dashboard. You can also sort all insights by:
Appointment statuses
Visit counts
Visits by payer types
Charges
Payments collected
And the list goes on.
Practice EHR RCM is a cloud-based software solution. You only need a reliable internet connection, a computer device of your choice, and the latest version of any web browser (Google Chrome recommended).
Do you have patient data you want to migrate?
You need to save the data to a transferrable file format (CSV, Excel, or PDF) and send it to Practice EHR experts. They will migrate everything you've submitted into your account.
They also completed their RCM software with the following tools:
Patient statements
Claim submission
Follow-up and denial management
Payment posting and adjustments
Practice EHR recently launched an additional feature called iHCFA that allows you to submit a claim to a non-medical plan. You can get this feature by contacting Client Support to request and purchase a subscription to Carisk Partners.
Pros And Cons Of Practice EHR
| | |
| --- | --- |
| Pros | Cons |
| Easy to deploy and use (no installation is required) | Training and implementation come with additional fees |
| Full implementation can only take up to eight weeks (other RCM software takes several months) | |
| Seamless integration with Practice EHR, PM, and clearinghouse systems (simplify claims processing) | |
| Excellent coding system | |
Practice EHR Pricing Plan
Practice EHR offers a unique pricing rate for each of its products. For its RCM software, you must contact their sales expert and request a live demo or more product information.
Complete and send the request form, and a sales expert will get back to you.
6. TSI Healthcare – EHR & Practice Management Platform
Complete, Full-Cycle RCM Software [Custom Pricing]
Streamlining your organization's financial health and workflow is where RCM and EHR software stands out. However, if you wish to manage all aspects of your medical practice, you can rely on practice management software.
The good news is that you don't have to use multiple software to achieve success.
TSI Healthcare provides all these solutions in one unified platform. It's equipped with modern automation to improve the productivity of your processes.
It also helps you to have better control over your operations.
Most of the EHR, RCM, and practice management software in the market are hosted in the cloud. TSI Healthcare understands that many still prefer to host it on their own server.
That's why they offer flexible deployment options – cloud hosting and client-server.
A dashboard will also be provided to quickly view all financial and operational analytics.
On the revenue cycle management side, they design simple processes that are easy to understand and implement. Once you start a project, its account concierge will run an in-depth survey to find potential gaps in your existing processes.
Its on-site workflow studies work by customizing an implementation plan suitable to your medical practice needs.
One of its unique features is the Triple Clean Claims™. This feature comes with a three-step review:
1st review: Manual charge and code scrubbing
2nd review: Uses NextGen® rules engine to automate the charging and code scrubbing
3rd review: Uses EDI Clearinghouse rules engine to automate the charging and code scrubbing. Also, it includes front-line pinging to capture payor eligibility.
They developed 12 easy steps for the billing cycle to reduce denials and increase the clean claim percentage.
It started with charge capture that will acquire charges at a regular interval. It will also perform the Triple Clean Claims™ first review.
Charge posting comes next.
You have the option to perform this task manually or automatically. Then, Triple Clean Claims™ second review is conducted.
Other steps available are listed as follows:
Claims submission
Clearinghouse management
ERA processing
Denial management
Payor payment posting
Statement processing
Inbound service call
Collection letters
Month-end closing
Personalized fee-schedule analysis
If your desired features are not included, you can get them by purchasing add-on modules and services.
Pros And Cons Of TSI Healthcare
| | |
| --- | --- |
| Pros | Cons |
| RCM solutions are suitable for organizations of all sizes | Mobile apps for iOS and Android comes with a price |
| Provide multiple options to send statements and collection letters (print, package, or mail) | Most of the must-have features are available as add-ons (can quickly pile up your bill) |
| Include guided check-In and check-out (streamlined registration to copay/balance collection) | |
| Timely delivery of month-end reports and analytics | |
| Provide satisfactory customer support via live chat, email, and phone | |
TSI Healthcare Pricing Plan
Request a demo or product info today and discover what TSI Healthcare RCM software can do to improve your company's financial performance.
7. Rivet Health – Easy-To-Use Analytics
Medical Practice Software With Intuitive RCM Toolkit [Custom Pricing]
Rivet Health is a medical practice software designed to efficiently manage your clinic's daily operations. It's equipped with an intuitive RCM toolkit to ensure you can seamlessly perform eligibility checks, collect payments, and more.
It comes with a price transparency tool to accurately calculate patient cost estimates.
You can create a simple to comprehensive estimate for each patient. The comprehensive estimate is recommended for patients who have multiple visits, see different healthcare providers/specialists, or receive a series of treatments.
You can also provide full or partial payment options and same-day billing.
HIPAA-compliant text and email are the options provided to collect payment. The best part of the price transparency tool is that it allows you to run eligibility checks and perform payment contract management.
Accessing data from multiple sources is time-consuming and uncertain security-wise.
Luckily, Rivet Health has built a collaborative database under its denial management solution. Ease your mind that you can easily store, share, and access all vital information to your patients and employees.
Of course, this feature isn't limited to that purpose.
Here are a few of the tasks you can perform:
Automate forms, data fields, and letters
Payment processing
Organize claims
Analyze, edit, and adjust codes
Track denials to completion
Underpayment is a common challenge for medical clinics and organizations.
Rivet Health solves it by providing tools that can help you detect, analyze, track, and resolve underpaid claims. With a few simple clicks, you can view all the reasons why a claim is underpaid.
Don't forget its claims data analysis tool.
This feature shows you a clear picture of your claims/revenues' performance and trends. You can generate reports and share them with your team.
Rivet Health also provides you an option to integrate your EHR software.
Pros And Cons Of Rivet Health
| | |
| --- | --- |
| Pros | Cons |
| Provide a handy tool to collect payment through text or email (both methods are HIPAA compliant) | The automated filling of forms and data fields is incorrect at times. |
| Claims analytics allows you to sort down details and trends by payer, provider, procedure, and denial code. | |
| Seamless integration to your EHR systems (HealthJump, HL7, Athena, AdvancedMD, Nextech, and Caretracker) | |
| Built with several customization tools for better usability (clickable table rows, floating estimates pane, SuperSearch, table formatting, and more) | |
Rivet Health Pricing Plan
Improve your profitability and patient satisfaction using Rivet Health. Request a demo and explore its functionalities.
8. Phreesia – Customized Patient Intake Software
Scalable Payment Patient & Revenue Cycle Management Solutions [Custom Pricing]
Patient intake software works by allowing patients to accomplish all the necessary paperwork online before their appointment.
Phreesia happens to be the recommended choice as its system is combined with excellent revenue cycle management. This product has four major features, and insurance verification is the first one on the list.
Insurance verification is an automated system that validates the patient's primary and secondary insurance.
Not only you'll lessen the manual work in your organization, but it also reduces pending and denied claims.
E-cashiering is the tool that tracks all types of payments – cash, check, credit card, etc. It supports bi-directional integration with any practice management system to streamline your payment posting and end-of-day reconciliation.
The best feature of Phreesia is its flexible payment options.
It offers three options:
Point-of-sale payments: Patients can pay using their mobile device, PhreesiaPad, or at an arrival station.
Payment plans: Allows your patients to set private and automated payment plans
Online payments: Add a custom button to your website or send email to your patients
Paying using a credit card is prone to safety risks.
This is why Phreesia offers a payment assurance app. The patient will sign a financial policy authorizing you to store their credit card information on a secure platform.
Also, you can collect payment once it has been finalized.
Pros And Cons Of Phreesia
| | |
| --- | --- |
| Pros | Cons |
| Support bi-directional integration (EHR and PM systems) | Occasional lagging may occur when processing/searching payments |
| Offer automated registration tools that are compatible with mobile, tablets, self-service kiosks (the company provides all devices) | |
| Excellent customer support via phone, email, and chatbot | |
Phreesia Pricing Plan
Request a demo to get an exclusive look at Phreesia software.
Conclusion
Which RCM Software is the best?
Out of my recommendations, Change Healthcare is the best to use. Its revenue cycle management solutions support all the needs of:
Physicians
Patients
Laboratories
And healthcare providers
Each type of user is designed with a unique RCM product.
If you prefer an end-to-end RCM solution, Revenue Performance Advisor is the product to get. You can optimize every aspect of your revenue cycle and reduce denials.
No matter what RCM software you use, make sure to consider the following to achieve success strictly:
Easy to use and implement
Cloud hosting or on-premises
Compatible with all your existing systems
And cost
Do you have a recommendation? Share it with us in the comment section.