Data replication software is as important as any tool used by businesses nowadays. It helps prevent data loss and stores company information in multiple locations.
In over a decade of running my businesses, I know just how terrifying it is to lose important data. I used to constantly worry that I would get hacked or the software I utilized would suddenly crash.
Through my experience, I discovered that the best solution for this is to have data replication software in place. This way you don't store everything on a single platform.
There are many choices out there but you need to ensure you have the best. Here are 7+ of the top ones I've used in the past.
What Is The Best Data Replication Software?
If you're in a hurry, check out my top 3 picks at a glance: Acronis, Carbonite, and Veaam.
| | | |
| --- | --- | --- |
| 4.9 | 4.6 | 4.2 |
| Best overall. All-in-one platform with top security for data replication. Starts at $49.99/annually. | Easiest to use. Intuitive user interface with flexible features for data backups. Starts at $83.99/annually. | Best for data recovery. Innovative industry features for efficient data protection and recovery. |
| Try Acronis | Try Carbonite | Try Veeam |
Here's the complete list of the leading data replication software for 2022:
1. Acronis – Top Pick
User-Friendly Data Replication Software For Startups & Mid-Scale Companies [Starts at $49.99/yr]
Acronis backup solution is easy-to-use unified data protection and data disaster solution.
It is ideal for small and medium-sized businesses, but it can still provide excellent features to big companies.
It offers a lot of useful features such as:
File sharing
Disk backups
Folder syncing
I found its local backup feature to be quite useful since it allowed me to save any file no matter the format, from system images to even individual files.
A good thing about the software solution is its award-winning anti-malware capabilities.
This is important since there are a lot of viruses spread out on the internet.
Having this feature also makes you more confident that they are safe and protected from any malicious software.
Furthermore, in terms of protecting data, the software lets you decide on whether you want to enable this for all of your files or only selected ones.
This particular feature integrates well with Windows File Explorer.
When it comes to its user interface, Acronis has the cleanest and best-looking one on this list.
Even though it has a ton of features, the software presents the most accessed features. This makes it easier for you to do your regular tasks faster.
Moreover, this data replication solution doesn't just cater to businesses but also offers its services to individuals. An extra feature that might come in handy for home users would be Acronis' Active Protection.
This can protect your PC from ransomware and other malicious files. It monitors your system and backups for unexpected patterns of behavior in changes to your files.
Pros And Cons Of Acronis
Pros
Cons
Live backup of databases
Customer support needs improvement
Cloud + local backup
Backup process can take time
Easy restoration in events of a crash
Unmount the disk backup from the read/write mode
to immediately create its respective incremental backup
Acronis Pricing Plan
Essentials ($49.99/yr): The Essentials plan comes with flexible backups like full image to file-level, active disc cloning, quick recovery, universal restore, and ransomware protection.
Advanced ($89.99/yr): Aside from the features above, the Advanced plan has antivirus and antimalware protection. It has features on cloud backup, automatic replication of data in the cloud, and Microsoft 365 backups.
Premium ($124.99/yr): Having all the features from the previous plans, the Premium also comes with Blockchain certification of files, electronic signatures, and the option to add 5TB of cloud storage.
To know more about what Acronis can do for your business, check out its solutions page to see the different protection it can give to your data.
2. Carbonite – Simple-To-Navigate Interface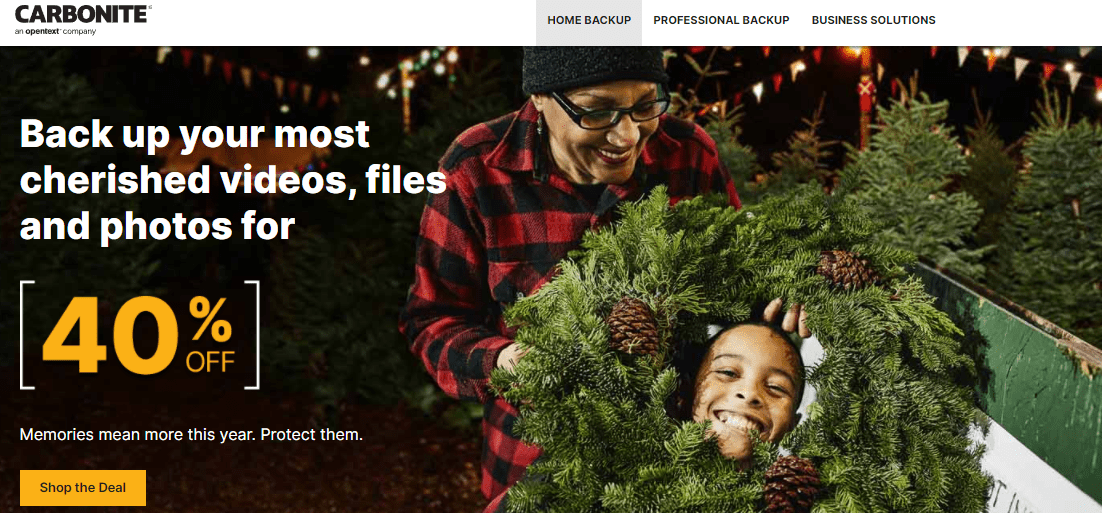 Top Desktop Data Replication Software For Contractors [Starts at $83.99/yr]
Carbonite can back up just about everything the user wishes. This includes:
Financial records
Customer names
Transaction details
This data backup solution is designed for entrepreneurs, contractors, and other independent professionals.
Using it is easy and installation is a breeze. And so, even people with no computer skills can easily utilize this software.
It can protect data on servers and external storage devices.
Making it work for up to 25 computers, it's also perfect for small to medium-sized businesses.
Take note though that the price goes up as more computers use it.
When it comes to its web interface, it looks minimalistic and the menus can be easily spotted. However, there are slight delays when moving between sections.
As for its desktop application, it has features to make restoring files easy. The feature is called Get My Files Back which lets you have the option to take specific files or download everything from your current backup.
Carbonite is a good choice if you only want to backup PC files and data just in case something happens.
It's a safe application and a solid choice.
Although it is generally good software, I've listed some note-worthy limitations that you should be aware of:
Doesn't let you share files from your online storage
Does not include mobile applications for backing up files
All pricing plans require you to pay a full subscription for each additional computer
Pros And Cons Of Carbonite
Pros
Cons
Unlimited storage per computer
Lacks file sharing feature
Easy setup
No mobile application
Continuous backup option, include a single-vendor
solution for complex data center environments
No folder syncing
High availability replication, on standby 24/7
Carbonite Pricing Plan
Basic ($83.99/yr.): The Basic plan supports only one computer but already gives unlimited cloud backup support.
Plus ($119.99/yr.): Plus has the features of the Basic plan plus automatic video backup and webroot secure anywhere feature.
Prime ($149.99/yr.): This plan almost has the same features as Plus but this Prime plan, reduces the cost of the courier service in which Carbonite ships you a copy of your data on an external drive.
Core ($287.99/yr.): Core supports multiple computers up to 25. It has cloud backup support at 250 GB.
Power ($799.99/yr): The number of computers is still capped at 25 but the cloud storage is bumped to 500 GB. Backup files on external drives can be 2 or more. The plan has server support, databases, and application backup.
Ultimate ($1,299.99/yr.): It has everything that the other plan offers except the webroot secure anywhere feature. What separates it from the rest would be the unlimited Carbonite Safe Server Backup Licenses.
Visit Carbonite and explore the other features it presents to its market. Get to know the software better to see if it's a great fit for your business needs.
3. Veeam – Best For Data Recovery
Excellent Single Backup & Data Management Software [Custom Pricing]
Veeam is a single backup and data management platform that any business will find useful.
It claims that any company that uses it is more efficient and much quicker to respond to business needs.
What I liked about the software is it really decreases the number of hands-on work when it comes to ensuring the backup of documents and data.
The software is reliable enough without the need for constant attention or monitoring.
Plus, its backup format is structured to be portable across multiple clouds, platforms, and hardware.
This is one of their differentiators from their competitors. It has the ability to backup any image-based data and restore it to any location.
Veeam excels in the area of recovering data. It has the ability to instantly recover the following:
File share
SQL Server database
Image-based backup
In addition to that, the software is quite easy to use.
What I love about this is if you have any questions about a certain feature or you're looking for something specific, its website is full of resources.
It has a ton of how-to videos to help you out with any problem you encounter.
Pros And Cons Of Carbonite
| | |
| --- | --- |
| Pros | Cons |
| Backup runs quickly during an unexpected downtime | Lacks advanced reporting features |
| No need for constant monitoring | Interface structure could be improved |
| Uses data deduplication to reduce storage usage | |
| Allows to replicate with AWS storage services through integration | |
Veeam Pricing Plan
The software is available in two packages: Veeam Availablity Suite and Veeam Backup & Replication.
The cost of these two packages will need a request from every user. Learn more about Veeam's pricing and see the different features that it brings.
4. Zerto – Intuitive Dashboard
Best Backup For Saas Businesses [Custom Pricing]
Zerto is a data replication software for all things disaster recovery and data backup. Using this makes the process of data protection easier.
It has one of the best features in the following:
Backups
Disaster recovery
Long-term retention
Security and compliance
Data migration and mobility
A feature I loved about this data replication tool is it gives you the flexibility to protect yourself from clouds of all kinds.
Its data cloud management and protection rid the complex processes of cloud adoption across public and private deployments.
With regards to its user interface, its web application is directed toward managing and reporting on Virtual Protection Groups (VPG).
Each has an associated resource, network settings, and failover options.
Its dashboard is pretty intuitive as well. It can display information on whether the VPGs are reaching their service level agreement.
A feature that surprised me is the predefined reports under the reporting tab.
This is useful for any user that wants to have an audit trail for their ongoing replication process. The report feature can cover the following:
Usage
Resources
Performance
Pros And Cons Of Zerto
| | |
| --- | --- |
| Pros | Cons |
| Excellent customer support | Only works on a single web interface |
| Easy navigation | Can be costly |
| Intuitive interface | Don't include offload reporting |
Zerto Pricing Plan
Zerto doesn't display a transparent pricing plan for interested users.
This means you need to get in touch with the company itself and discuss the needs that your business has. Learn more about Zerto's features and deals to see if it's a great fit for your company.
5. Hevo Data – Real-Time Analysis
Excellent Data Sync Tracking For Finance & Tech Industries [Free Plan | $149/mo]
Hevo Data allows you to replicate data from various sources to a database warehouse of your choice.
It's also best suited for the following industries:
Finance
Healthcare
Technology
Media and agency
Consumer business
Retail and eCommerce
It is a no-code platform that makes it easy to sync in real-time. This works perfectly well for users that are new to this kind of software.
I also loved its data pipeline list page since it shows all the data pipelines created by the user.
This makes it easier to manage and track this process since you see everything on a single page.
Moreover, the platform enables you to track the number of records ingested and loaded to your data warehouse, as well as the latency.
Another feature that I found incredibly helpful is the alerts via email or Slack regarding any delays and errors. This is a great help for busy individuals who can't micromanage all of the data syncing.
One more feature that separates Hevo Data from its competitors would be its auto mapping. When you enable it, the platform automates the task of creating schema.
I also have to share that Hevo Data is known for being a safe platform. In fact, I know some users who chose it based on its security features alone, especially end-to-end encryption and two-factor authentication.
Pros And Cons Of Hevo
Pros
Cons
Easy to use and configure (no need to write ETL code)
No pipeline scheduling
Great customer support
Single page monitoring
Supports pre-built integrations from 100+ data sources
(Oracle, Microsoft Azure, Amazon S3, etc.)
Built with a seamless process for database replication
Hevo Pricing Plan
Free: The free plan only has support via email but already has unlimited access to user limit/seat, free sources, and models.
Starter ($149/mo.): The Starter plan comes with unlimited sources and models. The support enables chat and email. It has a free initial load and a single-sign-on.
Business (Custom Pricing): The Business plan gives access to the events/records feature, a dedicated account manager, and set-up assistance.
Interested in Hevo's platform? Visit their site to learn more.
6. Fivetran – Best In Data Replication
Best Data Replication Software For Automating Warehouse Transformations [Starts at $1/credit]
Fivetran offers the most efficient method to replicate data in your warehouse.
The setup of its pipeline is quick and easy for users. It also has the ability to sync data from the following:
Event logs
Cloud applications
In the application, it's also easy to generate insights from production data with high reliable integration service.
As for its pipelines, it can automatically adjust for new tables and columns by including them in the destination without the need for manual work.
A great feature of Fivetran is to embed it on your application to make the process of developing and maintaining integrations to your customers' data easier.
It can automate all the processes of onboarding customer data for you.
Since Fivetran acquires HVR, you can also expect to enjoy the perks of high-volume enterprise data replication in real-time. You have the option to integrate your data into on-premises or cloud databases.
Pros And Cons Of Fivetran
Pros
Cons
Great mapping system
Alert notification could be improved
Include connectors for reliable and secure database
replication using CDC (Change Data Capture)
Impressive real-time data integration
HVR provides practical solutions for various data
integration use cases
Fivetran Pricing Plan
Starter ($1/credit): This is good for businesses looking for foundational data integration needs. It comes with 180+ fully-managed connectors, analytic-ready schemas, and Fivetran transformations and packages.
Standard ($1.50/credit): This plan is for users looking for advanced analytic needs and production workloads. It has more features on security and fully-managed database connectors.
Enterprise ($2/credit): Aside from the features above, the Enterprise plan gives access to user permissions for custom controls, VPN tunnels for advanced security, and select cloud providers.
Know more about Fivetran's pricing plan and credit structure.
7. Nakivo – Best VM Backup
Cost-Efficient Data Replication Software [Custom Pricing]
Nakivo is software that's trusted by various multinational companies like Honda, Coca-Cola, and DHL.
It is a fast and affordable data protection solution for cloud and Saas environments.
It's also software that businesses can use to lessen the risk of ransomware incidents. It has a feature that allows businesses to recover data without paying the ransom if that scenario happens.
The application has robust backup where it applies a 3-2-1 backup rule to protect all workloads from different platforms.
A great thing about this is it permits you to keep backup copies on-site to make ransomware recovery faster and simpler.
The software also allows users to verify their backups and backup copies, which can also easily be retrieved when the need for it arises.
Its instant verification feature automatically verifies the functionality of your virtual machine by running it directly from the newly-created backup in a test mode environment.
Overall, NAKIVO is a great backup and replication software for various businesses. Aside from enhancing scalability and storage space, it can also be up and running fast in any environment and operating system (Windows and Linux).
It's great for people looking to back up the following:
Virtual servers
On-premise servers
Pros And Cons Of Fivetran
| | |
| --- | --- |
| Pros | Cons |
| Efficient and reliable backup | Has steep learning curve |
| Works flawlessly with NAS backup system | Needs a better process to resolve backup errors |
| Easy installation and navigation | |
Nakivo Pricing Plan
Nakivo has a lengthy pricing plan that comes with different pricing on backup for Physical Machines.
Take a look at its pricing page to see the full details and the deals they offer to their market.
8. SnapMirror – Best For Data Disaster Recovery
Fastest Data Replication & Storing [Custom Pricing]
SnapMirror is one of the software that leads the storage space thanks to its robust data services, integrated data protection, and speedy performance.
The application helps customers with data by using its efficient shared storage platform across cloud data services, software, and storage systems.
The most surprising feature that this software presents would be its speed in data replication and restoring.
It uses LAN or WAN connectivity to replicate your big data for instant access.
Currently, it supports business-critical applications in both virtual and traditional environments.
The best part of it, no external replication servers are needed. It's no wonder why most businesses use this as a data recovery tool.
Any user can also tune it to fit the data recovery point objectives spanning from hours to minutes.
The software presents capabilities for recovering principal data from the mirrored data corruption or loss of data.
Pros And Cons Of SnapMirror
| | |
| --- | --- |
| Pros | Cons |
| Excellent tool for disaster recovery | Customer support could improve |
| A good tool for data storage | Learning curve |
SnapMirror Pricing Plan
SnapMirror Data Replication has not provided pricing about their service and product.
However, you can go to their website to explore all the features that they present. You can also contact them to talk about your interest in their product.
Conclusion
Choosing the best data replication software for your business is vital in this day and age.
You need software that can prevent viruses, malware, and data ransom activities. Another feature that businesses look out for would be the ability of the software to manage data and replicate it safely.
Among all the software mentioned above, Acronis is my top pick.
The software is so flexible that it can give users protection on data and also replicate it with ease.
It has also been in the market for quite some time already and still is considered by many as a top replication software.
Do you have any data replication software that you use for your business?
Are you aware of any top software that's not included in this list, perhaps an open-source tool? Let me know in the comment section below!