Get the most of your available resources by using dependable resource management software. If you have no idea what to get, this review can guide you in making an informed decision.
In over 10 years as an entrepreneur, I still find managing my business resources a complex task. Fortunately, there are tons of easy-to-use resource management tools available that can get the job right.
The only question is, which one is best to use?
Today, I'll provide you with a clear answer by compiling all the resource management software I've used and tested. I'll also include their advantages, setbacks, subscription prices, and more.
What Is The Best Resource Management Software?
If you have little time to spare, here's a glance at my top 3 picks: Ganttic, Resource Guru, and 10,000ft By Smartsheet.
| | | |
| --- | --- | --- |
| 4.9 | 4.7 | 4.2 |
| Best overall. Resource management software for all business needs. Starts at $25/month. | Best value for money. Resource management with efficient HR features. Starts at $2.50/month/user. | Feature-rich. Great for large-scale resource collaboration. Starts at $7/month/user. |
| Try Ganttic | Try Resource Guru | Try Smartsheet |
Let's start this review and determine which software can save you time, effort, and money.
1. Ganttic – Top Pick
Best Resource Management Software For All Types of Resources [Free | $25 a month/20-resources]
In running a business or project, you will handle different types of resources. Physical, intellectual, and human are just a few on the list.
This is the reason Ganttic landed on my top choice because it can handle almost every type of resource.
Also, no matter how light or heavy your resource volume is, this resource management software got you covered. It can handle 1 to 1,500+ resources under one account.
When you sign up for an account, you're instantly provided with a web-based personal dashboard.
The dashboard is where you can set up and monitor every aspect of your plan. And it all starts with adding your resources.
You can do this by clicking the plus sign (+) icon or the teardrop icon on the left-side menu bar.
No matter what you choose, you'll end up filling a form to add the resource name and icon.
If you choose the teardrop icon, you can instantly view the list of resources you've added. From there, you can start organizing them by creating data fields.
Currently, there are seven data field types you can add:
List – Ideal for grouping resources by type, location, position, etc.
Number – Most suitable to use for reports calculations such as count and hourly rate.
Check – Any details that are answerable by a yes/no (e.g., active, sync, etc.)
Text – Add single- to multi-row text data fields.
Date – Ideal for adding important dates like contract start, shift schedules, and more.
User – The exact position title of each user
Link – Add important web pages or document locations that are relevant to the resources.
Once done adding the data field type, you can start with the utilization planning.
In this step, you need to identify the resources needed to complete each task. You also need to assign the total volume it will consume daily, weekly, or monthly.
Accomplishing this task will lead you to the next step, resource scheduling.
You will never have a hard time doing so because Ganttic includes a drag-and-drop scheduling function on your dashboard. Whether it's for a new task or reallocating the existing ones, you can schedule it with only a few clicks – perfect for team utilization.
Ganttic also uses a Gantt chart to give you a clear picture of how the resources are consumed and check for bottlenecks.
There are a total of 133 features included in Ganttic resource management software. If you want to add an in-house application or third-party software, you can use its API integration.
Successfully integrating the two software will allow you to sync and manage all your resources on a single platform.
You can create data fields for information that all resources have in common for quick search and organization. Here are a few of them to give you an idea:
Name
Unique IDs
Status (active or archived)
Creation time
Notes (All attached to each resource)
Pros And Cons Of Ganttic
| | |
| --- | --- |
| Pros | Cons |
| Include custom data fields to group and manage team members | No real-time phone support is provided |
| Pricing plans are designed to pay only for what you need | New users require time to learn all the functionalities of the platform |
| Advantageous to use for high-level project portfolio management | The time tracking feature isn't that impressive. |
Ganttic Pricing Plan
Pay only for the number of resources you own. Here are the monthly subscription rates you can choose from:
10 resources: Free
20 resources: $25/mo.
50 resources: $59/mo.
150 resources: $149/mo.
250 resources: $229/mo.
500 resources: $379/mo.
1,000 resources: $599/mo.
1,500 resources: $790/mo.
If you need more, you can contact the sales representative to request a personalized pricing plan.
All subscription plans include a 14-day free trial. Sign up now and start managing all your resources.
2. Resource Guru – Best Value For Money
Cloud-based Resource Management Software With Outstanding Employee Directory [$2.50 a month/person]
If humans are your primary resource, then you can count on Resource Guru.
It's a cloud-based resource management software that's also engineered to work as an efficient employee directory. Therefore, you can efficiently manage and schedule your team's availability, skills, and more inside your dashboard.
The dashboard provided is highly personalized for the user's needs.
So, ease your mind that your team members can only access what you've assigned to them. If you hire managers, you can allow them to view and access the resources they've booked.
To complete the scheduling process, you need to add the following data for each resource:
Name
Shift schedule
Project name or details
Client name
Booking agent's name
Time off
Overbooking is a common problem. But you will never encounter it in the Resource Guru because it's built with an automation feature named clash management engine.
It works by automatically putting a booking on the waiting list if the resource can't accommodate new bookings.
Don't get me wrong, Resource Guru isn't limited to humans. It can also handle other resources such as physical materials, meetings, and more.
It can efficiently do so because it also includes the following features and tools:
Equipment management
Meeting room booking system
Capacity planning
Pros And Cons Of Resource Guru
| | |
| --- | --- |
| Pros | Cons |
| Add unlimited projects & clients (all plans) | No refund is provided |
| No automatic upgrading of subscription plan after the free trial period | No direct integrations are included (require to use Zapier) |
| Include reliable backups with point-in-time recovery & perform regular security testing (third parties) | |
| The master plan provides a dedicated phone number to reach customer success gurus easily. | |
Resource Guru Pricing Plan
Resource Guru resource management software is offered in three annual subscription plans:
Grasshopper: $2.50/mo./person + $0.83/non-human resource
Blackbelt: $4.16/mo./person + $1.25/non-human resource
Master: $6.65/mo./person + $2.08/non-human resource
All subscription plans are only ideal for teams and companies that manage a minimum of 30 resources.
Resource Guru is also offered in a monthly billing cycle. But if you want to have an additional 2-month of free use, the annual plan is recommended.
3. Smartsheet – Most Features
Best Resource Management Software For Enterprises [$7 a month/user]
Smartsheet is a popular project management tool for teams handling larger projects. It's packed with pre-built features to ensure team collaboration can be done efficiently which optimizes your team's time.
Not long enough, they launched 10,000ft.
This is a simple yet powerful resource management solution to plan, schedule, and manage your resources effectively. All changes are reflected in real-time, so your team will have notifications on the latest changes in the work at hand.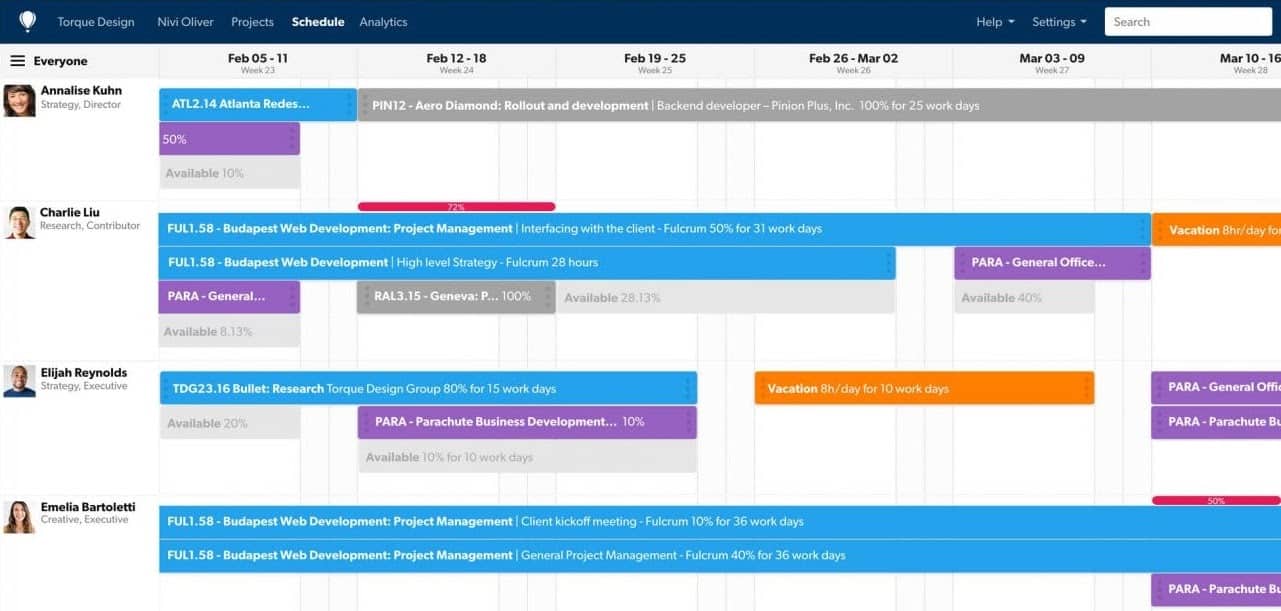 As standard, you can use 10,000ft. to perform a simple resource allocation.
Here, you can view your team's entire capacity and plan projects to distribute each resource to them. Since it also features interactive scheduling, you can immediately identify conflicts and resolve them accordingly.
Once successfully implemented, it will provide you with a detailed forecast of your project pipeline and staffing needs.
For handling complex data, 10,000ft. provide a dynamic reporting tool. Inside the reports, you can expect to track down the following:
Historical data on utilization
Real-time analytics and project status
Business Growth (month-by-month or quarter-by-quarter breakdown)
Integrating 10,000ft. to Smartsheet is recommended but optional. Smartsheet looks like a spreadsheet but its functionalities are better. If you choose to integrate it, you could expect to get exclusive access to its panel.
Inside the panel, you can visualize the team's capacity and plan everything throughout the project lifecycle.
It's a plus that you can also use all of Smartheet's available features, such as:
Admin center and tools
API
Build your own intuitive web and mobile apps
Add e-signatures through DocuSign
Pros And Cons Of Smartsheet
| | |
| --- | --- |
| Pros | Cons |
| Manage unlimited sheets, reports, & dashboards on all paid plans | Customer support is only available in English. |
| Can add e-signatures using Docusign (integrations) | No undo option for saved actions or changes |
| Support 13 currencies | |
| Lots of customization options | |
Smartsheet Pricing Plan
10,000ft by Smartsheet is offered as a premium add-on product. You have two options in purchasing this product: buy it as a standalone license or co-term it with your Smartsheet contract.
If you want to learn more about its complete pricing and details, you can contact their sales support team.
4. Paymo – Feature Smart Scheduling Tool
Best Resource Management Software For Creative Teams Of All Sizes [Free | $9.95 a month/user]
Paymo is a famous online work and project management software with top-notch resource utilization capabilities.
As an administrator, it will give you the power to control the access level of every user, with no need for permissions. You're also provided with a resource load chart that's user-friendly to see each resource's availability and capacity in real-time.
You can access all its tools and features on the dashboard provided.
Inside the dashboard, you manage resources for your projects, clients, and the entirety of your account. For ease of use, all features and tools are divided into five sections:
Search box: Find the information you're looking for based on the keywords you type in.
Home screen: Display an overview of your task management activities
Navigation menu: Provide quick access to the most important aspect of your business.
Web timer: Ideal to use for tracking time for specific tasks or projects.
Settings section: Contains other vital details of your account like billing settings, knowledge base access, and more.
Under the navigation menu, you can find the team scheduling feature.
By default, this section is designed to display all the employees and project schedules in one timeline – showing different work hours. There are three view styles available: ungrouped, projects, and users:
Switch the view to your preference so that you can get an in-depth look at each resource.
With a few simple clicks, you can add and adjust the schedules of each resource. If you're not a fan of manual setup, you can take advantage of the automatic ghost bookings.
This is a smart scheduling tool that works based on your previously-entered task details.
It will fill up your timeline with auto-generated ghost bookings then you can convert them into confirmed bookings. You can also adjust them if the resource is overbooked or you want to add holidays.
It also provides a built-in leave planner for the quick addition of leave days.
Pros And Cons Of Paymo
| | |
| --- | --- |
| Pros | Cons |
| Offer a free trial for all paid subscription plans without signing up for a credit card. | The mobile interface isn't as intuitive as with the web. |
| Customer support through chat usually responds in a couple of hours, but overall, they're helpful. | The provided customer support will depend on the subscription plan you purchased. |
| Includes tons of excellent added features | Resource management features are limited. |
Paymo Pricing Plan
Paymo resource management software is available in three per-user subscription plans, monthly and annual.
Purchase any of the annual plans, and you can get 2 months free of use. Here are their respective pricing rate:
Free: Add a maximum of 10 users
Small Office ($9.95/mo./user): No user limit is set, so you're free to add as many users as you want.
Business ($15.79/mo./user): Provide a dedicated customer success manager to guide you in onboarding and training your members. More advanced features are also included.
All paid plans include a 15-day free trial to give you time to explore the platform before making a purchase.
5. Float – Feature Excellent Time Tracking
Simple Resource Management Software For Agencies & Small Businesses [$6 a month/user]
Float resource management software provides a simple and effective way to plan, schedule, and track all your projects. Whether you're a starting agency or a large firm, they got you covered. This resource planning software is also excellent in work management and pushes teamwork in the company.
If you have existing workflows in another project management platform, you can easily connect them through direct integration.
The July update of Float also allows you to sync all your scheduled status with Slack. This is handy because your team will remain in the loop of the latest task/project changes.
Upon creating an account, you're provided with a dashboard.
Here, you can start adding your team members, projects, and tasks. In adding a member, you can send each a link invitation.
Please note that the invitation links only work for seven days.
Don't worry; it has a Resend Invite option. So, you can always send them another invitation once the link expires.
Once your team members are set, you can start assigning each their respective access rights:
Account owner
Admins
Member
Project Manager
Department Manager (new)
Adding a new task is also made easy. All you need to do is click and drag a specific member on the schedule board, and the task menu will appear.
If there are any recurring items to schedule, you can use the repeat option.
There are nine repeat options available, and all of them can be used to assign a task, schedule time off, and set status.
Time tracking is one of Float's excellent tools.
Your team can enter the number of hours they've consumed to accomplish their task under the Log Time section. They can perform this on both the web and mobile apps (iOS and Android).
You can go to the Report section to see the complete and detailed breakdown of the member's total logged and scheduled hours.
There are more tools available inside the platform. A good number of them are designed for capacity management and multi-project planning.
Pros And Cons Of Float
| | |
| --- | --- |
| Pros | Cons |
| Live chat support provides quick response | Limited app integrations (direct) |
| Offer discounts for non-profit entities & a particular team size | Only support the English language. |
| Add unlimited projects, clients, & departments. | Customer support doesn't provide real-time phone support. |
Float Pricing Plan
Float resource management software is offered in two per-person subscription plans, billed monthly or annual.
Resource Planning: $6/mo./person
Resource Planning + Time tracking: $10/mo./person
As standard, all plans include 24-hour customer support, reliable uptime, and robust security features. You can also try any subscription plan for free (30 days).
6. BigTime – Recommended For Managing Staff's Capacity
Best Resource Management Software For Professional Services [$10 a month/user]
BigTime is initially developed as time, invoicing, and billable software. But over time, they've also added resource management capabilities to help businesses to streamline and manage their staff hours – removing the need for a scheduling software.
As standard, it comes with a utilization dashboard where its home page displays an overview of your operational insights.
This dashboard is designed customizable so that it will only show what matters to each project. Here are a few elements you can use:
Date range
Project and staff cost centers
Filters (department, staff role, service offering, and more)
Donut and bar graphs
Other dashboards you can use in BigTime are the project and task dashboards.
The project dashboard contains seven different tabs that can help you effectively manage each project at hand:
Project: ID and current statuses (billing, due date, etc.)
Contact info: Add client details and other contacts who are involved in the project
Team: Assigned staff and their roles
Bill rates: Add basic and custom billing rates
Tasks: Use the task editor to create tasks and sub-tasks
Activity: All tasks you want your staff to do on top of their regular tasks (e.g., write an email, accomplish to-do lists, etc.)
Miscellaneous: Billing history, time/expense history, and budget status.
On the other hand, the task dashboard provides you with tools to set up workflows and integrate with third-party apps through Zapier.
You can integrate with business apps like HubSpot and Slack.
Once you properly add your projects, tasks, and members, you can immediately determine the metric on how much work is available on projects and distribute them evenly.
You can use the Report Wizard to create different reports.
The insights you can get depend on how you customize each report. Although it is configurable, by default, you can view the overall health of the project and compare the following to the actuals:
Budget
Estimated resources
I've shared a screenshot of all the reports you can create. Choose Other Reports if you wish to create custom reports.
Pros And Cons Of BigTime
| | |
| --- | --- |
| Pros | Cons |
| Offers BigTime Wallet for direct acceptance of payment | Resource allocation & dashboard (utilization & revenue) is only offered at the highest subscription plan |
| Responsive and helpful customer support | Not all fields provided are customizable. |
| Web and mobile app is easy to use | Activity tracking isn't as impressive as the other features. |
| Support all web browsers | |
BigTime Pricing Plan
BigTime resource management software is available in three subscription plans. All plans are designed per user and billed yearly.
Here's what you can expect from each:
Express ($10/mo.): You can add a minimum of 5 users and get access to its personalized reports, handle unlimited clients and transactions, and more.
Pro ($30/mo.): Additional access to request/approval scheduling workflows and other advanced features.
Premier ($40/mo.): You can add a minimum of 10 users and get full access to all its features (standard and advanced).
If you're hesitant about what BigTime software can do for your business, you can contact a sales representative and request a demo.
7. Microsoft Project – Feature Visual Heatmaps
Best Resource Management Software For Financial Firms [$10 a month/user]
Microsoft Project is another great resource planning tool on my list. Its primary advantage, you can access it online and offline.
Flexibility is its strongest suit.
Therefore, you can also trust it in effectively planning and assigning your resources. Single or bulk, you can manage your pool of resources with ease.
In planning your resource capacity, you can use the Capacity Planning view (under resource center).
From there, you can navigate Availability > View > Capacity and Engagements Heatmap. After doing so, it will show you colored-coded insights on how each resource is being used.
Here are the colors available and their respective meaning:
Green = Good
Blue = Underused
Red = Overused
When it reflected red, it's ideal to re-assign it to others or re-schedule it to a less busy timeframe. If you wish to get more comprehensive insights, you can take advantage of its built-in reports.
This feature allows you to view the following data:
Actual work by date and timesheet status
Committed work by resource roles
Actual work by project
Resource capacity and request work
You can also see in graphs the comparison of committed work, requested work, and actual work.
Pros And Cons Of Microsoft Project
| | |
| --- | --- |
| Pros | Cons |
| One license is suitable to install for up to 5 PCs | With all the included features, it can overwhelm new users. |
| Include tons of flexible project management tools | No available app integration |
| Offered on both cloud-based and on-premises products | |
Microsoft Project Pricing Plan
The resource management features of Microsoft Project are offered on its cloud and on-premises solutions.
Here are the subscription plans you can choose from under its cloud-based solutions:
Project Plan 1 ($10/mo./user): This only allows you to create pre-built reports to track your resources' progress, along with your project, programs, and portfolios.
Project Plan 3 ($30/mo./user): Provide you resource management tools to define all project resources, assign project tasks to those resources, and more.
Project Plan 5 ($55/mo./user): Get all enterprise-grade resource planning and management tools to monitor and compare how resources are used.
All cloud-based subscription plans come with a 30-day trial for free where you can use up to 25 licenses.
On the other hand, you can manage all your resources on these on-premises products (designed for a one-time purchase):
Project Professional 2019: $1,279.99
Project Server: Contact a sales representative to learn how to avail of this product.
8. LiquidPlanner – Best For Complex Projects
Project Management Software With Excellent Resource Management Tool [Free | $15 a month/license]
I'll end my comparison list with excellent project management software – LiquidPlanner.
Compared to others, this is the only one that has a built-in automatic prediction capability. This means that it can predict the accurate time a specific task will be done.
From there, you can easily align your people to the right resources and work to your priorities.
Under- and overbooking is a thing of the past because LiquidPlanner has an automatic resource-leveling function that promotes fair distribution. You can also use its automatic scheduling to save time.
Smart time tracking is also built-in, so all changes and adjustments in schedules made are recorded automatically.
Making a smart decision at the right time seems to be a challenge for all business owners and project managers. This is what I like best about LiquidPlanner; it provides you with actionable insights on the overall health of the project and resources.
So, you can finally prevent guesswork and balance workloads from maximizing your efficiency and profitability.
Pros And Cons Of LiquidPlanner
| | |
| --- | --- |
| Pros | Cons |
| Suitable for medium to large-sized organizations | Steep learning curve |
| Provide a secure and centralized hub | Expensive per-license subscription price |
| Include an extensive collection of developer's resources | |
LiquidPlanner Pricing Plan
The resource management features of LiquidPlanner are offered on all its subscription plans. All prices are designed per license and month and billed yearly.
Here's what you can expect from each:
Free: Allows you to manage up to 3 projects, 300 tasks, and add 10 users.
Essentials ($15/mo./license): Manage and track all your 50 projects that contain up to 5,000 tasks.
Professional ($25/mo./license): Get access to the project dashboard with custom filtering, data fields, and more.
Ultimate ($15/mo./license): Create members and resource groups, add unlimited workspaces, add roles for each resource/task, and more.
If you want to explore the Essentials or Professional plan for free, you can click their respective Request Demo button to get a schedule. For the Ultimate plan, you need to contact a sales representative to make a request.
Conclusion
Resource management software is built uniquely. Make sure to always get only the best software that perfectly fits your projects and team's needs and types of resources.
In all of the software I've listed, I will choose Ganttic as the best. I see it as an all in one resource management tool.
It provides you with all the right tools to manage, plan, and track all types of resources. All these can be done in one centralized platform.
It also has a unique and flexible method to give you an in-depth overview of your plans.
Online Gantt charts will show you how your plans will work out with your tasks and resources. You can also use custom data fields to add any vital information and organize them via grouping and filtering.
Though it contains tons of features, it remains easy to use.
It may not be the cheapest option, but it offers a free plan. If you want to test-drive its paid plan, you can use its 14-day free trial version or book a demo.