Navigating the SEO scene in Texas? It can be tough to find agencies that deliver real results, not just empty promises.
That's why we've compiled this straightforward list of top-notch SEO agencies in Texas. Every agency here has passed a rigorous screening process to make the cut. Our criteria are strict, ensuring only the capable and reliable make it through.
We run a marketing agency too, so we understand how important it is to find a partner that truly understands your business. This list will steer you to SEO agencies in Texas that are not only worth your money but also worthy of your trust.
Top SEO Agencies In Texas
1. Direction
Navigating the SEO landscape in Texas, Direction will catch your eye. With Chris Kirksey at the helm, whose background as a US Army Linguist and Signals Intelligence Lead adds a unique flavor of accuracy and strategic acumen to its SEO expertise​.
Direction's approach is transparent, providing you with a clear SEO strategy visualized in a custom SEO campaign portal where you can view all campaign insights, ROI from SEO campaigns, and access live chat support.
This Texas SEO agency is not just about promises; it has a track record of over-delivering. Keeping up with industry trends, Chris and his team actively participate in SEO conferences.
Before diving into a contract with Direction, you can gauge their expertise on Chris' LinkedIn profile, Chris' podcast guestings, and Direction's YouTube channel.
Best Suited For: Local businesses in the SMBs, healthcare, and restaurant industries that value a tailored approach to SEO.
Min. project size:
$1,000
Headquarters:
Austin, TX
Avg. hourly rate:
$300+/hr
Employees:
2 – 9
Services offered:
Local SEO
Founded:
2016
2. Onely
Onely, self-proclaimed as the world's most advanced technical SEO agency, scrutinize your website holistically to devise a winning strategy for technical optimization. Their prowess is in handling complex SEO challenges, be it ill-performed migrations, JavaScript bugs, or massive website indexing issues.
Their expertise in technical SEO extends to coding, server log analysis, and on-page optimization, resolving issues that hinder your website's performance and user experience.
With a love for SEO like Texans' love for barbecue, Onely developed technical SEO tools used by top-notch websites globally. They assure a transparent Technical SEO workflow, engaging directly with your engineering team to ensure quality and efficiency, making the SEO journey less daunting and more fruitful for you.
Their approach is to not just be a third-party service provider, but an integral part of your team, aligning with your quest for superior online visibility in the competitive Texas market. Considering Onely is your step to unraveling the technical intricacies that SEO presents.
Best Suited For: Businesses of all sizes that want to zero in on the technical aspects of SEO.
Min. project size:
$10,000
Headquarters:
Austin, TX
Avg. hourly rate:
$200 – $300/hr
Employees:
10 – 49
Services offered:
Technical, JavaScript, Rendering, & International SEO
Founded:
2019
3. Accretion Engine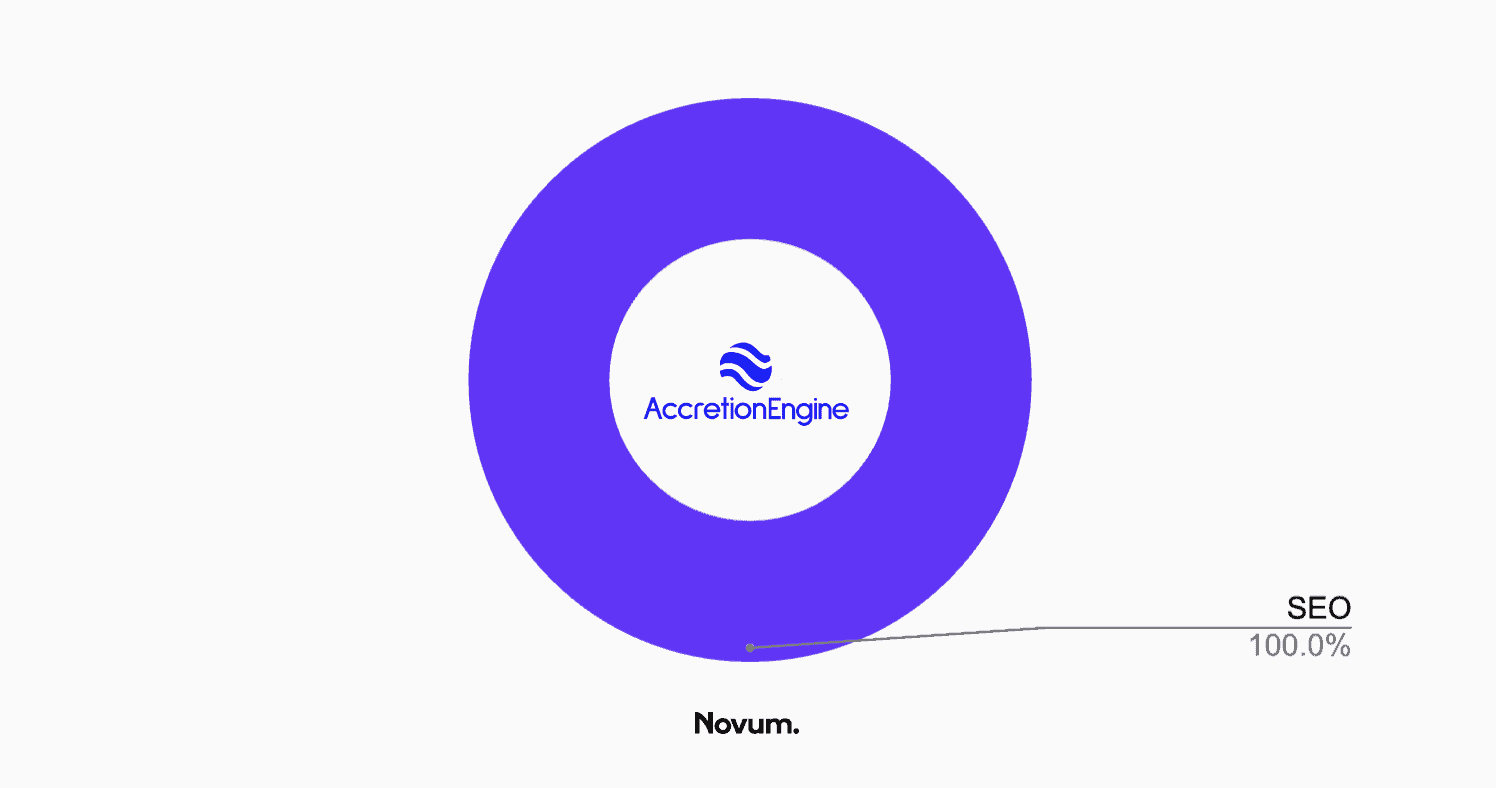 Venturing into the SEO domain in Texas with a focus on SaaS or tech? Accretion Engine should catch your attention. Leveraging machine learning, their 90-Day Sprint Program is designed to unlock your SaaS company's full potential.
Accretion Engine's "SEO-as-a-Service" model goes beyond merely inserting keywords into a blog post. It's an adaptable SEO strategy designed to drive inbound leads and organic traffic your way.
This Texas SEO agency's approach has a proven track record across diverse industries. They skyrocketed a SaaS website's traffic, now receiving over $10,000 monthly estimated organic traffic value​​. In the competitive financial niche, they ramped up a site from 0 to 25,000 ranking search terms, elevating the estimated traffic value to over $350,000 per month​.
AccretionEngine is a viable partner if you're eyeing organic visibility in the tech or SaaS sphere.
Best Suited For: Best for innovation-driven SaaS enterprises.
Min. project size:
$5,000
Headquarters:
Dallas, TX
Avg. hourly rate:
$300/hr
Employees:
2-9
Services offered:
SEO (on-page & off-page) & Consulting
Founded:
2020
4. Markitors
Making a mark as Clutch's Top B2B Firm in 2021, Markitors prowess extends across diverse industries such as eCommerce, Education, Healthcare, and SaaS.
Markitors established its footing among the elite SEO Agencies in Arizona, notably for small businesses. Their hallmark? A first-page rank Google's for "small business SEO" amidst a fierce competition of 15,000+ players.
They extend this winning streak to their clients through well-researched strategies executed. For example, their strategy propelled a local recruitment firm from 0 to 600K monthly website visits.
Notably, Markitors can scale effectively even with a lean team. Despite being a growing 3-person digital marketing agency, they manage to serve 15 small business clients, showcasing their capability to maintain productivity and align priorities amidst rapid growth.
Best Suited For: Small businesses in the eCommerce, education, healthcare, and SaaS industries.
Min. project size:
$1,000
Headquarters:
Dallas, TX
Avg. hourly rate:
$100 – $149/hr
Employees:
10 – 49
Services offered:
On-page & off-page Local and WordPress SEO
Founded:
2012
5. Propellic
Propellic emerges as a noteworthy mention, especially for those nestled in the travel, transportation, and tourism sectors. Under the strategic helm of Brennen Bliss, this Texas SEO agency has carved a niche in tailoring strategies in the travel industry's unique SEO demands.
What sets Propellic apart is their in-depth understanding of travel consumer behavior, from planning to booking. This positions them well to craft SEO strategies that not only improve visibility but drive tangible business results.
For Texas-based travel and tourism firms aiming for a robust digital footprint, Propellic's specialized expertise is the launching pad to achieving those SEO goals.
Best Suited For: Travel-related businesses that want a specialized SEO expertise in this industry.
Min. project size:
$10,000
Headquarters:
Austin, TX
Avg. hourly rate:
$200 – $300/hr
Employees:
10 – 49
Services offered:
SEO (On-page & off-page) & Travel SEO
Founded:2014
6. Funnel Boost Media
Funnel Boost Media isn't a one-size-fits-all kind of agency. They have a skill for tailoring their services to Home Improvement, Financial Services, Healthcare, Home Services, Legal Services, and Professional Services industries.
FBM offers a suite of services ranging from SEO, pay-per-click search marketing, to conversion rate optimization and website design, ensuring a holistic approach to elevating your online presence.
Whether you are in the healthcare sector or running a legal practice, FBM's expertise will help your business thrive online in the Texas market. Their tailored approach means your SEO strategy isn't left to chance, but made to resonate with your specific industry and local market dynamics.
Best Suited For: Businesses of all sizes that value SEO agencies with CRO expertise.
Min. project size:
$1,000
Headquarters:
San Antonio, TX
Avg. hourly rate:
$50 – $99/hr
Employees:
10 – 49
Services offered:
Local & National SEO
Founded:
2012
7. Neon Ambition
Neon Ambition showcases a strong foothold in the SEO Texas market, especially in Law, Finance, Home building, B2B SaaS, and Managed IT sectors​​.
What makes Neon Ambition stand out is the breadth of experience harbored in their team. Their SEO director honed his skills at the nation's largest personal injury law firm and a team member is a previous Google employee. A 20-year SEO veteran and one of the most accomplished PPC specialists across the globe.
This depth of know-how is mirrored in their work with law firms, where they've propelled organic website traffic by 993% for a client in 2 years and helped another clinch the top spot on Google Maps for over 90 search terms.
Their approach isn't just about ramping up traffic; it's about driving qualified leads that develop into tangible business growth.
Best Suited For: Businesses of all sizes in the legal sector.
Min. project size:
$1,000
Headquarters:
Austin, TX
Avg. hourly rate:
$100 – $149/hr
Employees:
10 – 49
Services offered:
Local & National SEO
Founded:
2013
8. The Dallas SEO Company
The Dallas SEO Company has a strong referral and repeat business rate, testifying to their solid reputation. They sharpen their focus on the medical and legal sectors, positioning themselves as a trusted partner for founders and marketing reps in these circles.
They hold a commendable track record, with a client retention rate of 98% over 5 years where clients echo that this Texas SEO firm is easy to collaborate with. They don't just revamp your website to boost rankings; they also guide you through the basics.
If you value long-term collaboration and niche expertise in the medical and legal sectors, this Texas SEO agency is worth considering.
Here's why so many people trust this Texas SEO agency:
Best Suited For: Medical and legal startups and small firms that prioritize long-term relationships.
Min. project size:
$1,000
Headquarters:
Dallas, TX
Avg. hourly rate:
$25 – $49/hr
Employees:
10 – 49
Services offered:
Local, Enterprise, WordPress, eCommerce SEO
Founded:
2017
9. Ranq
If you need a Texas SEO agency that can handle a full hands-off approach, Ranq is a good choice. They can run conceptualization down to execution autonomously.
Ranq thrives in the SaaS, Healthcare, and Financial Services sectors, tailoring SEO strategies to your industry's pulse. However, they have a particular focus on empowering Fintech firms to enhance their online presence and appeal to digital-first clients. For one, they helped a neo-bank with no technical SEO foundation increase their traffic to 237%.
If you're looking for a Texas SEO partner that can handle the planning, decision-making, and execution of SEO campaigns, Ranq is worth a look.
Here's how much experience Ranq has in the industry:
Best Suited For: Mid-sized and large enterprises looking for a full hands-off SEO services.
Min. project size:
$10,000
Headquarters:
Colleyville, TX
Avg. hourly rate:
Undisclosed
Employees:
2 – 9
Services offered:
SEO (On-page & off-page)
Founded:
2018
10. Pear Analytics
Pear Analytics showcases a blend of technical acumen and digital marketing expertise.
Pear Analytics shy away from one-size-fits-all checklists. They craft unique search engine optimization plans based on individual business objectives, leveraging over 15 years of experience to expedite desirable outcomes. Their prowess isn't confined to a specific business size or locale; they offer their expertise to small and local businesses as well as regional, national, or international entities.
One aspect that sets Pear Analytics apart is their extensive industry experience. They have demonstrated their SEO mettle across a myriad of sectors including eCommerce, Home Services, Financial Services, Restaurant/Hospitality, Medical, Legal, Professional Services, Startups, Retail, Automotive, Real Estate, and Education. This broad spectrum of industry experience positions them as a versatile SEO partner capable of understanding and addressing unique industry challenges.
Pear Analytics is a notable choice for businesses looking for a blend of experience, industry versatility, and a client-centric approach to SEO.
Best Suited For: Businesses of all sizes looking for a full digital marketing expertise.
Min. project size:
$1,000
Headquarters:
San Antonio, TX
Avg. hourly rate:
$150 – $199/hr
Employees:
10 – 49
Services offered:
SEO (On-page & off-page), Local SEO, Image SEO, & Video SEO
Founded:
2008
11. Impressive Digital
Impressive Digital, specializing in B2C firms, stresses the importance of consumer psychology in driving traffic. By crafting eye-catching, value-laden content, they aim to captivate your target audience.
This Texas SEO agency offers specialized SEO services for different platforms like Magento, WordPress, and BigCommerce, focusing on long-term strategies to enhance visibility and growth.
Impressive Digital acknowledges that search demand is down in some verticals as a result of the recent pandemic. So they zero in on adjusting your SEO strategy, leveraging SEO content to maintain rankings on valuable search terms.
The goal is that when demand returns, you're in front of your competitors. Applying this approach, they helped a major eCommerce brand boost its traffic by 588% during the pandemic.
If you're still on the fence, listen to Impressive Digital's podcast where they talk about their SEO success stories.
Here is proof of Impressive Digital's excellence in the industry:
Best Suited For: B2C companies that value consumer psychology in SEO strategies.
Min. project size:
$5,000
Headquarters:
Austin, TX
Avg. hourly rate:
$150 – $199/hr
Employees:
10 – 49
Services offered:
Local, International, & eCommerce SEO
Founded:
2019
12. Wright IMC
With an impressive track record spanning over 15 years, WrightIMC focuses on more than just rankings—they prioritize conversions, turning your site's traffic into revenue-generating customers.
Their holistic approach seamlessly melds SEO with content marketing and social media, ensuring your online initiatives are in sync. Their expertise extends across a range of industries like healthcare and retail, with a particular emphasis on auditing your existing strategies to fully grasp your current stance before outlining the roadmap to improvement.
WrightIMC's broad industry experience and client-centric approach make them a strong candidate for businesses eager to dominate the digital space. If you're on the lookout for a Texas SEO agency that's genuinely invested in your success, WrightIMC should be on your list.
Best Suited For: Retail and healthcare companies that prefer a holistic approach in driving traffic.
Min. project size:
$1,000
Headquarters:
Dallas, TX
Avg. hourly rate:
$150 – $199/hr
Employees:
10 – 49
Services offered:
Local SEO
Founded:
2007
13. Razor Rank
Specializing in law firms, healthcare providers, and businesses across the B2B, B2C, and eCommerce space, Razor Rank is an expert in navigating highly competitive markets.
Focusing on delivering results and ROI, this Texas SEO agency zeros in on cost-effective strategies to enhance quality leads and revenue. With their approach global retailer Maui Jim, which experienced a 35% revenue surge in a year.
Razor Rank goes beyond SEO, offering PPC, Reputation Management, and Web Development.
Best Suited For: Small businesses and Fortune 500 companies that value a Texas SEO agency with proven expertise in highly competitive markets.
Min. project size:
$1,000
Headquarters:
Dallas, TX
Avg. hourly rate:
$100 – $149
Employees:
50 – 249
Services offered:
Technical, Local, eCommerce SEO
Founded:
2015
10 Factors To Consider When Choosing A Texas SEO Agency
I. Proficiency & Specialization
Choose agencies with a solid tenure in the industry and a good grasp of your business sector. Why? SEO demands a tailored approach, and relevant industry knowledge will yield superior outcomes.
For example, if your business is in the SaaS sphere, choose between Accretion Engine and Markitors.
But while a rich history of expertise is valuable, giving a chance to newer firms with proven competence is worth considering.
II. Client Narratives & Endorsements
Look for case studies and client commendations. These provide tangible proof of the SEO agency's capacity to enhance your search visibility and channel relevant traffic your way.
Do not go for a Texas SEO agency that can present just any case study. Look for one with a report on the same industry you are in. At the very least have 3 elements in it: The challenge, the solution, and the results similar to what Direction and Propellic provide. This way you get a complete picture of how effective the SEO strategy is.
III. Open-book Reporting
Make sure the agency extends clear, comprehensible monthly summaries encompassing. It should include organic traffic influx, conversion metrics, and search term standings. The goal is to gauge ROI, not just web traffic.
Choose an agency that can provide a regular progress report or a custom SEO campaign portal like what Directive offers.
IV. Ethical SEO Practices
Make sure the Texas SEO agency steers clear of black-hat techniques such as keyword stuffing, cloaking, concealed texts or links, and link farms. Search engines penalize these, putting your efforts to waste.
V. Spectrum Of Services
SEO doesn't operate alone. Explore if they provide auxiliary services like content promotion, PPC, web development, or social media handling to bolster your SEO blueprint. Consider The Dallas SEO Company and WrightIMC.
VI. Interaction & Client Care
Vague responses from the agency are warning signs. Ideally, they should be reachable via email within a 12-24 hour window, have Slack or Skype channels, or can schedule a prompt video chat to tackle arising issues.
VII. Pricing vs Worth
The least expensive option isn't always the most beneficial. Choose agencies with competitive yet sensible pricing. SEO is an asset, and cutting corners could translate to inferior results.
VIII. Local SEO Acumen
If local patronage is the backbone of your business, make sure the agency is adept in local SEO strategies. The intricacies of local search are far from broader SEO schemes.
IX. Preliminary Technical Review
A Texas SEO agency should propose an initial technical evaluation of your website to pinpoint challenges and prospects. This reflects their intent to draft a personalized strategy for you.
X. Flexibility
The SEO realm is always shifting. Partnering with an agency that's updated on current trends and algorithm changes ensures your strategy stays effective.
SEO is a marathon, not a sprint. Make sure your choice is a thoughtful mix of these factors for long-term success.
Final Thoughts
Navigating through the Texas SEO terrain calls for a partner, not just a provider. It's about finding a collaborator whose insights resonate with your vision and whose expertise can turn that vision into tangible results.
When weighing your options on which SEO Texas agency to team up with, remember that the right choice for YOU will align well with your long-term goals and desired milestones. Your SEO journey in Texas should be a shared venture, with a team ready to adapt and evolve with you.
Frequently Asked Questions
Can I expect a return on investment (ROI) from SEO services in Texas?
Yes, by improving your website's ranking on search engines, driving more organic traffic, and enhancing user engagement, SEO services can significantly contribute to achieving a positive ROI. However, SEO is a long-term strategy, and results may take some time to materialize.
What are the typical services offered by SEO Texas agencies?
Common services include keyword research, on-page and off-page optimization, content creation, link building, local SEO, technical SEO audits, and analytics tracking to measure performance.
Is local SEO crucial for Texas-based businesses?
Absolutely, local SEO helps Texas-based businesses improve their visibility in local search results, which is vital for attracting customers in their specific geographic location.
How do SEO Texas agencies measure success?
Success is usually measured through key metrics like organic traffic, rankings on search engines, conversion rates, and ultimately, the return on investment (ROI) generated from SEO activities.
What kind of budget should I have for SEO services in Texas?
The budget can vary widely based on the size of your business, the competitiveness of your industry, and the scope of SEO services you need. It's advisable to discuss your goals and budget with potential agencies to find a suitable fit.
How long will it take to see results from SEO activities in Texas?
SEO is a long-term strategy. While some improvements may be seen in the first few months, it often takes 6 to 12 months or more to see significant results, especially in competitive markets.