A backup server software enables businesses to store, recover, and manage data securely. A dependable backup solution is crucial to protect your business against data loss due to system crashes, human error, malware, or other disasters.
Server backup provides cloud storage solutions for vital business data and its operating system. Ensuring a disaster recovery feature in cases where data is compromised or corrupted due to unforeseen circumstances. Businesses can quickly restore the cloud backup to past versions stored on external virtual servers.
Many server backup software solutions are available on the market, and choosing the right one for your business can be overwhelming. To help narrow down your options, I have compiled a list of the seven best server backup software for businesses in 2022.
By the end of this post, you'll have a well-rounded knowledge of what backup server features to look for and how they help your business secure and maintain data.
Here are seven back server software options to consider.
What Is The Best Server Backup Software For 2022?
My top recommendations for computer-aided manufacturing software are Backblaze, Acronis Cyber Backup, and Unitrends.
| | | |
| --- | --- | --- |
| 4.9 | 4.7 | 4.2 |
| Best overall. Cloud storage service with responsive features. Starts at $5/TB/month. | Feature-rich. Highly reliable platform with enhanced security features. Starts at $9.99/year. | Best for flexibility. Provides effective VMware and Hyper-V features for IT administrators. |
| Try Backblaze | Try Acronis | Try Unitrends |
1. Backblaze – Top Pick
Best Backup Server Software For Cost-Effective Solution [$5/TB/Month]
Backblaze is a straightforward and cost-effective solution for enterprises looking for a high-capacity cloud storage solution for business-critical files. It offers unlimited VM backup for files with unlimited storage space while featuring high-speed functions for a better user interface. 
Enterprises and small businesses can use this backup server software for a windows server system or iOS system. Backblaze also offers high-end data protection for Veeam backup, Servers and NAS backup, with the option to browse and download files on mobile devices.
Notable Features Of Backblaze
System Compatibility: Backblaze is compatible with Windows and iOS operating systems, making it the go-to choice no matter what your business is using.
Automatic Encryption: The built-in encryption automatically encrypts files scheduled for backup through SSL or FTP.
Version History: Users can save a deleted or old file for up to 1 year for optimized backup needs. Users can opt to keep these files in storage for reference or use in the future.
Manual Throttle: Backblaze optimizes user experience by allowing control in adjusting the speed of automatic backups to meet any internet speed.
Simple Data Restore Policy: Access your backed-up data without subscribing to Backblaze or waiting for customer support to access your data.
Pros And Cons Of Backblaze
| | |
| --- | --- |
| Pros | Cons |
| Simple pricing plan | Single license only for one computer per account |
| Offers offline restore options | Can't sync files on mobile devices |
| Unlimited storage for backed-up files | |
| Affordable backup server option | |
Backblaze Pricing Plan
Backblaze offers a simplified pricing plan for its Business Backup services based on the following solution options:
Servers ($5/TB/month): Backup servers with BackBlaze's B2 cloud storage. Users can choose between backing up a single server or multiple servers.
NAS ($5/TB/month): Sign up to get the first 10GB storage for free. Contact sales through their official website for additional information on inclusions and features.
Workstations ($70/Computer/Year): Contact sales through their official website for additional information on inclusions and features.
Veeam ($5/TB/month): Users must follow the steps on the Veeam Backup page to access this plan's features and inclusions.
By offering users a simplified pricing and solution plan, users can easily choose which is best for their business needs. For those looking to store files in a secure server for retrieval and use, the Servers plan is sufficient. However, the NAS plan will benefit those looking for a more robust data storage that protects from ransomware, data breaches, and other potential threats.
2. Acronis Cyber Backup – Most Feature-Rich

Backup Server Software With Cutting-Edge Features & Tools [$49.99/Year /Computer]
Acronis Cyber Backup software enables users full backup capability for their Windows, macOS, Android, and iOS PCs or devices. Files are protected using end-to-end encryption AES-256, which allows users to set up non-recoverable local encryption keys. Their data center also has physical security that has no downtime for 48 hours in cases of power outages or loss.
Those looking to use Cyber Protect will find the process easy to set up. Everything is clearly labeled for ease of use and navigation, even if it features numerous tools. The software includes protection from ransomware and malicious URLs and full disk backup and restore.
Notable Features Of Acronis Cyber Backup
Choose backup options: Users can choose to backup their files locally or with a cloud backup in secure data center servers.
Feature-rich: Offers the broadest range of features and tools for secure file backup, storage, and protection.
Sync files: Includes tools that allow users to sync files and folders between computers and the cloud with restorable images.
Ransomware protection: Easily catches and recovers files with a real-time ransomware layer.
Private encryption: Only users have access to their private encryption key, so make sure not to forget it. Else users cannot recover the files.
Pros And Cons Of Acronis Cyber Backup
| | |
| --- | --- |
| Pros | Cons |
| Includes full disk image backup and restore | Disk cloning may not work in some cases |
| Offers both local and cloud backup and restore options | Some performance reports of slow upload speed |
| Choose solutions based on specific needs | |
| Includes more tools and features than its counterparts | |
Acronis Cyber Backup Pricing Plan
Acronis Cyber Backup offers three pricing plan options for users to choose from. Each plan considers the number of computers for backup in determining the final price. The pricing plans are:
Essentials (Starts at $49.99/year/computer): Includes flexible backup options, active disk cloning, quick recovery with universal restore, and ransomware protection.
Advanced (starts at $89.99/year/computer): Includes all Essential plan features plus cloud backup and features, automatic replication of data, and Microsoft 365 backups.
Premium (Starts at $124.99/year /computer with 1TB free storage): Includes all Advanced plan features plus blockchain certification of files, electronic signature on files, ability to add up to 5TB of storage space.
Businesses looking for essential data backup and ransomware protection can opt for the Essentials plan and choose the number of computers requiring backup. However, those looking for the ability to expand storage space down the line will be better off with the Premium plan that provides an extra 5TB of storage if necessary.
3. Unitrends – Best For IT Administrators
Dependable Backup Server Software For Hyper-V And VMware [Free | Paid Pricing Available Upon Request]
Unitrends uses an intuitive user interface to decrease the time spent on manual backups and recovery. Users can choose from their library of products based on needs such as endpoint backup, backup for Google Workspace, offsite long-term data protection, and more.
As backup server software, Unitrends aims to bridge the gap between the number of data companies that need protecting versus the capability of limited IT staff to keep up. Its library of products and services helps businesses cut management time, reduce data security costs, and ensure data recovery when necessary.
Notable Features Of Unitrends
AI-based ransomware system: Features smart analysis of complex patterns in data characteristics. It then alerts admins of ransomware threats.
Data backup management: Uses ransomware detection to pinpoint important data for syncing into a local drive.
Recovery assurance feature: Automatically tests backup files and suggests corrective measures in completing restoration along with ensuring SLA compliance.
Instant recovery: Companies can get instant recovery for VMware, Windows Server Backup, Microsoft, OneDrive, and Unified Bare Metal.
Pros And Cons Of Unitrends
| | |
| --- | --- |
| Pros | Cons |
| Hyper-scale cloud service to keep low cost in cloud storage options | Price is higher than other backup server software options |
| Effectively detects and fixes VSS and software bugs | Slower when working with SQL and SharePoint backup |
| There is a free premium version to try | |
| Easy to upgrade plans when necessary | |
Unitrends Pricing Plan
Those looking to use Unitrends can calculate the estimated price using their backup cost calculator available on their website based on:
The number of virtual server sockets
Physical serves
TB to protect
However, the Enterprise solution starts at $349 per year per resource. Those looking for an affordable option can opt for the freemium plan, which provides 1TB of backup for files and data.
Companies looking for robust features and tools to work with should opt for Unitrends as their backup server solution. The price calculator makes it easy to determine business needs and the best plan. Its customizable options make it well suited for businesses of any size and who are expecting growth down the line.
4. AOMEI Backupper – Best For Personal & Small Business Use
Best Backup Server Software For Scalability & Growth [Free |$63 (Lifetime Access)]
AOMEI Backupper is a highly trusted backup software exclusive for Windows server backup. While it does not have a macOS option, small businesses and solo professionals can take advantage of its lifetime licensing options, including essential software backup storage.
Part of what makes AOMEI Backupper great for small businesses and solo professionals is its efficient technical support and ability to cut down on IT admin costs. Additionally, AOMEI includes NAS knowledge and the PXE Network Boot tool to make it easier for users to navigate their backup service without needing in-depth knowledge of IT and server systems.
Notable Features Of AOMEI Backupper
Four backup types: Users can choose to backup their files and data on a disk, system, file backup, or partition for more freedom and efficiency.
Backup scheduling: Allows automatic backup scheduling daily, weekly, or monthly to ensure no data is missing at any point.
Disk Space Management: Uses incremental and differential backup to optimize disk space and make more room for essential data.
Intuitive user interface: This makes it easy for those without a background in server systems to create a backup for existing data and files.
Pros And Cons Of AOMEI Backupper
| | |
| --- | --- |
| Pros | Cons |
| Includes a variety of open-source tools that are easy to use and apply | Does not support macOS |
| Premium versions include lifetime upgrades | Some features and tools have bugs |
| Allows replication to create a copy of the installation directory | |
| There is a free edition that includes essentials | |
AOMEI Backupper Pricing Plan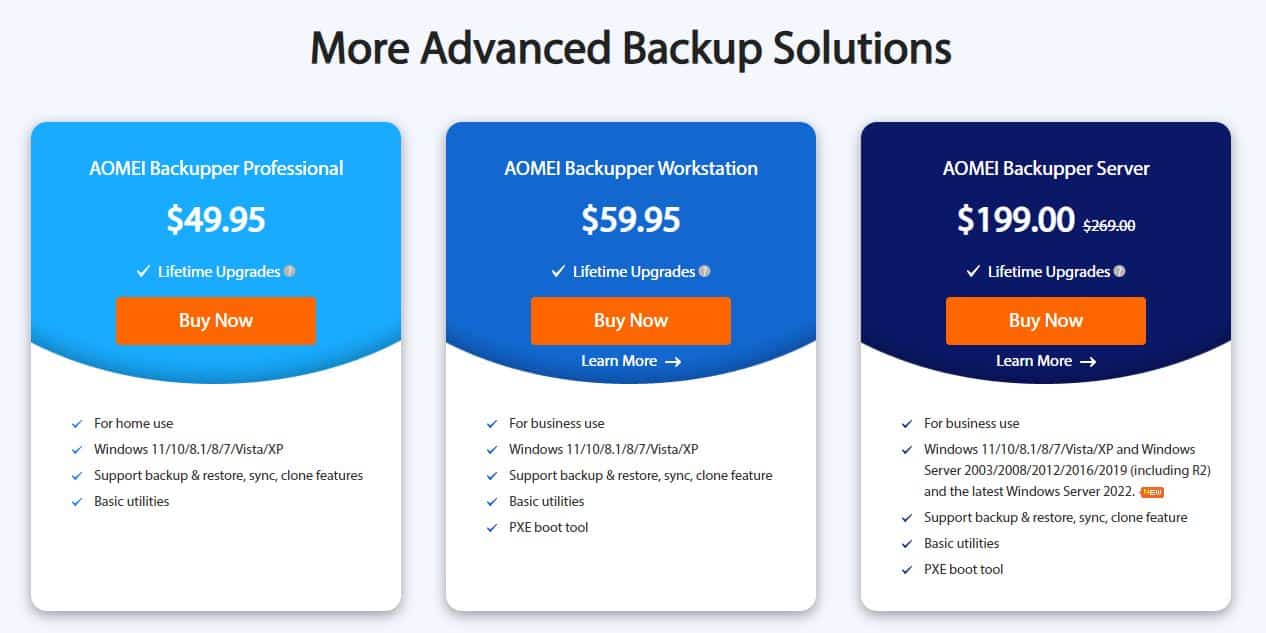 AOMEI Backupper offers four pricing plan tiers for users to choose from:
Standard: Includes basic backup features and capabilities such as file backup, automatic backup, and backup to a cloud drive, among others.
Professional ($49.95 Lifetime License Price): Allows one license for personal use and full access to backup, sync, restore, clone, and tools.
Workstation ($59.95 Lifetime License Price): Allows for one business license with all access from the Profesional plan plus PXE Boot Tool.
Sever ($199 Lifetime License Price): Allows for unlimited PCs and servers within one company and all features of the Workstation plan plus the ability to copy AOMEI Backupper to a removable device.
Each plan is priced as a lifetime license. Small businesses and solo professionals looking to try out AOMEI Backupper will benefit from using their Standard Plan, which is free to use and includes base tools and features for a starter backup server. From there, AOMEI can easily be upgraded to accommodate growing needs.
5. IDrive – Best For Multiple Device Backup
Backup Server With Unlimited Backup For Multiple Devices [ $59.62/year]
IDrive is another excellent option for small business and personal users looking to ensure essential data is stored securely. Users can also benefit from using the dashboard to easily access and edit backup data. IDrive makes it easy to secure online backup servers like SQL servers, Linux Servers, MS Exchange Server, and VMware.
The added benefit of quickly restoring and managing data and system settings with the web-based console allows for on-the-go work. Users can set a backup schedule and access data from anywhere.
Notable Features Of iDrive
Real-time file sync: Sync files across all your devices linked through IDrive online.
Entire drive backup: Use disk image backup to create a copy of whole drives, settings, programs, and files that mirror the original information structure.
Access data anywhere: The highly efficient iOS and Android apps allow easy access to your database anywhere.
Version view: Includes snapshot views of data for point-in-time recovery and as an additional layer of ransomware protection.
Pros And Cons Of IDrive
| | |
| --- | --- |
| Pros | Cons |
| Creates reports on activity, shares, and status for easy monitoring | Does not have unlimited storage options |
| Use only one console to monitor all kinds of backup | |
| Use compressed and incremental backup of data to create more network bandwidth | |
IDrive Pricing Plan
IDrive offers five pricing plans for personal and small business users to choose from:
Basic: Includes 10 GB of storage.
IDrive Mini ($3.71/year): Includes 100 GB of storage for one user on unlimited computers.
IDrive Personal ($59.62/year): Includes 5 TB of storage for one user on unlimited computers.
IDrive Team ($74.62/year): Includes use of five computers and users with a total of 5 TB of storage.
IDrive Business ($74.62/year): Includes unlimited users and computers, servers, Exchanger, SQL, and NAS devices with 250 GB of storage.
Each plan comes with pricing tiers based on the number of computers and users allowable. You can also pay a two-year subscription fee for a sizable discount.
Solo professionals can benefit from the free plan of IDrive if they do not need more than 10GB of storage for data. Those looking for larger storage space can benefit from the Mini or Personal plans. On the other hand, small businesses that need to backup more than one computer should opt for the Team or Business plans to accommodate all computers and users.
6. NovaStor – Best Expert Team
Flexible Data Server Software Solution With Extensive Customer Support [$41.66/mo]
NovaStor is a managed service provider (MSP) backup server software solution for businesses of all sizes and industries. Being an MSP, NovaStor can host customer data in dedicated data centers. 
On the user side, NovaStore allows for easy monitoring and backup of data remotely using a single point of access. This also enables users to choose between local and offsite cloud backup.
Notable Features Of NovaStor
Supports multiple operating systems: Works with many third-party business applications like Windows, Linux, VMware, Hyper-V, and more.
Highly scalable: NovaStor can handle sudden changes in data amounts without compromising on usability due to network load.
Automatic backup process: The backup process runs uninterrupted at a high fault tolerance for efficient restore and backup functions.
Efficient customer support: It's easy to contact customer support and get a quick response and resolution to issues and concerns.
Pros And Cons Of NovaStor
| | |
| --- | --- |
| Pros | Cons |
| Monitor backups from all workplaces from a central point | Not an image-based backup solution |
| Faster data transfer speeds and end-to-end encryption | An expensive option |
| Highly efficient customer support and management | |
NovaStor Pricing Plan
NovaStor offers four pricing options, all suitable for businesses looking for managed backup server solutions:
Up to 5TB ($2,500/year)
Up to 10 TB ($4,500/year)
Up to 25 TB ($9,500/year)
Custom
All plans above include unlimited servers, apps, cores, and VMs. Also includes upgrades and updates and US-Based tech support. The difference is in the amount of storage space provided. Users can also customize their plan if more than 25 TB is required.
Businesses looking to backup and secure their files can opt for the 5TB plan and scale to a higher plan when more storage space is required. Since it is a pricey option, purchasing and scaling your plan as needed will be the most cost-effective way to prevent wasted resources.
7. NAKIVO – Best For Disaster Recovery Automation
Best Server Backup Software For Virtual, Physical, & Cloud Environments [$229/Socket]
NAKIVO is known for providing enterprise-grade data protection with features like disaster recovery automation and Network Acceleration. Its ability to provide flexible backup solutions allows users to create up to 4,000 endpoint recoveries to streamline fast data recovery. NAKIVO is an image-based backup solution that captures all VM, system state, and configuration files.
Notable Features Of NAKIVO
Point retention policy: Rotates recovery points on a daily, weekly, monthly, or yearly cycle based on customer needs.
Less storage space requirements: Removes duplicate data that take up storage space.
Single clock installation: Windows users can install the software with one click, saving time and effort in getting the system up and running.
Pros And Cons Of NAKIVO
| | |
| --- | --- |
| Pros | Cons |
| Advanced bandwidth throttling | The user interface is difficult for new users |
| Use LAN-free data transfer mode to create backups | |
| Build-in Exchange and SQL log | |
NAKIVO Pricing Plan
NAKIVO offers five pricing options to choose from based on the number of sockets:
Pro Essentials ($229/socket)
Enterprise Essentials ($329/socket)
Pro ($459/socket)
Enterprise ($659/socket)
Enterprise Plus (Custom Pricing)
Each plan comes with one year of support and maintenance along with the following features:
Unlimited backup protection
Protection for virtual, physical, cloud, and SaaS environments
Data and file recovery
Policy-based data protection
NAKIVO is an excellent server backup software for companies and enterprises expecting high volumes of data needing backup and security. Since NAKIVO prices are based on the number of sockets, businesses can use that to decide on the right plan.
Conclusion
Choosing the best server backup software for your business means considering the volume of data that needs full backup and the storage location. You'll also want a software option with as little downtime as possible with an optimized data uploading and downloading process.
Your chosen backup system must also work seamlessly with your business's operating system and the tools it will back up, such as Google Drive or Windows. You can choose the best that provides well-rounded services based on specific business requirements and operations.
I recommend server backup software options like Backblaze and Acronis Cyber Backup for those looking for a straightforward data restore process and automatic backup features. Such software options backup a system through on-premises and local backup to optimize file security and protection.
Options such as Unitrends and AOMEI Backupper makes data storage management easier by creating a process that automates manual tasks and uses intuitive and AI features to recommend actions that save on storage space while also increasing the speed of data recovery.
To learn more about keeping your business data secure, visit us at Novum to discover the latest tools and software.