Are you ready to start a profitable online store and eCommerce business?
You can either use Shopify or WordPress (powered by WooCommerce). In this in-depth Shopify vs. WordPress comparison guide, I'll show you the best CMS/store builder to use, the features, costs, and more.
I'll be sharing my experiences using both eCommerce and Content Management System (CMS) to run my online business.
Why use Shopify instead of WordPress to start your online business? Is WordPress easier to use and does it offer more value for money? You'll soon find out.
If you're ready, let's get started.
1. Shopify vs. WordPress At A Glance
Here's a quick glance at Shopify and WordPress to help you decide which platform is most ideal for creating an online store and eCommerce website.
| | |
| --- | --- |
| 4.8 | 4.5 |
| Best Overall. Easy to use. Domain and web hosting. Mobile app. Starts at $29/month. | Best for bloggers and content creators. Marketing and SEO tools. Starts at $3.99/month. |
| Try Shopify | Try WordPress |
As you can see, Shopify is a much better option for starting your online store. On the other hand, WordPress gives you more flexibility and control over your website.
So, what's the difference between Shopify and WordPress? Which platform is better for starting your online business?
Here's what I found out after thorough research:
Shopify is an all-in-one eCommerce Website Builder. It helps you build an online store in minutes, design your storefront, process credit cards, and recover abandoned carts. It costs $29 (Basic), while WordPress is a more flexible CMS for creating a website and store using Woocommerce. It's free but you'll invest in a domain, hosting, themes, etc.
2. Who Is Shopify Best For?
Shopify is suitable for individuals, small businesses, and established brands that want to start an online store. It provides a feature-rich eCommerce solution that anyone can use, set up, and scale an online business.
Companies like Coco and Breezy, Brooklyn Museum, Adore Me, The Citizenry, and thousands of other popular online stores are built using Shopify.
3. Who Is WordPress Best For?
WordPress is ideal for people looking for a blogging platform. It's great for digital marketers, and content creators.
It's also for people and businesses that already have a thriving WordPress website, it's quite easy to start an online store on the side using Woocommerce — and gain access to a library of stunning themes and useful plugins.
4. A Close Look At The Features Of Shopify And WordPress
How does Shopify stack up against WordPress? Let's carefully summarize the key features in a Table:
| | | |
| --- | --- | --- |
| Features | | |
| Allows storefront creation | | |
| Robust shopping cart | | |
| Easy store management | | |
| Has marketing and SEO tools | | |
| Equipped with domain creation | | |
| Comes with a mobile app | | |
| Provides themes and plugins | | |
| Has a blog and content editor | | |
| Responsive customer support | | |
| Get started | Try Shopify | Try WordPress |
5. Key Features Of Shopify
Shopify is an all-in-one platform for creating an online shop. It's a website builder for eCommerce. It offers useful eCommerce functionalities in the world.
Here are 5 key features of Shopify that make it stand out from the pack:
#1 Shopify Storefront: Create a Stunning Ecommerce Shop
Shopify is a standalone platform for creating eCommerce stores. There's no steep learning curve here since the Website Builder is easy to use. It lets you design your Storefront, and customize and layout your online store as you want with its Shopify themes.
No matter the size of your business, Shopify has all the features and tools to help you start and scale.
In fact, there are 70+ professional themes you can choose from for your store. These themes are from world-renowned designers like Pixel Union, Happy Cog, Clearleft, and many others.
Every theme you select is mobile responsive. It comes with its intuitive settings — which helps in ease of use in customizing how your storefront looks and feels.
When designing your website, you gain full access to HTML and CSS, making it pretty easy to tweak, customize, and adjust your website's design and integrations. Alternatively, install the Buildify Drag & Drop builder to spark up your creative instinct.
More importantly, start branding your website with your custom domain. You can purchase a new domain from Shopify or use an existing domain, it's that easy.
#2 Shopify Shopping Cart for Selling Products
While designing your Storefront, Shopify allows you to activate a free SSL certificate to secure your shopping cart and protect it from external attacks.
Shopify payment gateways include Stripe, Paypal, Skrill, Amazon Pay, and others.
Since you'll be accepting credit cards and PayPal transactions, it's important to use a 256-bit SSL certificate to secure all the pages, content, and more.
This is the same level of security used by banks.
Once set up, you can accept Visa, Mastercard, Discover, and American Express in your shop.
Shopify's shopping cart is robust and flexible. Once your shop is live, you can receive automatic shipping rates from major shipping carriers such as UPS, FedEx, and USPS.
Above all, the shopping cart is built to increase your conversions. Here's how:
Shopify uses the Abandoned Checkout Recovery system to recover all abandoned customers who left off without completing their purchase.
These abandoners will automatically receive an email with a link to their shopping carts, nudging them to complete their purchase.
Offering free shipping is equally important, as online shoppers love it. With Shopify, you can improve your average order size by offering free shipping to your customers.
Simply choose a price point or a requirement at which the free shipping applies. Set up automatic taxes, flexible shipping rates, multiple languages, and so on.
#3 Manage Your Online Store & Customer Profiles
Shopify has one of the best Store Management systems. You can manage Customer profiles and learn more about their needs and shopping behaviors.
Get to know their contact info and order history from a single dashboard.
Tracking your customer accounts is critical. It allows you to encourage customers to buy again, by making it easier for customers to create an account at checkout.
Customers can also checkout as guests, instead of waiting to create an account, confirm it, before completing their purchase. This will drive more conversions.
If you're interested in dropshipping, Shopify can help you achieve that by integrating with apps such as Inventory Source, Ordoro, and eCommHub. These can be easily searched on Shopify's app store. This will simplify the process of setting up your dropshipping business.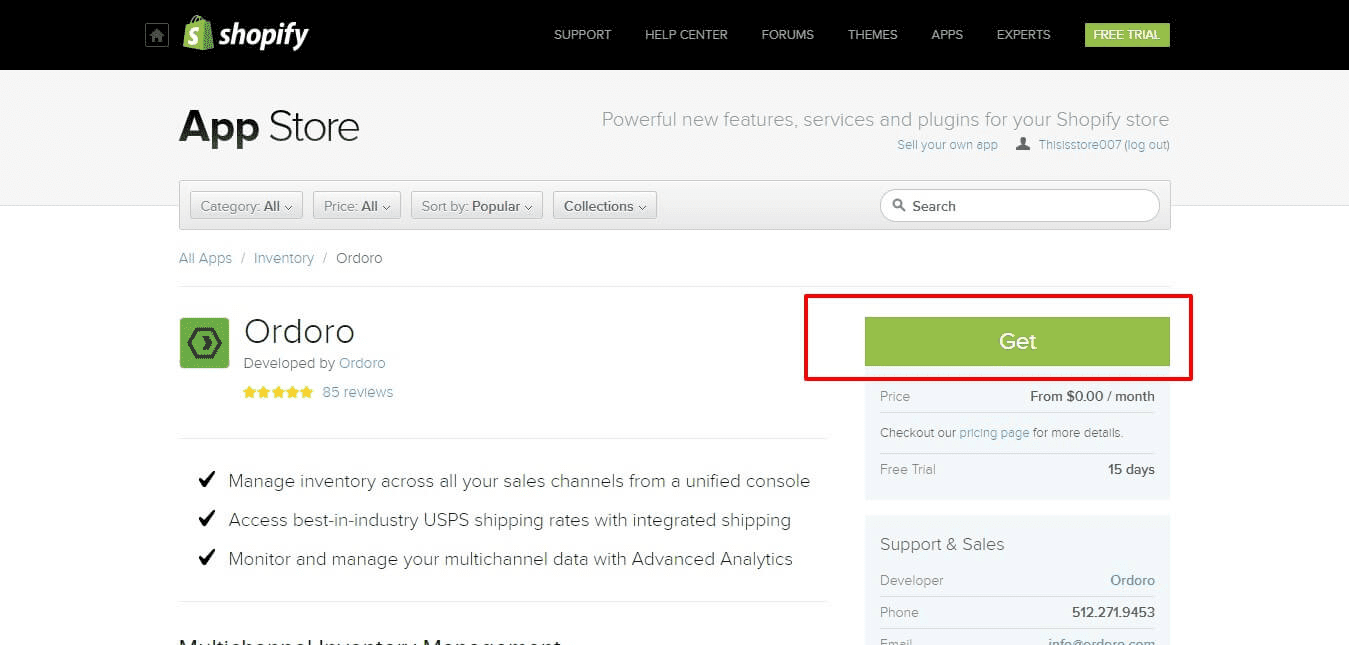 It's easy to refund customers if they're not satisfied with your product. And your inventory will be updated instantly.
Send personalized and customized emails by choosing one of the conversion-focused email templates. Manage your products using the Shopify app. Also, fulfill orders, contact a customer, and do a lot more.
#4 Shopify Marketing and SEO Tools
Every Shopify storefront is built to drive traffic, attract customers, and rank on Google.
Shopify lets you optimize your product pages and content to drive organic search visibility in search engines.
You can customize H1, title tags, and meta description or product description, generate sitemap.xml file and handle other On-Page and Technical SEO of your shop.
You can engage your customers and convince them to write SEO-friendly product reviews on your website.
Social media marketing is another aspect to pay close attention to. You can sell directly on Facebook, and your fans can purchase your product without leaving Facebook.
Shopify also rewards store owners with Google Ads credits. For every $25 you spend with Google, you'll receive $100 to advertise more on Google Ads.
#5 Shopify Analytics: Tracking Performance
Shopify provides an actionable dashboard for tracking sales, orders, and traffic. This is essential if you're looking to make smarter business decisions. It also shows how your Facebook ads are performing.
View product reports and analyze insights on how your store is growing. You can see which products are selling — and which ones to ditch or improve.
Shopify Analytics shows you where your traffic is coming from, and how they interacted with your website.
Google Analytics syncs seamlessly with your online store. This makes it easier to track referrals, visits, and sales.
Above all, you can export these data and customer insights for careful analysis. You can either open the reports using your spreadsheet tool or send them to your accountant or bookkeeper.
6. Key Features Of WordPress
You can create any type of website using WordPress. Overall, WordPress is more powerful than Shopify, but when we compare the eCommerce system (i.e., WooCommerce), they're a close rival.
Here are the 5 key features of WordPress (WooCommerce) for creating an online shop:
#1 Sell Products Online With WooCommerce
WooCommerce is one of the best eCommerce platforms out there – you can sell any product on your online store. 
Whether it's physical products (e.g., Clothing) that require shipping to a physical address, WordPress can help you sell them.
Or, If you want to sell digital products that customers can download, or even a combination of the two, WordPress (via WooCommerce) can help you get started in no time.
Although it's going to take a while to set up, WordPress is not a Site Builder, but a standalone Content Management System.
But once you get a hold of it, it's a blissful journey.
#2 WordPress-Based Ecommerce Plugins
WordPress is loved by millions of bloggers and entrepreneurs because of its rich depository of eCommerce tools and SEO plugins, and many more. In fact, 34% of the web is powered by WordPress. That's huge!
Plugins help you the power and manage every aspect of your business. No matter the task, there's a plugin for it.
Most of the plugins are 100% free. Although there are premium plugins that only let you use the LITE version. Investing in a WordPress plugin is usually worth it, especially when it can help you maximize your earnings and automate processes.
Shopify also has add-ons and plugins. But the library isn't as huge as WordPress.
#3 A Huge Library of Professional Themes
WordPress comes with a ton of stunning and professional themes which makes your website building journey more creative. If you're on a tight budget, there are free themes you can use that will serve a good purpose. However, the premium themes are more responsive, secured, and high-converting.
When it comes to starting and growing your online store, WordPress stands tall especially when you use the WooCommerce plugin.
This plugin is built using the Modular system. This means that WooCommerce is kept lean and clean, which allows you full control to add the options you want.
It also works well with other eCommerce-based WordPress plugins. It's a great way to keep the features you already love.
#4 WordPress Gutenberg Editor
Both WordPress and Shopify have clean editors, but the WordPress Gutenberg Editor is better.
WordPress has been evolving in the last 10 years. When we thought the Classic editor was all there is, it kept improving.
The Gutenberg Editor is the new kid in town. It's intuitive and allows you to write, format, publish, and manage your content.
One of the ways to drive traffic to your online store is by publishing new content regularly. Use the Gutenberg Editor to create and layout your content page.
#5 WordPress Marketing & SEO Tools
When you create an online store using WordPress (powered by Woocommerce), there's a huge chance of ranking high in Google organic results.
Why? It's because Google loves and rewards WordPress sites. It's easy to speed up the loading times of your product pages and blogs because there are a lot of experts and plugins that can help you.
It's not so with Shopify. Since you don't have complete control over your store, it's a bit daunting to seek the services of an external expert.
WooCommerce runs smoothly on WordPress. So you can tap into this opportunity to get more traffic to your online store.
Highlight products throughout your store, and view sales, refunds, and coupons over time. Reward customers with coupons for a specific amount, or offer special discounts like free shipping.
All these are steps you can take to drive traffic, encourage repeat customers, and boost conversions at your store.
WordPress and SEO are a match made in heaven. In fact, you might not struggle with ranking in Google if you build your website with WordPress — and target low-competition keywords. WordPress will take care of the On-Page SEO for you, and your pages will naturally get crawled and indexed — since Google loves WordPress pages.
7. Shopify vs. WordPress – Pros And Cons
Shopify powers, 1,000,000+ online stores. It's relatively easy to use compared to BigCommerce and Volusion. But are there downsides to using Shopify? Let's see the pros and cons:
Shopify:
| | |
| --- | --- |
| Pros | Cons |
| Shopify is easy to use and beginner-friendly | Shopify stores' URLs are not SEO friendly (uses subdirectories e.g., /pages/) |
| Shopify is a fully-hosted eCommerce platform (no need t pay extra web hosting fees) | The transaction fees are high (unless you use Shopify Payments which isn't available everywhere) |
| An excellent 24-hour support team | It's hard to customize your online store to look exactly the way you want |
| A ton of useful Shopify add-ons (both free and paid) for your online store | Creating a multi-language store requires an expensive app |
What about WordPress? Is it a better option for starting and growing your online store? The pros and cons can help us make well-informed decisions:
WordPress:
| | |
| --- | --- |
| Pros | Cons |
| WordPress is used by over 70 million websites and eCommerce stores | WordPress requires external web hosting and domain |
| Gain instant access to stunning WordPress themes (free and premium) | WordPress isn't a true Site Builder. It requires a 3rd party Page builder like Divi or Elementor |
| Enhance your site's functionality and design with WordPress eCommerce plugins (most are free) | To truly launch an online store, WordPress requires a WooCommerce plugin |
| A clean and easy-to-use dashboard | Premium WordPress themes can be quite expensive |
| Launch an online store in 15 minutes using the WooCommerce plugin | |
| WordPress.org is self-hosted. So you're in control of your files, products, and stores | |
| The WordPress Gutenberg Editor helps you create and publish SEO-optimized content | |
8. Where Do I Get The Most For My Money?
Is Shopify more expensive or cheaper than WordPress? Let's break down the pricing structures of Shopify and WordPress (with screenshots).
Shopify Pricing Plans
Shopify has 3 straightforward pricing options. Here's what you can expect to pay and what features are available with each plan:
Basic Shopify ($29/month): This Shopify plan lets you sell unlimited products, and launch a blog, but Shopify will charge a 2% transaction fee. This fee will be waived if you use Shopify Payments (not available for everyone).
Shopify ($79/month): If your eCommerce business is growing, this plan gives you the essential tools and privileges such as gift cards and abandoned cart recovery. There's a 1% transaction fee unless you use Shopify Payments.
Advanced Shopify ($299/month): Get advanced eCommerce features for growing your business. Get access to rich reports and automatically calculated shipping rates. Transaction fees are 0.5% if you're not using Shopify Payments.
WordPress Pricing Plans
The truth is that the WordPress CMS is completely free to use. However, you'll need to invest some money to run an eCommerce site with it.
The total cost of setting up a WordPress eCommerce site ranges from $15 – $100+ per month — this completely depends on what tools and features you're willing to pay.
This includes:
WordPress hosting ($3.99 – $250/month): WordPress hosting is essential if you want WordPress-based features and tools for your site. Although you can use a shared hosting plan that supports WordPress sites, what stops you from using a WP-based host?
A domain name $11 – $15/year): To start your eCommerce store using WordPress, you'll need to register a new domain name via GoDaddy, Namecheap, or any other domain registrar.
An SSL certificate ($4.99 – $149.99/year): It's important to secure your WordPress site. Since you'll be processing transactions on your site, it's a smart move to invest in an SSL certificate. It's highly recommended.
A premium theme ($39 – $99): It's okay to use a free eCommerce WordPress theme when you're just getting started, but it's recommended to invest in a premium theme to better brand your website. At ThemeForest, most themes cost $59, but MyThemeShop costs about $39/theme
Paid plugins ($10 – $200): Paid plugins add another layer of functionality and beauty to your WordPress sites. When setting up an online store, free plugins are limited, hence, it's vital to spend some money on premium themes. The WooCommerce plugin is free but there are paid plugins to enhance it.
9. Conclusion – Which Is Better: Shopify Or WordPress?
All things being equal, here's my verdict:
If you want a dedicated eCommerce solution that's simple and hands-off, Shopify is better. It lets you create your online store in a matter of minutes.
Shopify will help you manage everything — Storefront, managing products, and inventory, offering coupons and discounts, recovering abandoned customers, payment processing, and security.
If you run into muddy waters, you can always fall back on Shopify support. Shopify is ideal for beginners.
WordPress, on the other hand, offers a more flexible and hands-on eCommerce solution. If you have gained some experience with eCommerce marketing, WordPress gives a ton of amazing plugins, more control over backend codes, content marketing tools, and fewer restrictions on product listings.
If you're a WordPress user, it's also a lot easier to turn your site into a scalable online store using the WooCommerce plugin.
As long as you have a reliable web host (use Bluehost or SiteGround), you can start selling in 30 minutes.
10. Shopify vs. WordPress – FAQ
Let's answer 4 of the most frequently asked questions (FAQs) about Shopify and WordPress:
Can Shopify be used with WordPress?
Yes, using the free Shopify eCommerce Plugin, you can turn any WordPress page or blog post into an online store. This plugin also works with any WordPress theme or Page builder.
Is Shopify better than WordPress?
Shopify and WordPress are useful for creating websites and online stores. Generally, WordPress is arguably a well-established CMS and more flexible platform than Shopify. There are over 70 million WordPress users and a huge library of themes and plugins to choose from. You can build any type of website with WordPress. Shopify is only useful when you want to create a dedicated eCommerce site.
Is WordPress cheaper than Shopify?
Although WordPress is technically free, Shopify offers much cheaper plans and packages. Plans range from $29/month to $299/month and include all the features and tools to start and grow your online store. WordPress may be free to install, but you're required to invest in a domain name, web hosting service, premium theme, and plugins all separately. This can cost anywhere between $50 – and $300 per month.
Can I build an online store with WordPress?
Yes, you can build a fully functional online store using WordPress. However, you'll need an eCommerce solution such as Woocommerce (free) to set up your storefront and start adding products. You can customize every aspect of your online store to suit your needs.